• Tank Bigsby's role with the starters increases: He played 36% of snaps with the starters and nearly had as many yards as Travis Etienne Jr.
• At least one Miami Dolphins running back will be cut: Salvon Ahmed and Myles Gaskin are fighting for one roster spot, but Miami could also add a new running back, resulting in both potentially getting cut.
• Dominate your fantasy league in 2023: For up-to-date fantasy draft rankings and projections, check out PFF's fantasy rankings tool!
Estimated Reading Time: 5 minutes
---
Want to dominate your fantasy football league this year?
Check out PFF's fantasy tools below:
PFF's fantasy football recap focuses on player usage and stats, breaking down all the vital information you need to achieve fantasy success in 2023. You can find more information on why it's essential to pay attention to the preseason here.
Check out PFF's 2023 Fantasy Draft Kit for even more content to help you dominate your league.
Preseason Recaps: Thursday Week 3 | Week 2 | Week 1 | Hall of Fame Game
Player Profiles | Depth Charts | 10 tips to win | Undervalued | Overvalued
Rankings: PPR | Half-PPR | Standard | Superflex | Best Ball
Dynasty Rankings: PPR | Rookie | Superflex | Superflex Rookie
Position Rankings: QB | RB | WR | TE
Sleepers: Top-10 | QB | RB | WR | TE
League Winners: Top-5 | QB | RB | WR | TE
Breakouts: QB | RB | WR | TE
Position Draft Strategy: QB | RB | WR | TE
16-Team Draft Strategy: Overall strategy
14-Team Draft Strategy: Overall strategy
12-Team Draft Strategy: Overall strategy | Picks 1-3 | Picks 4-6 | Picks 7-9 | Picks 10-12
10-Team Draft Strategy: Overall strategy | Picks 1-3 | Picks 4-7 | Picks 8-10
---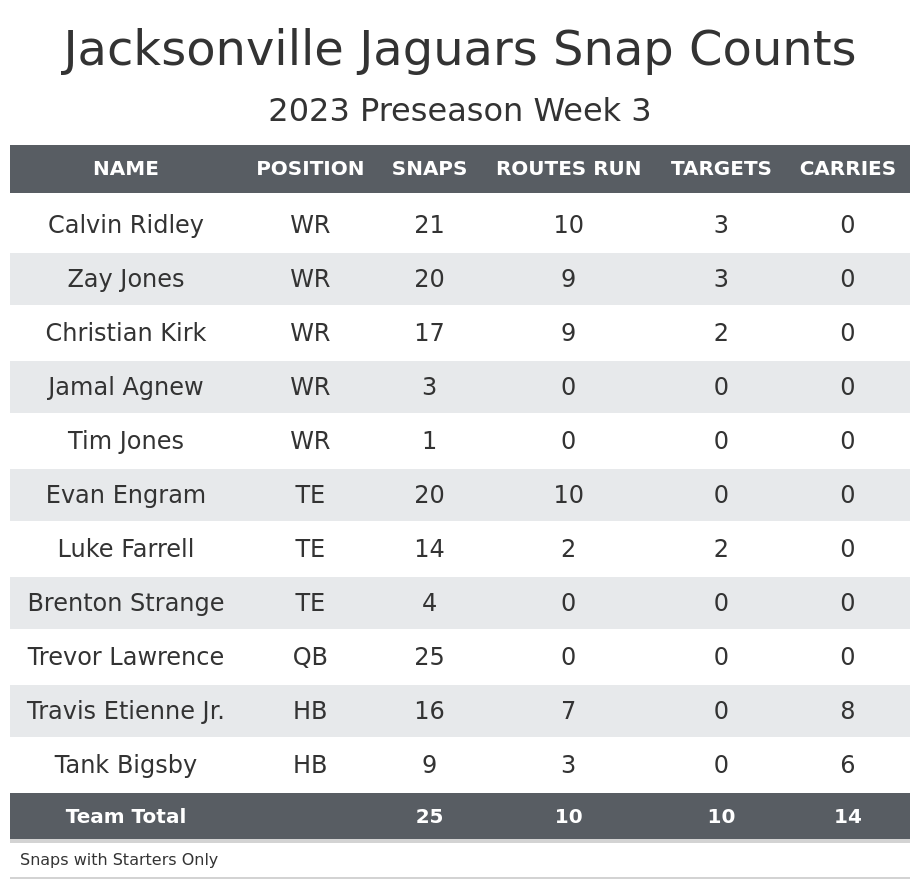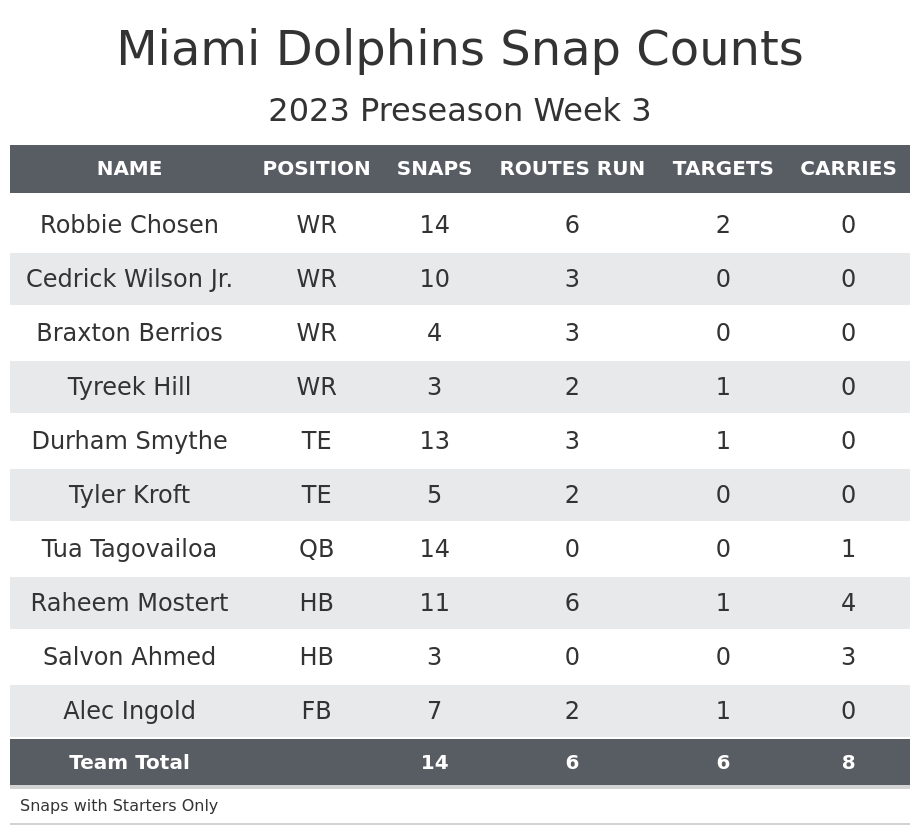 Tank Bigsby takes 36% of snaps with the starters: Bigsby continued to cut into Travis Etienne Jr.'s playing time.
The Jaguars used their starters for two long drives. Etienne started each drive, but Bigsby would replace him after three or four plays.

Etienne played 100% of snaps on third and fourth down and dominated snaps out of 11 personnel, 10 snaps to four.

Snaps were closer to balanced on first and second down, at 13 to nine in favor of Etienne. The same was true for snaps out of 12 or 13 personnel, on which Etienne led six to five.

Bigsby averaged 6.2 yards per play compared to 4.9 by Etienne, but Bigsby lost a fumble.

Jacksonville had just two plays in short-yardage situations, and Etienne received both of those snaps.

Bigsby seeing this high of a percentage of snaps and a high percentage of carries is not a good sign for Etienne's fantasy value.

This is already a significant increase from the first preseason game when Bigsby played only one snap with the starters,

His playing time is at 36% now, but rookie running backs tend to gain more playing time as the season progresses. We could reach a point where Bigsby is leading the team in carries.

Etienne is still the favorite to score the most fantasy points out of the Jaguars' backfield, but he has the 11th-highest ADP for a running back, according to FantasyPros, compared to 49th by Bigsby. They should be getting drafted closer together.
Jacksonville's wide receiver rotation becomes a little more clear: Zay Jones will likely see more offensive snaps than Christian Kirk, but it won't be a significant difference in pass routes.
The Jaguars played their starters in the first preseason game, in which Jones took both snaps in 12 personnel instead of Kirk.

Jacksonville used its starting offense more extensively in this game, giving us a better picture of how snaps outside of 11 personnel will be distributed.

The Jaguars took nine snaps out of 12 personnel, with Jones and Kirk each seeing four snaps.

Jones ended up with three more snaps because he played both snaps the Jaguars ran out of 13 personnel, and Kirk took one snap off out of 11 personnel with

Jamal Agnew

replacing him.

Both

Zay Jones

and

Tim Jones

took nearly every snap out of 13 personnel last season, so this won't be much of a change compared to last year. Plus, 13 personnel is typically a rushing formation, so it won't matter much for fantasy football.

This kind of usage still means fewer snaps out of 12 personnel for Kirk this year compared to last, but it's not as significant as it could have been.
The Dolphins' backfield remains unsettled: Miami has five halfbacks who could make the roster, and they could also sign a running back.
Raheem Mostert

started for the second straight preseason game with

Jeff Wilson Jr.

out. Mostert and Wilson split snaps when they were both healthy last season.

Myles Gaskin

had appeared to be ahead of

Salvon Ahmed

on the depth chart, but Gaskin missed last week's preseason game and Ahmed saw his first offensive snaps before Gaskin in this game.

Ahmed also broke a 42-yard run in this game.

Miami spent a third-round draft pick on

De'Von Achane

, who was consistently fifth on the depth chart when healthy in the preseason. Although he is injured, he's assured a spot on the roster, given the draft capital spent on him.

Miami has been among the front runners in a potential trade for

Jonathan Taylor

, which would leave one less spot open on the roster.

We will see at least one of these five players off the roster in the next few days, if not two.
Miscellaneous Notes
---
Table Notes
• Snaps include plays called back due to penalties, including offensive holding or defensive pass interference. The other three stats have these plays removed.
• Targets may differ from official NFL sources. The most likely discrepancy would be from a clear thrown-away pass, where the NFL may give the target to the nearest receiver, while this data will not.
• Carries are only on designed plays. Quarterback scrambles won't count for the total number of carries in the game.