Bijan Robinson leads the running backs: Robinson is the best running back prospect of the last few seasons while landing with a run-first team behind a great offensive line.
Clear-cut top-eight: There will be a clear eight players who should be picked first based on the draft capital spent on them mixed with their talent. There will be a variety of opinions after that based on perceived talent, draft capital spent, team fit and positional value.
Most players will take time to develop: Several of the top prospects landed with teams where they will see significant competition for touches in their first season.
Estimated reading time: 14 minutes
---
With the conclusion of the 2023 NFL Draft, here is the most recent version of my dynasty rankings for single-quarterback, PPR leagues. More information on redraft rankings can be found here, dynasty rankings for all players here, while more information on each rookie can be found in our draft guide.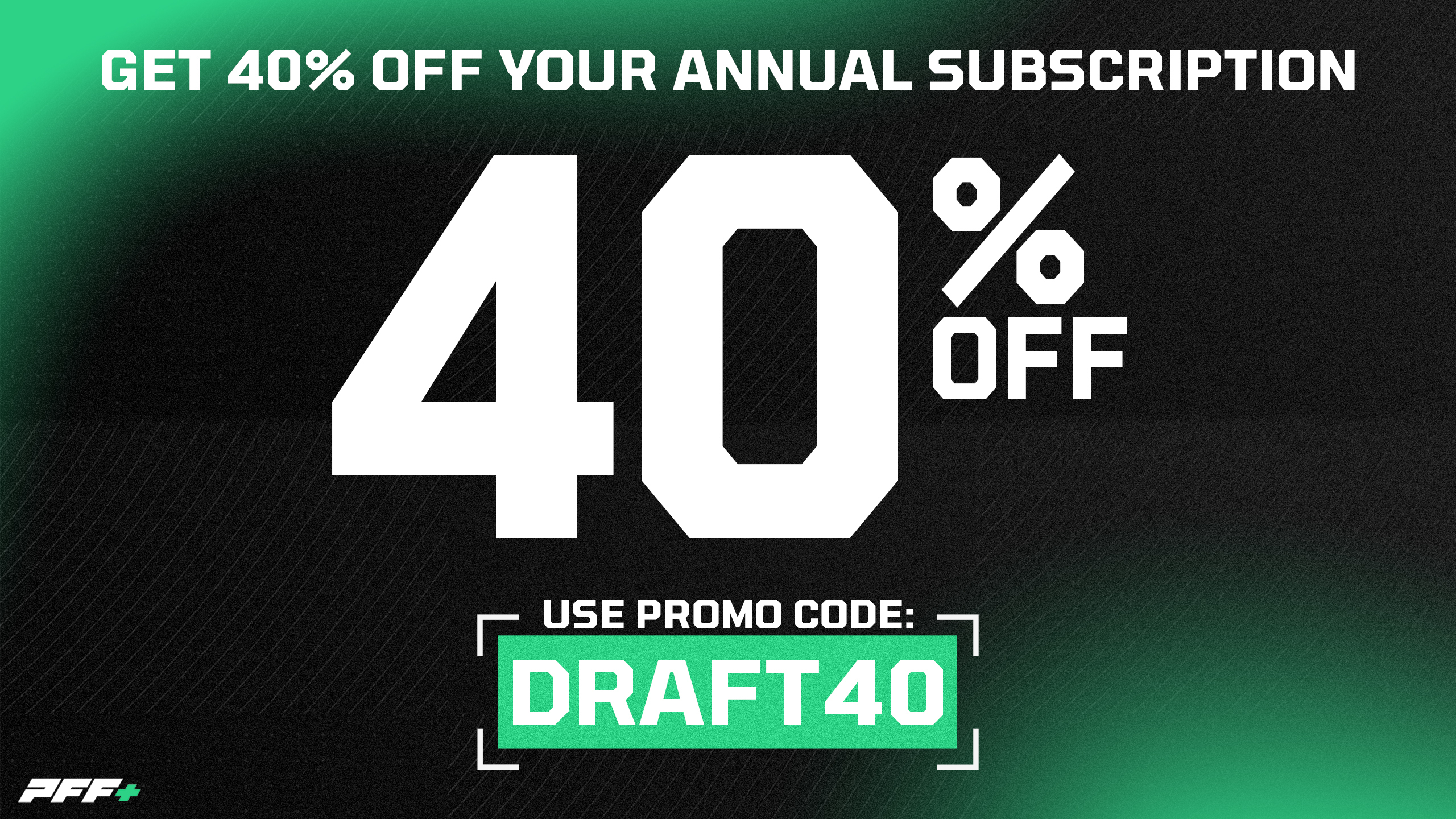 Last updated: 7:15 a.m. Tuesday, May 2
---
Landing in Atlanta was the best-case scenario for the top running back prospect in years.
The Falcons were the only team to run the ball on more than half of their offensive plays last season, which i

ncluded maintaining the run even when playing from behind.

They ran 48.8% of the time while losing, which was five percentage points more than any other team.

Those rates remained similar when

Desmond Ridder

took over as the team's starting quarterback.

The Falcons' depth was a talented

Tyler Allgeier

and 32-year-old

Cordarrelle Patterson

. Allgeier can give Robinson a rest at times, but that shouldn't stop Robinson from seeing 20 touches per game.

He will be running behind some of the best interior linemen in the league.

Chris Lindstrom

and

Matt Hennessy

are two of the five interior linemen to earn a 90.0-plus PFF run-blocking grade over the past two seasons.

He should be an early first-round pick in redraft leagues, and the top option in single-quarterback dynasty drafts rookie or not.
---
Gibbs landed with a Lions team that will love to utilize him, but he might not receive the goal-line touches.
The last five running backs picked in the top 12 of the NFL draft played a minimum of 550 offensive snaps during their rookie seasons. A team picking a running back that early will have them at the top of the depth chart.

Gibbs replaces

D'Andre Swift

,

who was the best receiving running back of the 2020 class while Gibbs was the top such player of this

2023 class

. Gibbs will take Swift's role completely.

There is still a decent chance

David Montgomery

will still maintain fantasy value. He's the biggest running back of the three and is most similarly built to

Jamaal Williams

.

Williams was consistently scoring touchdowns from the one- or two-yard line in 2022, leading to 17 touchdowns.

This might prevent Gibbs from being a consistent top-10 fantasy running back week in and week out, but he can still be a top-20 running back.

Both Williams and Swift finished among the top 20 fantasy running backs in five separate weeks last season and have two games in the past two seasons where both finished in the top five.

That pairing will be Gibbs and Montgomery this season, and the offense could be even better than the 2022 version.

Gibbs could have been the 1-1 dynasty rookie pick in most seasons, but only falls to second because Robinson was also in the class.
---
Smith-Njigba is the most talented wide receiver in the draft class but didn't necessarily land in the best immediate situation.
Smith-Njigba beats out the other first-round receivers simply because of the gap in talent.

The Seahawks have a long tradition of utilizing slot receivers under Pete Carroll, from

Golden Tate

to

Doug Baldwin

to

Tyler Lockett

.

One problem for Smith-Njigba is the wide receivers ahead of him.

D.K. Metcalf

and

Tyler Lockett

are two of the 18 wide receivers in the NFL with a receiving grade above 83.0 over the last two seasons.

Metcalf is under contract until 2025, and Seattle will likely want to sign him to another contract after that.

Lockett is also under contract until 2025, but he will be 31 years old by the middle of the season.

Seattle could potentially move on from him after the 2023 season, but 2024 might be more realistic if Lockett keeps playing well.

Seattle's quarterback situation also isn't as good as others.

Geno Smith

was an average starter last season, but he will be 33 years old by midseason and is clearly not the long-term solution.

Smith-Njigba is the best option for a team wanting a wide receiver and can wait a few years before he becomes a fantasy starter.
---
There was a run of four wide receivers late in the first round, and Addison has the best opportunity to immediately produce for fantasy managers.
Jaxon Smith-Njigba

and

Quentin Johnston

landed with teams where they are stuck as the third receiver on the depth chart for at least their rookie season.

Zay Flowers

landed with the Baltimore Ravens, who were the sixth-run-heaviest team last season and are the most run-heavy team over the past five years.

Minnesota moved on from the 32-year-old

Adam Thielen

, who spent the past seven seasons as a starting receiver.

Justin Jefferson

and

K.J. Osborn

will remain starters in three-receiver sets with Addison joining the lineup.

Addison should be able to jump Osborn on the depth chart to be the team's No. 2 wide receiver.

Quarterback

Kirk Cousins

has achieved an 87.5 PFF offensive grade over the past two seasons combined, which ranks fifth among active quarterbacks.

The Vikings went from a run-first team with Mike Zimmer to posting the fifth-highest pass rate (66.4%) under Kevin O'Connell in 2022.

They might even pass more often during the 2023 season if they move on from star running back

Dalvin Cook

.

Addison will never be the Vikings' top wide receiver as long as Jefferson is still on the roster, but a team can have two fantasy stars at the position.

The

Miami Dolphins

,

Philadelphia Eagles

,

Cincinnati Bengals

,

Seattle Seahawks

and

Tampa Bay Buccaneers

all produced two top-20 fantasy wide receivers last season.

Addison is the best wide receiver option for someone looking for a fantasy starter immediately.
---
Johnson was the second wide receiver off the board, and he will get paired with one of the NFL's best young quarterbacks.
Justin Herbert

's 88.1 PFF offensive grade over the past two seasons ranks fourth best among active quarterbacks.

Herbert is only 25 years old, while Johnston is 21. If everything goes well, these two could be playing together for the next decade.

Johnston is both the

freakiest athlete

in this wide receiver class and the best after the catch.

This isn't the best immediate landing spot for Johnston, as

Keenan Allen

and

Mike Williams

will likely remain at the top two spots on the depth chart.

Allen recently turned 31 and is already in the top 40 all-time in receptions. He is still playing at a high level and is an asset in the short term, but he won't be part of the Chargers' long-term plans.

Allen and Williams are both signed through the 2024 season, but both have cap numbers over $32 million. The Chargers could save more than $20 million by cutting either one of them — or $40 million by cutting both. Los Angeles currently has one of the worst cap situations in 2024, so releasing at least one of Allen or Williams after the season is very plausible.

Johnston will still be worth a mid-round flier in fantasy drafts just in case he breaks out early, but his combination of talent and situation is arguably the best of the wide receiver class.

He is the best option at wide receiver for a fantasy manager who doesn't need a fantasy starter for 2023 but wants one for 2024.
---
Charbonnet lands with a team that loves to use running backs, but on a team that used a second-round pick on a running back last season in Kenneth Walker III.
The second-round rookie has the

best vision

in the class and is also the class' best short-yardage back.

Seattle has been the home of several fantasy starters when a player's been given the opportunity.

Kenneth Walker III

was RB9 from Week 6 until the end of the season once he became the starter last season.

Rashaad Penny

was the top running back over the last six weeks of 2021 once he began seeing significant playing time, including four games with 130 or more yards and at least one touchdown.

Chris Carson

was a top-20 fantasy running back each season from 2018-2020.

The problem is Walker and Charbonnet will likely share the workload as long as both players are healthy.

We could see an ugly three-man rotation to begin Charbonnet's career, as

Pete Carroll mentioned

DeeJay Dallas

pretty early when discussing his new running back room.

This is similar to the running back rotating Seattle used to begin last season with Penny, Walker and Dallas.

Charbonnet remains this high despite the competition because of his talent, and he is just one injury away from being a top-10 fantasy running back.

Charbonnet ranked higher on our big board this season (50) than Walker did last season (55). There is certainly a chance Charbonnet becomes the starter at some point of time.
---
Kincaid was the clear top receiving tight end of the class and remains the top option despite questionable potential in his first season.
Dawson Knox

is coming off back-to-back top-10 seasons in terms of fantasy production, but this was largely due to playing in a high-scoring Bills offense led by quarterback

Josh Allen

.

He produced a 63.7 PFF receiving grade over the past two seasons, which is the second-lowest among tight ends with at least 750 routes in that time.

His fantasy production has largely come from touchdowns, where his 15 are third-most among tight ends in the same time period.

The Bills just signed Knox to a four-year, $52 million contract extension with $31.2 guaranteed before last season, so he and Kincaid will likely need to share the tight end room for a minimum of this season — and likely the next two.

This means neither Kincaid nor Knox can be trusted as a fantasy starter unless Kincaid can win the starting job outright.

While that is a big concern for the first season, he should eventually replace Knox long-term and be that yearly top-10 tight end that Knox was if not better.

No other tight end makes the top 12, but there are several options that were picked in the second round of the NFL draft that should be picked in the second round of dynasty drafts.
---
Flowers adds a dynamic element to the Ravens' offense, which can ideally lead to fantasy points.
The best case is he ends up replacing

Marquise Brown

after Brown was traded to the

Arizona Cardinals

a year ago.

Brown finished as WR22 in 2021 with 91 receptions for 1,008 yards and six touchdowns.

The reason he's lower than other first-round wide receivers is the Ravens have been the most run-heavy team since

Lamar Jackson

became the Ravens' starter.

After Jackson signed his contract extension, he's not going anywhere anytime soon.

He also has plenty of competition for targets from

Mark Andrews

and

Rashod Bateman

who will also stay with the team for at least a few seasons, as well as

Odell Beckham Jr.

The Ravens have enough weapons that Flowers should have some big plays as a rookie, it just might not accumulate to enough to be a fantasy starter as a rookie.

His ceiling is higher than the rookie wide receivers picked after him, as his ceiling is a great fantasy starter if he can become the clear favorite target for Jackson among the wide receivers.
---
Miller leads the long list of running backs picked in the third round of the NFL draft due to his potential for future playing time.
Miller's role per our draft guide is a bell cow back who is capable of playing on every down just as he was doing last season.

Age is also on his side as he's only 20.

Alvin Kamara

is the incumbent running back of the Saints. He will be 28 before the start of the season.

At his peak, Kamara received elite grades including a season above 90.0, but in three of his last four seasons, he graded below 75.0.

His fantasy value in past seasons came from his talent, but in more recent seasons it has come from volume.

He could be released before the 2024 season as a post-June 1st cut. He would likely be released in 2025 if not 2024.

Jamaal Williams

was a free agent signing by the Saints. He is also on the older side for a running back at 28 years old. He will likely be on the roster for the next two seasons.

It's within the realm of possibility that Miller becomes a lead back for New Orleans sometime this season if he plays well.

Every other running back picked in the third or fourth round is projected to be a part-time player based on their skill set or faces significant competition from other young running backs.
---
Richardson leads all quarterbacks on this list thanks to his rushing ability.
Each of the top-six quarterbacks last season ran for at least 250 yards.

Five of the 10 quarterbacks to average 18.4 fantasy points per game or better gained at least 700 rushing yards.

Richardson was clearly the

best runner of the class

both from his college tape as well as his combine measurables.

He will benefit from having Shane Steichen as his head coach.

He was most recently the offensive coordinator for the

Philadelphia Eagles

during

Jalen Hurts

' breakout seasons.

Steichen was also the offensive coordinator for

Justin Herbert

in his rookie season where he finished at QB9.

There is no guarantee Richardson hits the same heights as past rushing quarterbacks, but his odds are the highest among the quarterbacks in the class.