Fantasy football is nothing more than a guessing game for six months of the year due to the reality that live NFL football is only played from September to February. This is enough time to build a case for or against just about anybody.
Numbers don't lie, but small sample sizes and irrelevant splits can, at a minimum, stretch the truth.
---
Click here for more PFF tools:
Draft Guide & Big Board | Mock Draft Simulator
Dynasty Rankings & Projections | Free Agent Rankings | 2022 QB Annual
Player Grades
---
In an effort to remove personal bias and give every quarterback equal treatment, today's article provides one good and bad statistic for all 32 starting quarterbacks. The signal-callers are listed in the order I ranked them in my 2022 fantasy football rankings. Great day to be great.
---
Good: Allen's nose for the end zone is second to none at the position. Overall, his 31 rushing touchdowns rank 10th among everybody in the NFL since 2018. Mike Vick (36 career rushing scores) could be passed on the all-time leaderboard by Thanksgiving.
Bad: Allen had a lower floor than usual in 2021, as he finished outside the position's top-15 players on four separate occasions last season compared to just twice in 2020.
---
Good: Only Patrick Mahomes (23.03) has averaged more fantasy points per game than Herbert (22.3) in the history of NFL football. That's good.
Bad: Herbert has one of the biggest arms in the entire league, which makes his 41st-ranked average target depth (7.8 yards) among 61 qualified signal-callers with 100-plus dropbacks since 2020 all the more confusing. Last season, only Jared Goff, Matt Ryan, Jacoby Brissett, Jimmy Garoppolo, Tua Tagovailoa and Daniel Jones had a lower percentage of their passes travel at least 20 yards downfield. Fantasy points count the same regardless of how far the ball was thrown downfield, but just realize Herbert could go Super Saiyan once all of his tantalizing physical tools are fully unleashed.
---
Good: The NFL's all-time leader in fantasy points per game owns the position's third (2018) and sixth (2020) highest-scoring seasons on a per-game basis. Mahomes still managed to post top-65 all-time campaigns in his "worst" seasons in 2019 and 2021.
Bad: Mahomes' four games without Tyreek Hill's services over the past four seasons certainly went well, as he posted finishes as the QB1, QB3, QB11 and QB12. Still, losing the league's premiere field-stretching talent could hurt Mahomes' ability to rack up points in a hurry with the deep ball, as nobody has more passing yards (4,595) or touchdowns (48) on passes thrown at least 20 yards downfield since 2018. Mahomes has also averaged a league-high 15.5 yards per attempt while ranking seventh in adjusted completion rate (48.1%) on these throws. Taking Hill out of the Chiefs offense is like taking away Bowser's ability to breathe fire.
---
Good: Jackson's 27.7 fantasy points per game in 2019 are the most in a single season ever. The best version of Jackson is quite literally the best quarterback that fantasy football has ever seen.
Bad: History tells us that high-volume rushing quarterbacks run less as their careers go on. Jackson's 11.1 rush attempts per game last season were more than he averaged in 2020 (10.6), but just realize he'll need to really pick things up as a passer to make up for a potential reduction in rushing volume down the road.
% of fantasy points to come from rushing production by year for some of the league's current dual-threat quarterbacks expected to start in 2022 pic.twitter.com/eVluqornoz

— Ian Hartitz (@Ihartitz) February 21, 2022
---
Good: Murray was the overall QB1 in fantasy after 10 weeks of action in 2020 before injuring his shoulder. Last season, he was the QB5 in Weeks 1-8 prior to spraining his ankle.
Bad: Murray worked as just the QB14 in Weeks 11-17 in 2020 while playing through a painful shoulder injury. He was the QB6 in Weeks 13-18 last season upon returning from an ankle injury. A limited version of Murray simply isn't the same sort of world-beater we've seen him function as when healthy.
---
Good: Only Josh Allen (23.7) and Justin Herbert (22.4) averaged more fantasy points per game than TB12 (22) last season. Brady ranked 10th in 2020. Overall, Brady is tied with Allen with 15 top-five fantasy finishes over the past two regular seasons. Statue quarterbacks can still put up bunches of fantasy points when they're the GOAT and/or the lynchpin of the league's most pass-heavy offense.
Bad: At some point, Father Time has got to get angry, as Brady will be 45 years old in August. As has been the case for the better part of the last decade, it's tough to rationalize any sort of dropoff is coming other than to simply conclude he can't keep getting away with this forever.
---
Good: The NFL's most-accurate quarterback from a season ago, Burrow showed off his tantalizing ceiling down the stretch with back-to-back overall QB1 performances in Weeks 16-17.

Bad: Volume tends to rule all in fantasy land. Burrow threw the ball more than 35 times in just six of his 16 regular season starts in 2021 after surpassing that mark in all but two of his 10 starts as a rookie. Last season, the Bengals ranked just 13th in pass-play rate in non-garbage time situations. This helps explain how Burrow could function as the NFL's most efficient passer in 2021 yet only finish as the QB10 in fantasy points per game.
---
Good: Only Josh Allen (45%), Tom Brady (45%), Aaron Rodgers (44%) and Kyler Murray (43%) have worked as a top-five fantasy signal-caller in a higher percentage of their games than Prescott (43%) over the past two seasons. 
Bad: Prescott averaged at least 17 rushing yards per game with three-plus scores on the ground in each of his first five seasons as the Cowboys' starting quarterback. Then, in 2021, he scored only once on the ground all season and went for just 9.1 rushing yards per game. It seems unlikely Prescott ever has the same "I'm getting that first down" attitude he regularly demonstrated before breaking his ankle in 2020.
---
Good: Have you seen that Broncos' wide receiver room? Suddenly Wilson has not one, not two, not three but four viable-to-great wide receivers to get involved in the passing game, while Albert Okwuegbunam and Javonte Williams also figure to make the most out of their opportunities. Historically, older quarterbacks haven't had much trouble maintaining elite fantasy production.
Bad: Wilson posted career-low marks in both rushing yards per game (13.1) and rush attempts per game (3.1) last season. History tells us high-volume rushing quarterbacks run less as their careers go on. Hopefully, the Broncos let Russ cook through the air more than the Seahawks did.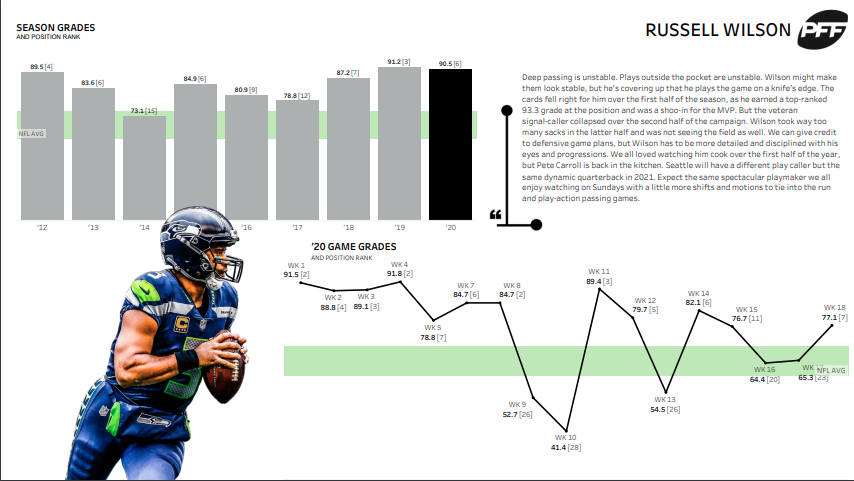 ---
Good: The floor is basically the roof for Hurts in fantasy land, as nobody has a higher rate of top-12 finishes per start than Hurts (74%) over the past two seasons. Only Aaron Rodgers (72%) is also above 70%.
Bad: Well over 40% of Hurts' fantasy production has come strictly from rushing. He'll need to either continue being an anomaly in terms of his rushing production or vastly improve both his throwing volume and efficiency in order to maintain his standing as a far better fantasy than real life quarterback.
---
Good: Stafford was one of just 11 quarterbacks who averaged at least 20 fantasy points per game last season. Also one of just eight signal-callers with 600-plus pass attempts, the ex-Lion has the sort of high-level weaponry to make up for an utter lack of a rushing floor inside of the Rams' high-volume passing attack.
Bad: Downfield passing success isn't exactly the most stable metric for quarterbacks. Nobody averaged more yards per attempt than Stafford (19) when throwing at least 20 yards downfield last season, so there's a chance things don't go quite as smooth in the encore because the reigning Super Bowl winner will be forced to adjust to yet another No. 2 wide receiver.
---
Good: Only Jalen Hurts (74%) has a higher top-12 fantasy finish rate than Rodgers (72%) over the past two seasons. Nobody has more total games with three-plus passing scores than Rodgers (18) during this stretch.
Bad: Rodgers' rushing yards per game have decreased for five consecutive seasons, so don't expect that floor to reappear for the 38-year-old veteran again. What's more important is considering life without Davante Adams. Yes, the Packers are 7-0 without Adams under Matt LaFleur. Also yes, Rodgers has posted QB24, QB12, QB1, QB3, QB7, QB3 and QB15 finishes in those contests. That's hardly "bad," but it'd make sense if this passing game is at least a bit more prone to some average stretches without arguably the game's single-best wide receiver on the field.
---
Good: Watson deserves to be in the top-five fantasy and real-life quarterback conversation. The former point isn't really up for debate:
2017: 24.1 fantasy points per game (No. 1 among qualified quarterbacks)
2018: 20.7 (tied for No. 4)
2019: 22 (No. 3)
2020: 23.8 (No. 6)
Bad: It's been quite some time since we've seen Watson under center. He could have to rely on his efficiency more than ever inside of a Browns offense that ranks just 29th in pass-play rate in non-garbage time situations under head coach Kevin Stefanski. Watson and the Texans ranked 12th in this metric from 2017-2020.
---
Good: Lance racked up a rather absurd 31 rush attempts in roughly 10 quarters of action last season. Overall, nobody averaged more fantasy points per dropback (0.75) than the 2021 NFL Draft's No. 3 overall pick. 
Bad: Lance's PFF passing grade (63.7, No. 31 among 54 qualified quarterbacks) and adjusted completion rate (71.4%, No. 42) were each rather brutal in 2021. Credit to the rising second-year talent for averaging a robust 8.5 yards per attempt, but just realize Deebo Samuel, George Kittle and Brandon Aiyuk might have to keep on picking up the slack as YAC-monsters should the 49ers' quarterback of the present and future not take a major leap forward as a passer.
---
Good: Fields overcame a slow start with four top-10 fantasy finishes in each of his final four games under center. His 10-103-1, 8-45-0, 9-74-0 and 7-35-0 rushing lines demonstrated the fantasy-friendly, dual-threat nature of his game, but the 2021 NFL Draft's No. 11 overall pick also showed a flair for making some truly big-time throws.
Justin Fields pic.twitter.com/2tsbcAy69y

— Ian Hartitz (@Ihartitz) February 1, 2022
Bad: Similar to Lance, Fields needs to prove he can make some major progressions as a thrower before we crown him as the next big thing at the position. Overall, Fields posted rather middling ranks in PFF passing grade (No. 38), yards per attempt (No. 30) and (especially) adjusted completion rate (No. 49) among 54 qualified quarterbacks. Unlike Lance, Fields doesn't exactly play in an offense overflowing with high-end play-makers.
---
Good: Carr provided a rather great floor during the first seven games of 2021 when defenses still had to respect the deep ball with Henry Ruggs on the field. Overall, Carr posted QB9, QB8, QB11, QB24, QB31, QB12 and QB14 finishes during the first seven weeks of 2021 before finishing outside of the position's top-16 signal-callers in all but two of his final 10 games. Ideally, Fresno State BFF Davante Adams' presence will lead to production more similar to the first half of 2021.
Bad: Carr's preference to sit in the pocket and avoid scrambling hasn't helped him function as a consistent high-end fantasy quarterback for the overwhelming majority of his career:
2014: 12 fantasy points per game (No. 26 among all quarterbacks with eight-plus starts)
2015: 17 (No. 18)
2016: 17.9 (No. 10)
2017: 13.8 (No. 20)
2018: 13.5 (No. 25)
2019: 15.3 (No. 23)
2020: 17 (No. 18)
2021: 15.1 (No. 18)


---
Good: Cousins has chucked at least 30 touchdowns in three of his four seasons with the Vikings while posting top-10 marks in PFF passing grade (No. 6), adjusted completion rate (No. 3) and QB rating (No. 6) among 60 qualified quarterbacks. He hasn't managed to crack the position's top-10 fantasy producers on a per-game basis during this stretch, but it's tough to quantify Cousins as anything other than a high-level thrower of the football.
Bad: Cousins racked up a rather gaudy 13 rushing scores during his three full seasons as Washington's starter. Yet, he's found the end zone just four total times on the ground since joining the Vikings in 2018. Similar to new head coach Kevin O'Connell's latest project Matthew Stafford, it will be tough for Cousins to work as more than a low-end fantasy quarterback due to his proven limitations as a rusher.
---
Related content for you:
Hartitz: 2022 Fantasy Football Rankings via Ian Hartitz
---
Good: Tannehill is again set up to potentially provide some sneaky upside QB2 value with A.J. Brown and Robert Woods' help:
2019: 20.2 fantasy points per game (QB10)
2020: 21.6 (QB12)
2021: 17 (QB15)
Somehow, Tannehill (18) has more rushing touchdowns than Lamar Jackson (16) over the past three seasons. Madness.
Bad: It'd make sense if Tannehill (34 years old in July) fails to be quite as prolific on the ground moving forward, which will simply make it tough for him to provide much of a ceiling in fantasy land due to volume concerns.
2019: 58.7% situation neutral pass-play rate (No. 26 in the NFL)
2020: 52.8% (No. 30)
2021: 54% (No. 32)


---
Good: Only Jackson (seven) had more games with 30-plus fantasy points than Jones (three) in 2019. Of course, 2020 was largely atrocious, but Jones again demonstrated his ability to be a better fantasy quarterback than real-life talent by posting QB12, QB4, QB24 and QB7 finishes in his first four games of 2021 prior to getting concussed. Plenty of this is thanks to Jones' (wait for it) sneaky athleticism, as he joins Lamar Jackson, Kyler Murray, Jalen Hurts, Josh Allen, Cam Newton and Deshaun Watson as the only quarterbacks who averaged more than 25 rushing yards per game over the past three seasons.
Bad: Jones has 36 fumbles and 29 interceptions in 38 career games. He ranks as just the QB25 in fantasy points per game over the past three seasons. The rushing upside here is nice, but it's not exactly all that close to a Lamar Jackson or Jalen Hurts level, and it's not inconceivable that the Giants' brand new coaching staff has a shorter leash for Jones compared to the past regime.
---
Good: Tagovailoa has, at least, flashed high-end play during his short career, as the 2020 NFL Draft's No. 5 overall pick has five career top-12 fantasy finishes despite playing with a regularly banged-up group of receivers and behind PFF's 32nd (2021) and 28th (2020) overall offensive lines.
Bad: Tagovailoa simply isn't much of a threat on the ground. He never reached even 50 rushing yards in a game at Alabama, while his 10.3 rushing yards per game average is on par with Andy Dalton (10) and Baker Mayfield (10). It'd make sense if Tagovailoa enjoys his best professional season with help from Tyreek Hill, but his fantasy ceiling is probably more as a low-end QB1 in line with pocket passers such as Kirk Cousins and Derek Carr as opposed to true game-changers such as Kyler Murray and Lamar Jackson.
---
Good: Things can't get any worse than they were in 2022. There isn't really a stat from 2021 that paints Lawrence as anything other than a bad passer, but the one good sign for his fantasy future was a rather robust 19.6 rush yards per game. Hopefully, the team's plethora of high-priced additions to the wide receiver and tight end rooms lead to more help for the 2021 NFL Draft's No. 1 overall pick.
Most incompletions on "big-time throws" this season (PFF):

1. Ryan Tannehill
2. Lamar Jackson
T3. Tom Brady
T3. Trevor Lawrence ???? pic.twitter.com/hsjNj2nifg

— Ian Hartitz (@Ihartitz) November 15, 2021
Bad: The one thing the world can seemingly agree on is that Urban Meyer was a terrible NFL head coach, but that doesn't change the fact that 2021 was rough for Lawrence:
PFF passing grade: 61.4 (tied for No. 32 among 44 qualified quarterbacks)
QB rating: 71.9 (tied for No. 40)
Yards per attempt: 6 (No. 40)
Adjusted completion rate: 72.4% (No. 34)
He did provide two top-12 performances along the way, but even a rather vast improvement as a passer won't necessarily lead to him being more than an average real-life quarterback.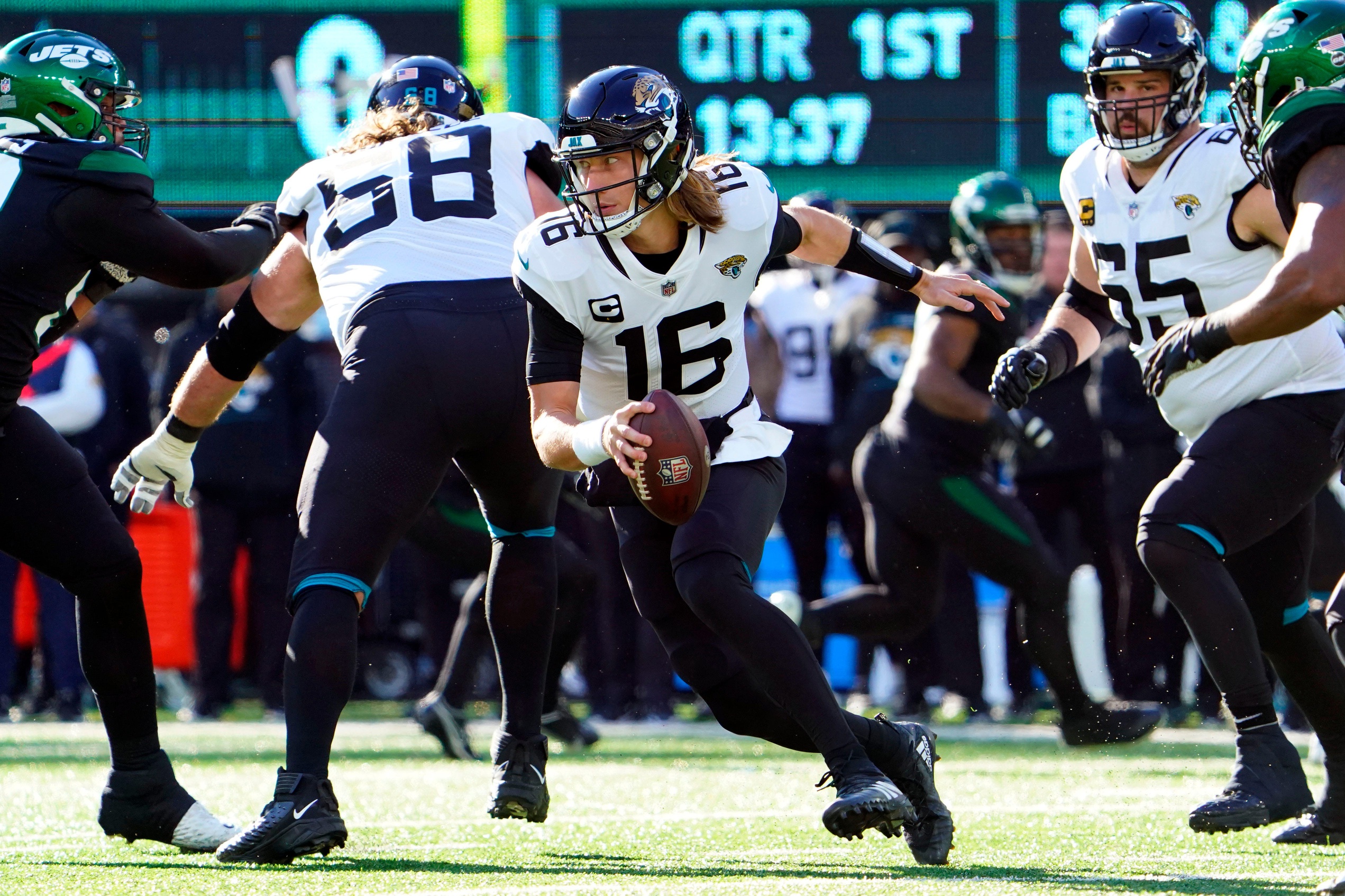 ---
Good: Trubisky was actually a solid fantasy quarterback during a large chunk of 2018. Overall, he ripped off fantasy QB1 (x2), QB2, QB5 and QB9 finishes between Weeks 1-11 before suffering a shoulder bruise. As the overall QB7 during this stretch, Trubisky averaged a robust 36.3 rushing yards per game and racked up three performances with over 300 passing yards and three scores. The 2017 NFL Draft's No. 2 overall pick clearly regressed in 2019 and 2020, but there's a case to be made he managed to make the most out of a fairly awful situation.
Bad: History tells us high-volume rushing quarterbacks run less as their careers go on. A change of scenery also doesn't typically bring out newfound fantasy greatness regardless of position. It'd make sense if the Steelers look to embrace their old ways of running the ball with so much uncertainty under center. Overall, Trubisky could simply struggle to see enough volume to be a fantasy difference-maker despite playing inside of arguably the most-talented offense of his career.
---
Good: Winston's 0.64 fantasy points per dropback led the NFL last season among 36 qualified quarterbacks. It was largely the best version of him yet in terms of big-time throw rate vs. turnover-worthy play rate.
Big-time throw rate and turnover-worthy play rate from all QBs with 150+ dropbacks this season (PFF). Sorted from best BTT rate to the worst.

This is a Mike Glennon tweet. Worst at consistently making "elite" throws while simultaneously making more mistakes than anyone. Sheesh pic.twitter.com/V4Q0HaZrNE

— Ian Hartitz (@Ihartitz) January 4, 2022
Bad: Winston only provided consistent high-end fantasy production in 2019 when Bruce Arians allowed him to attack for an entire season:
2015: QB19 in fantasy points per game
2016: QB20 
2017: QB18
2018: QB15
2019: QB8
2021: QB14
A similar run-first mindset from the Saints could leave Winston as a volatile fantasy signal-caller with too low of a volume ceiling to trust on a weekly basis.
---
Good: Jones was inarguably the best quarterback from the 2021 draft class as a rookie. He provided some legit high-end fantasy value down the stretch, putting together four top-10 finishes during the final nine weeks of the season. It'd make sense if the Patriots put more on his plate after finishing last season as the league's fifth run-heaviest offense in non-garbage time situations.
Bad: Jones isn't a bad athlete by any stretch of the imagination, but his utter lack of a rushing floor is problematic when today's NFL has more aliens than ever operating under center. Overall, Jones joined Teddy Bridgewater, Joe Burrow, Kirk Cousins, Derek Carr, Aaron Rodgers, Jared Goff, Matt Ryan, Tom Brady, Jimmy Garoppolo, Davis Mills, Matthew Stafford and Ben Roethlisberger as the league's only quarterbacks with fewer than nine rushing yards per game. In an offense with good but far from great skill-position weapons, Jones again projects as more of a game-manager type who will be a better real-life quarterback than fantasy difference-maker.
---
Good: Similar to Lawrence, Wilson's biggest allure ahead of 2022 is the hope that things can't go much worse than they did in 2021. Wilson, at least, posted two top-eight fantasy finishes during the final six weeks of the season — Lawrence never finished higher than 10th during any given week. A healthier wide receiver room and natural Year-2 leap will hopefully bring out some of Wilson's playmaking ability more consistently.
Zach Wilson is fun pic.twitter.com/7GritfbNJX

— Ian Hartitz (@Ihartitz) October 4, 2021
Bad: Wilson finished outside the position's top-20 fantasy scorers in eight of his 13 games last season. While not immobile, he totaled just 12 designed rush attempts on the season. An objectively bad passer by virtually any metric, arguably the best reason to believe a breakthrough is imminent comes down to pure hope.
---
Good: Ryan was objectively more accurate than Carson Wentz to all areas of the field last season. The 2016 league MVP has flashed a tantalizing fantasy ceiling before, and quarterbacks don't suffer as severe of a dropoff in production while aging compared to other positions.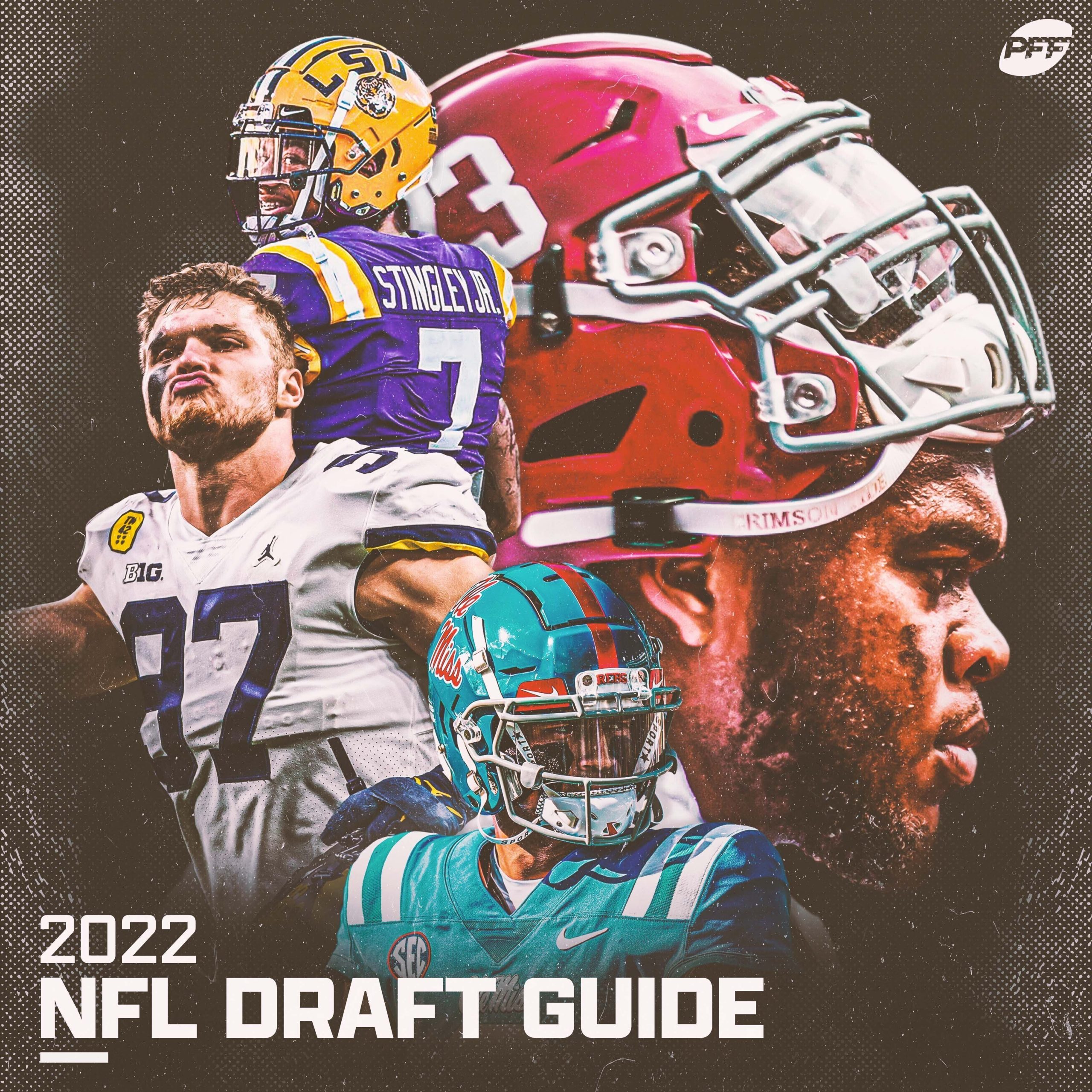 Bad: The Colts were the NFL's sixth run-heaviest offense in non-garbage time situations last season. Michael Pittman is the only even somewhat proven wide receiver or tight end on this roster at the moment. Ryan has never had a rushing floor and now profiles as a hand-off quarterback inside of a largely talent-barren passing game. Not great!
---
Good: Mariota peeled off a QB8 finish in Week 15 of 2020, showing off the sort of rushing upside (9-88-1) that helped make him the 2015 NFL Draft's No. 2 overall pick in the first place. Perhaps the experience of learning behind Derek Carr brings out more of the same moving forward.
Bad: Mariota leads, arguably, the single-most talent-deficient offense in the league. There's never been a real fantasy ceiling here:
2015: 17.5 fantasy points per game (QB17)
2016: 17.3 (QB12)
2017: 14 (QB23)
2018: 12.5 (QB34)
2019: 12.1 (QB32)
Don't be surprised if/when the Falcons add some real competition during the draft.
---
Good: Wentz played at a legitimate MVP level back in 2017. There aren't many quarterbacks who can ever attest to having done that. He proved to still have some gas in the tank from a fantasy perspective last season, ripping off six top-10 finishes from Weeks 5-16 despite posting a three-year low in rushing yards per game (12.6).
Bad: Like Mariota, it's feasible Wentz faces legit competition for the starting job as early as this training camp. Terry McLaurin is presently the only bonafide stud in this passing game. Credit to Wentz for being significantly better than Taylor Heinicke last season in PFF passing grade (71.9 vs. 62.5), turnover-worthy play rate (2.6% vs. 4.3%) and QB rating (94.6 vs. 85.9), but just realize we've almost certainly already seen the best from the league's reigning QB18 in fantasy points per game.
---
Good: The Lions essentially declined to surround Goff with any sort of real high-end pass-catchers last season, yet Goff did finish inside the position's top-12 producers on four separate occasions. Yes, Goff's average target depth of 6.8 yards ranked just 42nd among 44 qualified quarterbacks. Also yes, style points don't matter in fantasy football land, as all yards are counted equal.
Bad: As another quarterback who could feasibly be out of a starting job as soon as September, Goff is clearly a bridge option inside of an offense that remains rather weak in terms of high-end options at wide receiver (with all due respect to Amon-Ra St. Brown). Goff's complete lack of a rushing floor left him as "just" the QB9 in fantasy points per game despite throwing the ball at a high level during the 2017-2018 seasons, so don't expect a career rebirth to occur in 2022.
---
Good: Lock had the largest difference in big-time throw rate and turnover-worthy play rate during his last stint as a full-time starter in 2020. Basically, he pulled off some truly great tight-window throws while also making bone-headed decisions as often as just about anybody. This still didn't lead to much in the form of consistent fantasy production, but it at least made for a fun "Red Zone" viewing experience.
Drew Lock does some really cool shit sometimespic.twitter.com/JFjL1OLJW9

— Ian Hartitz (@Ihartitz) March 23, 2021
Bad: Lock isn't a complete statue, but there's no usable rushing floor here, and it's feasible Geno Smith (or someone else) is starting as early as Week 1. Essentially a poor man's version of Jameis Winston, it's unlikely any NFL team signs up for all the pitfalls that exist inside of the complete Lock experience. The Seahawks ranked 21st in pass-play rate in non-garbage time situations in 2021 with Russell Wilson under center, so do we really think that's about to go up with the ever-erratic Lock at quarterback?
---
Good: Mills provided a slight ceiling to go alongside the Texans' familiar woes, posting four top-12 fantasy finishes to help make up for seven appearances outside of the position's top-24 producers. Mills' four games with 300-plus passing yards were as many as Aaron Rodgers and Matt Ryan.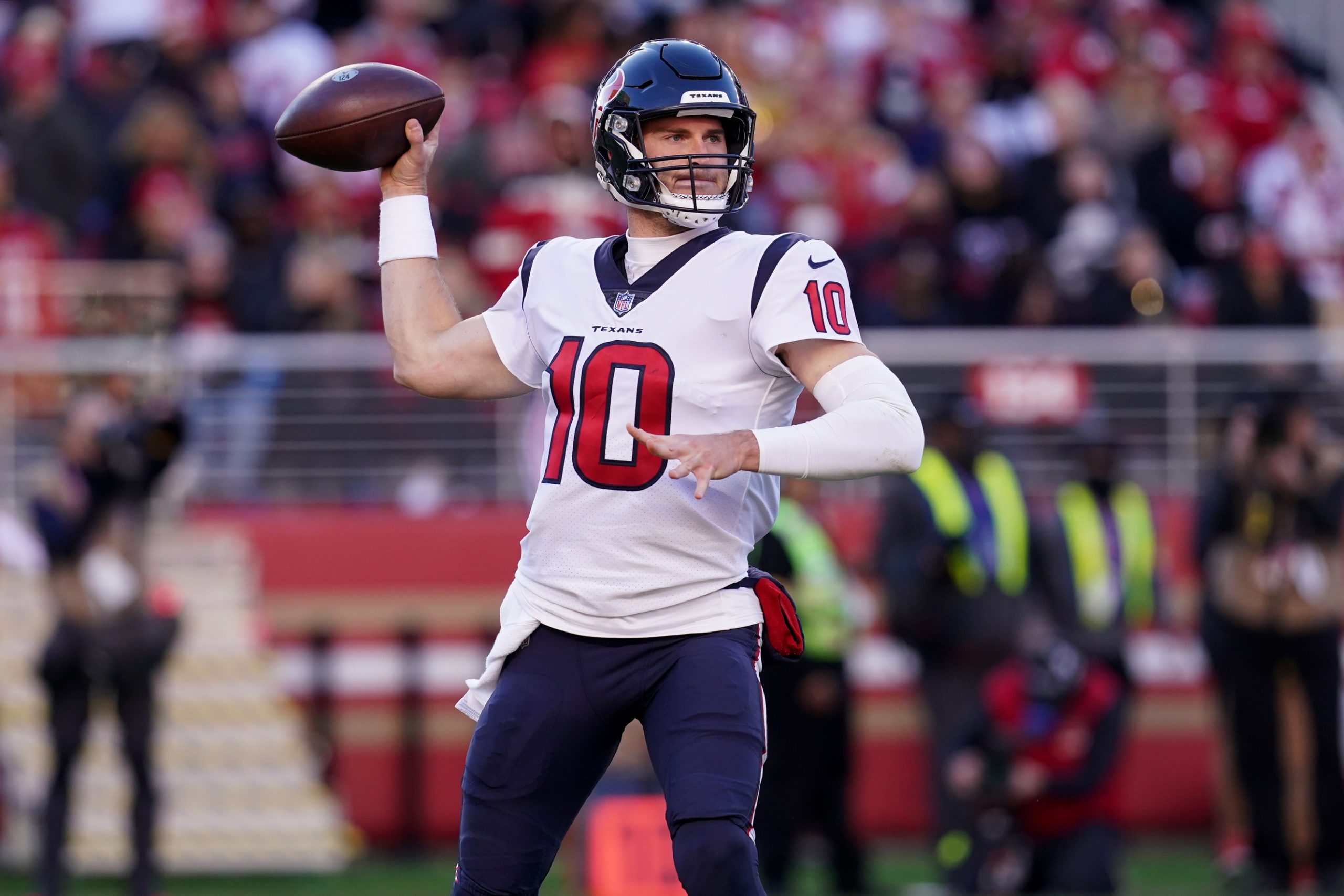 Bad: A new coaching staff means Mills' stranglehold on the starting job could be nonexistent. Another zero in the rushing department, Mills will need to display near-elite efficiency in order to supply anything resembling consistently viable fantasy value. It's tough to see that occurring inside of a Texans' passing game that is still essentially riding or dying purely on Brandin Cooks' back. The Texans' signings at running back and wide receiver over the past two offseasons demonstrate how little this front office cares about winning at the moment.
---
Good: Darnold posted QB16, QB14, QB7 and QB1 fantasy finishes during the first four weeks of 2021 before completely flaming out the rest of the way. Of course, this was largely thanks to an unsustainable five rushing touchdowns during this stretch. The hope for Darnold (still just 24) turning things around revolves around PFF's 31st-ranked offensive line taking a major step forward.
Bad: Darnold was the QB27 in fantasy points per game last season on his way to "leading" the Panthers' 29th-ranked scoring offense. Some of the misfires to D.J. Moore were particularly egregious. Darnold is the favorite to start for the Panthers in Week 1 by default, but even then, it's far from a guarantee. Darnold's OK rushing floor has been the only thing that made him somewhat usable in fantasy land last season. At the end of the day, the 2018 NFL Draft's No. 3 overall pick has just 18 passing touchdowns in his last 24 games. Sheesh.