• Green Bay Packers win despite Miami Dolphins' big plays: Jaylen Waddle and Tyreek Hill both made big plays and surpassed 100 yards each, but turnovers helped the Packers secure victory.
• Cam Akers scores three times: The Rams running back dominated snaps like he did in the 2020 playoffs, which led to the best fantasy performance of his career.
• Leonard Fournette leads the Tampa Bay Buccaneers to victory: Fournette paced the team in rushing yards (72) and receiving yards (90), helping them to an overtime win.
---
PFF's fantasy football recap focuses on player usage and stats, breaking down all the vital information you need to achieve fantasy success in 2022.

---
• Jaylen Waddle: 5 receptions, 143 yards, 1 touchdown
• Tyreek Hill: 4 receptions, 103 yards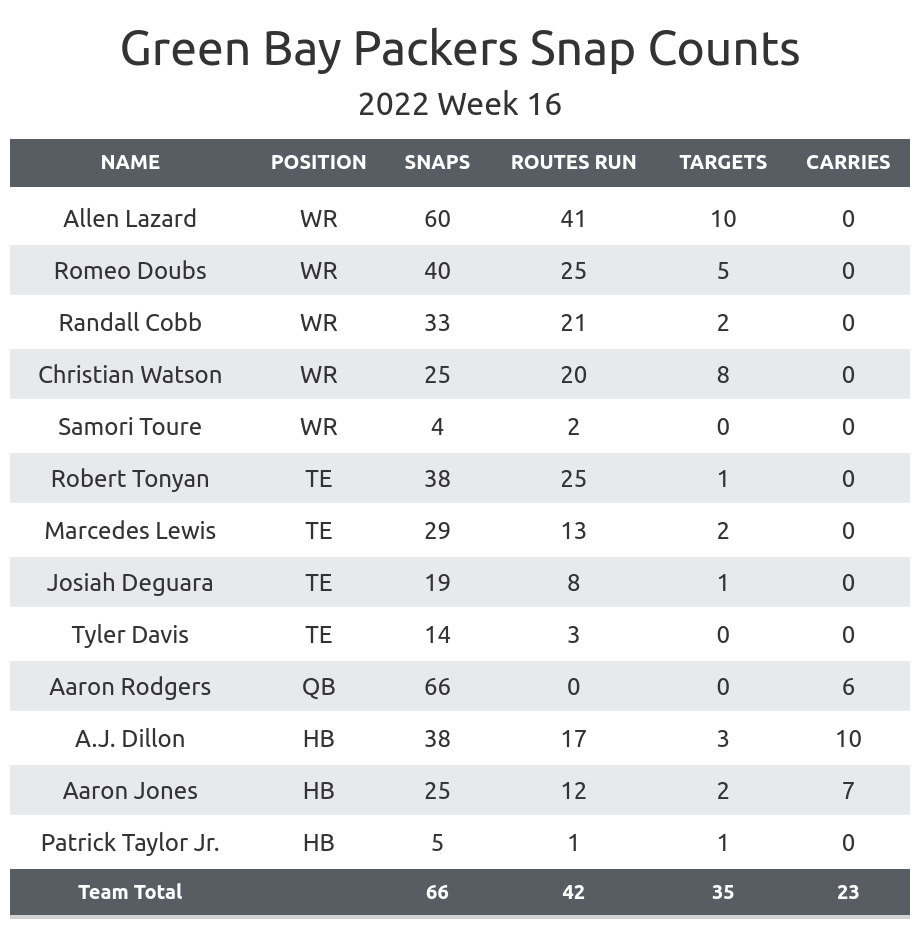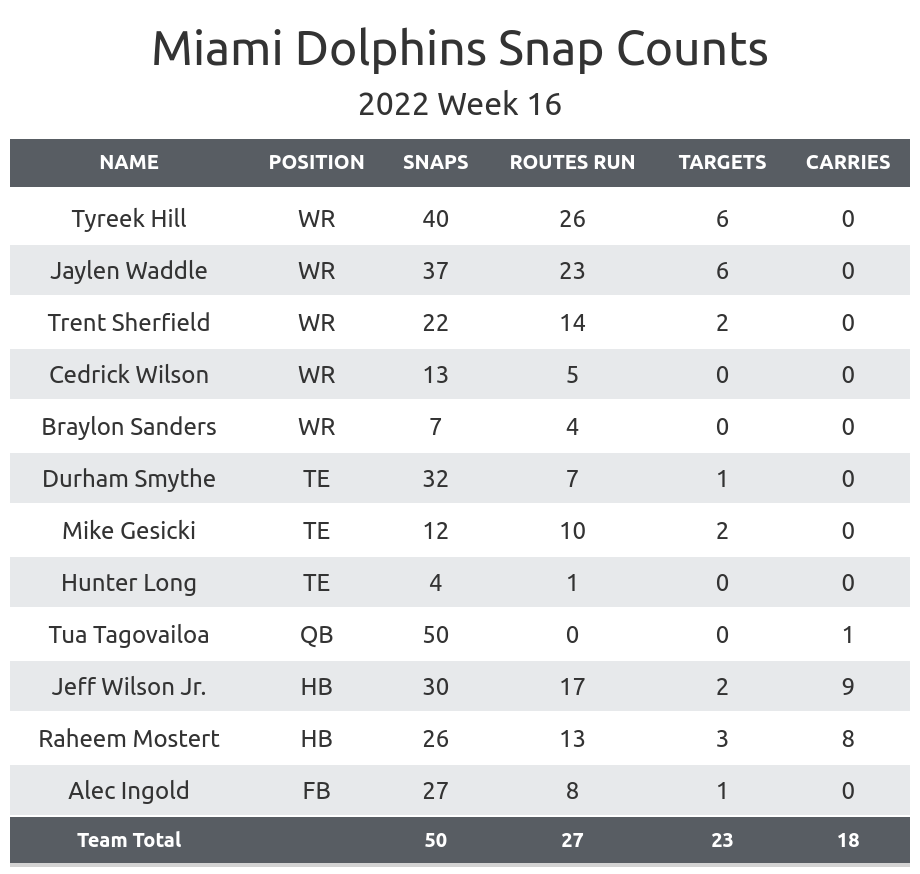 Monitor Christian Watson's health: Watson suffered a hip injury near the end of the first half and was ruled out during the third quarter.
Watson started the game with

Allen Lazard

and was playing his usual role.

He was the clear leader in targets for Green Bay in the first half, catching six passes for 49 yards.

He finished second on the team in receiving yards despite playing less than half the game.

Randall Cobb

and

Romeo Doubs

continued a rotation in three-receiver sets. Cobb played 11 snaps on first and second downs to four for Doubs, while Doubs played more often on third downs.

Doubs took over Watson's role once he left with an injury.

Rookie

Samori Toure

also started seeing playing time, most notably in 13 personnel.

Doubs is a potential waiver wire target if Watson is forced to miss a game.

The Packers play the

Minnesota Vikings

next week. Minnesota has allowed the second-most receiving yards to wide receivers this season.

They allowed the top three receivers for the

New York Giants

to all reach over 75 yards in Week 16.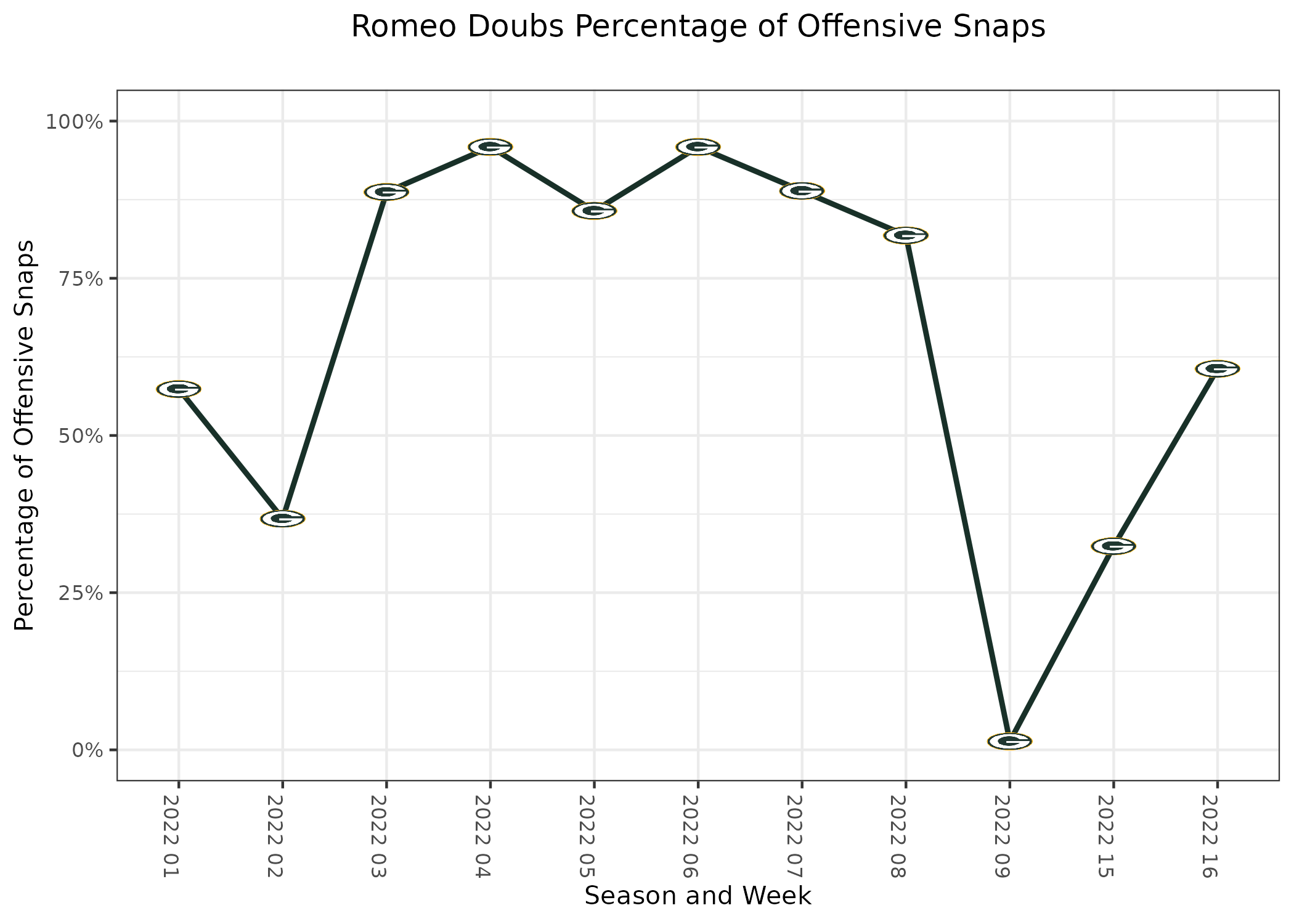 Monitor Aaron Jones' health: Jones has been limited in every practice since before the Packers' Week 10 game. He's appeared on the injury report with ankle, shin, glute and knee injuries at various times over the past seven weeks.
He was also spotted on the sideline getting checked out by the trainer during the game.

This was the likely reason for his reduction in playing time. He was taken out of the game for large chunks at a time, most notably for a 13-minute stretch in the third quarter.

He was held to 25 yards on six carries and two catches for nine yards.

This led to more snaps for

A.J. Dillon

, but he wasn't necessarily more productive.

Dillon scored a touchdown but was held to 3.3 yards per carry. The Packers largely stuck with the passing game.

Patrick Taylor Jr.

played two snaps in the third quarter during Jones' largest absence, as well as the three kneel-downs to end the game.

We'll have to watch the practice injury reports this week before deciding how to handle the Packers' running backs in start/sit decisions.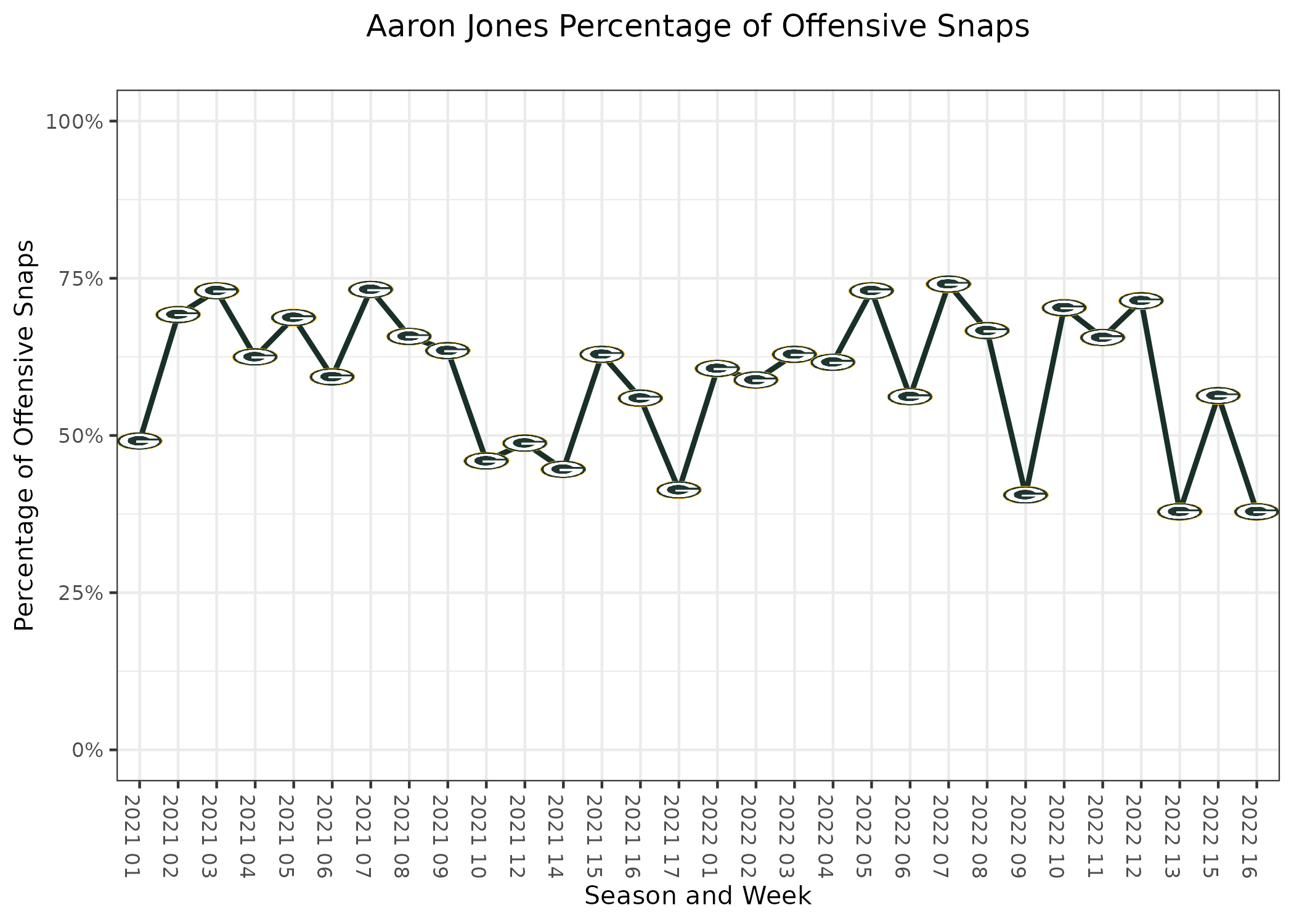 Monitor Mike Gesicki and Alec Ingold's health: Both players left for the locker room in the middle of the fourth quarter. Ingold was questionable with a thumb injury, whereas Gesicki returned.
Ingold's role in the Dolphins' offense has expanded in recent weeks, while Gesicki's has declined.

Ingold has lined up more at tight end in recent weeks compared to earlier in the season. He's taken at least seven snaps lined up as an inline tight end in five of his past six games.

This has contributed to Gesicki's decline.

Miami has also started using 10 personnel more often. They have used that grouping four times in each of the past two weeks. Gesicki would usually be on the field instead of a fourth wide receiver.

The Dolphins' running backs were already going to have a difficult time against the

New England Patriots

. If Ingold misses time, it will make their life even harder.

Gesicki is an unrestricted free agent this offseason and will likely find a new home where he gets more playing time.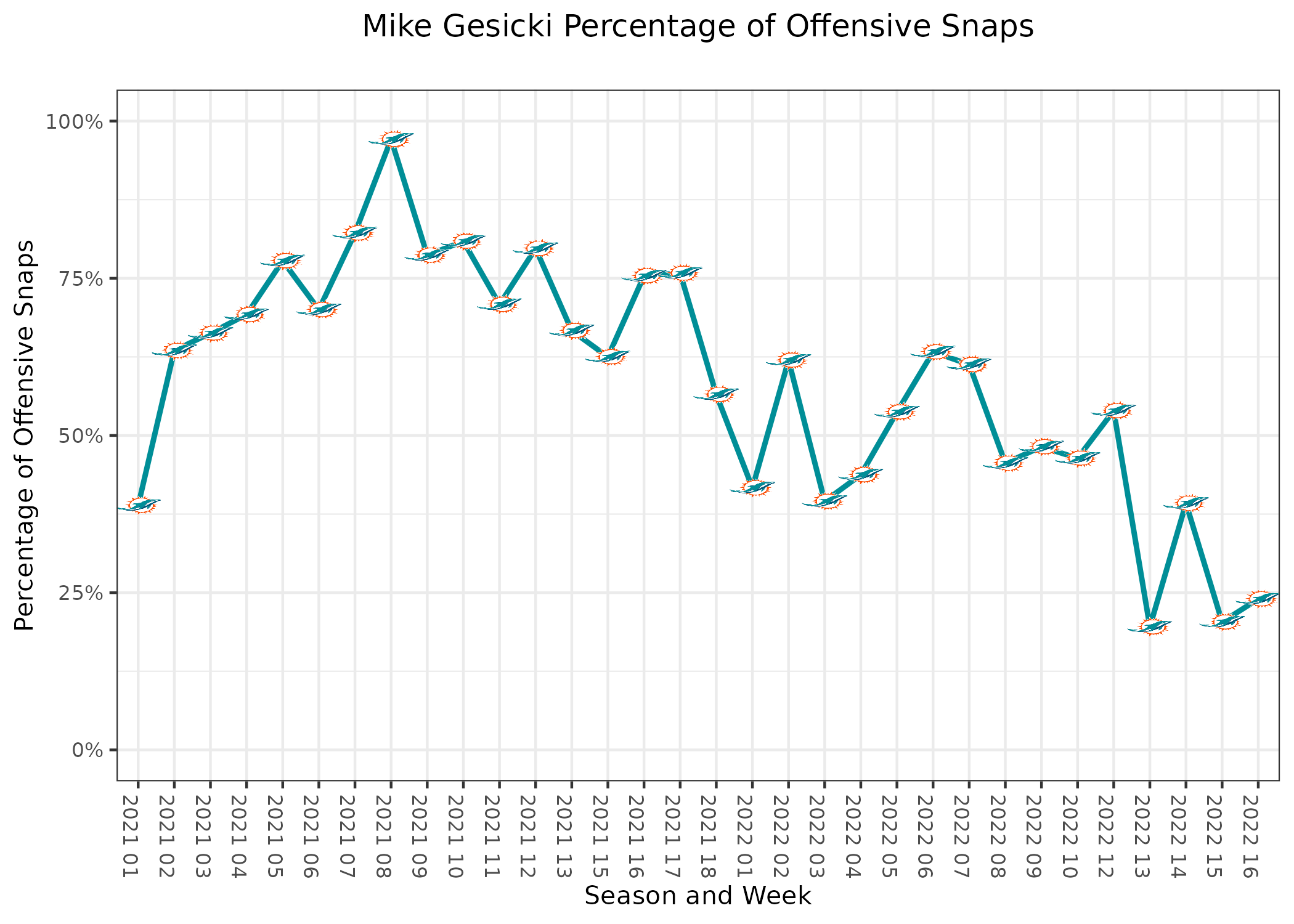 Dolphins' backfield becomes an even split: Miami has often had one top back and one backup all season, but in this game, it was basically an even split.
Raheem Mostert

started the game but

Jeff Wilson Jr.

played more snaps.

Wilson ended up ahead of him by lining up in the slot or out wide on multiple snaps.

Mostert and Wilson had the exact same number of runs, routes and blocks from the backfield on Sunday when including snaps negated by a penalty.

They ended the day with the same number of touches. Mostert gained a few more yards, but Wilson scored a touchdown.

The Dolphins have a rough matchup against the Patriots next week. This 50-50 split is probably enough to bench both backs.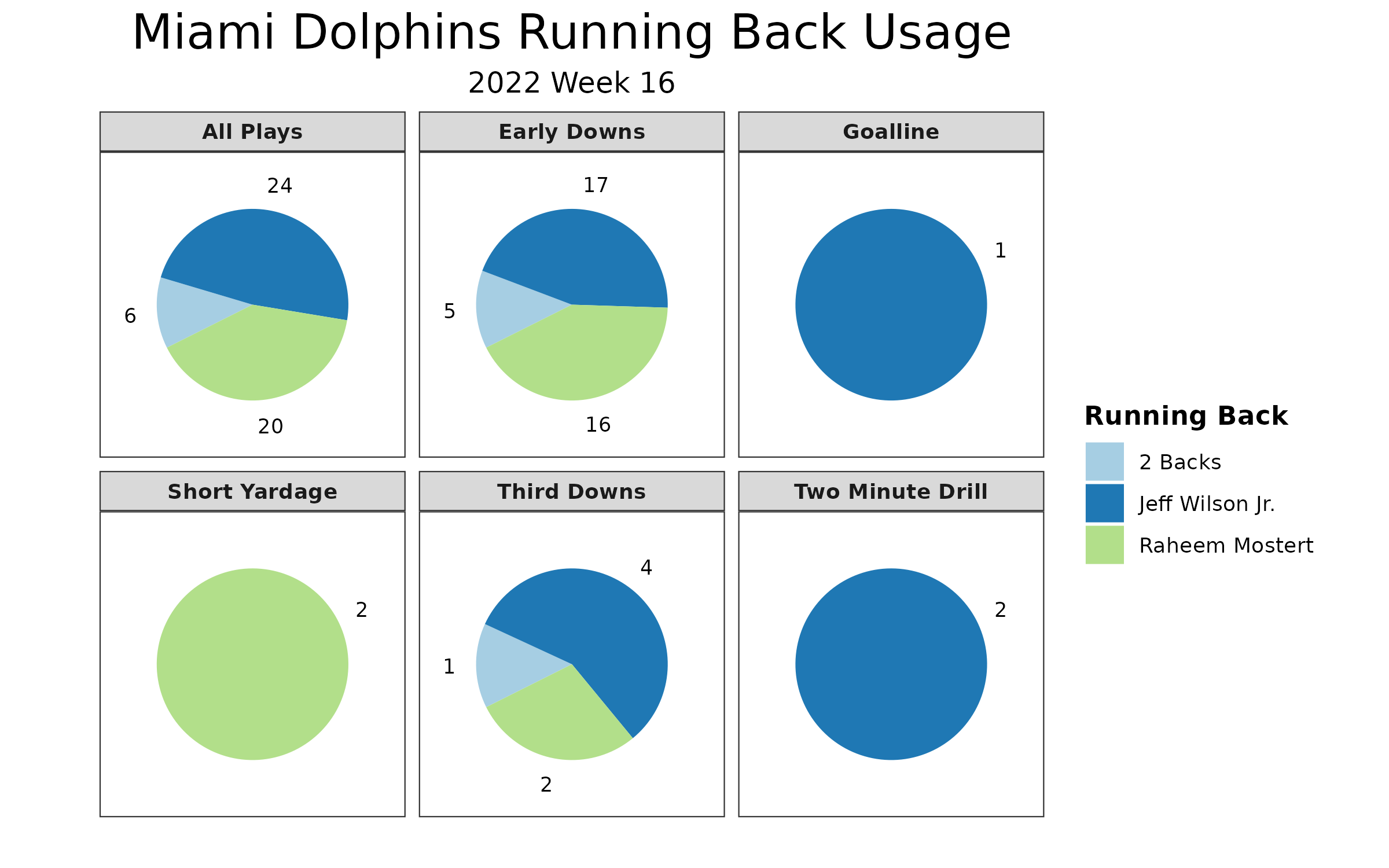 ---
• Cam Akers: 23 carries, 118 yards, 3 touchdowns, 2 receptions, 29 receiving yards
• Tyler Higbee: 9 receptions, 94 yards, 2 touchdowns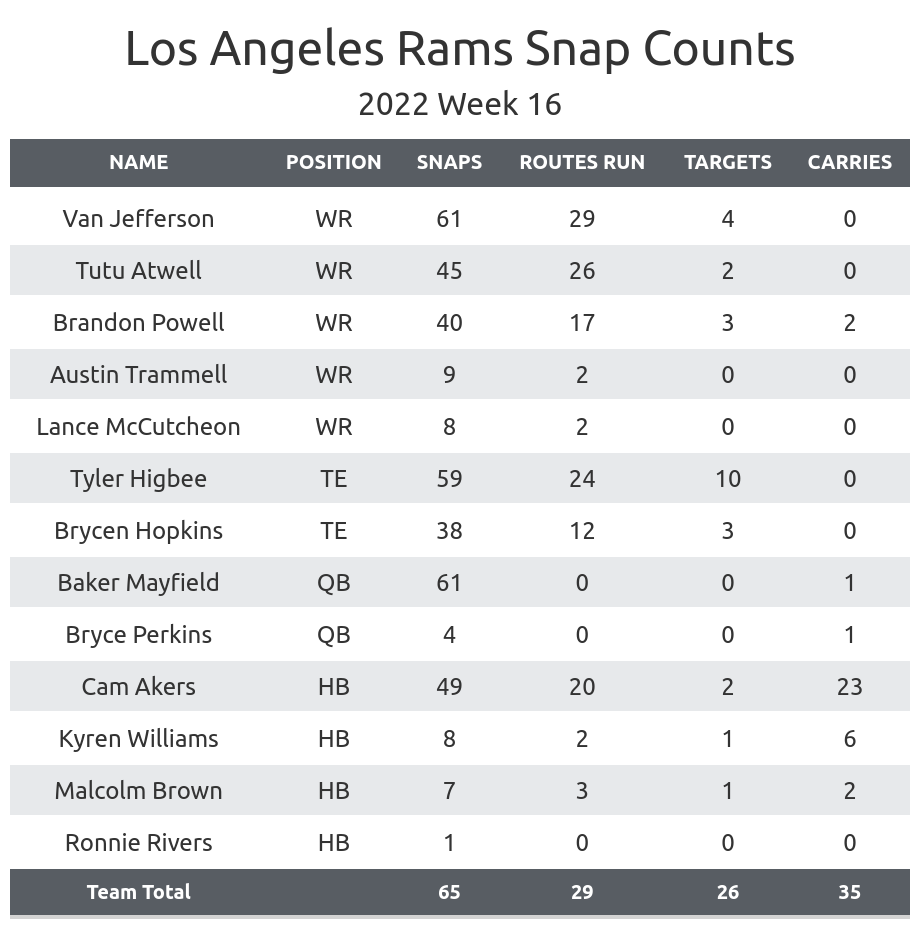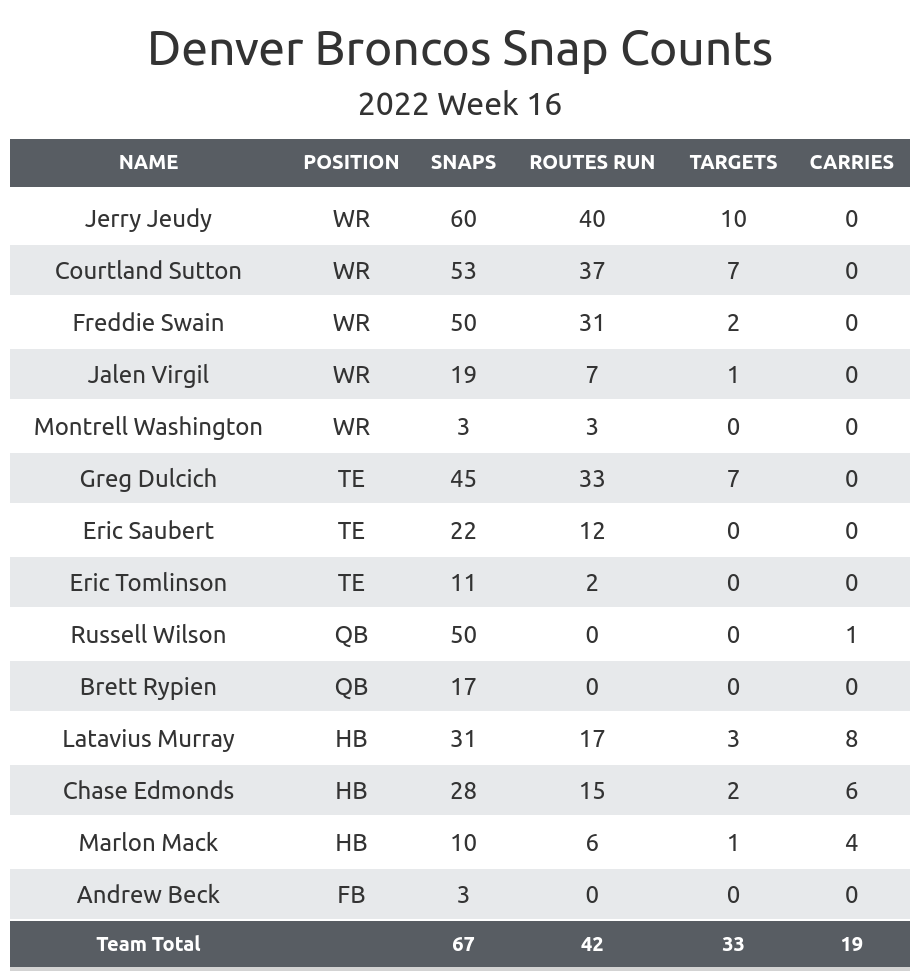 Cam Akers dominates: Akers' improved numbers correspond with an increased role in the offense.
He played 100% of snaps over the Rams' first three drives. This included the Rams' only third-and-11-plus play of the day.

Akers almost never plays in those situations, but this was his third play in this situation of the season.

He was in for more than 80% of offensive snaps on the Rams' first three drives. This included 90% of snaps on first or second downs.

He didn't play on the last two drives, as the Rams largely put backups in.

This was his second straight game playing more than 75% of the Rams' offensive snaps.

He's available in only 30% of ESPN leagues, but he's a must-add in any league where he's still available.

The Rams play the

Los Angeles Chargers

next week, and the Chargers have given up the fourth-most fantasy points to running backs this season.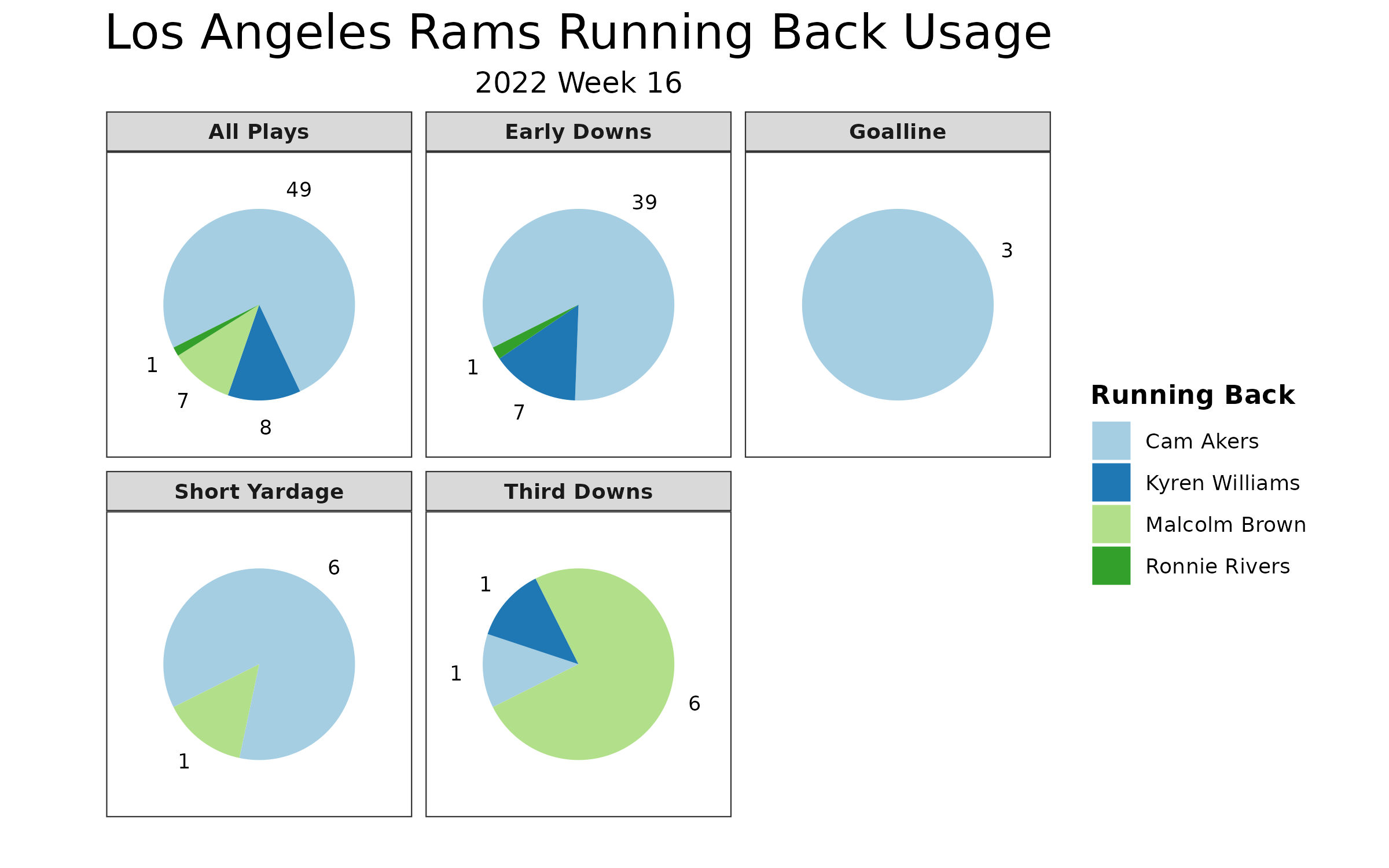 Rams' change of strategy: The Rams used 12 personnel 32 times in this game. They had used it 21 times in their 14 prior games this season.
The Rams likely did this in part because of their injuries at wide receiver. The three wide receivers they used for most of the season were out for this game.

The change in strategy doesn't fully explain why the Rams' offense was so dominant after struggling for much of the season.

This led the Rams' tight ends to finish first and second on the team in receiving yards.

This meant fewer snaps for

Tutu Atwell

and

Brandon Powell

. They would have played the vast majority of snaps had the Rams stuck with their usual strategy of 11 personnel on most plays.

Atwell remained on the field for nearly every pass play, while Powell tended to be the second receiver in more rushing situations.

All three Rams receivers were held between 10-20 receiving yards.

It wouldn't be surprising if the Rams continued with this strategy over the rest of the season.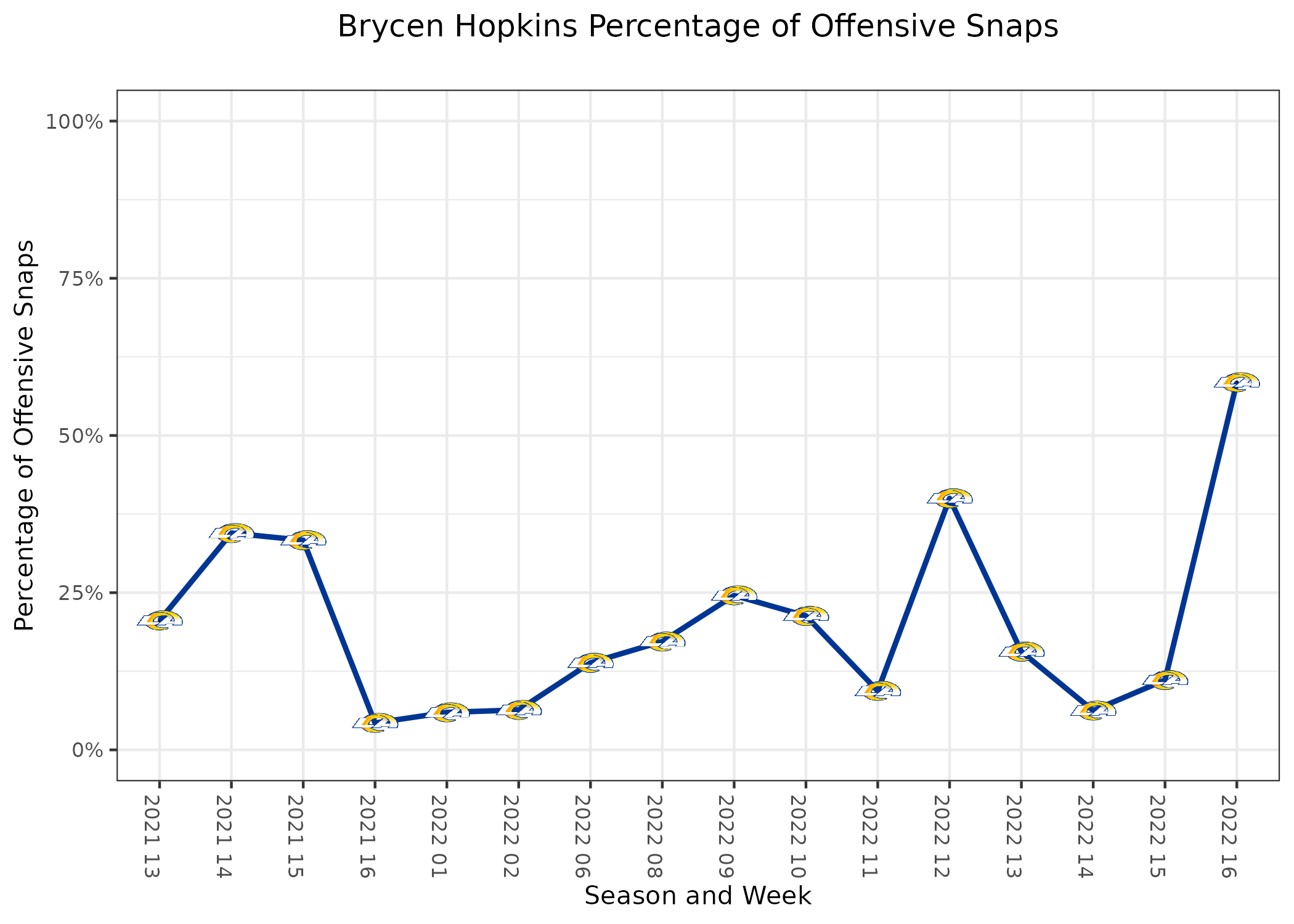 Chase Edmonds' return: The Broncos activated Edmonds off injured reserve on Saturday. He had suffered an ankle injury that landed him on injured reserve.
Edmonds had played in only two games with Denver prior to the injury. He was being eased into a role in his first game and suffered his injury three snaps into his second game.

He was clearly ahead of

Marlon Mack

on the depth chart, but Mack still received some playing time.

He played on most third downs, but his role was also being the Broncos' backup running back in general.

Edmonds cut into

Latavius Murray

's playing time significantly. Murray played his lowest percentage of offensive snaps since Week 10, which was Edmonds' last game before his injury.

The Broncos face the

Kansas City Chiefs

next week and will very likely be playing from behind and passing the ball. The combination of the matchup and Edmonds' return will make it very hard to start Murray.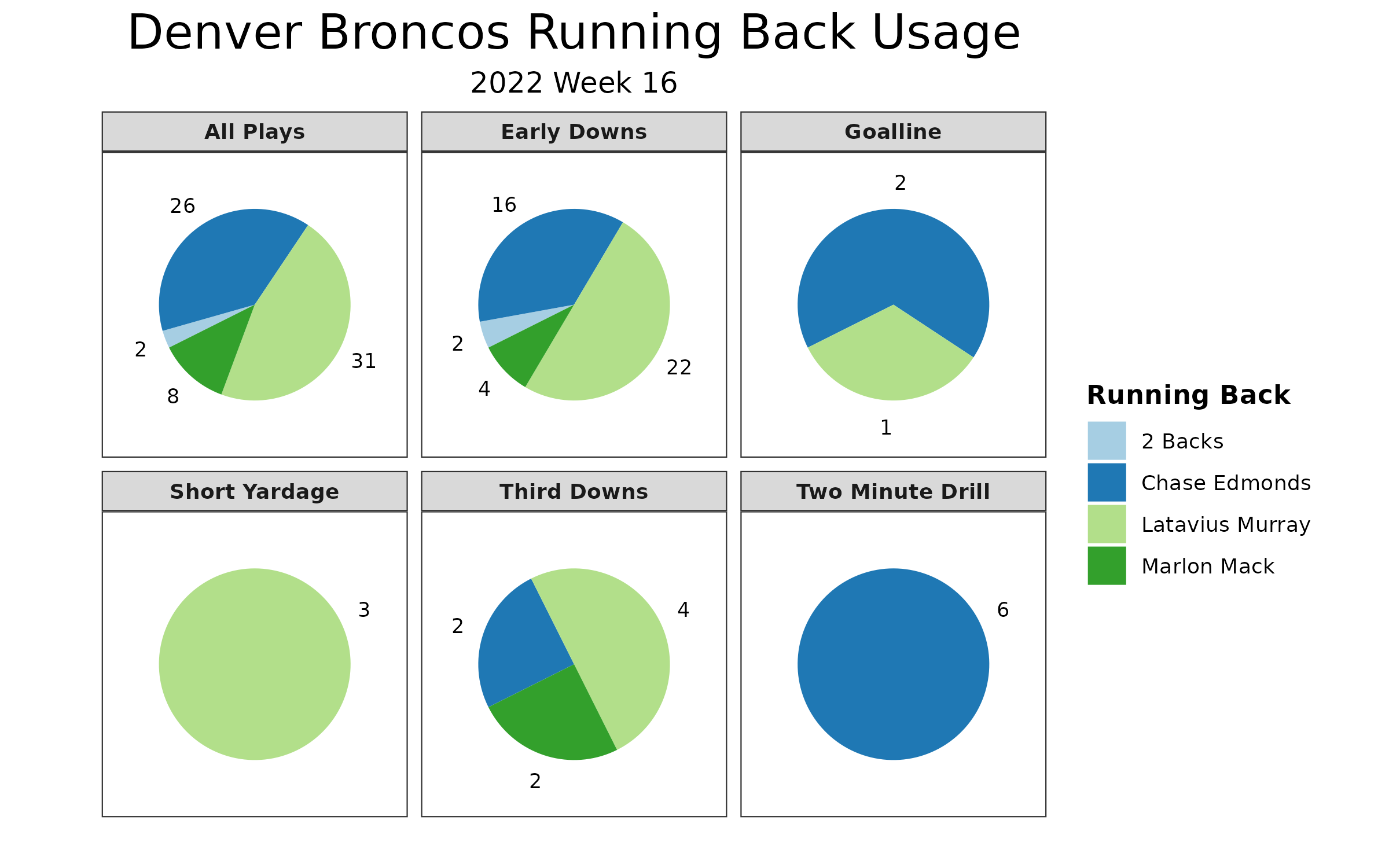 Courtland Sutton's return: Sutton returned to the Broncos after suffering a hamstring injury in Week 13.
Sutton ended up leading the wide receivers in offensive snaps over the first three quarters, returning to the role he had before the injury.

He didn't play as much in the fourth quarter — the last drive, in particular.

Brandon Johnson

had taken Sutton's place among the starters. He was a healthy inactive in this game.

Denver signed

Freddie Swain

off the

Miami Dolphins

'

practice squad earlier this month. He was the Broncos' third receiver Sunday, and he remained in that role with

Kendall Hinton

out with a hamstring injury.

Sutton had an OK game with five receptions for 64 yards.

The Broncos have a more favorable matchup next week against the Chiefs.

Kansas City has allowed the fifth-most fantasy points to wide receivers this season.
Monitor Greg Dulcich's health: Dulcich suffered a hamstring injury in the fourth quarter and didn't return.
His final play was at 6:16 when the Broncos started putting in backups at other positions.

Dulcich put up a fine performance before the injury, catching four passes for 39 yards and a touchdown.

Eric Saubert

took over as the Broncos' receiving tight end over the rest of the game.

Albert Okwuegbunam

led the Broncos' tight ends in routes run over the first five weeks of the season before Dulcich was healthy.

Okwuegbunam was a healthy inactive, as he's been for most of the last few months.

He would likely be active, and potentially the Broncos' lead receiving tight end, if Dulcich misses next week.

The Chiefs have been average against tight ends this season, so there are likely better options off the waiver wire if fantasy managers need a Dulcich replacement.
---
• Leonard Fournette: 20 carries, 72 yards, 9 receptions, 90 receiving yards
• James Conner: 15 carries, 79 yards, 1 touchdown, 7 receptions, 41 receiving yards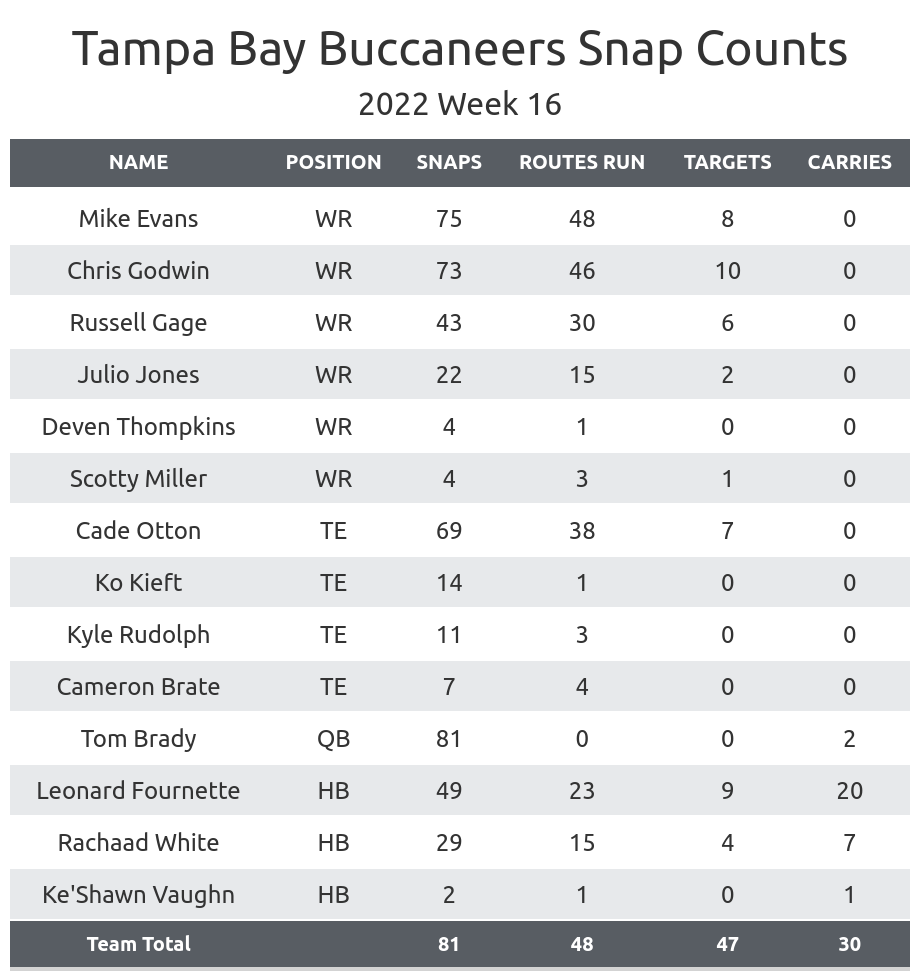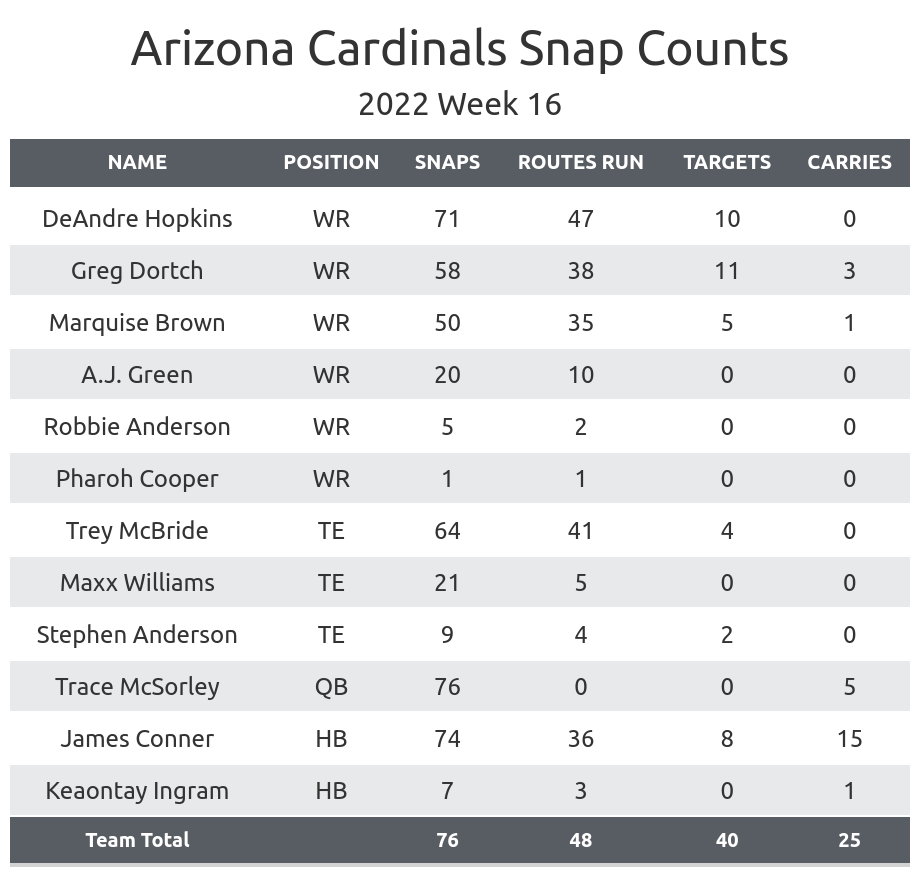 Greg Dortch leads the Cardinals' offense: Dortch returned to being the Cardinals' primary slot receiver and top offensive weapon.
Dortch was the Cardinals' primary slot receiver during the first three weeks of the season. He caught 20 passes for 198 yards and a touchdown in that stretch.

He became a backup who barely played once

Rondale Moore

was ready to play.

He reached over 70% of offensive snaps again in Week 11 when Moore suffered a season-ending injury early that week. Dortch gained 103 yards on nine catches in that game.

Dortch also suffered an injury in that game. Once he was ready to return,

Marquise Brown

was taking the Cardinals' snaps in the slot, leading Dortch to barely play.

Brown was questionable against the

Tampa Bay Buccaneers

with a groin injury he suffered in practice earlier last week.

Arizona moved Brown back outside for this game, having him rotate with

A.J. Green

. This allowed Dortch to regain his role in the slot.

Dortch caught 10 passes for 98 yards, leading the team in targets, receptions and yards by a distance.

He also ran the ball three times for 25 yards.

Arizona plays the

Atlanta Falcons

next week. Atlanta has allowed the fifth-most receiving yards to wide receivers in the slot this season.

Dortch is a very high-risk, high-reward waiver target this week.

He's gained a minimum of 13 PPR points whenever he plays more than 70% of offensive snaps, and this is a great matchup. Arizona could also move Brown back to the slot and Dortch could barely play in the game. We might not know how much he plays until it's too late.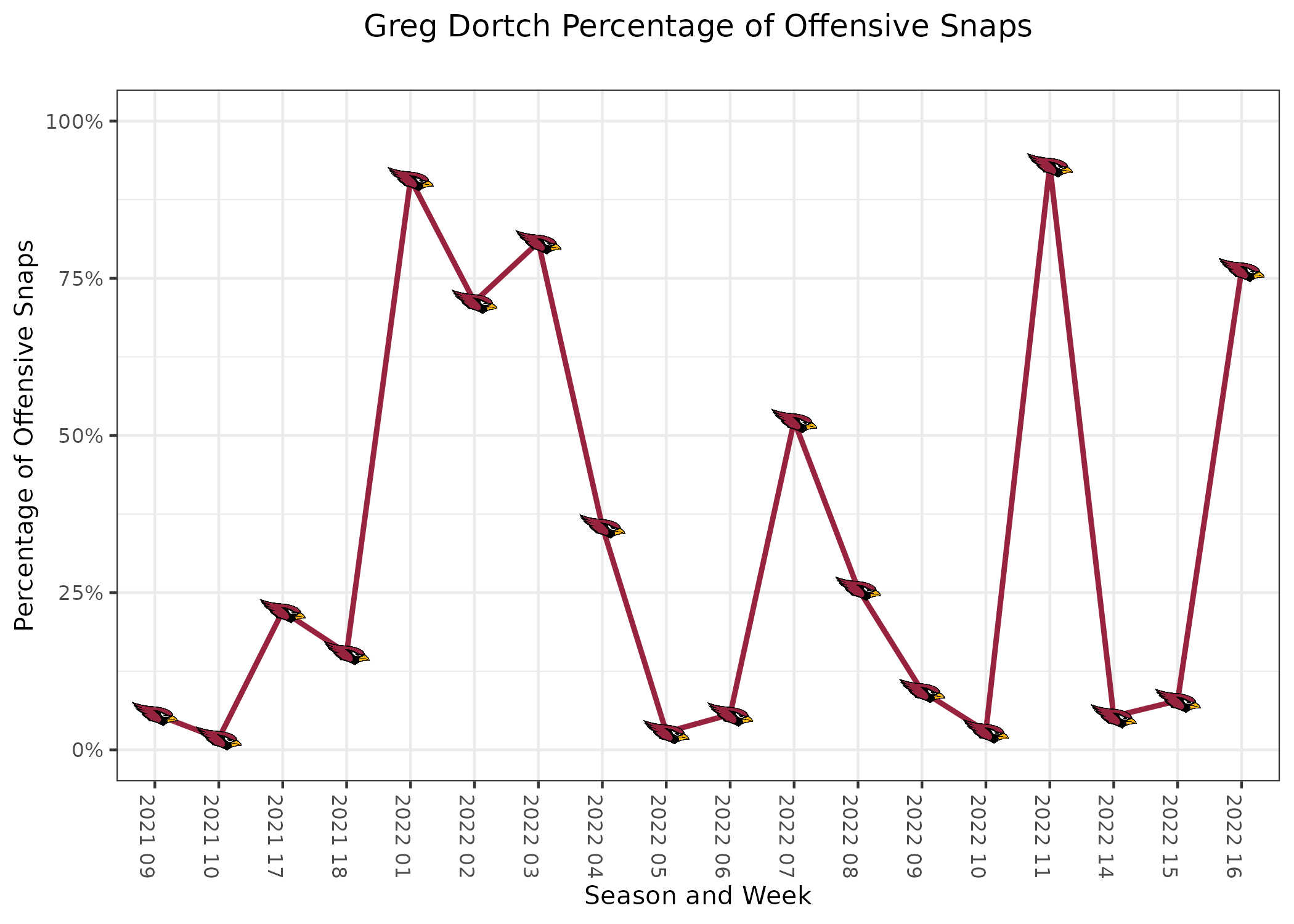 Leonard Fournette leads the Buccaneers' backfield: Fournette dominated carries and targets from the Buccaneers' backfield despite having a backup role.
Rachaad White

started the game for Tampa Bay, as he's done for the past five contests.

Tampa Bay rotated by drive, as per usual, but was more strict about it. White didn't see a snap on any of Fournette's drives, and vice versa, until the fourth quarter.

Only two of the Buccaneers' first 10 drives exceeded five plays, and those were both Fournette drives. They went for 10 and 15 plays, respectively.

Tampa Bay was more willing to run the ball when Fournette was on the field. Fournette also recorded a higher targets per routes run rate.

Typically, their carries per snap are both between 28%-29%, and White has a higher targets per route run over the season, making Sunday's game even more perplexing.

White was able to redeem his fantasy value with a fourth quarter touchdown reception.

Tampa Bay faces a

Carolina Panthers

team that has played relatively well against the run in recent weeks. Two of their past three opponents were held to fewer than 30 rushing yards by running backs, and four of the past five were held to fewer than 100 yards.

Either running back should be started with caution, but especially Fournette.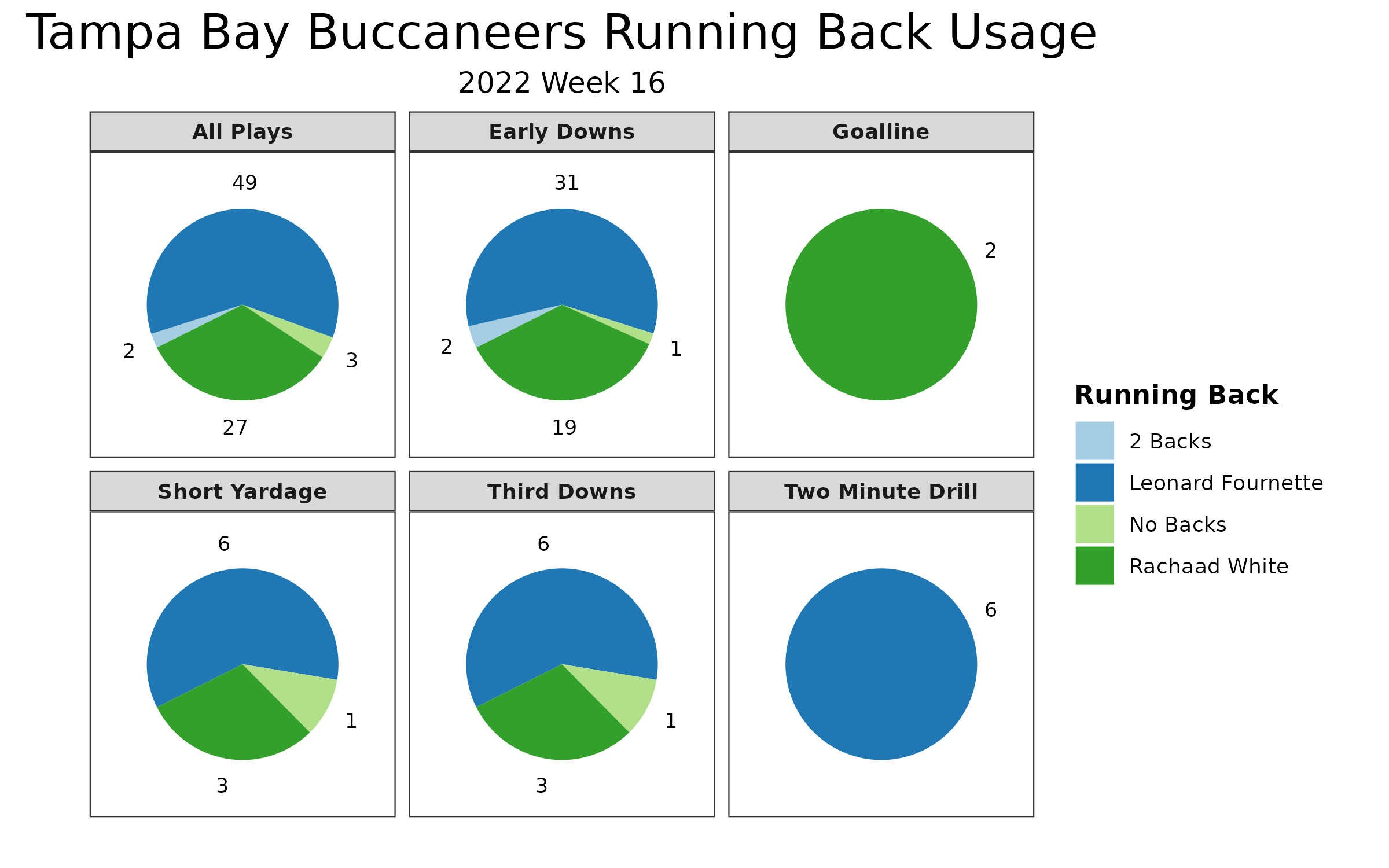 Cade Otton regains the Buccaneers' tight end job: Otton had been in a timeshare with Cameron Brate when both were healthy, but Otton was the clear leader Sunday.
Brate's biggest edge came from 11 personnel on third downs in the past. Brate had 33 snaps in this situation over his past four games, while Otton had 11 in that same span.

Otton took an even higher percentage of snaps than usual on early downs and dominated on third-down snaps 13-1.

This led to plenty of targets (seven), but he caught only two for 12 yards.

Brate ranked fourth in terms of snaps, as other tight ends on the roster are better for run-blocking situations.

The Panthers have been one of the best teams at preventing fantasy points to tight ends, so Otton might not be the best option for Week 17.

This is great news for his future beyond Week 17.
Monitor Russell Gage's health: Gage took a hit in overtime and was slow to get up. He went back in shortly thereafter, took another hit and was slow to get up again.
He was able to jog off the field, so the hope is that he's not seriously injured.

The Buccaneers ran a few plays out of running formations before kicking a field goal, so we never had an opportunity to see if Gage would have been able to return to the game.

He was splitting time with

Julio Jones

in three-receiver sets, with Gage seeing two snaps for each one by Jones.

Jones was questionable coming into this game with a knee injury, which likely contributed to his smaller role.

Gage had a respectable day with five catches for 65 yards, while Jones was held to a five-yard catch.

Both wide receivers should probably be avoided next week, regardless of Gage's health.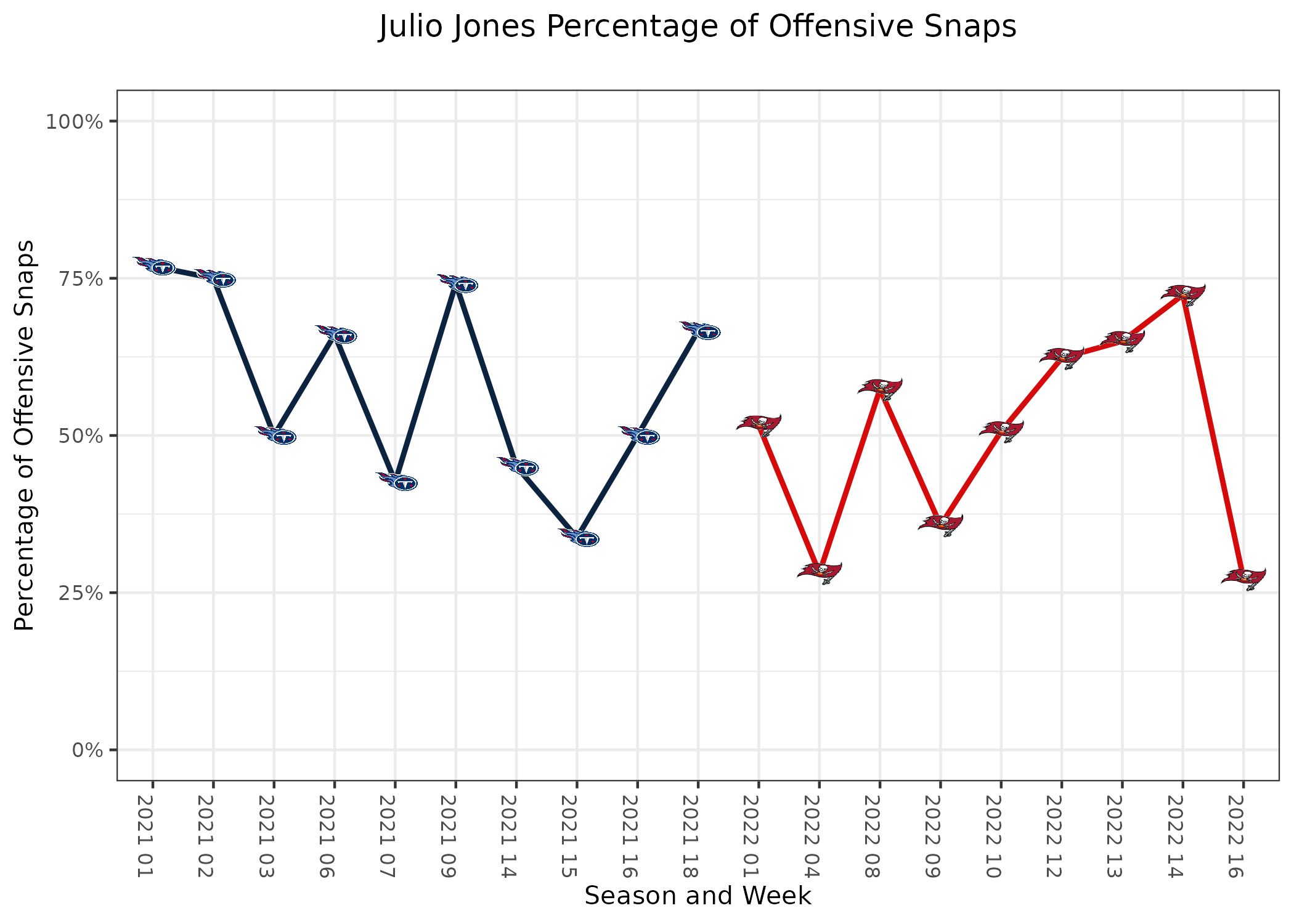 ---
Table Notes
Snaps include plays called back due to penalties, including offensive holding or defensive pass interference. The other three stats have these plays removed.

Targets may differ from official NFL sources. The most likely discrepancy would be from a clear thrown-away pass, where the NFL may give the target to the nearest receiver, while this data will not.

Carries are only on designed plays. Quarterback scrambles won't count for the total number of carries in the game.