• Kendre Miller starts despite his injury: Miller's knee sprain was supposed to keep him out for at least a week or two, but he got ready to play in less than a week.
• Joshua Kelley secures the RB2 spot for the Los Angeles Chargers: Kelley played a higher percentage of snaps with the starters than last week.
• Donald Parham Jr. pulls away from Tre' McKitty: The two have often split snaps — including in the first preseason game — but Parham was clearly ahead of McKitty in this game.
Estimated Reading Time: 4 minutes
---
PFF's fantasy football recap focuses on player usage and stats, breaking down all the vital information you need to achieve fantasy success in 2023. You can find more information on why it's essential to pay attention to the preseason here.
Check out PFF's 2023 Fantasy Draft Kit for even more content to help you dominate your league.
---
Preseason Recaps: Friday Week 2 | Thursday Week 2 | Week 1 | Hall of Fame Game
Player Profiles | Depth Charts
Rankings: PPR | Half-PPR | Standard | Superflex | Best Ball
Dynasty Rankings: PPR | Rookie | Superflex | Superflex Rookie
Position Rankings: QB | RB | WR | TE
Sleepers: Top-10 | QB | RB | WR | TE
League Winners: Top-5 | QB | RB | WR | TE
Breakouts: QB | RB | WR | TE
Position Draft Strategy: QB | RB | TE
14-Team Draft Strategy: Overall strategy
12-Team Draft Strategy: Overall strategy | Picks 1-3 | Picks 4-6 | Picks 7-9 | Picks 10-12
10-Team Draft Strategy: Overall strategy | Picks 1-3 | Picks 4-7 | Picks 8-10
---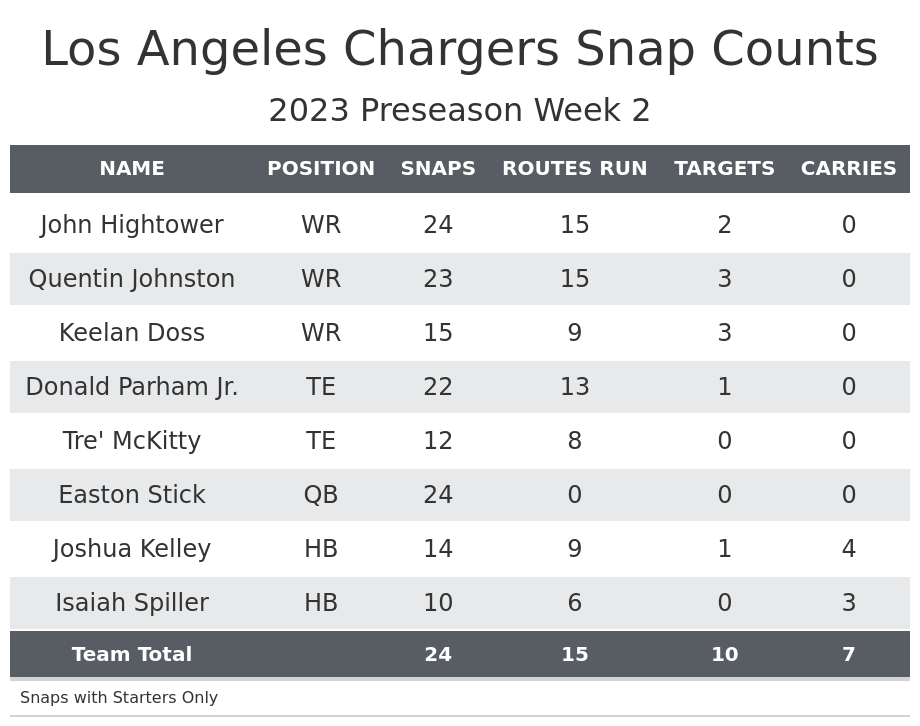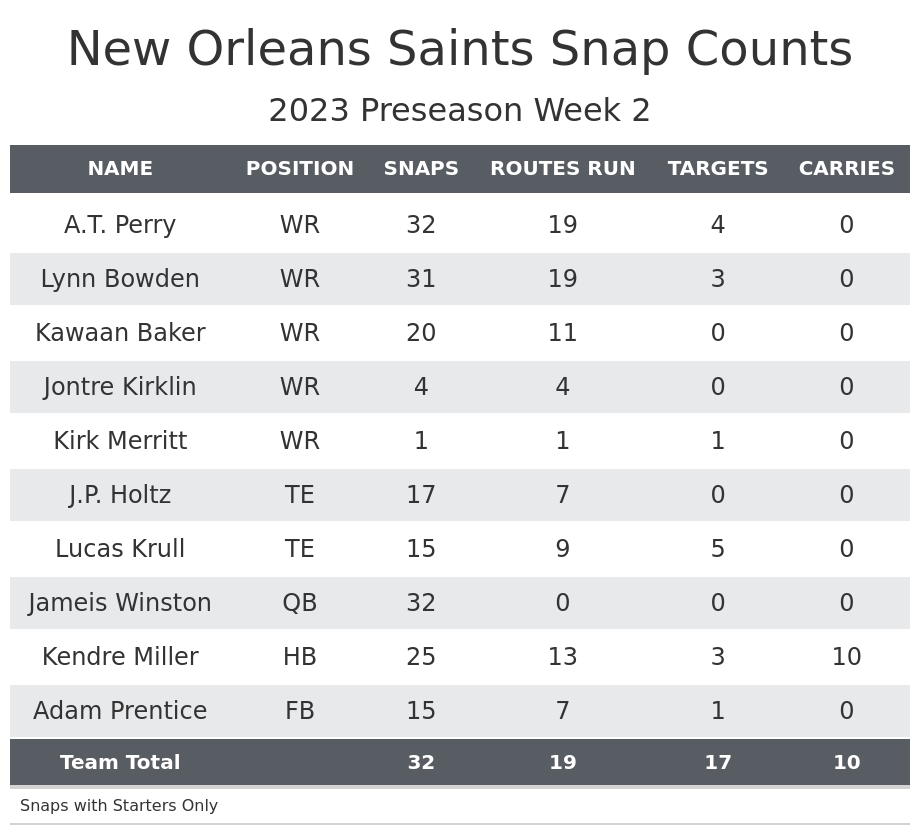 Kendre Miller starts for the Saints: Miller missed a few days earlier in the week with a knee sprain.
Miller was initially expected to miss a week or two, but he was apparently well enough to play in this game.

Alvin Kamara

and

Jamaal Williams

had the night off, making Miller a clear third on the depth chart.

The Saints were consistently taking Miller off the field on third-and-long.

With Kamara still on the roster, few people would have expected Miller to have a role on third down. This makes it pretty clear he won't be playing on third downs during Kamara's three-week suspension to start the campaign.

This means

Jamaal Williams

will likely take the third-down snaps — as well as being the primary starter — over the first three weeks.

Williams served as an early-down back with the

Detroit Lions

,

but he was the primary receiving back in his first two seasons in the NFL with the

Green Bay Packers

.

Miller was inefficient in the first quarter, gaining 10 yards on six touches, but he started the second quarter with a 27-yard catch followed by a 7-yard touchdown run.

Miller being a clear third on the depth chart could mean he could have a quiet season, but it's worth remembering that Miller just turned 21 this summer.
Joshua Kelley remains in control of the backup running back job: Kelley started the game and took a clear majority of snaps in the first quarter.
Kelley also started over

Isaiah Spiller

in the first preseason game. He took all of the snaps in the first quarter of that game, as well as most of the snaps in the second and third.

Spiller took every snap on the fourth drive in that game and rotated in and out on the fifth drive before his day was done.

He rotated with

Larry Rountree III

,

who was released and signed by the

Houston Texans

earlier this week

.

Kelley started again today and played an even larger majority of snaps throughout the first five drives.

Both running backs averaged over 5.0 yards per carry last week, but neither managed above 2.5 over the first seven drives.

This likely means that Kelley will be the backup for another season, while Spiller will remain third on the depth chart.
Donald Parham Jr. pulls ahead of Tre' McKitty: Parham was the clear starter at tight end, largely restricting McKitty to two-tight end sets.
Parham and McKitty were 2a and 2b on the depth chart last season when healthy.

They both played exactly 107 snaps from Weeks 15-18 last season.

Parham earned a 79.1 overall grade last season compared to McKitty's 31.8.

The two seemed very close together last week — both players ran 11 routes and played 10 run-blocking snaps over the first four drives, but it was worth noting that Parham took all three snaps on the first drive while Parham played the majority of the fourth.

This week, it was Parham taking every snap in 11 personnel over the first few drives.

Gerald Everett

remains the starter in Los Angeles, but Parham appears to be the clear handcuff if something happens to Everett this season.

He was targeted three times but didn't catch any of those passes.

Parham has graded notably better than Everett as a receiver over the last few seasons. It's at least possible Parham cuts into Everett's playing time on passing downs this season if he can remain healthy.
Miscellaneous Notes
Table Notes
• Snaps include plays called back due to penalties, including offensive holding or defensive pass interference. The other three stats have these plays removed.
• Targets may differ from official NFL sources. The most likely discrepancy would be from a clear thrown-away pass, where the NFL may give the target to the nearest receiver, while this data will not.
• Carries are only on designed plays. Quarterback scrambles won't count for the total number of carries in the game.