Late September is one of my favorite times to make trades in fantasy football leagues because two or three played games are enough to convince some owners of trends that aren't really there. This and every week, I'll suggest players to target based on the four sources of fantasy market inefficiency:
Future opponent tendencies
Limitations because of injuries or suspensions
Efficiency metrics that suggest likely gains or losses in opportunities
Affectations, or the artificial inflation or deflation of value because of fads.
Here are my FLEA market finds for Week 3.
Future opponents
Watson averaged more than three passing touchdowns per game last season, and so he was destined to suffer fantasy regression no matter how well he played this year. Still, with just three touchdowns total over two weeks, he has disappointed. Don't get discouraged. The Texans are one of just three teams that opened with consecutive road games, and three of their next four are at home — and all 4 are in a dome. Not only that, the team's next three opponents — the Giants, Colts, and Cowboys — all boost passing touchdowns per attempt by 20 percent more than a typical team. I have Watson scheduled to gain 4.9 extra fantasy points because of his schedule over the next three weeks. This may be your only opportunity to trade for him this season.
I originally thought Jones dramatically hindered his chances of becoming the Packers' lead back because of his suspension, but now that I've seen Jamaal Williams try to run against the stout Bears' and Vikings' run defenses, I've changed my mind. Williams has been close to neutral in Yards Added, which accounts for the difficulty of carries. But he has looked much worse by traditional efficiency metrics, most notably his 3.4 yards per carry. Jones was the better player by Yards Added in 2017, and he's coming back just in time to face the Redskins, Bills, and Lions, who allow more rushing attempts and more rushing yards and touchdowns per play than a typical team. Jones' suspension could not have been better-timed. I think he'll be the Packers' back to own sooner than later.
Limitations
The injury spotlight in Philadelphia is pointed at Carson Wentz, who is expected to return this week to face the Colts. But don't forget about Jeffery. He may not return for another week or two, but his fantasy prospects are trending up after teammate Mike Wallace suffered what may have been a season-ending ankle injury last week. Jeffery was already the No. 22 PPR receiver in his first year with the Eagles. He could push WR1 status once he and Wentz reunite healthy on the field.
Devonta Freeman may only miss another week or two with his knee bruise, and that will render Smith unusable in fantasy. Still, I couldn't help but be impressed by the rookie in his nine-carry, 46-yard debut. He nearly added a yard per carry over what you'd expect from a typical back. There may not be a ton of leagues where it makes sense to handcuff a handcuff, but in them, pick up Smith. Meanwhile, don't be surprised if Smith becomes a flex option in 2019 if the Falcons let Tevin Coleman leave in free agency. Smith is an excellent trade target in dynasty formats.
Efficiency trends
Drake was the most efficient rusher by Yards Added in 2017 because nearly all of his impressive 4.8 yards per attempt came after contact. This year, he's continued to be a force with 3.2 yards after contact per attempt. It will be difficult for the Dolphins to justify splitting carries between him and past-his-prime veteran Frank Gore if Drake continues to be this productive. Since Drake is already seeing the bulk of the backfield's targets, I'd consider him a back-end RB1 who is probably undervalued on the market.
Undrafted out of Colorado, Lindsay has been a revelation for the Broncos over the first two weeks. His 3.9 yards after contact per attempt and 18 Yards Added are both top-five at the position. It's difficult to become overly excited about Lindsay's fantasy prospects in the short term with Royce Freeman and Devontae Booker still seeing a lot of field time, but the early returns are that Lindsay has the talent to earn a bigger share of the team's future touches.
Carson and rookie Rashaad Penny have been mired in a timeshare behind a poor Seahawks offensive line this season. That's not the recipe for short-term fantasy success, but Carson is well on his way to rectifying it. He has added 10 yards while Penny has cost the team 8 yards relative to an average back on their respective carries. If those trends continue, the team will undoubtedly shift more of the workload to Carson. Head coach Pete Carroll has already implied that he views Carson as the better option but limited his carries in Week 2 because of fatigue.
Pete Carroll says Chris Carson got "gassed" also playing special teams tonight, and coach wanted to see what Rashaad Penny could do. #Seahawks pic.twitter.com/EtZgEifyRT

— Gregg Bell (@gbellseattle) September 18, 2018
Make your plays to acquire Carson now before he tips his hand with a big-carry day.
Affectations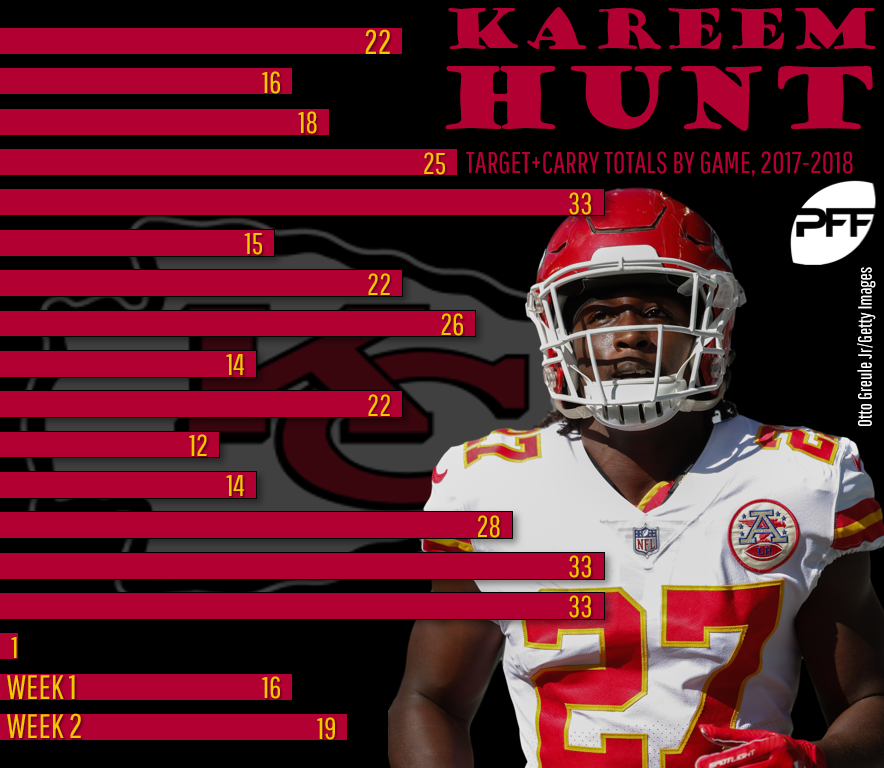 New quarterback starter Patrick Mahomes has transformed the Chiefs into the best offense in football, and he's done it without much help from Hunt. Mahomes has the arm strength and aggressiveness to throw the ball down the field — he is leading all passers with a 13-yard average depth of throw — and that has left Hunt with only 2 targets and no touchdowns in two weeks. But, really, Hunt has been a victim of the team's unusual success. Six of Mahomes' 10 touchdowns have come on chunk plays of more than 15 yards, and only two have come within a yard of the end zone. The Chiefs can't continue to score so easily from everywhere on the field. As their drives normalize, expect Hunt to see more targets and touchdown opportunities. He continues to be an RB1, but some of his owners may not see him that way.
Pretty much all of the reaction to Josh Gordon's trade to the Patriots has centered on him and his new team, but I'm thinking his departure could clear a fantasy-relevant role for one of his former teammates in Cleveland. Rookie Antonio Callaway is the obvious choice there coming off his three-catch, 81-yard, one-touchdown game against New Orleans, but it was Higgins and Njoku who tied for the team lead with seven targets a piece. The Browns should throw the ball even more when Baker Mayfield takes over at quarterback, and that day could come quickly if the team continues to lose winnable games.