Running backs are routinely thought of as the most important position in fantasy football, and with good reason — no position is more capable of producing points on a per-player basis. But running backs also come out of nowhere every season, and this year's crop of rookies is a good place to look for players who are destined to help fantasy teams at some point in 2020. 
Subscribe to
Let's examine the situation each 2020 rookie running back was drafted into and rank them accordingly, from worst to best, in four categories: late-round fliers, backup running back potential, legitimate contributors and the potential workhorse runners.
Late-Round Fliers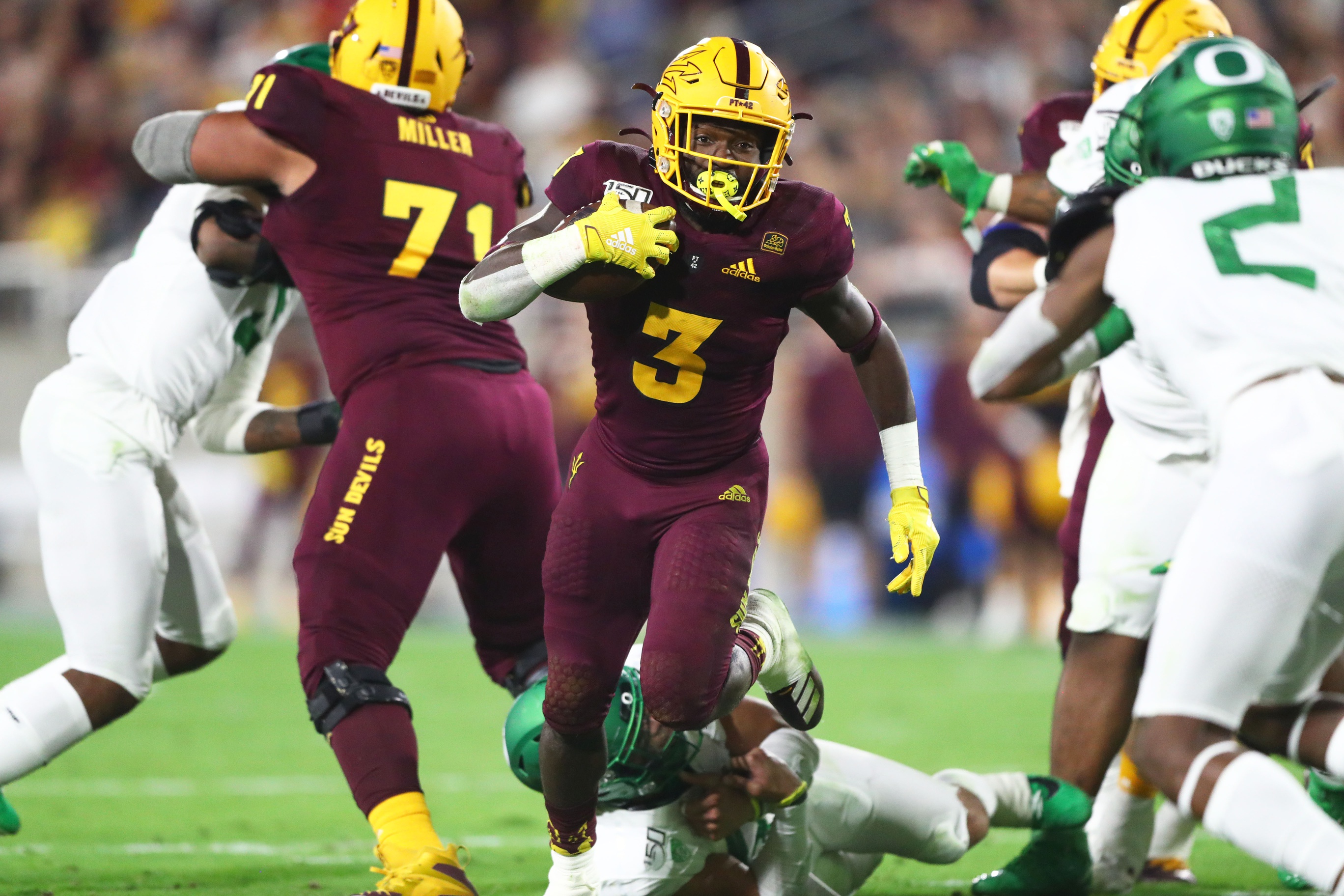 Huntley was a fifth-round pick who enters the NFL alongside second-round RB D'Andre Swift. Unfortunately for both players, the Lions ranked 28th in red-zone plays, 16th in goal-line plays, 20th in run play percentage and 22nd in explosive run percentage. The Lions' offense is not the standard when it comes to rushing productivity, and, unfortunately for Huntley, he'll need to compete with the aforementioned Swift as well as veteran Kerryon Johnson — among others — for any semblance of playing time.
Like Huntley and Swift, Calais joins the Buccaneers alongside another rookie running back in third-rounder Ke'Shawn Vaughn. The positive for both players is that the Buccaneers could be one of the most productive offenses in the NFL. Last season, with Tom Brady operating at quarterback, the New England Patriots ranked first in both red-zone plays and goal-line plays. The issue for Calais is that he is buried on a depth chart that already contains three players with defined roles.
Perry is a former Navy product and highly productive college running back — he enters the NFL in a situation that can be viewed as both positive and negative. The Dolphins aren't the most talented team, but they also lack a true stud option at the running back position. Veterans Jordan Howard and Matt Breida are expected to split time as the top two options in the backfield, but the former is already on his third team in his short NFL career and Breida hasn't been able to stay healthy.
The Dolphins have a lot of room to improve — their 31st-ranked rushing yards before contact per attempt figure (0.7) is a tough ask for any running back to overcome. A major positive for Perry and his teammates is their schedule. PFF's strength of schedule metric ranks it as the easiest running back schedule in 2020.
Benjamin was highly productive as both a runner and receiver during his time with the Arizona State Sun Devils. Teammate Kenyan Drake is firmly entrenched as the Cardinals' starting running back, but Benjamin could find his way into a role as a rookie. The Cardinals harbor a good environment for running backs — they ranked second in rushing yards before contact, sixth in explosive plays rushing and second in explosive run percentage. The team ranked highly in several other statistics that capture running back production. PFF's SoS metric ranks their running back schedule as the fourth-easiest in 2020.
Backup RB Potential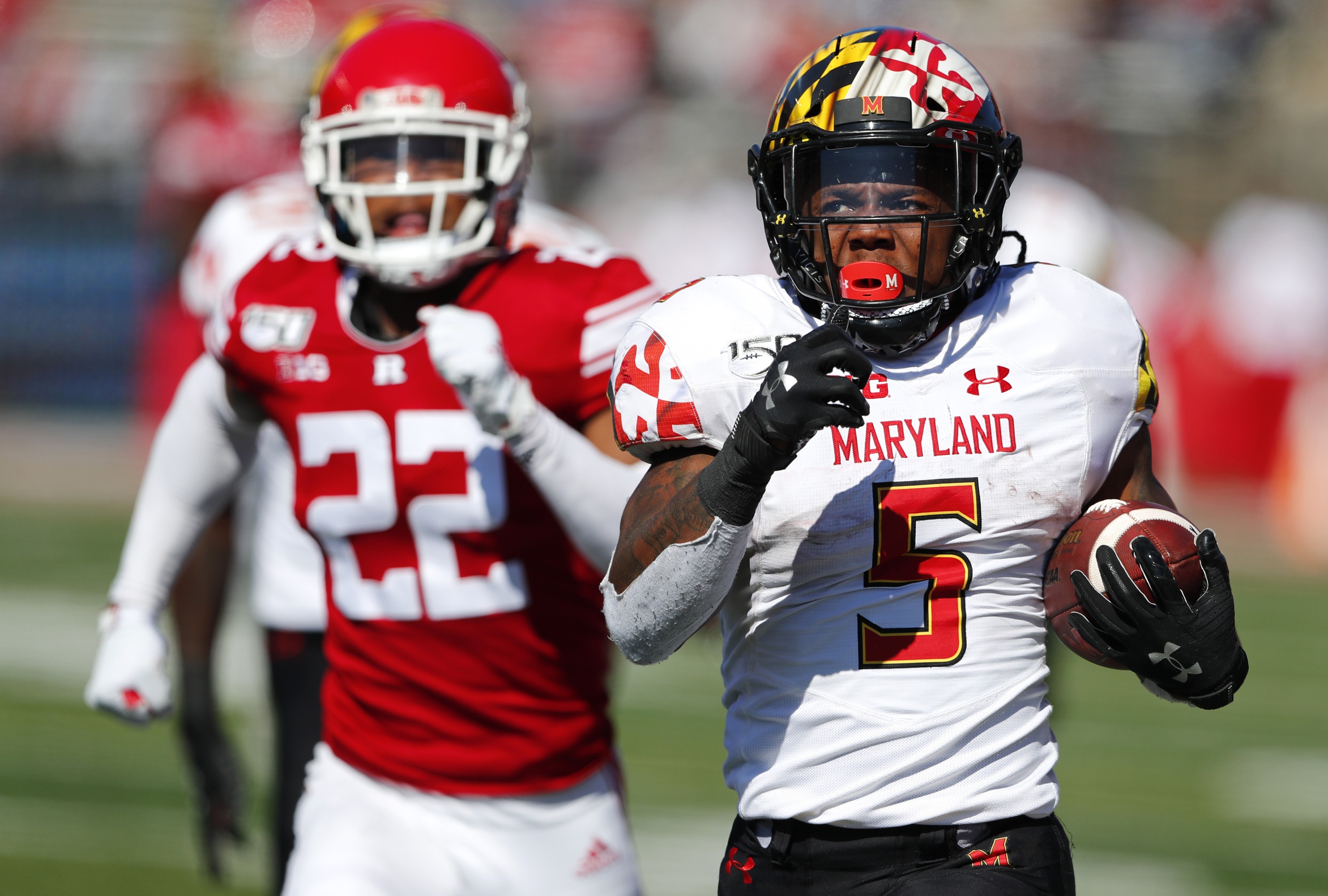 Among this next tier, Perine's situation ranks last simply because Le'Veon Bell has a firm grasp on workhorse duties and the team signed a capable veteran backup in Frank Gore. Not only will Perine have a tough road to navigate to find playing time, but the Jets' rushing attack was miserable in 2019 — they ranked 32nd in red-zone and goal-line plays, 31st in rushing yards before contact and 32nd in explosive run percentage. There is some light at the end of the tunnel, as the Jets poured resources into their offensive line in the offseason. PFF's SoS metric ranks their running back schedule as the third-easiest in 2020.
The Chargers allowed Melvin Gordon to move on in free agency, which opens the door for a player like Kelley to potentially secure a role in his rookie campaign. The Chargers still employ one of the most exciting running backs in football in Austin Ekeler, but it remains to be seen just how big of a workload they're willing to provide him. That's where Kelley comes in. While the team does still have another productive player in Justin Jackson, they could elect to use a bigger body such as Kelley in red-zone, short-yardage and goal-line situations. Gordon ranked 17th among all running backs in carries inside the red zone (32) and ninth in carries inside the 5-yard line (15).
Dallas almost seems too perfect of a fit for the Seahawks, with his powerful and abusive running style. The issue for Dallas is the loaded running back depth chart that awaits in Seattle. The Seahawks already employ one of the league's most exciting backs in Chris Carson, spent a 2018 first-round draft pick on Rashaad Penny (who is recovering from a season-ending injury) and recently signed veteran Carlos Hyde. While the Seahawks do provide many positives for a running back — such as their seventh-ranked run play percentage figure and eighth-ranked RB schedule — Dallas likely won't have many opportunities in 2020.
James Conner appears to have the fast track to workhorse running back duties but has shown an inability to remain healthy throughout his short NFL career. The lack of an established second running back option opens the door for McFarland, particularly if he can separate himself from the pack of players who filled in for Conner last year. The Steelers' 2019 rushing ranks shouldn't hold much weight due to the quarterback carousel they experienced. Their 2018 season, however, ranked well — they registered the sixth-most goal-line snaps and targeted their running backs as receivers the 16th-most in the NFL (100 pass attempts).
Legitimate Contributors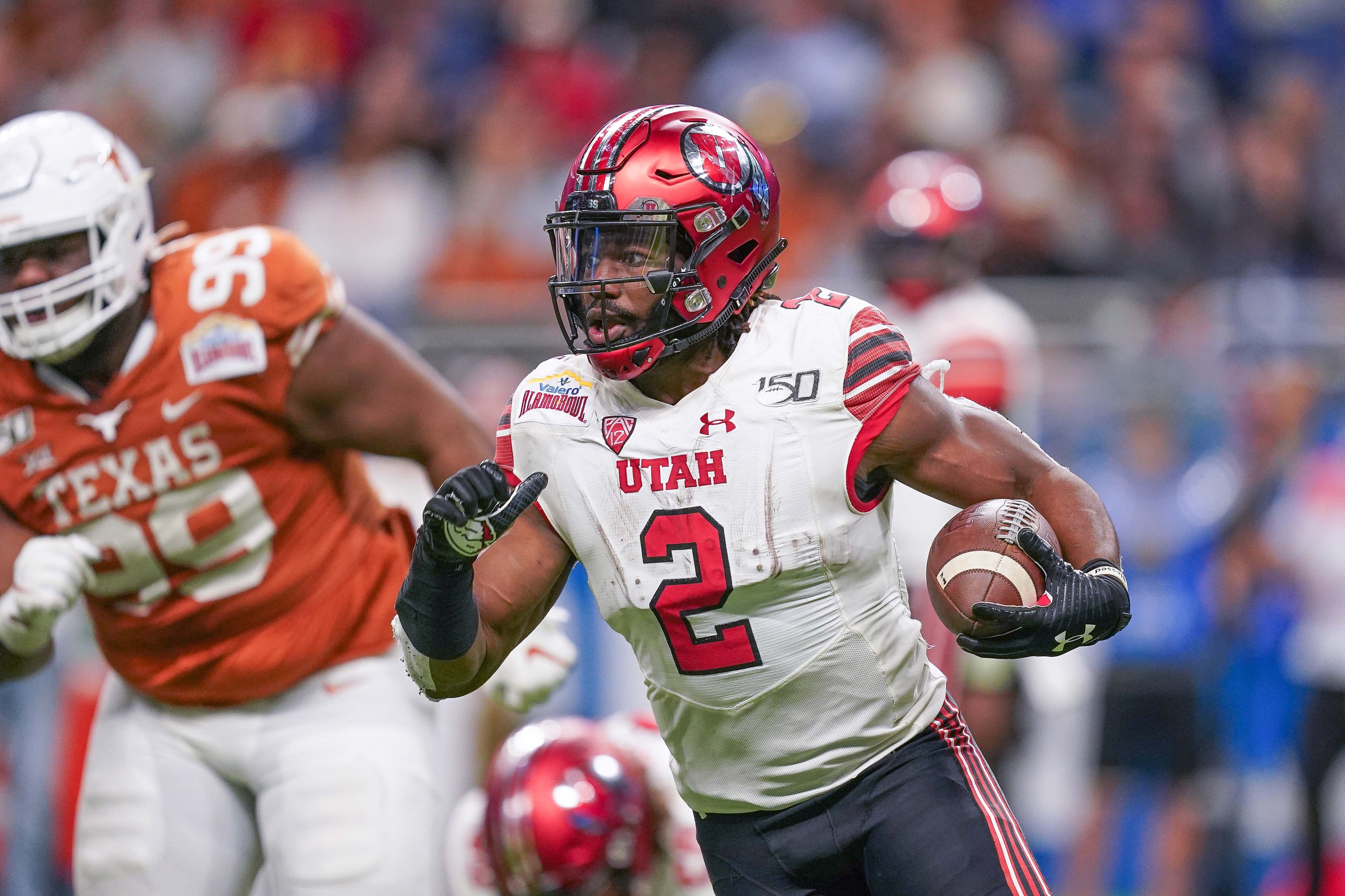 Projecting Bowden in his rookie campaign has proven to be a difficult task. In college, Bowden operated as jack-of-all-trades — he has the ability to line up at quarterback, running back, wide receiver and as a special teams return man. While his versatility is useful in real-life situations, it could prove to be an issue for fantasy purposes as it likely won't allow him to settle in at just one spot. The positive for Bowden is that he can contribute in a multitude of ways, and outside of Josh Jacobs — who will operate as a workhorse — the Raiders don't have many obstacles in Bowden's way. The duo of Jalen Richard and DeAndre Washington combined for 81 targets in 2019 — some of that work will surely be available for Bowden with Washington no longer on the team.
A former college workhorse, Dillon enters an intriguing situation with the Packers, though the presence of Aaron Jones will certainly dampen his potential contributions in 2020. While Dillon won't receive a boatload of work, he could ultimately find his way into a bruiser role and steal short-yardage work and goal-line work away from Jones. That would be a big deal, as Jones ranked 15th in red-zone carries and sixth in carries inside the 5-yard line last year. Expect Dillon to factor in as a change-of-pace back with the potential for some cheap points by way of short-yardage situations.
Vaughn may have a tough time finding a solidified role — the Buccaneers already have a preferred option in the rushing department in Ronald Jones and a pass-catching option in Dare Ogunbowale. Luckily for Vaughn, he is a talented player with the ability to chip in as both a runner and receiver, and the Bucs are likely to be one of the most productive offenses in football. In addition to likely securing a ton of snaps in high-point situations (red zone and goal line), Tom Brady ranks second in passing attempts to running backs (651) among all quarterbacks dating back to 2015. Vaughn may not have a solidified role out of the gate, but he should find himself in a position to contribute on a team that could field one of the best offenses in football in 2020.
Evans will have a tough time carving out a major role for himself sharing a backfield with Derrick Henry, but the Titans have shown a willingness to provide some level of work for their secondary back — Dion Lewis totaled only 54 rushes but also accumulated 30 pass-game targets last year. While Henry's workload is sure to include all short-yardage and goal-line work, Evans could find himself operating as a change-of-pace option and a receiver out of the backfield. The Titans ranked third in explosive plays rushing (10-plus yards) and fourth in run play percentage (43.2%) in 2019. Evans' one-cut rushing style and explosiveness should pair well with Henry.
The situation Gibson joins with the Washington Football Team is not ideal — the team ranked among the worst across the board in offensive statistics. The positive for Gibson is the lack of any established players at the running back position on the roster outside of 35-year-old Adrian Peterson. Peterson is likely to scoop the early down work, but he will not factor in as a receiver, and Gibson may be the perfect option for that role moving forward. The recent release of Derrius Guice opens even more work. While Gibson only rushed the ball 20 times and caught the ball 29 times last season, he proved to be a dangerous weapon capable of creating major yardage with the ball in his hands — he put up 12.0 YAC per reception and 6.8 rushing yards after contact per attempt. A team like Washington that lacks playmakers should try to utilize a player like Gibson as much as possible, and the potential for scooping up a lot of the running back receiving work moves Gibson among this group of legitimate contributors. 
Moss was downright dominant in 2019, ranking among college football's best in a number of offensive categories (min. 100 rushing attempts, 25 targets).
| | |
| --- | --- |
| Category | Figure (Rank) |
| Rushing yards after contact | 929 (9th) |
| Missed tackles forced | 80 (3rd) |
| Missed tackles forced per attempt | 0.4 (3rd) |
| Yards after contact per attempt | 4.7 (7th) |
| Receiving yards after the catch | 346 (10th) |
| Receiving yards after contact | 150 (6th) |
| Missed tackles forced on receptions | 12 (8th) |
| Receiving yards per reception | 14.4 (3rd) |
| YAC per reception | 15.7 (1st) |
| Yards per route run | 2.61 (5th) |
He'll need to battle Devin Singletary for lead-back duties, but the Bills' offense presents a good opportunity for whichever player elevates to the top of the depth chart — the team ranked sixth in rushing yards before contact, fifth in explosive plays rushing, eighth in run play percentage and fourth in explosive run percentage. Moss tops the list of the legitimate contenders with ease, and he could ultimately find his way into the first tier down the line.
Potential Workhorse Runners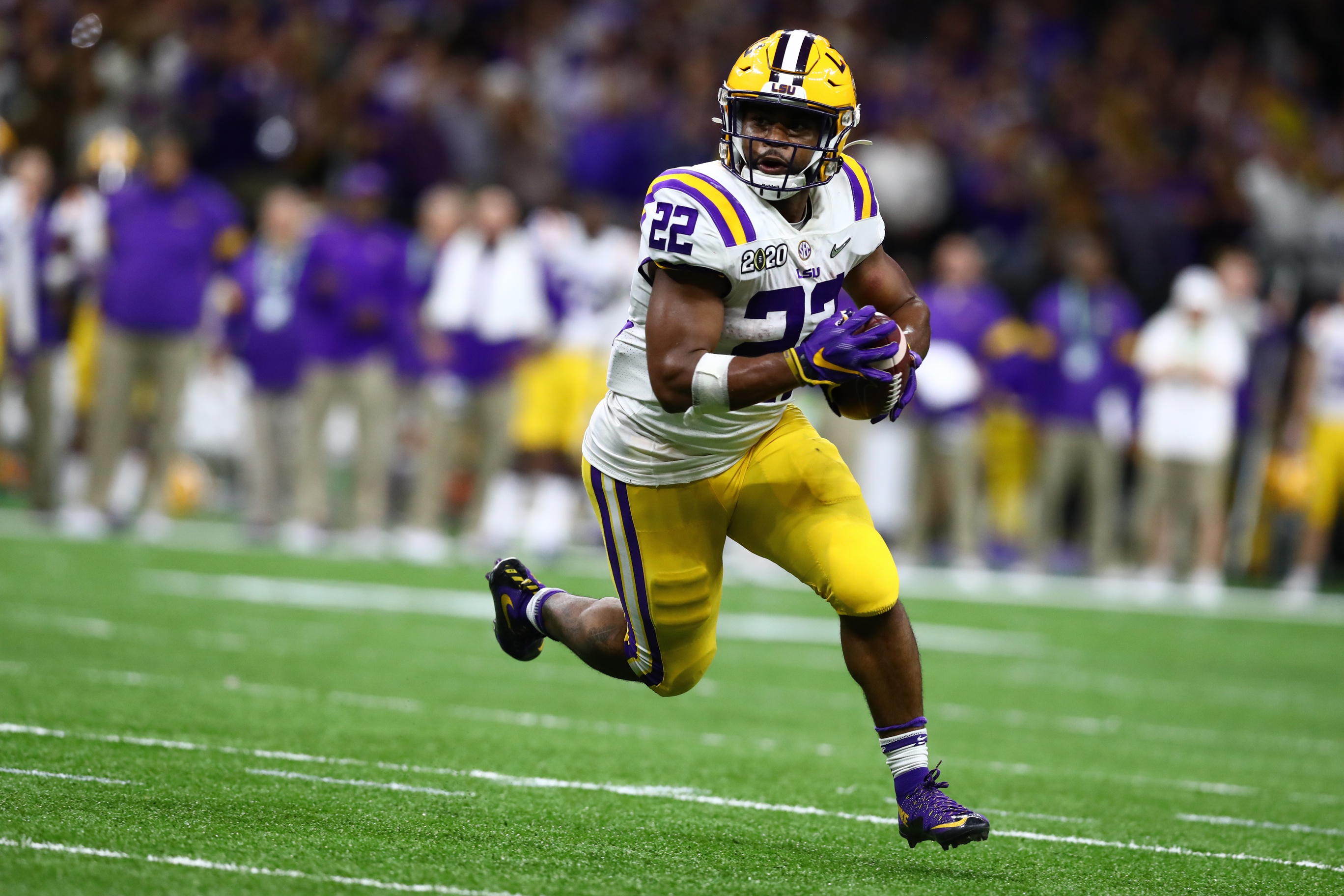 As mentioned, the Lions weren't the top destination for a legitimate all-purpose back like Swift, but he's still one of the more intriguing options among the 2020 rookies. His main competition is third-year RB Kerryon Johnson, who has flashed in his own right but has also missed significant time due to injury. Johnson averaged 0.32 fantasy points per snap and 0.71 points per touch last season, both of which were trending downward from his 0.41 points per snap and 0.94 points per touch figures from 2018.
PFF's SoS metric ranks their schedule as the 10th-easiest in 2020 — that should provide a level of comfort for those looking to target Swift. PFF's fantasy projections expect Swift to outproduce Johnson, as the former is currently ranked as the RB26 and the latter as the RB39.
It was incredibly tough to rank the final four names on the list, but Dobbins nabs this spot mostly because the Ravens already have veterans Mark Ingram and Gus Edwards, along with Justice Hill's potential contributions. Dobbins — a second-round draft pick — is likely to overtake the RB2 duties, and that may be enough to be an occasional flex starter thanks to the Ravens' dominance on the ground. They ranked second in red-zone plays, third in goal-line plays and first in rushing yards before contact, explosive plays rushing, run play percentage and explosive run percentage last season.
Edwards was the Ravens' RB2 in 2019. He ranked 57th in total points with 711 rushing yards and led the team in yards after contact per attempt (3.4). Dobbins is far more talented than Edwards and could ultimately improve upon these marks if given the opportunity.
PFF's fantasy projections expect a nearly even split between Ingram and Dobbins, ranking the duo as the RB30 and RB31. As if they needed more help, PFF's SoS schedule also ranks Baltimore's schedule as the fifth-easiest among all running back schedules in 2020.
Akers enters quite a unique situation in the NFL. The Rams don't have the best offensive line, but they've managed to produce strong running back seasons over the last handful of years, particularly in 2019 even when their offensive line took a nosedive. The departure of Todd Gurley frees up his 223 rushing attempts and 45 targets from last season. Akers will compete with Darrell Henderson and potentially even Malcolm Brown, but he should moonlight as the immediate favorite for workhorse duties.
Akers' experience operating behind a shoddy offensive line at Florida State should help, as he managed to remain productive in some of the worst conditions in college football — he ranked ninth in rushing yards after contact, third in missed tackles forced, 10th in missed tackles forced per attempt and 21st in yards after contact per attempt among all college running backs with 100-plus rushing attempts. Akers also pulled in 30 of his 38 targets last season.
Imagine watching this and not thinking he's a great player. The deeper I dig, the better I think Cam Akers is. Both the tape and PFF stats check out. pic.twitter.com/gTqLStikli

— Sosa K (@QBsMVP) August 11, 2020
PFF's fantasy projections anticipate a RB32 finish for Akers. One major positive for Akers' transition is his ninth-ranked schedule, according to PFF's SoS metric.
Marlon Mack won't be easy to supplant, but the Colts didn't invest a second-round draft pick in Taylor to sit around and wait — Taylor should seize the starting job relatively quickly. Taylor had an illustrious career at Wisconsin, ranking first in rushing yards, rushing yards after contact, touchdowns and missed tackles forced among all college football running backs from 2017-2019. His efficiency rankings weren't insanely impressive, but his totals were, and his massive usage likely sapped some of those efficiency numbers.
The Colts ranked ninth in red-zone plays, sixth in goal-line plays, seventh in rushing yards before contact, 10th in explosive plays rushing and 14th in explosive run percentage in 2019. Those figures may improve, too, as the team is transitioning from Jacoby Brissett to Philip Rivers at the quarterback position. The one area in which Taylor may not receive a ton of work is in the receiving department, as Nyheim Hines has proven to be one of the better receiving backs in the league (57 targets in 2019).
PFF's fantasy projections expect Taylor to produce immediately, ranking him as the RB25 and Mack as the RB48. Their schedule is also a major positive, with PFF's SoS metric ranking it the sixth-easiest in 2020.
There isn't a more intriguing rookie running back situation than the one Edwards-Helaire enters. Former starter Damien Williams recently opted out of the 2020 campaign. Williams wasn't likely to be a roadblock for Edwards-Helaire for long, but his decision leaves behind a significant workload. Williams totaled 111 rushing attempts, and LeSean McCoy's departure vacated 101 rushing attempts. In addition to their ground-game work, the duo combined for 68 targets in 2019. All of this potential work awaits Edwards-Helaire, and we haven't gotten to what kind of situation the Chiefs' offense provides.
The offense is arguably the most dominant in football, which speaks to how high the ceiling is for a first-round pick walking into a starting job. The Chiefs didn't rank all that well in any rushing statistics in 2019, but most of that can be attributed to the lack of running back talent. Edwards-Helaire changes that, as he ranked 14th in missed tackles forced per attempt (min. 100 attempts), 11th in missed tackles forced on receptions and 17th in YAC (min. 25 targets) last year. 
PFF's fantasy projections anticipate the Chiefs immediately reaping the rewards of drafting Edwards-Helaire, handing him an RB9 ranking. One potential issue for the Chiefs' running back group is their 30th-ranked schedule, according to PFF's SoS metric.