It was a sad day for many in the NFL yesterday, with many players being informed they would not be making a team's 53-man roster. Below is a quick roundup of the most important fantasy football related news from yesterday.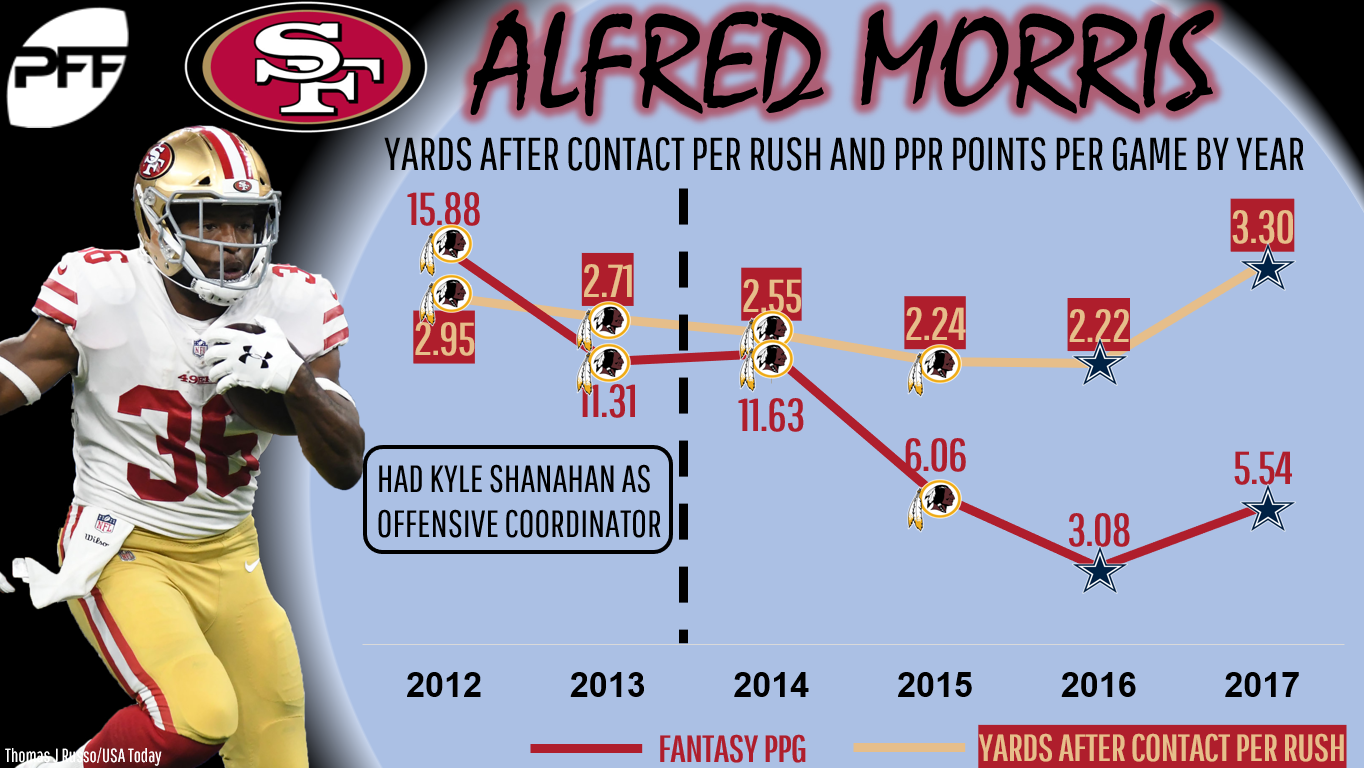 This and the Khalil Mack trade and extension given out by Chicago were the biggest pieces of news of Saturday, and neither one even had anything to do with cuts. San Francisco's McKinnon tore his ACL Saturday in practice, ending his season before it ever got started. It's a devastating blow to the 49ers who anticipated workhorse-like volume from him. McKinnon was signed to a four-year, $30 million contract with the 49ers this offseason and figured to play a key role in Kyle Shanahan's offense. For any McKinnon fantasy owners, hop on that waiver wire fast and pick up Alfred Morris if you can. Morris has the size to be an every-down back (222 pounds) — or at least the workhorse ball-carrier — and looked fantastic in the preseason. Matt Breida (190 pounds) will join him in a running back committee and take over on obvious passing downs.
The Raiders cut their losses on Mack Saturday, sending the star to Chicago in a pick-laden deal that netted them two first-rounders. While Mack himself obviously isn't relevant outside of IDP leagues, the move does have some fallout:
Mack's presence takes an already-sleeper-worthy Bears defense from one to monitor on the wire to one that might not be a must-draft but is certainly in starter consideration;
Mack likely gives the Bears enough defensive help that he'll help the gamescript, leading to more work for Jordan Howard. He doesn't skyrocket in the rankings, but he does get a little bump;
The Raiders defense was already pretty bad, and it just gets worse now. That probably helps the team's receivers, primarily Amari Cooper, with more reason to pass and catch up.
After demanding a trade from the Browns this offseason during training camp, Coleman was unable to get into a groove with his new team in Buffalo. In the three games he played for Buffalo this preseason, Coleman saw five targets on 35 routes run, hauling in just three of them for seven yards. You know that's bad when those numbers are typed out and not used as digits. Coleman's career numbers are far from what Cleveland anticipated when they spent the 15th overall pick on him.
Corey Coleman Career Statistics
Year
Targets
Rec
Rec Yds
YPRR
2016
62
33
413
1.15
2017
50
23
305
1.04
Following back-to-back disappointing seasons, the Browns had seen enough. After three weeks with Buffalo, they threw in the towel. The way these things seem to work out, New England will probably make him a Pro Bowl receiver this year.
AJ McCarron, QB — Traded
The Raiders continued to make puzzling moves, trading for Buffalo's McCarron in exchange for a fifth-round pick. McCarron underperformed during the preseason, completing 23-of-50 attempts for 292 yards, three touchdowns, two interceptions, and seven sacks. It was a rather surprising move considering they cut EJ Manuel, who had a phenomenal preseason (101.08 PFF passer rating) in order to make this roster move. This move likely has zero fantasy implications but gives Gruden another veteran for him to add to his collection.
The former first-round pick was finally let go as the Ravens decided to move on from uber-fast Perriman. The writing was on the wall that this could be the end for Perriman when the team drafted Jaleel Scott (fourth round) and Jordan Lasley (fifth) in this year's draft. After missing all of his rookie season, Perriman was perennially behind the 8-ball trying to stand out among Baltimore's wideouts. Perriman has never topped 500 receiving yards in a season and remains a work in progress.
One of the more surprising cuts was New Orleans deciding to let Williams walk after an impressive preseason. Mark Ingram's four-game suspension to open the season had many thinking Alvin Kamara would be splitting the backfield, probably with Williams. That lucky role will now likely be occupied by rookie Boston Scott. Scott should now be a top priority waiver wire add for those who miss out on the Alfred Morris sweepstakes with the Saints taking on Tampa Bay and Cleveland to begin the season.
Oakland traded a 2018 third-round pick to Pittsburgh prior to this year's draft for the rights to Bryant. After an up-and-down summer working within Gruden's offense, the team ultimately elected to let him go. It's truly a shame how this played out for Bryant, who is still awaiting decision regarding a pending appeal of his drug suspension.
On paper this may not seem like a fantasy-relevant cut, but Wright ran more than 70 percent of his routes from the slot last year. His departure locks in Adam Thielen for primary slot receiver when going three-wide, with Laquon Treadwell joining Stefon Diggs on the perimeter. Wright was our No. 33 graded wide receiver last year but is now five years removed from his last 1,000-yard season. He could latch on somewhere else when injuries pile up.
Mike Gillislee, RB — Cut
One popular camp battle that had heavy fantasy implications was the one brewing for New England's goal-line/short-yardage back role. Jeremy Hill was able to beat the incumbent and take Gillislee's role as he was given his walking papers. Gillislee scored five rushing touchdowns last year for the Patriots and converted 15-of-23 short-yardage attempts (two yards or fewer to go). Hill walks into that lucrative role and could pay immediate dividends.
Stephen Anderson, TE — Cut
Anderson's athleticism got him some playing time for the Texans last year, but after the team drafted Jordan Akins in the third round of this year's draft, Anderson was expendable. Considering he couldn't latch onto a wide-open depth chart, Anderson can safely be dropped in dynasty leagues.
O'Leary was another cut victim by the Bills, as the team opted to look elsewhere for backup help behind Charles Clay. O'Leary was hardly fantasy relevant even when seeing starters snaps while Clay was injured last year. Logan Thomas and Khari Lee will look to round out the tight end depth chart this season.
Now with that done, there are a few position groups around the league where some of the newly unemployed players might end up.
The Patriots' final roster includes the suspended Julian Edelman and special teams ace Matthew Slater, but for all intents and purposes the Patriots enter the season with only three receivers for their first four games — Chris Hogan, who missed seven games to injury in 2017; Phillip Dorsett, a former first-rounder who is entering his fourth season but doesn't even have 1,000 yards for his career yet; and Cordarrelle Patterson, another first-rounder whose next 500-yard receiving season will be his first. Everybody is expecting the Patriots to add somebody to that group, and they probably will, but the best fantasy news here is that Rob Gronkowski and James White are likely to feast. Still, any receiver they add — be it Coleman, Wright, Perriman, Dez Bryant, or some other name — will warrant immediate fantasy attention on such a short depth chart.
McKinnon's injury opens the door for Morris and/or Breida, but the San Francisco backfield now only contains those two, Raheem Mostert, and fullback Kyle Juszczyk. The team might look to add another name for depth, but keep an eye on Juszczyk as well — he won't be ownable for fantasy, but his receiving skills could keep Breida from exploding.
Ezekiel Elliott is the clear bell-cow back here, and Rod Smith will be an occasional change-of-pace back, but after those two the depth chart is … fullback Jamize Olawale. It seems like the Cowboys will have to add someone.