The final 2020 NFL DFS slate is upon us, and Super Bowl 55 offers plenty of high-end talent to consider between the Kansas City Chiefs and Tampa Bay Buccaneers.
Single-game DraftKings Showdown contests are very different from the traditional DFS games we play throughout the season, so our approach to attacking this slate has to change a bit to ensure a profitable Super Bowl Sunday. 
I'll dive deep into the micro matchups and hit on any injury news to find as much edge on the field as possible. And as a fun side note, I'll also hit on a few of my favorite player props. After all, who knows player trends and tendencies more than the fantasy football nerds?
QUARTERBACKS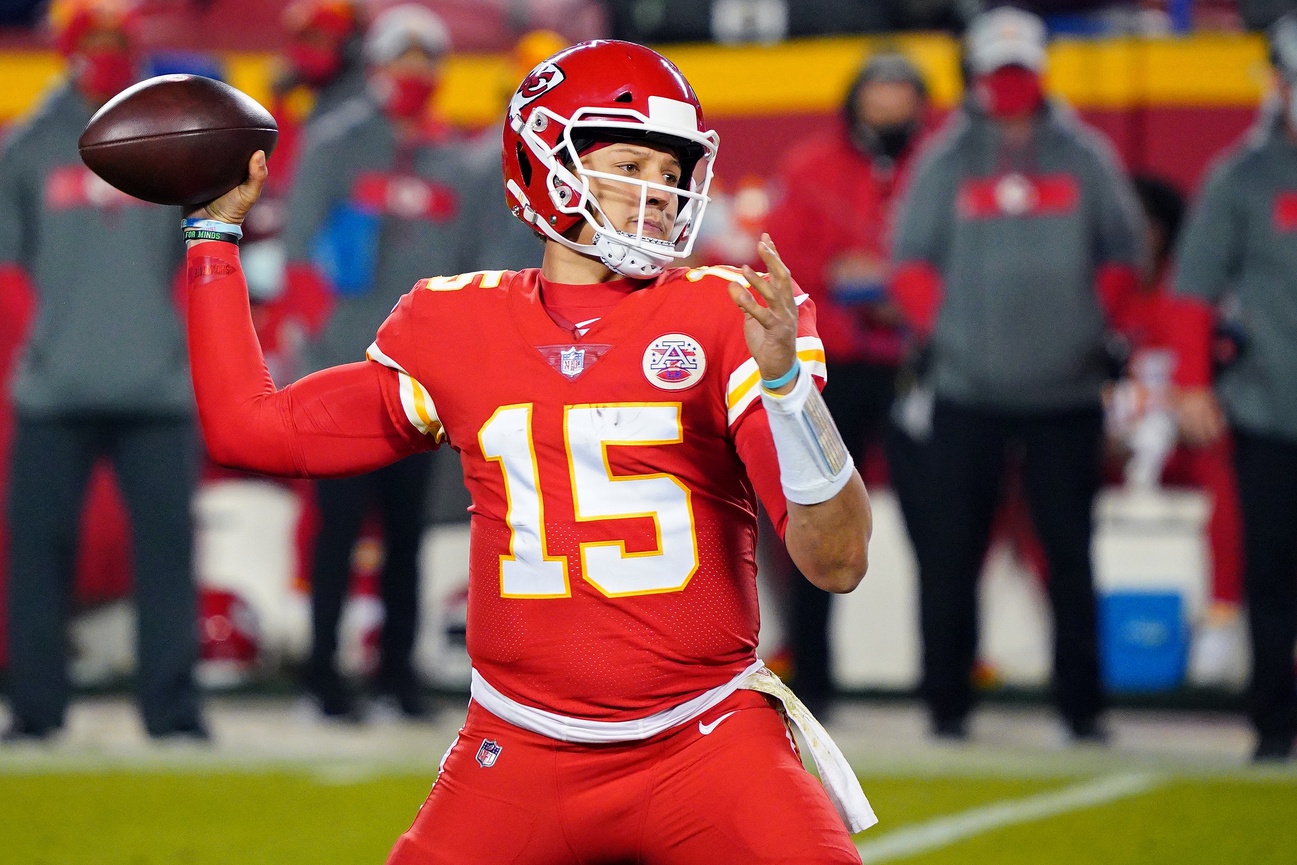 There's no better way to start a Super Bowl preview than with the reigning Super Bowl MVP. Patrick Mahomes is, of course, appropriately priced as the most expensive quarterback on the slate. 
We saw Showtime light up this Tampa Bay Buccaneers defense the last time he faced them back in Week 12: three passing touchdowns, 462 passing yards and a career-high 37 completions. It will be hard to fade him altogether in the single-game Showdown Contest. 
The Bucs just gave up a massive fantasy day to Aaron Rodgers in the NFC Championship game (24.8 fantasy points, 346 passing yards, three touchdowns), and they are the quintessential "pass-funnel" defense. Tampa Bay has faced the highest pass-play rate (72%), allowing just short of 42 passing attempts per game from opposing offenses since Week 10. 
Kansas City finished the season averaging the fourth-most passing attempts per game (39.2).
With the Chiefs likely to throw the ball a ton, Mahomes should have plenty of opportunities to throw touchdowns in the red zone. No team in 2020 allowed a higher percentage of passing touchdowns (70%) or passing plays (66%) in the red zone than the Buccaneers. 
Mahomes is tied for third in passing touchdowns in the red zone (30), and the Chiefs throw the ball at the third-highest rate when inside their opponent's 20-yard line. 
Mahomes also has an advantage when facing the blitz. The Buccaneers blitz at the league's second-highest rate (29%), and Mahomes has torched defenses that blitz.
Versus the blitz, Mahomes ranks first in yards per attempt (9.1), first in passer rating (135.9), second in PFF passing grade (87.9) and third in passing touchdowns (18). 
When the Buccaneers blitzed Mahomes in Week 12, he made them pay, going 6-for-9 for 109 yards with two touchdown passes. 
The goal for the Buccaneers' pass-rush is to apply pressure without blitzing. When they did so in their previous matchup with Kansas City, Mahomes posted a 61.3 PFF passing grade.
But even if Tampa can apply quick pressure, the Andy Reid-Mahomes pairing is perfectly set to combat the pressure by getting the ball out quickly.
The Bills pressured Mahomes within 2.5 seconds of the snap nine times in the championship game, and it hardly slowed down the Chiefs' offense. They averaged 9.2 yards on those plays.
Factor in that the Buccaneers also grade as PFF's worst coverage defense on passing plays of 20-plus yards downfield (26.4), and there are just too many ways Mahomes can beat this defense for him to not have a productive fantasy outing. 
We could see a lot of short pass attempts and fewer huge deep balls, which is a knock against playing Mahomes in the captain slot. In full-point PPR, we often see receivers outscore their QB counterparts even when both have productive games, so you're much better off playing a pass-catcher in the captain slot rather than Mahomes. 
Favorite Props: 
Over 28.5 completions for Mahomes (+100)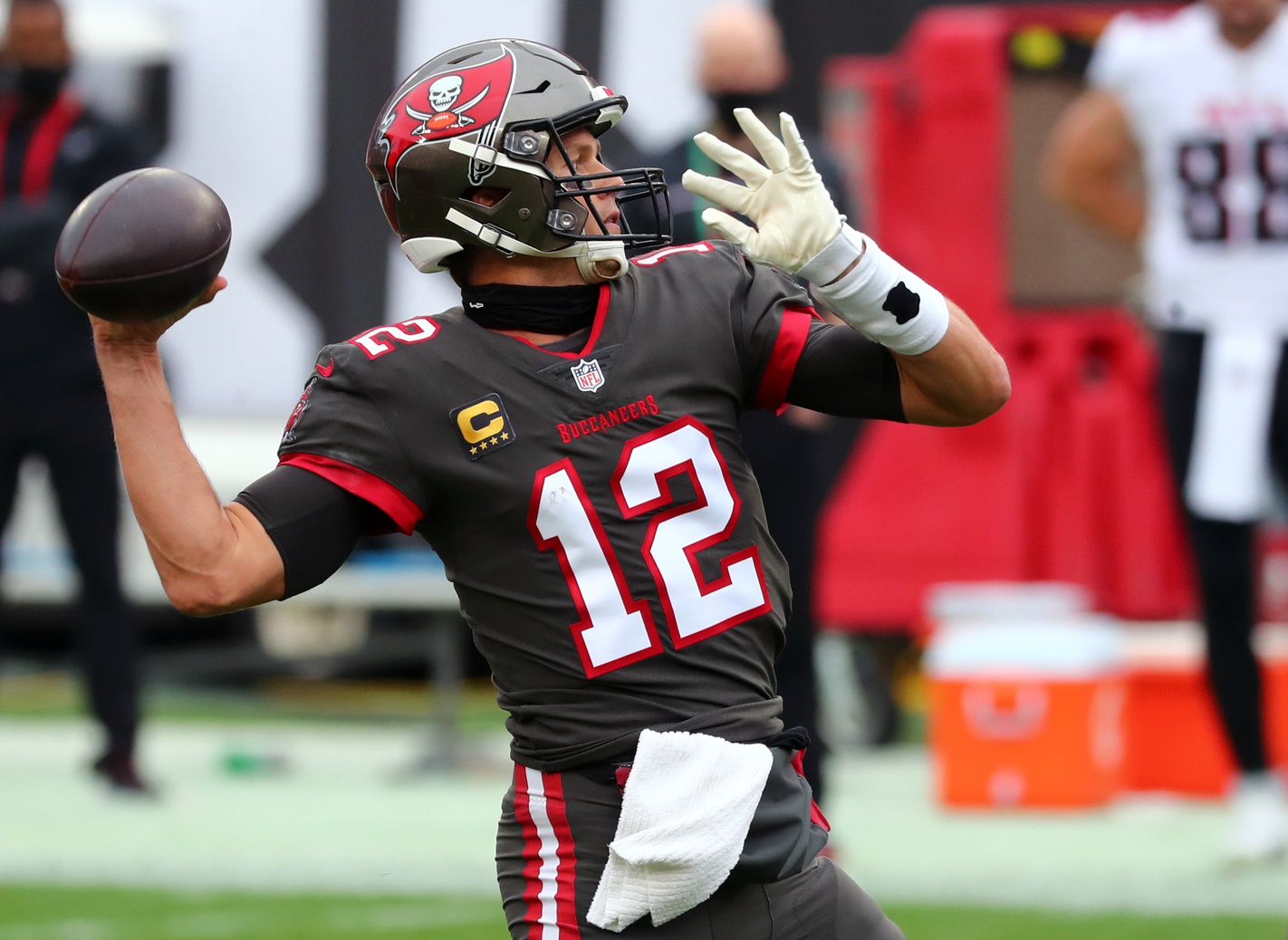 The G.O.A.T is going after his seventh Super Bowl ring and has a decent matchup against a Chiefs secondary that primarily relies on playing man/press coverage.
Tom Brady has wrecked man coverage this season, posting PFF's second-best passing grade (91.6) against the defensive scheme. And Brady has actually out-paced Mahomes since Week 15 in expected fantasy points per game (21.1 versus 20.1).
That's not to say that Brady will necessarily outproduce Mahomes in this game, but he could come close or finish just behind the young star, creating a massive value edge at a much cheaper price tag for DFS. 
The PFF projections have Brady (24 fantasy points) right behind Mahomes (24.6), with TB12 projected for more passing yards (328.5). 
That's not too surprising considering how aggressive Brady is throwing the ball downfield and the fact that K.C. has faced the third-highest percentage of passing plays since Week 10. 
Ultimately, Brady's numbers are going to come down to how well he performs on third-and-long. Bruce Arians' affinity to run the ball on first down (65% through the postseason) is going to put the Bucs offense at a long down-and-distance pretty often.
Luckily for Arians, Brady has been nothing but spectacular on third-and-long. Just last week, Brady went 5-for-7 for 111 yards and one touchdown (15.9 yards per attempt) on the eight third downs he faced with at least seven yards to go. 
Still, making a living off third-and-long is not a sustainable offensive approach — just ask 2017's version of Carson Wentz — and I would expect Brady's numbers to regress versus the Chiefs secondary. 
If Tampa fails to convert several third-and-longs to open the game and the Bucs fall behind, Arians will have no choice but to abandon the run. 
That's the situation DFS gamers rostering Brady ideally want to see, because there is a clear-cut way for him to pass the ball effectively on the KC defense: target the slot.
In the first matchup between these teams, Brady and the offense punted four times to start the game. They couldn't get anything going because Brady threw to a receiver lined up in the slot just one time. 
This made no sense from an offensive standpoint considering the Chiefs on defense have funneled targeted across the middle of the field all season. 
But give credit to the Buccaneers, as they made adjustments before the second half. Brady came out firing to the slot position. He ended up going nine of 13 for 109 yards and a touchdown to the slot in the second half. 
There's a multitude of ways that Brady can effectively move the ball on the Chiefs even if it happens early in the game. And the Buccaneers' quarterback has an extremely high chance of having equity in all of the red-zone touchdowns the team scores.
Kansas City ranks third-to-last in completion percentage allowed (75.6%) on passes inside their 20-yard line. Brady ranks second in red-zone TD throws (32) this season. 
And, similar to the Buccaneers defense, Kansas City gives up the majority of its red-zone touchdowns through the air (63%, seventh-most). 
Neither offense performed particularly well in the red zone during their Week 12 matchup, which was uncharacteristic of the two offenses.
Both had top-10-graded red-zone passing attacks this season, so it didn't make much sense that both squads went 1-for-4 converting their red-zone trips into touchdowns.
I expect a much higher rate of conversion in the Super Bowl, especially for Brady. We all know that he can be affected by pressure, but that has been an area of weakness for Kansas City all season in the red zone. Their pressure rate (18%) ranks 31st in the red zone. 
In terms of using Brady in DFS, he is probably best deployed as a lesser-owned captain option with one or two of his pass-catchers. His projected ownership at the captain slot ranks fifth among all players, which is egregiously low. Brady's a safer bet at the captain spot because the likelihood of one of his receivers out-scoring him is lesser than Mahomes. The Bucs offense is far less concentrated than the Chiefs. 
Ideally, you aren't rostering any quarterback in the captain slot. There are too many great pass-catchers available in this particular slate. 
Favorite Props: 
Under 60.5 passing yards for Brady in the first quarter (-112)

Over 2.5 passing touchdowns for Brady (+125)
RUNNING BACKS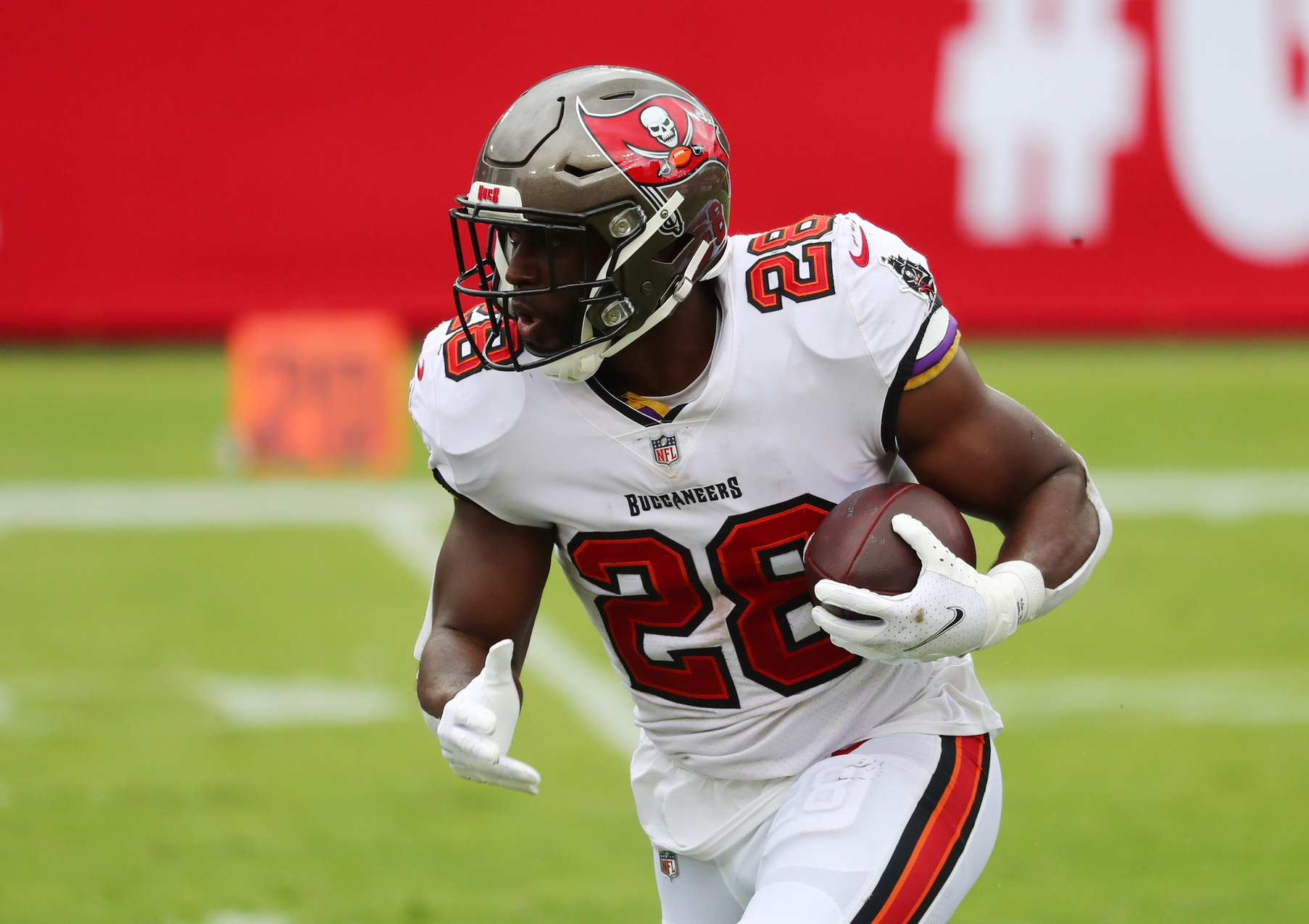 Welcome to the Super Bowl, Playoff Lenny! Leonard Fournette has taken the playoffs by storm as the Buccaneers' leading running back, averaging 21.1 fantasy points per game in the team's three playoff wins. 
Fournette has played a 69% snap share and out-touched Ronald Jones (39 to 23) the past two weeks. He is averaging nearly 20 touches per game, which should easily make him the most popular DFS option at the position.
Part of Fournette's intrigue is his massive boost as a receiver — his 10 catches in the past two weeks lead the Buccaneers. That pass-catching role will prove favorable versus the Chiefs, who allowed the most receiving yards to RBs during the regular season.
I'd also expect the rushing attack overall for the Buccaneers to be efficient in this matchup — the Chiefs aren't great against running backs in fantasy. They allowed the eighth-most fantasy points to the position during the regular season. 
The Buccaneers' ground game primarily relies on man/gap schemes. Both Fournette (4.5 yards per carry, eight touchdowns) and Jones (5.5 yards per carry, five touchdowns) have found plenty of success running from those concepts, while Kansas City has struggled to defend against it.
When facing man/gap run concepts, they rank 29th in success rate allowed (44%), 28th in PFF rushing grade (49.5), 20th in yards per attempt (4.4) and 25th in yards after contact per attempt (3.2).
The OL/DL mismatch between the Buccaneers ground game and the Chiefs run defense will allow Arians to call run plays on first down. And it should work in theory — K.C. has allowed 5.0 yards per attempt on the ground on first down over the past four weeks. 
Fournette looks like the clear go-to option, but it's difficult to ignore Jones' 23 carries over the past two weeks. He's dirt-cheap on DraftKings and benefits from the same things Fournette does against the Chiefs. And from an efficiency standpoint, Jones has been the better pure runner all season. 
He's PFF's sixth-highest-graded RB (84.7) and second-highest-graded RB (86.6) when running from a man/gap run concept. 
The third-year running back has been dealing with several injuries in the team's last two games, so with two weeks off we could finally see him at 100% health. 
Jones has typically been the goal-line back for Tampa when healthy this season, so his touchdown upside alone makes him a great value even with his severe lack of pass-game usage.
Jones has way more juice than Fournette to rip off a big run. That could be a difference-maker in a one-game format. 
PFF's Kevin Cole has repeatedly pounded the table for rostering backup running backs in Showdown contests, so I'll continue to side with PFF's Showdown guru. Just realize that Jones' ownership is going to be very high, so be sure to differentiate lineups elsewhere in large-field GPPs. 
There's also a case to be made that the noise on Jones could get so loud that Fournette becomes the lower-owned option. 
From a DFS roster-building perspective, pairing Jones with Brady could be the easiest way to get the most exposure to ever Bucs touchdown. It seems odd to stack Brady with Jones instead of his pass-catcher in Fournette, but the play has more to do with general offensive game flow. 
If Brady and the Bucs offense is moving the ball, Jones should pick up yardage on early downs along the way. 
Favorite Props:
Fournette most rushing yards (+175)

Jones longest rush (+400)

Jones anytime TD (+225)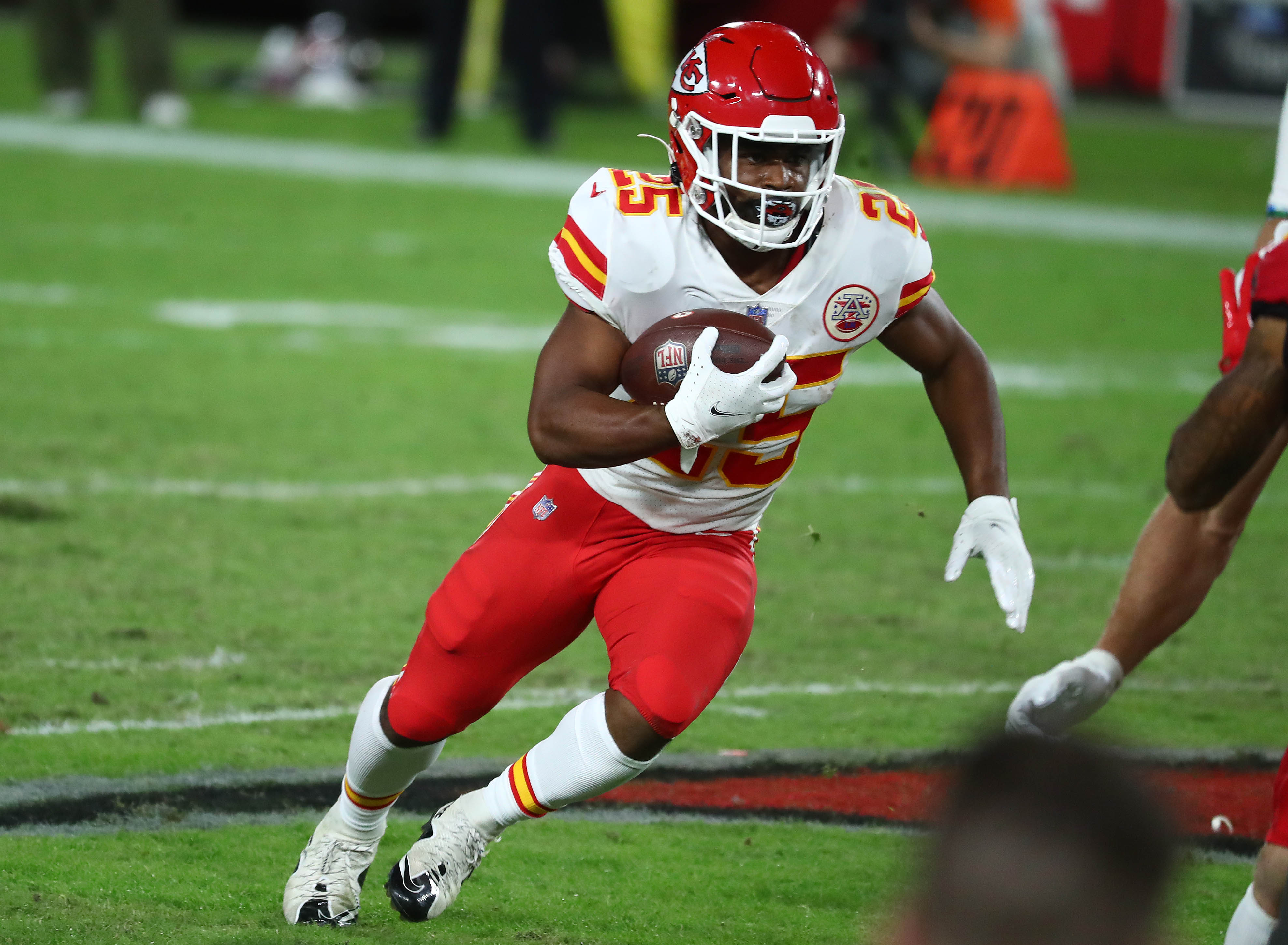 Clyde Edwards-Helaire ($7,000) might be my favorite contrarian DFS option because he could be lower-owned relative to his fantasy expectation. The fact that he split work pretty evenly with Darrel Williams in the AFC Championship game could scare people off, but if we take a deeper look at when his snaps occurred, there's no debate that CEH was the starter. 
CEH played a 70% snap share through the first three quarters and out-carried Williams six to three. He also ran 19 pass routes to Williams' eight. Williams got all the work in the fourth quarter, which inflated his final stat line. Edwards-Helaire didn't play at all in the final quarter.
Considering the Buccaneers allowed the most catches to running backs in the regular season, we should see the rookie running back make solid contributions in the passing game. It would be the perfect way to combat an elite Bucs pass rush that will be pinning its ears to come after Mahomes.
CEH is probably going to have to score through the air because the Buccaneers defense is a strict "no run-zone." No team allowed fewer rushing yards to RBs this season than Tampa Bay, and the Chiefs have shown a willingness to abandon the run altogether.
Because both Williams and CEH are seeing similar ownership projections, I'll still lean toward the rookie. His price tag at $7K might shake some DFS gamers off, and the potential split with Le'Veon Bell returning can't be overlooked. 
In the four games that CEH, Williams and Bell were all active, D-Will averaged just 2.6 points per game and didn't see more than three touches. CEH averaged 12 fantasy points and 12 touches. Bell averaged 8.3 fantasy points and 9.5 touches. 
Rostering CEH is a bet that he gets the pass-game work, so playing him alongside Mahomes makes plenty of sense. He's also projecting as a great leverage play in the captain's slot and at FLEX. 
His outlook projects even better if Bucs linebacker Lavonte David can't play due to a hamstring injury. David earned PFF's highest coverage grade (91.9) when defending running backs this season. 
Favorite Props:
Edwards-Helaire over 2.5 receptions (+107)

Williams under 30.5 rushing yards

(-118)
WIDE RECEIVERS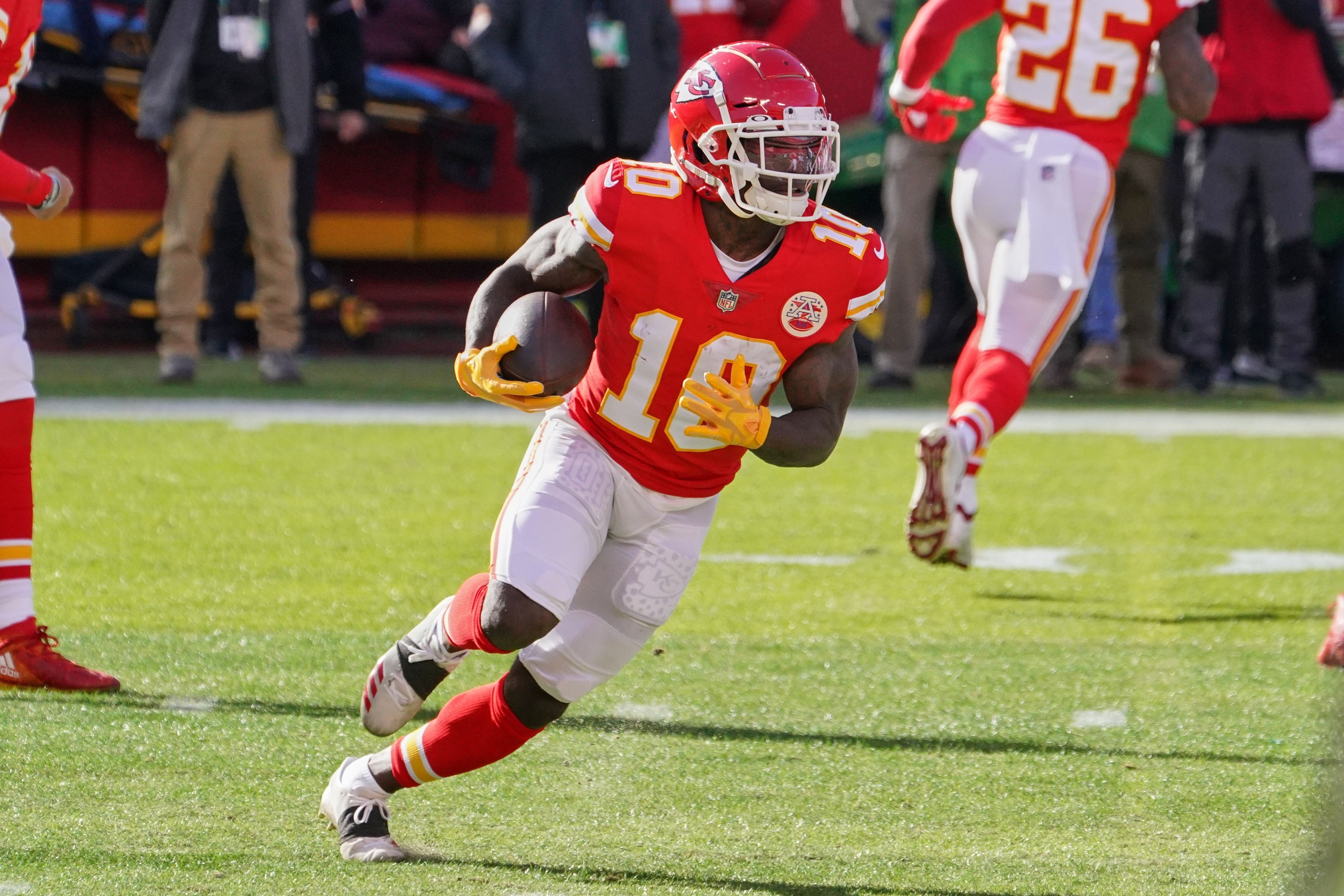 When it comes to the Kansas City Chiefs wide receivers it's all about Tyreek Hill. He's the gear that makes the offense run at its top speed — and that was on full display the last time he played the Buccaneers. 
Hill racked up seven catches for 203 yards and two touchdowns in the first quarter alone, absolutely dominating Carlton Davis.
Week 12 Carlton Davis against Tyreek Hill:
53% routes covered

9 targets

9 catches

208 yards

3 touchdowns
I don't anticipate nearly the same kind of performance from Hill. The Bucs have been much better at limiting opposing No. 1 wide receivers over the last four games.
Davante Adams (21.7) barely outscored Marquez Valdes-Scantling in the NFC Championship game. Michael Thomas, Terry McLaurin and Calvin Ridley were all outscored by lesser receivers on their respective teams when they faced the Buccaneers defense. 
Here's how opposing WRs have fared against the Buccaneers over the last four games:
NFC Championship vs. Green Bay Packers
Divisional Round vs. New Orleans Saints
Wild Card Round vs. Washington Football Team
Terry McLaurin

: six catches for 75 yards on eight targets (13.5)

Cam Sims

: seven catches for 104 yards on 12 targets (17.4)




Logan Thomas

: five catches for 74 yards on 10 targets (12.4)
Week 17 vs Atlanta Falcons 
Calvin Ridley

: eight catches for 52 yards on 13 targets (13.2)

Russell Gage

: nine catches for 91 yards, one touchdown on 10 targets (25.2)




Hayden Hurst

: four catches for 28 yards, one touchdown on six targets (12.8)
Tampa Bay will get a huge boost to its secondary in the form of Jamel Dean, who did not play in this team's first matchup. Dean possesses 4.3 speed, which gives him the best chance of any Tampa corner to keep up with the cheetah.
Dean has allowed just an 18.2% completion percentage on deep-pass targets, which ranks eighth-best in the NFL. The other Bucs starting cornerbacks, Davis (52.6%) and Sean Murphy-Bunting (54.5%), rank in the bottom seven.
Dean's return will greatly aid in the effort to slow down Hill, which is a key factor for the Buccaneers' defense. In the second half of Week 12, Hill was targeted just once on three drives that led to punts.
I anticipate Tampa Bay selling out to contain Hill, and that starts with playing zone coverage. They played 80% of their snaps from zone the last time they played K.C. and have run the sixth-most coverage snaps from zone this season.
Nobody has been able to contain Hill in man coverage this season — he has 596 receiving yards against against the coverage, third-best in the league. So Tampa sticking to their roots with zone coverage seems to be the best approach.
Hill versus zone coverage: 22% target share, four touchdowns, 77.2 PFF Grade, 2.16 yards per route run.
Hill versus man coverage: 25% target share, eight touchdowns, 90.5 PFF Grade,  2.89 yards per route run. 
The Bucs also heavily relied on zone coverage to slow down the Chiefs in the red zone, as noted on The Cris Collinsworth Podcast featuring Richard Sherman.
On the season, Hill has just four targets in the red-zone versus zone coverage (12%). Travis Kelce has 11 (33%). 
With more attention attributed to slowing down Hill, there's a strong possibility that another Chiefs pass-catcher not named Kelce is forced to step up.
Sammy Watkins hasn't played since Week 16, but he could be heavily involved with a full workload. As I wrote last week when previewing the NFC Championship game, the Buccaneers can be vulnerable versus an underneath passing attack. Watkins has the lowest aDOT (8.2) among all Chiefs receivers. He only has one target of 20-plus yards this season.
Tampa also ranks 29th in explosive pass play percentage allowed to slot WRs (29%). That bodes well for ancillary receivers like Watkins. He has seen a 50% snap share from the slot this season. And let's not forget the  "Playoff Sammy" narrative.
Watkins has posted the following stat lines in his last five playoff games:
Six catches, 62 yards on eight targets

Four catches, 114 yards on eight targets

Two catches, 72 yards on two targets

Seven catches, 114 yards on 10 targets

Five catches, 98 yards on six targets
In my high-value opportunities piece ahead of the Super Bowl, I highlighted Mecole Hardman as a player with great upside, but he also comes with a massive amount of risk. After seeing such heavy involvement in the Divisional Round, Hardman ran fewer routes (16) than CEH (19), Demarcus Robinson (29) and Byron Pringle (31) in the AFC Championship game.
Watkins re-entering the lineup also presents a risk for any investment in Hardman. The last time we saw Watkins return from an injury (Week 12), he played a relatively full snap share (43 routes run).
In that matchup, his usage came at the expense of Hardman, who ran only 19 routes. Before Watkins' next injury, Hardman's role decreased dramatically from Weeks 13-16.
The Chiefs' second-year receiver also seems to be used more as a downfield threat when Watkins is fully healthy. 
In the seven games played this season with Watkins, Hardman has 12 targets of 20 yards or more and a 14.5 aDOT. In the games without a healthy Watkins, Hardman has just two deep targets and a 9.6 aDOT. 
The Buccaneers have PFF's 32nd-graded coverage unit (25.2) on 20-plus yard passing attempts, so I like Hardman's chances on some deep balls. The only issue is that Hardman just has not been efficient on his deep targets. 
His PFF receiving grade (66.1) ranks 81st out of 90 qualifying wide receivers on 20-plus yard throws. He's caught only three of his 12 deep targets all season (25%). 
Hardman does present under-the-radar upside as a return man. Tampa ranks last in yards per attempt on kick returns (29.6) and sixth in yards per attempt on punt returns (11.4). 
Robinson and Pringle are almost impossible to get behind with Watkins returning to the lineup. D-Rob is mostly used as a blocking wide receiver and his target share sits at just 7% in games with a healthy Watkins. He also is the one Chiefs receiver that doesn't run routes from the slot, which doesn't allow him to take advantage of the plus-matchup. 
Pringle has exactly one catch in the games played with Watkins, and it came in Week 5 when Watkins was forced to leave with an injury. 
For DFS purposes, Hill is probably my favorite of the "Big 3" Chiefs studs that I can see myself fading in a few lineups. As I will get into later, Kelce is my priority "jam-in" Chiefs pass-catcher, and there's a case to be made that Watkins/Hardman could have the big wide receiver game instead of Hill.
The targets should be there for Watkins in this matchup, and I think he ends up being lower-rostered than Hardman. The public perception of Watkins has never been positive, and players coming off injuries tend to see reduced ownership. 
Favorite Props:
Watkins over 3.5 receptions (+107)

Hardman longest reception (+600)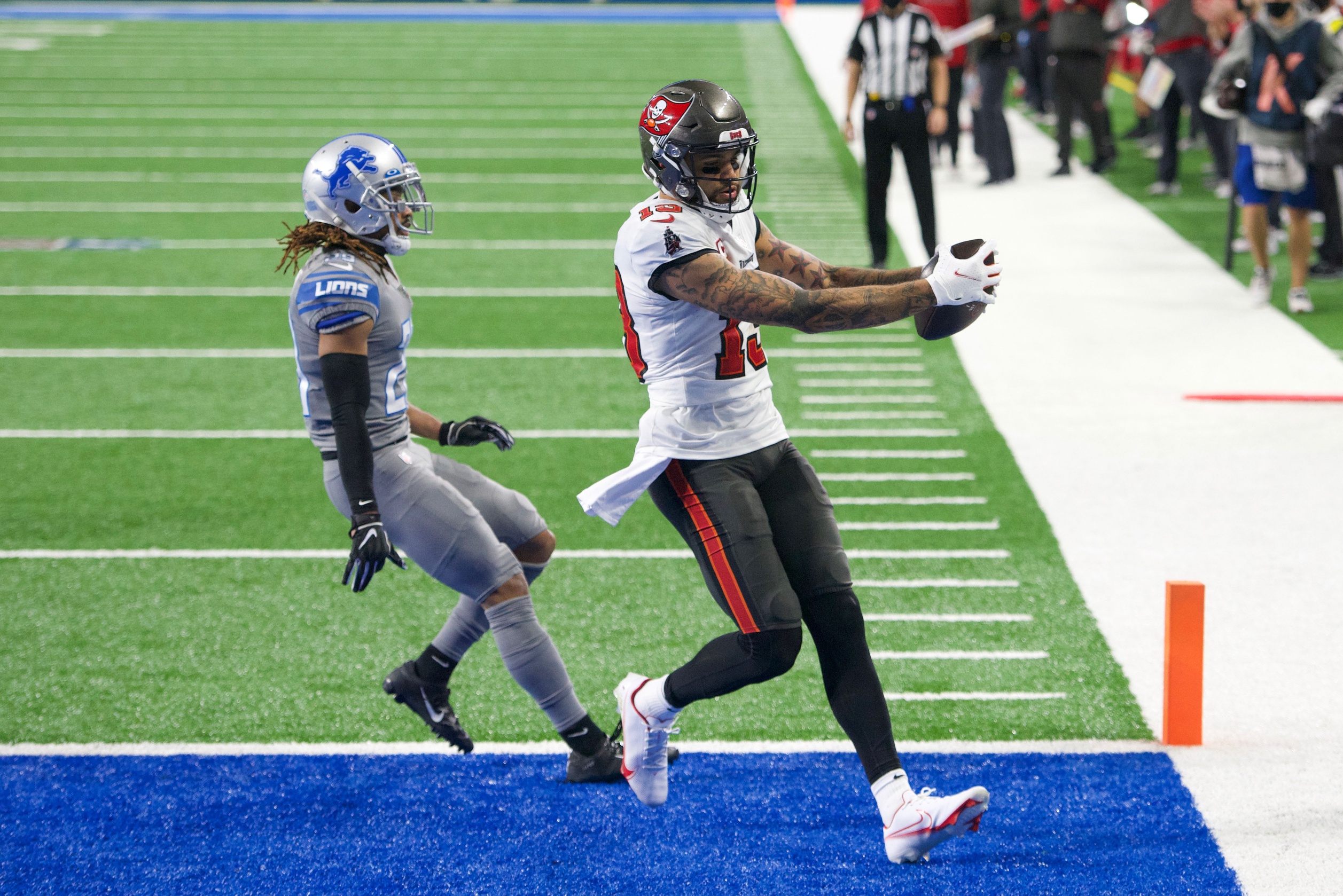 As mentioned in the Tom Brady section, the Chiefs primarily focus on playing man coverage on defense. That type of scheme absolutely screams that Super Bowl 55 has the potential to be a huge game for Buccaneers No. 1 wide receiver Mike Evans.
Evans ranks second in the NFL in touchdowns versus man coverage (11) and owns a team-leading 28% target share since Antonio Brown joined the team in Week 9.
The Bucs wideout is also coming off a game in which he commanded five deep targets and a team-leading 169 air yards, so the downfield looks are there for the taking. 
Evans is also not limited to just playing one side of the offensive formation. His 38% snap share from the slot is actually where he has played his most snaps compared to LWR (34%) and RWR (27%). 
Evans gets the best of both worlds with slot targets and matching up on the outside against a Chiefs defense that rank 25th in explosive passing plays (31%) to wide receivers aligned on the outside since Week 15. 
Chris Godwin benefits from playing in the slot as well, but his target share has always been highest without Brown in the lineup. He averaged more than seven targets per game in the five games played this season without Brown.
With a higher competition for targets and a matchup in the slot that could limit big plays — the Chiefs rank fourth-best in explosive pass play percentage allowed to slot WRs since Week 15 — Godwin will almost certainly have to capitalize on his team-leading 23% end-zone target share. 
This could be tough because Evans has been the pseudo "goal-line receiver" based on his 19 end-zone targets this season. I lean Evans at a cheaper price tag if I'm not rostering both players.  
I'd assume at this point that A.B. does end up suiting up after sitting out the NFC Championship game. He's a super high-risk player based on his injury and the fact that his role had been diminishing leading up to his last game. 
Brown has just six targets in his last two games and draws the worst WR/CB matchup versus Charvarius Ward, who ranks first in fantasy points per route covered (0.20) and target rate per route covered (12%) among CBs in the Super Bowl.
From a matchup standpoint, it makes little to no sense to play Brown. But in DFS, we need to look for edges when it comes to ownership and I guarantee he will be vastly under-owned at his price coming off an injury. 
He's not a player worth going after in small fields, but in massive-field GPPs, there's a clear case to be made. A.B. has two more targets versus man coverage and two more red-zone targets (seven versus five) than Godwin despite missing the NFC Championship game. 
If A.B. is out, I won't go chasing Scotty Miller. It made too much sense to play him last week because the Green Bay Packers predominantly run zone coverage, and that's the exact coverage that Miller has done damage against this season. Seventy-three percent of his targets and all three of his touchdown receptions came against zone before the NFC Championship game. 
He's likely going to be popular because he was the clear No. 3 receiver in his last game (20 routes run, 42% snap share) over rookie Tyler Johnson (12 routes run, 30% snap share).
But, again, if Miller sees an increased role, he will draw the tougher matchup on the perimeter versus Ward, while Johnson will see more work out of the slot. His 44% slot snap rate since Week 9 trails only Godwin among Bucs receivers.
Last up in an Ian Hartitz galaxy-brain-type play in Jaydon Mickens, which Ian and I discussed Mickens' prospects on the PFF Fantasy Football Podcast. Mickens is only $200 and will be the Buccaneers' primary kick returner.
It's a thin play, but he has almost zero projected ownership and his price allows the lineup to be blanketed with studs across the board. 
Favorite Props:
Evans anytime touchdown

(+110)

Miller under 20.5 receiving yards

(+100)
TIGHT ENDS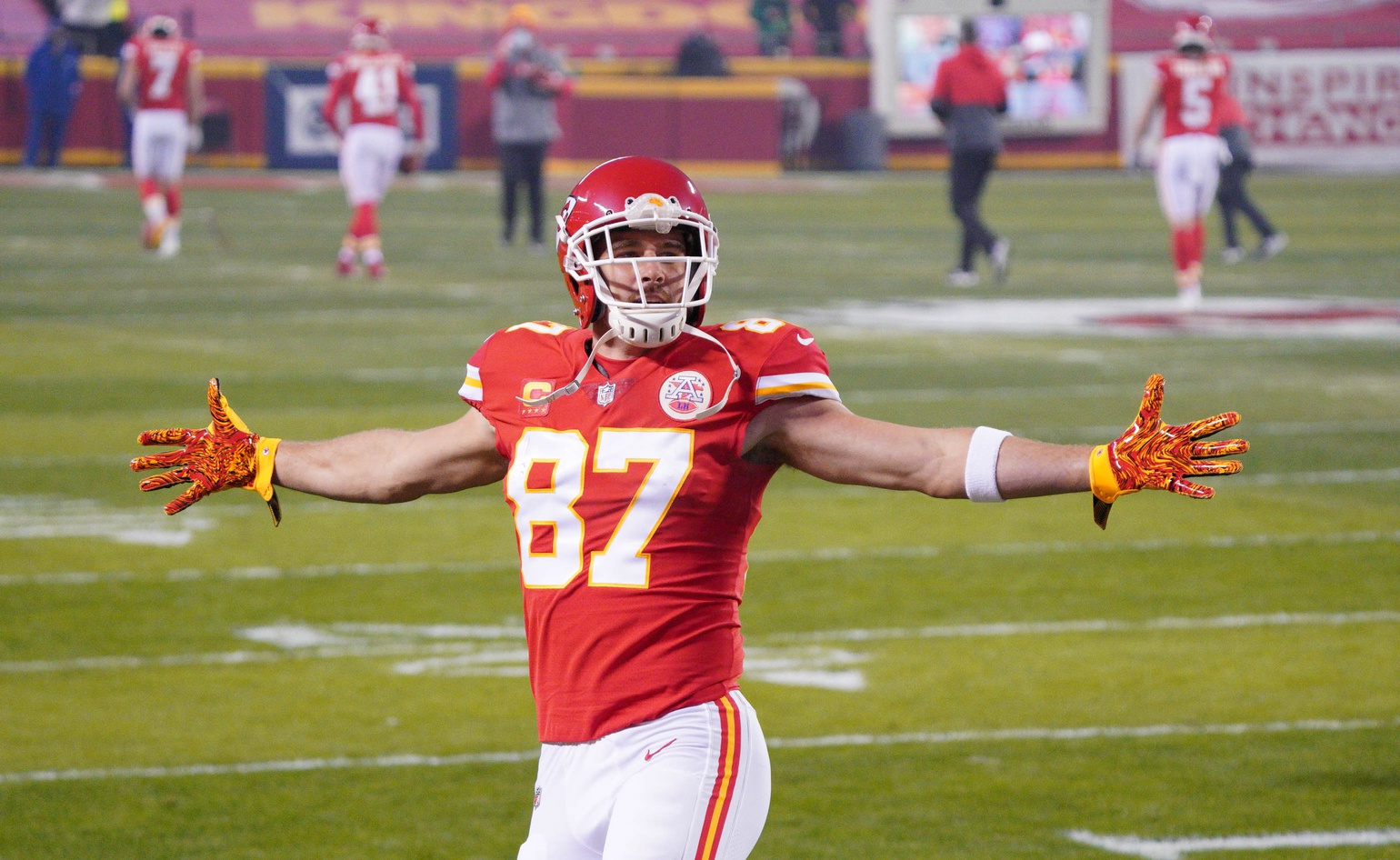 Travis Kelce was the cover boy for my high-value opportunities article — the stage is set so perfectly for him to explode in this matchup. The Buccaneers have allowed the league's third-highest passer rating (125.4), second-highest completion percentage (80%) and most completions to tight ends targeted in the end zone this season. 
In the red zone, Kelce leads Kansas City with 29 targets (28%) and 13 touchdowns. He also leads the team in end-zone target share (31%) since Week 15, almost ensuring he hits his anytime touchdown Super Bowl prop. No team has allowed a higher percentage of passing touchdowns (70%) compared to rushing touchdowns (30%) in the red zone than the 2020 Buccaneers. 
Kelce also leads all players in expected fantasy points per game (23.2) since Week 15.
He holds a team-leading 30% target share over that same timespan, so he is almost certainly going to expose the Buccaneers zone defense. The middle of the field is usually open against Tampa's zone coverage — they allowed the seventh-most receptions to tight ends during the regular season. Kelce has over 1,100 receiving yards and a dominant 28% target share against zone this season. 
He is going to be extremely popular at both the captain spot and in the FLEX, so it's reasonable to fade him because of the ownership in big tournaments. But in any smaller contest, Kelce is a lock for me as captain.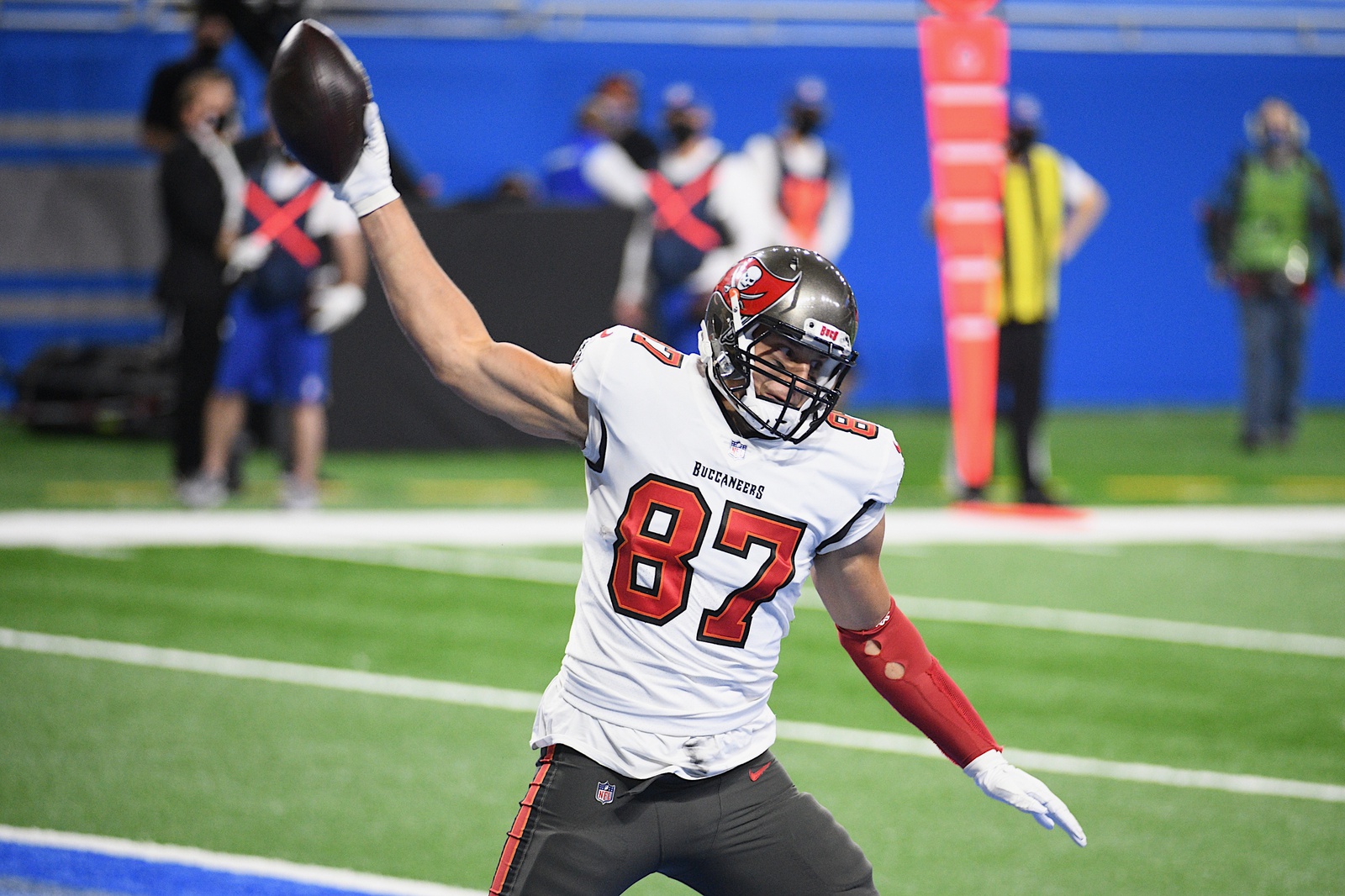 DFS pricing always seems to be a few weeks late on its adjustments, as Gronk has run more routes than Brate over the past two weeks. Gronkowski is also still the preferred option when the Buccaneers close in on scoring.
His 19 end-zone targets on the year are tied with Evans for the fourth-most among all players. He is also tied with Evans in total red-zone targets (23). Brate has seven. 
Kansas City ranks 31st in passer rating allowed (125.9) on end-zone targets to tight ends. Because Gronkowski is finally priced below Brate, he could be the perfect option to provide salary relief with so many other studs available on the slate.
The other part of the matchup that heavily favors Gronkowski is the fact that K.C. struggles mightily against inline tight ends. They rank 32nd in success rate allowed (62%), 31st in yards per attempt (9.4), 27th in touchdown percentage and 30th in PFF coverage grade (35.2). 
Gronk plays 80% of his snaps from an inline position while Brate is down at 58%. 
Chasing routes run at the tight end position is a proven approach, so buy the price drop on Gronk in this plus matchup. He owns PFF's fifth-highest grade versus man (91.4) among players that have seen at least 30 targets. 
Get ready for the Gronk end-zone spike. 
Favorite Props:
Gronkowski and Kelce both score touchdowns (+415)

Gronkowski anytime touchdown (+225)
DEFENSE/SPECIAL TEAMS
DSTs tend to be mostly ignored on the single-game slates because they lack the same upside that other players possess. But they actually can provide a decent floor and have the chance to create turnovers when facing pass-heavy offenses.
I generally lean toward the Buccaneers as my preferred punt play because K.C. will have no reason to try to run the football, creating ample opportunities for the Buccaneers' D to create turnovers.
With the majority of DFS lineups likely to pay down to RoJo at $2.2K, playing a DST instead will ensure the lineup is not as likely to be duplicated. 
The Bucs DST is boom-or-bust by nature. Even if Mahomes goes off, they can force a few turnovers along the way. 
Favorite Props:
Over 4.5 total sacks (+110)
KICKERS 
Kickers also don't offer much upside and are priced more than their DST counterparts. Neither kicker has a desirable matchup based on both teams ranking in the bottom top-seven in fantasy points allowed to the position, but if I'm rostering one it's Ryan Succop.
His field goals won't negatively impact any lineup with Mahomes, and he's been the better kicker recently. He scored at least eight fantasy points in his last four games, with three performances of more than 12 fantasy points.
Harrison Butker has eclipsed 12 fantasy points just once dating back to Week 13. 
Favorite Props
Succop to score most kicking points (+120)
Bradley Pinion records the longest punt (+110)
Bradley Pinion is PFF's third-highest-graded punter, and he's at plus odds to out-kick Chiefs punter Tommy Townsend. Pinion's average yards per punt (46.0) is higher than Townsend's (42.7) dating back to Week 11. Consider this the degenerate prop bet of the week.