The bad news: Live NFL football will soon be gone for at least seven months. The good news: We're about to see the Kansas City Chiefs take on the Tampa Bay Buccaneers for the second time this season — this time with a Lombardi Trophy on the line.
While most chatter will naturally focus on the generational battle between young superstar Patrick Mahomes and six-time Super Bowl champion Tom Brady, this article will focus on the war in the trenches.
By now, we all know that the quarterbacks influence almost every part of the game — especially the trench warfare — so the signal-callers will still play a role in this article. But on the other side of the coin, trench warfare also influences what happens in coverage, so we will try to connect those two facets of the game, as well.
As we did throughout the 2020 campaign, we will use our survival curves as the instrumental tool to investigate the trenches.
Survival curves estimate the chance a QB faces pressure when he holds the ball for a given amount of time on a given snap. For the offensive line, it is good when the survival curve lies above the league-average survival curve, while the opposite is true for the defensive line.
When the Tampa Bay Buccaneers have the ball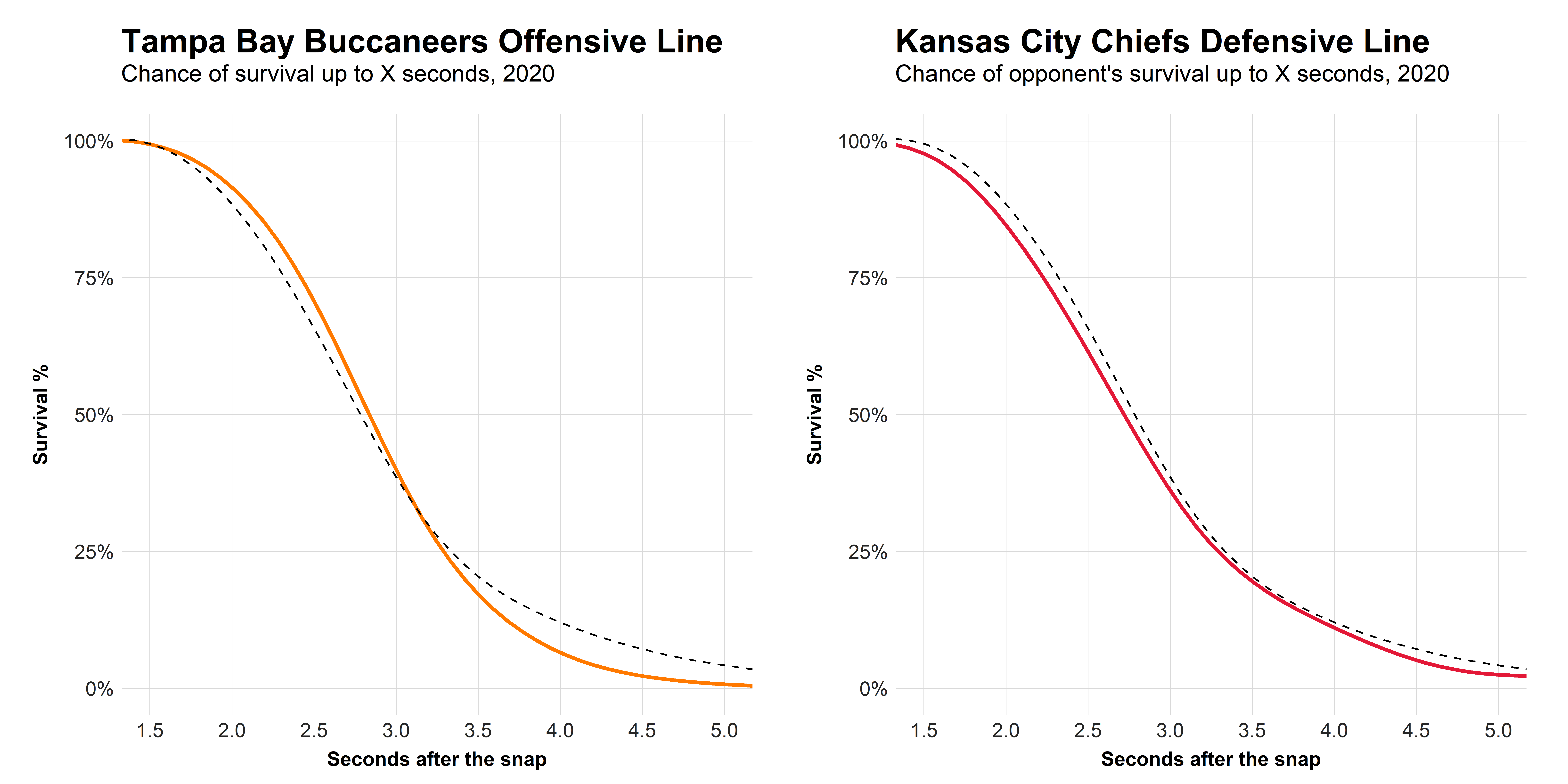 The matchup between the Buccaneers' offensive line and the Chiefs' defensive line is a matchup between two good but not great units, with a few stars sprinkled in at either side.
Of course, we find Tristan Wirfs on the Bucs' side, a first-year tackle who has earned an 82.4 PFF pass-blocking grade and has already proven to be one of the best right tackles in the league.
Subscribe to PFF Edge to continue reading
Already have a subscription? Sign In