When building DFS lineups for fantasy football, knowing who to play is crucial. But perhaps just as crucial is knowing who not to play, which players you should cross off your list for that slate. Paring down the player pool makes the rest of the lineup decisions that much easier.
Each week in this space, using the information and data available to PFF subscribers, I'll highlight the players in that week's main slate that I think should be crossed off for that week, or at least used very sparingly. These are the Week 7 fades.
Quarterback
The golden threshold for a DFS option is 3x scoring. Ideally you want a player to blow past any relation to his salary (like Will Fuller a couple weeks ago), but if you can get 3x out of a player (that is, triple his salary — a $10,000 player would have a 3x of 30 points), you aren't complaining in cash, and you can at least compete in tournaments if the rest of your roster does well. Well, Rodgers is at $6,400 on DraftKings this week, giving him a 3x of 19.2 fantasy points … a mark he's hit only twice this year (including one by the skin of his teeth) and five times in his last 16 games. Rodgers doesn't offer the upside he once did.
Our early DFS ownership projections have Goff around 11.5% ownership on both main sites. And it's not without reason as Goff draws an Atlanta defense that is one of the most generous in the league, including PFF's second-worst coverage grade at 39.7. But Goff's inconsistency this year (including a 2-point game last week), home/road splits (he's roughly 60% as good on the road versus at home the last two years), and poor 2019 (his 80.8 passer rating ranks 27th of 31 quarterbacks with at least 100 dropbacks) make me nervous. He has elite upside, but given his likely huge ownership, even if he does go off, you aren't going to differentiate yourself.
Cousins has more fantasy points in his last two weeks than he did in the season's first four games combined. In what is probably not a coincidence, those two games also came against the Eagles and Giants, two of the league's most burnable secondaries. Things get tougher this week against a Lions defense that is middle of the pack in fantasy points allowed to quarterbacks this year but much more forgiving to running backs. This should be a Dalvin Cook week.
Running back
Aaron Jones, Green Bay Packers (vs. Oakland)
Jones is still priced as a bell-cow back, the fifth-priciest back on both sites in this week's main slate, but his usage when Jamaal Williams is active, especially lately, hasn't reflected that. Williams missed Week 5 and essentially missed Week 4, but in Weeks 3 and 6 combined, he played 56.3% of the Packers' offensive snaps compared to 43.0% for Jones. You'd expect Jones to take the lead back going forward, but it's hard to picture him rising much above 60% as long as Williams is active, and that makes him hard to roster at his salary.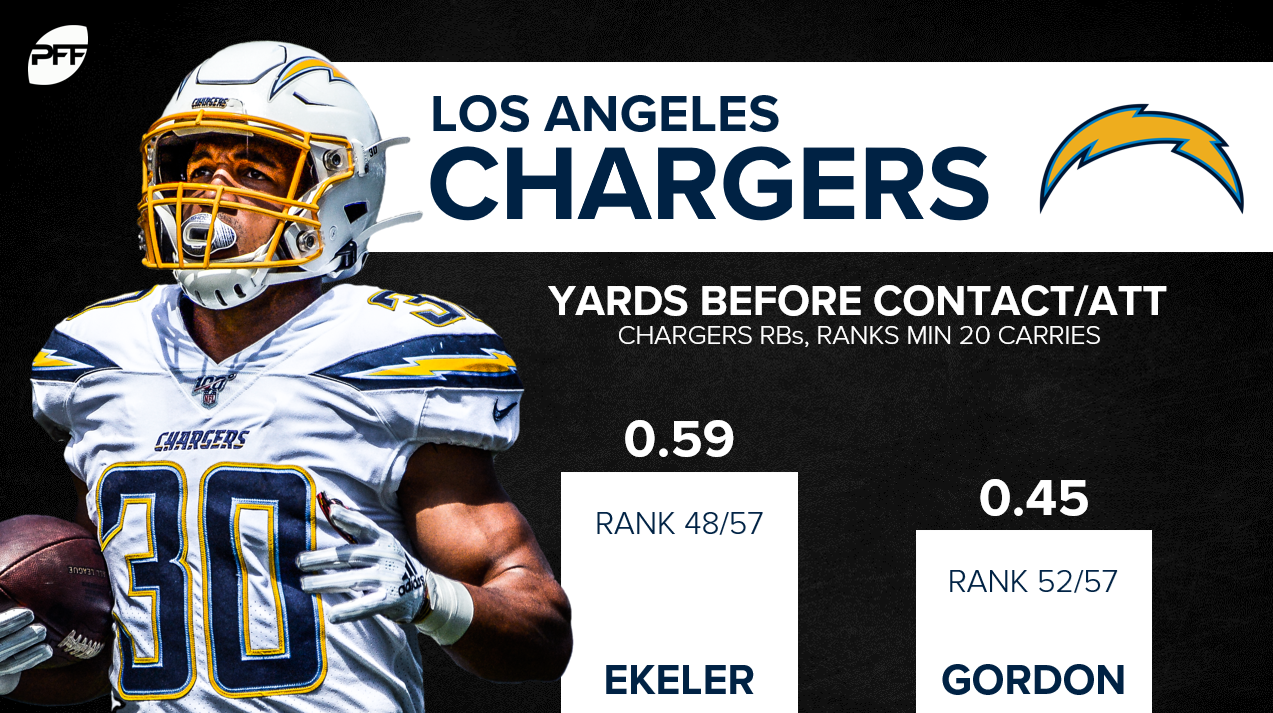 Hey, there's good news for the Chargers! There are rumors Russell Okung could finally make his 2019 debut after missing the whole season so far on PUP with blood clots. And while that can only help what has been a miserable offensive line so far this year, it isn't likely to be nearly enough for two running backs who are averaging a combined 0.56 yards before contact per carry. With the workload split between the two backs and not much room to run, this is a hands-off backfield.
In Peterson's first game under interim head coach Bill Callahan — who was vocal about wanting to establish the run — he had 25 touches, as many as he'd had in any two games combined this season before that. He had a total of 136 scrimmage yards after combined into the week with 112 yards on the season. That's the good news. The bad news is that it came against the Dolphins, giving Peterson ideal gamescript. He's unlikely to repeat that sort of gamescript again this year at all, let alone this week against the 5-0 49ers, allowing the fewest PPR points per game to running backs this year.
Wide receiver
Terry McLaurin, Washington (vs. San Francisco)
Sure, maybe you weren't really considering Peterson. But McLaurin has been almost matchup-proof this year — his one bad game still featured 7 targets, 3 receptions, and 51 yards despite shadow coverage from the league's best cornerback in Stephon Gilmore — so it's possible some would consider him as a contrarian play. But in addition to allow the fewest fantasy points per game to running backs, the 49ers are allowing the fifth-fewest to wide receivers, including a league-low 9.0 receptions per game to the position. McLaurin has made himself a bona fide fantasy name, but not this week.
Adam Thielen, Minnesota Vikings (@ Detroit)
I mentioned above how this game could be Dalvin Cook-heavy for the Vikings. But even if the team does pass more than expected, it's not set up as well for Thielen as it is for Stefon Diggs. The Vikings don't run a huge number of three-wide sets, but when they do, Thielen is the one most often thrust into the slot, and the slot is exactly where you don't want to attack the Lions this year, with the team tying for a league-low 60% completion percentage allowed on slot targets this year.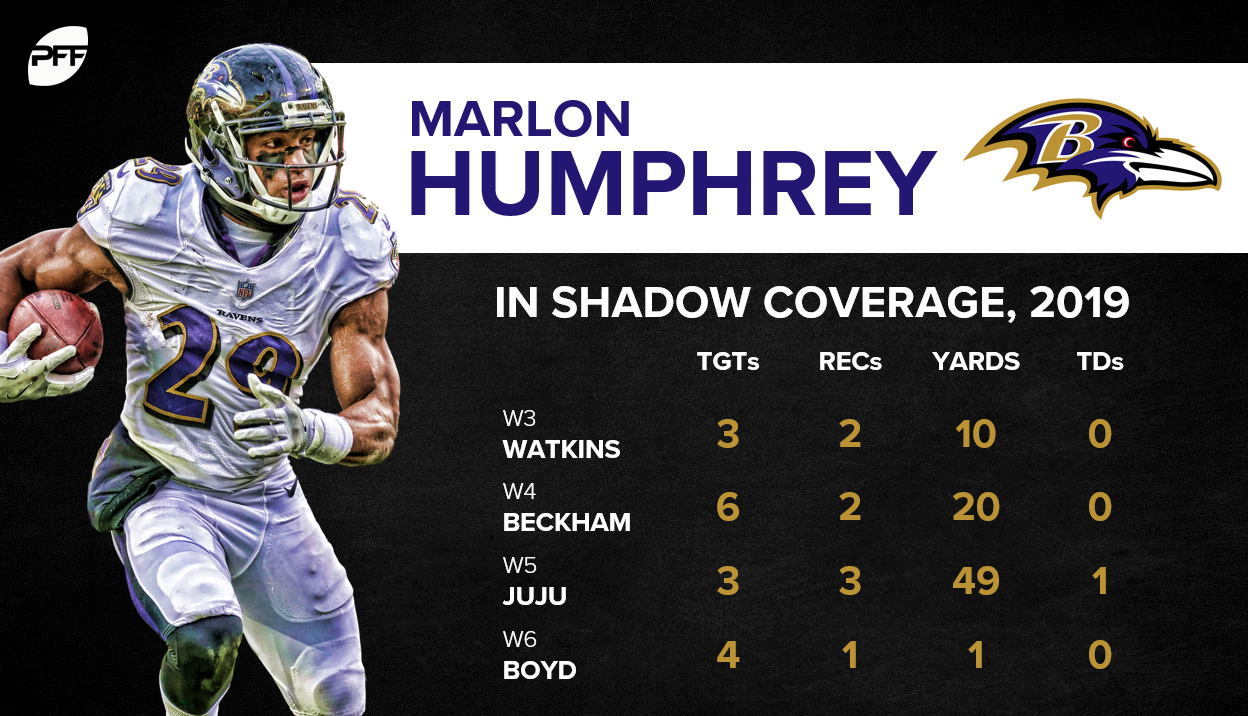 In Weeks 1-3, the Ravens allowed 41.6 PPR points per game to receivers, and that even included a game against the Dolphins. In Weeks 4-6, that average dropped to 32.0. Marlon Humphrey has shadowed in each of his last four games, per our PFF shadow coverage matrix, and allowed a combined 80 yards to Sammy Watkins, Odell Beckham Jr., JuJu Smith-Schuster, and Tyler Boyd in that time. He's likely to shadow Lockett this week, which means bad things for the Seahawks star receiver.
The switch to Ryan Tannehill as Titans starting quarterback can only help Davis' rest-of-season outlook—he's been essentially a non-entity with Marcus Mariota starting. But if that gets going, it isn't likely to come this week, with our WR/CB matchup chart predicting a shadow situation for Davis against elite Chargers cornerback Casey Hayward. Hayward has shadowed three times this year and held those receivers (Marvin Jones, DeAndre Hopkins, and Courtland Sutton) to a total of 12 yards in his coverage.
Tight end
That aforementioned 3x goal? Waller is $4,700 on DraftKings this week, so 3x would be 14.1 PPR points. That's a tough threshold to reach without a touchdown, and it's the minimum he'd need to be really worthwhile. Why the "without a touchdown" caveat? Because the Raiders have not put the tight end in any sort of position to score touchdowns this year, with no end-zone targets and only three in the red zone. Waller has the lowest touchdown upside of any big-name tight end, and that makes him tough to count on in DFS.
Jimmy Graham, Green Bay Packers (vs. Oakland)
It's not so much that Graham's value is low — it is, but you probably knew that. It's more that he is still a guy that still has a bit of touchdown upside, which could make him appealing for any DFS players looking to spend down a bit at the position … except that Hunter Henry is even slightly cheaper than Graham on both sites this week. If you're spending down at tight end, just go down to the potential top-tier TE Henry instead of hoping for a performance from Graham that we haven't seen.