When building DFS lineups for fantasy football, knowing who to play is crucial. But perhaps just as crucial is knowing who not to play, which players you should cross off your list for that slate. Paring down the player pool makes the rest of the lineup decisions that much easier.
Each week in this space, using the information and data available to PFF subscribers, I'll highlight the players in that week's main slate that I think should be crossed off for that week, or at least used very sparingly. These are the Week 6 fades.
Quarterback
It's never a mistake to grab Mahomes in DFS, particularly in this week's game with easily the week's highest over/under (56 points). But the hobbled version of Mahomes we saw in Week 5 worries me. Considering he's $600 more expensive (on DraftKings) than any other quarterback and $800 more than his counterpart in this game, Deshaun Watson, I think it's a good week to go underweight on Mahomes and fade the injury risk.
After starting the season a very disappointing 1-2 (and risking 0-3, considering how much they trailed Washington in Week 1), the Eagles changed their approach starting in Week 4, throwing the ball less often (39.3 pass attempts in Weeks 1-3, 28.0 in Weeks 4-5), throwing it shallower (10.3-yard average depth of target in Weeks 1-3, 7.8 in Weeks 4-5), and running it more (27.3 rush attempts in Weeks 1-3, 31.0 in Weeks 4-5). Some of that is gamescript and opponent, but this appears to be the team's new strategy, and it lowers the DFS upside of Wentz.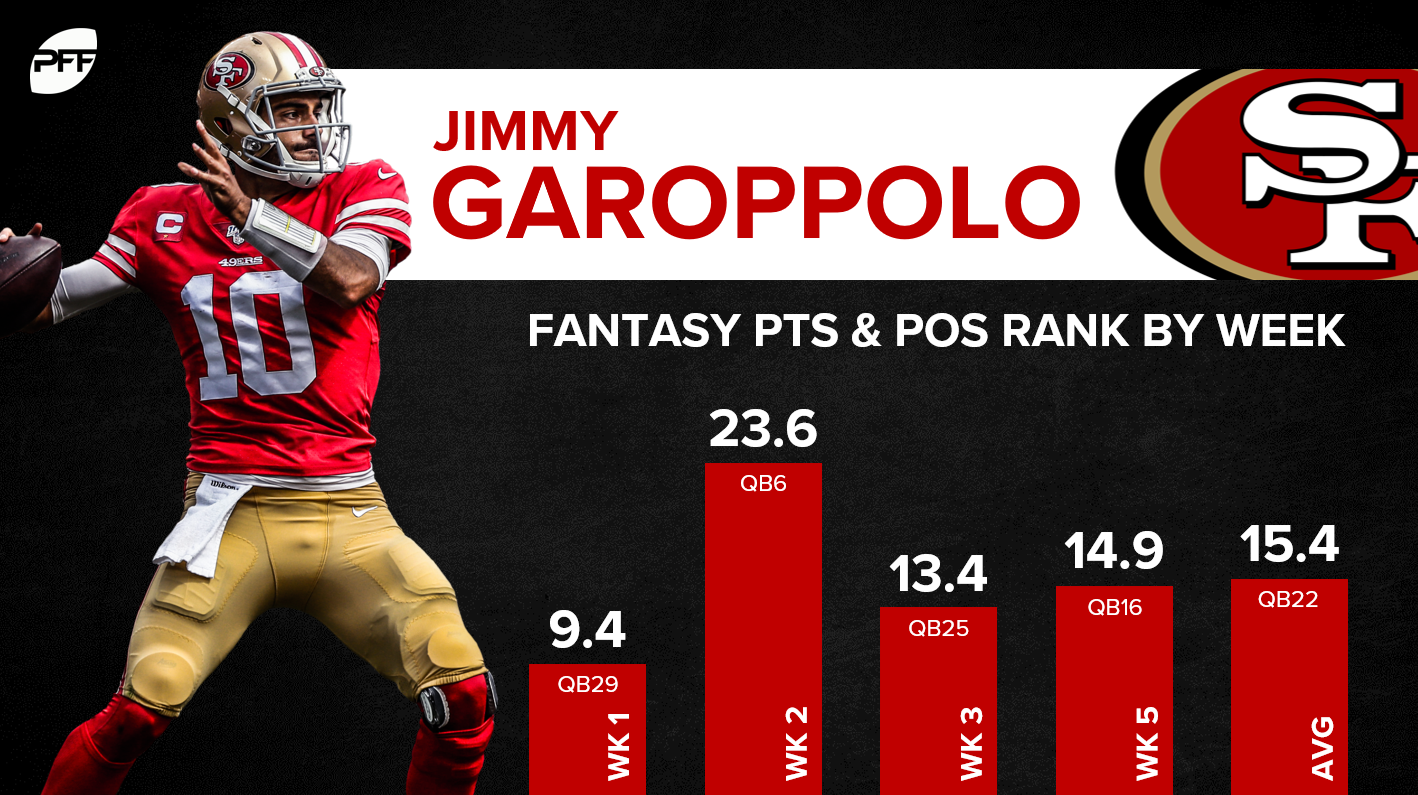 Despite the 49ers sitting at 4-0 and winning three of their games by at least two touchdowns, Garoppolo hasn't been a big fantasy contributor. He's only reached even 15.0 fantasy points once in four games, and his 15.4 fantasy points per game ranks only 22nd, behind guys like Kyle Allen and Case Keenum. Even against a Rams defense that has hit the skids lately, the run-heaviness of this offense makes Garoppolo a low-upside fantasy option.
Running back
Assuming one or both of these two is active, there's a certain appeal to using them as contrarian plays under the assumption DFS players will be off them because of injury concerns (check our DFS ownership projections). Then again, the reason DFS players will be off them is a good one. It's hard to imagine their respective teams giving them full workloads considering their injuries and the relative quality of their backups (Chase Edmonds for Johnson; Malcolm Brown for Gurley). If I had to use one of them, give me Johnson, but better to just steer clear of this potential mess.
The way to attack the Seahawks, even for running backs, is through the air, with the team allowing the four-fewest rushing yards per game to opposing backs. And that is of course an area Chubb doesn't offer much, averaging 1.7 receptions per game in his career and never topping four receptions or 50 receiving yards in a game.
It's not that Philadelphia has a stout run defense. In a vacuum, that matters, but an elite running back is still an elite running back. But the facts that the team's defense specifically funnels offenses toward the pass and has an awful pass defense, and that the Vikings are riding the "squeaky wheel" narrative hard right now leads me to steering well clear of Cook.
Wide receiver
In his weekly DFS guide, our Scott Barrett is pro-Chark this week. In his DFS bargains piece, our Ryan Whitfield is as well. So if you want to dismiss this, there are plenty of points arguing in your favor. That said, this is a great week to pay up at wide receiver. DeAndre Hopkins is dirt cheap, Michael Thomas and Julio Jones have great matchups, Cooper Kupp is on fire, etc. etc. You can make a good argument for just about every upper-level active receiver. Meanwhile, Chark — one of the prime negative regression candidates in the league — is the outside receiver facing a defense that has been very burnable in the slot this year, moreso than outside. I expect this to be a Dede Westbrook week.
Metcalf needs a big play to be productive. He has a 40-yard reception in three of his five games so far. But outside of those plays, he lacks volume — in the last two weeks, he has one 6-yard reception, one 4-yard reception, and a 40-yard touchdown. That's it. The Seahawks are a run-heavy offense with Tyler Lockett and Will Dissly seemingly locked in as the two target leaders. Metcalf should be completely off the board for DFS cash games. His big-play potential gives him a bit more tournament upside, but even then, he hasn't topped 70 yards since Week 1 and he only has two total touchdowns. He's not even been that successful as a DeSean Jackson surrogate.
Deebo Samuel, San Francisco 49ers (@ LA Rams)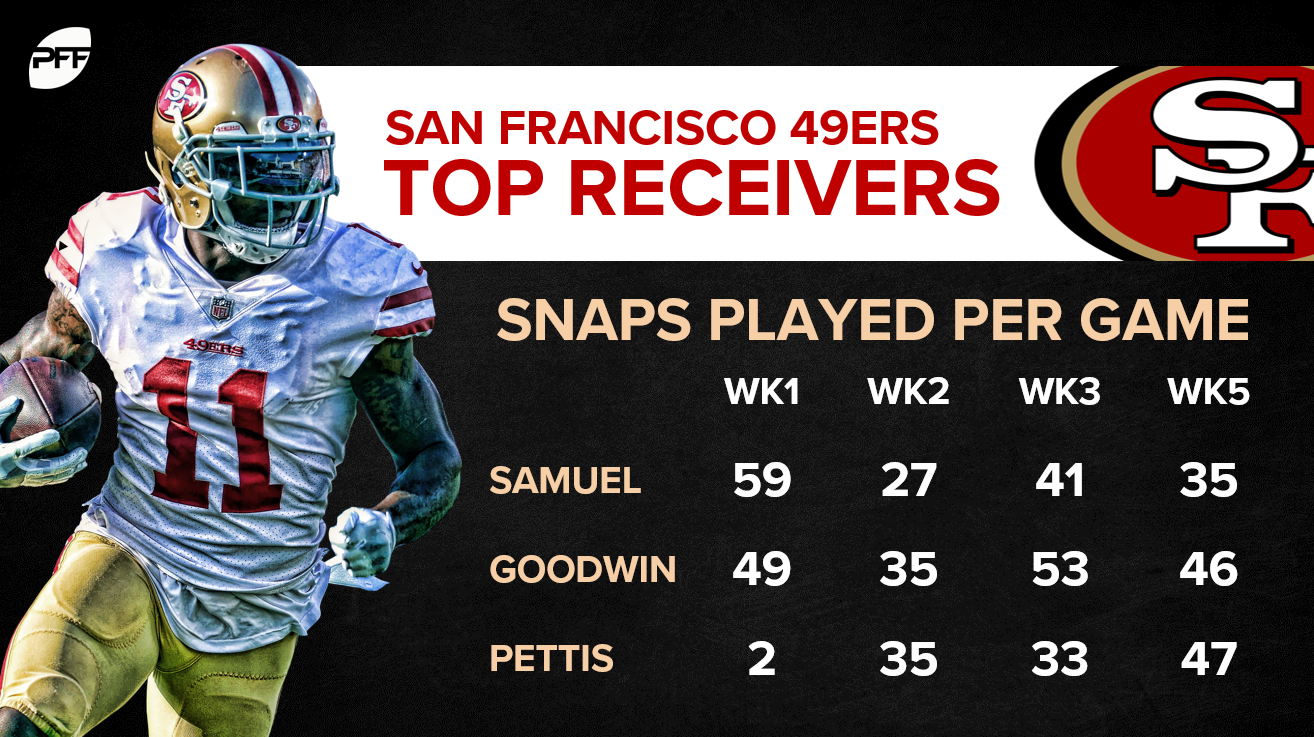 Samuel played the most offensive snaps of any 49er receiver in Week 1, at 59. He followed that up with 20.3 PPR points in Week 2. It landed him firmly on the map. Since then, he has (1) played fewer snaps than Marquise Goodwin in Weeks 3 and 4, (2) fallen behind Dante Pettis as well in Week 4, as Pettis has gradually increased his playing time, (3) totaled seven carries plus targets the last two weeks after eight in Week 2 alone, and (4) had 8.7 PPR points across the last two weeks. Samuel still has name value, and he's still $400 more than Pettis on DraftKings, but he isn't really in play.
Tight end
The truth is there aren't many weekly option in play at tight end, and the ones who are basically always are, with so few alternatives. But if we're nitpicking, Andrews' injury concerns, combined with what should be a very easy matchup against the Bengals, make me nervous about an early shutdown for the Ravens tight end. I will probably opt for other options.
Like Samuel, if for very different reasons, Walker has plenty of name value that isn't really reflected in his fantasy value. He's totaled 4 targets the last two weeks, gaining only 14 yards on his 2 receptions. Denver has allowed only one tight end all year to reach even 25 yards. It's probably a good week to spend up at tight end, and if I'm looking to save, I'm diving deeper, down to someone like Geoff Swaim.