Hello, and welcome to Week 6 of the XFPR – the Expected Fantasy Points Report. If you're unfamiliar with expected fantasy points, I offered up an in-depth explanation earlier this offseason.
Every week we'll be using a 10-season sample of play-by-play data to calculate expected fantasy points from a player's seasonal or weekly usage. We look at each target (by distance from the end zone and depth of target) and each carry (by distance from the end zone and down and distance) and add this up to determine how valuable a player's role was for fantasy. We can contrast this with fantasy production to measure efficiency.
In layman's terms, expected fantasy points measures the exact worth of a player's volume – "how many points a player should have scored" given his workload, based on what the average player would have scored.
Through four weeks of action, here are the top-25 players in expected fantasy points (XFP) per game:
[Note: Full-season XFP is now available for download in spreadsheet form. We'll be releasing it each week in our PFF Elite Facebook Group. If you're not already an Elite subscriber I highly recommend joining.]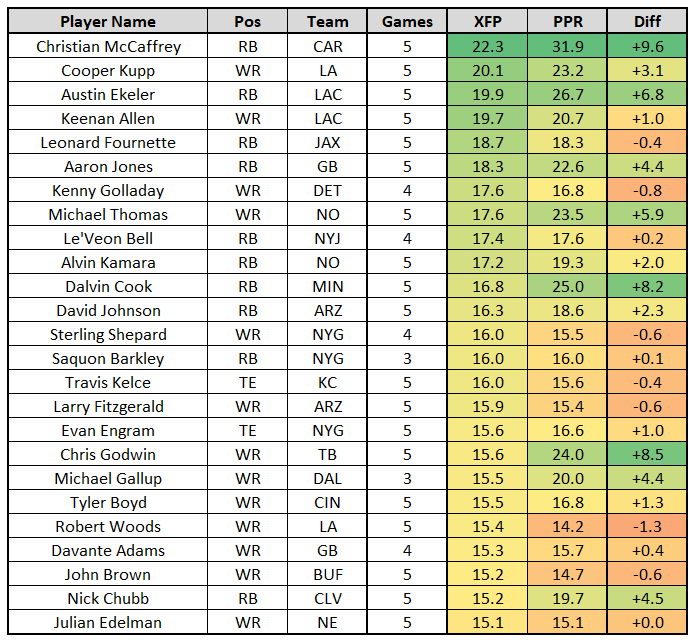 (XFP: 22.3, PPR: 31.9, Diff: +9.6)
McCaffrey leads all players in both XFP per game (22.3) and actual fantasy points per game (31.9). He's also our single most efficient player this season, averaging 9.6 fantasy points per game over his expectation. Easily, he's the most valuable commodity in all of fantasy, and on pace to put together one of the greatest fantasy seasons of all-time. His 159.6 fantasy points is the third-most by any player through the first five weeks of the season all-time.
(XFP: 20.1, PPR: 23.2, Diff: +3.1)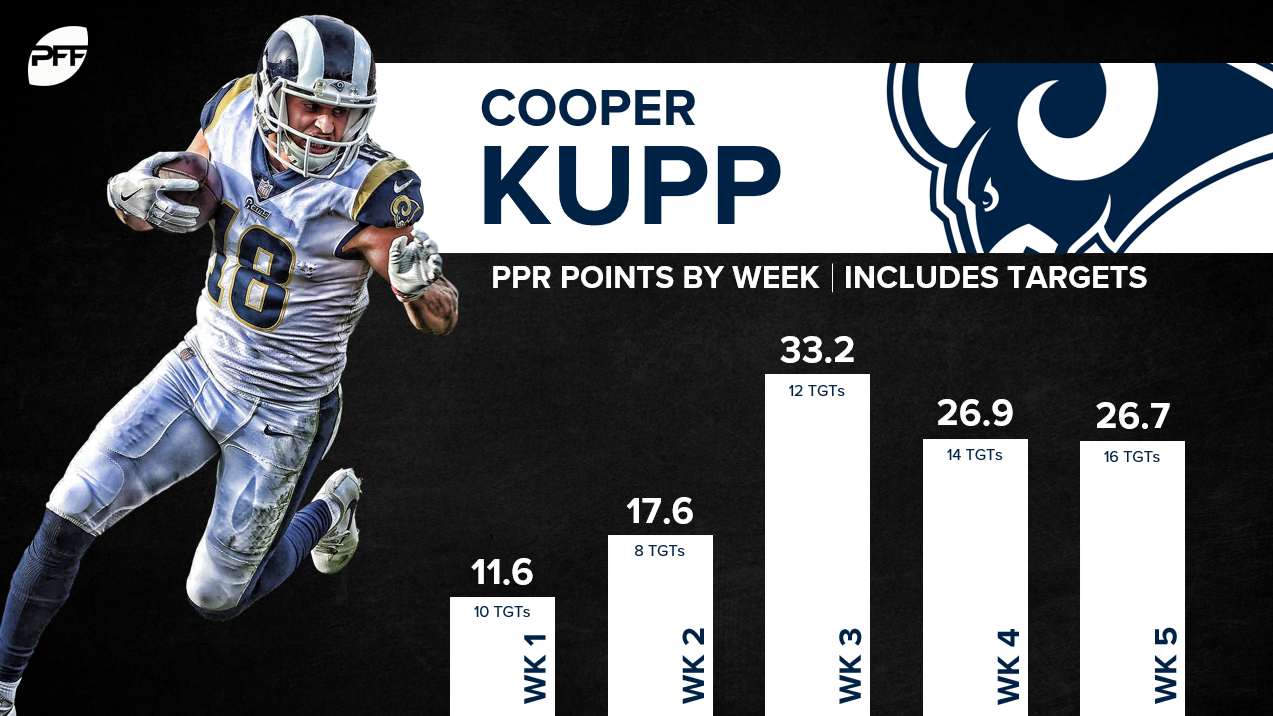 One of the most under-the-radar storylines of the 2019 season is that Kupp has firmly established himself as one of fantasy's elite WR1s. In Week 3, Kupp hit a new career-high in XFP (21.4), and then he hit a new career-high the following week (25.0), and then again in Week 5 (27.6).
Since Week 10 of 2017, Kupp leads all wide receiver in fantasy points per game over his expectation (+4.9). In 2018, he scored 6.2 fantasy points per game over his expectation, which was the second-best mark by any wide receiver this past decade. Essentially, he finished as a borderline-WR1 on low-end WR2 volume.
This season, he couples high-end efficiency with elite volume, ranking first in XFP per game (20.1) and first in targets (60). Over his last eight full games, Kupp is averaging an absurd 24.1 fantasy points per game, which would rank as one of the 10 best wide receiver seasons all-time.
Subscribe to PFF Edge to continue reading

Already have a subscription? Sign In