It's Week 13 of the NFL season, and outside of the top eight or 10 fantasy running backs, can you truly say that you feel confident in the other RBs on your fantasy football roster on a weekly basis? Sure, there may be one or two other start-worthy backs most weeks, and perhaps a fourth if you are playoff bound.
Even though we draft our fantasy teams knowing that backfield committees are the norm, it can still be quite frustrating trying to stay ahead of the volatility that is the running back position. Heck, Gus Edwards and Josh Adams are both top-20 plays in our consensus rankings for this week. Even as a lifelong Philly resident, Adams was hardly on my radar until featuring him in this space prior to Week 9, and I'd be lying if I said I could pick out Edwards in a police lineup.
Point being, outside of injury to a starter, guys like that tend to emerge over time as the stars align and the player(s) in front of them underperform. After Jay Ajayi got hurt in Week 5, I did caution that neither Wendell Smallwood nor Corey Clement was likely to claim a sizeable role. But it wasn't until Adams got a career-high 18 snaps in Week 8 that he looked the part of a lead back. And although Alex Collins was a player we've talked about fading practically all year, it just so happened that coach John Harbaugh decided to make a switch right when Lamar Jackson came along to open up some running lanes.
Keep digging — it's not too late to find the next Adams or Edwards.
Before we dig into the top-three running backs who are trending up or down for Week 13, let's take a quick look at how things panned out for the players discussed last week.
Week 12 recap
3 trending up
Player
Snap%
Touches
PPR Points
Gus Edwards
61.4

63.2

13.8

23

14

4

11.8

17

1.2

3 trending down
Player
Snap%
Touches
PPR Points
Dion Lewis
52.7

54.7

52.2

14

15

17

11.1

8.7

11.6
Notes: Edwards was not targeted and did not score, capping his fantasy output despite another effective day on the ground. Still, his dynasty stock is on the rise as the Ravens' have gotten undeniable production with him and Lamar Jackson sharing the backfield. … Like Edwards, Lindsay went over 100 rushing yards but was not involved as a receiver, although he did deliver a touchdown for fantasy owners. He also played 36 snaps to Royce Freeman's 15. … So much for Jon Gruden promising to find more work for Washington, who touched the ball all of four times. The Doug Martin mini-resurgence continues. … Lewis caught all seven targets thrown his way and touched the ball 14 times, yet his bottom-line production left plenty to be desired as he rushed for only eight yards and played just two more snaps than Derrick Henry. … As detailed in this space last week, Gore has been steadily productive on the ground, and he averaged a healthy 4.8 yards on 14 carries this past weekend. However, he's scored one touchdown all year and is not involved in the passing game, which limits his ceiling to flex territory even in deeper leagues. … Mack has eluded only one tackler in his last 43 rushes and is in the concussion protocol.
Below are five running backs trending up and five trending down in their respective backfield committees. If you are a PFF Elite subscriber, our Handcuff Index chart is a handy reference.
3 trending up
(Week 13 projection: RB48)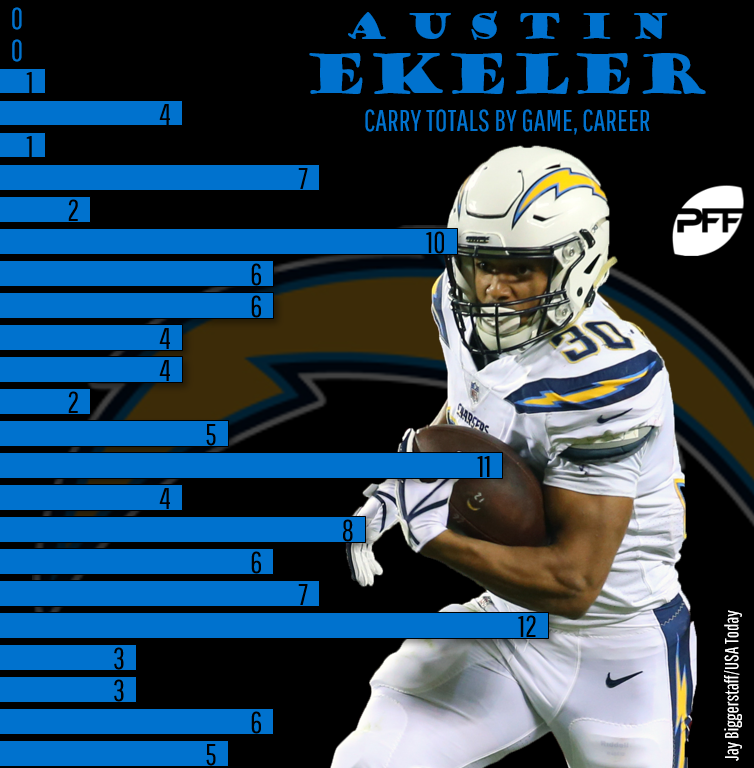 With Melvin Gordon week to week with an MCL sprain, Austin Ekeler is this week's hot waiver pickup. But let's talk about Jackson, the rookie who holds Northwestern's all-time rushing record and was one of my sneaky backup picks back in the summer. Ekeler racked up 10 catches against Arizona this past weekend and also notched a rushing score, but it was Jackson averaging 8.1 yards on seven carries, including runs of 10, 19, and 20 yards. Slowed by a hamstring injury in the preseason, Jackson is looking quite spry these days. He also logged two more carries than Ekeler, who has not logged more than 12 carries in any game above the NCAA Division II level and ranked outside the top-30 RBs in fantasy points per opportunity over the previous five games.
(Week 13 projection: RB64)
We don't have much of a sample size to go on for Smith this season, and that's kind of the point here. Ezekiel Elliott leads all NFL running backs in snaps and is on pace for 384 touches. While Dallas won't be in position to rest starters down the stretch, it stands to reason that Smith could eventually get more work in an effort to keep Elliott fresh late in the season. Smith averaged 4.2 yards on 55 carries last season, and the Cowboys have a mostly cupcake schedule the rest of the way. The offensive line isn't quite what it was last year, but Dallas still owns PFF's No. 8 run-blocking grade and ranks 26th in pass attempts. If you own Elliott, this is the time of year to make sure a premium handcuff like Smith is rostered.
(Week 13 projection: RB12)
D'Onta Foreman returned to practice a couple weeks ago, and Alfred Blue continues to see 40% or more of Houston's offensive snaps while averaging 12 carries a game over the past two months. Still, Miller has been one of the league's more dependable fantasy backs going back to Week 7. In that span, he's topped 100 rushing yards in three of five games while ranking fifth in elusive rating with an 18% missed tackle rate. He's also averaged 4.6 yards after contact despite the Texans owning a league-worst 44.8 run-blocking grade. What the Texans do have are offensive weapons, and an eight-game win streak, and a 27-point implied total as home favorites against Cleveland on Sunday. Miller is locked and loaded as an RB2 the rest of the way.
3 trending down
(Week 13 projection: RB23)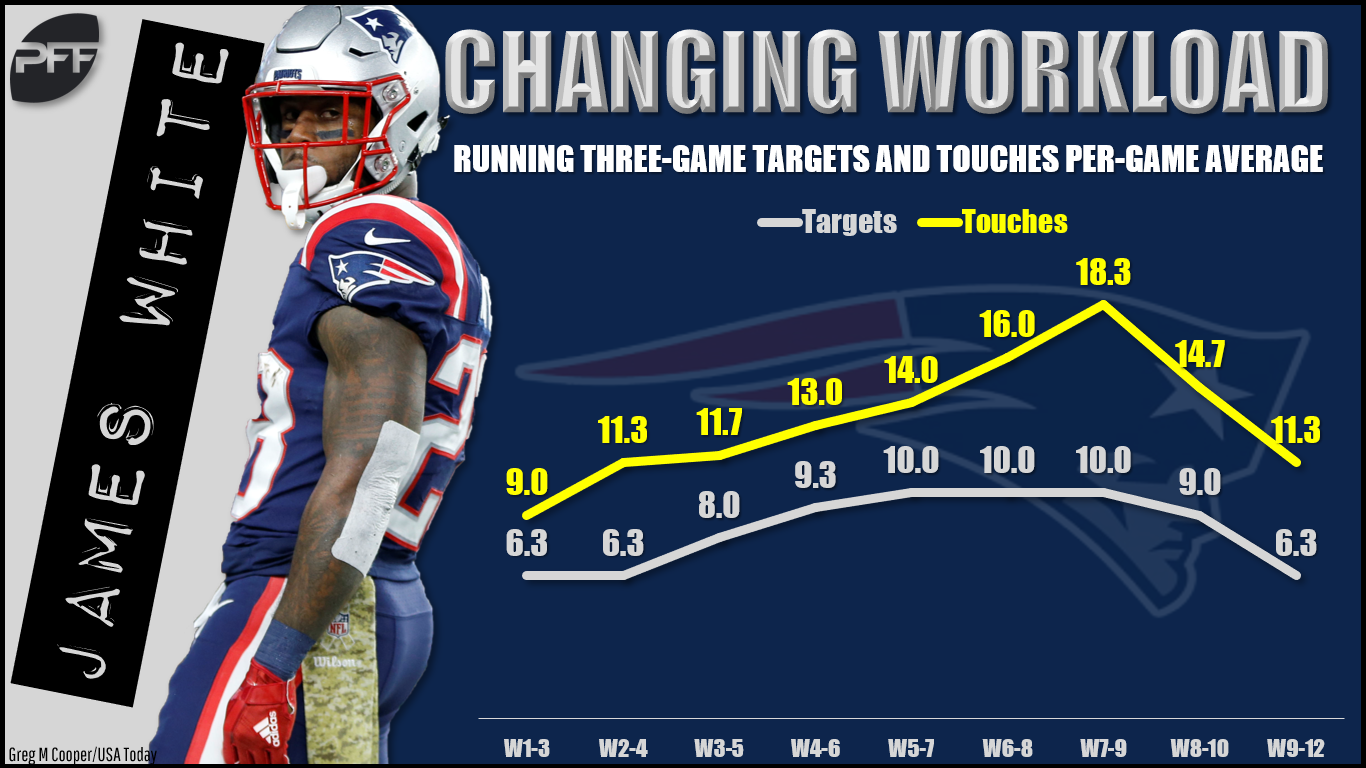 While it may sound odd to be "down" on a player who just averaged 8.1 YPC a week ago and ranks ninth in PPR scoring on the season, there are some valid usage concerns for White moving forward. For one, Sony Michel is back healthy and coming off a career-high 133-yard rushing performance. In the two games since Michel returned from a knee injury, White has averaged 52 scrimmage yards and eight touches despite virtually no dropoff in snaps. In other words, he's become somewhat touchdown-dependent for fantasy purposes and caught just one pass against the Jets. What's more, Rex Burkhead is back in the picture to further muddy the Patriots' backfield. White figures to remain in the flex picture, but his week-to-week reliability has taken a hit.
(Week 13 projection: RB34)
Entering Week 9, Peterson was the No. 9 fantasy back in standard scoring. In the four games since, he ranks outside the top-30 in both fantasy scoring and elusive rating. In fact, Peterson has forced only five missed tackles over his last 56 rushing attempts (8.9%). And while Alex Smith wasn't exactly lighting it up before his season-ending injury, Colt McCoy isn't going to keep defenses from crowding the box. Along with a nagging shoulder injury, also complicating matters is Chris Thompson, who returned to practice on Monday for the first time since suffering a rib injury back in Week 8. His presence won't put much of a damper on Peterson's early-down workload, but negative gamescripts are when the Redskins lean more heavily on Thompson.
(Week 13 projection: RB19)
For one reason or another, the "breakout" simply has not happened for Coleman despite 2018 effectively being a lost season for injured Devonta Freeman. He's hardly been a workhorse, effectively splitting snaps with Ito Smith while failing to top 13 carries in any of his last seven games. Sure, for the most part Coleman is getting it done on a per-carry basis, but seven TDs have somewhat masked his 23.6 elusive rating (48th). He's also set to become an unrestricted free agent this offseason, whereas Freeman is locked up through 2022 as the league's second-highest-paid running back. Has Coleman shown enough for a team to sign him as a featured back this offseason? Probably not if you're a dynasty owner, although all bets are off after the contract Jerick McKinnon signed earlier this year.