This is our bi-weekly check in on the value changes in dynasty fantasy football leagues. We're heading into Week 13, and most trade deadlines have passed but, as dynasty players know, the season never ends. Whether your fantasy team is set to make the playoffs or you're already looking forward to your rookie draft, it's never too early to start assessing your 2019 chances, including looking at several big names below.
First, let's look at the last edition, including Matthew Stafford who we deemed a hold and remains one after failing to throw more than 250 yards in either of his last two games and just one combined touchdown. However, this comes after the Lions traded Golden Tate and Marvin Jones was lost to a serious injury so it's hard to blame this dip on Stafford. Dion Lewis is still a sell, especially after failing to top even 75 total yards the last two weeks, while Tarik Cohen remains a buy while continuing to rack up the receptions as the Bears passing back. T.Y. Hilton has gone berserk that last two weeks with games of 125 and 155 yards, but still remains a 29-year-old receiver we would look to sell. Our other receiver, Tyler Boyd, is proving to be viable in fantasy without A.J. Green taking attention away from defenses, posting 11 catches for 150-plus yards and a score the last two weeks. He's still a buy. And lastly, Austin Hooper's numbers have ticked down a bit, catching just nine balls for 58 yards the last two weeks.
But a lot has happened over the last two weeks, including big (potential) changes to the dynasty value of the players below.
(PFF dynasty rank: 1)
Rodgers days as the No. 1 dynasty quarterback are over. Even if the Packers replace Mike McCarthy with an offensive whiz and even if they add more weapons to the offense, it's hard to see Rodgers matching, much less exceeding, the likes of Patrick Mahomes. For example, Mahomes is averaging 330 passing yards this season, something Rodgers has done just once in his career. Mahomes also has 37 touchdowns in his first season as a starter and we still have a third of the season to go. Meanwhile, Rodgers has only passed for more than 37 touchdowns in a full 16-game season four times in his entire career.
Now Mahomes' production is at an admittedly unreasonable level, but there have been whispers about Rodgers' own production slipping. However, I would argue Rodgers is actually the same old Rodgers. He's averaging 297 yards per game, something he's done only once before in his career, and is on pace for another 30-touchdown season, which would be the seventh such season of his career. His 7.9 yards per attempt this season would also be his highest in four seasons.
Verdict: Hold. Trading away a quarterback, even a great one, is incredibly difficult in one-quarterback dynasty leagues. For example, I was lucky enough to inherit a dynasty team this past offseason with Drew Brees and Mahomes. Once Mahomes proved his worth, Brees was on the block for months but I couldn't move him because there are so many good quarterbacks out there. I'm better off keeping him than selling just to sell and the same could be said for Rodgers. If you have him, keep him.
(PFF dynasty rank: 15)
Mayfield has gotten better every week since the Browns fired head coach Hue Jackson and offensive coordinator Todd Haley. His first game after the dual firings, Mayfield had his highest completion percentage while throwing for nearly 300 yards. He topped himself the next week, completing a new career-high 85% of his passes and throwing for another career-high with three touchdowns. Which brings us to last week, when he topped himself again and threw for four touchdowns.
Unfortunately, the Browns are headed for (another) coaching change this offseason so we'll have to see if Mayfield can continue his early success with offensive coordinator Freddie Kitchens. Ideally, whoever the Browns bring in will keep Kitchens as he's not just been good for Mayfield but the whole offense, which has scored at least 21 points in each of the three games he's called the plays. Scoring that much was something the team did in just half of their games up to that point this season. Mayfield also has excellent (and young) weapons around him including rookie running back Nick Chubb and rookie receiver Antonio Callaway, both of whom are top-20 PFF graded players at their positions over the last month with Kitchens as the offensive coordinator. This doesn't even include PFF's top-graded tight end in that same time frame, David Njoku, or veteran receiver Jarvis Landry.
Verdict: Buy. I know, I know. I just got done complaining that it's hard to move a quarterback, but in Mayfield's case, I think it's worth it. Currently ranked as a fringe QB1/2, he could easily shoot up to a top-five option while solving your quarterback position for a decade.
(PFF dynasty rank: N/A)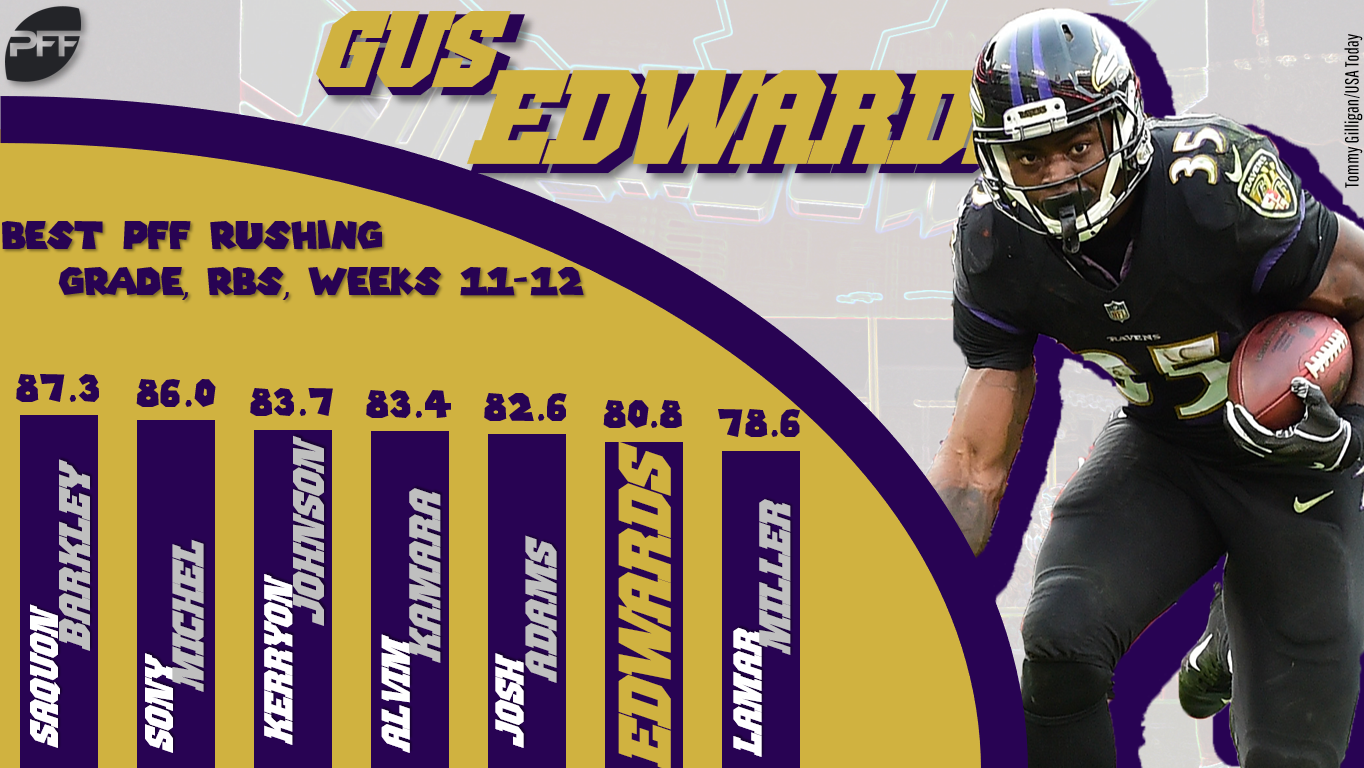 Edwards, an undrafted rookie, has taken over the starting running back job in Baltimore and, no pun intended, run with it. Along with impressive rookie quarterback Lamar Jackson, he's formed an extremely efficient and productive duo, which has resulted in the Ravens scoring their second-most points of the season two weeks ago and fourth-most points last week. In that time, not only has Edwards run for more than 100 yards but he's done it at over 5.0 yards per attempt while grading out as PFF's sixth-highest graded running back. Even more impressive is the fact that he's forced 13 missed tackles to lead the leagues the last two weeks on just 40 carries. Now, all of this should be tempered by the fact that Edwards offers very little in the passing game, catching exactly one pass all season. But as the only Ravens back to average more than 3.5 yards per carry, Edwards is the best back in Baltimore this season by a fair margin.
Verdict: Buy. It's silly to suggest Edwards has played his way to RB1 status after just two games, especially considering his draft pedigree. However, both backs near him on the Ravens depth chart are free agents next year (Alex Collins is restricted), which means the job will be wide open. Much like Mayfield above, it's possible there's a new coaching regime in Baltimore in 2019, but if they stick with offensive coordinator Marty Mornhinweg and truly hand the reins over to Jackson, like they have the last two weeks, Edwards could be in the RB2 conversation.
(PFF dynasty rank: 68)
Since Week 6, when Eagles starter Jay Ajayi was lost for the season, only three running backs — Frank Gore, Melvin Gordon, and Kareem Hunt — have had a higher PFF run grade than Adams. He also ranks in the top-20 in both yards after contact per attempt and elusive rating. Like Edwards above, Adams has taken control of the starting job after also being an undrafted free agent that took advantage of a wide-open depth chart thanks injuries and poor performances of the running backs ahead of him. Case in point: He leads the Eagles in rushing with 291 rushing yards yet is only third on the team in carries with 56. And his 5.2 yards per carry is a yard more than the next-closest Eagles running back.
Verdict: Sell. Adams shares a lot of similarities with Edwards, but one thing he doesn't is competition. Both Wendell Smallwood and Corey Clement, the Eagles backs Adams had to jump on the depth chart, should both be back next year meaning Adams doesn't have the depth chart to himself. Furthermore, coach Doug Pederson typically doesn't hone in on one running back on offense. Adams' 22 carries last week were the most by an Eagles back in one game since the 2016 season. Adams is a good fantasy player I just don't think the volume is there to be a great one.
(PFF dynasty rank: 4)

Something's been off with Brown this season. Sure, he's still a top-five fantasy receiver and he's already scored 11 touchdowns, but if you look below the surface, there are cracks in Brown's claim as fantasy's top receiver. For starters, the 79.5 yards per game he's currently averaging would be his lowest in a season since 2012. Additionally, his reception percentage of 58.7% would be the second-lowest of his career, while his current PFF grade currently is the lowest he's ever had.
It would make sense if Brown's slight dip in these numbers were due to his age — he turned 30 earlier this year — or due to the emergence of fellow receiver JuJu Smith-Schuster. Smith-Schuster has also turned in a WR1 season so far but been more efficient at doing it. He's currently 19th in yards per route run whereas Brown is 39th. And that PFF grade? Brown currently ranks 36th while Smith-Schuster is 27th. And finally, our own Scott Barrett made a pretty damning comparison between the two:
Antonio Brown v JuJu Smith-Schuster (2018)

Is this signaling a changing of the guard? Or is this just a few off games in a historically great (maybe the best ever) 80-game sample? IDK

But if you own AB in dynasty, I don't know how you could look at this and not be very nervous. pic.twitter.com/RhP5OvZR82

— Scott Barrett (@ScottBarrettDFB) November 26, 2018
Verdict: Sell. At long last, I think it's time to get out of the Antonio Brown business. He should still garner the return of a bona fide WR1 but he's on the wrong side of 30 with an emerging stud playing alongside him who's eight years younger and costing a fraction of the cost, at least for a few more years.
(PFF dynasty rank: 22)

Baldwin hasn't looked the same this year thanks to several injuries suffered early on. In addition to currently ranking 52nd in PFF's receiver grades, his 10.5 yards per reception would be the lowest of his career by more than two yards. Perhaps the most disappointing number is Baldwin's scoring, or lack thereof. He has just one touchdown this season despite quarterback Russell Wilson throwing two touchdowns in every game but one. On the season, Wilson's thrown 25 and is on pace to finish a career-high.
Baldwin was never a high-volume receiver, never averaging more than 70 receiving yards per game and topping 78 receptions just once. He made his fantasy bones in scoring, averaging almost 10 touchdowns a season over his last three. So if you take that away, Baldwin has little fantasy value left.
Verdict: Sell. Already 30, Seattle appears to have two younger/cheaper replacements at receiver in Tyler Lockett and the emerging David Moore. I would get what you can for Baldwin in the offseason before it's too late.