With scoring around the league in the rise in 2018, plenty of teams set recent-history highs in fantasy football scoring and production. Sometimes, it's a team on a steady climb reaching a high note. Others, it's a random career year or years bringing a team to its crest.
On Saturday, I took a look at teams that set their low marks in fantasy scoring at a position group in 2018 over recent history (2006-present), looking for which marks were blips and which were the new normal. Today I'm doing the same with the high-water marks.
As noted Saturday: Because of the aforementioned spike in scoring in 2018, there were far more highs than lows. Across 128 positions groups (QB, RB, WR, TE for 32 teams), only eight set 13-year lows, while 23 set highs. As such, I'm splitting this into two pieces. Below are the highs for wide receiver and tight end. Click here for quarterback and running back.
13-year high at wide receiver
WR fantasy points in 2018: 797.6
High total 2006-2017: 778.4
2006-2017 average: 572.2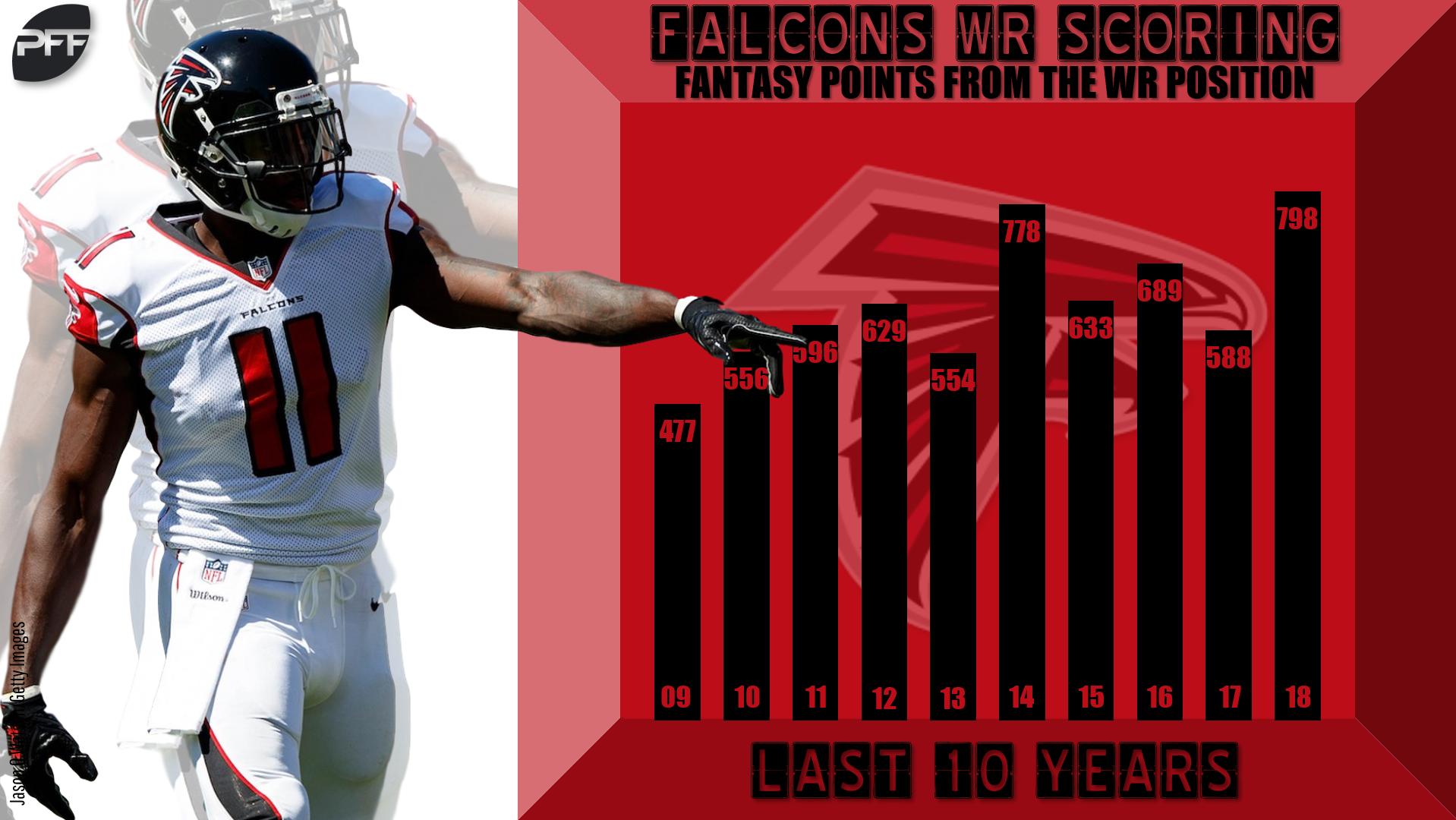 The pre-Julio Jones days were nothing special in Atlanta. The team bottomed out with a woeful 282 points from the position in 2006 but didn't top 600 until Jones' second season in 2012 and has only dropped under that number twice since. Jones led the league in receiving yards, caught eight touchdowns over the last eight games, and got his best running mate since Roddy White in rookie Calvin Ridley, not to mention productive veteran Mohamed Sanu.
Blip or new normal: A little of both. The Falcons should be a more efficient team in 2019, especially if the defense can remain even slightly healthier than it was in 2018. But it's still a very good offense. Nearly 800 points might be out of reach, but 700 should be a reasonable expectation.
WR fantasy points in 2018: 566.1
High total 2006-2017: 546.5
2006-2017 average: 463.6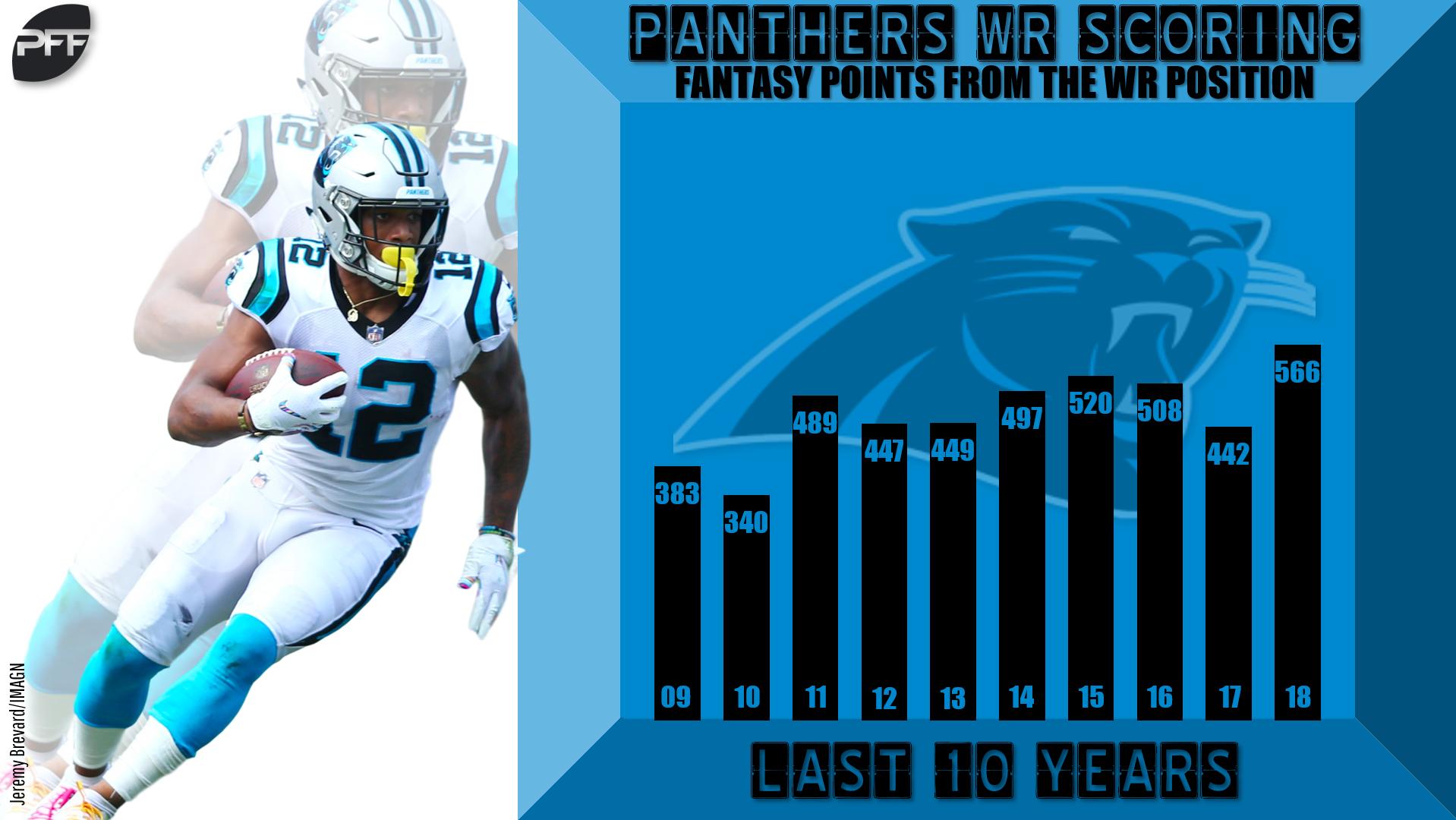 Other than Steve Smith, the Panthers have struggled to find any kind of big productivity out of the receiver position in a long time, and even when Smith was around, he didn't have a big partner in crime. It remains to be seen whether either of D.J. Moore and Curtis Samuel can perform at a Smith level (which would be exceptional), but as a duo, plus a 2018 helping of Devin Funchess, the Panthers managed some nice numbers.
Blip or new normal: The Panthers had the fifth-lowest average receiver production over the 2006-2017 span, so even if Moore, Samuel, and new arrival Chris Hogan aren't necessarily an elite unit in 2019, it's still better than the team has been putting out there. Higher numbers are the new normal.
WR fantasy points in 2018: 573.9
High total 2006-2017: 550.8
2006-2017 average: 420.4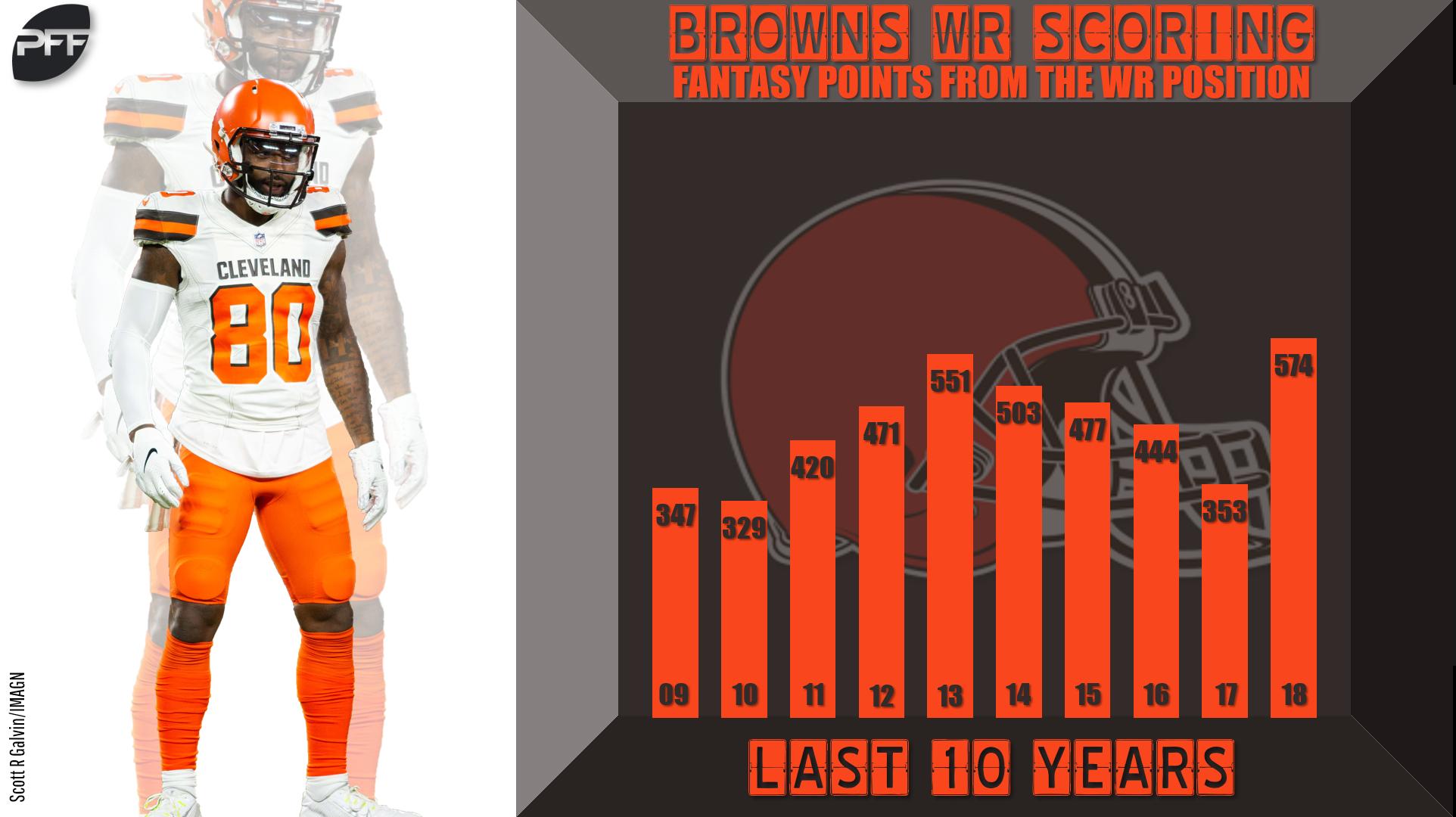 As I noted in the quarterback/running back piece, Baker Mayfield is really good, and the Browns are on the rise everywhere. It doesn't take a lot to explain here.
Blip or new normal: Let's see, a team sets its generational high in positional scoring, then adds one of the two or three best receivers in the league in Odell Beckham Jr. Yeah, it's the new normal.
WR fantasy points in 2018: 637.3
High total 2006-2017: 518.8
2006-2017 average: 422.1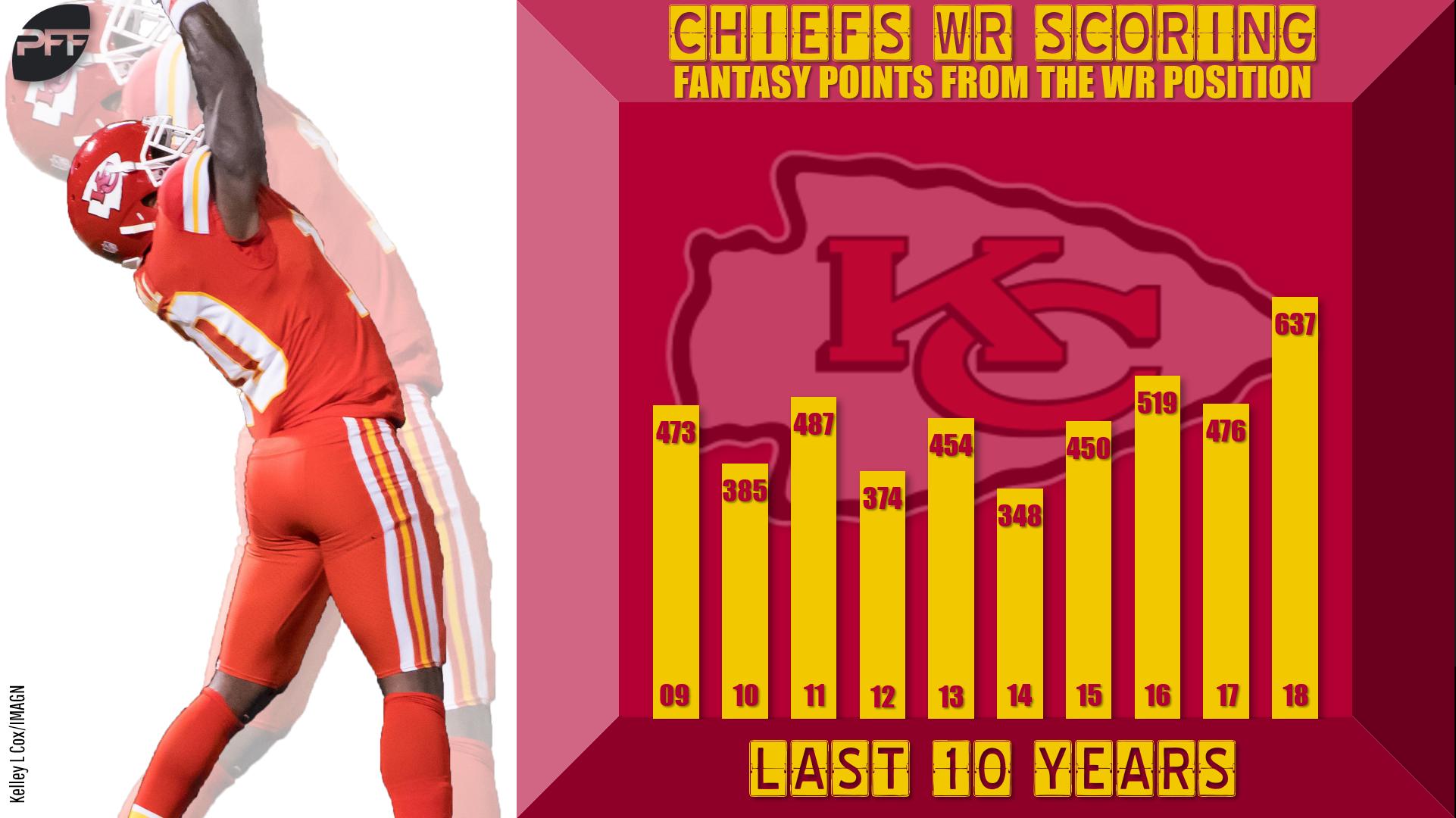 Prior to Tyreek Hill, the Chiefs' biggest wide receiver claim to fame in the recent generation was going an entire season (2014) without a single touchdown from a wide receiver. And while that wasn't the typical from the position exactly, it was emblematic of what the Chiefs had to offer.
Blip or new normal: Barring any off-the-field developments, Hill is entrenched as the No. 1, and Sammy Watkins would be a strong No. 2 if he can stay healthy. And of course there's Patrick Mahomes. New normal.
WR fantasy points in 2018: 749.3
High total 2006-2017: 621.8
2006-2017 average: 502.7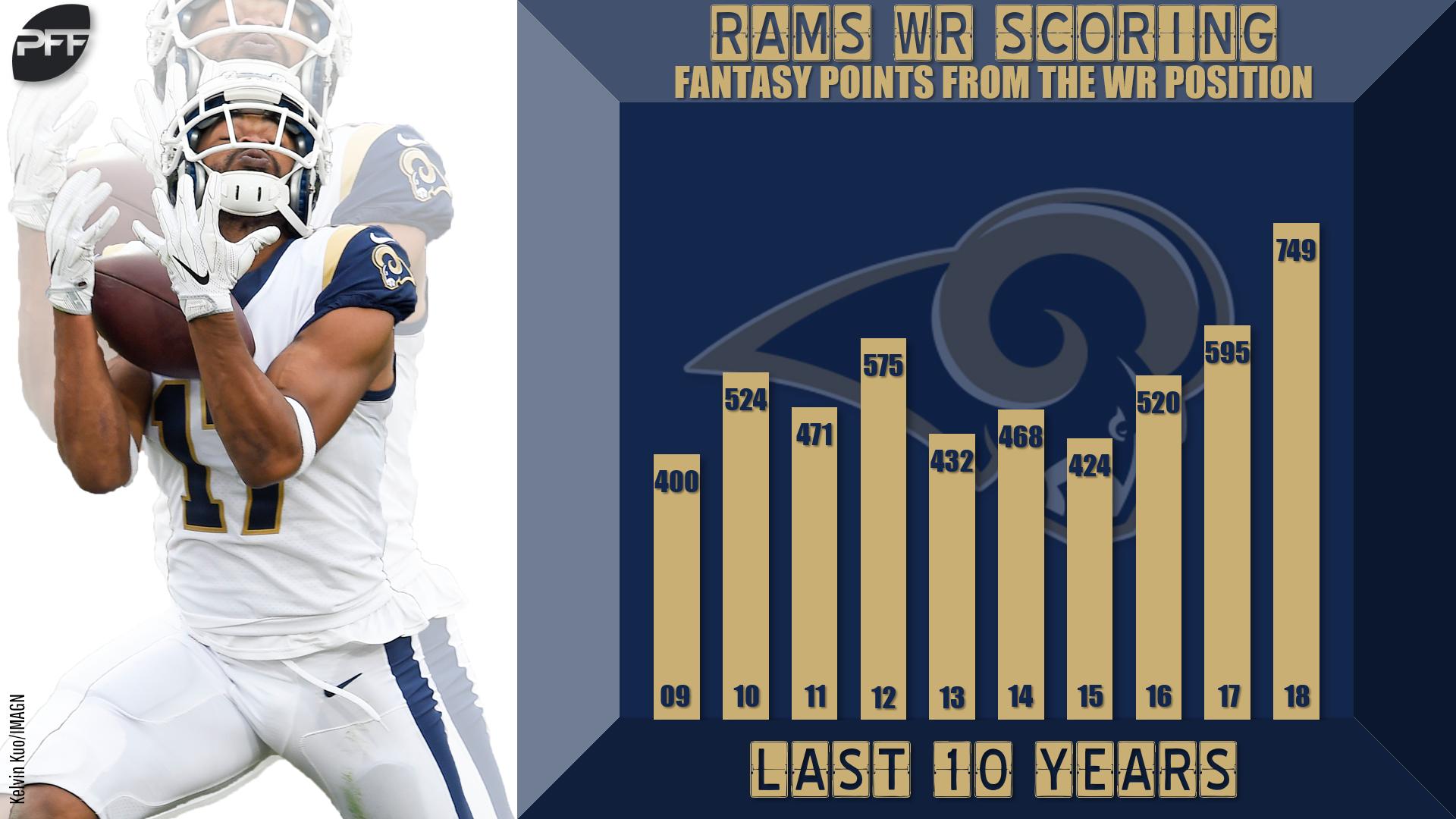 Only the Buccaneers, Falcons, and Steelers got more fantasy points from receivers in 2018 than the Rams, with Robert Woods, Brandin Cooks, and Cooper Kupp forming a dominant trio until Kupp's injury. Until that, the Rams hadn't topped even 600 receiver points since way back in 2006.
Blip or new normal: A strong trio of receivers, an ascending quarterback, and one of the league's elite head coaches? The Rams are set up well.
WR fantasy points in 2018: 726.1
High total 2006-2017: 629.0
2006-2017 average: 482.6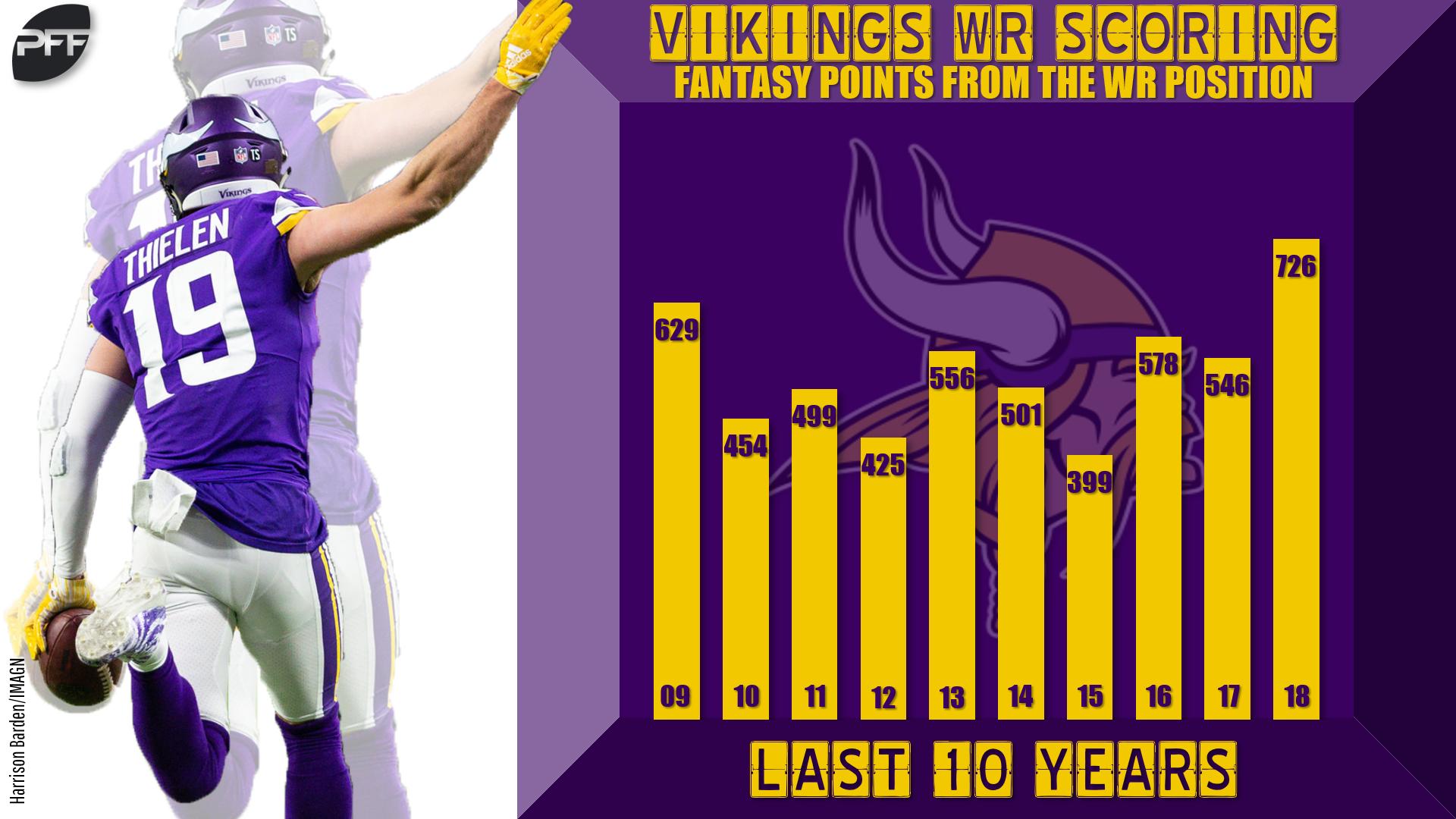 I wrote a piece before the 2017 season about how the Vikings appeared allergic to top-25 fantasy seasons from their wide receivers, going five years from 2012 to 2016 without a single top-25 performer. Adam Thielen and Stefon Diggs both got there in 2017 and did so again in 2018, bucking the trend, but the truth is still that the Vikings haven't been a wide receiver gold mine.
Blip or new normal: Thielen's late-season slide offers sign of concern, and Diggs has yet to play a full 16 games in his four seasons. The 2018 heights might be a bit of a blip. But that said, it's still an elite duo who should get near there regularly.
WR fantasy points in 2018: 616.8
High total 2006-2017: 569.7
2006-2017 average: 472.6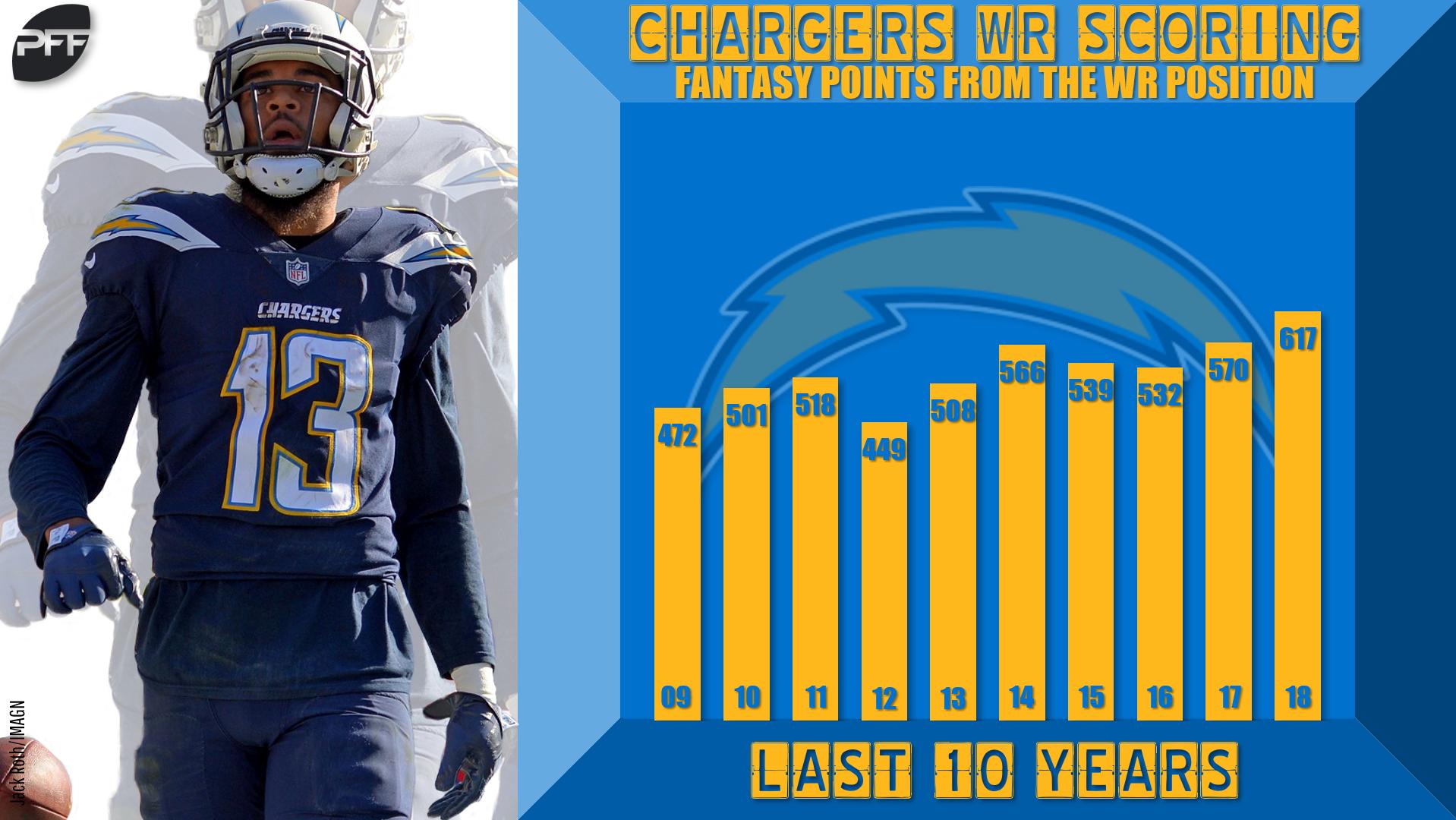 As I noted in my Decider piece pitting Hunter Henry against O.J. Howard, Antonio Gates' heyday came when the Chargers largely relied on one wide receiver (if that). But they aren't so shallow anymore. Keenan Allen is a legitimate No. 1 receiver, Mike Williams had a developing second season, and Tyrell Williams is a perfectly fine No. 3 in his last year before free agency.
Blip or new normal: Tyrell Williams left for Oakland this offseason, but Allen, Mike Williams, and Travis Benjamin is still a perfectly fine group of receivers. This is the new normal.
WR fantasy points in 2018: 820.3
High total 2006-2017: 601.4
2006-2017 average: 485.9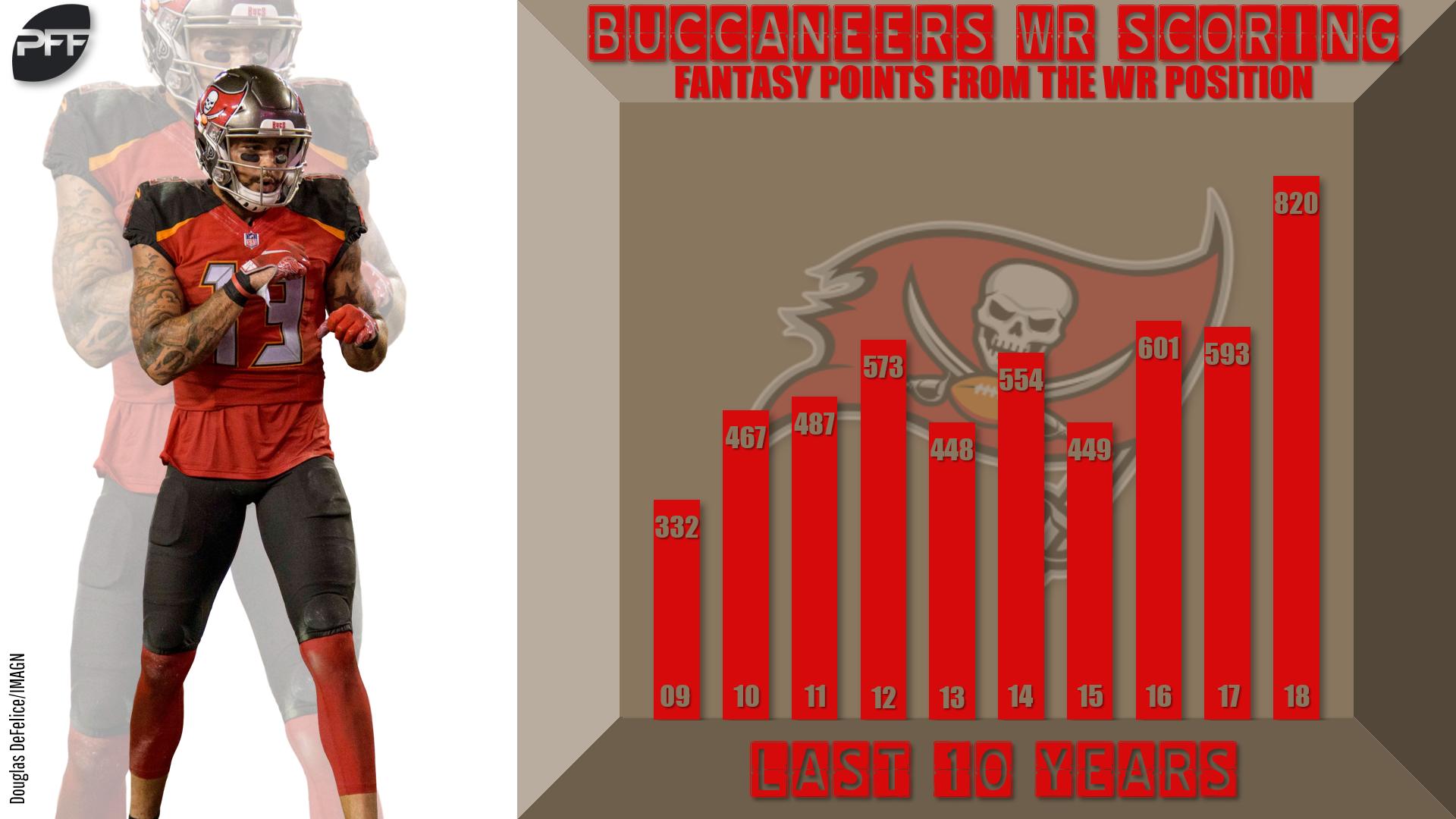 The Patriots in 2007, the Cardinals in 2008, the Broncos in 2013, and the Packers in 2011 were the only teams in the last 13 years to put up more receiver fantasy points than last year's Buccaneers. On the backs of Mike Evans, DeSean Jackson, Chris Godwin, and Adam Humphries, the Bucs blew away the field in receiver scoring last year.
Blip or new normal: The arrival of Bruce Arians as head coach certainly lends itself to optimism, but with Jackson and Humphries gone, and because of the mere fact that teams at the extremes simply don't stay at the extremes (the four teams that outscored Tampa Bay dropped off by an average of 165 receiver points the next year), you'd have to call this a blip.
13-year high at tight end
TE fantasy points in 2018: 356.8
High total 2006-2017: 334.7
2006-2017 average: 239.9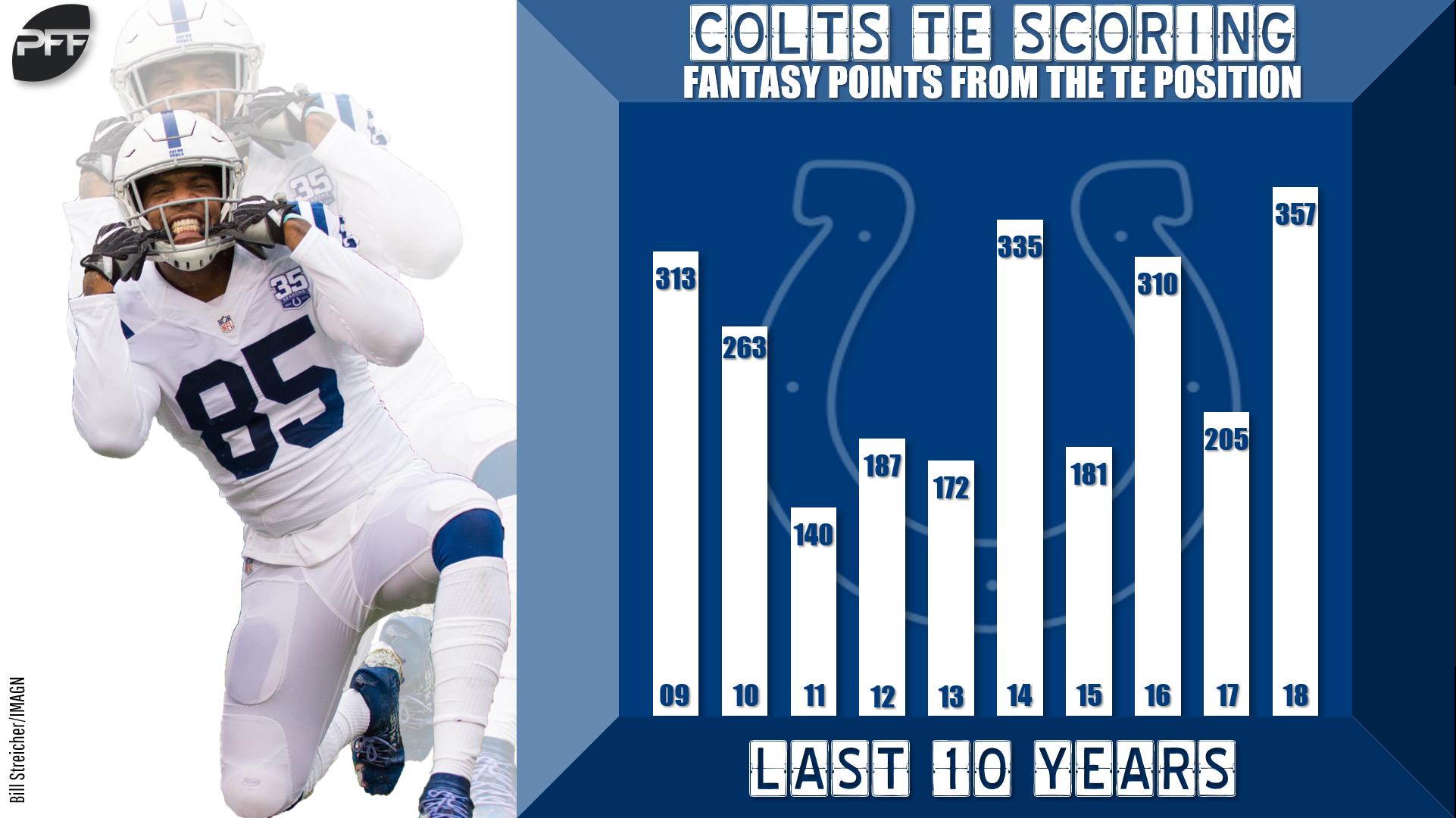 Colts tight end point totals the last six years:
2013: 172.1
2014: 334.7
2015: 181.3
2016: 309.7
2017: 205.0
2018: 356.8
Do you see a throughline there? I don't.
Blip or new normal: Eric Ebron's ridiculous touchdown efficiency in 2018 should be a strong indicator that this was a blip.
TE fantasy points in 2018: 264.2
High total 2006-2017: 192.5
2006-2017 average: 156.5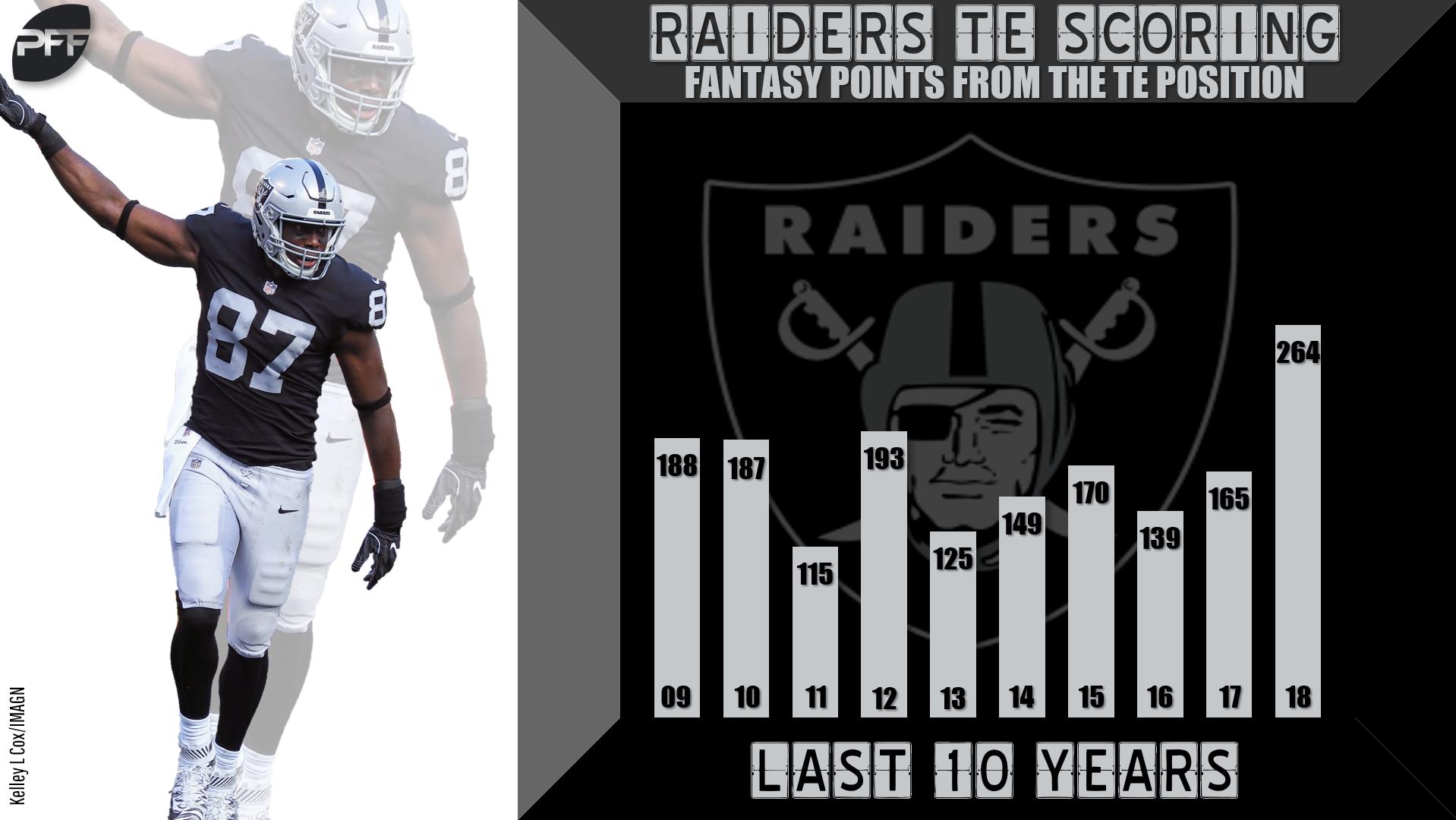 Jared Cook had a career year in 2018, with 896 yards and six touchdowns. The rest of the tight ends on the roster totaled 23 receptions and 215 yards. It was the Cook show, especially with the team's receiving corps in shambles.
Blip or new normal: Well, Cook's in New Orleans now, and the team has a rebuilt receiver unit after bringing in Antonio Brown, Tyrell Williams, J.J. Nelson, and Ryan Grant this offseason. Strong blip.
TE fantasy points in 2018: 384.1
High total 2006-2017: 314.2
2006-2017 average: 212.9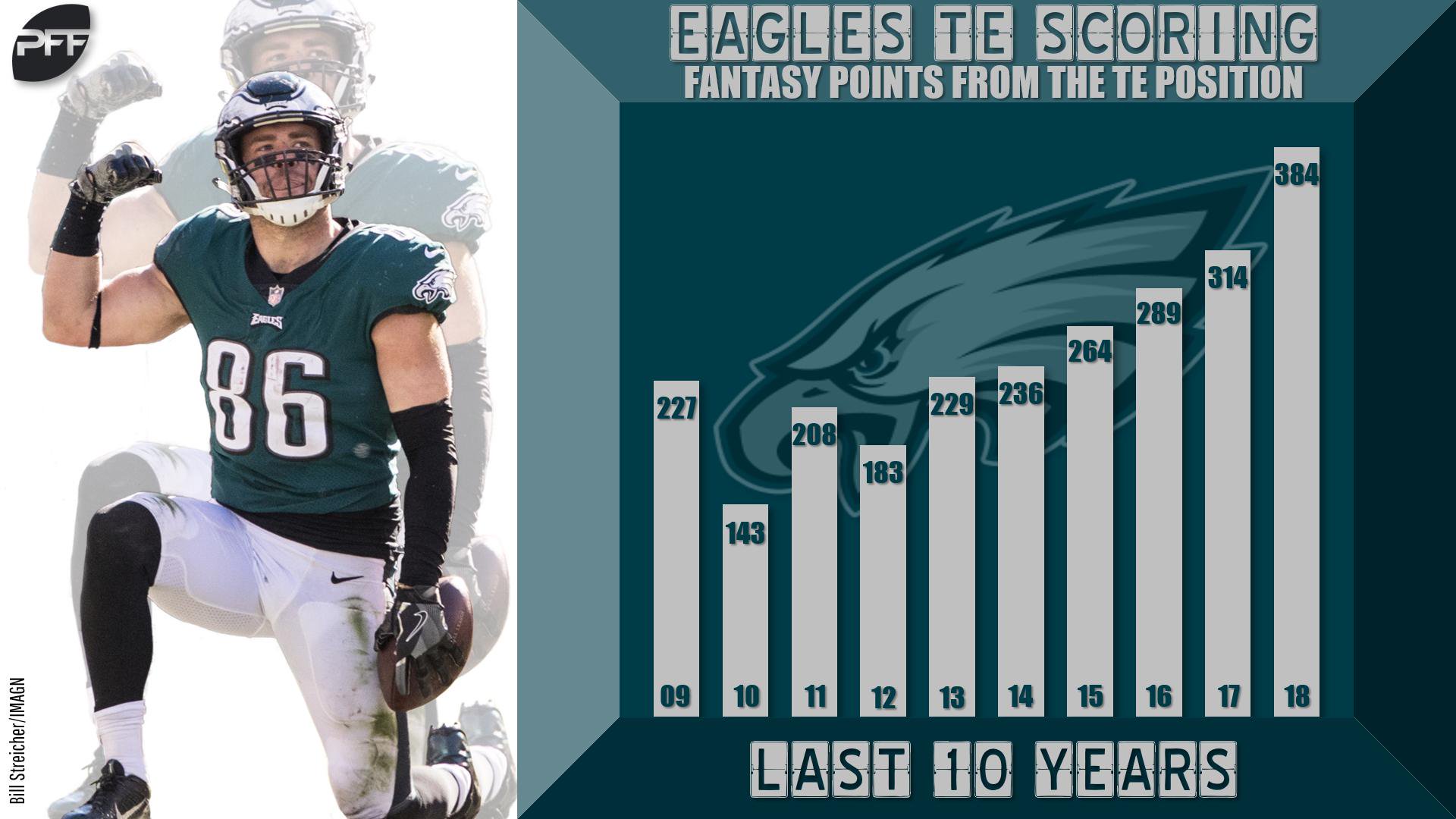 Zach Ertz had a career year in 2018, setting all-time tight end records in targets (154) and receptions (116) en route to a TE2 finish. On top of that, Dallas Goedert put up a 90-point rookie season as his No. 2. It was the best team tight end season in 2018, the best since 2011, and the third-best (behind the 2011 Patriots and 2007 Chiefs) in the last 13 years.
Blip or new normal: Some regression from Ertz wouldn't be a surprise, but it could be paired by second-year development from Goedert. A 384-point season is unlikely, because that's always difficult, but the team has as good a duo at the position as any team. High production is the new normal.