Leverage PFF's NFL conference championship fantasy football rankings and DFS ownership projections as close to lock as possible. Knowing what your competitors are going to do ahead of time provides an edge that simply not enough DFS gamers take advantage of. Focus your attention in cash formats on high-rostered value players and pivot to lower-rostered ceiling players in GPPs.
---
Click here for more PFF tools:
Rankings & Projections | WR/CB Matchup Chart | NFL & NCAA Betting Dashboards | NFL Player Props Tool | NFL & NCAA Power RankingsBest Bets Tool
---
Last week's process led to heavy rostership on the Buffalo Bills–Kansas City Chiefs shootout along with pinpointing Gabriel Davis as an upside value wide receiver. Two-hundred receiving yards and four touchdowns later, it's safe to say he was worth every penny. 
Identifying players across all positions with low rostership projections who rank high in PFF's fantasy projections, fantasy football rankings, high-value targets and route participation will lead to a strong return on investment.
And to further improve the process, I have updated the expected fantasy points per game graphics to numbers from just the past six weeks to get a better grasp of what players have done more recently.  
Enjoy the third DFS slate of the 2022 playoffs!
QUARTERBACKS
Using a mid-priced quarterback who has posted relatively high expected fantasy points per game has been the leading indicator of the next GPP-winning quarterback, especially when they are facing an opposing quarterback who fits similar criteria.
This week's standout candidates include Joe Burrow and Patrick Mahomes as the clear favorites — not too surprising.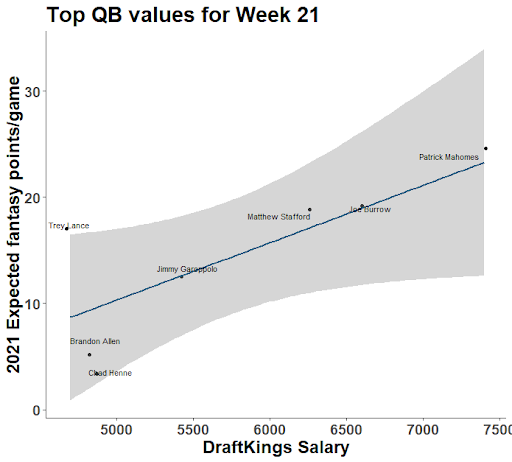 In terms of matchups that are projected to be high-scoring based on the offensive pace of play over the last six weeks: Cincinnati Bengals-Kansas City Chiefs (19th vs. 8th) should be more fast-paced than San Francisco 49ers-Los Angeles Rams (26th vs. 14th).
CIN-KC is the top game for stacking as indicated by the 54.5 projected point total. The Bengals need to be pushed by the Chiefs — as they should — to hit their ceiling projections based on their slower pace of play. 
Conversely, both the Rams and 49ers have no problem slowing things down, but it's even more apparent with the 49ers' offense. So, to achieve the desired high-scoring environment, the game script would need the Rams to get a lead first followed by a 49ers comeback effort. 
QB PFF grade vs Week 21 matchup scheme
| | | | |
| --- | --- | --- | --- |
| Player | Opposing Scheme | PFF Grade | Rank |
| Patrick Mahomes | Cover 1 & 3 | 73.9 | 15th |
| Matthew Stafford | Cover 3 | 72.0 | 12th |
| Joe Burrow | Cover 2 & 0 | 81.2 | 4th |
| Jimmy Garoppolo | Cover 3 | 64.0 | 18th |
At quarterback, the options are Mahomes ($7,400), Burrow ($6,600) and Matthew Stafford ($6,300). Sorry, Jimmy Garoppolo ($5,400), but 10 fantasy points over the last two weeks doesn't get you into my lineup. 
Mahomes will easily be the most-rostered quarterback on the two-game slate, and it's more than warranted based on his recent play. He has scored nearly 30 fantasy points per game (29.3) and 24 expected fantasy points per game (23.9) over his last six contests. 
The Chiefs quarterback also tends to take more risks with his legs during the postseason. Over his last eight playoff games, he has averaged 36 rushing yards per game despite averaging 22 rushing yards per game during the regular season. 
More #nfl Player Props are LIVE ???? along with my ???? of the week regarding Patrick Mahomes ???? ????

Full write up: https://t.co/tQM0bmSXJ5 pic.twitter.com/qPEcyxcfTn

— Andrew Erickson™ (@AndrewErickson_) January 26, 2022
In cash formats, just play Mahomes. However, in tournaments, the go-to quarterback has to be Burrow ($6,600), who is PFF's No. 1 quarterback value. 
Not only did Burrow flash his fantasy ceiling game already against this Chiefs' defense — 38 fantasy points in Week 17 — but their coverage scheme lends itself to more success. Kansas City primarily operates from Cover 2 and 0, which Burrow has annihilated this season. His 9.5 yards per attempt ranks No. 1 versus those coverages.
Burrow has also taken more sacks than anybody else against that coverage. After allowing nine sacks last week, the Bengals' offensive line needs to be up to the task to hold up against a stout Chiefs defensive that features Chris Jones and Melvin Ingram. 
If the Bengals can hold up even for just a split second longer, expect Burrow and the passing attack to pick up chunk yardage, especially if safety Tyrann Mathieu does not clear concussion protocol. 
Burrow is a boom-or-bust quarterback option who is perfectly catered for GPPs this conference-championship weekend. If he can just match or reach 75% of Mahomes' fantasy production playing in the same high-scoring environment, Burrow can differentiate a lineup enough to take down a tournament. 
Stafford is $300 cheaper than Burrow, so I am hoping that the field opts for the Rams quarterback to save salary because the Rams' struggles — particularly for Stafford — against the 49ers' defense cannot be overlooked.
The ex-Lions quarterback averaged just 15.7 fantasy points, 240 passing yards and 78.6 passer rating in their two previous games this season. Stafford also doesn't have the benefit of facing a blitz-heavy defense, such as the Tampa Bay Buccaneers, for a second straight week. While Tampa blitzes at the league's second-highest rate, SF blitzes at the sixth-lowest. 
This is important because Stafford ranks second in passing TDs versus the blitz this season. The 49ers have blitzed him just 10 times this season. 
On those blitzed dropbacks, Stafford owns a 93.2 PFF passing grade, 154.9 passer rating and 11.7 yards per attempt. On the other 71 non-blitzed dropbacks, Stafford owns a 65.6 PFF passing grade, 53.6 passer rating and 5.7 yards per attempt.
FANDUEL QUARTERBACK VALUES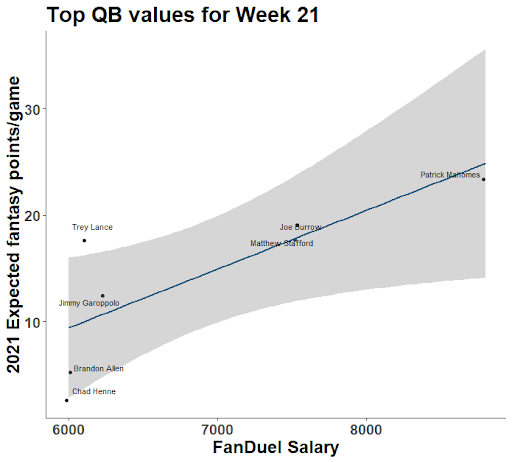 RUNNING BACKS
Joe Mixon ($6,800) has averaged 21 touches and 18.9 expected fantasy points since Week 14. His locked-and-loaded volume is unmatched on the slate, which provides a reason to roster him in a plus matchup. 
This season, every running back who has totaled at least 13 carries against the Kansas City Chiefs has surpassed 51.5 rushing yards. Their defense also ranks 27th in yards per attempt (4.5) allowed to opposing running backs.
Mixon's increased role as a receiver — 57% route participation and 18% target share over the last four weeks — ensures that he will be involved in the offense regardless of the game script. Kansas City finished the regular season allowing the fourth-most receptions and third-most receiving yards per game to opposing running backs.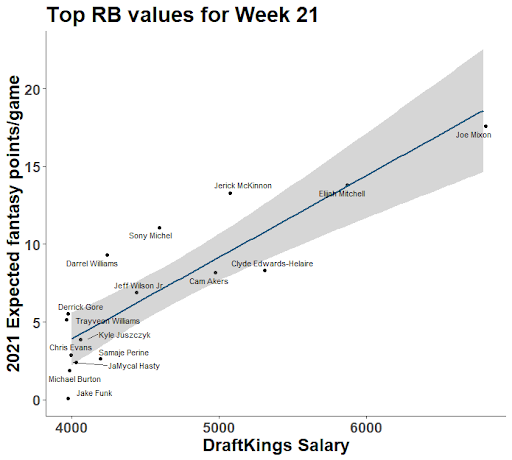 Elijah Mitchell ($5,900) has gained the coaches' trust during the San Francisco 49ers playoff run, averaging 23 carries and 92 rushing yards per game over his last seven starts. 
He's finished with more than 85 rushing yards in both games versus the Rams this season, but his fantasy ceiling is ultimately tied to whether or not he finds the end zone. The rookie only has eight targets in his last four games and has totaled zero receptions versus Los Angeles this season. 
Jerick McKinnon ($5,100) led the Chiefs backfield with a 71% snap share, seven targets and 10 carries in the team's OT victory over the Bills. His usage was nearly identical to the wild-card round, which was no guarantee with Clyde Edwards-Helaire ($5,300) active. 
CEH only received nine touches — seven carries, two targets — but he flashed explosiveness as a runner, ripping off chunk gains at 8.5 yards per clip. The stats are slightly misleading because Edwards-Helaire was running through massive holes — 39 of his yards came before contact — but the strong showing does create concern that the backfield turns more into a committee in the 2022 AFC Championship Game.
McKinnon is still the guy I would prefer due to his work in the passing game and better recent production, but CEH has tournament appeal if the ownership projections identify McKinnon as mega chalk. The matchup definitely dictates McKinnon as the play based on the Bengals allowing the fifth-most targets but 10th-fewest rushing yards to opposing running backs this season.
In the Rams' divisional playoff win, Cam Akers ($5,000) played 81% of the Los Angeles' offensive snaps and out-touched Sony Michel ($4,600) 27 to 3. 
The second-year back has made an epic comeback from his serious Achilles injury, but the amazing feat has overshadowed his poor rushing efficiency. He's averaged just 2.5 yards per carry en-route to a 40.6 PFF rushing grade in the postseason. 
His sheer volume along with defined roles in the receiving and at the goal-line — five carries inside the 10-yard line, 62% route participation — do provide a path to a high-end fantasy ceiling, but the matchup versus the 49ers' defense is brutal. 
The Niners have allowed one running back to rush for over 47 yards since Week 10 and held Michel to just 43 yards from 21 rushing attempts in Week 18. Los Angeles has averaged just 58 total rushing yards versus the 49ers this season.
As PFF's sixth-highest-graded run defense, the 49ers present a tough task for Akers to overcome, especially if he splits more work.  
His two fumbles have all been forgotten by fantasy gamers looking through rose-colored glasses, but Sean McVay may not be as easily convinced. Michel could get more work as a result of Akers' ball security issues. 
Smash the under on Akers' 58.5 rushing yards prop. 
FANDUEL RUNNING BACK VALUES

WIDE RECEIVERS
High Tier ($6,000-Plus)
The running back position has no can't-miss expensive options, so Cooper Kupp ($8,800) should be the first piece inserted into cash lineups. Kupp's league-leading 31% target share is eight percentage points higher than the next closest receiver on the slate, Tyreek Hill ($7,500). 
The Rams' No. 1 wide receiver also has dominated the 49ers this season to the tune of 25 fantasy points and 120 receiving yards per game despite Stafford's inconsistent play against his NFC West rival.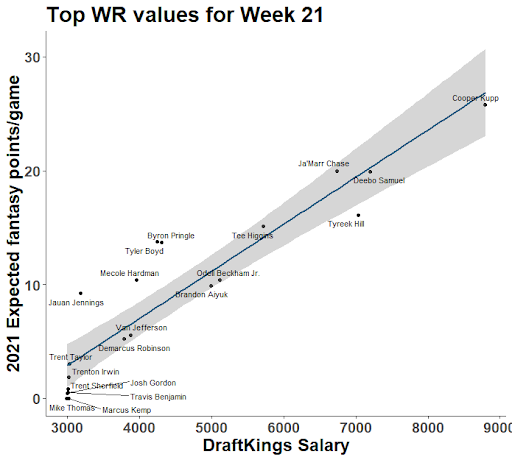 Interestingly enough, Kupp does not hold the highest target share over the last four weeks, as that title belongs to Bengals wide receiver Ja'Marr Chase ($6,700), who owns a 31% target share since Week 17. 
Chase's sub-$7k price tag seems criminally low based on his recent usage. So I'd be all over him with the No. 1 WR/CB matchup designation on the slate. The rookie has gone over 100 receiving yards in his last four full games and is PFF's No. 1 value wide receiver on the main slate.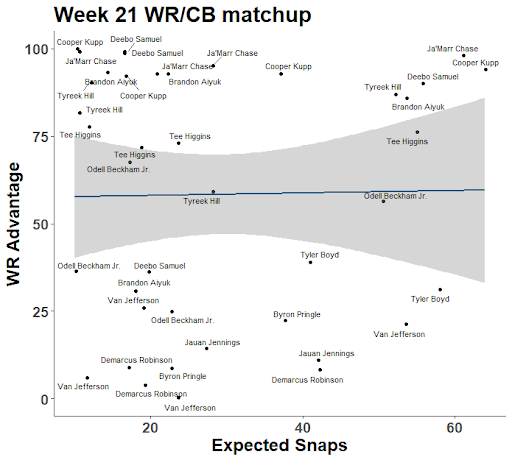 Hill and Deebo Samuel ($7,200) are the other two WRs priced at or above $7,000. I whiffed big on Hill last week, citing his recent lack of production as a reason to shy away from the Cheetah. He ended up seeing a major spike in target share from the previous week (13% versus 29%) and made me pay the price. The speedster finally seemed healthy after dealing with COVID-19 and a lower-body injury to close out the end of the regular season.
He should be a staple in Mahomes lineups and used as a bring-back option in any Burrow-led teams. Hill is not a lock for me, as he only has one receiving touchdown against the Cover 1 and 3 scheme that the Bengals deploy.
Outside game stacking, I do slightly prefer Samuel straight up. With a Super Bowl at stake, there's no doubt the 49ers will look to feed him any way they can. The RB/WR hybrid has totaled 10 carries in back-to-back games and extended his streak of at least 39 rushing yards to three games this past week.
This season, Samuel rushed for over 34 yards twice against Los Angeles, which still hasn't found a way to shut him down. The third-year do-it-all wide receiver has averaged 116.5 yards and 10 touches per game in his last four games against his NFC West rivals. 
With his rushing role solidified — he's averaged 7.3 carries and 45.5 rushing yards per game since Week 10 — I love Samuel on DraftKings against a defense he has absolutely owned in recent years. 
The Rams' zone Cover 3 defense should funnel targets toward Samuel, who owns a 35% target share and 37% target rate per route against that scheme this season. 
Middle Tier (Between $6,000 and $5,000)
Tee Higgins ($5,700) bounced back in a big way for the Bengals in the divisional round, commanding a team-high 24% target share for seven catches and 96 receiving yards. Higgins also led the team with a 46% air-yard share.
He's a screaming value based on how often he commands targets in Cincy's offense, especially because his targets are bound to regress positively. His 17% target share since Week 17 is too low based on his season-long numbers.
Odell Beckham Jr. ($5,100) continues to dazzle. The Ex-Browns wide receiver caught six of eight targets for 69 yards in the team's victory over the Bucs while running a route on 93% of the team's dropbacks. 
His 19% target share — compared to Van Jefferson's 10% target share — over the last four weeks cements OBJ as the Rams' clear No. 2 wide receiver. He is bound to see more looks versus the Niners, which has allowed the 10th-most receiving yards to WRs over the 2021 regular season. 
Brandon Aiyuk ($5,000) owns a narrow lead as the 49ers' target share leader over the last four weeks (20%). After a dud performance last week, we should easily see his targets/receptions rise versus a Rams defense that ranks fourth in receiving yards and third in receptions allowed to WRs during the regular season. 
The second-year wideout arguably posted has his best game of the season versus the Rams in Week 18, hauling in six of seven targets for 107 receiving yards. 
Betting on Byron Pringle ($4,300) finishing over his 35.5 receiving yards prop was well on its way to hitting last week. He commanded seven targets and caught five passes for the third straight week, but Pringle came up just short with 29 receiving yards while also scoring a touchdown. 
I am going right back to him in DFS because of how involved Pringle has been — he's seen 15% of his team's targets over the last four weeks and has a promising role from the slot.
The Bengals rank 30th among defenses in yards allowed to slot receivers this season.
Van Jefferson's ($3,900) usage has been dwindling in recent weeks. So much so that his target share has fallen to 10% in the team's last four games. After looking like a potential stable body in the Rams offense, Jefferson has transformed back into a boom-or-bust DFS option.
However,  the advantage Jefferson has is that he is still a near every-down player — 95% route participation in the divisional round — and any targets he does see are of high value. Among his four targets last week, one was 20-plus air yards and the other was in the end zone.
Considering the starvation for value on the two-game slate, you could do much worse than rostering Jefferson to save salary. 
If anything, at least bet the over on Jefferson's 28.5 receiving yards line on PrizePicks, as he's gone over that number in four straight games. However, take the under on his 2.5 receptions prop based on his low target share. 

TIGHT ENDS
High Tier ($5,000-Plus)
Travis Kelce ($6,500) owns a 20% target share and has averaged 18.1 fantasy points per game over his last four contests. The Chiefs tight end is well ahead of the field in regards to every other tight end on the slate, and there's no doubt that Mahomes will continue to hyper-target his big-bodied receiver with the Super Bowl on the line.
Kelce has averaged 113 receiving yards, 11 targets and nine catches in his last five playoff appearances. Fully anticipate Kelce's postseason hot streak to remain scolding because the Bengals ended the regular season bottom-five in targets/receptions allowed to tight ends this season. 
Kelce was well on his way to a monster performance against Cincy when these teams met back in Week 17, totaling five receptions for 25 yards and one touchdown from seven targets in the first half alone. However, he was held without a catch in the second half.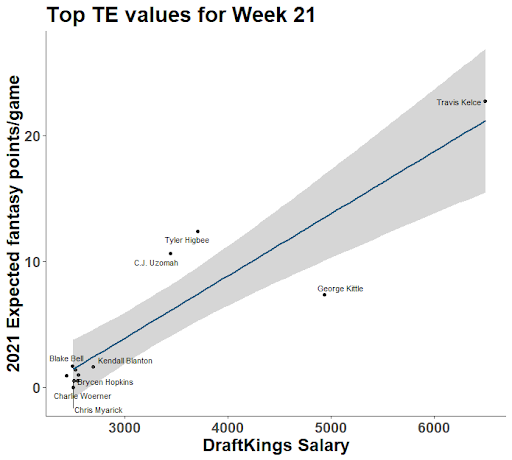 George Kittle ($5,000) is truly polarizing. The Niners tight end commanded a 30% target share in the divisional round but finished with just four catches for 63 yards. His abysmal 5.9 fantasy points per game in his last four games makes him far from a locked-and-loaded option, but the high-end upside still exists due to the volume Kittle is commanding 
Any increase in pass attempts would benefit Kittle in a plus-matchup versus the Rams, whose defense ranks 12th in targets allowed to tight ends this season. Kittle averaged seven targets per game in his two games against Los Angeles this season.
Tight End Receiving Usage from the Divisional Round
| | | |
| --- | --- | --- |
| Player | % of routes run per dropback | Target Share |
| George Kittle | 96% | 30% |
| Tyler Higbee | 93% | 15% |
| C.J. Uzomah | 90% | 22% |
| Travis Kelce | 89% | 22% |
Low Tier (Below $4,000)
Tyler Higbee ($3,700) is probably the best points per dollar tight end on the main slate. He has a 19% target share over the last four weeks to go along with 19 receptions and 221 receiving yards. Those marks all rank second behind Kelce among tight ends remaining in the playoffs.
The Rams tight end would be my preferred pay-down tight end option against the 49ers, a defense he has enjoyed success against this season. In his two previous 2021 matchups, Higbee has nine catches for 75 yards and three receiving touchdowns.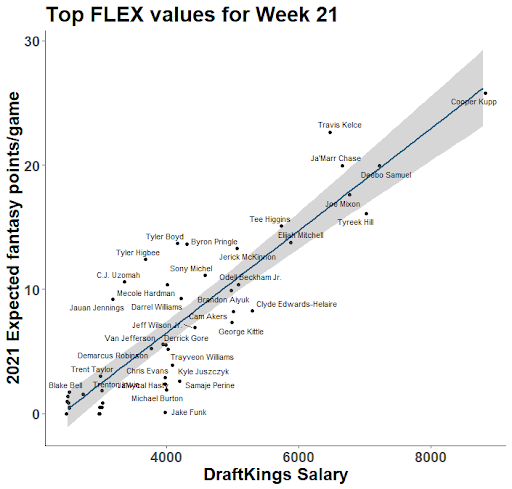 I can stomach C.J. Uzomah ($3,400) as the cheapest punt play tight end because he plays a full-time role on offense — 87% route participation in the last four weeks. He also has at least six targets in six of his last seven games, providing DFS gamers a floor at $3.4K.
However,  his last two games have been inflated by uncharacteristic long gains of 29 yards and 32 yards — one of which came at the end of the first half last week.
From Weeks 7-17, Uzomah recorded more than 36 receiving yards just once.
The matchup also doesn't call for Uzomah to offer a strong ceiling, considering the Chiefs have allowed receiving yard totals of 9, 25, 16, 32, 31, 32, 13 and 33 to the last eight starting tight ends they have faced since their bye week. 
FANDUEL TIGHT END VALUES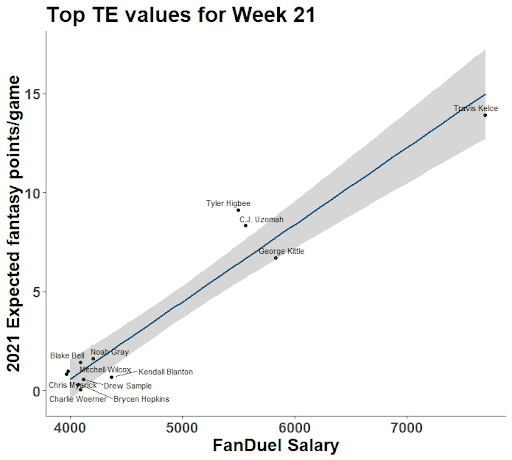 DEFENSE/SPECIAL TEAMS
When in doubt, always pay down for defenses. The unpredictable nature of D/ST scoring (sacks, turnovers, etc.) means every D/ST has virtually the same fantasy ceiling, even if you think one is in a "smash" spot.
My preferred pay-down option in cash games on the DraftKings slate is the 49ers ($2,800). The low 45.5-point game total and the 49ers' history of defensive success versus Sean McVay make them the safest bet. 
In the two previous matchups, the Niners' defense averaged 3.5 sacks, two interceptions, 17 points allowed and 12.5 fantasy points per game.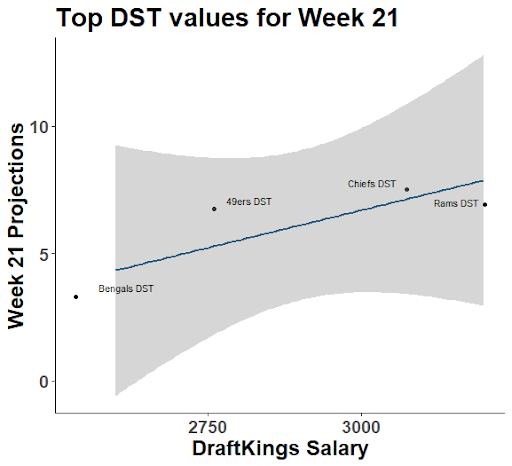 The other top DraftKings values, per PFF's DFS optimizer and projections, include the Chiefs ($3,000) and Rams ($3,200). The Rams and Chiefs have the biggest trench advantages based on PFF's OL/DL matchup chart.