The 2021 NFL Draft is in the books. The reshuffling of NFL rosters has affected fantasy football values in major ways. Plenty of running backs found new homes on Day 3 after only four backs were picked in the first three rounds. This could lead to some problems for some lead backs. 
View PFF's 2021 NFL Draft position rankings:
QB | RB | WR | TE | T | iOL | DI | EDGE | LB | CB | S
I've already gone over how things looked after Round 1 and Rounds 2-3. Let's take a final look at fantasy football's risers and fallers after Day 3 of the 2021 NFL Draft. For a more complete picture of where every player currently stands, check out my 2021 dynasty rankings and 2021 dynasty rookie rankings.
Biggest Risers
Carter ended up in one of the best situations for a running back. The Jets added Tevin Coleman in free agency to a group that includes two backs from the previous regime. It was completely up in the air how those backs would be used, and now Carter joins the conversation.
Carter was the clear fourth-best back on the big board after earning a 91.7 PFF overall grade last season. He's well rounded in that he can run well in both zone and gap plays and is one of the best receiving backs in the class. At the very least, Carter should be playing on third downs starting in Week 1. The Jets never had a consistent third-down back last season. Carter might not have the size to be a 20-touch back, but he should see enough touches to potentially be a RB2 for a long time.
St. Brown is the second clear case of a talented player landing with a team with a desperate need. The USC product is a YAC weapon from the slot who should start in 11 personnel right away. Like Carter, we projected St. Brown to be a third-round selection, and he fell to the start of round four.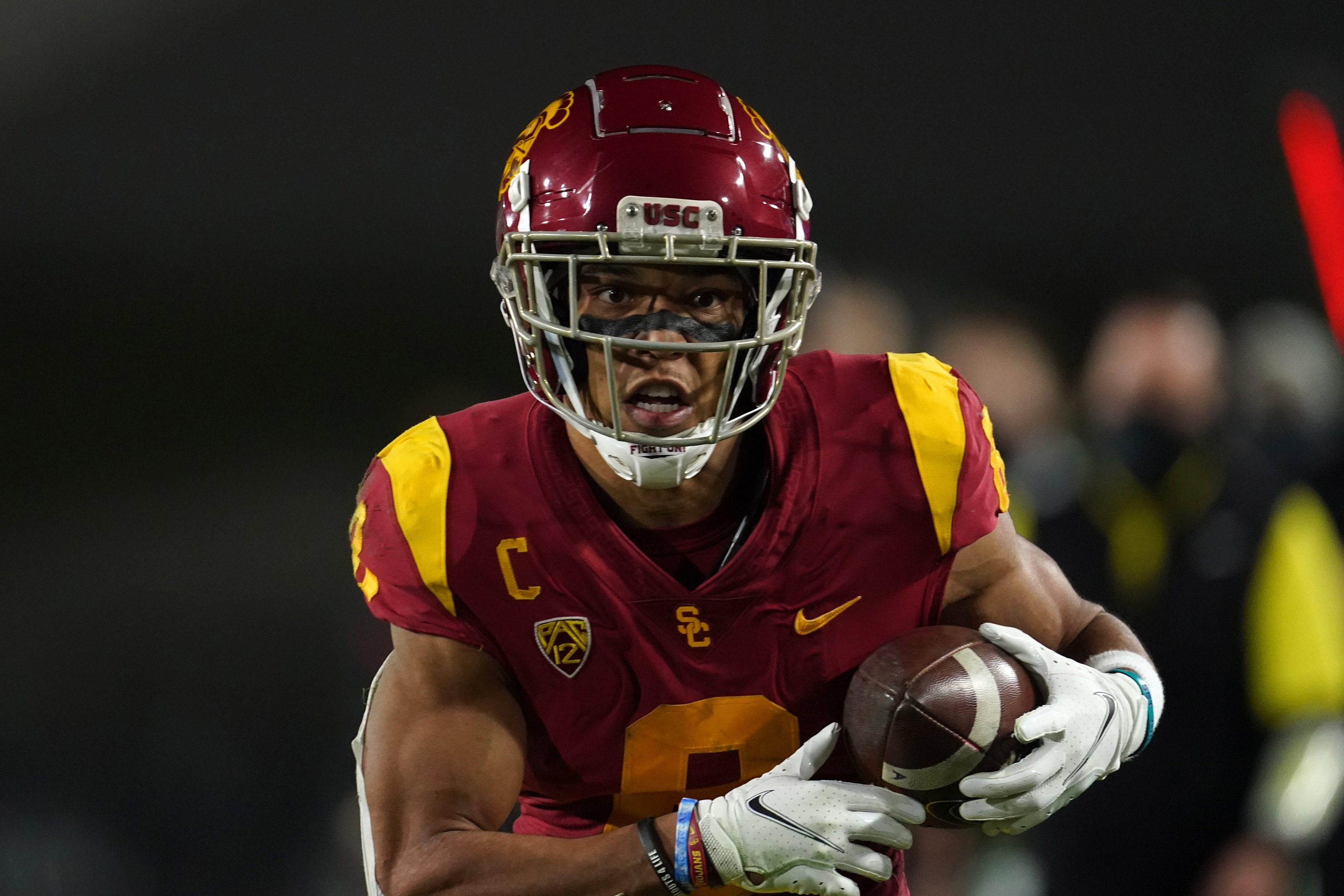 The Lions lost all of their veteran receivers in free agency. The team added Breshad Perriman and Tyrell Williams in free agency, with both players fitting better on the outside. Last year's fifth-round pick, Quintez Cephus, will rotate with them on the outside. This should give St. Brown the possibility of leading the wide receiver room in targets as a rookie.
The Bills were among the teams that could have picked one of the top-three running backs. Not only did they pass on those talents, pick after pick went by with Buffalo mostly focused on improving in the trenches. This included an offensive linemen to finish Day 2 and a lineman to start Day 3.
If anything, the Bills brought in players to help Moss succeed instead of players to compete with him for playing time. Moss should see over 50% of the rushing snaps, along with over 50% of red zone snaps. This should allow Moss to have a better sophomore season compared to his first year.
The Bears seemed primed to take a wide receiver early. They don't have the depth most teams have at the position, and the team's third wide receiver, Anthony Miller, could be traded away at some point.
Chicago didn't take a wide receiver until the end of the sixth round in Dazz Newsome. The incoming rookie has only played in the slot and will potentially take Miller's spot there. This means Mooney's playing time is secure, while Chicago used its first five picks on offense to improve the talent around Mooney. The second-year WR should finish second in targets for the team and will see some better passes thrown his way compared to last year.
Biggest Fallers
The Eagles have needed a receiving back in recent seasons and found one on Day 3 of the draft. 
Miles Sanders' 33.9 receiving grade was the second-worst at the position in 2020. His 50 targets ranked top-15 among backs, but he finished outside of the top-30 in yards.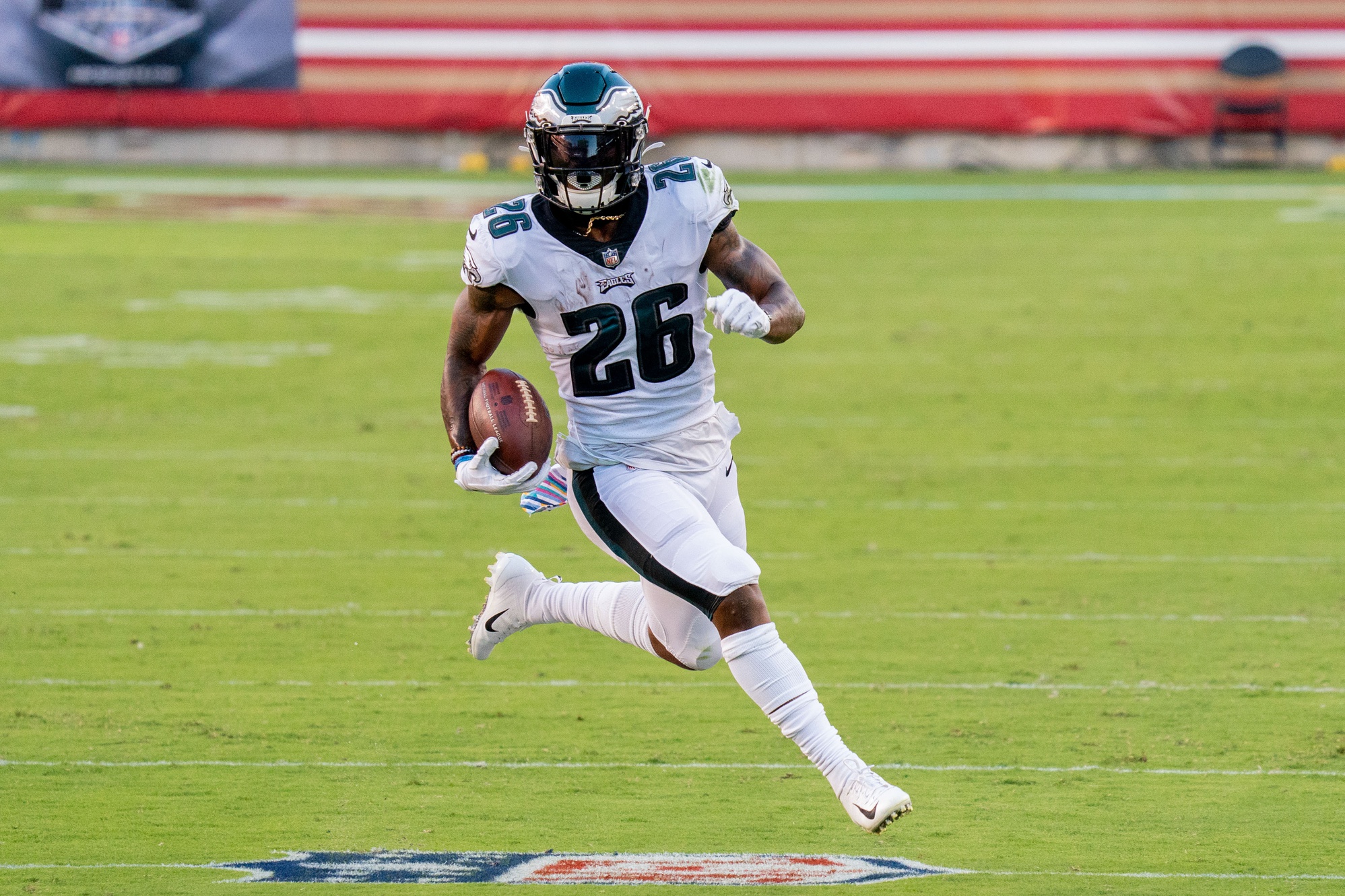 Philadelphia added Kenneth Gainwell, a player we projected as a third-round pick whom the Eagles stole in the fourth round. He is arguably the best receiving back in the class with great hands and elite agility. Sanders played over 70% of the Eagles' third-down snaps when he was healthy, but all of those snaps could be going to Gainwell.
Sanders still should be a RB2 because he will see the majority of carries, but his upside isn't as high as it was to start the day.
A number of backs selected in the fourth round landed on teams that already have a crowded backfield. Stevenson potentially has the worst landing spot in New England.
New England has Damien Harris and Sony Michel to handle run situations. Harris had the second-best grade among all running backs, with all of his grade coming from his rushing. Michel was a more well-rounded back with an 80.9 overall grade. James White returned to the Patriots — he might not be the same player he once was but still boasted an 84.2 receiving grade last year.
Stevenson is a bigger back than the other three players, so he can fit a specific role in the Patriots offense. It would take multiple injuries for Stevenson to get enough touches to be worth starting. New England has long been a fantasy situation to avoid, and it just got worse with a four-man backfield.
Miller could have been the Buccaneers second wide receiver heading into 2021 prior to free agency. But Chris Godwin re-signing early in the offseason and Antonio Brown re-signing earlier in the week pushed Miller back down to fourth on the depth chart. Then Tampa Bay added Jaelon Darden with the 130th overall pick in the draft.
This potentially pushes Miller down to fifth — even lower if Tyler Johnson can surpass him as well. Miller isn't even assured a roster spot at this point. A trade might be best for Miller so he has a chance to see the field.
A tight end had more than 110 receiving yards in a game 13 times last season. Most of those games belonged to the three elite fantasy tight ends, but Alie-Cox had one of his own. 
Alie-Cox couldn't live up to that hype the rest of the season amid the Colts' three-tight-end rotation. Trey Burton is an unrestricted free agent who likely won't re-sign, which left Indianapolis with Alie-Cox and Jack Doyle. Doyle will turn 31 later this week, which meant Alie-Cox could have been a starting fantasy TE in two TE leagues.
Then today the Colts used a fourth-round pick on Kylen Granson, who can play more of an H-back role. This moves the Colts back into a three-tight-end rotation, which will leave Alie-Cox outside the top 30 fantasy tight ends.