• Chicago Bears QB Justin Fields stands out as the premiere late-round quarterback in fantasy football drafts.
• Indianapolis Colts RB Nyheim Hines, Detroit Lions RB Jamaal Williams and Los Angeles Rams RB Darrell Henderson stand out as potential "flex with benefits" backs.
• Arizona Cardinals WR Rondale Moore and Washington Commanders WR Jahan Dotson's target upside might be underrated, which is why they flying below the radar right now in fantasy football drafts.
---
The ideal fantasy football player is elite in each of the following four categories:
Personal talent: The man is good at his job
Offensive environment: The supporting offense is full of players good at their jobs
Workload: Excess volume is regularly afforded
Matchup/Strength of schedule: The opposition sucks
Players that manage to check all four of these boxes are almost always gone by the time the first few rounds of the draft are over, so managers need to be OK with incomplete prospects in the later rounds primarily because there's always going to be at least one question mark or red flag associated with anybody after Rounds 2 or 3.
With that in mind, let's dive into my 10 favorite sleepers, who I believe are far too underpriced relative to their overall profile. I'm defining sleepers as players going outside the top-10 rounds in 12-team leagues (top 120 picks overall) based on FantasyPros consensus ADP. Note that best-ball formats and higher-stake leagues are often sharper in ADP compared to "home" formats hosted on sites like ESPN and Yahoo.
---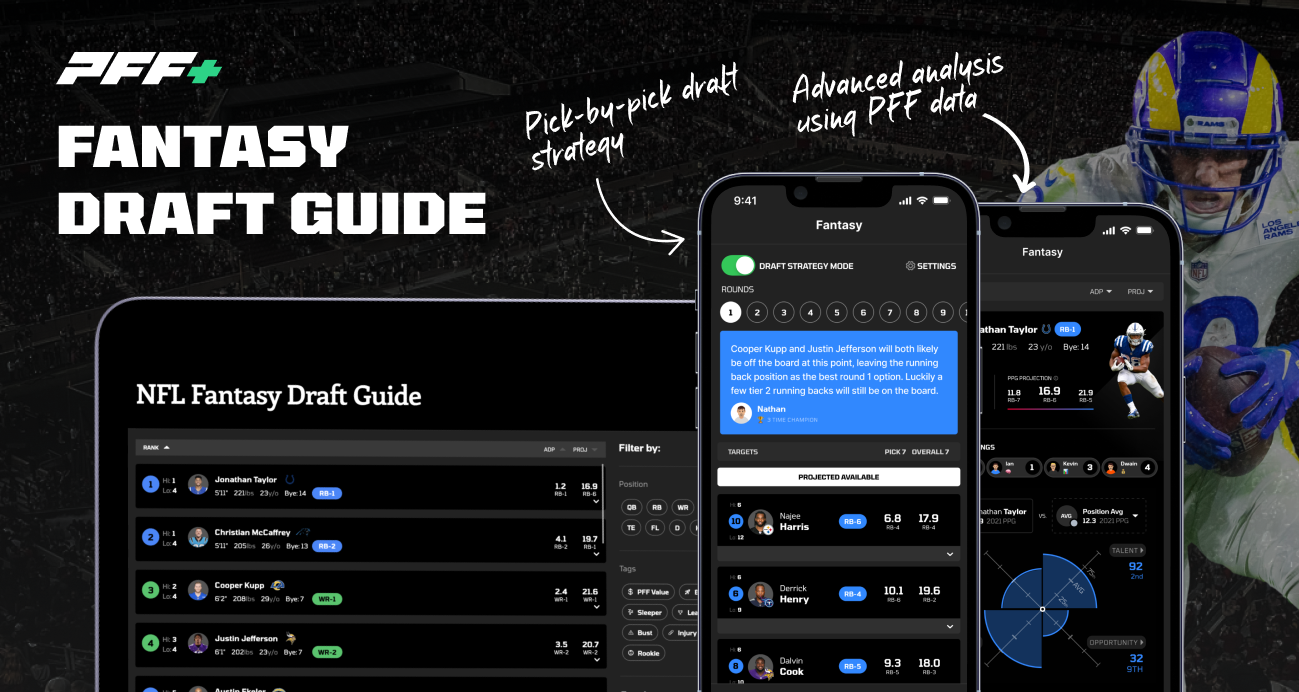 ---
Editor's note: The rankings refer to full-PPR unless otherwise noted.
---
Ian rank: QB14, 108th player overall
ADP: QB17, 136th
The 2021 season started off badly enough with head coach Matt Nagy's insistence on treating Andy Dalton as the team's undisputed starting quarterback while an already mediocre group of pass-catchers struggled to make life easy for whoever was under center. On the season, the Bears (38.9%) had the NFL's lowest rate of pass-catchers considered open or wide-open last season. Not great!
The good news is that Fields doesn't need to take a major leap forward as a real-life quarterback in order to work as a solid fantasy option. Things started off rather brutal, but by the end of the season, the 2021 NFL Draft's No. 11 overall pick racked up a handful of more-than-usable fantasy performances, flashing some truly fun big-time throws along the way:
Week 3:

QB34

Week 4:

QB31

Week 5:

QB30

Week 6:

QB19

Week 7:

QB24

Week 8:

QB3

Week 9:

QB9

Week 14:

QB8

Week 15:

QB10
Fields' obvious boost was a newfound willingness to run as the season went on. Overall, he averaged just 3.75 rush attempts per game in his first four starts compared to 8.4 during his final five.
It's unfair to simply take Fields' most fantasy-friendly stretch and extrapolate that average over the course of a 17-game season. Still, the Ohio State product has never been a stranger to racking up yards on the ground and looked pretty damn good doing so in 2021.
This was cool pic.twitter.com/vfRF6hTu0P

— Ian Hartitz (@Ihartitz) July 6, 2022
Fields has a legitimate fantasy ceiling should he keep his foot on the gas as a rusher. Overall, 11 of 12 quarterbacks to get at least 125 carries in a season went on to post top-12 fantasy production on a per-game basis, with 2020 Cam Newton (QB17) being the only exception. Seven of the 12 qualifiers finished as a top-five signal-caller on a per-game basis, so the quarterbacks aren't being overly awarded for simply staying healthy.
PFF currently projects Fields to rack up 140 rush attempts – the fourth-highest mark among all quarterbacks. Even with a potentially horrendous supporting cast: He's my QB15 ahead of Cousins and Carr at the moment. Basically the last quarterback you can draft and feel even somewhat okay about entering Week 1, Fields profiles as the sort of signal-caller capable of being far better in fantasy football than in real life.
---
Ian rank: RB43, 124th player overall
ADP: RB43, 124th
Neither Henderson nor Sony Michel needed to even be all that good with their touches in order to work as upside RB2 options during 2021, as their expected PPR points per game were on par with fantasy's most-productive backs during these respective stretches:
Henderson Weeks 1-12:

15.7 PPR points per game (RB15); 16.5 expected PPR points per game (RB11)

Michel Weeks 13-18:

14.8 PPR points per game (RB18); 19.3 expected PPR points per game (RB3)
McVay then briefly turned over the backfield back to Cam Akers before embracing a multi-back approach for the season's final two games. The Rams utilized the following backfield split in the Super Bowl:
Akers:

37 snaps, 13 carries, 19 routes, 4 targets

Henderson:

21 snaps, 4 carries, 15 routes, 5 targets

Michel:

7 snaps, 2 carries, 4 routes, 0 targets
While Henderson shouldn't be assumed to be completely out of the picture for the starting job, McVay turned the backfield over to Akers at the end of 2020 before Henderson's injury and again trusted Cam more times than not with the season on the line in the Super Bowl.
Still, Henderson is a prime 'flex with benefits' option who could see around 10 combined carries and targets per week with superhero handcuff upside should Akers miss any time. Training camp chatter about more of a full-fledged committee only helps matters.
---
Ian rank: RB35, 105th player overall
ADP: RB45, 135th
Hines has always been a talented pass-catcher, and Frank Reich's offseason praise alongside the upgrade from Carson Wentz to Matt Ryan gives reason to believe he could hold PPR-standalone value given. However, the reality that Hines posted a 100% snap rate with the offense's starters in Week 1 bodes well for the idea that he could actually work as the team's workhorse if Jonathan Taylor were forced out of action. He's arguably an 11th-round version of Tony Pollard due to his range of outcomes.
---
Ian rank: RB45, 145th player overall
ADP: RB49, 157th
Williams didn't exactly take over the backfield when D'Andre Swift suffered a sprained A/C joint in Week 12, but this seemed due to him dealing with a combination of hip and thigh injuries before also dealing with COVID later in the season.
Still, Williams' per-game usage without Swift was clearly pretty solid from a raw touch perspective:
Week 12:

15-65-0 rushing, 5-18-0 receiving, 63% snap rate

Week 13:

17-71-0 rushing, 1-9-0 receiving, 47% snap rate

Week 16:

19-77-0 rushing, 0-0-0 receiving, 42% snap rate
It's unlikely that Williams would handle every snap with Swift sidelined, but he's clearly the next man up and would be a viable borderline RB2 as the clear-cut starter. Swift is certainly the clear lead back when healthy, holding advantages in snap rate (66% vs. 35%), rush attempts (103 vs. 102), and targets (62 vs. 22) in their 10 games together last season. 
While the ex-Green Bay Packers veteran shouldn't be confused as meaningful competition to Swift, he did carry a slight lead in goal-line carries (five vs. four) when both were healthy last season. Don't discount Williams' potential for a 2021 James Conner-esque campaign if the Lions' offense makes a decent-sized leap.
---
Ian rank: RB46, 146th player overall
ADP: RB55, 183rd
Herbert handled an every-down role when thrust into action last season, but we couldn't assume this would still be the case under a new coaching staff. Luckily, the Bears have seemingly cleared this up by featuring Herbert on every single snap alongside Justin Fields over the past two weeks.
This has come with David Montgomery resting, so the starting role isn't exactly up for grabs here. And yet, Herbert posted superior efficiency numbers than Montgomery in every meaningful statistic as a rusher last season, flashing some solid open-field elusiveness along the way. There's a chance Herbert can eat into the workload of his team's starter, giving the rising second-year talent a sneaky-solid ceiling/floor combo worth investing in during the double-digit rounds in drafts of all shapes and sizes.
---
Ian rank: WR45, 96th player overall
ADP: WR49, 121st
Clearly, Boyd doesn't boast the same ceiling as Ja'Marr Chase or Tee Higgins, but Joe Burrow has shown a willingness to feed him when either of the latter receivers has been sidelined. Overall, Boyd has worked as one of Burrow's top-two wide receivers in 12 games (10 in 2020 pre-Chase, two in 2021 with Higgins injured), and posted weekly finishes as:
PPR WR5

WR9

WR9

WR10

WR15

WR17

WR20

WR28

WR31

WR36

WR51

WR63 
That's good – good for a 17-game pace of 117-1,224-6 on 147 targets. The back-to-back WR36 in PPR points per game is priced far closer to his floor than the ceiling. This is the exact sort of late-round wide receiver worth targeting, as Boyd should be able to work as a low-end FLEX while offering upside WR2 contingency value should either of the Bengals' top-two wide receivers go down.
---
Ian rank: WR46, 97th player overall
ADP: WR61, 158th
We really might be underestimating Moore's potential to take most of Christian Kirk and Chase Edmonds' leftover targets, as coach Kliff Kingsbury has consistently had good things to say about the young receiver all offseason:
Aug. 9, 2022:

"All of a sudden his role got minimized more than he anticipated, yeah. I felt the frustration and rightfully so. … He's a tremendous player. We had a lot of great wideouts last year. I'm big on addressing the problem right there, so you don't let it fester. … We had some difficult conversations, but he'll get his opportunities this year."

June 14, 2022

: "Rondale is gonna play a lot more. He's taken real strides this off-season."

June 3, 2022:

"We utilized him in different ways than we will this year. … We kind of got it to him in space and did some things and used him on some check-downs, but he's a dynamic route runner. I think that's what people are going to see. He's really good getting out of his cuts, good at the top of routes, so I think people are going to see a different side of him."

June 2, 2022:

"He feels like he can step into Christian's role and play at a really high level inside there and we do too."

March 29, 2022:

"A bigger role, there's no doubt. Last year, just with the numbers with Christian, A.J. Green, Hop, he kind of got lost in the shuffle more than he should have. He's a dynamic playmaker. With Christian leaving, we expect him to fill that role."
Last season, Moore's two biggest challengers for targets were arguably Kirk and Edmonds so don't be surprised if the Cardinals' 2021 second-round pick works as Kyler Murray's starting slot receiver while also seeing a chunk of backfield snaps more weeks than not. There's some risk that Moore is relegated back to gadget status once DeAndre Hopkins' six-game suspension is up, but that's clearly being heavily baked into the price here.
---
Ian rank: WR51, 117th player overall
ADP: WR63, 169th
Expecting Carson Wentz to enable more than one fantasy-relevant wide receiver might be wishful thinking, although Dotson wasn't selected in the first round to be an afterthought. PFF's 2022 Draft Guide noted the following on the Penn State receiver:
Where he wins: Sudddenness.

Dotson not only wins with his ability to cut on dimes but also by hauling in everything thrown his way. That kind of combination will earn a quarterback's trust early on in his career.
What's his role: Reliable slot.

Dotson is really tailor-made to play slot in today's NFL. He's as shifty as it gets with enough speed to challenge vertically. But, more importantly, he has a massive catch radius for a player listed at only 5-foot-11.

Where he can improve: Muscle mass.

Dotson could stand to add muscle to his frame and develop a more diverse release package. Being able to dictate terms at the line would take his game to the next level.
Dotson's status as the 16th overall selection of the 2022 NFL Draft should give him the inside track of working as the offense's No. 2 pass-game option behind only Terry McLaurin. Perhaps a healthy Curtis Samuel and/or 2021 third-round pick Dyami Brown battle for reps early, but Dotson showed on plenty of occasions that he's capable of winning all over the field and shouldn't necessarily be considered just a sub-six-foot slot receiver.
Jahan Dotson pic.twitter.com/d1R551md5w

— Ian Hartitz (@Ihartitz) July 9, 2022
Throw in the potential for TE Logan Thomas (ACL) to miss some early action, along with pass-catching friendly backs J.D. McKissic and Antonio Gibson losing snaps to third-round RB Brian Robinson, and Dotson's pathway to receiving triple-digit targets in 2022 appears to be going under the radar.
---
Ian rank: WR52, 118th player overall
ADP: WR74, 206th
Week 1 of the preseason featured the Bills resting their starters – including McKenzie. Then, the YAC monster received first-team treatment in Week 2, even working on the outside for a bit after Stefon Diggs took a seat. All signs point toward McKenzie working as the No. 3 wide receiver inside of an offense that:
Has

Josh Allen

under center.

Finished first in total targets to wide receivers in 2021 and second in 2020.
Down the stretch of 2021, neither Cole Beasley nor McKenzie played more than 51% of the offense's snaps in a single game from Week 17 through the divisional round. Still, the potential for either McKenzie (the favorite) or Jamison Crowder to seize the sort of starting role that Beasley had for most of 2019-2021 is an awfully tantalizing prospect. Consider this: Beasley is one of just 10 players with at least 100 targets in each of the past three seasons.
It's not a guarantee that McKenzie fully locks down this same volume-heavy role, but he sure looks like the favorite at the moment. That's well worth this price tag that should only continue to rise the closer we get to Week 1.
---
Ian rank: WR63, 133rd player overall; TE15, 153rd player overall
ADP: WR68, 191st; TE21, 184th
Both Palmer (33-353-3) and Jalen Guyton (31-448-3) largely rotated as the offense's third wide receiver in 2021. However, the former receiver impressed with 5-43-1, 5-66-1, and 4-45-1 receiving lines in his only three games with at least a 60% snap rate. Palmer is one of the better "handcuff" wide receivers out there thanks to the likelihood that he'd work as Justin Herbert's No. 2 pass-game option if either Keenan Allen or Mike Williams missed time.
I'm happy to send a few late-round best-ball darts in Palmer's direction thanks to his worst-case scenario of popping off a few times as a part-time member inside of an elite passing game and best-case scenario of filling in nicely for either Allen or Williams. A full-time role as the clear-cut No. 3 wide receiver is also possible.
And then there's Everett, who joins Hayden Hurst, Irv Smith and Tyler Higbee as my favorite candidates to emerge as the 2022 version of Dawson Knox: An underpriced starter in a great passing game who emerges as a legit fantasy asset thanks to a high touchdown rate on limited targets.
A full-time role isn't certain, as Donald Parham (hamstring) figures to continue to steal away plenty of routes and targets while Tre' McKitty could take the departed Stephen Anderson's mini-TE3 role. Still, Everett's two-year, $12 million deal includes $8 million in fully guaranteed money —nearly twice as much as Jared Cook's one-year, $4.5 million deal that led to him seeing 83 targets in 2021.
Everett has forced more missed tackles than everyone other than Travis Kelce and George Kittle since entering the league. The man has largely been a very solid tight end throughout his career, save for a horrendous Week 13 in 2021, but we won't talk about that any further.
Drifting through the late-round tight end waters is always risky business, but Everett stands to work as the lead tight end for one of the league's brightest young talents under center. His Week 2 ranking will inevitably skyrocket with a full-time role.
---
Ian rank: TE11, 134th player overall
ADP: TE15, 155th
Smith has been my favorite late-round tight end all offseason. Kyle Rudolph and Tyler Conklin are long gone, meaning the only added competition from this offseason is career blocker Johnny Mundt and seventh-round block-first option Nick Muse.
Smith flashed all over the place during his first two seasons in the league.
Irv Smith: DOGpic.twitter.com/Vce9QWFHPt

— Ian Hartitz (@Ihartitz) April 6, 2022
Forget the "Cooper Kupp role," what about the Tyler Higbee role? The Rams' starting tight end ran the position's ninth-most routes in 2021, ultimately playing at least 75% of the offense's snaps in 16 of his 17 non-injury-induced games. He played at least 90% of the snaps on 13 occasions.
Still somehow just 23 years old, Smith has the sort of speed (4.63-second 40-yard dash) to emerge as a legit full-time offensive weapon who is capable of beating defenses in more areas than just the underneath portions of the field. The only reason he's this cheap is due to his August thumb surgery, but he's on track to play Week 1, per head coach Kevin O'Connell.
---
Honorable mention
Dameon Pierce and Brian Robinson qualify at the moment, but their preseason momentum will likely elevate them to non-sleeper status in no time. The former deserves to be treated as a rock-solid RB3 at this point while the latter (somehow) is seemingly poised to work ahead of Antonio Gibson on early downs.
Isiah Pacheco is the Kansas City Chiefs' projected No. 3 running back, as his "rise" is more so a detriment to Ronald Jones than a major reason to actually go out of your way to acquire his services.
Samaje Perine is free in just about any draft despite being the odds-on favorite to handle most of the work in the event of a Joe Mixon injury.
Just about the only thing that we know about this new-look Chiefs wide receiver room is that JuJu Smith-Schuster and Marquez Valdes-Scantling are locked in as the primary starters. Smith-Schuster probably shouldn't be going 63 total picks ahead of MVS.
No. 3 wide receivers who have the potential to work as a good passing game's No. 2 option in the event of an injury to either of the team's top-two receivers: Jalen Tolbert, K.J. Osborn and K.J. Hamler.
Meanwhile, Nico Collins might just be the Houston Texans' No. 2 pass-game option behind only Brandin Cooks.
George Pickens and Romeo Doubs have all garnered all sorts of positive training camp buzz, which might not matter but is also objectively better than having negative news. Unfortunately, high-end volume isn't guaranteed for either, and the former could have to deal with some hiccups under center.
David Njoku sure would be a lot more fun to draft without the Deshaun Watson suspension but either way, he's a quality late-round dart based on his expected every-down role alone.
Hayden Hurst is a dark horse for this year's 2020 Robert Tonyan/2021 Dawson Knox: Dirt cheap starting tight end who finds touchdown-fueled TE1 upside by making the most out of a distant role inside of a fantastic passing game.
[/am4show]