(With training camps starting soon around the league, we're looking ahead at the 2019 fantasy football season and attempting to answer the burning questions around the league. For each team, we'll ask, and hopefully answer, 3-4 questions about their season to come in fantasy. This is 100 Questions.)
The AFC South went two years recently — 2015-2016 — without a single 10-game winner in the division. The Jaguars reached 10 wins in 2017. That's a three-year stretch where it was maybe the worst division in the league. And now, suddenly, it's one of the league's elite divisions.
The Colts have re-transformed themselves, the Jaguars still have an elite defense and now not-Bortles at quarterback, and the Titans went into Week 17 with a shot at a playoff spite despite Blaine Gabbert at quarterback. And then there are the Houston Texans, who won 11 games last year including a nine-game winning streak and had a shot at the AFC's No. 1 seed entering the home stretch. For years, all it took to win the AFC South was competence; now it takes more. And where there's more, there should be more for fantasy as well.
You wouldn't have to spend much time on the internet to find divergent opinions on Miller's 2019 fantasy stock — just on our own site on one day, June 17, I wrote a piece about how Miller was a "boring-but-worth-it draft pick for 2019," while our Jeff Ratcliffe listed him as one of the season's overvalued running backs for fantasy.
Currently the 33rd running back off the board (per Fantasy Football Calculator ADP), Miller is one of only two running backs (Todd Gurley being the other) on a streak of four or more years finishing as an RB2 or better — Miller's streak is actually five years long. Despite that, Miller is only eighth in running back fantasy scoring across those four years, and he's played more game than every back higher than him on the list. The Texans have improved their offensive line this offseason, but also D'Onta Foreman should finally be healthy after losing more than a year to a torn Achilles. Add it all up, and … well, you saw the question.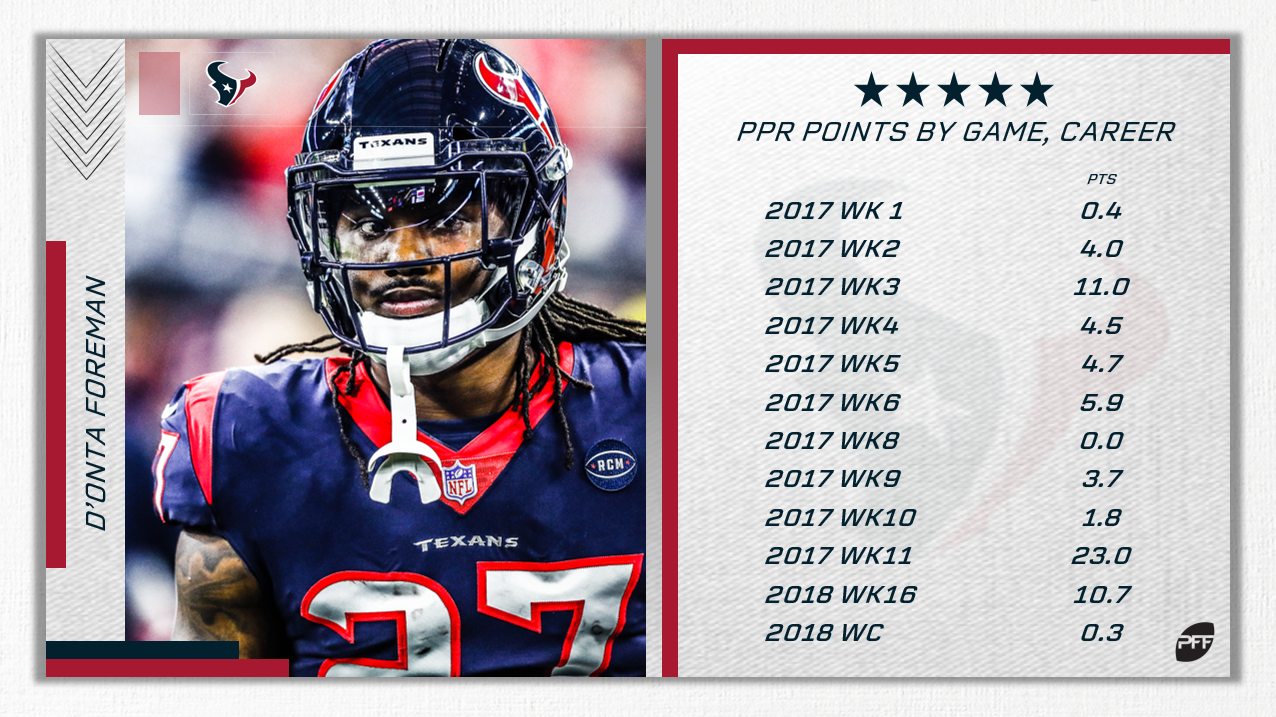 Best guess: He's safe … ish. You don't want to draft Miller as a back you're relying on, but then you also don't have to, with him going among the RB3s and behind non-starters like Darrell Henderson and Rashaad Penny. Foreman has a limited pro sample to draw from, and he was only middling in that time. And the Texans didn't add much running back depth this offseason, showing there's at least some faith in Miller. I would be fine taking Miller as roster depth in the mid rounds, knowing he has a shot at a low-end RB2 finish.
Patrick Mahomes is, obviously, the odds-on favorite to lead the league in QB fantasy scoring in 2019 after finishing 70 points out in front in 2018. But if you say Mahomes isn't the guy for whatever reason, then Watson should be the favorite to lead the quarterback position in fantasy scoring this year. He was QB4 in 2018, 6.4 points behind Ben Roethlisberger and 13.9 behind Matt Ryan, despite injury keeping Watson from even flying to games; he averaged 40 rushing yards a game in Weeks 1-5, then not even 15 in Weeks 6-11. And he did that despite getting only seven games out of Will Fuller, six out of Keke Coutee, and even losing midseason trade acquisition Demaryius Thomas to injury.
Best guess: Of course he can. And personally, it wouldn't surprise me. Like just about everyone else, I have Mahomes as my QB1 for 2019, and he's my No. 41 player overall. But I have Watson only a few spots later, at 46. The gap between those two just isn't as big as 2018 results would have you believe.
#16: Speaking of Coutee and Fuller … ?
Coutee had three games over 17 PPR points (counting the playoffs), but only played seven games out of a possible 17 because of multiple injuries. Fuller has 11 touchdowns in 17 games across the last two years, but, again … 17 games. If all the Houston receivers can be healthy for a full 16 games, Watson might have one of the league's better groups of receivers. But other than DeAndre Hopkins, we just haven't seen it.
Best guess: Obviously, predicting injury is a fool's errand. That said, we saw Coutee playing (and playing well) in the Texans' final game of the season, while Fuller still has to return from a midseason torn ACL. All reports are that he should be ready for the start of the season, but he's the one you have to watch more carefully. On the other hand, Fuller obviously has a higher ceiling, which is why he's going 34th in current ADP, compared to 45th for Coutee. Neither is a sure thing, both have upside, and their combine value is why Watson has a shot at QB1.