Do-not-draft lists are played out in fantasy football. The idea that you should not draft certain players is just plain bad advice. You read that right. The only reason you should avoid drafting a player in your fantasy football leagues is if that player is out for the season with injury or suspension. Otherwise, all players should be on your board.
Of course, where they're located on your board will play a huge part in whether or not you'll ever need to consider each player on draft day. You're very likely to have some players rated lower than their market value, which means you'll inadvertently avoid them. So instead of "do not draft," we're shifting to a mindset of "only draft at appropriate value."
Players are invariably going to be overvalued in fantasy drafts. That's fine. In fact, it's a good thing. When your league mates overvalue players and select them earlier than you have them priced, they allow value to fall down the draft board. Of course, there's always a value breaking point for every player, and that should be built into your draft round grades for each player. We'll have more on this when the PFF Fantasy Playbook is released in July, but for now, let's take a look at four running backs to avoid at their current ADP.
A year ago, Williams was buried on the Kansas City depth chart as the No. 3 option. But following last season's events surrounding Kareem Hunt, he emerged as the Chiefs' top option down the stretch and ranked second among running backs in fantasy scoring over the final month of the season.
Williams is poised to lead the Kansas City backfield in 2019, but it should be noted that the team did add Carlos Hyde in the offseason. Hyde's presence means Williams is far from a lock to be a feature back. That being said, his dynamic ability in one of the league's most explosive offenses makes Williams a very intriguing RB2 option who should be considered after the first 30 picks come off the board in fantasy drafts. That means from the mid-third round on in 12-teamers and from the fourth round on in 10-teamers.
After being selected as a first-round pick in the 2018 draft, Michel emerged as the Patriots' go-to early-down back last season with 209 carries. He was also one of the league's most heavily used backs in the red zone with 42 carries inside the opposing 20-yard line. Only five backs saw more red-zone work last season.
But we're likely burying the lead, as Michel has been dealing with a pesky knee injury that has sidelined him for much of the offseason. The Patriots also drafted a very similar player in Damien Harris out of Alabama. Fully healthy, Michel is worth a look as an RB2, but that's far from a guarantee at this point. Given these questions, the turn of the third/fourth round in 12-team leagues is too early to consider him. A round later at the four/five turn is a much better spot to be looking his way.
Frustration, thy name is Drake. The Dolphins back was maddeningly inconsistent last season and took fantasy owners on a roller coaster ride that included highs like in Week 12 when he was the No. 4 fantasy running back to lows like when he finished as the No. 57 fantasy running back just two weeks later in Week 14.
To be fair, Drake is in the driver's seat for a healthy workload in 2019. Frank Gore is out of the mix, so we should see more of Drake in early-down situations. On the other hand, Miami doesn't appear to be one of the league's better teams on paper. That means it's likely to be another bumpy fantasy ride for Drake this season. Spending a top-50 pick on him is just too pricey. He's better valued outside of the top 60.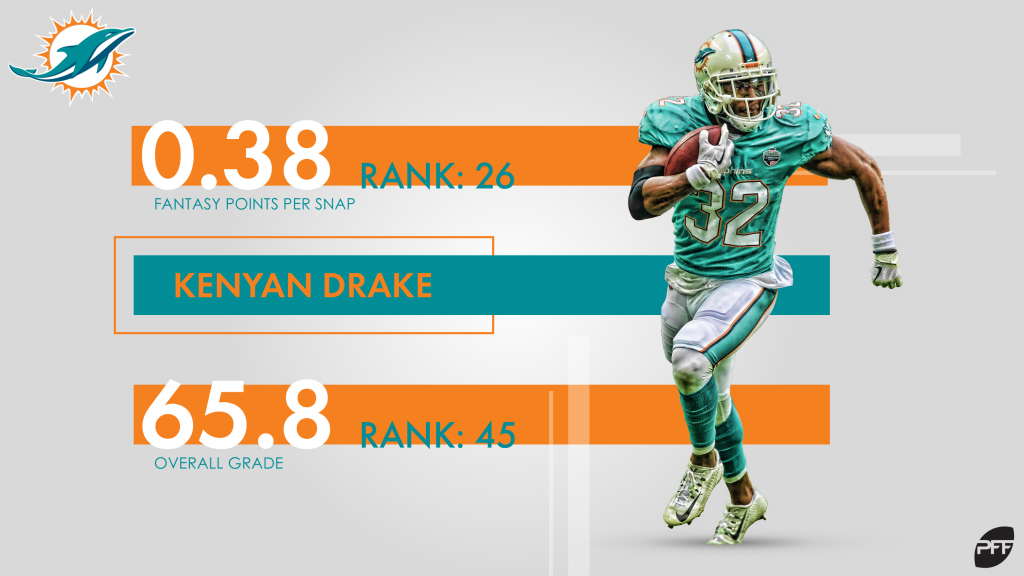 If you're looking for fantasy upside, Miller isn't your best bet. The veteran back has scored just six combined touchdowns in each of the last three seasons, and he hasn't topped 1,000 rushing yards since 2016. Over that span, Miller has just six top-10 fantasy weekly finishes in 44 games played.
To make matters worse, the Texans also have young up-and-comer D'Onta Foreman on the roster. While Foreman still hasn't proved that he can be effective after tearing his Achilles in 2017, he has a very real chance of eating into Miller's workload. Some may paint Miller as a solid value, but we're recommending avoiding him at his current draft day cost.