Every pick made in fantasy football drafts garners a reaction. For some picks, it's "Oooooh," while for others it's "ew." The vast majority of picks, though, garner the no-reaction reaction. You make a pick, people mark it down in their notes, and the draft goes on. Even no reaction is a reaction.
Generally, the no-reaction picks don't mean much. They won't make you or break you. But below is a potential no-reaction player in each round (based on current Fantasy Football Calculator ADP) who could make the difference for your fantasy team in 2019. These are the boring picks, but they could show far more upside than you expect.
Saquon Barkley is the first player off the board in most drafts this year. Picks 2-4 are generally going to be some combination of Ezekiel Elliott, Christian McCaffrey, and Kamara. Kamara was fourth in our recent staff mock draft, and anecdotal experience tells me that's going to be his most common spot in the order. And while you'd always rather be the person who gets his pick of the litter, taking Kamara fourth means you get the last pick of the uber-elite tier instead of the top of the next step down. There's big value there, even if it isn't exciting just getting the back you're stuck with.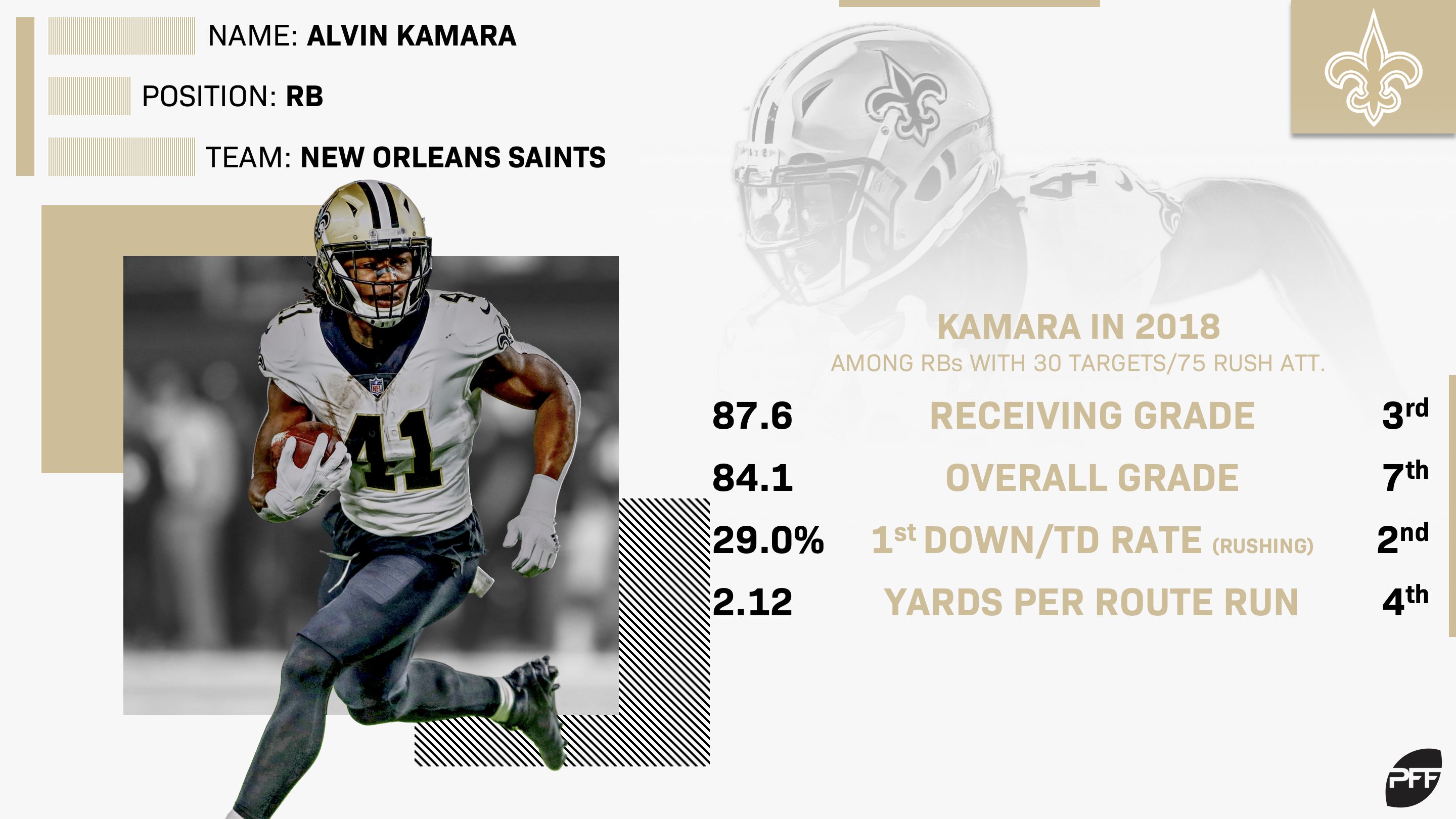 Hilton finished as WR14 a year ago in only 14 games, the most points for any receiver who played in under 15 games. Prorate his total over a full 16-game schedule and he climbs to 10th. Add in some "rising tide lifts all boats" factor from a full season of trust for Andrew Luck, the return of Jack Doyle, and the arrivals of Devin Funchess and Parris Campbell, and Hilton has bona fide mid-range WR1 upside at the very end of the second round.
Allen is the next receiver off the board after Hilton, with TE Zach Ertz slotted between them in drafts. He finished as fantasy's WR3 in 2017 with 2.55 yards per route run, then fell to 12th in 2018 despite the YPRR still staying at 2.50 (the only qualified receivers with a better YPRR were Julio Jones, Michael Thomas, Hilton, and Tyreek Hill). He's an elite receiver at a third-round price.
There are 11 flex players with at least 200 PPR points each of the last three years. Nine of those 11 have played for the same team the whole span. Jarvis Landry played for the Dolphins in two of the years before joining the Browns last year. Cooks? He played for three teams in three years, the only such player with three franchises in that time — in fact, the only player in NFL history with a 200-point season for three teams in three years. He's an elite receiver who finally has stability and will provide big dividends without much output.
My brain says Watson isn't actually a boring pick, except for the fact that he's not only behind Patrick Mahomes in current ADP (which makes sense), but also behind Andrew Luck and Aaron Rodgers (which doesn't, to me or Jeff Ratcliffe). Watson should be the favorite to be the No. 2 fantasy quarterback this year, and he probably has the best non-Mahomes chance to finish No. 1. If you're going to go quarterback on the early side, go for the upside.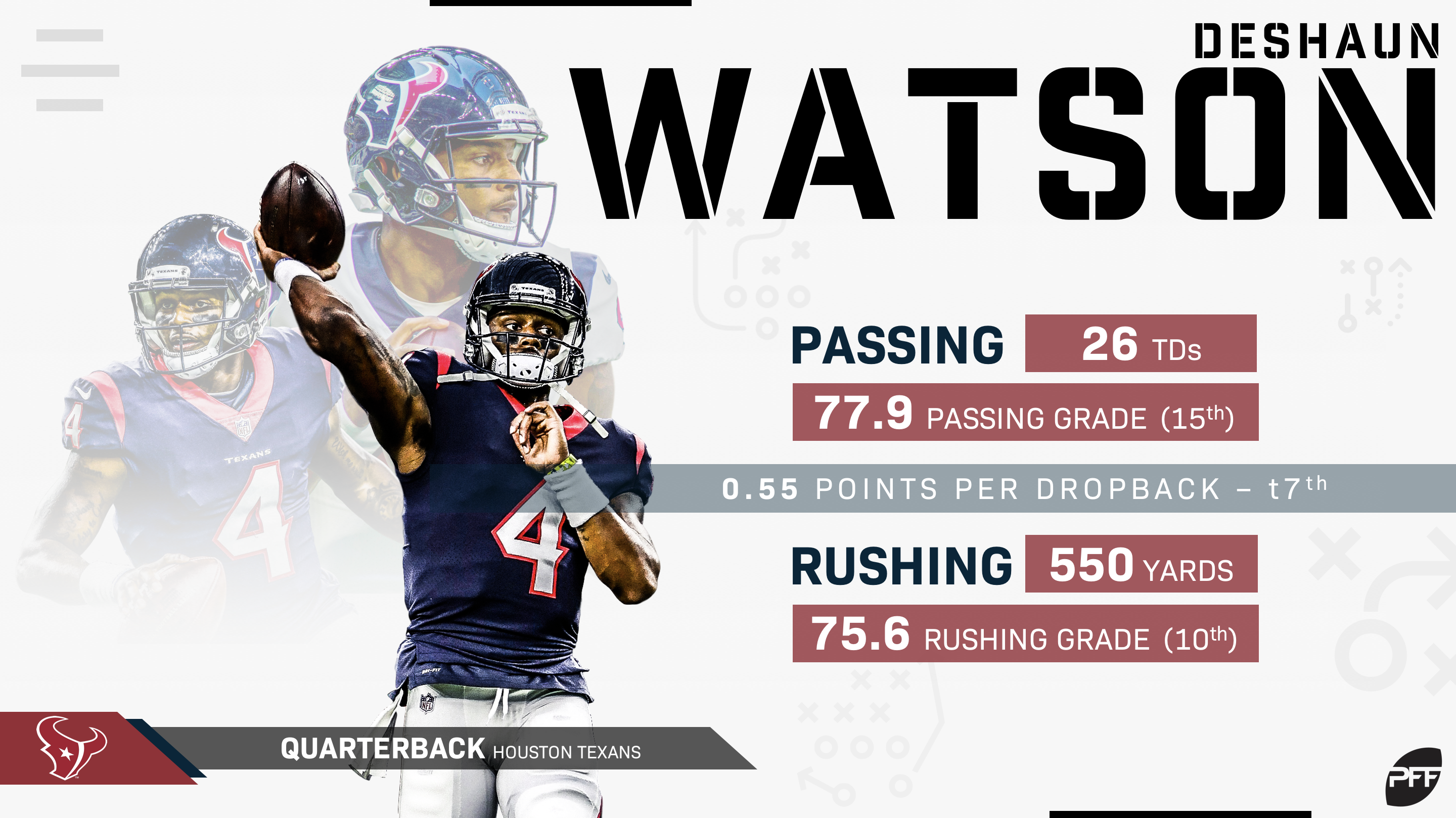 Around this time a year ago, Guice was 43rd in Jeff Ratcliffe's PPR rankings heading into his rookie season. Now he's a full year removed from an ACL tear in an offense that is going to need rushing production, but he's going off the board 61st. Discount him if you want for the injury recovery and/or the presence of Adrian Peterson and/or Washington's worse offense, but Guice has more upside than the other backs taken around him.
Seventh round: Lamar Miller, RB, Houston Texans
D'Onta Foreman's stock in the world of the Twitterati is rising as we head into his third NFL season, with people hyping him as the odds-on favorite to unseat Miller as the starter. For now, though, the job is still Miller's. He has an elite quarterback and a strong group of receivers, and the Texans have finally (finally!) worked on their offensive line this offseason. You could argue Miller is the last running back in ADP with a realistic shot at finishing as an RB1, and you'll get yawns if you draft him.
Njoku had an under-the-radar TE1 finish in 2018, coming in ninth at the position. He was slightly better (TE7) in games started by Baker Mayfield, with his two worst-graded games of 2018 coming in Weeks 1-2 under Tyrod Taylor. With an ascending offense and stability at head coach, Njoku has a high floor and a decent ceiling going forward.
Even if Davis is exactly the same receiver in 2019 as he was in 2018, he should have a better season. He faced a legendarily tough slate of cornerbacks last year and had several games catching passes from Blaine Gabbert and/or a banged-up Marcus Mariota. Despite that, his ADP is down in the 100 range (he was the 63rd player off the board a year ago), after names like LeSean McCoy and Royce Freeman.
We're a year removed from Jones finishing as a WR1, coming in 11th in PPR points at the position in 2017. The emergence of Kenny Golladay and the Lions transitioning to more of a run-first offense means that upside is probably out of reach now, but there's a big gap between that and "44th receiver off the board, 110th overall" which is Jones' current ADP.
Eleventh round: Philip Rivers, QB, Los Angeles Chargers
I've been down on Rivers as any kind of upside play most of this offseason, but when we're down in the 11th round, it's a different matter. My general draft strategy is to only take one quarterback if you draft one early, but take two if you wait and play matchups and upside. And while Rivers doesn't have massive upside anymore (particularly with his lack of rushing contribution), he's as safe a play as you'll find in this range of the draft. Nobody will be excited if you draft him, but pair him with a Kyler Murray or a Lamar Jackson and it'll pay dividends.
Twelfth round: Dion Lewis, RB, Tennessee Titans
Lewis is the forgotten man in the Titans backfield after Derrick Henry's explosion over the last month of 2018, but his role is still fairly secure in that offense. Henry just isn't going to catch passes. We know that about him by now. Lewis will, and even if he loses some of his work to Corey Davis, A.J. Brown, Adam Humphries, and/or Delanie Walker, he's going to offer a nice bump in PPR leagues, even if the shine has worn off of him by now.
Samuel quietly had a breakout down the stretch in 2018. He was a WR2 over the later chunk of the season after supplanting Devin Funchess on the depth chart. Even with Chris Hogan in town now, Samuel will open the season as the No. 2 wide receiver in the offense, and you could argue 1A alongside D.J. Moore.
Burton was the sixth tight end off the board in 2018 drafts. He finished 2018 as the No. 8 fantasy tight end. Essentially nothing changed for the Bears passing offense this offseason. And now he's going 15th? Sixth might have been above Burton's head, but this is falling too far, and nobody is going to even notice when you are getting him this late in drafts.