None of the draft-eligible quarterbacks are regarded as generational prospects who are worthy of a top-five selection, so why not have a mock draft bereft of them entirely?
---
Click here for more PFF tools:
Rankings & Projections | WR/CB Matchup Chart | NFL & NCAA Betting Dashboards | NFL Player Props Tool | NFL & NCAA Power Rankings
Best Bets Tool
---
This first-round mock draft will contain zero quarterbacks because even though there will be some who go in the first round — and become superstars — I don't have any graded in the first round.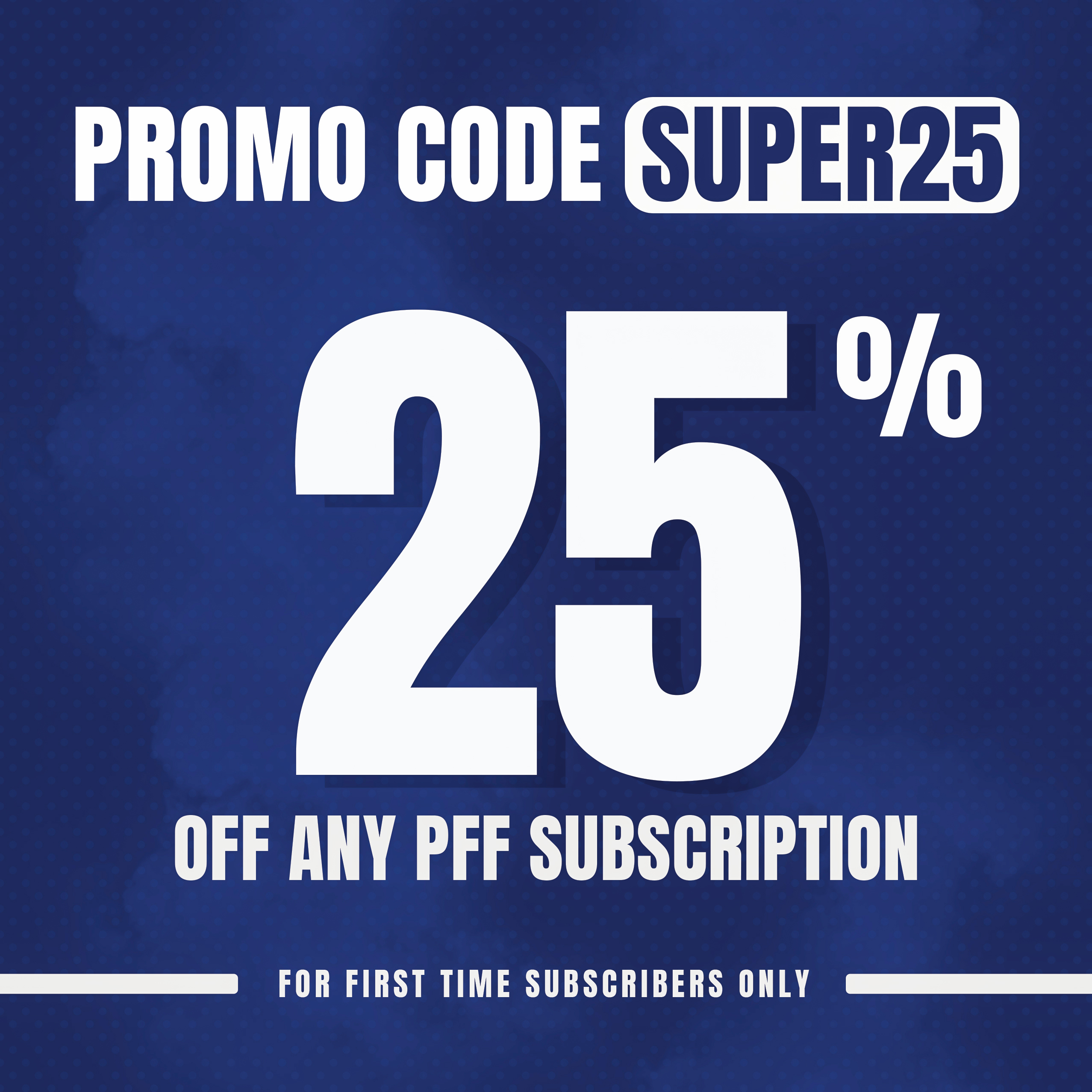 Cross might not be the best overall player in the draft — he's close — but, in my opinion, he is the best tackle, which is where the Jaguars should focus their attention. Cross exploded onto the scene with a tremendous 2021 campaign that saw his PFF grade rise from 64.4 in 2020 to 86.7. He is as technical and refined as any player in the draft. 
Charles Cross is a beast pic.twitter.com/3UtV780g67

— Charles Power (@CharlesPower) September 26, 2020
---
There is no better player in the draft than Stingley. At LSU's bowl practices in 2018, he was still the best cornerback on the field despite still being in high school. He parlayed that into one of the best freshman seasons PFF has ever seen in 2019 — he recorded the highest wins above average (WAA) by a non-quarterback that season. The next two seasons were marred by injuries but when he's on the field, there is no one better. He's a true lockdown cornerback. 
Derek. Stingley. Jr.

CB1.

— Kevin Nolter (@KevinNolter) September 19, 2021
---
The Texans need to take the most pro-ready prospect in the draft. Already great against the run, Hutchinson has an explosive first step and wins right off the line of scrimmage. He might need some more bend to get around NFL tackles, but he'll come in and be a contributor from Day 1. 
Aidan Hutchinson MY GOD!!! pic.twitter.com/DkjA8nRLbZ

— Cole Cubelic (@colecubelic) November 27, 2021
---
The Jets need to surround Zach Wilson with offensive line talent so that he can be blessed with big pockets and all day to throw. Just like the Jaguars, the Jets feel like they need to protect their quarterback of the future. A receiver could work, too, but the Jets should be able to find one with their next pick in the first round. 
---
It's going to be hard for the Giants to pass on a player that some believe is the best all-around prospect in the draft. Hamilton's combination of height-weight-speed is difficult to ignore, and his ability to play both down in the box and deep in the middle of the field will be great for the Giants defense. 
Pound for pound the best player in the class. Physical traits and disruptive traits from a different positions/alignments. Kyle Hamilton. No, I don't think he makes it to 11. Special player. Ignore the Safeties shouldn't go top 10 talk. This is different. pic.twitter.com/cAee0WUMJC

— steve (@CommandersNFL_) January 28, 2022
---
Some believe that Ekwonu is the best tackle prospect in the draft, so the Panthers would be wise to select him at sixth overall. He's a mauler in the run game but still has some kinks to work out in pass protection. However, if Carolina wants to get the best out of whoever is starts at quarterback, finding a franchise tackle is key. 
---
The Giants' interior offensive line needs help and although this isn't a sexy pick, there hasn't been a better center prospect in years. Linderbaum has everything the Giants could want from a center. New York had the lowest cumulative pass-blocking grade in the league from guards and centers last season (38.7), and Linderbaum would definitely help that mark improve moving forward. 
---
The Falcons can't pass on Thibodeaux, who plays a position that's been a weak spot for years in Atlanta. The last time the Falcons had any sort of edge presence was in 2017. In fact, since then, they have not had an edge defender grade higher than 75.0 while playing more than 200 snaps in a season — four straight bad edge pass rush seasons. "Thibs" has the bend that NFL teams covet, but he needs to learn some more pass-rush moves as he gets acquainted with NFL tackles. 
---
The Broncos could opt for a quarterback, but I'm don't think any are worthy of this pick. Instead, they take Gardner to pair with Patrick Surtain II. A new defensive system could mean more man coverage for the Broncos, and opposing offenses will have a tough time throwing on those two players on the outside. Gardner is as good in press-man coverage as anyone in the draft and has never allowed a touchdown in his career. 
---
In order for the Jets to continue to try to surround Wilson with talent, they'll need a big body receiver who can make contested catches, and London is all of that and more. London led the country in contested catches (19) even though he didn't play a snap after Week 9. He's more than just a contested-catch receiver, as the Trojans threw him screen passes and let him work in tight spaces. 
We have Drake London Jets rumors … pic.twitter.com/sZ1Vfs4xTv

— Justin Gray (@Justin_Jets) February 3, 2022
---
This is another potential spot for a quarterback, but I'm just not ready to pull the trigger. Instead, Washington's first pick nets one of the best all-around talents in the draft. Lloyd is an effective pass-rusher, coverage defender and run-stopper. Washington has been terrible at linebacker for almost five seasons and needs help at the position. 
---
With Danielle Hunter's future in Minnesota a bit uncertain, the Vikings bolster their edge rush with Karlaftis. The "Greek Freak" is strong and possesses a great first step. He can bull rush any tackle and is also effective against the run. After Hunter, no Vikings edge defender posted a 65.0-plus grade last season. 
---
If the Browns are going to run-it-back with Baker Mayfield yet again, they'll need better receiver play after losing Odell Beckham Jr. midseason. Wilson might not be as technically refined as his teammate Chris Olave, but Wilson moves in a different manner than most players. The Browns could use an explosive acrobat such as Wilson.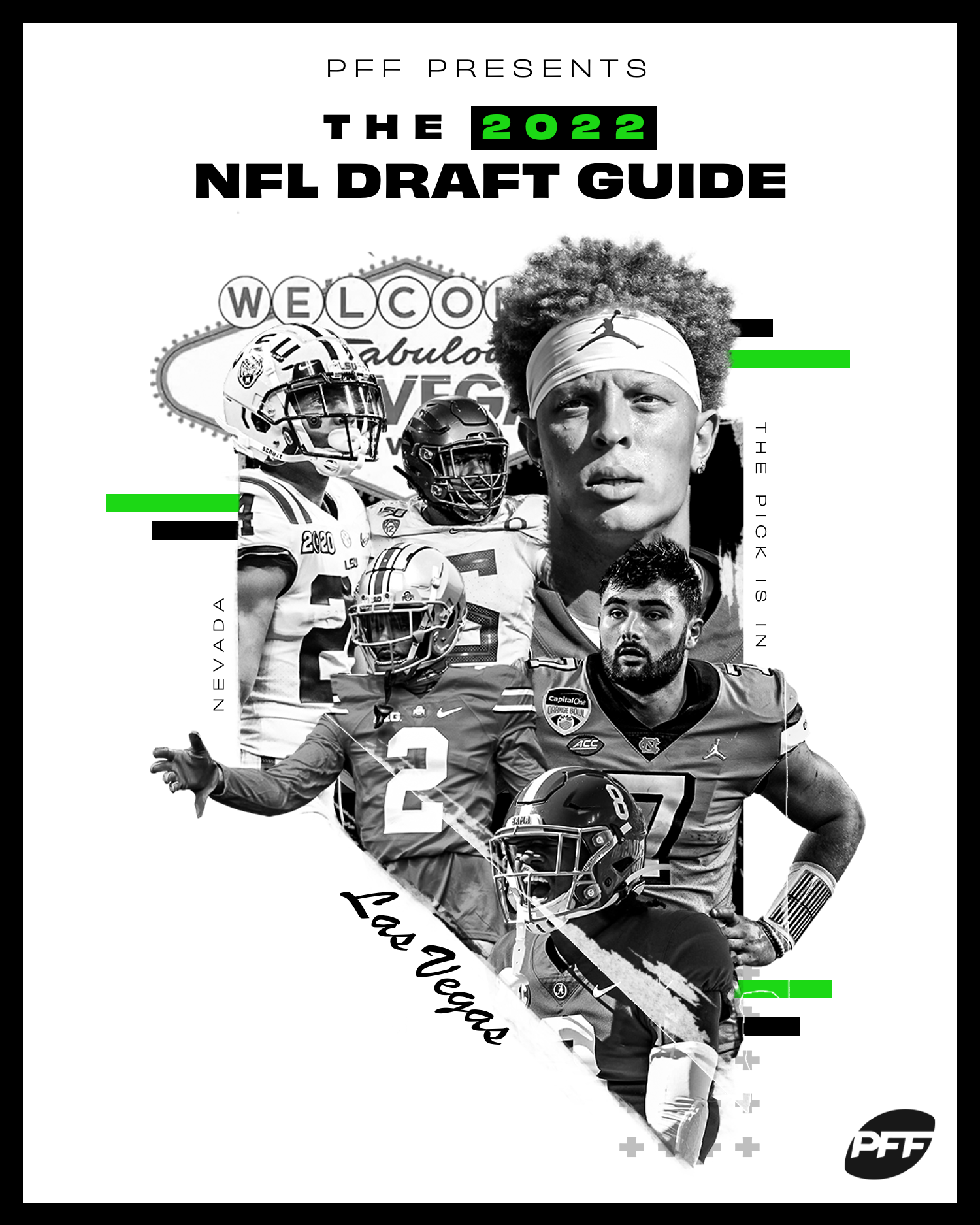 ---
The Ravens certainly do not want to go through another season of bad cornerback play, so they take the Washington Husky here. The team's cumulative PFF grade at cornerback fell to 56.4 this season — its worst mark since 2015. McDuffie isn't the biggest — 5-foot-11, 195 pounds — but is a technician who would immediately bolster Baltimore's secondary. 
---
The Eagles need to support Jalen Hurts, and it starts with Williams. The fastest receiver in the draft, Williams gives the Eagles a burner to pair with Devonta Smith. Jalen Reagor hasn't worked out so instead of sinking playing time in a lost cause, the team immediately upgrades the position. 
---
Due to Brandon Brooks' recent retirement, the Eagles need to maintain what was one of the NFL's best offensive lines in 2021. Johnson is rapidly rising up draft boards and looks like the top available guard. He improved from a 75.1 grade in 2020 all the way to 84.4 in 2021, and Johnson's stock is on a similar trajectory. The Boston College product had a wonderful Senior Bowl, showing off his skills against some of the top interior defensive talents in the country.
---
There might not be a better fit than Davis landing with the Chargers, who did not have an interior defender grade higher than 59.6 against the run. Due to Los Angeles' propensity for two-high safety shells, their defensive tackles need to hold up by themselves. Davis is, by far, the best run defender in this draft. 
---
Instead of reaching for a quarterback, the Saints dip into the Ohio State pipeline yet again to select Olave. Without Michael Thomas, the Saints' receiving corps were as bad as any team in the league. Olave gives New Orleans a threat opposite of Thomas should he ever play again for the team, and if not, Olave becomes the team's No. 1 receiver right away.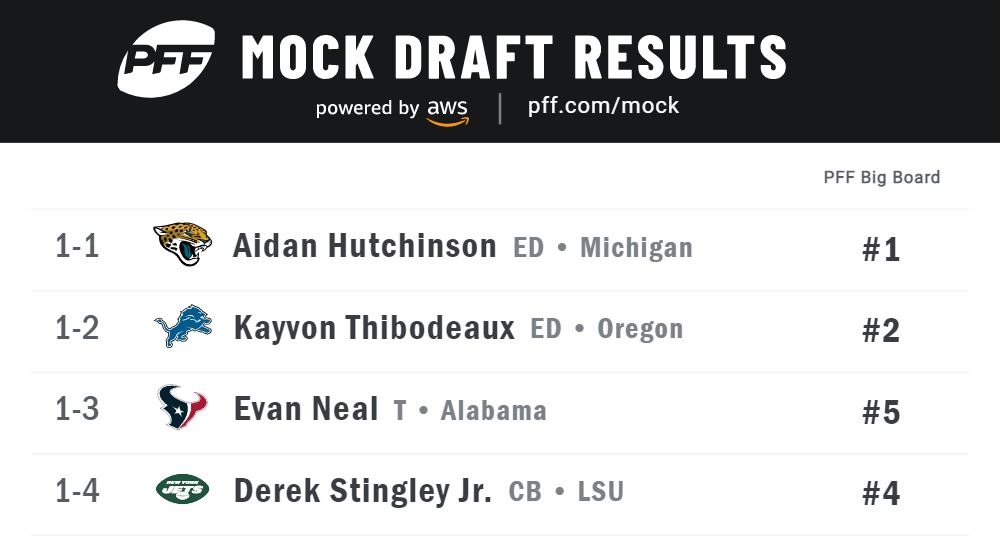 ---
The Eagles need a disruptor on defense, as Fletcher Cox is getting older while Darius Slay is the only other superstar on defense. They could select a cornerback here, but Dean brings an energy that is almost unmatched. He can rush the passer at a high level and is a thumper in the run game. His usage in coverage, as he was used as a blitzer quite often, might be telling. He'll have to get better in coverage, but his 91.3 pass-rush grade tells us he can be disruptive in the NFL. 
Nakobe Dean may not be built like a throwback thumper, but he can thump with the best of em. pic.twitter.com/nAnUhon1Xm

— Brennen Rupp (@Brennen_Rupp) February 2, 2022
---
The Steelers desperately need their offensive line to get better in a hurry no matter who is playing quarterback. Their tackle play has been awful, but hopefully, Raimann can change that. The big Austrian converted to tackle from tight end a few years ago but blossomed into one of the best in the country in 2021. His stock continues to skyrocket. 
---
The Patriots are bereft of receiver talent, so they select the quick and shifty Dotson. Patriots receivers, outside of Jakobi Meyers, had a tough time separating against man coverage, and the Penn State product should help in that area. Dotson will give New England a deep threat who would pair nicely with some of the underneath and intermediate route runners already on the roster. 
---
Ebiketie will be the steal of the draft. The Temple transfer wanted to impress on the biggest stage, so he transferred to Penn State and put on a pass-rushing clinic. He's been one of the top best rushers in the country for three seasons, starting with a 77.8 PFF grade in 2019 before moving to an 85.0 mark in 2020 and finishing at 88.4 with the Nittany Lions. He brings a bevy of pass rush moves and will look great next to Maxx Crosby. 
Arnold Ebiketie is underrated imo arguably a Top 5 Edge in a stacked class pic.twitter.com/ALa65trdNu

— Kyle (@marblekyle) February 5, 2022
---
One of the worst cornerback rooms in man coverage desperately needs an infusion of talent, as Cardinals cornerbacks were 31st in the league in Cover 1 coverage grade (29.6) last season. Elam allowed just eight catches on 210 Cover 1 coverage snaps in his career. 
---
This pick is really going to depend on what happens with DeMarcus Lawrence. If Lawrence leaves, they'll need another pass-rusher to pair with Randy Gregory and Micah Parsons. Ojabo is bendy and while he's still learning to play the position, his potential is through the roof. He played under 50 snaps in 2020 and then exploded alongside Hutchinson this past season to help Michigan win the Big Ten.
---
Another could-be steal of the draft, Wyatt has the get-off and pass-rush acumen that teams covet from their interior defensive linemen. His hand technique is advanced for his age, and he finally found his footing this season, as his grade improved from 72.9 in 2020 to 89.8 in 2021. 
---
If a team covets Hutchinson, Johnson may be the next best thing. The Georgia transfer made a huge impact at Florida State in his final collegiate season. After middling grades of 72.1 and 70.0 in his final two seasons at Georgia, he bumped up all the way to 81.1 in 2021 with the Seminoles. He's an effective run defender and pass-rusher who has the strength to give NFL tackles problems. 
---
2022 NFL Draft position rankings:
Top 10 players at every position
QB | RB | WR | TE | iOL | OT | DI | EDGE | LB | CB | S
---
After losing Tom Brady to retirement, the Buccaneers will be looking for their next quarterback, but they would be wise to fill that need in free agency. They could also lose Chris Godwin in free agency but Shakir would be a great replacement. A lot of the top receivers in this draft are outside route runners, but Shakir is one of few who primarily played in the slot, as only 22% of his snaps came out wide in 2021.  
Khalil Shakir = Amon-Ra St.Brown

— Alfredo Brown (@AlfredoBrownGM) February 3, 2022
---
While the Packers' needs could drastically change before the draft, they could use a tackle. At 6-foot-7, 321 pounds, Penning is a monster who is extremely physical in the run game. He will need to clean up his anchor in pass protection against the more physically dominant edge rushers in the NFL, but he has exciting potential for a team that's proven capable of developing offensive linemen. 
---
With Mike Gesicki and Jaylen Waddle manning the middle of the field, the Dolphins could use a bully on the outside, and Burks is just that. At 6-foot-3, 225 pounds, he's almost a running back who is playing wide receiver. His presence would give the Dolphins a complete set of receivers that would benefit Tua Tagovailoa. 
---
The Chiefs could certainly test their luck at finally finding a third receiver but would be hard-pressed to pass on McCreary, who is as good in man coverage as any in this draft. McCreary had no problem transitioning to a Cover 1-heavy system in 2021, as he put up an impressive 89.9 grade — the second-highest by a cornerback in the country. 
---
Editor's note: The Lions (via the Rams) are picking before the Bengals only because the Bengals are technically the home team in the Super Bowl.
The Lions had the second-worst safety group in the league last season, as it posted a 51.9 cumulative grade. Cine fixes that in a hurry. Cine has been used in a multitude of ways in Georgia's defense and fits Lions defensive coordinator Aaron Glenn's archetype for safeties. 
---
This pick is a no-brainer, as the Bengals' offensive line needs to improve at almost every spot and get Green, who has played at least 80 snaps four different positions along the offensive line. He mostly plied his craft at left guard, but the Bengals could use him almost anywhere.