As a part of our partnership with ESPN, this is a part of a story that was originally published on ESPN+ and can be viewed in its entirety here with your ESPN+ subscription – How good are the 2021 NFL draft quarterbacks? Why this class is one of the most talented ever
The bar for a legendary quarterback class in the NFL draft has been set high for nearly 40 years. The 1983 group is still the gold standard. That's not only true from a performance perspective in the league — John Elway, Jim Kelly and Dan Marino all went on to be Hall of Famers (with Ken O'Brien being no slouch himself) — but also from a draft perspective as six quarterbacks taken in the first round is still the most of any draft in NFL history.
The 1999 class isn't remembered too fondly for its quarterbacks, but it's the only time in NFL history that quarterbacks went 1-2-3 in the draft. You wouldn't guess it, though, by the subsequent careers of the quarterbacks drafted: Tim Couch (Browns), Donovan McNabb (Eagles) and Akili Smith (Bengals).
The 2018 QB class was billed as the best since the advent of illegal contact penalties in 2004 and the subsequent passing boom. It saw a record four quarterbacks taken in the top 10 (Baker Mayfield, Sam Darnold, Josh Allen and Josh Rosen). Three seasons in, and many teams are wishing they had a do-over on the quarterback who fell all the way to No. 32: Lamar Jackson.
While the 2021 quarterback class might not break any of the records set in the drafts above, it has a chance to match the ones set in all three. This year's class offers a little something for everyone. If all of them declare, six quarterbacks will garner serious consideration inside the first round. Let's dive into more detail on each of them and put them into historical context, with stats from PFF.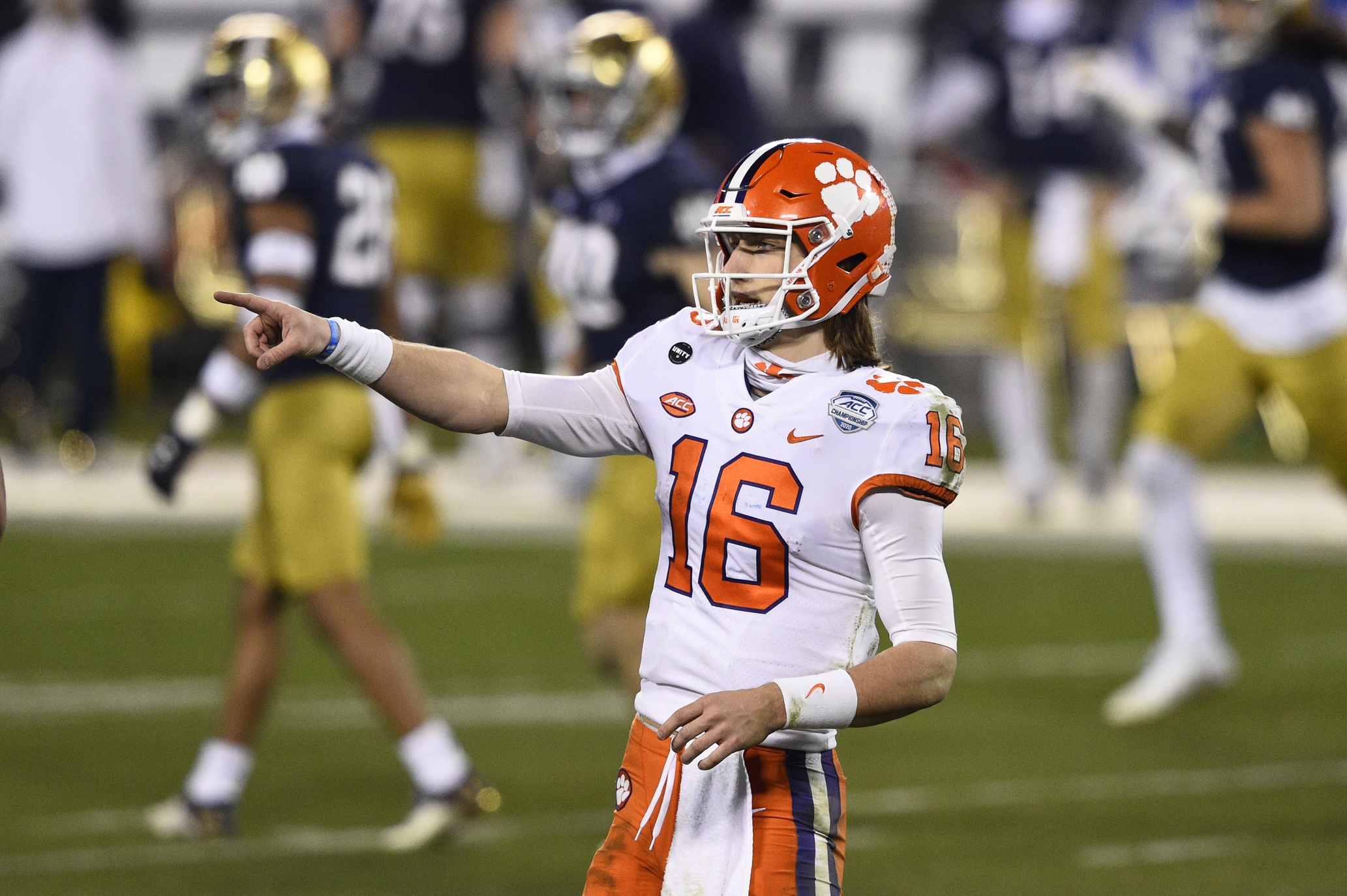 The generational talent: Clemson's Trevor Lawrence
He's not the most accurate prospect we've ever seen. He's not the best at avoiding turnovers. He's not the most consistent. But try to find any real holes to poke in Lawrence's game and you'll be there for a while.
Lawrence has a cannon for an arm that opens up the entire field and can be unleashed even when his feet aren't set. His 80 big-time throws (PFF's metric for perfectly placed downfield passes) over the past three seasons are seven more than anyone else in college football.
His processing speed is at a level all his own in college football. For his career, he has a passer rating of 118.6 when blitzed and 99.3 when under pressure. The latter figure is made even more ridiculous by the fact that he avoids sacks as well as any quarterback in college football, with only 44 sacks taken his entire college career.
Everything about Lawrence's game suggests he'll not only translate to the NFL, but translate immediately. He has looked like an NFL-caliber quarterback since he was a true freshman and is truly the type of prospect who comes around only once in a generation.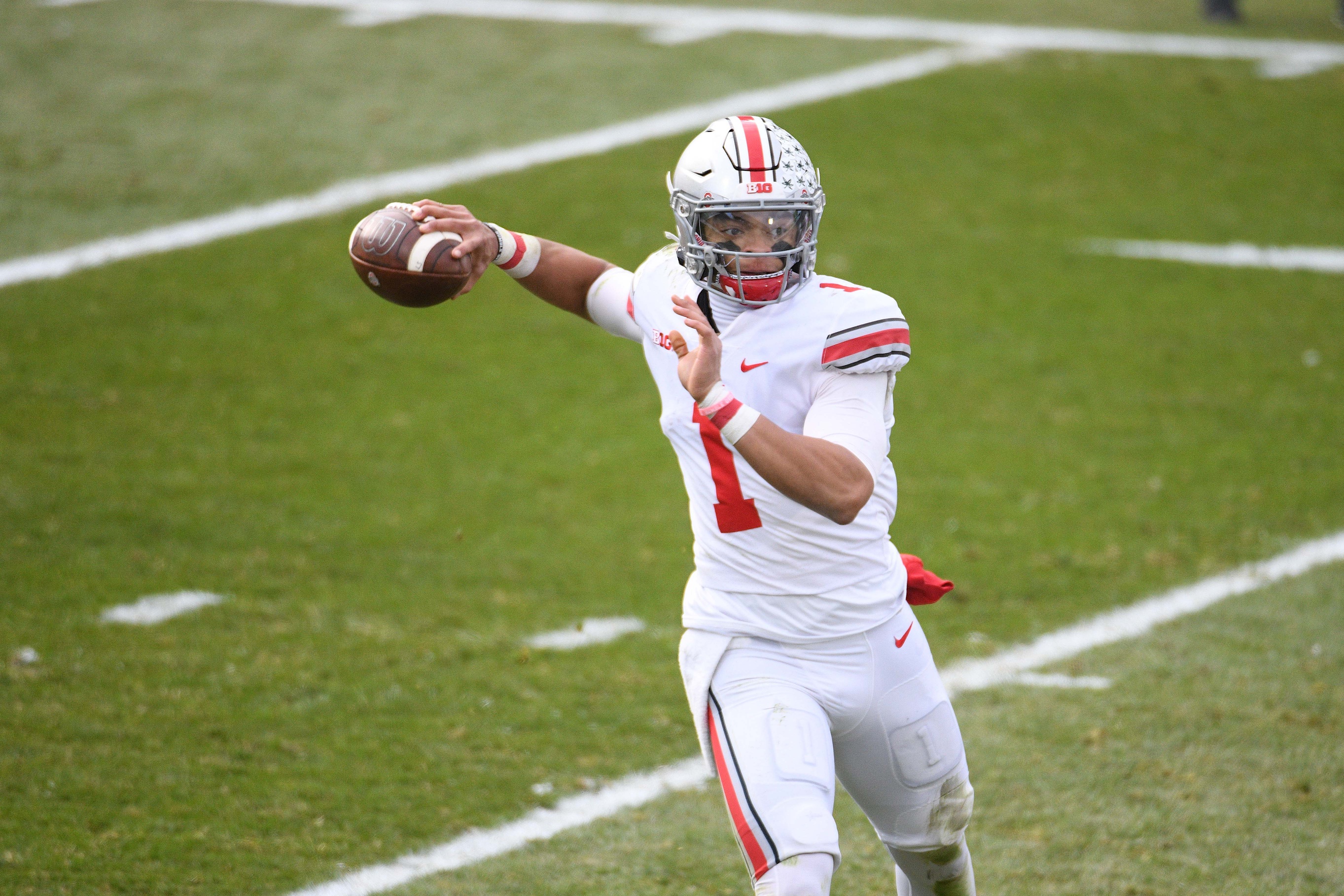 The QB1s any other year: BYU's Zach Wilson and Ohio State's Justin Fields
These two took distinctly different paths to their quarterback superstardom. Fields was in an echelon of recruiting that few achieve. 247sports ranks him as its ninth-highest-rated recruit ever, and the third-highest-ranked quarterback behind only Vince Young and Trevor Lawrence. Inseparable from the aforementioned Lawrence, it was actually Fields who won the vaunted MVP award at the prestigious Elite 11 quarterback camp back in high school.
Wilson, on the other hand, ended up at BYU without anywhere near the fanfare. Hailing from Draper, Utah, he went by Zachary Wilson back then as a lowly 3-star recruit. From the moment Wilson set foot on campus, the Cougars' coaching staff could tell the recruiting services got it wrong, as he was named the starting quarterback midway through his freshman season.
Now, the two will duke it out for the right to be the No. 2 overall pick. Both are deadly accurate to all levels. In fact, before Wilson played on Tuesday night, they were tied for the third-best uncatchable pass rate among all quarterbacks in college football, at 13.7%. That's made even more impressive by the healthy 9.7-yard and 11.1-yard average depth of targets for Fields and Wilson, respectively. While Fields is the better athlete and can open up the run game, Wilson is better at throwing on the move and creating plays outside of structure.
Whichever one actually ends up as QB2 in this class will be determined purely by personal preference, because there's a good chance there's no wrong answer here.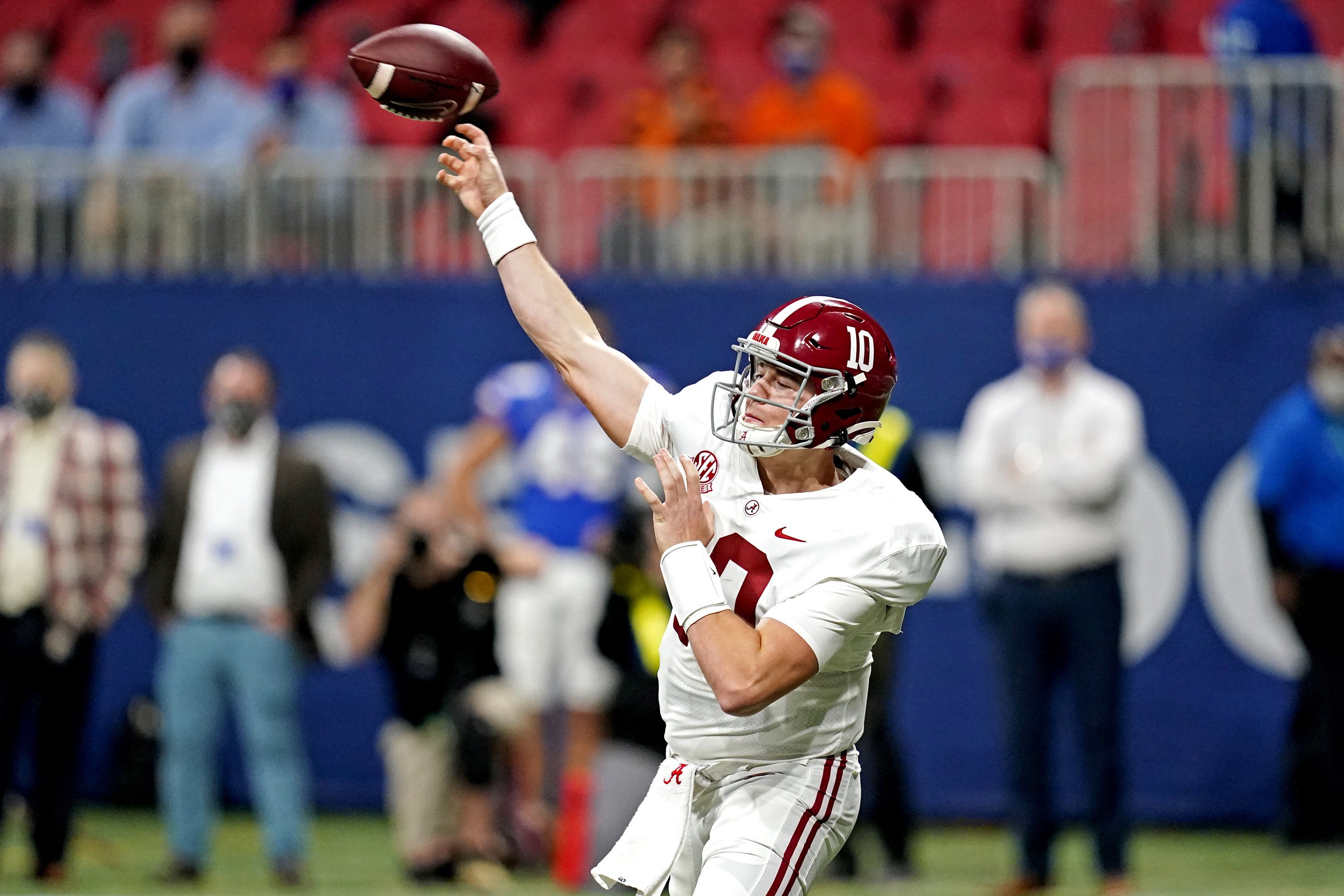 The pocket passers: Alabama's Mac Jones and Florida's Kyle Trask
While dubbing them "pocket passers" might be selling their mobility a tad short, if you're drafting one of these players in the first round, it's because of the way they can operate a passing game from inside the pocket. While both are surrounded with impressive collections of playmakers, both are taking their respective offenses to heights we rarely see, thanks to NFL-caliber quarterbacking.
Jones' calling card is his anticipation and timing within the Alabama offense. Every read and every throw looks as if it's manifested straight out of the playbook. You simply won't see Jones late to many windows. It's difficult not to get similar vibes to Joe Burrow's 2019 season at LSU when you watch Jones pick apart SEC defenses (despite middling arm strength). At the very least, he's outperforming former teammate and top-five pick Tua Tagovailoa in every conceivable passing metric. That's without Jerry Jeudy, Henry Ruggs III and now Jaylen Waddle mind you.
As for Trask, his calling card is his downfield ball placement. He already has tied Burrow's Power 5 record for big-time throws with 41 on over 150 fewer dropbacks. Trask had seven against Alabama's vaunted defense in the SEC title game alone. For a quarterback in just his second year starting (he backed up Miami quarterback D'Eriq King in high school), Trask's arrow is pointing up.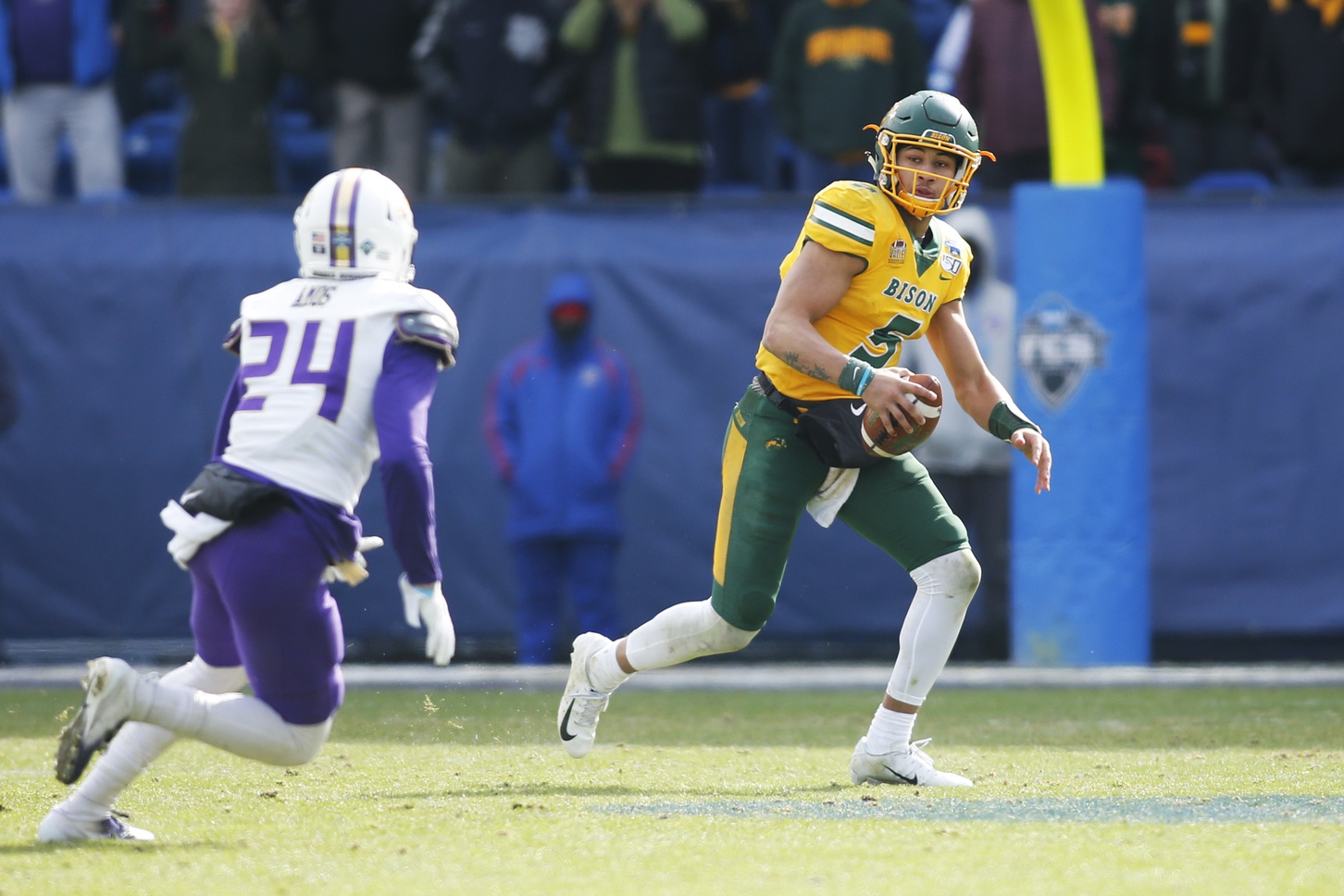 The prodigious raw tools: North Dakota State's Trey Lance
You won't find a quarterback with a better combination of arm strength and athleticism in the 2021 draft. Yes, not even Lawrence can match Lance's tools.
As wild as it sounds, there might be no human more important to Lance's draft stock than Bills quarterback Josh Allen. Allen's emergence as an MVP candidate this season after toiling as a near replacement-level quarterback his first two seasons is a massive win for strong-armed, athletic quarterbacks everywhere. With his completion percentage leaping from 58.2% in 2019 to 68.7% so far in 2020, Allen has proved the once unthinkable: Accuracy can be coached.
If you're drafting Lance with a high pick, that's the idea on which you're banking. The numbers bear out that he's still got a ways to go in terms of ball placement. Only 47.1% of his passes in his career were deemed to have accurate ball placement. No other quarterback on this list or the ones drafted in 2019 had a percentage below 55.0%. While the comparative lack of screens and RPOs in North Dakota State's offense is a factor, that's still a tough pill to swallow.
Lance still provides a high floor with his rushing ability and the way he takes care of the ball. He has only six career turnover-worthy plays on 384 dropbacks and ran for 1,150 yards with 40 broken tackles on 134 attempts in his lone season as a starter.
---
What separates this class of quarterbacks — at least the five we've gotten to see play multiple games this year — from any we've seen in recent history is the level of performance on a college football field. These guys are not only supremely talented, but that talent is translating to tangible results. Here's how the highest-graded passing season from each stacks up against those of the 2018 quarterback class, which was the only one to have more than three first-rounders since PFF started grading college in 2014.
Unless one of the quarterbacks above bombs in his bowl game, four of the 10 highest-graded passing seasons we've seen in our seven years of grading college football will come from the 2021 quarterback class. The only other draft class with multiple such seasons was the 2018 class, and that's only because Baker Mayfield is in the top 10 twice.
Of course, the draft is still an inexact science. The top quarterback class since PFF started grading college was one that came with some of the least fanfare. The 2017 quarterback class featured the second- and third-highest-graded quarterbacks in the NFL currently. Patrick Mahomes and Deshaun Watson were in no way billed as such coming out of college — or else those two wouldn't have fallen to 10th and 12th overall respectively.
Whether the 2021 class ends up looking like 1999 or 1983 a decade from now remains to be seen. All we can evaluate is what we know at the moment, and the 2021 quarterback class offers an influx of talent at the position the NFL hasn't seen in quite some time.