The trades involving San Francisco, Miami and Philadelphia have reshaped the first round of the 2021 NFL Draft. It now seems all but a foregone conclusion that quarterbacks will come off the board with the first three picks in the draft, potentially forcing other QB-needy teams to move up to secure one of the top-five quarterbacks before the run ends. There's a real chance that this run ends inside the top 10 picks, as it does in my second attempt at a 2021 mock draft.
Editor's Note: This is what PFF Analyst Ben Linsey would do as GM of all 32 NFL teams. He is not predicting what will happen. 
View PFF's 2021 NFL Draft position rankings:
QB | RB | WR | TE | T | iOL | DI | EDGE | LB | CB | S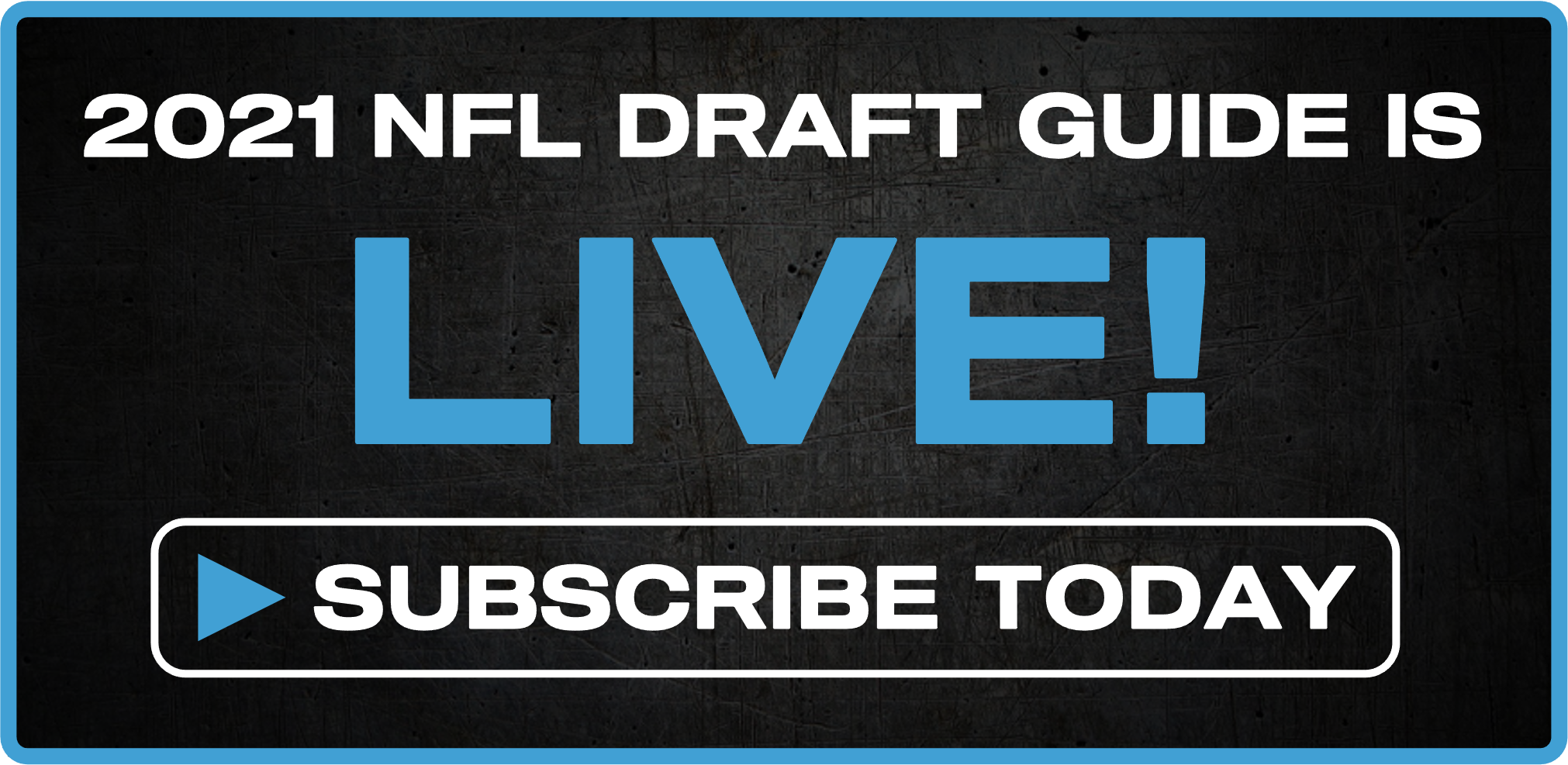 We've all known this pick for a while now. It would be a mistake for Jacksonville to do anything else.
As time progresses, this pick seemingly gets closer and closer to being written in pen.
It's tough to go wrong with either Wilson or Justin Fields in this spot. The narrative that Wilson was simply a one-year wonder à la Mitchell Trubisky is disingenuous. Wilson earned an 80.5 overall grade across seven starts as a true freshman back in 2018, including an 18-for-18, 317-yard passing performance in BYU's bowl win over Western Michigan. His 2019 season began with offseason shoulder surgery and included a stint on the sideline with a thumb injury. Still, he put up a respectable 76.2 PFF grade in over 600 snaps.
Of course, those performances both pale in comparison to his 2020 season, where Wilson led all quarterbacks in PFF grade (95.4). His arm talent and ability to create outside structure impressed, regardless of the competition he faced.
Unlike New York's decision with the second overall pick, I think there is a "right" selection here, assuming Lawrence and Wilson come off the board with the first two picks.
Fields' game has been put under the microscope over the past several weeks to the point where there are people — including NFL executives — looking for faults that aren't there. Fields earned a 90.0-plus PFF grade in each of the past two years as Ohio State's starter and an 85.0-plus grade in each of the Buckeyes' two playoff games this past season. That production comes along with high-end athletic traits, accuracy and arm talent.
That's the profile of a quarterback that teams should trade multiple first-round picks to move up and secure.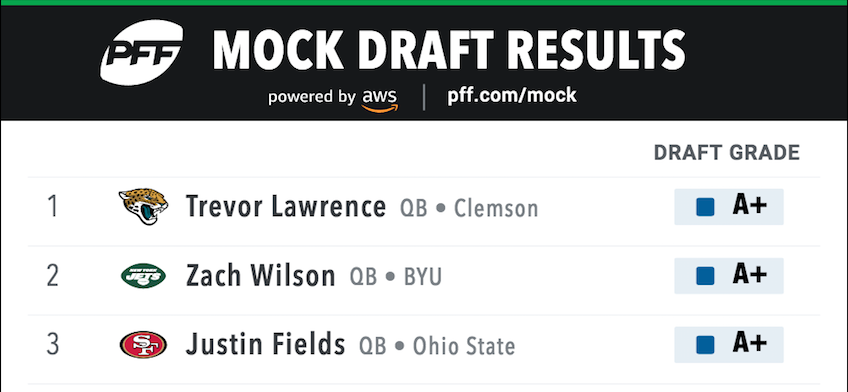 There are three choices for Atlanta with the fourth overall pick. They could stay put and draft a quarterback, potentially sitting him for two years behind Matt Ryan until they could move on from Ryan without eating $40 million in dead cap space. That's a tough sell with a top-five draft pick.
Alternatively, the Falcons could stand pat and take their favorite non-quarterback in the draft (Kyle Pitts, Ja'Marr Chase, Penei Sewell, etc.). It's certainly not a bad option, but Atlanta has more than one hole on this roster. The defensive depth chart, in particular, isn't all that pretty.
That's why I believe it makes the most sense for the Falcons to trade back with one of the several teams who will be looking to move up to secure one of the top quarterbacks in this year's class. Denver is one such trade partner who can offer a top-10 pick in return.
The first thing that people mention regarding Lance is his physical ability. That's for good reason. He has a cannon and would immediately become one of the better rushing quarterbacks in the NFL. The mental side of his game should be getting more love, though.
PFF's Seth Galina recently wrote this about Lance following an interview with his quarterback coach Quincy Avery:
"The passing concepts at North Dakota State weren't always simple, either. As Quincy notes, Lance was tasked with making protection calls and giving a backside route. I wrote about those concepts and how he's able to work through progressions here."
The Broncos have a legitimate, playoff-caliber roster assuming they get even average quarterback play. Drew Lock (62.1 PFF grade since 2019) hasn't shown enough through his first two years in the NFL to have much confidence in that assumption entering 2021. The addition of Lance gives Denver one of the most talented quarterbacks in a loaded 2021 class and a better opportunity to find their guy at the game's most important position.
It would be a risk to sit back and wait with teams such as the Panthers and Patriots standing out as prime candidates to move up themselves.
The first non-quarterback comes off the board, and it's not Sewell. The Chase vs. Sewell argument in Cincinnati has threatened to split the city in half. There are worse problems to have than deciding between two players who were the best in the country at their respective positions at just 19 years old in 2019.
Chase put up nearly 1,800 receiving yards and 20 touchdowns in that 2019 season with Joe Burrow, outperforming 2020 NFL Rookie of the Year candidate Justin Jefferson in LSU's offense. Chase plays the game with a physicality that should have no problem translating to the NFL, and he showed at his recent pro day that he is a top-notch athlete at the position. Adding him to a receiving corps that already includes Tee Higgins and Tyler Boyd will only make those two better.
Sewell would also certainly help matters up front, but the addition of Riley Reiff means that Cincinnati should at least have two serviceable tackles in 2021 between Reiff and Jonah Williams. This is also a deep tackle class — one in which Cincinnati can find potential starters on Day 2 of the draft.
One has to imagine that Miami's decision to move back up six spots into the top 10 was made with the intent to take one of the true blue-chip receiving talents who are expected to come off the board early. You can make the argument that none are more talented than Pitts.
The Dolphins already have one of the league's best young tight ends in Mike Gesicki, but there is no reason that he and Pitts can't share the field. Gesicki ran a league-high 69% of his routes from the slot in 2020, and Pitts can win as a receiver lined up anywhere in the formation. That's precisely what he did en route to a 96.1 receiving grade this past year at Florida. There is every reason to believe that he'll immediately profile as one of the league's top tight ends.
The Lions have taken fliers on speed in free agency with the additions of Tyrell Williams, Breshad Perriman and Kalif Raymond. Smith would give that group the X receiver it's currently lacking. It's a role Smith played in an uber-talented Alabama offense with tremendous success these past few years. His ability to consistently create separation in his routes and come down with any pass in his vicinity makes it a whole lot easier to look past potential size concerns. Detroit continues to restock at the position after losing each of their top three wide receivers from last season to free agency.
It's no secret that Carolina has been actively looking for an upgrade at the quarterback position, but in this scenario, the top four quarterbacks are off the board. That leaves Mac Jones. The Athletic's Joseph Person has reported that the buzz he has heard since Carolina's staff coached Jones at the Senior Bowl is that "the Panthers like Jones' leadership and winning track record but don't view him as a top-10 pick."
With that in mind, I don't see them passing on a slipping Sewell here at eight with the top four quarterbacks off the board. This is an offensive line that still clearly has holes following a first wave in free agency in which the Panthers added only Cam Erving and Pat Elflein. Sewell provides a better option at left tackle than Erving or Greg Little for whoever is behind center in Carolina next season.
Most of Atlanta's pressing needs come on the defensive side of the football, but there isn't a defensive prospect who makes a ton of sense as a top-five pick in this draft class. Surtain becomes much more interesting here for the Falcons after trading back with Denver.
Neither Isaiah Oliver nor Kendall Sheffield has impressed early on. Surtain brings three years of high-level production in the SEC, consistent technique and high-end athleticism to the table. Pairing Surtain with A.J. Terrell would give the Falcons two cornerbacks to get excited about heading into 2021 in Dean Pees' defense.
New England's aggressiveness in free agency indicates that this team has no plans of tearing things down and rebuilding. Cam Newton is in place to be the guy at quarterback again in 2021, but it's hard to see him being there beyond next season. Here are the two scenarios that could realistically play out next season:
Option No. 1: Newton plays well with more talent around him, and the Patriots have to pay him significantly more than $5 million to bring him back.
Option No. 2: Newton struggles again on a team with a mediocre record, and the Patriots are no closer to having an answer at quarterback for 2022. The only difference is that they won't have nearly the same financial flexibility next offseason as they had this year.
Jones is the last consensus first-round talent at the position. His accuracy and control of that Alabama offense should be draws for New England, who can't necessarily sit back and wait for him to drop to the 15th overall pick with teams such as Washington and Chicago potentially looking to move up. Dallas could be a willing trade partner with Pitts and Surtain off the board already in this scenario.
New York's free-agent acquisitions have put pressure on Daniel Jones to take a step forward in his third NFL season, but the offensive line remains the biggest barrier to Jones making that leap.
Slater is more than capable of beginning his NFL career at guard on a team that boasts Will Hernandez (58.1 PFF grade in 2020), Shane Lemieux (32.2) and the recently signed Zach Fulton (63.0) as its current top options at the position. Slater's athleticism and clean technique give him a real chance of having success outside at tackle despite being undersized for the position, as well.
Beyond Darius Slay, the Eagles are very thin at the cornerback position. Avonte Maddox currently projects to be their No. 2 option outside, but he's coming off a 2020 season in which he earned a 37.8 overall grade in that role.
Horn pairs high-end athleticism with a physical, in-your-face mentality that you love to see at the cornerback position. No game showcased that better than his 2020 matchup with Auburn and Seth Williams, where Horn came away with two interceptions and five pass breakups on 10 targets.
The Chargers need to improve the left tackle position, but the kind of electric playmaking ability that Waddle provides would be tough to pass up at this point in the draft.
Los Angeles has struggled to find a real contributor at wide receiver behind Keenan Allen and Mike Williams in recent years.  Andre Patton in 2019 and Jalen Guyton in 2020 — the third option at the position in each of those years — both failed to clear one receiving yard per route run. Waddle is coming off a career-high 4.38 receiving yards per route run in his appearances this past season for Alabama.
He gives the Chargers a strong trio of options in 2021 and provides insurance should Williams walk next offseason.
The release of Riley Reiff only further weakened what was already a shaky offensive line in Minnesota. The pre-draft options for the tackle opposite Brian O'Neill — who will be playing on the last year of his rookie contract in 2021 — include moving Ezra Cleveland back out to tackle after playing guard as a rookie last season and giving 29-year-old Rashod Hill a shot at the job. Darrisaw in the first round is a more appealing option than either of those two.
The 16th-ranked player on PFF's Big Board broke out in 2020 to the tune of an elite 95.6 overall grade against a respectable slate of ACC edge rushers. He brings some legitimate power with him in that 6-foot-5, 314-pound frame.
Farley's draft stock recently took a tumble with the elite athletic testing of Surtain, Horn and Greg Newsome coupled with news of another back surgery for Farley. I would still feel confident taking him here after the trade down for Dallas, especially considering his fit in Dan Quinn's defense with ideal length and speed for the position. Farley came away from his 2019 season with a 90.5 coverage grade after he allowed just 36% of the passes thrown into his coverage to be completed.
The addition of the current version of A.J. Green shouldn't keep Arizona from looking to add receiving talent early in the 2021 NFL Draft. Moore recorded times in the 93rd percentile or better in each of the 40-yard dash, short shuttle and three-cone drills at his recent pro day. His combination of speed, quicks and toughness makes him an ideal fit in the slot in Arizona with DeAndre Hopkins, Christian Kirk and Green projected to line up outside.
Las Vegas' offensive line underwent a facelift over the last month with the Rodney Hudson, Gabe Jackson and Trent Brown trades. Brandon Parker is currently projected to start at right tackle, and that's less than ideal given that Parker has failed to clear a PFF grade of 50.0 in his first three NFL seasons.
Jenkins would give Las Vegas a better option on the right side heading into the 2021 season. He was a force in the run game at Oklahoma State, imposing his will and showcasing impressive strength. Jenkins ended last season with a 93.6 run-blocking grade.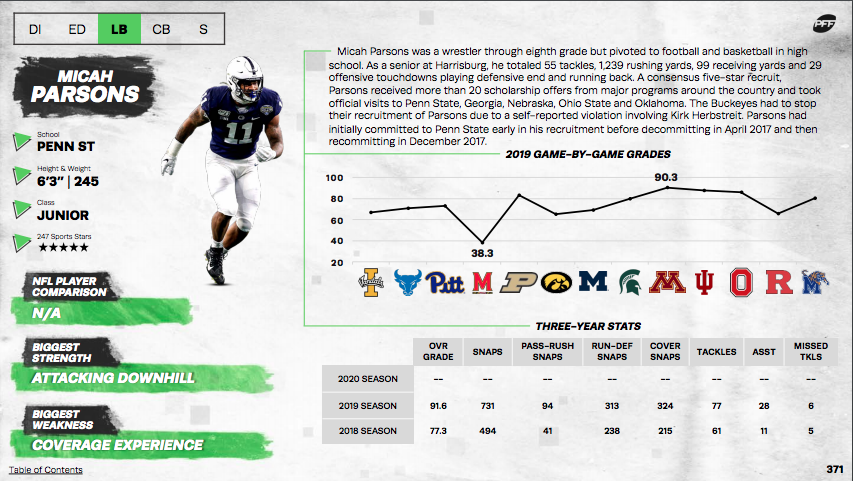 Parsons' slide comes to an end with Miami's second first-round pick. Off-field concerns surrounding the Penn State linebacker could lead to him dropping down boards, but this would be a steal for the Dolphins purely looking at what Parsons can provide on the field.
His gaudy pro-day numbers confirmed the kind of freakish athleticism he brings to the table, and few players were better working downhill against the run than Parsons in 2019 (94.8 run-defense grade). One has to imagine his pass-rushing ability would be put to good use in Brian Flores' defense, as well.
With the top five quarterbacks and the top three offensive tackles off the board here, Washington opts to add one of the more talented wide receiver prospects in the class to continue rounding out its receiving corps around Terry McLaurin. Bateman has shown that he can win both outside and in the slot across different roles in his career at Minnesota. He's an NFL-ready prospect with some of the cleanest releases and routes in the class.
Vera-Tucker impressed at left guard with a 78.8 overall grade and 87.9 pass-blocking grade during the 2019 season at USC. He followed that up this past season by showing he could do it at left tackle with an even better 81.8 PFF grade in 2020.
His 32-inch arms will likely pigeonhole him into the guard position in the NFL, but Vera-Tucker at least showed that he's capable of playing tackle if needed. He would boost an offensive line in Chicago that requires additional talent, particularly on the right side.
The first edge defender finally comes off the board here to Indianapolis with Paye's selection. I recently pointed out the Colts' edge defender group as one of the weaker positional groups in the NFL, and the signings of Al-Quadin Muhammad and Isaac Rochell don't move the needle there all that much.
Listed as the No. 1 player on Bruce Feldman's freaks list last offseason, Paye does not lack physical tools. He has improved his PFF grade in each of his four seasons at Michigan, reaching 86.3 overall in his four appearances in 2020. Paye should provide the pass-rushing help that the Colts are looking for to complement DeForest Buckner's ability to push the pocket on the interior.
The addition of Josh Reynolds does not offset the losses of Corey Davis and Jonnu Smith in this receiving corps. They still need someone else to come in and take some of the pressure off of A.J. Brown.
Marshall is not quite as polished as some of the other receivers in this draft, but he does bring size, speed and inside-outside versatility to the table. There is untapped room left for him to become a true No. 1 option opposite Brown, which is difficult to say for some of the other receivers remaining on the board at this stage of the draft.
The fit for Newsome in Robert Saleh's defense is ideal. His feel and closing ability in zone coverage should translate nicely to a defense that currently sees guys like Bryce Hall, Blessuan Austin, Lamar Jackson and Javelin Guidry atop the position — none of whom were drafted before the fifth round. Newsome allowed just 12 of the 34 passes thrown into his coverage to be completed this past season at Northwestern.
The focus in Pittsburgh this offseason has been primarily on the offensive line and running game. The losses of Bud Dupree, Steven Nelson and Vince Williams have also quietly opened holes on the defensive side of the ball.
Owusu-Koramoah should be appealing to Pittsburgh here because he could potentially help fill multiple holes in the Steelers' defense. Whether it's at linebacker alongside Devin Bush, slot cornerback or box safety, JOK is an explosive enough athlete at his size to capably fill any of those roles depending on the situation. Those also all happen to be areas of need for Pittsburgh.
Owusu-Koramoah (19th on PFF's Big Board) is a better value here than any of the offensive line or running back prospects still on the board.
Jacksonville went out and added Shaquill Griffin and Rayshawn Jenkins in free agency, but that shouldn't preclude them from continuing to add talent in the secondary. Moehrig projects as the best safety prospect in the draft, offering a diverse skill set given his size and the roles he was asked to play in TCU's defense. He earned coverage grades of at least 77.0 in each of his three seasons with the Horned Frogs.
It's hard not to like the way that Cleveland approached improving their defense in free agency. Andrew Berry and company spent up at positions like safety (John Johnson III) and slot cornerback (Troy Hill) where you can find value while taking one-year fliers at more expensive positions along the defensive line (Takkarist McKinley and Malik Jackson). Here is where the Browns can chase that high-end talent at a valuable position.
Oweh's goose egg in the sack column this past season shouldn't deter a team from taking a chance on him figuring things out. Despite the zero sacks, Oweh did earn an 80.0-plus pass-rushing grade in 2020, and he improved his overall PFF grade in each of his three seasons at Penn State. There's reason to bank on continued improvement for a guy who only started playing football in 2016.
The Ravens let high-priced edge defenders Matthew Judon and Yannick Ngakoue walk in free agency. This is where they can start to fill the holes those two players leave behind.
The Georgia edge rusher has one of the quicker first steps around the edge in the class, and Ojulari couples that speed with the bend necessary to turn the corner and get to the quarterback. Cincinnati quarterback Desmond Ridder found that out in what was Ojulari's best performance of the season — a 94.0 pass-rushing grade in Georgia's Peach Bowl victory.
The release of Janoris Jenkins and the uncertainty surrounding Marshon Lattimore amid criminal charges and an expiring rookie contract almost makes it a necessity for New Orleans to address cornerback early in the 2021 NFL Draft. Samuel sitting here at the back end of the first round would be an ideal outcome from both a value and need perspective.
Samuel is coming off a 2020 season at Florida State where he allowed a passer rating of 46.2 on throws into his coverage. He has the kind of instincts and movement skills that give him a real chance at success outside despite being undersized.
Defensive line is not the first need that comes to mind for Green Bay. However, Barmore — the 15th-ranked player on PFF's Big Board — is not the kind of player the Packers should pass on to force a need. Outside of Kenny Clark, Green Bay has struggled to find someone who can give them consistent snaps between the tackles over the last several years. Barmore can line up in several different spots inside and disrupt as a run defender and pass-rusher. He's coming off a 90.0 overall grade with Alabama in 2020.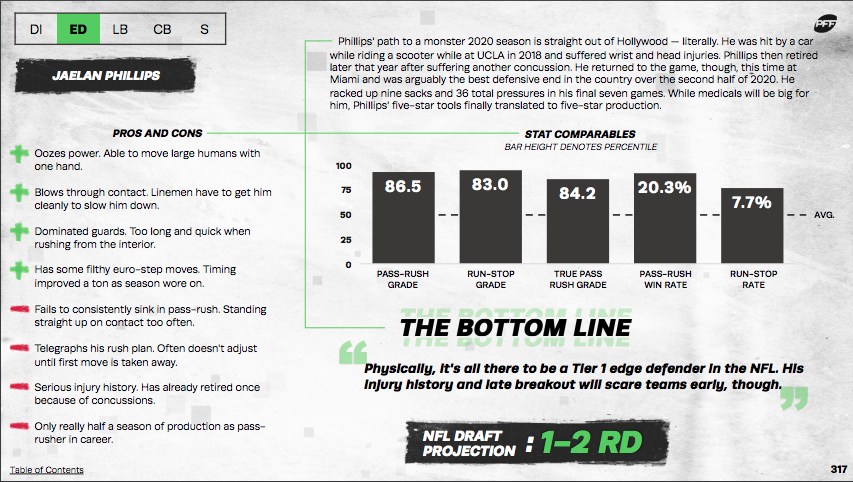 There is a real argument to be made that Phillips should be the top edge defender in this class. Like all of the players competing for that title, Phillips isn't the Nick Bosa– or Chase Young-level prospect who comes with almost no red flags. The cause for concern with Phillips is that he medically retired from football before the 2019 season due to a history of concussions.
The former No. 1 overall recruit coming out of high school opted to return to the field with Miami in 2020 and showcased his talent in that return. Phillips came away from last season with PFF grades of 83.0 or higher as a run defender and pass-rusher. This would be a strong addition for Buffalo to add some more youth behind what is currently an older edge rusher rotation with Jerry Hughes and Mario Addison penciled in as starters.
I'm not going to jump off the trend of mocking offensive tackles to the Chiefs in the first round. It's a case of clear need meeting value with how the draft is likely to shake out. The depth of this tackle class means that there will likely be a number of options for the Chiefs to choose from at the back end of the first round who could potentially start next season at left tackle.
I opted for Cosmi due to his experience (three seasons as a starting tackle at Texas) and strong play in pass protection throughout his career (pass-blocking grades of 82.0 or higher in all three seasons). Cosmi also put on an absolute show during his pro day with 90th percentile or higher testing numbers across the board.
The Buccaneers are arguably the most complete team in the NFL. With a clear Super Bowl window as long as Tom Brady continues to play at a high level, they'll want to add someone with their first-round pick who can contribute right away in a specified role. Moore can certainly do that.
If the Buccaneers chose not to bring back Antonio Brown, Moore could step in alongside Scotty Miller and Tyler Johnson to help pick up the slack. He's one of the best athletes in the entire draft and one of the best receivers in the class after the catch. Moore averaged 7.5 yards after the catch per reception in his Purdue career. While he didn't run a diverse, downfield route tree in college, that was more of a function of the offense than it was an indictment of Moore's route-running ability.