Quincy Avery has become the quarterback coach of the stars. After spending some time early in his career working in college football, Avery returned home to Georgia to put his passion for coaching the QB position to work. He now counts several NFL superstars as clients through his quarterback training program, Quarterback Takeover.
He and his staff work with players at all levels, offering private training, off-season training and skills-sharpening training. Focus areas include throwing mechanics, balance, drops, footwork and on-and off-platform throws. Avery has worked with the likes of Deshaun Watson and Jalen Hurts and helped 140 athletes earn scholarships to FBS and FCS schools, according to his website qbtakeover.com.
We invited Avery on the PFF College Football Podcast to talk about his career and the big-time quarterbacks he's coaching right now. The podcast is definitely worth a listen to learn more about how Avery got into private quarterback coaching and how the position has evolved over time.
In the meantime, we wanted to highlight some of Avery's comments on a handful of the most talked about QBs he's associated with and add some of our own PFF context. Here are some of Avery's thoughts with additional notes on Deshaun Watson, Dwayne Haskins, Jalen Hurts, Justin Fields and Trey Lance.
Avery: "People have a really tough time beating him with pressure."
PFF: Teams that decided they were going to blitz Watson were in for a rude awakening in 2020. Defenses started the season blitzing the Texans around 29% of the time, but that stopped midway through the season because Watson was torching them. From Weeks 1-9, teams blitzed the Texans at the ninth-highest rate in the NFL. That number cooled off tremendously from Week 10 to the end of the regular season, when the Texans were blitzed just 24% of the time, fourth-least in the league.
Among the 31 quarterbacks who saw 100 blitzes last season, Watson had the fifth-highest passing grade — a sterling 81.9 mark. He also had the fifth-highest percentage of completions beyond the first-down marker, so he was attempting difficult passes as well. He also gained nine first downs rushing against the blitz, the most in the league.
Watson had been average against blitzes the last couple of seasons, posting passing grades of 76.9 and 74.9 before this year's explosion.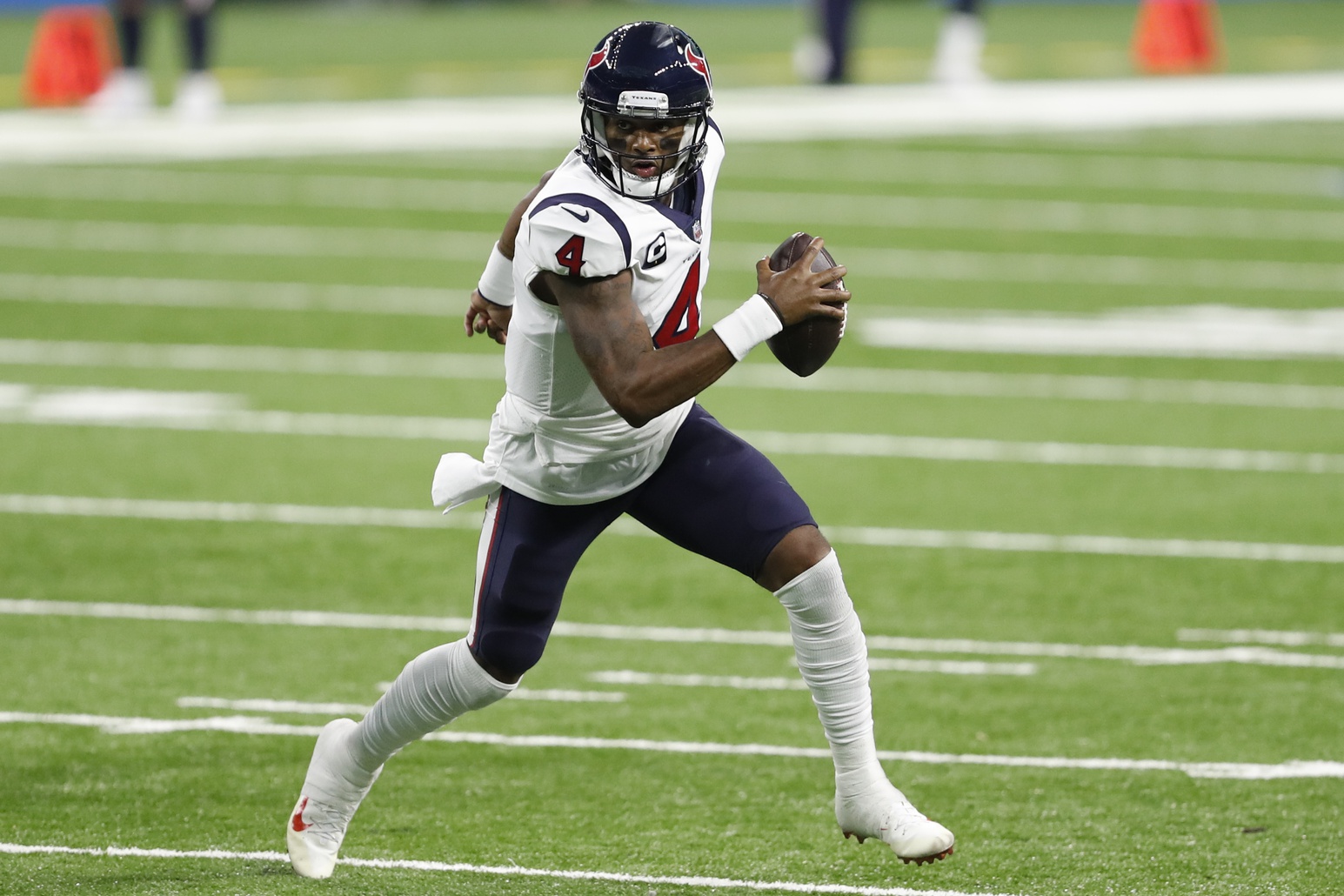 Avery: "He does a phenomenal job extending plays. … The Colts tried to play 2-high and only rush four and he just extends the play."
PFF: Of the 40 quarterbacks who saw a defense play what we chart as "middle of the field open coverage" without a blitz at least 50 times last season, Watson had the fifth-highest average time to throw in the league. His grade was pretty good, too, at 90.5 — highest in the league. Watson was generally phenomenal when extending plays, posting the league's fifth-highest grade (84.1) when scrambling. The Texans tied with Kansas City for the most explosive passing plays (15-plus yards) when the quarterback scrambled.
Avery: "He has to improve with his decision-making."
PFF: This is the true crux of the Dwayne Haskins problem. The decision-making issue shows up in his sack rate. Haskins takes a sack on 9.5% of his dropbacks, which is the worst in the league over the last two seasons among quarterbacks with at least 500 dropbacks. While he doesn't turn the ball over that much, his propensity to hold on to the football and take sacks — which lead to punts — is as close to a turnover as you can get.
Having receivers open and then not pulling the trigger is an ongoing problem. His big-time throw percentage is also very low, fourth-worst in the league over the last two seasons — another product of decision-making. At some point, you have to be able to create explosive chunk plays, and Haskins just won't pull the trigger.
Avery: "He needs to work on being able to play on time."
PFF: Hurts had the highest average time to throw in the NFL last season at 3.37 seconds. The problem: While guys like Lamar Jackson, Deshaun Watson and Russell Wilson all have times to throw over 3.0 seconds, they are using that time more wisely. If Hurts is not going to use a clock, he'll have to make more plays outside structure, and that didn't happen as much during his rookie season as you might think. Given the college production, he may just need a full offseason to work out some of those kinks.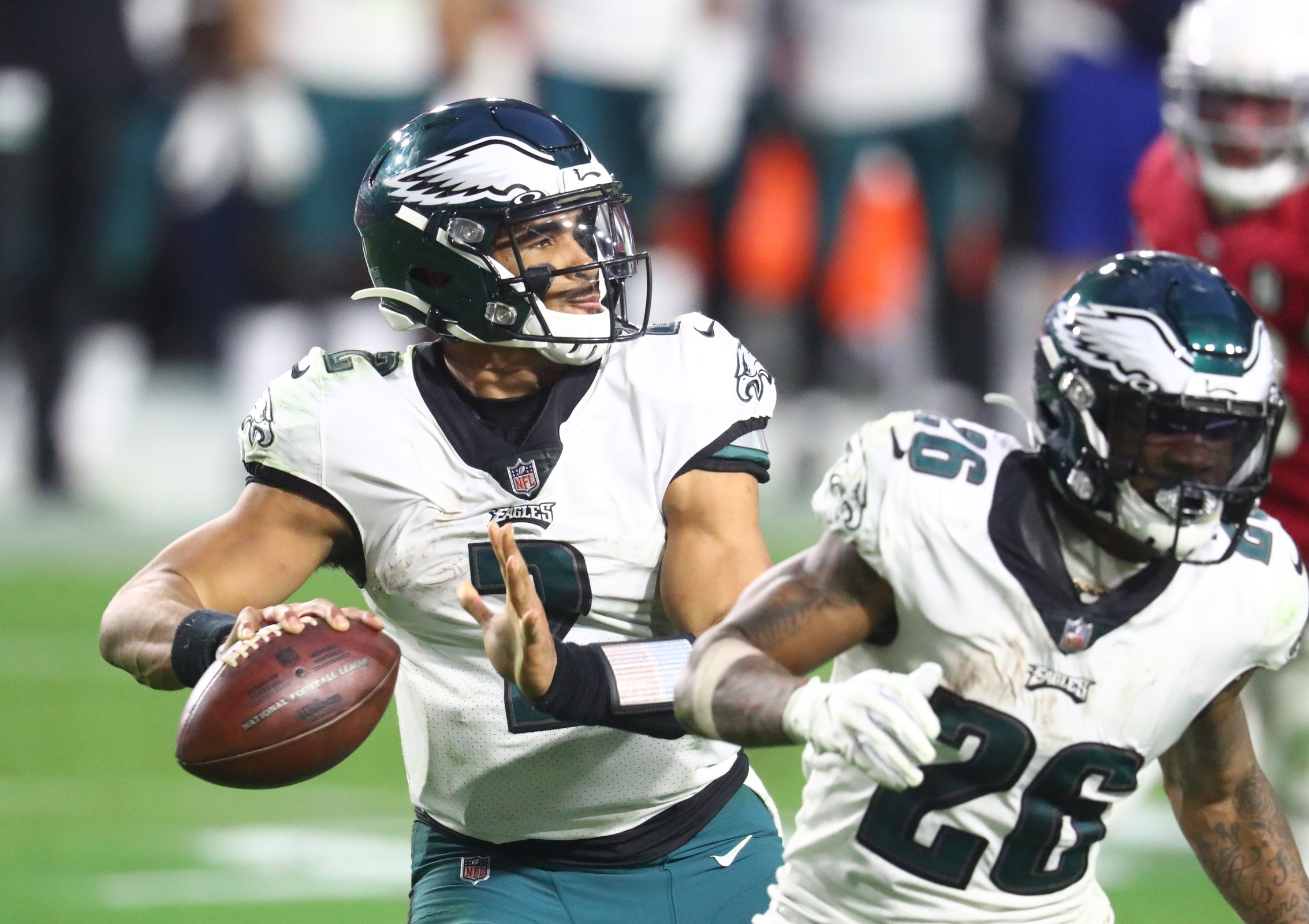 Avery: "What's going to allow him to take his game to the next level is just getting to his checkdowns."
PFF: Hurts only threw two checkdowns the entire season, via our charting. No one who started at least a single game threw so few "easy completions." Hurts does create yards with his legs, as he averaged 6.8 yards per carry on scrambles. But cutting down on those runs — he had the 10th-most scrambles while only starting four games — and converting them to easy completions will do wonders, as he'll be able to better control the defense.
Avery: "People don't know how athletic he really is."
PFF: Fields had the 10th-most rushing yards in the FBS over the last two seasons among quarterbacks, and that's with a few option quarterbacks ahead of him.
Avery: "I heard people say he only came off of his No. 1 receiver seven times the whole season, which just isn't true."
PFF: There are different ways to chart this, but through our charting of plays where the quarterback went to his "next read" or threw a checkdown, Fields was the third-highest-graded quarterback at 90.0 over the last two seasons on 115 such throws. (That's 108 more than seven.) Also, throwing to an open first read isn't a bad thing as a prospect when you do it well. Fields had the second-highest grade when throwing to his "first read," according to our charting over the last two seasons.
Avery: "He's done a great job at avoiding turnovers."
PFF: Among quarterbacks with at least 200 dropbacks in the FBS + North Dakota State since 2019, Lance had the fifth-lowest amount turnover-worthy plays. His six turnover-worthy plays amounted to a lowly 1.5% of his dropbacks.
The passing concepts at North Dakota State weren't always simple, either. As Quincy notes, Lance was tasked with making protection calls and giving a backside route. I wrote about those concepts and how he's able to work through progressions here.
We've written about how quarterbacks affect their own pressure rate. NDSU's pressure rate in 2019 was only 19.5%, the sixth-lowest in the FBS + NDSU grouping. A lot of that is on Lance for quite clearly getting the team into the right protections and then having an out if there was trouble.