Just three short months after finishing second in the NFC East with a 6-10 record, the New York Giants made it clear in free agency that they weren't going to spend the 2021 NFL season sitting idly by in a division that was more winnable than any other last year.
The division should improve in 2021. The Dallas Cowboys are unlikely to see injuries to Dak Prescott, Tyron Smith and La'el Collins again. The Washington Football Team improved at three of the more valuable positions in the league — quarterback, wide receiver and cornerback — in free agency. The Philadelphia Eagles stand out as the one team that didn't noticeably improve this offseason, but who knows how a full offseason with Jalen Hurts as the starting quarterback will impact their offense. In any event, it will be difficult for Hurts to provide less value than Carson Wentz did in 2020.
Like Washington, New York also took big steps toward improving at the wide receiver and cornerback position. The additions of Kenny Golladay to replace Golden Tate and Adoree' Jackson to replace Isaac Yiadom both stand out as significant improvements to the roster. The Giants paid a premium to bring those two players in, just as they did to re-sign Leonard Williams, but at least they spent that premium on good players who should contribute to wins next season.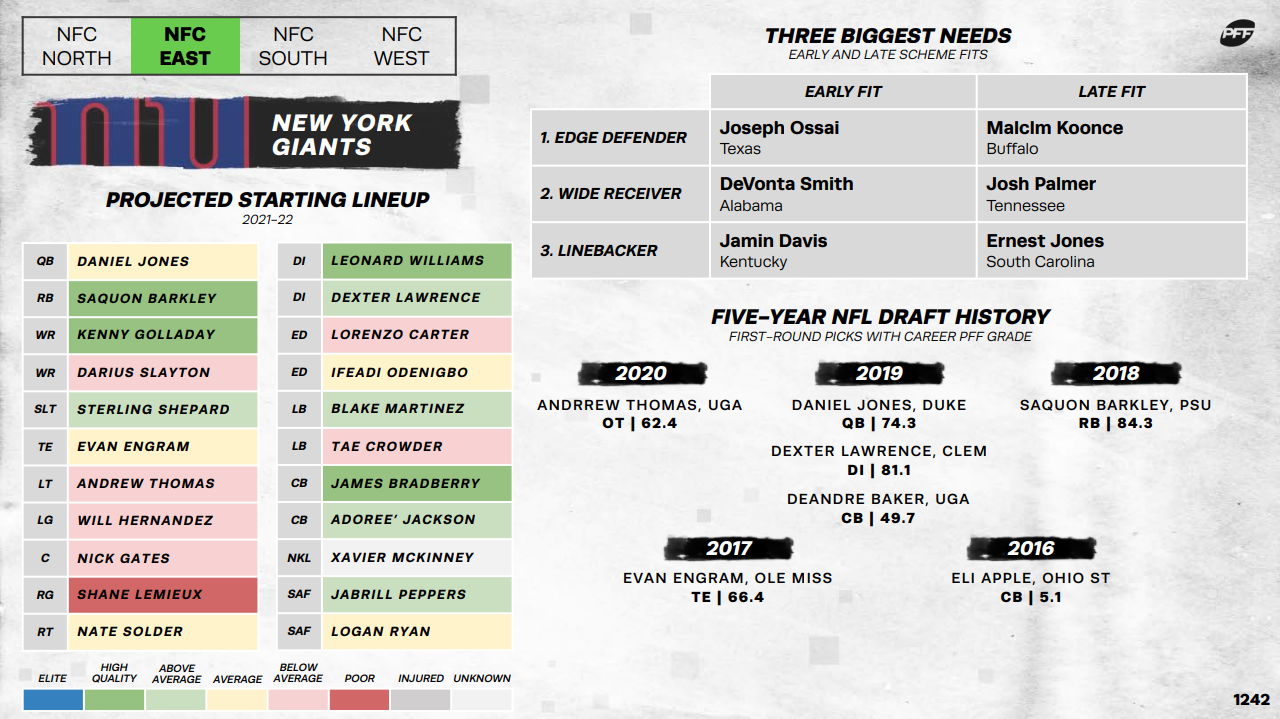 The Giants' "state of the franchise" page on the most recent update to the PFF Draft Guide shows a relatively strong starting lineup outside of the offensive line. Golladay is the true No. 1 threat in the passing game to round out a young receiving corps that already had solid complementary pieces in place. John Ross and Kyle Rudolph also add some admirable depth.
Subscribe to PFF Edge to continue reading
Already have a subscription? Sign In