We are now less than a month away from the 2021 NFL Draft. Between those three days in late April and early May and the remaining talent pool available in free agency, there is still time for NFL teams to address needs prior to the start of next season. And some have a lot more work to do than others to build up certain position groups.
In no particular order, here a few of the weaker positional groups in the NFL as things stand today.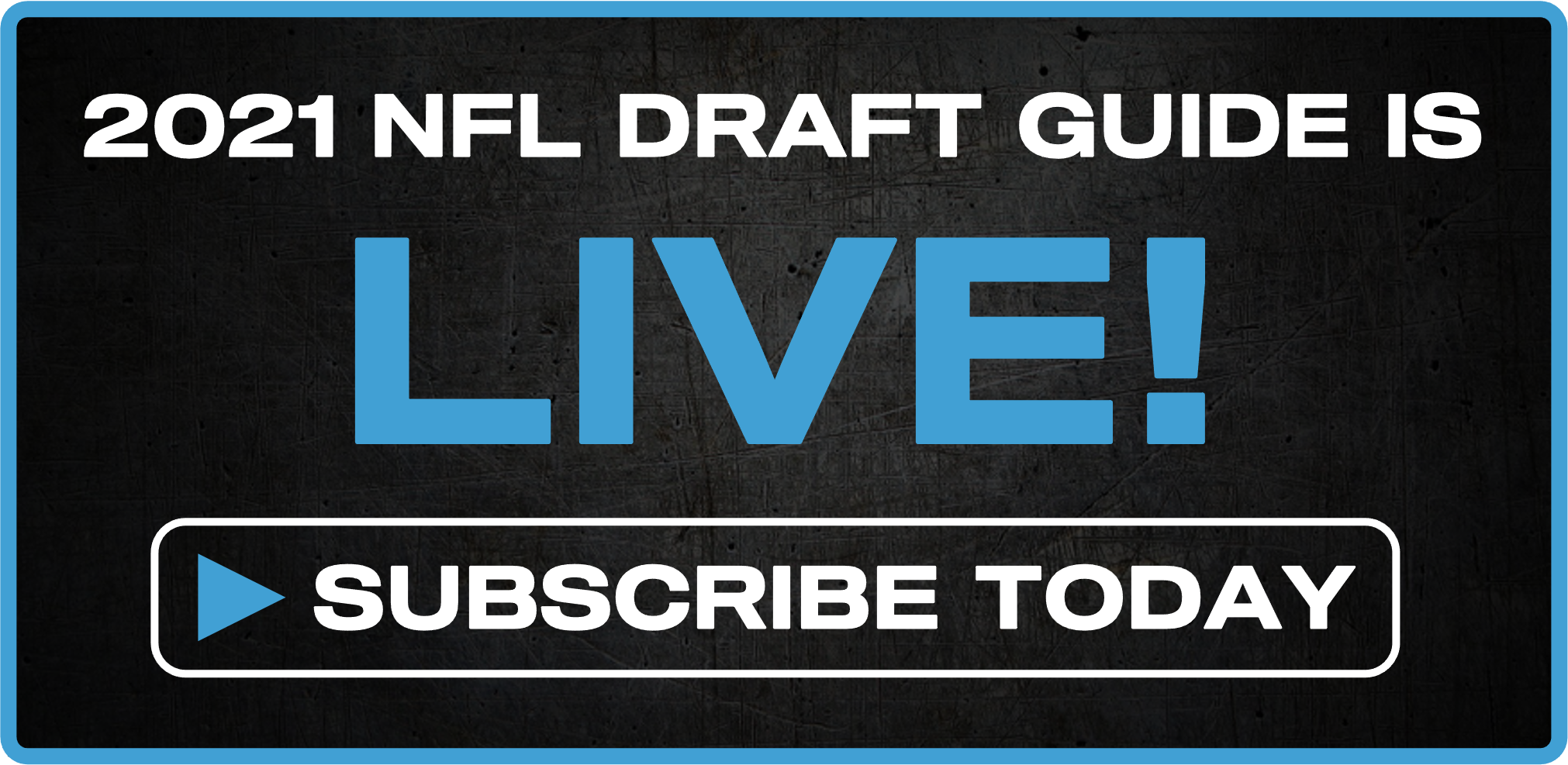 The Falcons lost both Keanu Neal and Damontae Kazee to the Dallas Cowboys in free agency. Safety Sharrod Neasman remains a free agent, and Atlanta released starting free safety Ricardo Allen for salary cap relief. If you're keeping track at home, those are the team's top four safeties in snaps played last year — none of whom are currently under contract.
The only Falcons safety to play at all last season who is still on the team is 2020 rookie Jaylinn Hawkins (76 defensive snaps), who now figures to step into a starting role. Atlanta did add former Raiders safety Erik Harris in free agency, but he's coming off just a 57.0 overall grade in 2020.
And matters are only exacerbated when examining the Falcons' cornerback room — a position where the team returns its top trio. Atlanta's cornerbacks combined for a 47.8 coverage grade in 2020 (26th in the NFL). A.J. Terrell showed some promise in what was a tough year for rookie cornerbacks across the league, but neither Isaiah Oliver nor Kendall Sheffield recorded a coverage grade above 55.0 across the past two seasons.
Dean Pees has his work cut out for him in his first year as the team's defensive coordinator.
Given Indianapolis' salary cap situation heading into this offseason, it's surprising the team didn't do more than sign Isaac Rochell to address the edge defender position. Rochell brings some experience, which many of his new edge-rushing teammates lack, but he hasn't produced at a high level when on the field for the Los Angeles Chargers over the past four years. He peaked with a 55.1 PFF grade in 2018, and his 6.6% pressure rate since 2018 ranks dead last among edge defenders with at least 500 pass-rushing snaps.
Lowest pressure rate by an edge defender since 2018 (min. 500 snaps)
Outside of Rochell, the internal options are Ben Banogu, Tyquan Lewis and Kemoko Turay. Lewis leads the way in career NFL snaps from that group (995), but he's earned just a 53.3 overall grade in that playing time. Turay has flashed as a pass rusher, but that's really all he gives you. He's also struggled to stay healthy early in his career.
It's a group that needs some attention, whether that be in the remaining free agent pool or the 2021 NFL Draft.
I'm a fan of what the Jets have accomplished through the early stages of the offseason. From hiring Robert Saleh as head coach to signing Corey Davis and Carl Lawson, the franchise seems to be trending in the right direction. However, this is still a roster that needs a lot of work.
Cornerback may be the most glaring of those needs. With Brian Poole remaining a free agent, New York's top options at the position include Bryce Hall (62.8 coverage grade in 2020), Blessuan Austin (47.4 grade), Lamar Jackson (45.8 grade) and Javelin Guidry (76.5 grade in fewer than 200 defensive snaps).
There isn't much experience to speak of there, nor is there much high-end talent. Hall was the highest-drafted player in that group of four, and he wasn't even selected until the fifth round of last year's draft. The Jets have built up their defensive line and boast young talent at the safety position, but cornerback should remain a priority heading into next season.
Unfortunately for Minnesota, this is not a new issue. The collective pass-blocking grade for the Vikings' interior offensive line ranked second-worst in 2018, behind only the Arizona Cardinals. The unit jumped to third-worst the following year before putting up a 34.2 grade in 2020 that fell short of any team in the past three years combined. 
Plays like the one below with quick pressure up the middle were all too common for Minnesota.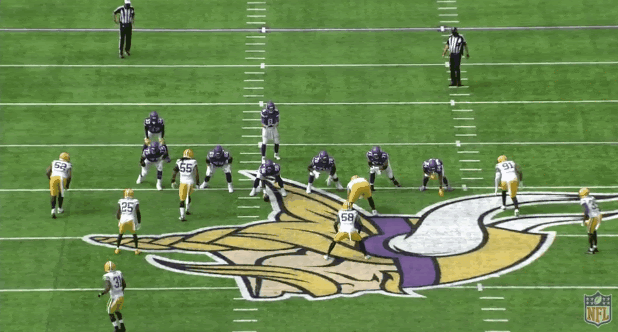 With the release of Riley Reiff at left tackle, there's now a chance that Ezra Cleveland could kick outside to left tackle if the Vikings don't add another player at the spot. That only further weakens the interior. Garrett Bradbury, Kyle Hinton, Dru Samia, Dakota Dozier and Mason Cole would make up the interior depth if Cleveland does move to tackle. That's not a group the Vikings should feel very confident about.
The Rams had the 28th-highest-graded linebacking corps in the NFL last season, but that didn't stop them from leading the league in expected points added allowed per play on defense. They did a good job of masking that weakness, rarely playing more than one off-ball linebacker on the field at a given time. The team's 16.1% base defense rate was the fifth-lowest mark in the league.
Just because the weakness at linebacker didn't hurt Los Angeles in 2020 doesn't mean the team shouldn't look to improve at the position heading into 2021.
There hasn't been much personnel movement at linebacker for the Rams, largely because they have been contending with one of the NFL's tightest salary cap situations. Micah Kiser (40.0 PFF grade), Troy Reeder (61.3) and Kenny Young (38.1) each played between 500 and 600 defensive snaps in 2020. The Rams will also get Travin Howard back from a knee injury that kept him out of the 2020 season.
Some additional speed and athleticism at the position would help Los Angeles maintain its title as one of the league's best defenses despite the losses of John Johnson III and Troy Hill in the secondary.
While some may point to Pittsburgh's interior offensive line as a concern for the team, I'm more worried about the tackle position. Alejandro Villanueva has not been the most popular Steeler in Pittsburgh over the past several seasons, but he would be by far the safest tackle option on the team should he return. Villanueva graded out at 77.0 or higher in pass protection in each of his past five seasons as a starter.
For comparison, Chukwuma Okorafor earned a 62.5 pass-blocking grade and a 57.4 overall grade in his first season as a starter in 2020. Some combination of Okorafor, Zach Banner, Jarron Jones and Joe Haeg at tackle requires a lot of projection and could get ugly. The Steelers decided to bring Banner back after a knee injury ended his 2020 season just 59 snaps in, but the former USC Trojan has played just 85 snaps at tackle in four NFL seasons. At best, it's an unproven unit.
Jacksonville removed Tyler Eifert and Josh Oliver from its 2020 group at tight end and added former Carolina Panthers tight end Chris Manhertz. Those moves don't give the team any kind of additional receiving threat at the position. Manhertz's 52 receiving yards this past season tied for a career-high in his six-year NFL career, and that modest total came despite playing 502 offensive snaps.
"That was a high priority," Urban Meyer said of the Manhertz signing, per Jaguar Report's John Shipley. "We have two different styles of tight ends, one is a 'Y', which is — on the line, basically an extension of your offensive line, a very good blocker, but also very functional in the pass game."
To that point, Manhertz did come away with a career-best 69.0 run-blocking grade in 2020 and has improved there every year in the NFL. The Jaguars still lack any kind of receiving threat at the position, though. James O'Shaughnessy stands out as the top option, but he's coming off just a 57.6 overall grade and 28 catches this past season in Jacksonville.
Penei Sewell has been linked to Cincinnati at the top of the first round for the better part of a year. However, the Bengals are actually better off at the tackle position than they are at guard as things stand. Left tackle Jonah Williams was the team's highest-graded offensive lineman in 2020 (70.1 overall grade) in his first season of action. Cincinnati also went out and added former Vikings and Lions tackle Riley Reiff, who has graded out at 71.0 or higher in each of the past three seasons. That duo should form a capable starting tandem if healthy in 2021.
It's harder to say the same at guard. Here is the full list of Bengals who played at least 100 snaps at guard in 2020, and their PFF grade in those snaps.
PFF grades for Bengals' guards | 2020 season
Almost all of those grades were boosted by run-blocking performance, as well. The only guard to clear a 50.0 pass-blocking grade was Su'a-Filo in his limited action. His return should help, but really that's just an indictment on the current group more than anything. Su'a-Filo hasn't played 500 or more offensive snaps since 2017 and has just one season in his seven-year career with a PFF grade above 65.0 (67.4 in 2016).
This doesn't mean Sewell should be off the Bengals' board. Reiff isn't a long-term answer at tackle, and Sewell's addition would just force one of Cincinnati's three tackles to kick inside. However it gets done, it's a position that needs addressing with Joe Burrow returning from injury.
The Texans currently sport the lowest 2021 team win total in the NFL (4.5), and the defensive line is one of the first areas that pops up as a need heading into the 2021 NFL Draft. It could very well be one of the worst positional groups in the league.
Last season, Houston ranked 26th in team pressure rate and 29th in rushing yards allowed before contact per attempt. And that was with J.J. Watt, who is now a member of the Arizona Cardinals. There just wasn't much push up front.
Most rushing yards allowed before contact per attempt in 2020
It isn't necessarily for lack of trying. The Texans recently invested in their defensive, taking Charles Omenihu, Ross Blacklock and Jonathan Greenard in the draft, acquiring Shaq Lawson and Jacob Martin via trade and signing Maliek Collins and Jordan Jenkins in free agency. The group just hasn't produced at a high level yet. There are no guarantees it will in the future, either.
Blacklock — the 40th overall pick in the 2020 NFL Draft — managed just a 30.2 overall grade on 254 defensive snaps as a rookie. Greenard, who was selected one round later, recorded six pressures all season. Those early struggles shouldn't mean Houston stops going to the well as it looks to rebuild this roster from the ground up under a new coaching staff and front office.
This is another group that hasn't gotten to its current state for lack of trying. Three Las Vegas first- and second-round picks in the past two drafts targeted defensive backs.
Johnathan Abram is coming off a 2020 season in which he was the lowest-graded qualifying safety in the NFL (35.9 overall), finding himself out of position much too often in the Raiders' defense. Trayvon Mullen has yet to record a 60.0 coverage grade in either of his first two seasons. Damon Arnette — considered to be one of the bigger "reaches" in last year's first round — recorded a 37.5 coverage grade in a difficult rookie season where he missed significant time due to injury. 
The hope is that Gus Bradley's defense helps bring out the talent that the Raiders saw in each of those players, but that may be wishful thinking.
Beyond those presumptive starters, Las Vegas still needs a true free safety to play in those single-high coverages and a new starting slot cornerback. PFF favorite Amik Robertson could fill the latter role, but the Lousiana Tech product played just 35 snaps as a rookie last season. It should be a group that the Raiders look to add to in the coming weeks.