According to a report by ESPN's Adam Schefter, the Miami Dolphins have traded away the No. 3 overall pick in the 2021 NFL Draft to the San Francisco 49ers in a momentous deal for both franchises that will change the course of the entire offseason and potentially each franchise for years to come.
But things didn't stop there. They followed it up by trading with the Philadelphia Eagles to jump back up to No. 6 overall, spending one of the first-round picks they received from San Francisco to make that move happen.
This is the first and most sure sign that the team is fully invested in Tua Tagovailoa at quarterback. There had been talk about them being a natural destination for Deshaun Watson because of all of the trade ammunition — much of it courtesy of Houston originally — and the lure that a young quarterback like Tua could give a team like the Texans. But moving away from the No. 3 overall pick puts a huge dent in any trade package they could send Houston and likely becomes a sure sign that they believe in Tagovailoa, even when the alternative could be a player as good as Watson.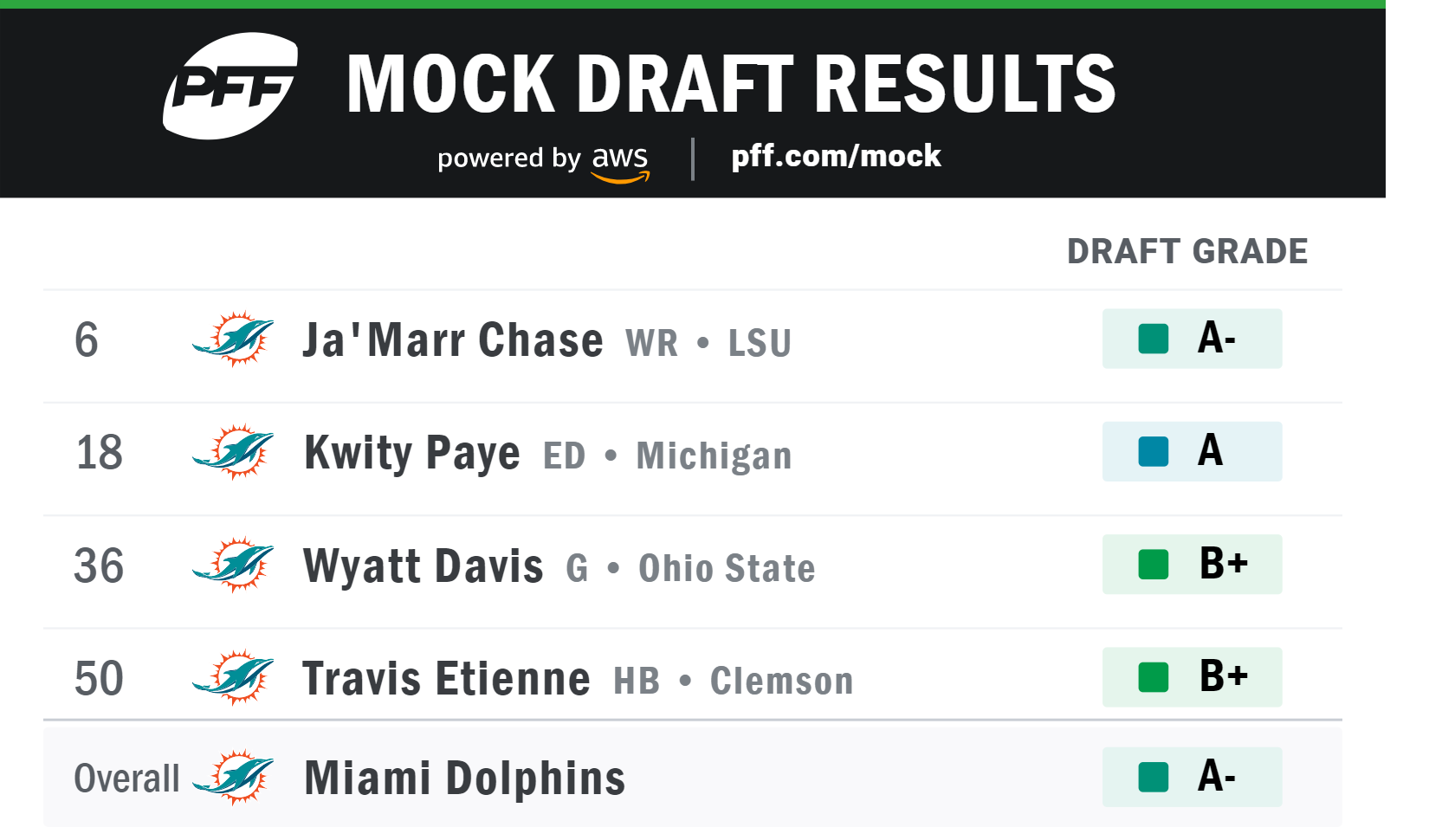 The important element of any potential trade with Houston was not that the team has given up on Tua after just nine rookie starts. It was that the potential upgrade was enough that they would see it as an opportunity too good to pass up and that the relative unknown nature of Tagovailoa was still of significant value to the Texans in return.
Tagovailoa was the fifth overall pick a year ago, coming into the league off the back of a devastating injury and from a college program where he was throwing to four wide-open first-round receivers on every play. That his adjustment period took longer than it did for both Joe Burrow and Justin Herbert shouldn't have been a surprise and doesn't mean he doesn't have a ceiling that can rival either player going forward.
An overall PFF grade of 65.4 was entirely average Year 1, and his turnover-worthy play rate of 3.7% is higher than you would like to see, but Tua was accurate — he recorded an adjusted completion percentage of 74.2% last season — and has much growth yet to realize in the NFL.
Miami has now flipped Laremy Tunsil into effectively four first-round draft picks, and the franchise gets to attack what is already a playoff-caliber roster with an influx of talented rookies over the next couple of years to surround Tua Tagovailoa with help.
The Dolphins could use a No. 1 receiver, and while they would have likely been guaranteed their choice of the best in the draft at No. 3, they could well face similar options at No. 12. Last season, we expected that each of Jerry Jeudy and CeeDee Lamb could be top-10 picks, but Henry Ruggs III was the first receiver off the board at No. 11 overall while Lamb and Jeudy slipped into the teens and beyond. Miami could still snag Heisman Trophy winner DeVonta Smith at No. 6 if enough teams are scared away by his slight 170-pound frame, or they could even look toward Ja'Marr Chase if the quarterback market is that strong at the top of the draft.
Smith would be a perfect fit within that offense. He has speed, quickness, body control and the best route-running of the class, not to mention familiarity with the Dolphins' quarterback. With Tua throwing him the ball in 2019, Smith generated a 152.5 passer rating and gained 3.5 yards per route run before increasing that production to even more ridiculous levels in 2020.
Chase simply has no real flaws to his game and was a dominant force in 2019 on the national champion LSU Tigers team while catching passes from Joe Burrow. Either player would be a huge upgrade for Miami and a massive boost to the fortunes of their young passer.
Miami also still has holes to address along its offensive line. The team could also use some impact players in the front seven on defense, and it now has unmatched draft capital to make that happen and be aggressive in targeting players that fit the franchise's vision.
This has been a case study in exemplary team building for the Dolphins, who seem to have found a coach in Brian Flores who is capable of making the best out of the talent at his disposal. With the New England Patriots no longer the force they once were within the division, the Dolphins may now rival the Bills to be the AFC East's top dog, and if their young quarterback develops the way they obviously think he will, Miami is going to be a fun team to watch.