The sad fact of the NFL draft that often gets swept under the rug this time of year is that the odds say not even half of the guys drafted in Round 1 are going to pan out in the NFL.
The fact is that there are very few certainties when it comes to predicting what 21- and 22-year-olds are going to look like in a few years. Some prospects already possess NFL-ready skill sets and a proven track record of success at the highest level of college football, which makes this projection somewhat easier. But others have only shown flashes of dominance or the promise of athletic potential, making them far less of a sure thing than the Trevor Lawrences, Kyle Pittses and Ja'Marr Chases of the world.
Here are 10 prospects who possess elite physical tools but have high bust potential, for one reason or another.
View PFF's 2021 NFL Draft position rankings:
QB | RB | WR | TE | T | iOL | DI | EDGE | LB | CB | S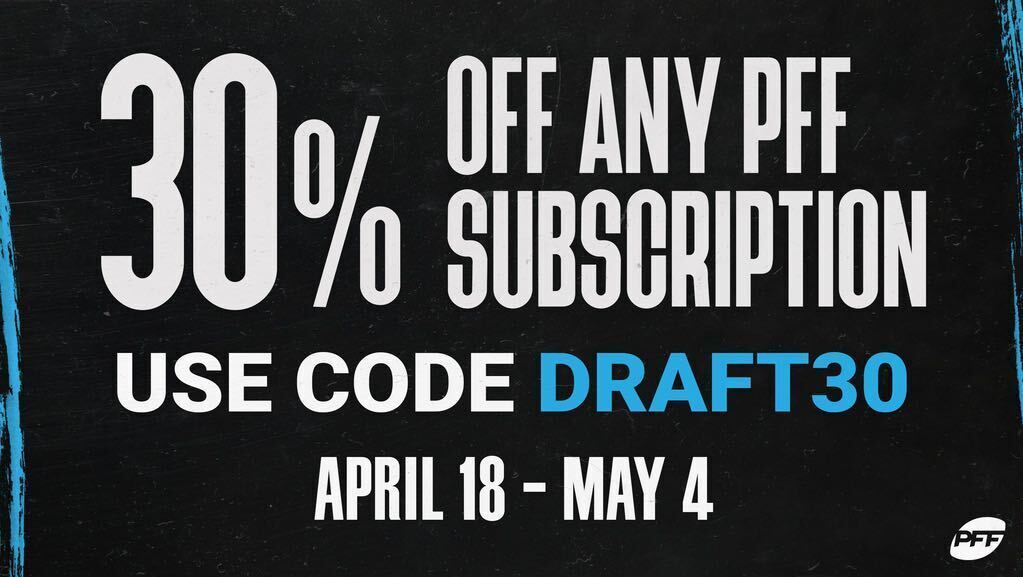 While this is the nature of the quarterback position, Lance has a number of aspects in his prospect profile that make him even more of an uncertainty than most.
Easily the biggest aspect is that we've barely seen him do the most important thing a quarterback is supposed to do: pass the football. Blessed with an absolute howitzer of an arm, Lance only attempted 319 passes in his college career.
Here's how that stacks up among the other top quarterbacks in the 2021 NFL Draft class:
That means we've seen more than three times more of Trevor Lawrence than we have of Lance. Add in the fact that we've only seen him against FCS competition, and it's easy to see how he's an unprecedented evaluation in modern football history.
TREY LANCE THROWING BOMBS ???? pic.twitter.com/1aza8i16M3

— PFF Fantasy Football (@PFF_Fantasy) April 19, 2021
It's easy to see why Toney is likely to go early in next week's draft. It doesn't take more than a few plays to understand that he moves differently than almost anyone on the planet.
Favorite slo-mo clip of 2021 draft cycle. Don't see any way @GatorsFB WR Kadarius Toney makes it out of first round next Thursday. Playmaking potential is special in @0fficialC2N. ⚡️???????? pic.twitter.com/feq5jAJcgs

— Jim Nagy (@JimNagy_SB) April 20, 2021
So, the fact that it took until Week 12 of his senior season for him to ever go for 100 yards in a single game is mildly concerning. It's also a little curious that despite boasting the size to play on the outside, at 6-foot and 190 pounds, Toney played only 348 of his 1,123 career snaps on the outside.
The fact of the matter is that Toney didn't thrive until he was given considerable leeway on option routes this past season and has struggled to run concise routes in his career. Now the question becomes, can he figure that out?
Little is one of the most difficult evaluations in the entire draft class. Such is life when you simply don't get to see someone play football. Little played one game in 2019 before a knee injury ended his season. He then opted out in 2020.
That means we've seen Little for a grand total of 72 snaps since he turned 20 years old. For comparison, we've seen 2,324 snaps from Oklahoma State tackle Teven Jenkins since he turned 20 years old, an average of 775 snaps a year over three years as a starter.
Little's talent is evident, though. He was quite clearly starting to figure it out. Over the second half of 2018 and through Week 1 of 2019, he allowed only one pressure and earned the highest pass-blocking grade in the country (93.3) over that span.
#Stanford LT Walker Little was such an intriguing watch, especially having only played 1 game in two years.

He's talented, and its apparent on film, recognizes stunts quickly, displays good footwork.

Shows flashes of dominance, but inconsistency as well. Upside is there though! pic.twitter.com/ApKOpPtQqS

— Devin Jackson (@RealD_Jackson) March 23, 2021
Smith has been heralded for his prodigious power ever since his true freshman year, which saw him lining up almost everywhere on the Tennessee offensive line.
If Class of 2017 No. 1 overall recruit Trey Smith comes to block you, just lay down: pic.twitter.com/hmInF3kdPi

— Jim Weber (@JimMWeber) September 5, 2017
Unfortunately, we've not seen him develop much in the way of consistency after being jostled around positionally and then dealing with blood clots in his lungs that robbed him of some offseason time.
There are valid excuses for why he's still raw after four years of college football, but that doesn't mean he's a sure thing to figure it out. After earning a PFF grade of only 73.4 this past season, Smith has a way to go.
Oweh's pro day was truly the most impressive we've seen in our seven years of grading college football players. At 6-foot-5, 257 pounds with 34.5-inch arms, Oweh ran a 4.37 40, recorded a 39.5-inch vertical, 11-foot-2 broad, and 6.9 three-cone. That 40 time and broad jump are the single best figures ever for a defensive end in our database dating back to 2000.
The problem is all that didn't lead to a single sack in seven games this past season. Oweh only started playing football in 2016, and it shows with his limited pass-rushing moves on tape. Still, he's come a long way in a short amount of time, and despite the zero in the sack column, he earned an 85.3 overall grade last season. He's got a lot to improve upon, but his physical tools make his life a lot easier on the edge.
How many times have you ever seen an edge chase down a jet sweep from behind?

Jayson Oweh is a freak pic.twitter.com/K9WHunawZx

— Mike Renner (@PFF_Mike) February 22, 2021
Tryon has a tried and true combination of length and linear explosiveness that can be a bull-rushing threat at the next level. The problem is, that was pretty much all he had on tape at Washington before opting out in 2020.
In his last season, 2019, Tryon only earned a 62.0 run-defense grade and a 71.9 pass-rushing grade. Those are exceedingly pedestrian numbers, but you still saw the high-end reps interspersed. Not getting able to see his next step in 2020 only adds more uncertainty to what he could be in the NFL.
#Patriots draft target: Washington EDGE Joe Tryon. Explosiveness to make plays behind the line of scrimmage and strength/size to set the edge at 6-5, 260 pounds.

Here's Tryon getting his arms extended to set the edge vs Penei Sewell. Gotta imagine Pats take notice of this rep. pic.twitter.com/3CP9ukycV7

— Evan Lazar (@ezlazar) March 1, 2021
The high-end games from Nixon were nothing short of special this past season. The problem was they didn't come consistently and came against the lower-level offensive lines he faced. He was a wrecking ball against Northwestern this past season, with three sacks and seven run stops. He also dominated against Purdue, where he racked up seven pressures.
Those two games accounted for nearly half his pressures on the season, though, as he only put up 11 in his other six games. That's quite the discrepancy for a player who should be dominating weekly with his physicality.
#Patriots draft target: Iowa DL Daviyon Nixon. Feel like Nixon is what some Pats fans want Christian Barmore to be and had much better college production.

Explosive, fluid with quickness for a big guy, bull rush or use his arm over, great lateral mobility to work down the line. pic.twitter.com/63rKgS0Ese

— Evan Lazar (@ezlazar) February 19, 2021
Browning is yet another player who put up an all-time pro day. At 6-foot-2 and 246 pounds, Browning ran a 4.56-second 40, vertical jumped 40 inches, recorded a 10-foot-10 broad jump and blazed a 6.78 three-cone. Those are all elite times for an off-ball linebacker, let alone one with his size. When it came to the football field, though, all too often that athleticism didn't show up.
Here he is completely giving up the edge on a run to Trevor Lawrence in this year's playoffs.
I'm yelling into a dark void here but the entire Ohio State defense play this perfect, except Baron Browning who gets too far up the field and loses the angle. If he's flat he forces Lawrence into the boundary or into a cutback tight to J-Coop. Frustrating.pic.twitter.com/1HPwkabLkt

— Keagan Stiefel (@KeaganStiefel) January 2, 2021
All too often he was stuck in the mud trying to process what was going on in front of him. That's why arguably his best role at the NFL level will come on the line of scrimmage. He flashed as an edge rusher when given the opportunity, and his physical tools will certainly play as a pass-rusher.
Joseph not only has concerns on the field, but he also has them off the field. He was suspended for LSU's bowl game his freshman year and subsequently transferred to Kentucky. Then, midway through the 2020 season, he was instructed to opt-out by Kentucky's coaching staff because of effort concerns.
Those issues may very well go hand in hand with the inconsistent tape we saw in 2020. The high-end games, such as the contest against Alabama where he allowed zero catches from three targets with a pick, or against Tennessee where he allowed two catches from four targets for 10 yards with a pick and pass breakup, are special. The low end, the games against Florida, Vanderbilt and Auburn, where he allowed over 200 yards and two scores with no picks or pass breakups, is concerning.
He's got the high-end athleticism, but he's also never seen a double move he didn't want to jump on.
The more I watch Kentucky, the more Kelvin Joseph stands out on film. Tennessee game was something special. pic.twitter.com/yMgeQhFSnZ

— Mike Spencer Hrynyshyn (@MikeH_Draft) March 6, 2021
Johnson is yet another player we've barely seen. He's only been on the field for 406 coverage snaps for his career between slot cornerback in 2019 and safety this past season. Compare that to other top safeties in this class — Richie Grant has logged 1,362 coverage snaps, for example —  and it's easy to see how he lacks experience.
Still, he quite easily makes up for it with some insane ball skills. On those limited snaps — approximately one full season's worth — Johnson has picked off seven passes and broken up six more. With how smooth he is and how well he tracks the ball, those numbers are no fluke.
The "wow" plays on Jamar Johnson's tape are wild — LOVE the fluid hips/feet.

(????️: @MattBowen41) pic.twitter.com/0BpUOMPco6

— Austin Gayle (@PFF_AustinGayle) April 16, 2021
---
More of PFF's 2021 NFL Draft tools here: 
2021 NFL Draft Big Board | 2021 NFL Draft Guide | 2021 NFL Draft Stats Export | NFL Mock Drafts | NFL Mock Draft Simulator