PFF's 2021 NFL Draft Guide includes scouting reports and advanced data on 150 draft prospects. So, what better way to celebrate its initial release than to take a look through the PFF lens at the top prospect at each position, along with one prospect to keep an eye on as we navigate through draft season.
PFF's 2021 NFL Draft Guide is live and available to all EDGE and ELITE subscribers. If you're already an EDGE or ELITE subscriber, download your copy here.
Alijah Vera-Tucker played defensive end and offensive tackle at the Bay Area preps juggernaut that is Oakland's Bishop O'Dowd High School. He earned USA Today All-California first team and Cal-Hi Sports All-State first team, among other honors in 2016. He received more than 15 scholarship offers as a four-star offensive tackle recruit, including USC, Colorado, Arizona, Michigan and Texas A&M, among others. He committed to the Trojans in August 2016.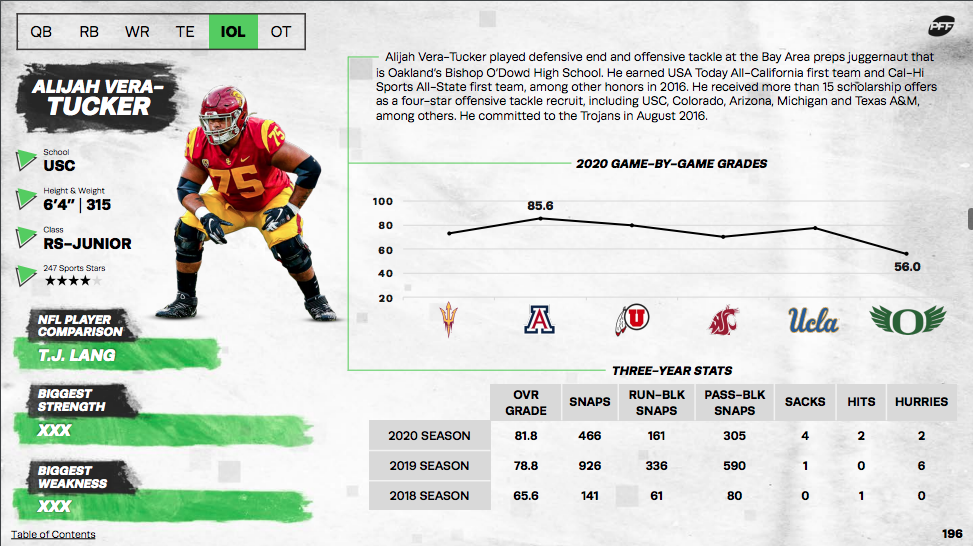 We already knew Vera-Tucker was a very good guard, but it took him kicking out to tackle in 2020 to see just how much of an all-around player he really is. He put on a clinic at left tackle this past season, allowing only two pressures in his first five games before being exposed by future first-rounder Kayvon Thibodeaux of Oregon in the Pac-12 championship game. Watching Vera-Tucker work in space was a sight to behold, though, as he plays such a steady brand of football. While he's still better suited for the interior at the next level, having played three positions in his college career will be a plus.
NFL player comparison: T.J. Lang
Biggest strength: N/A
Biggest weakness: N/A
Projection: First-round to second-round pick
Bottom line: Vera-Tucker is one of the cleanest offensive tackle prospects in
the entire class. He's also a high-floor guard.
For advanced stats, pros and cons, passing heatmaps, three-year grades, game-by-game breakdowns and more, download your copy today!
---
Dickerson played his way into a five-star ranking from 247Sports as the second-best prospect in the state. He hails from Hudson, North Carolina and was a student at South Caldwell. Dickerson played for Team Armour in the 2016 Under Armour All-America Game and competed at Nike's The Opening prospect camp in 2015. He received 21 offers, according to 247Sports, and signed with the Florida State Seminoles over his future team, the Alabama Crimson Tide and others.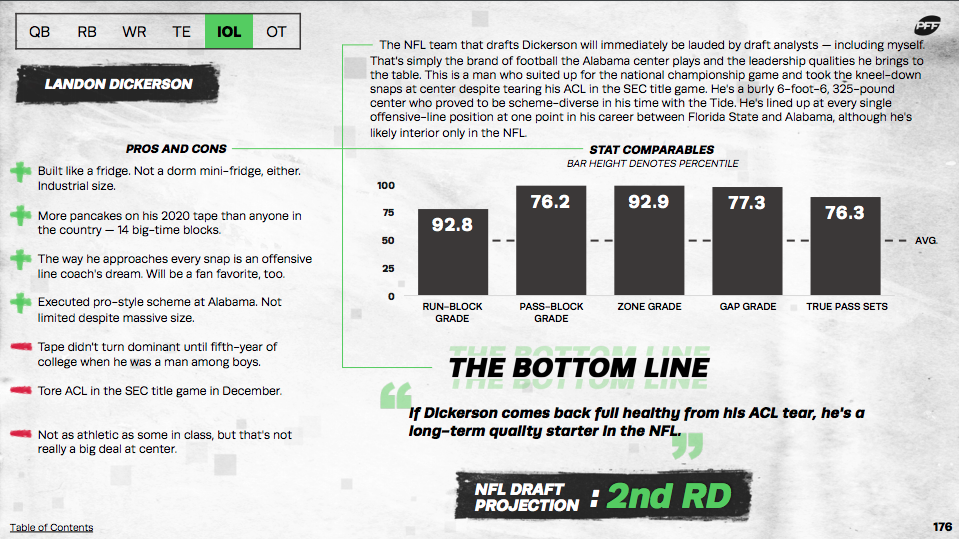 The NFL team that drafts Dickerson will immediately be lauded by draft analysts — including myself. That's simply the brand of football the Alabama center plays and the leadership qualities he brings to the table. This is a man who suited up for the national championship game and took the kneel-down snaps at center despite tearing his ACL in the SEC title game. He's a burly 6-foot-6, 325-pound center who proved to be scheme-diverse in his time with the Tide. He's lined up at every single offensive-line position at one point in his career between Florida State and Alabama, although he's likely interior only in the NFL.
NFL player comparison: N/A
Biggest strength: Grown man strength
Biggest weakness: Torn ACL
Projection: Second-round pick
Bottom line: If Dickerson comes back fully healthy from his ACL tear, he's
a long-term quality starter in the NFL.
For advanced stats, pros and cons, passing heatmaps, three-year grades, game-by-game breakdowns and more, download your copy today!
---
Trey Smith had his choice of Tennessee, Alabama, Ohio State and Ole Miss among 22 other offers coming out of Jackson, Tennessee, as a five-star recruit at 6-foot-5, 310 pounds in 2017. Considered the No. 5 player in the country by 247Sports, Smith could have gone to any school in the country but ultimately opted for Tennessee, committing to Butch Jones and the Vols in December 2016. Per Tennessee's official athletic site, Smith was a two-time Tennessee Mr. Football, two-time District OL of the Year, two-time Player of the Year and two-time Offensive Lineman of the Year while attending the University School of Jackson.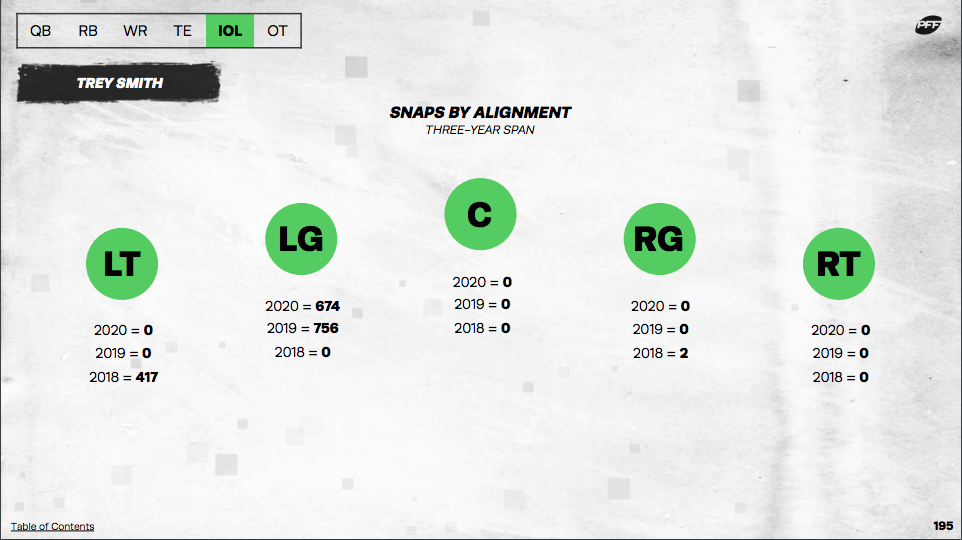 Smith has been getting first-round buzz ever since joining Tennessee. He played three different positions competently as a freshman before kicking out to left tackle full-time as a sophomore and looking out of place with a 62.9 overall grade. Smith has continuously battled blood clots in his lungs, which have cost him games and practice time. The next step toward dominance that was once promised never came, as he peaked with a 78.6 overall grade in 2019. He'll flash some monster blocks, and his pop on contact is about as good as it gets in the class. After four years, though, consistency is still the issue.
NFL player comparison: N/A
Biggest strength: Pop in his hands
Biggest weakness: Medical history
Projection: Fourth-round pick
Bottom line: Trey Smith's medicals will obviously be huge, but his inconsistent on-field play won't help his cause, either.
For advanced stats, pros and cons, passing heatmaps, three-year grades, game-by-game breakdowns and more, download your copy today!
---
QB | RB | WR | TE | OT | iOL | DI | EDGE | LB | S | CB