The trenches on the offensive side of the ball are chock full of elite pass-protectors and run-blockers returning to college football in 2020. Diving into PFF's database that is used by all 32 NFL teams and 70 FBS programs, we give you the top offensive linemen set to return to the college stage in 2020:
[Editor's note: Check out our other top college football returner lists, including quarterbacks, wide receivers, running backs and defensive backs.]
30. C Jarrett Patterson, Notre Dame
Patterson did not disappoint in his first year starting at center for the Fighting Irish. There wasn't a single game this year where he allowed multiple pressures, and he ended up surrendering the seventh-lowest pressure rate among centers returning in 2020.
29. T Alex Leatherwood, Alabama
Leatherwood was getting some first-round love before he opted to return to Alabama for one more season in 2020. After playing at right guard for the Crimson Tide in 2018, Leatherwood made the move back to left tackle and found success, finishing as one of five left tackles to not allow a sack and surrender one or fewer hits on their quarterback. Penalties got to Leatherwood, who had the sixth most at left tackle (nine total), and his run-blocking needs some work, but his pass-protection prowess will make him highly coveted by NFL teams come 2021.
28. T Liam Eichenberg, Notre Dame
Eichenberg didn't allow a single sack at left tackle this year and was solid across the board, generating an 85.5 pass-blocking grade and a 78.8 run-blocking grade. Similar to Leatherwood, penalties were a massive issue for him in 2019 — he had 11 on the year, the third most for his position.
27. G Joshua Fedd-Jackson, NC State
Fedd-Jackson took a big step forward this year at right guard, having his PFF overall grade rise from 69.9 in 2018 to 78.0 in 2019. The increase largely has to do with his improvement in run-blocking, where his grade rank went from 31st to fourth.
26. G Luke Fortner, Kentucky
Fortner primarily has played at right guard for the Wildcats, but he could plug in anywhere, at any time, and still have success. Among all offensive guards, Fortner produced the 18th-best PFF grade. He's allowed just eight pressures on his 377 career pass-blocking snaps and was an integral part of Kentucky's switch to the run-heavy offense with Lynn Bowden midseason.
25. G Josh Rivas, Kansas State
He didn't see a start for Kansas State in 2019, but Rivas certainly proved he's deserving of ample playing time on the Kansas State offensive line — his wins above average (WAA) total ranked tied for 13th among offensive guards this past year despite him playing only 377 snaps. He has yet to allow a sack on his 306 career pass-blocking snaps, and he's allowed just 10 pressures overall. Not to mention, he had the highest run-blocking grade among left guards this year.
24. G Aaron Banks, Notre Dame
Left guard Aaron Banks started the final six games of 2018 and maintained that role in 2019, allowing minuscule pressure along the way. His 2.1% pressure rate allowed over the last two seasons at left guard is tied for the seventh lowest in the FBS.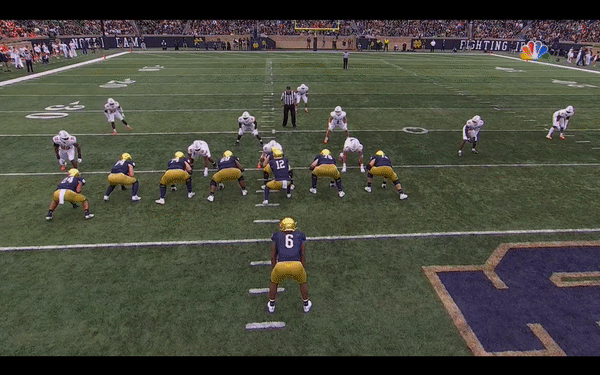 23. T Robert Hainsey, Notre Dame
The fourth member of the Fighting Irish's stout offensive line cracks the top-30 list, and he has been an integral piece to their line for the past three years. Hainsey has logged over 1,800 snaps at right tackle in that time span and has been a wall in pass-protection over the last two, particularly. Since the start of 2018, Hainsey has allowed the third-lowest pressure rate at right tackle among returners.
22. T Luke Goedeke, Central Michigan
In his first year starting for Central Michigan, Goedeke came away as the seventh most valuable right tackle in PFF WAA. Goedeke surrendered a fair amount of pressure, but his run-blocking carried his performance, as he ranked 11th among all right tackles in PFF run-blocking grade.
21. G Peter Nestrowitz, Navy
After playing mostly left tackle in 2018, Nestrowitz moved to right guard in 2019 and found great success. Among all right guards in 2019, Nestrowitz was the fifth most valuable in PFF WAA. He opened up holes consistently in Navy's option offense.
20. T Brady Christensen, BYU
BYU's Christensen has been one of the more underrated left tackles in the FBS for the past couple of seasons now. His two-year PFF pass-blocking grade was second to only Josh Jones, and he has allowed just four combined sacks and hits on his 938 pass-block snaps. Christensen's run-blocking had to improve in 2019 — and it did. His run-blocking grade shot up from 67.2 to 81.4 this past season.
19. C Michal Menet, Penn State
Menet's pass-blocking has been good but not great in his time at Penn State. However, his run-blocking has been in the upper echelon among centers. Menet's two-year run-blocking grade is the sixth best in the FBS among centers. As such, it's clear Penn State will have one of the 10 best centers returning to school this fall.
18. C Drake Jackson, Kentucky
Jackson has been Kentucky's starting center since Week 8 of his 2017 redshirt year and has produced a PFF pass-blocking grade above 76.0 in each of his three seasons. Like his teammate Luke Fortner, Jackson adjusted to the offensive change nicely, producing the ninth-best run-blocking among centers this year.
17. C Doug Kramer, Illinois
The Fighting Illini have one of the best pass-blocking centers in the FBS in Kramer, who has been in pass-pro over 800 times these last two years and has come away with the sixth-best two-year pass-block grade and fifth-best pressure rate allowed. Just two of his 12 total pressures surrendered in that period have been a sack or a hit.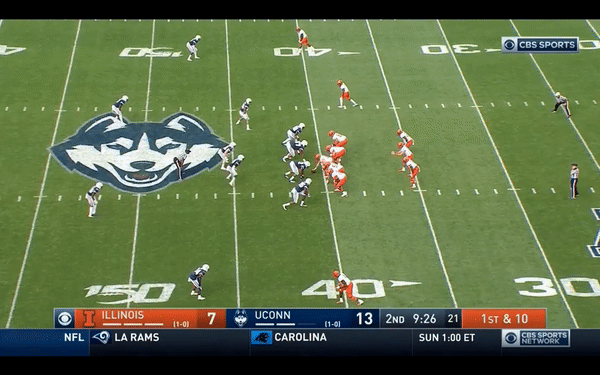 16. C Tyler Linderbaum, Iowa
Linderbaum could not have had a better redshirt freshman campaign, finishing the year as the fifth highest-graded center in the FBS. He had a couple of rough games against Penn State and Wisconsin but finished out the year strong by not allowing a single pressure in his final four games. The most impressive part about Linderbaum, though, is the fact he had all this success at center despite starting his collegiate career as a defensive tackle and switching to center after redshirting in 2018.
15. G Alijah Vera-Tucker, USC
There wasn't a better pass protector at left guard in 2019 than Vera-Tucker. His 88.6 pass-blocking grade and 1.1% pressure rate allowed at that alignment led the FBS. Over the course of his last 329 pass-block snaps of the 2019 season, he allowed just one pressure.
14. T Kayode Awosika, Buffalo
Buffalo has had a special talent over at right tackle since the start of the 2018 season in Kayode Awosika. In that two-year stretch, Awosika has produced a PFF overall grade that is the fourth best in the FBS. While his pass-blocking has been good, sitting at 19th in two-year PFF pass-block grade, his run-blocking has been his greatest strength, as he was fourth in two-year run-blocking grade.
13. C Noah Hannon, Appalachian State
Hannon has rarely had a bad play across his 2,675 snaps at center for Appalachian State. Among centers, Hannon has cracked the top 10 in PFF WAA in each of the last two seasons and the top 20 as a true freshman in 2017. In only two of his 40 career games has Hannon allowed multiple pressures.
12. T Darian Kinnard, Kentucky
Kinnard's run-blocking at right tackle was on another level this year — his 89.1 run-blocking grade was the fifth best at his position. When the Wildcats ran inside zone, Kinnard was making plays left and right and raised his run-blocking grade to an FBS high 93.4. All-in-all, Kinnard finished the year with the fifth-highest WAA among right tackles and was the highest among sophomores/freshman.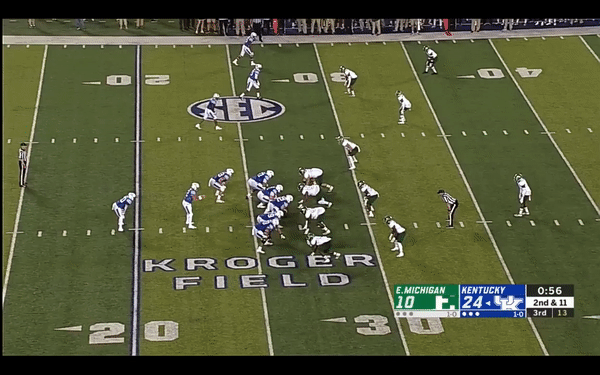 11. C John Michael Schmitz, Minnesota
He didn't see a whole lot of time on the college field until Week 5 this past season, but Schmitz dominated on his 452 snaps in 2019. Schmitz produced a WAA total that was seventh best at the position in 2019 and was third in PFF overall grade. The Gophers had Schmitz start only four times this past year, and he has made the most of every one — proving he is deserving of a full-time starting role.
10. C James Empey, BYU
Over the past two seasons starting at center for the Cougars, Empey has been among the five most valuable offensive linemen in PFF WAA. In two-year PFF grade, Empey is first among centers pass-blocking and third in run-blocking. James Empey is a name you'll want to remember come draft season next year.
9. T Christian Darrisaw, Virginia Tech
In his true freshman and sophomore seasons the past two years, Darrisaw has combined to produce a WAA total that is 14th among all offensive linemen. In 2018, Darrisaw's run-blocking was a tad inconsistent, but he turned things around in 2019. His PFF run-blocking grade jumped from 66.0 to 78.9, making him an all-around player and a top offensive lineman to return in 2020.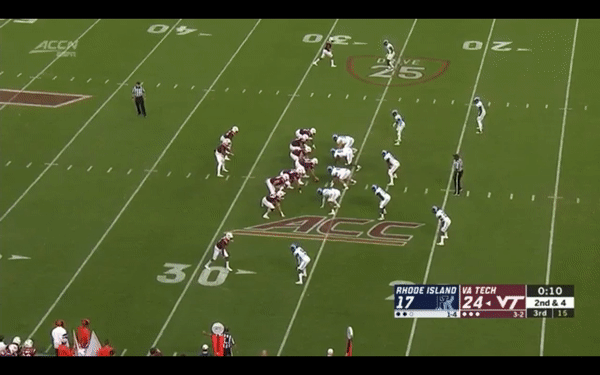 8. T Parker Ferguson, Air Force
Ferguson paved holes for their triple-option attack at a high level in 2019. His 85.6 run-blocking grade was sixth among left tackles, and his WAA total tied for second. The Falcons hardly pass the ball, but if they do, they know they'll have a solid pass-protector on their hands, as well — Ferguson has allowed just 10 pressures on 279 career pass-block snaps.
7. C Creed Humphrey, Oklahoma
It's no secret that Humphrey's 2018 redshirt freshman season was significantly better than his 2019 campaign, as his pass-blocking grade dropped from 84.4 to 58.0. However, Humphrey has still been one of college football's best centers all-around when taking the past two years combined into account. His combined WAA in that span is among the five best players returning to college football, regardless of position. He has 896 career pass-blocking snaps and has given up just two hits while still not allowing a sack.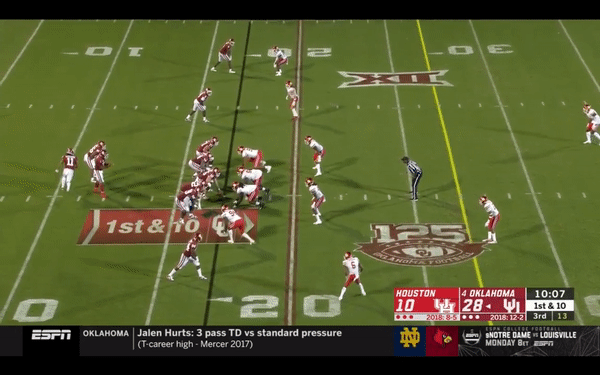 6. T Rashawn Slater, Northwestern
Slater broke out hard in his move to left tackle in 2019 after spending his first two collegiate seasons at right tackle. Slater was by no means bad at right tackle — recording a 75.0 and 76.6 PFF overall grade in 2017 and 2018, respectively, at that alignment — he was just another animal at left tackle. His 90.1 PFF overall grade there trailed the number one person on this list and two others who are first-round prospects for this upcoming NFL draft.
5. T Samuel Cosmi, Texas
Cosmi, a redshirt sophomore, opted to return to Texas instead of declaring for the NFL draft to try and improve his stock. If he finds a way to improve just marginally in 2020, Cosmi will likely be on his way to the first-round next year. He was already a great player these past two years — in 2018 his WAA total was the second best among left tackles, and in 2019 he allowed just one combined sack and hit on his 595 pass-block snaps.
4. T Cole Van Lanen, Wisconsin
The Wisconsin left tackle took a big step back in 2019 from his elite 2018. After producing the highest PFF overall grade at his position in 2018, Van Lanen dropped to 40th in 2019 — so there is cause for concern. The regression mostly took place in pass-protection, but his run-blocking went from elite to very good. His two-year PFF run-blocking grade still is the third best among left tackles, though.
3. G Nolan Laufenberg, Air Force
Air Force's triple-option offense lands its second member in the top 10 of returning offensive linemen who has paved the way to success. Laufenberg had one of the best seasons in 2019 we have seen at his position in regard to WAA:
Highest WAA by a left guard in a single season (since 2014)
| | |
| --- | --- |
| 1. Quenton Nelson, Notre Dame (2017) | 0.34 |
| 2. Nolan Laufenberg, Air Force (2019) | 0.27 |
| 3. Colby Gossett, App State (2015) | 0.26 |
| 4. Laken Tomlinson, Duke (2014) | 0.24 |
| 5. Will Hernandez, UTEP (2016) | 0.21 |
Obviously, Laufenberg's success came from his run-blocking, and he still needs a bit more work on pass-pro for long-term success, but he fits the Air Force system perfectly and is an integral piece to its rushing success.
2. G Wyatt Davis, Ohio State
Davis saw his first two starts come in the 2018 Big 10 Championship game and Rose Bowl due to the Buckeyes' original starter being out with an injury. And in that role, he performed just OK. This year, though, Davis came into the year the starter and far exceeded expectations by not allowing a sack or hit on his 459 pass-block snaps and recording the second-highest overall grade at his position. His WAA tied for the fifth best we have seen from a right guard in the PFF College era, and he is now likely to be a top prospect in the next draft cycle.
1. T Penei Sewell, Oregon
This one wasn't even a debate. Sewell's 95.5 PFF overall grade in 2019 not only led all offensive linemen regardless of alignment this year, but it was the highest PFF College has ever seen. His WAA this year is among the likes of Ryan Ramczyk, Quenton Nelson and Shaq Mason — who are all starting in the NFL and performing at a high level. If he were draft-eligible this year, he'd most certainly be a top-five lock. Sewell is the only offensive lineman to produce a PFF pass-blocking and run-blocking grade above 90.0 and one of the best players returning to college football, regardless of position.