The 2020 NFL Draft's receiving class — one that contains Ceedee Lamb, Jerry Jeudy, Laviska Shenault Jr., Henry Ruggs III, Tee Higgins and Tyler Johnson — is arguably the best in history. But that doesn't mean college football will be short on receiving talent next season. Using PFF's database that is used by all 32 NFL teams and 70 FBS programs, we give you the top 25 wide receivers who'll be returning to college football in 2020.
25. Charleston Rambo, Oklahoma
Ceedee Lamb wasn't the only Oklahoma wide receiver who brought value to the Sooners. Redshirt sophomore Charleston Rambo saw the second-most targets on the team and held his own by generating 16 plays that resulted in a gain of 15-plus yards. Rambo was at his best when running an in-breaking route, where he caught 12 of his 16 passes for a near-perfect passer rating of 156.3 and an FBS-high 21.6 yards per target.
24. Garrett Wilson, Ohio State
Garrett Wilson showed flashes of play throughout his true freshman campaign that will surely excite Ohio State fans. Wilson has excited fans specifically with his ability to beat press off the line with his straight-line speed and his ability to win in contested situations. He caught four of his seven contested targets 10-plus yards downfield in 2019, with two of those resulting in a touchdown.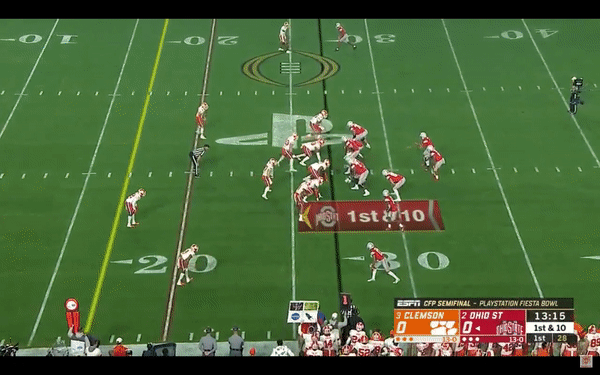 23. Amon-Ra St. Brown, USC
Amon-Ra St. Brown was hardly used as a deep threat in his sophomore season, but the results from his limited usage show that he probably should be used more in that facet. The USC wideout hauled in nine of his 14 targets 20-plus yards downfield for 376 yards and five touchdowns. Not to mention, he caught five of his six contested targets on those deep passes.
22. Tamorrion Terry, Florida State
Florida State's Tamorrion Terry is one of college football's top players after the catch, and he's a 60-plus yard touchdown waiting to happen. In fact, he had six plays this season that resulted in a gain of 60 or more yards, which was more than any other receiver in college football. Terry closed out the 2019 season with a hot stretch, recording the seventh-best receiving grade from Week 11 on.
21. Skyy Moore, Western Michigan
As a true freshman, Skyy Moore was both the most targeted receiver on the Western Michigan roster and the highest-graded wideout on the team. Moore exploded upfield out of horizontal routes better than anyone else, as he averaged an FBS-high 13.2 yards after the catch per reception on those.
20. Reggie Roberson Jr., SMU
Reggie Roberson Jr. was on his way to a great season until he suffered a season-ending injury midway through the year. In his eight games played, Roberson earned an 83.8 receiving grade that trailed only his teammate James Proche for best in the AAC. Roberson ran some of the best post routes of the 2019 season; he caught five post-route targets for 274 yards in 2019, which accounted for over a third of his total yards on the year.
19. Whop Philyor, Indiana
Philyor was given a bigger role in his third season with the Hoosiers, and he made the most of it by gathering the 14th-most explosive plays of 15 or more yards from the slot (21). Whop is a speedster and difficult to take down if he's not in tight coverage. On his targets from the slot when he had a step or more of separation, Philyor broke the 10th-most tackles and recorded the fifth-most yards after contact.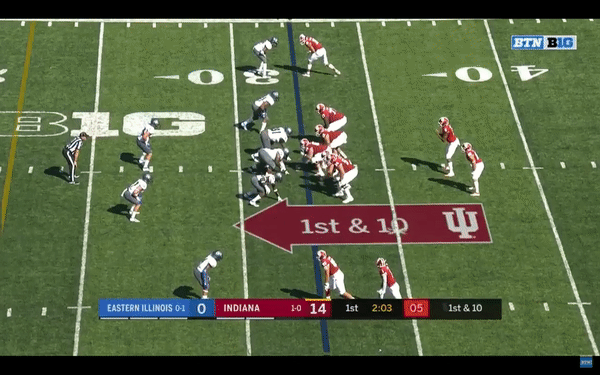 18. Quian Williams, Eastern Michigan
In his first season with significant reps, Quian Williams was one of the more reliable targets in the FBS. He was used mostly on short targets and caught all 36 of his targets less than nine yards downfield. Overall, he dropped just one pass on the year and generated a passer rating of 144.6 on his targets.
17. C.J. Johnson, East Carolina
True freshman C.J. Johnson was just a three-star recruit, but he was one of the three best first-year receivers in college football in 2019. Johnson torched single coverage for the fifth-most receiving plays of 15-plus yards (18), the eighth-most yards after the catch (204) and the 12th-most contested catches (12).
16. Tre Walker, San Jose State
Third-year receiver Tre Walker has been a weapon for San Jose State for the last two years now, as he is among the 20 best at his position in two-year PFF grade. Walker is 'only' 5-foot-11, 175 pounds but has made some of the best back-shoulder grabs over that period. Since 2018, Walker has caught eight of his 10 contested back-shoulder targets, leading the FBS.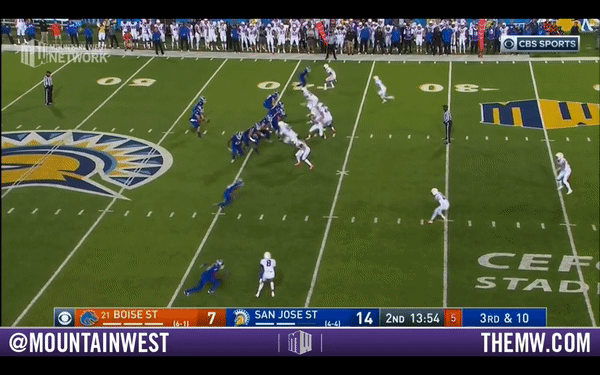 15. David Bell, Purdue
Someone had to pick up the targets for Purdue after their best receiver was lost to injury, and true freshman David Bell was the guy who did so. He hardly generated any separation and saw more contested targets than anyone in college football, but he held his own in tight coverage by catching 68.6% of such catchable targets 10-plus yards downfield.
14. Warren Jackson, Colorado State
The 6-foot-6 junior Warren Jackson greatly improved in 2019 and finished the year as the nation's eighth-highest graded receiver. Jackson has bodied his opponent in tight coverage, and his PFF grade in such situations is a testament to that, as it ranks behind only Tee Higgins and Ja'Marr Chase on the year. At this rate, Jackson will join former Colorado State Rams Olabisi Johnson and Preston Williams in the NFL if he sustains this play in 2020.
13. Sage Surratt, Wake Forest
Unfortunately, Sage Surratt had his 2019 season cut short due to injury, but what we saw from him when healthy proves he's a top returner in 2020. His size and strength make him difficult to defend in press-man coverage. On such plays, Surratt ranks eighth among receivers in raw PFF grade per play, and his seven scores are tied for fourth.
12. Khalil Shakir, Boise State
Boise State Bronco Khalil Shakir was one of the top slot receivers in the game in 2019, and his 90.1 slot receiving grade is currently the fourth-highest in the nation. From go routes to slants to jet sweeps, Shakir showed he could run any and all routes and remain productive. He picked up a first down on 50% of his catches short of the sticks and ranked in the top 10 in both yards after the catch per reception and passer rating generated.
11. Dazz Newsome, North Carolina
Dazz Newsome benefitted from having the fourth-best returning quarterback throwing him the ball, and he improved his receiving grade from 67.3 in 2018 to 84.6 in 2019. Newsome played nearly every single one of his snaps in the slot in 2019, and he was a legit deep threat there, as his PFF grade on 20-plus yard targets from the slot trailed only Tyler Johnson.  Newsome also showed that he could win in contested situations by catching five of six contested targets that came 20-plus yards downfield.
10. Chris Olave, Ohio State
Sophomore receiver Chris Olave had a breakout year in 2019 and could separate better than anyone with his speed and route running. Over 57% of his targets thrown 10-plus yards beyond the line of scrimmage had two or more steps of separation, which both led the country and was 23 percentage points above the average. Olave produced the most touchdowns (5) and catches (7) on targets 30 or more yards downfield with open separation.
9. George Pickens, Georgia
Not only was George Pickens the best true freshman receiver in the country, but he was among the 20 best receivers in terms of PFF grade. He wasn't the best in contested situations, but he had reliable hands downfield and was just one of 11 receivers who saw more than 25 catchable targets and didn't drop a single pass.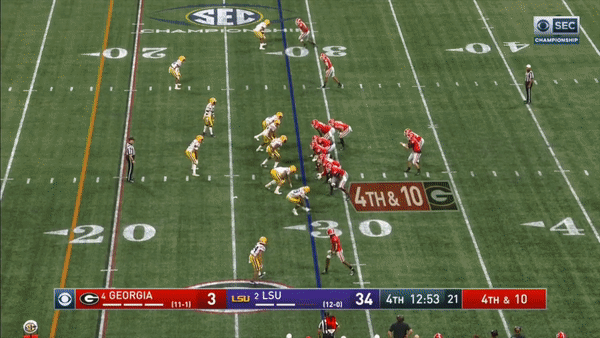 8. Tutu Atwell, Louisville
If you don't know the name Tutu Atwell by now, be sure to make a note of it, as his 91.7 receiving grade in 2019 was the third-best at his position. The 5-foot-9, 153-pound sophomore broke out this year and made his mark as one of the top screen receivers in college football with his elite speed. Atwell was the only wideout to produce a 90.0-plus grade on screens, and he led the country in explosive plays generated off those, with eight of his 23 screen receptions going for 15 or more yards.
7. Justyn Ross, Clemson
Justyn Ross' true freshman 2018 season blew college football fans away after he produced a 91.2 receiving grade that ranked second among 387 qualifying FBS wide receivers. His receiving grade regressed a little in 2019, dropping to 79.1, but he is still among the top returners when taking the last two seasons into account. He is still one of the top jump-ball receivers in college football and can go up and snag a contested ball with ease downfield. Over the last two years, Ross has caught eight of his 12 contested targets 20-plus yards downfield.
6. Tylan Wallace, Oklahoma State
In 2018, Wallace was used extensively as a downfield threat, owning an average depth of target of 17.4 yards and hauling in the most 20-plus yard catches in the country. However, this past season, his average depth of target dipped by six yards. Still, he proved to be a threat underneath and after the catch by becoming the only receiver in college football to generate a perfect passer rating of 158.3 on underneath targets.
5. Rondale Moore, Purdue
After being limited to only four games in 2019 due to injury, Purdue's Rondale Moore still cracks the top five due to his true freshman campaign in 2018. That season, Moore was seventh in PFF grade, and his 37 broken tackles on the year were eight more than anyone else. Moore has been used extensively on short, quick targets for the Boilermakers, with 118 of his targets in 2019 coming nine yards or less from the line of scrimmage — 22 more than anyone else. He was highly successful on these, too, as he was just one of two wide receivers to produce a PFF grade above 90.0 on such targets.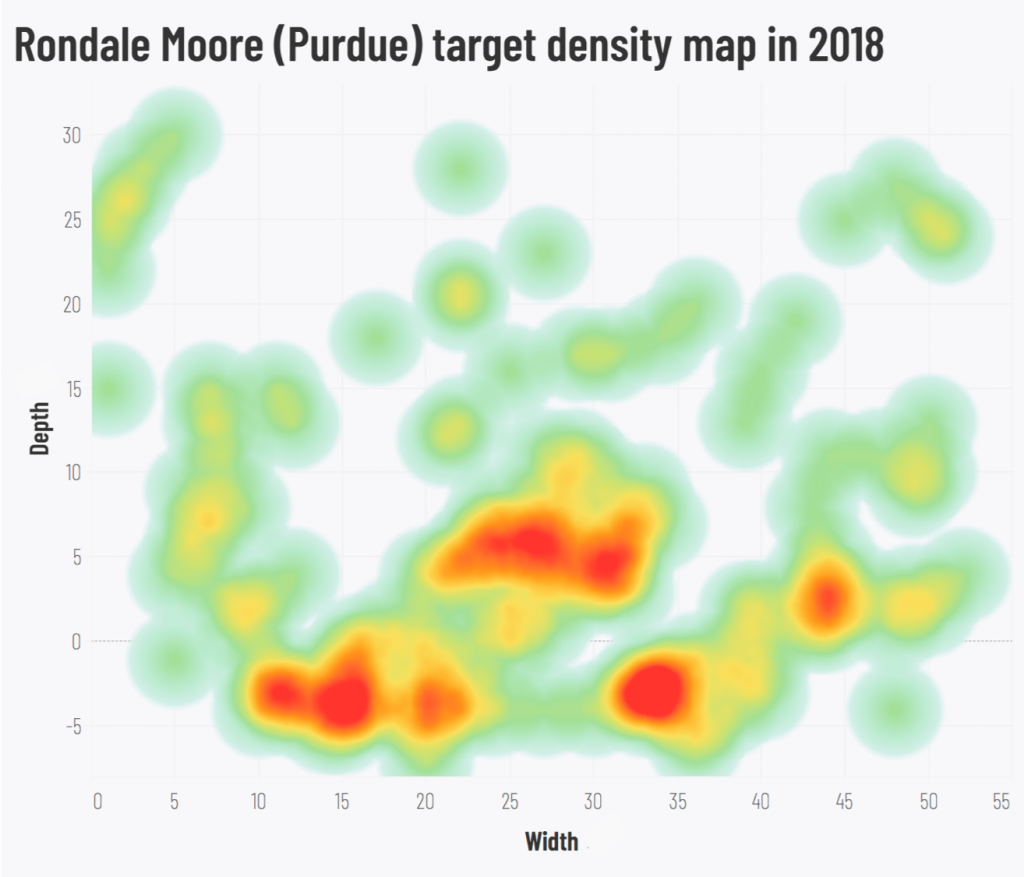 4. Jaylen Waddle, Alabama
The true sophomore saw a dip in usage from his freshman campaign in 2018, but he still showed why he'd be one of the top receivers in the 2021 NFL Draft class. Waddle has been one of top slot receivers college football has seen over the last few seasons, as his two-year PFF grade at the alignment trails only Ceedee Lamb over that span. On top of that, he trails only Ceedee once again in both yards after the catch per reception and passer rating generated in the slot.
In 2019 specifically, Waddle was the third-most valuable non-quarterback in college football, according to PFF WAA. That bumped his career total to fourth among wide receivers in the PFF College era.
Most valuable wide receivers from 2014-2019 according to PFF's WAA metric
| | | |
| --- | --- | --- |
| | Snaps played | Wins Above Average |
| 1. James Proche, SMU | 2,695 | 1.75 |
| 2. Ceedee Lamb, Oklahoma | 2,167 | 1.74 |
| 3. Corey Davis, W Michigan | 2,499 | 1.63 |
| 4. Jaylen Waddle, Alabama | 730 | 1.42 |
| 5. Taywan Taylor, W Kentucky | 1,880 | 1.37 |
3. Rashod Bateman, Minnesota
There may not be a better route runner returning to college football than Rashod Bateman, and he has excelled against defensive backs in off coverage, averaging over 14 yards per target when the defense chooses to give themselves a cushion.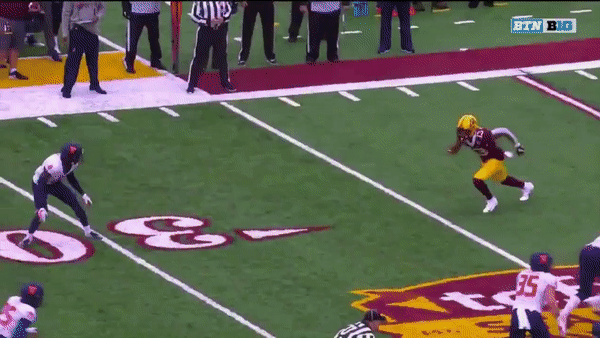 Bateman finished the 2019 campaign 13th in PFF receiving grade at 89.0, and with his elite route-running, Bateman has produced the third-highest rate of receiving plays of 15-plus yards at 37.9% — over 18% above the FBS average.
As we've covered elsewhere, the three biggest things you want to see from a wide receiver are the ability to create separation with route running, the ability to win in contested situations and the ability to produce after the catch. Bateman is one of few returning wide receivers who did all three of these at a high level in 2019; he ranked in the top 20 in contested-catch rate and broken tackles while producing an above-average rate of targets with a step or more of separation downfield.
2. DeVonta Smith, Alabama
Smith had to share the field with surefire first-round picks Jerry Jeudy and Henry Ruggs this year, but that didn't stop him from dominating, as he averaged 3.52 yards per route run on the year, sixth among 359 qualifying wide receivers. When you turn on Smith's tape, the first thing you'll notice is that he is near impossible to guard in press coverage.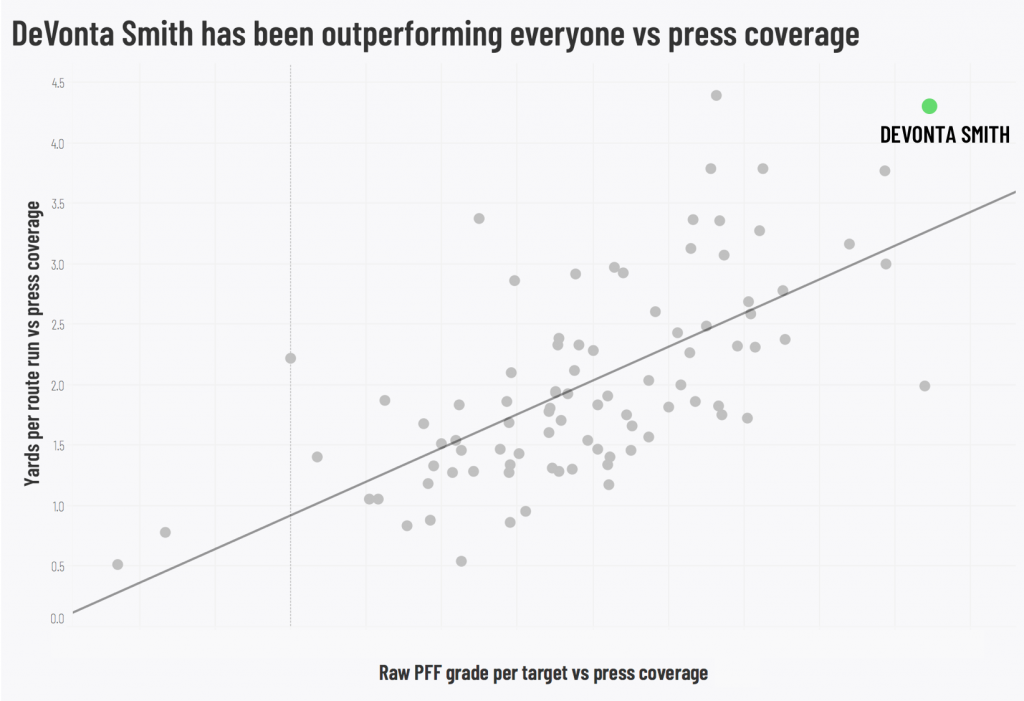 Against press coverage, Smith owns the highest raw PFF grade among qualifying wide receivers and has racked up 29.7 yards per reception, which is the most in the nation by over four yards.
Notable FBS wide receivers against press coverage in 2019
| | | | | | |
| --- | --- | --- | --- | --- | --- |
| Player | Rec/Tgt | Yards | TD | Raw PFF grade rank | Yds per target |
| DeVonta Smith | 19/31 | 564 | 6 | 1 | 18.2 |
| Tyler Johnson | 20/30 | 270 | 4 | 3 | 9.0 |
| Ja'Marr Chase | 38/59 | 870 | 10 | 4 | 14.7 |
| Tee Higgins | 18/28 | 454 | 3 | 20 | 16.2 |
| Ceedee Lamb | 11/17 | 265 | 3 | N/A | 15.6 |
| Jerry Jeudy | 16/21 | 309 | 2 | N/A | 14.7 |
Smith's after-the-catch ability is similar to that of Ceedee Lamb's. He was the only Power 5 receiver to produce more yards after the catch per reception than Lamb, and he broke a tackle on nearly a quarter of his catches. Not to mention, he has sticky hands and didn't drop a single catchable pass beyond the first down marker.
1. Ja'Marr Chase, LSU
Ja'Marr Chase's true sophomore season could not have gone much better. His 90.6 overall grade is the fifth-best at his position, and his PFF WAA was among the 30 best in college football, regardless of position. Chase's biggest strength is his ability to go toe-to-toe against press coverage, either torching his coverage defender off the line or winning in a contested situation downfield. As shown in the above table, Chase was tested several times in press coverage, and it clearly was not a good idea. Nine of those 10 touchdowns against press coverage came on a 20-plus yard target. For perspective, only one receiver had more than nine deep catches against press coverage altogether in 2019.
Chase's numbers are staggering across the board. He's hauled in 14 of his 16 catchable contested targets, his 41 plays of 15-plus yards are four more than any other wide receiver in the FBS and his 21 broken tackles after the catch are the seventh-most in the country.