With LSU's Joe Burrow heading to the NFL and Alabama's Tua Tagovailoa potentially doing the same, college football could lose two of its best quarterbacks this offseason. Even with that duo out of the college ranks, there is still a plethora of great talent returning that will make the 2020 season as great as the last. Here are the top 10 quarterbacks who are returning to college football in 2020:
(Note: These rankings are NOT based on NFL potential.)
10. Layne Hatcher, Arkansas State
In his first season seeing the field, Alabama transfer Layne Hatcher has shown why he was highly coveted by one of college football's greatest coaches in Nick Saban. Hatcher's outside the number passing jumps out and is as good as the known greats in college football. On such passes, Hatcher ranks behind only Joe Burrow and Justin Fields in PFF grade, and his 14.4% big-time throw rate is the best in the country and over seven percentage points above the FBS average. Hatcher's anticipation was great on his downfield passing and paved the way for his accurate-plus pass rate to rank second in the country behind Joe Burrow and ahead of third place by over three-and-a-half percentage points. He helped the Red Wolves end the year with an 8-5 record and a bowl victory despite owning the lowest-graded offensive line and defense they have had in the PFF College era (since 2014).
Arkansas State EPA/pass since 2014
| | |
| --- | --- |
| Season | EPA/pass |
| 2019 w/ Hatcher | .124 |
| 2018 | .027 |
| 2017 | .058 |
| 2016 | .007 |
| 2015 | -.095 |
| 2014 | .034 |
Expected points added (EPA) is a team stat, but it all starts with who is releasing the ball — and Hatcher's addition has clearly made a difference. Arkansas State overcame the bad because of Hatcher. While the team as a whole probably won't be a Cinderella story in 2020, Hatcher is one to watch in the upcoming season.
9. Peyton Ramsey/Michael Penix Jr., Indiana
Indiana football took a big turn for the better in 2019, largely because of the play of quarterbacks Peyton Ramsey and Michael Penix Jr., who both ranked among the 25 best signal-callers in PFF grade during the 2019 season. Penix Jr. was given the starting job to open the season but featured in just six games due to injury. When on the field, though, Penix was one of college football's best in limiting opportunities for the defense to make a play, producing the fifth-lowest turnover-worthy play rate.
Ramsey just finished his junior year with the Hoosiers and ended regular-season play strong, producing a PFF grade above 79.0 in each of his last six games — leading to the second-best grade in the country from Weeks 8-14. As shown in the Gator Bowl against Tennessee, Ramsey's pocket presence has been one of his greatest attributes — avoiding sacks, creating gains off scrambles or throwing a dime when a 300-pound lineman is chasing after him.
Watching both quarterbacks, you can see Ramsey and Penix have a similar strength in that their stick throws (passes that are to a receiver facing the quarterback or working back to them) are among the best in the country. The two combine to be the highest-graded passing unit on these passes and are among the 15 top quarterbacks in regard to accurate pass rate. Penix will likely regain the starting job for the 2020 season when healthy, but regardless of who the starter is, Indiana is in great hands.
8. Dustin Crum, Kent State
The once-backup quarterback Dustin Crum saw his first start back in Week 2 when he was told right before kickoff that he was replacing the previously named starter, Woody Barrett. In his time on the field, Crum produced the lowest turnover-worthy play rate in all of college football (0.7%). Safe to say, the move paid dividends.
Crum executed an offense that heavily integrated play action. Over half of his dropbacks were play-action passes, running the fake at the fourth-highest rate in college football. Play-action passes are far more effective than non-play action passes, and Crum is one of the best in taking advantage of that. In addition to being the second highest-graded quarterback on these plays, Crum owns the third-highest rate of accurate passes thrown.
When there wasn't a receiver open, Crum wasn't going to force a throw. He scrambled the third most among quarterbacks and picked up the fourth-most yards per carry (9.2) as well as the second-highest rate of first downs or touchdowns (47%). Behind an offensive line that ranks 104th in pass-blocking grade, Crum was hit with pressure significantly. Though sometimes, he brought on himself. PFF faulted Crum for 11 sacks — tied for the fourth most in the country. If he can improve his pocket presence next season, Crum may start getting some NFL looks.
7. Brock Purdy, Iowa State
Brock Purdy came out of nowhere in the middle of the Cyclones' 2018 season. During their Week 6 matchup against Oklahoma State, Purdy was pulled off the bench and thrown into action. And he looked like a seasoned vet as opposed to the true freshman he actually was. Purdy started the rest of the year and finished the season 11th at the position in PFF overall grade. While he regressed some in 2019, Purdy is still among the 10 best quarterbacks to return in 2020.
When passing in rhythm and getting through his progressions, Purdy has been arguably the best in the country. His in rhythm negatively graded play rate from the last two seasons combined leads all FBS quarterbacks, and he is also the only one to produce a negatively and positively graded play rate that ranks in the top 10.
Negatively graded play rate when in rhythm (2018 and 2019)
| | | |
| --- | --- | --- |
| | QB | Negatively graded play rate when in rhythm |
| 1 | Brock Purdy | 11.2% |
| 2 | Joe Burrow, LSU | 11.3% |
| 3 | Ryan Finley, NC State | 11.4% |
| 4 | Gardner Minshew, Washington State | 11.6% |
| 5 | Kedon Slovis, USC | 11.8% |
| | FBS average | 19.1% |
Purdy's calmness on these plays was evident in 2019. He had one of the slowest time-to-throw averages passing in rhythm and has posted the third-lowest uncatchable pass rate in the country. All that said, Purdy has to stop heaving desperation throws when the pass rush gets to him and forces him to move. When Purdy is forced off his spot and sometimes throws on the run, he ranks third to last in PFF grade. This is the biggest red flag for the Cyclone, but the good obviously outweighs the bad and could easily skyrocket him up 2021 draft boards throughout next season.
6. Sam Ehlinger, Texas
While Texas football isn't back to contending form, Sam Ehlinger is doing his part and had one of the top seasons PFF saw in 2019. After the Longhorns' blowout win against Utah in the Alamo Bowl, Sam Ehlinger's PFF grade improved to 90.5 — the sixth best in the country. PFF recently debuted our wins above average metric (WAA) at both the professional and collegiate levels, and this only validates Ehlinger's great play in 2019. Regardless of position, Ehlinger was the fifth most valuable in WAA and the most valuable among those to play only 12 games. Ehlinger can hit his receiver in stride across the field like most can't. For example, on crossing routes, his 91.8 PFF grade ranks fourth in the FBS and is one of nine to be above 80.0. Including horizontal passes, Ehlinger is second in accurate-plus pass rate behind Joe Burrow.
At 6-foot-3, 230 pounds, Ehlinger is a quarterback who can handle designed runs but can bail on the pocket a touch too soon. As a result, he has placed among the top 15 at his position in both 10-plus yard runs and broken tackles. While that style of play won't carry over at the NFL level, it's working for him in college.
5. Tanner Morgan, Minnesota
Tanner Morgan emerged on the college football landscape during Week 8 of the 2018 season as a redshirt freshman when Minnesota's starter Zack Annexstad was knocked out due to injury. Morgan started the rest of the year and was below average, ranking 104th in PFF passing grade. This season was a different story for Morgan, improving his passing grade rank all the way to fourth — tied with Tua Tagovailoa.
Morgan's 2019 season has been carried by his performance under pressure. He ranked second in PFF passing grade under pressure, behind only Heisman winner Joe Burrow this season. His pocket presence and footwork were vastly improved upon, leading the way to the third-highest rate of accurate-plus passes thrown under pressure (perfectly placed passes to the receiver). Quarterback performance under pressure is unstable year to year, but the way Morgan handled it in 2019 gives a lot of reason to believe he'll be near the top again in 2020.
The scheme couldn't be better for Morgan, too. Minnesota executes run-pass options (RPO) at the nation's fourth-highest rate (45%). An RPO is an extension of the run game — the quarterback has the option to either hand the ball off or pull for a quicker pass. Among 74 qualifying FBS quarterbacks, Morgan ranks first in PFF passing grade when he pulls on an RPO. He took full advantage of these plays, averaging over 3.5 yards more per attempt than the FBS average.
4. Sam Howell, North Carolina
Sam Howell played in his true freshman season from start to finish and showed off his rocket-launcher of an arm. Through the Tar Heels' bowl game, Howell has produced 21 touchdowns that came on throws of 20 or more yards downfield — the second most in the FBS. He's even thrown as far as 40 yards downfield, finding similar success with six such touchdowns (most). Howell turned 19 years old earlier in the college season, but you wouldn't think it when watching him throw against man-to-man coverage. His PFF grade against man schemes is the best in college football. Yes, the best — ahead of Joe Burrow, Justin Fields, Trevor Lawrence, et al.
Howell's true freshman season has made him a prime top 10 candidate in the 2022 draft class. PFF's Lead Draft Analyst Mike Renner listed him as the seventh-best from the 80 quarterbacks to play in bowl games as far as pro potential goes.
3. Jamie Newman, Unknown (transfer)
Jamie Newman recently caused chaos in college football when he unexpectedly announced his decision to transfer from Wake Forest. The decision still looms over what team Newman will be a part of in 2020, but with programs such as Oregon and Oklahoma in need of a replacement, they have to be salivating over the possibility of him joining. Through the first 11 weeks, college football's highest-graded quarterbacks were Joe Burrow, Justin Fields and Jamie Newman. He ended the year slower than the start, but Newman still is one of college football's biggest breakout players of the season.
The tight-window passing he has put on display has been next level and a large reason why he is highly sought after on the transfer market. Joe Burrow is far and away the highest-graded quarterback throwing to a tight window, but Newman is second — and third isn't anywhere near him. He also limited his uncatchable pass rate to the fourth lowest.
Newman has some rushing ability and has seen the eighth-most designed rushes for a quarterback (128). While some may say it's his rushing that can be his greatest weapon, it's clearly his arm. He's the second highest-graded on 20-plus yard throws and was worth the 12th most wins above average in college football, despite playing in fewer games than everyone else. As said, if I'm Oregon or Oklahoma — I'd be sending the house to pick up Newman for the 2020 season.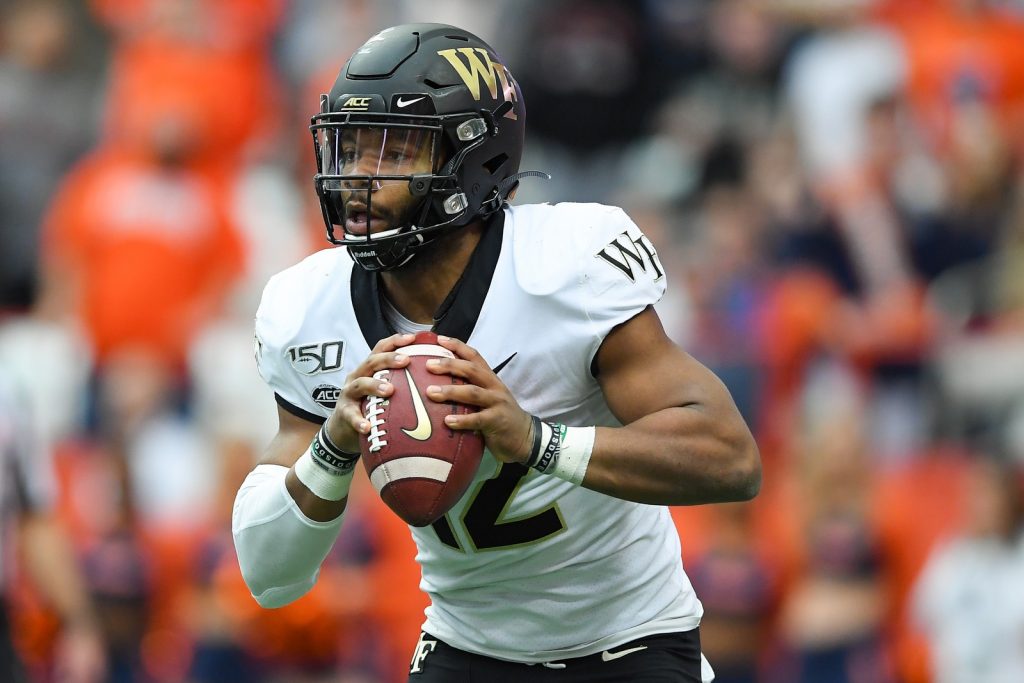 © Rich Barnes-USA TODAY Sports
2. Justin Fields, Ohio State
While the Buckeyes came up just short of a College Football Playoff title game appearance in 2019, they should be optimistic for 2020 considering they'll return the second-best quarterback by PFF passing grade in Justin Fields. The greatest strength of the second-year quarterback is his pocket passing. In addition to owning the highest pocket-passing grade, he threw the third-lowest rate of uncatchable passes when passing beyond the sticks. Fields' patience in the pocket shines, and pressure doesn't throw him off his game like most other quarterbacks due to his elite athleticism. Under duress, Fields' passing grade is still near the top at seventh, and he has averaged over 7.4 yards per scramble.
Fields has been near perfect when he throws a quick pass in 2.0 seconds or less, ranking first in grade and throwing the lowest rate of uncatchable passes (3.7%). He's second for now, but he is by no means locked into that spot. Nine of his 14 games have ended with a passing grade above 80.0. At the level he's playing at, he'll enter the season as one of the highly coveted prospects in the 2021 draft class and could end the year as the most coveted.
1. Trevor Lawrence, Clemson
Having Clemson's Trevor Lawrence at number one was an easy decision. Lawrence wowed any and all football fans as a true freshman in 2018, posting the best PFF grade by a true freshman in the PFF College era (90.7). He then topped that in 2019 with his 91.3 grade. The hype surrounding Lawrence entering the year was some of the biggest in recent memory for a sophomore, and that may have gotten to him a bit. Through Week 4, Lawrence ranked 48th in the FBS in PFF overall grade. From Week 5 on, Lawrence ranked second in PFF grade to Joe Burrow.
Lawrence is 6-foot-6 but is arguably the best running quarterback in college football. He owns the highest rushing grade at his position among Power 5 quarterbacks — and if it weren't for his 67-yard rushing touchdown against Ohio State in the College Football Playoff, Clemson may not have pulled off that victory.
It's hard to find a negative in Lawrence's passing game. He can hit tight windows with ease, remain elite against the blitz, create a play when nothing is developing, etc. As of now, he's the favorite to go number one overall in 2021 and honestly could have been the first overall pick in 2019 or 2020 if he was allowed to enter the NFL Draft.