Yes, Chase Young is no longer in college football. His dominance will be missed, but there is a true freshman from this past season who showed flashes of Young and is among the three best returning defensive linemen in the college game for next year. But he's not the only dominant force returning. Diving into PFF's database that is used by all 32 NFL teams and 70 FBS programs, we give you the top defensive linemen set to return to college football in 2020:
[Editor's note: Check out our other top college football returner lists, including quarterbacks, wide receivers, running backs, offensive linemen and defensive backs.]
25. Tyler Shelvin, LSU
Run defense has carried the play of Shelvin — his 88.3 run-defense grade this past year was 11th among all interior defensive linemen. Shelvin has primarily been lining up at head-up nose tackle, and when comparing him to other defensive linemen playing 0/1-technique, it is without question that he is the best returning player at that alignment against the run. Only nine players to play at least 125 snaps against the run at nose tackle had a grade above 80.0, and Shelvin sat at 90.1 — one spot behind leader Aaron Crawford, who graduated from UNC. Shelvin's pass-rushing has a long way to go, though, as he had just six pressures on 317 pass rushes.
24. EDGE Ryan Bowman, Washington
Consistency has been key for Bowman, who has posted pass-rush grades in the 70.0s in each of his three seasons. He has won over 16.5% of his career pass-rush reps and has totaled 50 run stops in that stretch. The biggest concerns regarding Bowman are his missed tackles and the fact that he didn't build off his prior successes. His best season at Washington came in his first year of collegiate action, and while he's been consistent, he's been just consistently good — not consistently great.
23. EDGE Kwity Paye, Michigan
Paye was good against the run in both 2018 and 2019, producing grades of 82.9 and 84.0, respectively, on those plays. He needed to improve his pass-rushing after posting a 59.4 pass-rush grade last year, and he delivered in 2019. Paye's grade in that facet this past season sat at 77.8, and he improved his win rate from 10% to 18%. He still failed to generate a consistent rate of pressure, but the improvement this past season gives hope for a similar one in 2020.
22. DI Cory Durden, Florida State
We'll get the bad news out of the way first — Durden's tackling has been bad. He's missed over a quarter of his tackling attempts in his two seasons of collegiate action. All that aside, Durden's pass-rushing alongside Marvin Wilson makes up a scary duo. His 81.7 pass-rush grade in 2019 was 15th among interior defensive linemen, and his 17.1% win rate was fifth.
Highest pass-rush win rate in 2019 among returning interior defensive linemen
| | |
| --- | --- |
| 1. Christian Barmore, Alabama | 20.8% |
| 2. Cory Durden, Florida State | 17.1% |
| 3. Marvin Wilson, Florida State | 16.8% |
21. DI Cameron Thomas, San Diego State
As a redshirt freshman, Thomas started on the interior defensive line for the Aztecs and ended up being the 17th highest-graded at his position at 84.8. Thomas made an impact right from the get-go but fell off as the season progressed. He had an elite 90.0 overall grade through the first nine weeks. He transitioned to play more nose tackle and wasn't the same player at that alignment. Thomas had just a 70.8 overall grade on the year playing nose while recording an 87.7 grade at defensive tackle.
20. EDGE Raymond Johnson III, Georgia Southern
Johnson, a rising senior, has been starting for Georgia Southern since Week 6 of his true freshman campaign in 2017 and steadily improved his pass-rushing each time he stepped on the field, taking his pass-rush grade from 63.9 to 78.1 to 83.4. The pressure numbers have stayed relatively the same, but his win rate jumped to 19.1% in 2019 — helping him produce a WAA that's the 13th highest among returners.
19. EDGE Demetrius Taylor, Appalachian State
Taylor was a big piece to Appalachian State's one-loss 2019 season, ranking among the 20 most valuable defensive linemen returning next season. There was a bit of lull midyear, but when the Mountaineers needed Taylor the most, he delivered. In their Week 4 upset over North Carolina, Taylor had the best game of his career by recording an elite 91.1 pass-rush grade, seven pressures (three were sacks), two forced fumbles (one of which was a strip-sack touchdown) and an interception. If it weren't for Taylor, Appalachian State likely wouldn't have won that game. On top of that, Taylor had seven pressures in his team's bowl game victory over UAB.
18. EDGE Wyatt Hubert, Kansas State
Hubert had a good season in 2018, considering he was a redshirt freshman, with a 68.1 pass-rush grade and 34 total pressures. But Hubert took his game a step further in 2019. His pass-rush grade spiked to 86.3, and his 19.8% pressure rate was the fourth highest in the FBS. Hubert did miss nearly a quarter of his tackling attempts, which didn't help his ranking, but as far as pass-rushing goes, he's up there with some of the best in the FBS.
17. EDGE Dom Peterson, Nevada
Peterson was great against the run in 2018, producing an 86.0 run-defense grade, but was poor in the pass rush with a 61.3 grade. In 2019, he stepped it up and was great in both facets. His pass-rush grade jumped to 84.3 and he won 15.2% of his pass-rush reps. Peterson was the eighth highest-graded edge overall in 2019, but there's still work to be done in regard to pass-rushing.
16. EDGE Aidan Hutchinson, Michigan
It's no secret that Hutchinson had an underwhelming 2018 true freshman campaign, but the once highly touted recruit surpassed expectations in 2019. Hutchinson gathered 43 tackles against the run (the third most in the FBS), with 27 being a run stop (tackle that constitutes a loss for the offense). He's a unique defensive lineman in that he played 2019 all over the line, from nose tackle to 6-technique. Hutchinson has been pretty consistent rushing the passer at nearly every alignment, except for nose tackle. He wasn't terrible rushing the passer overall, with a pass-rush grade of 76.0, but perhaps sticking to one spot on the line would help the junior fare better in 2020.
15. EDGE DeAngelo Malone, Western Kentucky
Malone had a solid true freshman campaign back in 2017, producing an 81.9 pass-rush grade. His pass-rushing performance wasn't nearly the same when giving the starting role in 2018, but he came back in 2019 and showed he was one of the top edge rushers in the FBS. Malone had an 82.2 pass-rush grade on the year while generating 52 pressures — with 26 being a sack or a hit. Sacks are unstable year-to-year, but his 18.7% win rate is a great sign for 2020.
14. EDGE Jamar Watson, Kentucky
If it weren't for his subpar run defense and poor tackling, Watson would be far higher up on this list because his pass-rushing has been sharp all throughout his time with Kentucky. Watson has seen 358 pass-rush snaps over the course of his three seasons and has produced a 90.9 pass-rush grade, a 21.8% win rate and a 21.5% pressure rate (ranked fourth and third in win rate and pressure rate in 2019 alone). He's played a considerable amount of off-ball linebacker, with 231 career coverage snaps, but having Watson in the pass rush might be the best call for 2020.
13. EDGE Ali Fayad, Western Michigan
Fayad has been making impact plays all throughout his three-year career. He's gathered up eight forced fumbles in that timespan and combined has a 16.4% win rate and 97 total pressures. There's certainly room for improvement as far as his rate of pressure, but he has the moves to do it in 2020. Fayad's spin move is lethal, sometimes leaving offensive tackles confused at what just occurred: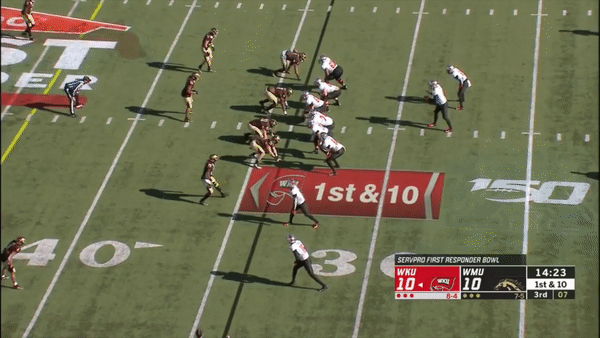 12. DI Christian Barmore, Alabama
After redshirting and not seeing the field in 2018, Barmore was given a limited role on Alabama's line and showed a lot of potential for 2020. He saw 269 snaps on the interior, and his play at 3-technique was special. Against the run at that alignment, Barmore had 13 run stops on his 65 snaps, with five being a tackle for loss, and had an average depth of tackle of 0.08 yards. When rushing the passer playing defensive tackle, Barmore had a 20% pressure rate and a 23.5% win rate. For perspective on how good that is, he'd be first in both categories if he qualified.
11. EDGE Jordan Smith, UAB
Smith spent a year with the Florida Gators in 2016 and was a redshirt freshman, but an off-the-field issue caused him to sit out 2017. He then played 2018 at a community college before transferring to UAB after that season. Nonetheless, it might a bit of a surprise to hear that he finished as the fourth highest-graded edge rusher in his one year with the Blazers. He was the highest-graded run-defender and one of two edge rushers to record run-defense and pass-rush grades above 90.0. In fact, he was the fourth most valuable edge defender in college football this past season. The 6-foot-7 Smith is going to be an intriguing one to watch in 2020.
10. EDGE Malcolm Koonce, Buffalo
After being a non-starter but a great role player in 2018, Koonce earned the starting role in 2019 and was one of college football's 20 best edge defenders in PFF pass-rush grade. Koonce won on 24% of his pass rushes (fifth best) and generated pressure on 18% (12th best). He played most of his reps at stand-up outside linebacker and was one of the best pass-rushers in the country when lined up there, recording a pass-rush grade that ranked sixth in the FBS and is second among returners.
9. EDGE Myjai Sanders, Cincinnati
Sanders was one of few true sophomores to impress all throughout 2019. The 6-foot-5, 260-pound edge defender recorded an 82.8 pass-rush grade and the 16th highest WAA at his position. His pressure rate wasn't spectacular by any means, but he won at a consistent rate. He was most effective when playing 6/7-technique outside the tackle, as his pass-rush win rate at that alignment was the second best among sophomores and freshman last season.
8. EDGE Keion White, Old Dominion
The fact that White was playing tight end for Old Dominion in 2018 before switching to the edge in 2019 and is a top 10 defensive linemen returning next year is pretty remarkable. He played both sides in high school, but the way he played in 2019 made it seem like he's been there his entire career. He finished 2019 as the 11th most valuable edge rusher and produced a pass-rush win rate and pressure rate among the 25 best. Not to mention, he stuffed the run, as his run-defense grade was the fifth best in the FBS. And there's no argument for claims of a weak schedule being the catalyst for such production — his best game of 2019 came against their best opponent back in Week 4, when the Monarchs went on the road to Virginia. That game, he had an elite 91.8 pass-rush grade and eight total pressures.
7. EDGE Malik Herring, Georgia
Herring will get a bigger role in his 2020 senior season, and he's proved he deserves it. He hasn't played many snaps over the past two years (just 488 to be exact) but has produced solid PFF grades of 86.2 and 86.6. Herring has stood out against the run and when pass-rushing — he's totaled 14 tackles for loss and an average depth of tackle of just one yard against the run while generating 41 pressures and a win rate of 16.1%. He has missed just one tackle on his 59 career tackling attempts.
6. EDGE Taylor Riggins, Buffalo
Riggins started out his collegiate career at UMass in 2016, redshirted his freshman year, then transferred to Buffalo and had to sit out the 2017 season. He didn't see the field until 2018 but was dominant right away and has been ever since. After featuring in a limited role in 2018, Riggins produced an 83.5 pass-rush grade and earned the starting role in 2019. Riggins then improved his pass-rush grade to an elite 90.1 and had a WAA total that was among the 20 best at his position and tied with 2020 edge prospects A.J. Epenesa and Bradlee Anae. All-in-all, his two-year pass-rush grade is tied for 10th, and with Koonce on the other side, he forms one of the best pass-rush edge duos in college football in 2020.
5. DI Levi Onwuzurike, Washington
Onwuzurike has been dominating for the Huskies over the past two seasons now, ranking eighth and 11th among all interior defensive linemen in WAA and producing a two-year PFF grade that ties for the fourth best with Javon Kinlaw, who is a first-round lock for 2020. Onwuzurike has split time between nose tackle and defensive tackle since the start of 2018, and unlike most who do that, he was among the top 10 players in PFF grade at each alignment. At nose tackle specifically, Onwuzurike might be the best returning player. In addition to ranking sixth in PFF grade there, he's the only player to produce run-defense and pass-rush grades above 85.0. Washington was ranked eighth in the 2020 way-too-early top 25 rankings from earlier in the week, and Onwuzurike is a big piece to their stout defense that got them there.
4. DI Marvin Wilson, Florida State
It was a bit of a shock to see Wilson opt to return to Florida State considering he was a first-round prospect despite missing the last few weeks due to injury, but I think I speak for the college football world in saying I can't wait to watch him dominate on the Seminoles' defensive line for another season. Wilson has produced elite PFF overall grades in each of the past two seasons, forming a two-year PFF grade that ranks third among all interior defensive linemen to play at least 700 snaps. He's been stout against the run, but the best thing we saw from Wilson during his time on the field in 2019 was his pass-rushing. His pass-rush grade on his 291 pass-rush snaps was the second best in college football at 90.9, and he won 16.8% of his reps — which tied for the fifth highest rate. Wilson has shown he's versatile and can line up all across the line from playing 5-tech to 0-tech while remaining dominant. He's the best returning interior defensive linemen and going to be highly coveted next April.
3. EDGE Kayvon Thibodeaux, Oregon
Thibodeaux came into the 2019 season as a true freshman and the second-ranked recruit nationally in the previous draft class. Expectations were high, and it's safe to say he certainly met them, if not, surpassed them.
Best true freshman seasons by an edge defender since 2014
| | | | |
| --- | --- | --- | --- |
| Player | Season | College | WAA |
| Kayvon Thibodeaux | 2019 | Oregon | 0.24 |
| Malcolm Roach | 2016 | Texas | 0.19 |
| Xavier Thomas | 2018 | Clemson | 0.15 |
| Ryan Bowman | 2017 | Washington | 0.14 |
| Alex Wright | 2019 | UAB | 0.13 |
| TreShaun Clark | 2019 | Liberty | 0.12 |
| A.J. Epenesa | 2017 | Iowa | 0.12 |
| Kemoko Turay | 2014 | Rutgers | 0.12 |
Over the past six seasons, no true freshman edge defender has been able to touch what Thibodeaux did in 2019. He won a consistent amount of his pass-rush reps and was second to only Bradlee Anae as top pass-rusher in the Pac-12. Thibodeaux's burst and bend off the edge looks like that of a seasoned veteran. Himself and Derek Stingley are going to be the non-quarterbacks to highlight the 2022 draft class.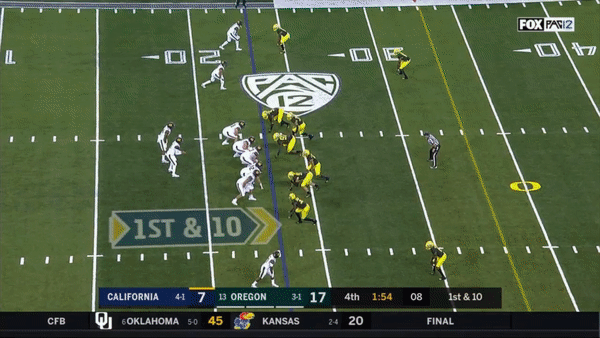 2. EDGE Chris Rumph II, Duke
Everyone knows who Chase Young is, but let us introduce you to the edge defender who was second to him in PFF overall grade (93.9): Duke's Chris Rumph II. He didn't start once for the Blue Devils in his redshirt sophomore campaign, but he lit up offensive linemen on his 409 snaps on the field, recording one of the two most valuable WAA in 2019 among returning defensive linemen. Rumph finished the season with a pass-rush win rate of 30.8% and a pressure rate of 25.7% — both of which were the best among edge defenders (yes, even better than Young) and nearly 2.5 percentage points higher than second. He had arguably one of the best performances we saw in 2019 in the last week of regular-season play against Miami, when he recorded a 95.2 overall grade and 14 total pressures. The explosiveness and speed Rumph carries are elite, and he can bully some tackles off the edge with his deadly long arms. Watching him creep over the interior offensive line as a linebacker and busting through the gaps right after the snap is a sight to see.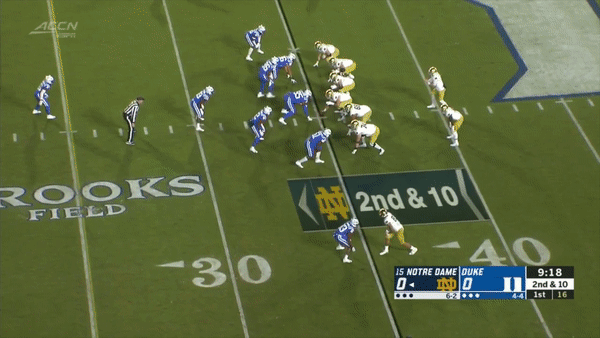 1. EDGE Quincy Roche, Miami (FL)
After being on the field with the Temple Owls for three seasons (and one redshirt year), Roche had a year of eligibility left and is taking his talents to Miami. Roche owned one of the biggest breakout years of the 2019 season — he was fairly solid in 2017 and 2018, recording PFF overall grades in the high 70.0s. But in 2019, his overall mark skyrocketed to 93.5, ranking third among college football edge defenders.
Most valuable edge defenders in WAA in 2019
| | |
| --- | --- |
| 1. Chase Young, Ohio State | 0.57 |
| 2. Quincy Roche, Temple (transfer to Miami) | 0.55 |
| 3. Curtis Weaver, Boise State | 0.54 |
Roche plays with great strength and has quick, violent hands that led to his 18.4% pressure rate, which tied for eighth with Young. Miami's pass rush was its greatest strength last year, and that'll likely be the case once again with Roche on the roster (yes, Gregory Rousseau is not on this list — don't trust the sack numbers that are unstable year-to-year).