The 2021 college football regular season has officially come to a close, and now it's time to recognize the top players across the country with PFF's all-conference teams and conference players of the year.
With the help of PFF grades and advanced statistics — which are now available to PFF's CFB Premium Stats+ Subscribers — we present to you the 2021 MWC Offensive and Defensive Player of the Year and All-MWC teams.
Click here for more PFF tools:
Rankings & Projections | WR/CB Matchup Chart | NFL & NCAA Betting Dashboards | NFL Player Props tool | NFL & NCAA Power Rankings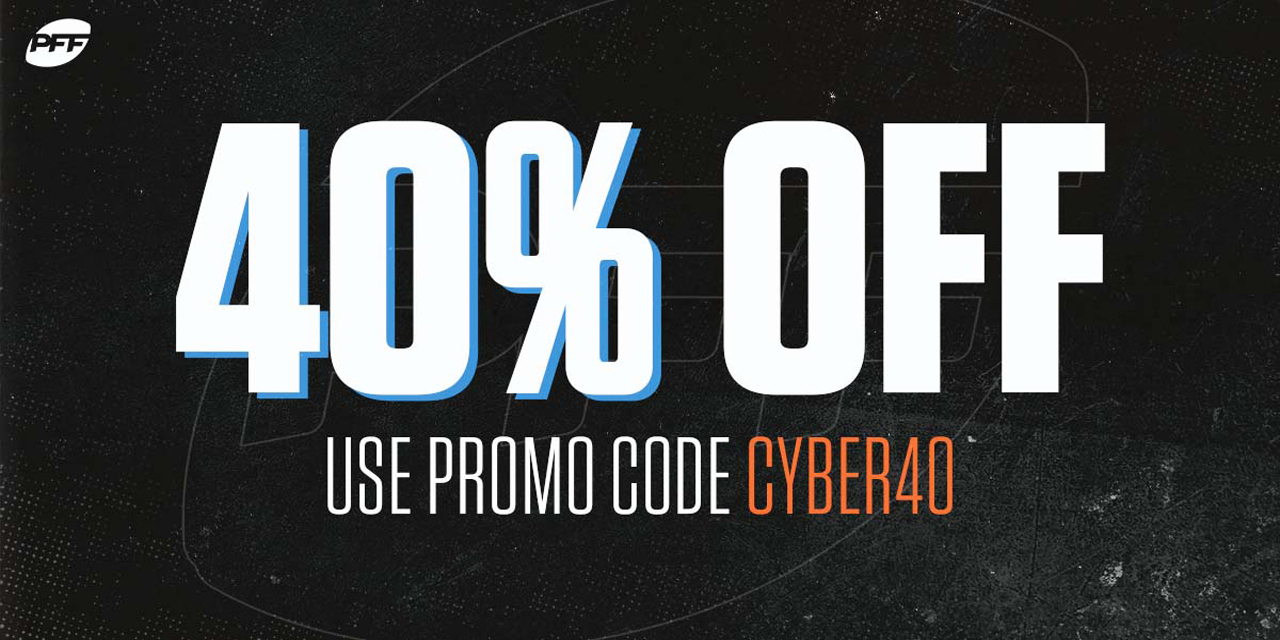 Click to view PFF's 2021 All-Conference teams
POWER FIVE: ACC | Big Ten | Big 12 | Pac-12 | SEC
GROUP OF FIVE: AAC | C-USA | MAC | Sun Belt
---
McBride was the engine of the Rams' offense this season. The 6-foot-4, 260-pound tight end was targeted on 30% of his routes run this year, the second-highest rate at the position, and he finished the season averaging an incredible 2.77 yards per route run.
McBride earned a stellar 95.0 PFF overall grade in 2021, second to only Kyle Pitts (2020) in the PFF College era, and he also picked up 18 more combined first downs and touchdowns than any other FBS tight end. As if that wasn't enough, he also put up the seventh-most positively graded run blocks among FBS tight ends.
Between the receiving ability and blocking prowess, McBride has made his name known as an all-around weapon at the tight end position.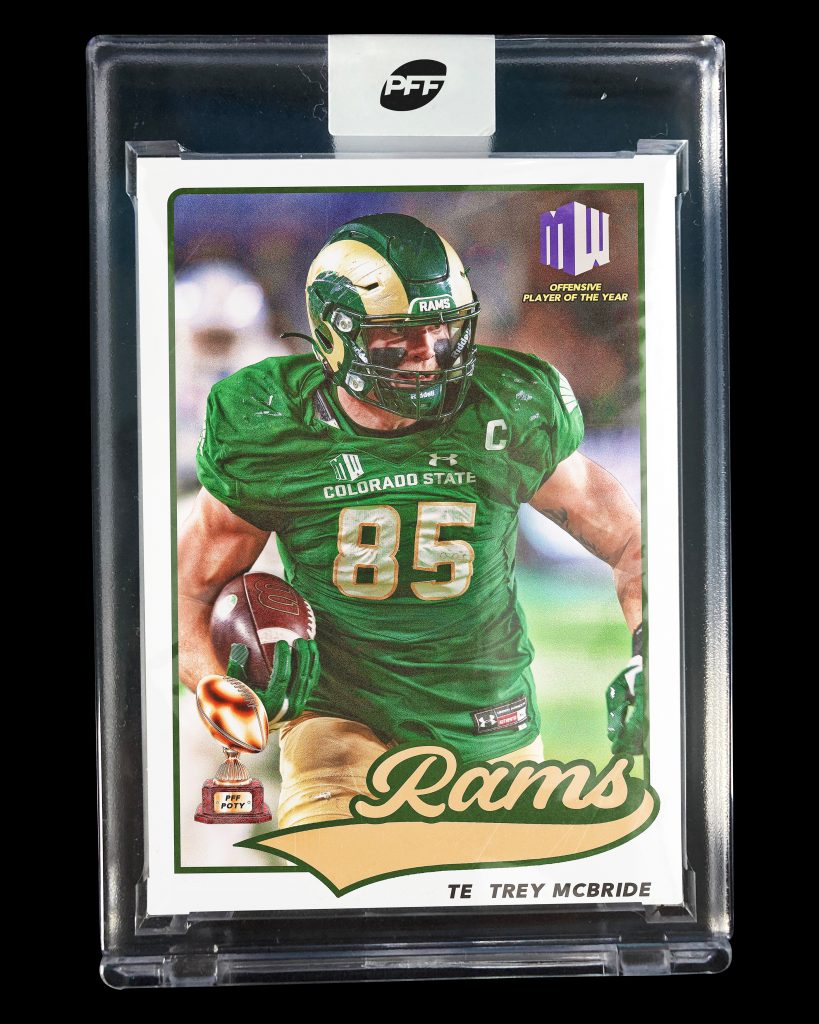 Muma finished the regular season with the third-highest PFF grade at the position at 90.4. The Wyoming Cowboy is instinctive with a great combination of size and speed at 6-foot-3 and 242 pounds and racked up 59 defensive stops in 12 games, the second-most at the position.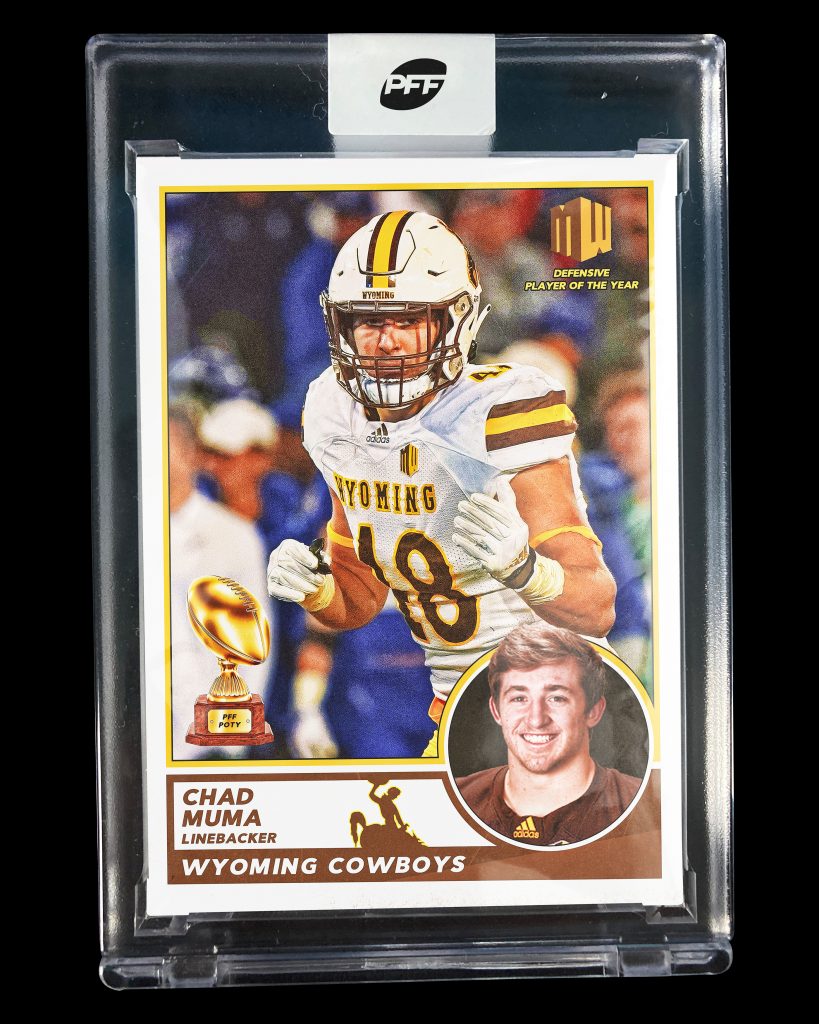 QB Carson Strong, Nevada
RB Dedrick Parson, Hawaii
RB Ronnie Rivers, Fresno State
WR Khalil Shakir, Boise State
WR Deven Thompkins, Utah State
WR Romeo Doubs, Nevada
TE Trey McBride, Colorado State
LT Zachary Thomas, San Diego State
LG Julio Garcia, UNLV
C Keegan Cryder, Wyoming
RG William Dunkle, San Diego State
RT Gene Pryor, Hawaii
DI Dom Peterson, Nevada
DI Jonah Tavai, San Diego State
ED Cameron Thomas, San Diego State
ED Vince Sanford, Air Force
LB Chad Muma, Wyoming
LB Darius Muasau, Hawaii
CB Tayler Hawkins, San Diego State
CB DaRon Bland, Fresno State
S Jordan Lee, Nevada
S Evan Williams, Fresno State
FLEX D Camby Goff, Air Force
K Jonah Dalmas, Boise State
P Matt Araiza, San Diego State
KR Jordan Byrd, San Diego State
PR Thomas Pannunzio, Colorado State
QB Hank Bachmeier, Boise State
RB Titus Swen, Wyoming
RB Charles Williams, UNLV
WR Jalen Cropper, Fresno State
WR Brandon Lewis, Air Force
WR Calvin Turner Jr., Hawaii
TE Derrick Deese Jr., San Jose State
LT Everett Smalley, Air Force
LG Chris Martinez, San Diego State
C Jake Stetz, Boise State
RG Logan Harris, Wyoming
RT Kaleb Holcomb, Air Force
DI Cole Godbout, Wyoming
DI Blessman Ta'ala, Hawaii
ED Scott Patchan, Colorado State
ED Nick Heninger, Utah State
LB Austin Ajake, UNLV
LB Tyson Maeva, Fresno State
CB Berdale Robins Nevada
CB Azizi Hearn, Wyoming
S Jack Howell, Colorado State
S Trey Taylor, Air Force
FLEX D JL Skinner, Boise State
K Daniel Gutierrez, UNLV
P Ryan Stonehouse, Colorado State
KR Savon Scarver, Utah State
PR Romeo Doubs, Nevada
QB Jake Haener, Fresno State
RB Jordan Mims, Fresno State
RB George Holani, Boise State
WR Isaiah Neyor, Wyoming
WR Brandon Bowling, Utah State
WR Nick Mardner, Hawaii
TE Cole Turner, Nevada
LT John Ojukwu, Boise State
LG Isaac Cochran, Air Force
C Alama Uluave, San Diego State
RG Hawk Wimmer, Air Force
RT Uzo Osuji, Boise State
DI Marcus Moore, Utah State
DI Kolo Uasike, UNLV
ED Toby McBride, Colorado State
ED Viliami Fehoko, San Jose State
LB Ezekiel Noa, Boise State
LB Dequan Jackson, Colorado State
CB Cameron Lockridge, Hawaii
CB Nohl Williaams, UNLV
S Tyreque Jones, Boise State
S Tavian Combs, New Mexico
FLEX D Jay Lenard, San Jose State
K Cesar Silva, Fresno State
P Joel Velazquez, Boise State
KR Jamaal Bell, Nevada
PR Khalil Shakir, Boise State
QB Chevan Cordeiro, Hawaii
RB Tyler Nevens, San Jose State
RB Xazavian Valladay, Wyoming
WR Josh Kelly, Fresno State
WR Kyle Williams, UNLV
WR Dante Wright, Colorado State
TE Gary Williams, Colorado State
LT Jack Snyder, San Jose State
LG Jemaine Ledbetter, Nevada
C Leif Fautanu, UNLV
RG Amani Trigg-Wright, UNLV
RT Frank Crum, Wyoming
DI Devin Phillips, Colorado State
DI Eliel Ehimare, UNLV
ED Arron Mosby, Fresno State
ED Joey Noble, New Mexico
LB TD Blackmon, Air Force
LB Easton Gibbs, Wyoming
CB Tre Bugg III, Boise State
CB Nehemiah Shelton, San Jose State
S Jerrick Reed II, New Mexico
S Khoury Bethley, Hawaii
FLEX D Patrick Peek, New Mexico
K Brandon Talton, Nevada
P Stephen Kotsanlee, Utah State
KR Cameron Stone, Wyoming
PR Jordan Byrd, San Diego State
---
Click to view PFF's 2021 All-Conference teams
POWER FIVE: ACC | Big Ten | Big 12 | Pac-12 | SEC