The 2021 college football regular season has officially come to a close, and now it's time to recognize the top players across the country with PFF's all-conference teams and conference players of the year.
With the help of PFF grades and advanced statistics — which are now available to PFF's CFB Premium Stats+ Subscribers — we present to you the 2021 MAC Offensive and Defensive Player of the Year and All-MAC teams.
Click here for more PFF tools:
Rankings & Projections | WR/CB Matchup Chart | NFL & NCAA Betting Dashboards | NFL Player Props tool | NFL & NCAA Power Rankings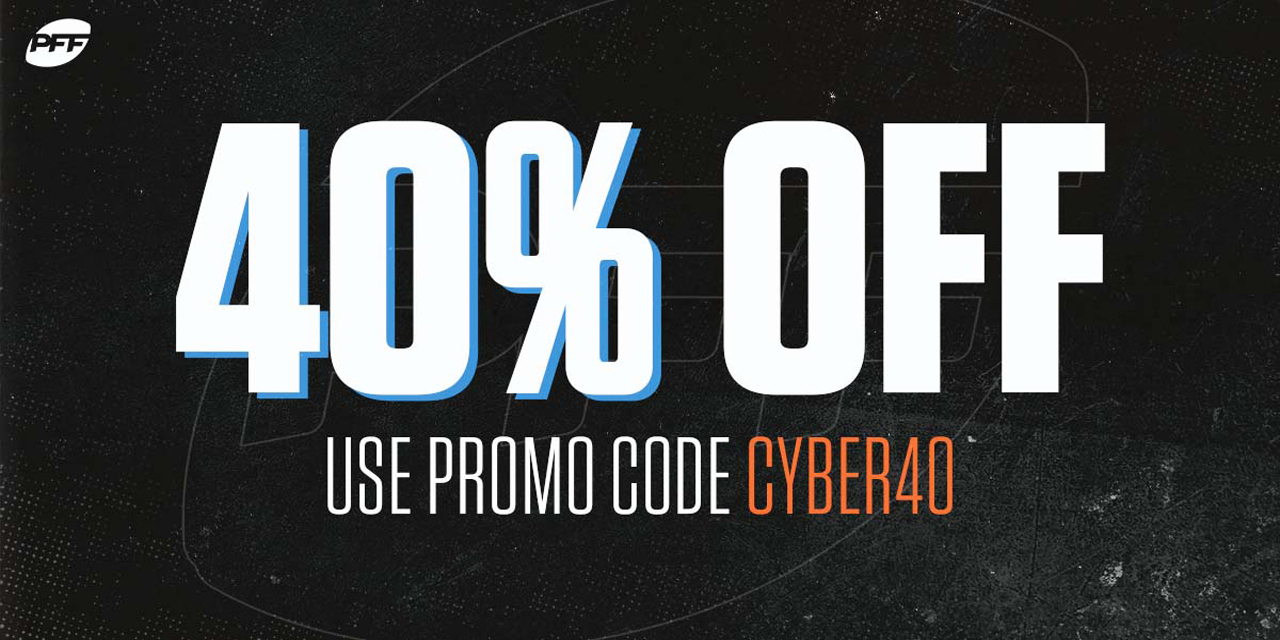 Click to view PFF's 2021 All-Conference teams
POWER FIVE: ACC | Big Ten | Big 12 | Pac-12 | SEC
GROUP OF FIVE: AAC | C-USA | Mountain West | Sun Belt
---
Raimann went from Austrian foreign exchange student in high school to Central Michigan tight end to star offensive tackle and PFF MAC Offensive Player of the Year.
The 6-foot-7, 305-pound lineman earned a 94.3 PFF grade in the regular season, with a 93.3 run-block grade and 88.7 pass-block grade to boot. He has been virtually flawless in pass-protection over his last six games, too, with zero pressures allowed in that span.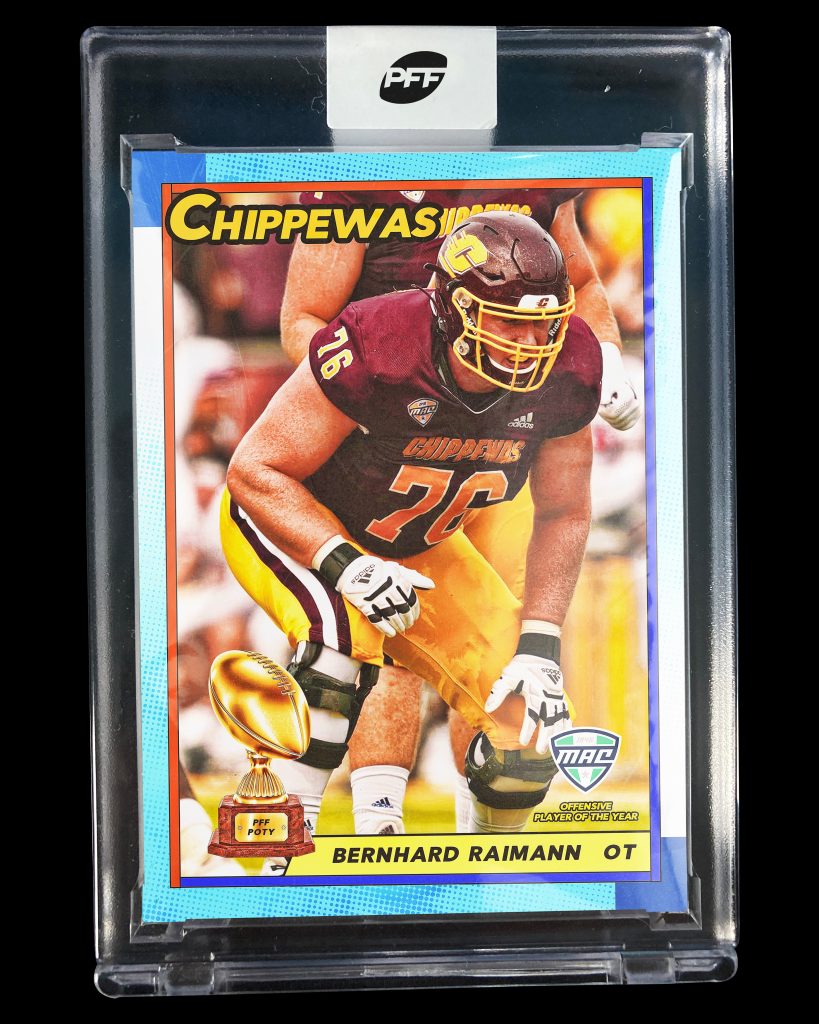 Pace stepped into a starting job for the first time this year and came out with an 88.3 PFF grade in regular-season action. He's been a weapon regardless of the role but stood out as a blitzer, earning a 91.2 pass-rush grade and totaling 19 pressures on 46 rushes. Pace paired that with an 88.6 coverage grade and 78.7 run-defense grade.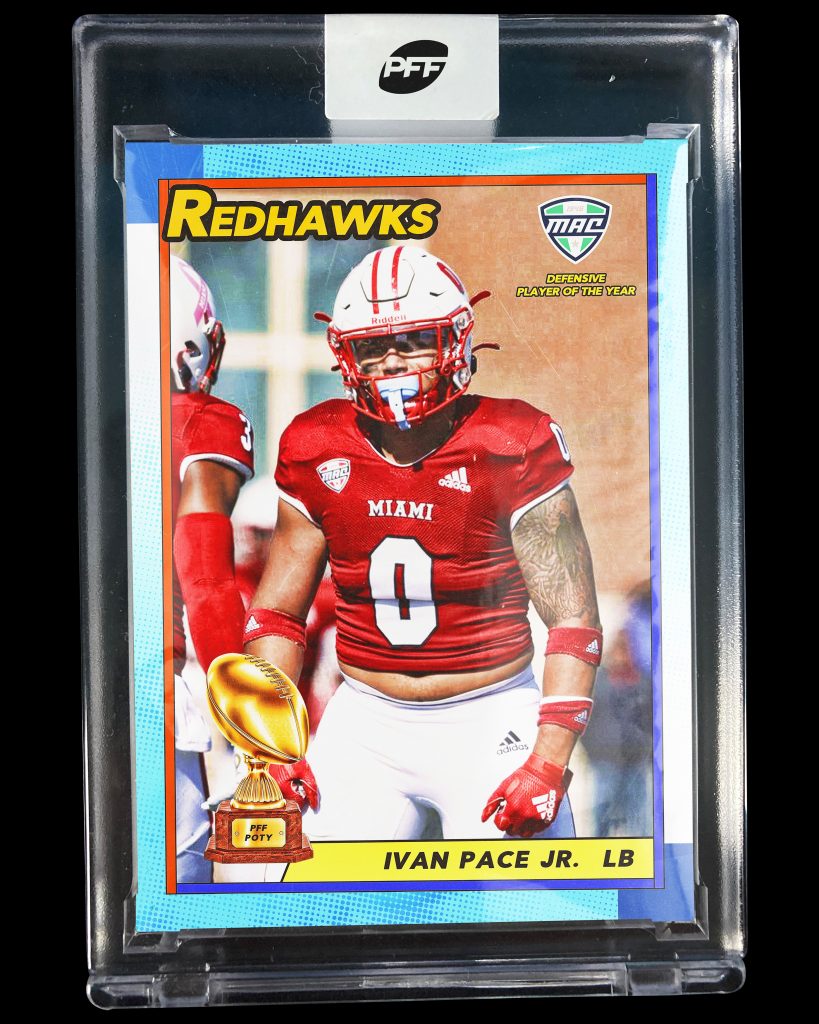 QB Dustin Crum, Kent State
RB Lew Nichols III, Central Michigan
RB Bryant Koback, Toledo
WR Skyy Moore, Western Michigan
WR Jack Sorenson, Miami (OH)
WR Trayvon Rudolph, Northern Illinois
TE Jack Coldiron, Miami (OH)
LT Bernhard Raimann, Central Michigan
LG Jacob Gideon, Western Michigan
C Mike Vaan Hoeven, Eastern Michigan
RG Curtis Blackwell, Ball State
RT Luke Goedeke, Central Michigan
DI Ralph Holley, Western Michigan
DI Daymond Williams, Buffalo
ED Ali Fayad, Western Michigan
ED Jose Ramirez, Eastern Michigan
LB Ivan Pace Jr., Miami (OH)
LB Troy Brown, Central Michigan
CB Devin Taylor, Bowling Green
CB Samuel Womack, Toledo
S Maxen Hook, Toledo
S Jordan Anderson, Bowling Green
FLEX D Alonzo McCoy, Central Michigan
K Nate Needham, Bowling Green
P Luke Elzinga, Central Michigan
KR Ja'Shaun Poke, Kent State
PR Kalil Pimpleton, Central Michigan
QB Brett Gabbert, Miami (OH)
RB Xavier Williams, Kent State
RB De'Montre Tuggle, Ohio
WR Tyrice Richie, Northern Illinois
WR Hassan Beydoun, Eastern Michigan
WR Kalil Pimpleton, Central Michigan
TE Ryan Luehrman, Ohio
LT Jake Fuzak, Buffalo
LG Sidy Sow, Eastern Michigan
C Mike Caliendo, Western Michigan
RG Tyler Long, Toledo
RT Nolan Potter, Northern Illinois
DI Braden Fiske, Western Michigan
DI George Wolo, Buffalo
ED Troy Hairston II, Central Michigan
ED Jamal Hines, Toledo
LB James Patterson, Buffalo
LB Jonathan Jones, Toledo
CB Quinyon Mitchell, Toledo
CB Justin Clark, Toledo
S Bryce Cosby, Ball State
S Tariq Drake, Ohio
FLEX D Matthew Salopek, Miami (OH)
K Chad Ryland, Eastern Michigan
P Nathan Snyder, Ball State
KR Jacquez Stuart, Toledo
PR Devin Maddox, Toledo
QB Ben Bryant, Eastern Michigan
RB Marquez Cooper, Kent State
RB Dylan McDuffie, Buffalo
WR Konata Mumpfield, Akron
WR Mac Hippenhammer, Miami (OH)
WR Dante Cephas, Kent State
TE Christian Sims, Bowling Green
LT Bill Kuduk, Kent State
LG Gabe Wallace, Buffalo
C Brayden Patton, Northern Illinois
RG Nathan Monnin, Kent State
RT Mark Brooks, Western Michigan
DI John Wesley Whiteside, Central Michigan
DI Austin Ertl, Miami (OH)
ED Taylor Riggins, Buffalo
ED Anthony Ekpe, Ball State
LB Dyontae Johnson, Toledo
LB Corvin Moment, Western Michigan
CB Amechi Uzodinma II, Ball State
CB Jordan Gandy, Northern Illinois
S Keith Sherald Jr., Kent State
S Nate Bauer, Toledo
FLEX D Tycen Anderson, Toledo
K John Richardson, Northern Illinois
P Jonah Wieland, Ohio
KR Justin Hall, Ball State
PR Jhaylin Embry, Bowling Green
QB Kaleb Eleby, Western Michigan
RB Terion Stewart, Bowling Green
RB Jawon Hamilton, Eastern Michigan
WR Quian Williams, Buffalo
WR Cole Tucker, Northern Illinois
WR Michael Mathison, Akron
TE Andrew Homer, Miami (OH)
LT TJ Jackson, Ohio
LG Adam Gregoire, Kent State
C Jamezz Kimbrough, Central Michigan
RG Dylan Deatherage, Western Michigan
RT Brian Dooley, Eastern Michigan
DI Walter Haire, Bowling Green
DI Daishon Folsom, Buffalo
ED Karl Brooks, Bowling Green
ED Lonnie Phelps, Miami (OH)
LB Lance Deveaux Jr., Northern Illinois
LB Zaire Barnes, Western Michigan
CB Roman Parodie, Ohio
CB Chris McDonald, Toledo
S Jarren Hampton, Ohio
S Gage Kreski, Central Michigan
FLEX D Jacquez Warren, Miami (OH)
K Jacob Lewis, Ball State
P Jake Julien, Eastern Michigan
KR De'Montre Tuggle, Ohio
PR Justin Hall, Ball State
---
Click to view PFF's 2021 All-Conference teams
POWER FIVE: ACC | Big Ten | Big 12 | Pac-12 | SEC
GROUP OF FIVE: AAC | C-USA | Mountain West | Sun Belt