The 2021 college football regular season has officially come to a close, and now it's time to recognize the top players across the country with PFF's all-conference teams and conference players of the year.
With the help of PFF grades and advanced statistics — which are now available to PFF's CFB Premium Stats+ Subscribers — we present to you the 2021 AAC Offensive and Defensive Player of the Year and All-AAC teams.
Click here for more PFF tools:
Rankings & Projections | WR/CB Matchup Chart | NFL & NCAA Betting Dashboards | NFL Player Props tool | NFL & NCAA Power Rankings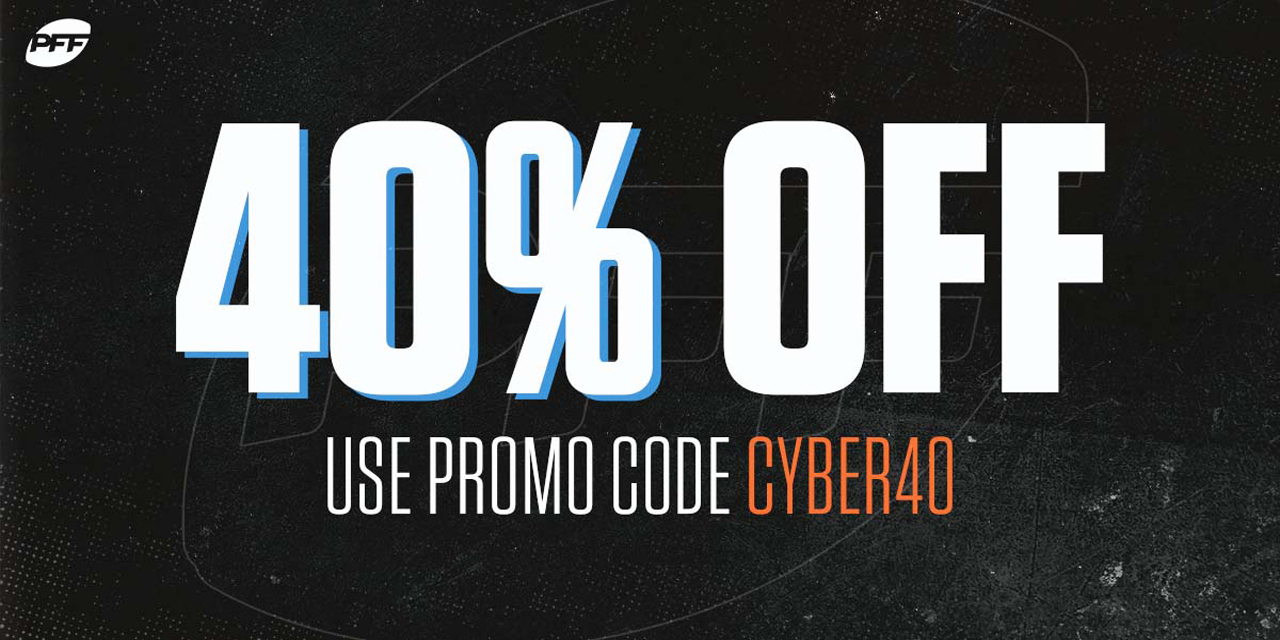 Click to view PFF's 2021 All-Conference teams
POWER FIVE: ACC | Big Ten | Big 12 | Pac-12 | SEC
GROUP OF FIVE: C-USA | MAC | Mountain West | Sun Belt
---
Ridder showed immense growth as the Bearcats' starting quarterback this season, particularly down the stretch. He was a toolsy but inconsistent passer for Cincy in his first three years, putting up single-season PFF grades of 74.1 (2018), 72.2 (2019) and 76.3 (2020). This year, he developed his deep ball, his decision-making has been sharper and the tight-window accuracy has improved by leaps and bounds.
The Bearcats quarterback posted a 91.7 PFF grade in the 2021 regular season, with his four highest-graded games as a passer coming in his last four games. He's thrown 24 big-time throws over 20-plus yards in 2021 while not recording a single turnover-worthy play on those same passes.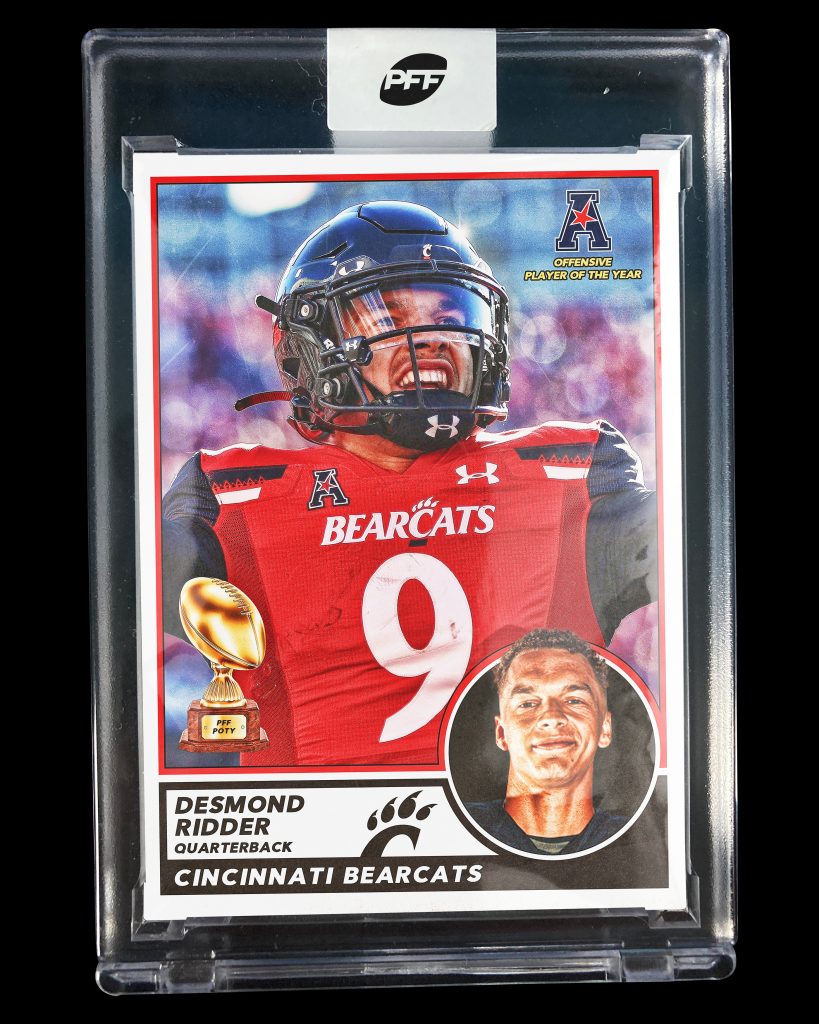 Despite playing mostly on an island in press coverage, Gardner allowed fewer than 20 yards in every single one of his 12 starts and allowed only 96 yards in total across 390 regular-season coverage snaps (0.25 yards per coverage snap). Of those 390 snaps, 325 of them came in press coverage.
The 6-foot-3, 200-pound corner used his length and physicality to his advantage, and opposing offenses largely decided to ignore him in coverage, targeting the player in his coverage just 2.7 times per game on average.
When they did throw the ball his way, it almost always netted negative results, as the opposition collectively generated a 20.8 passer rating on throws into Gardner's coverage. Throwing the ball in the grass every play would net a higher passer rating — that's how good he is.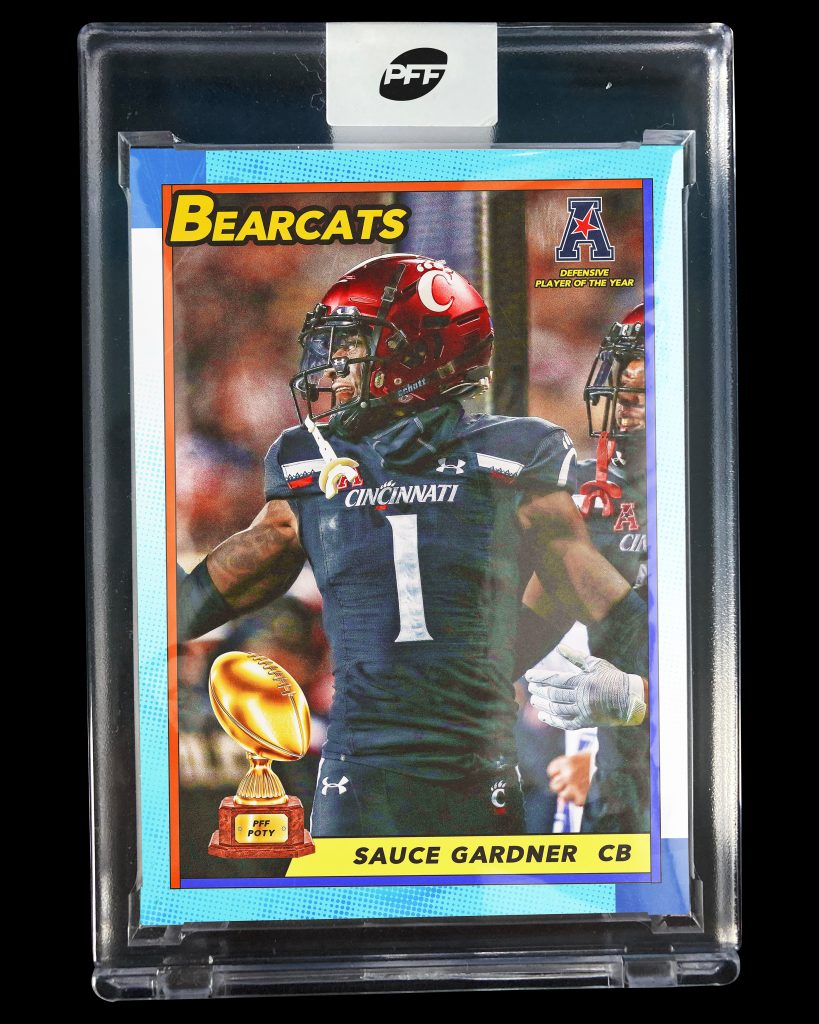 QB Desmond Ridder, Cincinnati
RB Jerome Ford, Cincinnati
RB Ulysses Bentley IV, SMU
WR Xavier Weaver, USF
WR Calvin Austin III, Memphis
WR Nathaniel Dell, Houston
TE Sean Dykes, Memphis
LT Tyler Smith, Tulsa
LG Hayden Howerton, SMU
C Sincere Haynesworth, Tulane
RG Dylan Parham, Memphis
RT Michael Niese, Temple
DI Elijah Chatman, SMU
DI Jaxon Player, Tulsa
ED Anthony Goodlow, Tulsa
ED Myjai Sanders, Cincinnati
LB Joel Dublanko, Cincinnati
LB Darrian Beavers, Cincinnati
CB Sauce Gardner, Cincinnati
CB Coby Bryant, Cincinnati
S Bryan Cook, Cincinnati
S Quindell Johnson, Memphis
FLEX D Marcus Jones, Houston
K Spencer Shrader, USF
P Ryan Wright, Tulane
KR Marcus Jones, Houston
PR Marcus Jones, Houston
QB Clayton Tune, Houston
RB Tyjae Spears, Tulane
RB Alton McCaskill, Houston
WR Rashee Rice, SMU
WR Alec Pierce, Cincinnati
WR Danny Gray, SMU
TE Ryan Jones, East Carolina
LT Isaac Moore, Temple
LG Cole Schneider, UCF
C Kody Russey, Houston
RG Dylan Couch, Tulsa
RT Dennis Bardwell, Houston
DI Curtis Brooks, Cincinnati
DI Logan Hall, Houston
ED Derek Parish, Houston
ED D'Anthony Jones, Houston
LB Tatum Bethune, UCF
LB Delano Robinson, SMU
CB Ja'Quan McMillian, East Carolina
CB Jacobi Francis, Memphis
S Jaise Oliver, Tulsa
S Quadric Bullard, UCF
FLEX D Damarion Williams, Houston
K Zack Long, Tulsa
P John Young, East Carolina
KR Brian Battle, USF
PR Xavier Weaver, USF
QB Tanner Mordecai, SMU
RB Carlinos Acie, Navy
RB Jaren Mangham, USF
WR Tre Tucker, Cincinnati
WR Tyler Snead, East Carolina
WR Josh Johnson, Tulsa
TE Grant Calcaterra, SMU
LT Patrick Paul, Houston
LG Cam'Ron Johnson, Houston
C Matthew Lee, UCF
RG Lokahi Pauole, UCF
RT Marcus Bryant, SMU
DI Atlias Bell, Houston
DI Tyarise Stevenson, Tulsa
ED Turner Coxe, SMU
ED David Anenih, Houston
LB Donavan Mutin, Houston
LB Deshawn Pace, Cincinnati
CB Davonte Brown, UCF
CB Corey Thornton, UCF
S Gervarrius Owens, Houston
S Divaad Wilson, UCF
FLEX D Arquon Bush, Cincinnati
K Bijan Nichols, Navy
P Laine Wilkins, Houston
KR Bryan Massey, SMU
PR Ryan Montgomery, Cincinnati
QB Seth Henigan, Memphis
RB Keaton Mitchell, East Carolina
RB Brandon Thomas, Memphis
WR Reggie Roberson Jr., SMU
WR Ryan O'Keefe, UCF
WR Jake Herslow, Houston
TE Josh Whyle, Cincinnati
LT Marcus Tatum, UCF
LG Jeremy Cooper, Cincinnati
C Jacob Likes, Memphis
RG Caleb Thomas, Tulane
RT Samuel Jackson, UCF
DI Chidozie Nwankwo, Houston
DI DeVere Levelston, SMU
ED Tre'mon Morris-Brash, UCF
ED Malik Vann, Cincinnati
LB Jimmy Phillips Jr., SMU
LB Ty Van Fossen, Cincinnati
CB Malik Fleming, East Carolina
CB Alex Hogan, Houston
S Ja'von Hicks, Cincinnati
S Jireh Wilson, East Carolina
FLEX D Travon Fuller, Tulsa
K Blake Mazza, SMU
P Lachlan Wilson, Tulsa
KR Tre Tucker, Cincinnati
PR Tyler Snead, East Carolina
---
Click to view PFF's 2021 All-Conference teams
POWER FIVE: ACC | Big Ten | Big 12 | Pac-12 | SEC
GROUP OF FIVE: C-USA | MAC | Mountain West | Sun Belt