NFL draft props continue to trickle in as the last free agent and trade news settles before the late-April event. The draft prop markets adjusted considerably based on how free agency played out, which has unraveled a few new markets that are showing betting value. 
---
Click here for more PFF tools:
Draft Guide & Big Board | Mock Draft Simulator
Dynasty Rankings & Projections | Free Agent Rankings | 2022 QB Annual
Player Grades
---
Let's take a look at what changed from early March to handicap the current state of every draft prop offering using PFF's variety of datasets.
FIRST OVERALL PICK
Aidan Hutchinson still sits as the odds-on favorite to be selected first overall, but his odds have dropped slightly from a high of -290 three weeks ago. Travon Walker is the noteworthy development, moving from +2000 to +350 in two weeks, and is currently priced as the second-most likely first pick in the draft.
Despite the price holding steady, everything is pointing toward Hutchinson being this draft's first selection. There are more worthwhile values in other markets than laying -250 on this bet but expect to see news that solidifies Hutchinson as the first overall pick soon, which will push his odds to an even bigger minus price offering before draft day.
Pick: None
SECOND OVERALL PICK
The draft should turn chaotic starting with the second pick, and bookmakers are split between Hutchinson and Walker — both of whom are tied for the shortest odds to be selected second at both DraftKings and FanDuel. PFF's mock draft simulator results are a lagging indicator but point toward one of the edge rushers as the most likely pick, as 51.3% of the Detroit Lions' mock draft select the position.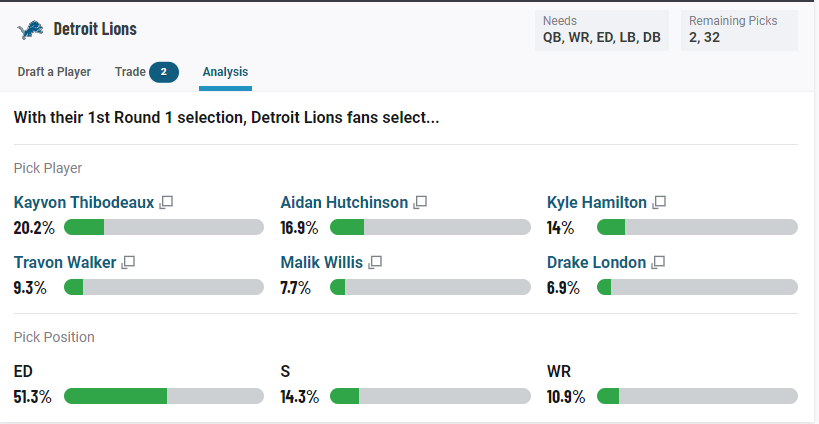 PFF's mock draft simulator data fits with Grinding The Mocks' outlook for the Lions, as over 35% of mock drafts over the past two months have Hutchinson as Detroit's selection.
The problem is that over that time period, Hutchinson moved to the overwhelming favorite to be the first selection and most likely won't be available with the second pick. Barring a significant upset at No. 1 overall, Detroit will likely pick the second-best pass-rusher or a quarterback.
Malik Willis is becoming the trendy media pick at No. 2 overall, but he doesn't appear to fit the Lions' team-building strategy. Overdrafting a quarterback is not something head coach Dan Campbell and general manager Brad Holmes seem set on, which leaves one of the two pass-rushers as the most likely second selection.
Walker has rocketed up draft boards, but I'm still skeptical that he gets picked this high. However, given the dramatic shift in his odds, now is not the time to buy into Walker if you believe he will be the pick. PFF's Austin Gayle made Kayvon Thibodeaux the latest player to be mocked to the Lions at No. 2 overall, and the former Oregon Duck makes sense as a buy-low option for this selection given his current price.
Pick: Kayvon Thibodeaux Second Overall Pick (+1200 DK)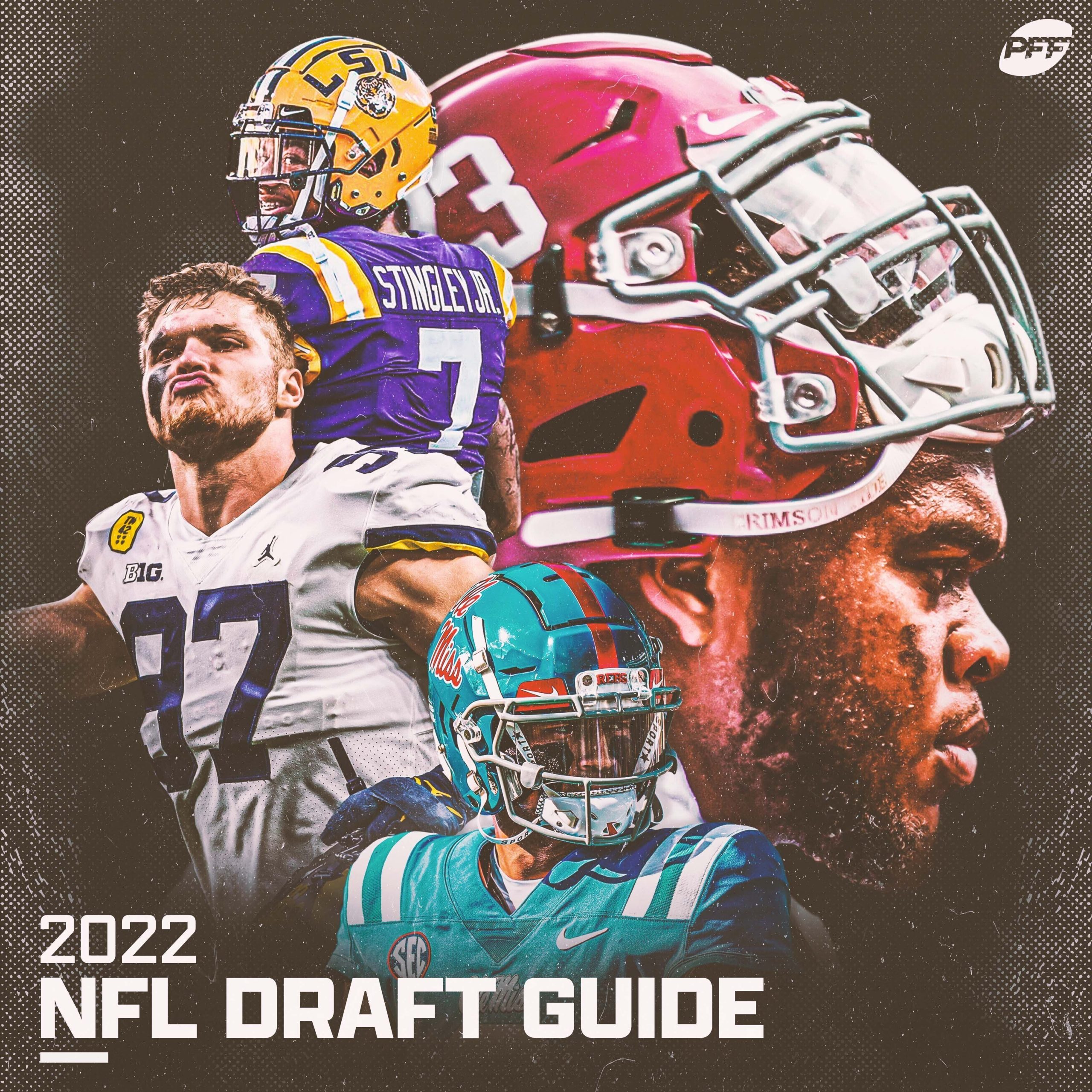 THIRD OVERALL PICK
If everything goes according to plan at No. 2 overall, then it will all surely go sideways by No. 3 overall. It's safe to say no one is fully tuned in to what the Houston Texans are going to do, as they have needs all over their roster and a stockpile of picks at their disposal.
It's hard to see them entering the 2022 season with Davis Mills, Jeff Driskel and Kyle Allen as their three quarterback options on their roster, but no quarterback appears worthy of the third overall selection. The problem is the Texans' preferred quarterback may not be available if they wait until the 12th selection to address the position, which is why it's plausible they reach for their guy at No. 3.
Everyone is gravitating toward Willis as the top quarterback option in this draft class, as he is the heavy favorite to be the first quarterback selected. His background seems to fit Houston's player profile with general manager Nick Caserio and executive vice president of football operations Jack Easterby in charge of its player personnel department. Willis is +350 on DraftKings and +1000 on FanDuel to be the third selection in the NFL draft. An even better approach is betting him to be selected by the Texans, which opens up the possibility of Houston selecting him at pick Nos. 3 or 12. That outcome pays +1600 on DraftKings and looks like one of the best longshot bets to make right now.
Pick: Team to select Malik Willis Houston Texans (+1600 DK)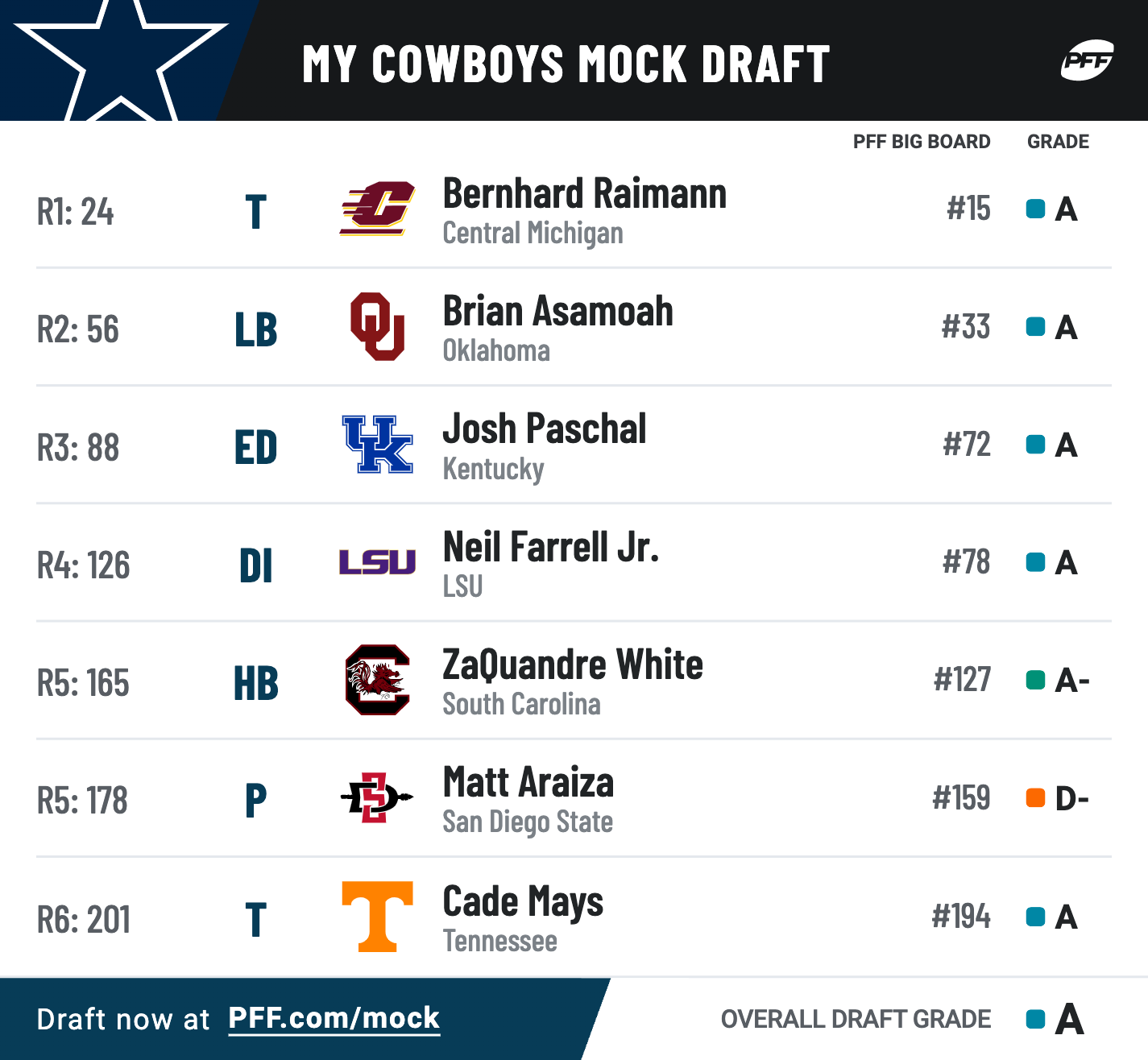 TOP-10 PICK
The first 10 picks are starting to become clear as we can safely project three edge players and three offensive tackles to be among the first 10 picks in the 2022 NFL Draft. Bookmakers also seem confident that Willis will land in the first 10 picks with an 80% implied probability. The Carolina Panthers are the most likely destination, as they have the shortest odds to land Willis at both DraftKings and FanDuel.
That leaves three more selections in this multiway market. Ahmad "Sauce" Gardner is the most likely based on price and currently has a draft prop set at pick No. 7.5. If he gets selected lower before the eighth overall pick, it will probably instigate an early run on defensive backs within the first ten picks.
The real winner in this scenario is Derek Stingley Jr., who has seen his draft stock plummet over the past three months; however, his stock rebounded a little bit, according to Grinding The Mocks.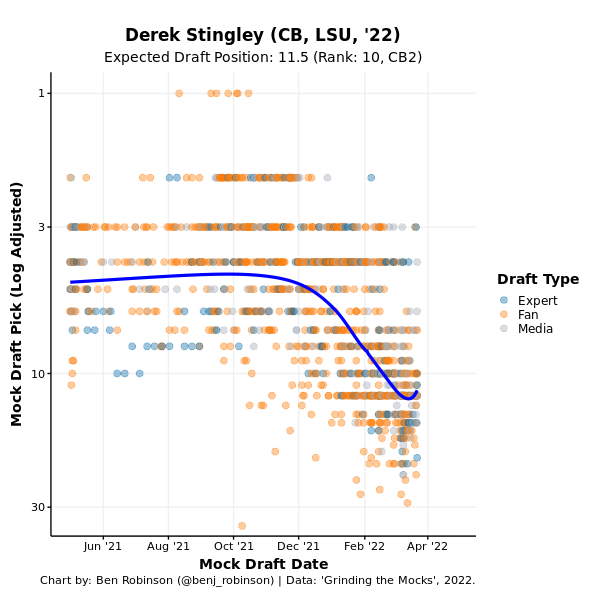 Stingley flashed legitimate shutdown cornerback ability as a freshman at LSU, but he regressed significantly since then due to injuries and slightly less stellar play. Nonetheless, a team could easily fall in love with his upside. If Gardner hits as a top-seven pick, then the Atlanta Falcons, Seattle Seahawks and New York Jets have needs at cornerback and won't be in a position to reach for a quarterback if Willis is off the board, which makes Stingley an option for each. The +140 offering on DraftKings seems slightly mispriced compared to FanDuel, so lock it in with the expectation it moves closer to an even money proposition by draft day.
Pick: Derek Stingley Top 10 selection (+140 DK)
NUMBER OF POSITIONS DRAFTED IN THE FIRST ROUND
| | | | | | |
| --- | --- | --- | --- | --- | --- |
| Description | Total Players | Over Price | Under Price | Implied Over | Implied Under |
| Total defensive players first round | 15.5 | -125 | -105 | 55.56% | 51.22% |
| Total offensive players first round | 16.5 | -125 | -105 | 55.56% | 51.22% |
| Total cornerbacks first round | 4.5 | 120 | -150 | 45.45% | 60.00% |
| Total offensive lineman first round | 7.5 | 110 | -140 | 47.62% | 58.33% |
| Total quarterbacks first round | 2.5 | -200 | 160 | 66.67% | 38.46% |
| Total safeties first round | 1.5 | -160 | 130 | 61.54% | 43.48% |
| Total wide receivers first round | 5.5 | -150 | 120 | 60.00% | 45.45% |
| Total running backs first Round | 0.5 | 150 | -190 | 40.00% | 65.52% |
The macro view of how the first round will inevitably land offers some of the best betting opportunities for draft props. Things changed dramatically after free agency, as the number of defensive players selected in the first round moved from 14.5 up to 15.5 after free agency's initial wave. The run on defensive players could start early due to the expectations that the first two picks will be edge rushers.
The only way that over-15.5 defensive players don't hit is if the total offensive lineman and total wide receivers both exceed their draft expectations by at least two players. This looks like a stretch given PFF's latest big board that actually has five cornerbacks among the top 30 players in this draft. Given the depth at both the edge defender and cornerback positions, offensive players could turn into an afterthought in the latter half of the first round.
According to PFF's draft guru Mike Renner, edge rusher, linebacker and cornerback are three of the strongest five position groups in this year's draft class: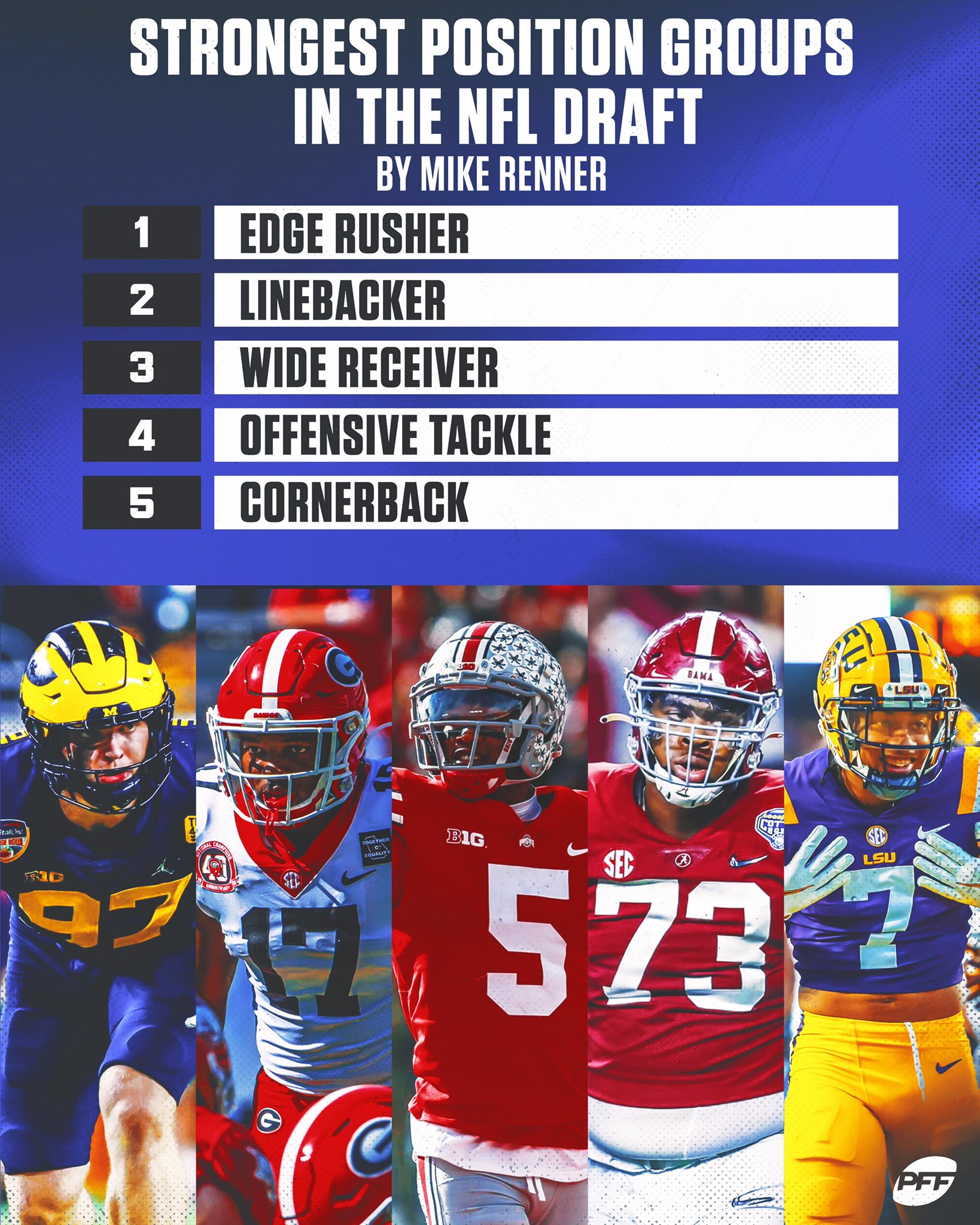 Taking not only the defensive players over 15.5 but also more than 4.5 cornerbacks to be selected is the best way to attack these offerings right now.
Picks: Total Defensive Players First Round Over 15.5 -125, Total Cornerbacks Taken First Round Over 4.5 +120
---
2022 NFL Draft position rankings:
Top 10 players at every position
QB | RB | WR | TE | iOL | OT | DI | EDGE | LB | CB | S
---
BEST BETS FROM EARLY MARCH
Malik Willis First Quarterback (-170, FD) (now -200, DK)
Breece Hall First Running Back (-175, DK) (now -250)
Jameson Williams First Wide Receiver (+800, DK) (now +850)
NEW BEST BETS
Kayvon Thibodeaux Second Overall Pick (+1200 DK)
Team to select Malik Willis – Houston Texans (+1600 DK)
Derek Stingley Top 10 selection (+140 DK)
Total Defensive Players First Round Over 15.5 (-125)
Total Cornerbacks Taken First Round Over 4.5 (+120)