The 2022 NFL Draft is officially less than a month away, which means we have a pretty good handle on the relative strengths and weaknesses of the class at this point.
This class takes back the balance of power for defenses. After a loaded offensive draft class in 2021, this year's class is heavy on the defensive side of the ball.
Here is how position groups in the 2022 NFL Draft, starting at edge defender. 
Click here for more PFF tools:
Draft Guide & Big Board | Mock Draft Simulator
Dynasty Rankings & Projections | Free Agent Rankings | 2022 QB Annual
Player Grades
---
Not only are there 14 edge rushers in the PFF top 100, but there are also three in the top 10. This class has high-end talent, including the presumptive No. 1 pick Aidan Hutchinson, as well as depth into Day 2.
The top four edges in this year's class — Hutchinson (No. 1 on PFF's big board), Kayvon Thibodeaux (No. 4), George Karlaftis (No. 10) and Travon Walker (No. 14) — would have all been EDGE1 in the 2021 class. 
This class is unlikely to match 2020 in terms of first-rounders. That year, four linebackers came off the board in the first round, while it doesn't seem likely that more than two get drafted in the first round this year.
Still, this year's class should outshine that one on Day 2. There are 11 linebackers between No. 33 and No. 100 on the PFF draft board, and the only player no longer likely to go on Day 2 is LSU's Damone Clark after he underwent spinal fusion surgery. 
Is this the new norm for receiver classes? While this year's WR1, Drake London, would have checked in behind the top three from the 2021 class, the sheer depth of receivers with size in this draft class is staggering. In last year's second round, four of the five receivers drafted were 5-foot-9 or shorter. That's not going to be the case this year.
Prospects like George Pickens (6-foot-3), Justyn Ross (6-foot-4), Christian Watson (6-foot-4),  Alec Pierce (6-foot-3) and Jalen Tolbert (6-foot-1) should give Day 2 of the 2022 class a decidedly different feel.
This marks the third straight impressive tackle class. The 2022 class is far more like the 2020 version than the one we saw a year ago. By that, I mean it's top-heavy — you still want one of the top five tackles in this class and don't want to be the team that reaches for the sixth (think Austin Jackson).
You won't find the kind of depth in Round 2 that saw six tackles come off the board from picks 39-53 a year ago, but you will find high-end starter potential at the top of the draft.
---
2022 NFL Draft position rankings:
Top 10 players at every position
QB | RB | WR | TE | iOL | OT | DI | EDGE | LB | CB | S
---
This is one of the top-heaviest cornerback groups in recent memory. Depending on your scheme, Derek Stingley Jr., Ahmad "Sauce" Gardner and Trent McDuffie could all be seen as elite talents on team boards. All feature within the top-10 on the PFF board, as well.
From there, it starts to drop off considerably, with only two more corners in the top 50. However, it does feature a couple of athletic marvels in UTSA's Tariq Woolen and Sam Houston State's Zyon McCollum, two of the freakier testers ever at the position.
What the tackle class lacks in depth, the interior line class more than makes up for. The interior class is swarming with talent in Rounds 3 and 4, and that's not even considering some possible tackle converts currently grouped in the tackle figure above. It also has a couple of prototypes, with Zion Johnson atop the guard class and Tyler Linderbaum atop the center group. 
This is the last position group in 2022 that has an above-average class compared to the previous seven drafts we've graded. It has a blue-chipper at the top in Kyle Hamilton. It has excellent plug-and-play depth into Day 2 with Lewis Cine, Jaquan Brisker, Daxton Hill and Jalen Pitre. There is also a good deal of athletic projects to work with. With a little something for everyone, it's a good year to want a safety. 
There may not be great depth to this class, but boy, are there some impact players at the top. Georgia is carrying the class on its back with DT1 (Devonte Wyatt) and DT2 (Jordan Davis) on not only PFF's board but on pretty much every board you'll find. While it's a touch lacking throughout Day 2, even having a couple of first-rounders is a nice change of pace after none went in Round 1 last year.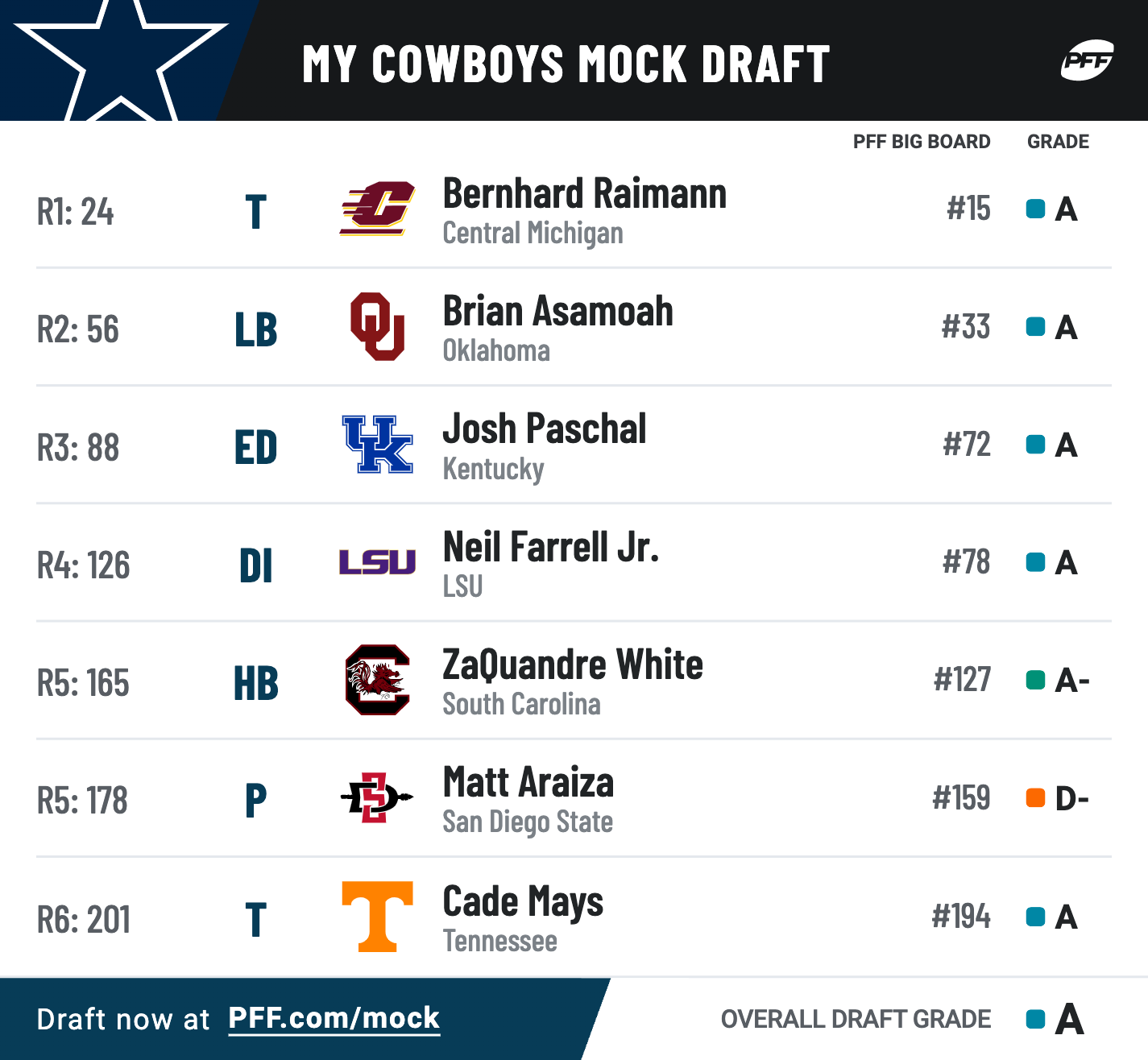 This running back class slightly lacks depth, but there are still two plug-and-play starters at the top of the class in Kenneth Walker and Breece Hall. After that, there aren't many candidates to feel great about coming in and handling a full-time workload. There are certainly strong contenders to play a certain role in an offense — such as Kyren Williams on third downs and Brian Robinson in short-yardage — but there are few do-it-all options.  
This was arguably the hardest position to rank in the class. In terms of serviceable talent that could see the field at the NFL level, it's actually one of the deepest tight end classes in recent memory. In terms of prospects you are coveting as actual starters early on, it's decidedly lacking.
There isn't a prospect in the class I'd take off the board before the third round, and that's indicated by how few crack the top 100 on the PFF draft board.
While this class may have some depth, it lacks top-end talent more than any other quarterback class we've seen in our eight years of college grading. Due to positional value, the quarterback position gets a healthy bump on the PFF draft board. Even with that sizeable deference, the top quarterback in this class still only checks in at 22nd overall (Sam Howell).
Maybe last place on this list is slightly harsh, but that lack of top-end talent is unlike any class we've seen in our eight years of college grading.