PFF's in-depth charting and advanced stats look beyond the box score to identify key metrics otherwise overlooked across all positions in the NFL. This "Signature Stat Spotlight" series will walk readers through the varying advanced stats and metrics we track for every player at every position in every game.
Safeties need to be versatile in today's NFL. The best at the position can thrive from any pre-snap alignment, play the run and make plays both in coverage and rushing the passer. As such, all of PFF's advanced stats and pre-snap charting tied to defensive players apply to today's safeties.
[Editor's Note: To dive into PFF's grading system and Premium Stats 2.0, subscribe to PFF's ELITE – Monthly or ELITE – Annual subscription.] 
All of PFF's coverage metrics (i.e., yards allowed per coverage snap, passer rating allowed) that apply to cornerbacks and linebackers also apply to safeties, as does pass-rush productivity. Tackling efficiency and run-stop percentage also come into play, especially for box safeties.
Tracking where safeties line up pre-snap is also vital to understanding the impact and value any given safety brings to the table. For example, New York Jets' Jamal Adams played 489 defensive snaps in the box, 281 at free safety, 172 at slot cornerback, 137 along the defensive line and another 40 at boundary cornerback.
[Editor's Note: All of PFF's ELITE subscribers have access to every player's "Snaps by Position" tab in Premium Stats 2.0. To view Adams' "Snaps by Position" tab, please click here.] 
Outside of Premium Stats 2.0, PFF charts depth of target for cornerbacks and safeties, which can shed light on how defensive backs perform when targeted at the short, intermediate and deep levels of the field.
Signature Stat Spotlight Series:  
QB | RB | WR | TE | OL | DL | LB | CB | S
Tackling Efficiency
Dallas Cowboys safety Jeff Heath finished the 2019 season ranked first in PFF tackling efficiency (30.5) with just two missed tackles across 61 tackle attempts. Tennessee Titans' Kevin Byard finished second among qualifiers (24.8) with just four missed across 99 tackle attempts.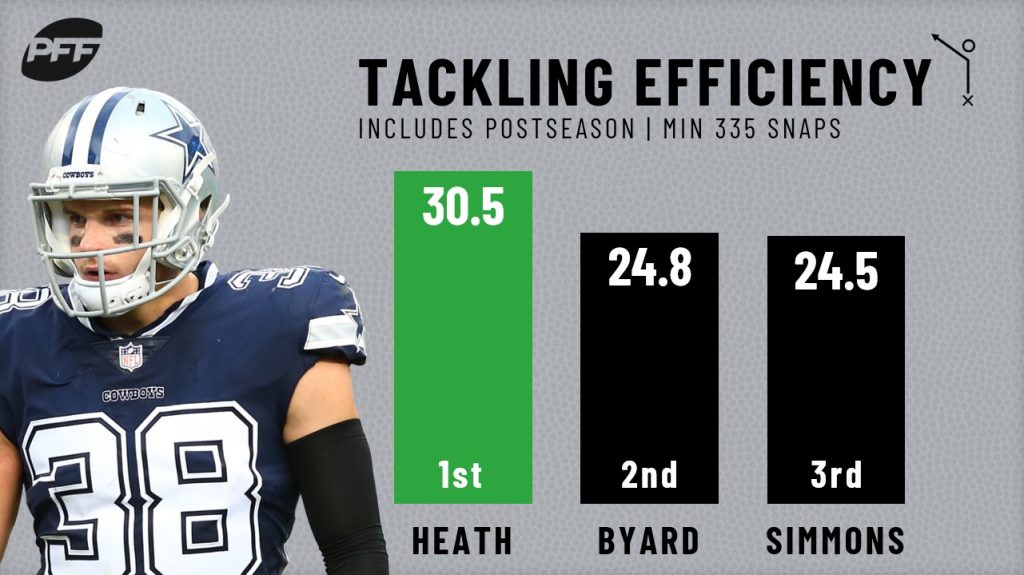 Cleveland Browns' Jermaine Whitehead recorded the lowest PFF tackling efficiency of any qualifying safety in 2019. He missed 12 tackles across just 59 total tackle attempts en route to a 4.2 tackling efficiency.
Coverage Defense
Among the 43 NFL safeties with at least 30 targets in 2019, Denver Broncos' Justin Simmons ranked first in passer rating when targeted at 32.1. The soon-to-be unrestricted free agent allowed just 25 receptions from 47 targets for 239 yards, zero touchdowns and four interceptions. New England Patriots' Devin McCourty ranked second among qualifiers at the position at 41.8.
No qualifying safety allowed a higher passer rating when targeted than Carolina Panthers' Eric Reid. He allowed 46 receptions from 58 targets for 592 yards, seven touchdowns and zero interceptions en route to a 148.8 passer rating allowed in 2019.
To continue to learn more about PFF's advanced stats, please stay tuned for the rest of our Signature Stat Spotlight Series. Or, better yet, subscribe to PFF's ELITE subscription to dive into the numbers yourself throughout the offseason and into next season.
Signature Stat Spotlight Series: