Pro Football Focus' in-depth charting and advanced stats look beyond the box score to identify key metrics otherwise overlooked across all positions in the NFL. This "Signature Stat Spotlight" series will walk readers through the varying advanced stats and metrics we track for every player at every position in every game.
We've now discussed the advanced stats behind running backs and offensive linemen, so we're now moving to the defensive side of the ball to get an advanced look at cornerbacks. Charting targets, receptions allowed, yards allowed, touchdowns allowed and forced incompletions serves as the core of what we use in our advanced stat formulas for cornerbacks. With the aforementioned information, we can pull yards allowed per coverage snap, targets per coverage snap and receptions allowed per coverage snap. We calculate passer rating allowed, yards after the catch allowed and catch percentage allowed (receptions allowed/targets), as well.
In addition to the above metrics, we chart first downs allowed and targets either dropped by the intended receiver or thrown off target. Forced incompletion percentage, which takes all forced incompletions (pass breakups, interceptions, tight coverage) and divides them by total targets, is also tracked outside of Premium Stats 2.0 and sometimes referred to in our articles or social graphics. Shortened to FINC% at times, this statistic gives us a great idea of which cornerbacks make plays on the ball at the highest and lowest rates.
Signature Stat Spotlight Series:  
RB | OL | CB | DL | QB | LB | S | WR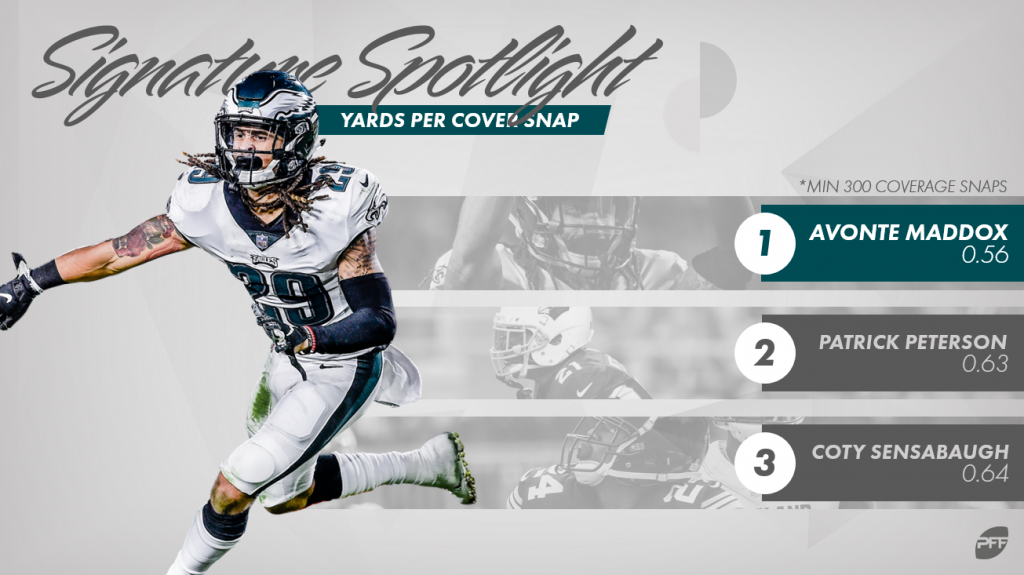 Philadelphia Eagles cornerback Avonte Maddox, who allowed just 18 receptions from 33 targets for 218 yards across his 391 coverage snaps in the regular season, allowed a league-low 0.56 yards per coverage snap in 2018. The rookie Pittsburgh product barely beat the likes of Arizona Cardinals veteran Patrick Peterson (0.63), but giving credit where credit's due, Peterson did play nearly 200 more coverage snaps than Maddox this season.
As he Logged two interceptions and allowed just one touchdown in the process, Maddox also led the same group of 86 NFL cornerbacks with 300-plus coverage snaps in passer rating allowed at 59.9. Miami Dolphins' Xavien Howard (62.6) and Denver Broncos' Chris Harris Jr. (63.6) finished second and third, respectively.
Atlanta Falcons veteran cornerback Robert Alford, on the other hand, struggled to limit opposing quarterback and wide receiver success in 2018, allowing a league-high 137.0 passer rating across his 557 coverage snaps. He allowed 51 receptions from 75 targets for 849 yards, 36 first downs and seven touchdowns in the regular season, and he logged zero interceptions to boot.
Getting beat for long gains and/or touchdowns will cost cornerbacks in the passer rating allowed and yards allowed per coverage snap columns of Premium Stats 2.0. Alford allowed 36 receptions of 10-plus yards, good for the third-highest figure among all NFL cornerbacks. New York Giants' Janoris Jenkins and former Giant turned New Orleans Saints cornerback Eli Apple shared the NFL lead at 38.
Coverage snaps played per target measures the rate at which a defensive player is targeted. San Francisco 49ers veteran Richard Sherman, a feared cornerback over the years, was targeted just once every 12.6 coverage snaps (on average) in 2018, the lowest mark among cornerbacks with 300-plus coverage snaps. Maddox finished second at 11.8 coverage snaps played per target.
Cornerbacks that the opposing offensive coordinators and quarterbacks believe they can get the best of fall at the opposite end of coverage snaps played per target. Oakland Raiders' Rashaan Melvin and New England Patriots' Jonathan Jones were picked on all season long, as the two share the league-low in coverage snaps played per target (4.9).
Charting forced incompletions and tracking forced incompletion percentage takes understanding cornerback performance to the next level. Because yards allowed per coverage snap, passer rating allowed, etc. all include passes dropped by the receiver and off-target passes, such numbers can be inflated due to opponent error rather than the success or high-end play of the cornerback in question. Forced incompletion percentage adds context to such figures and provides a clearer picture as to which cornerbacks are making plays on the ball and creating incompletions rather than benefitting from fortunate circumstances such as a dropped pass or inaccurate throw. Coverage grade plays into such clarity, as well.
Patriots' Stephon Gilmore, who finished the regular season as our highest-graded cornerback, also finished first in forced incompletion percentage (27.8%). He's found new life in New England and thriving in their man-heavy defense, allowing him to constantly make plays on the ball. Eagles cornerback Rasul Douglas hasn't quite had the success Gilmore has had, as he's forced an incompletion on just 1.4% of his 75 targets in 2018.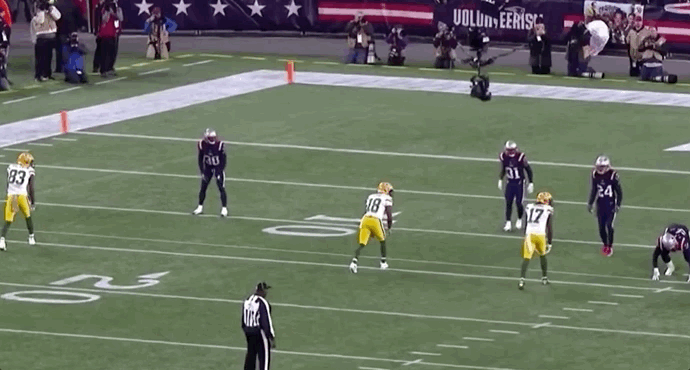 Here, Gilmore flashes great recovery ability in coverage defending Green Bay Packers star wide receiver Davante Adams, as he regains the space he lost in the shuffle and dives to force the incompletion in the end zone. Plays like these, combined with his ability to run receiver's routes for them, pushed his forced incompletion percentage so high.
To continue to learn more about PFF's advanced stats, please stay tuned for the rest of our Signature Stat Spotlight Series. Or, better yet, subscribe to PFF's ELITE subscription to dive into the numbers yourself throughout the offseason and into next season.
Signature Stat Spotlight Series: