Pro Football Focus' in-depth charting and advanced stats look beyond the box score to identify key metrics otherwise overlooked across all positions in the NFL. This "Signature Stat Spotlight" series will walk readers through the varying advanced stats and metrics we track for every player at every position in every game.
Pivoting from offensive linemen to defensive linemen, I'll discuss hurries, quarterback hits, sacks, defensive stops, batted passes, missed tackles, and all of the advanced stats pulled from the charted stats above.
Charting pressures (i.e., hurries, hits, sacks) allows us to calculate pressure percentage (total pressures/pass-rush snaps) and PFF's pass-rush productivity (PRP) metric. The formula for PRP: ((Hurries + Hits) / 2) + (Sacks) / (Pass-Rush Snaps). Unlike pressure percentage, PRP is weighted towards sacks and hits because of their added value, giving us a better opportunity to separate the league's most valuable pass-rushers from the rest of the pack.
It's important to note that we also don't chart half sacks. If two defenders meet at the quarterback at the same time and bring him down for a sack, we don't see the reason to give each of the two defenders just a half sack – we give them both a full sack. Conversely, if one defender clearly leads the charge in a sack, we don't award any members of the clean-up crew a half sack.
PFF's pass-rush charting goes well beyond just pressures, as well. We differentiate "unblocked" pressures and "clean-up/pursuit" pressures from pressures earned by beating the block. We also chart when a defender beats the blocker in front of him but fails to record a pressure because the ball is thrown before he can do so, which doesn't affect his pressure percentage or PRP but does get reflected in his pass-rush grade and pass-rush win percentage.
[Editor's Note: To learn more about PFF's grading process, please visit this article.] 
Pass-rush win percentage and pressure type (bull rush, outside, inside, unblocked, etc.) aren't made available to ELITE subscribers in Premium Stats 2.0 but are often referred to in articles.
Of course, defensive linemen are also called on to defend the run. PFF charts defensive stops on passing and running downs, which are recorded when a defender makes a tackle (includes sacks) and limits the offensive player from gaining 45% or less of the yards needed to move the chains on first down, 60% or less on second down or prevented from picking up the first down on third/fourth down. We then calculate the run-stop percentage (defensive stops recorded on running downs/run-defense snaps) from our stop charting for all defenders, including defensive linemen.
Our run-defense grades take into account winning blocks, affecting the point of attack for running backs and disrupting the line of scrimmage.  Another advanced stat that we track outside of Premium Stats 2.0 for run defense is first contact percentage, which takes the number of snaps on which a defender is the first player to make contact with the ball carrier and divides the snaps by the total number of run-defense snaps played.
Signature Stat Spotlight Series:  
RB | OL | CB | DL | QB | LB | S | WR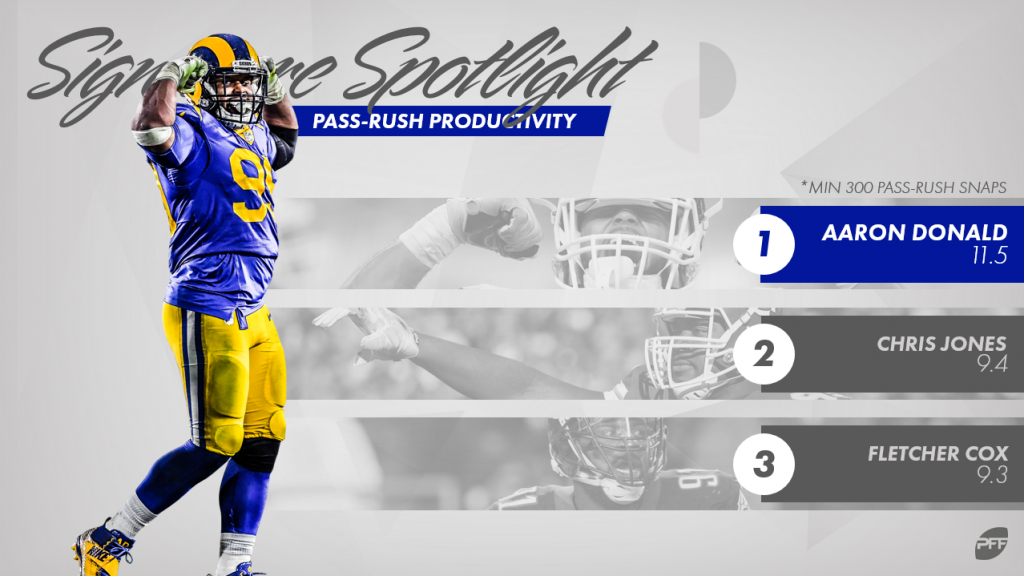 Los Angeles Rams interior defender Aaron Donald finished the regular season an NFL-high 106 pressures, 11 more than any other defender in football. His 11.5 pass-rush productivity also led all defensive linemen with at least 300 pass-rush snaps in 2018, as he logged 65 hurries, 20 hits and 21 sacks across his 552 pass-rush snaps.
Donald also took the cake in PFF's pass-rush win percentage, winning a whopping 25.9% of his blocks in 2018. He beat his defender – or won without pressure – 43 times, tying Cleveland Browns edge defender Myles Garrett for the league lead. Additionally, just 16% of Donald's 106 pressures were charted as either unblocked or clean-up/pursuit pressures, the seventh-lowest percentage among the 103 defensive linemen with 300-plus pass-rush snaps in the regular season.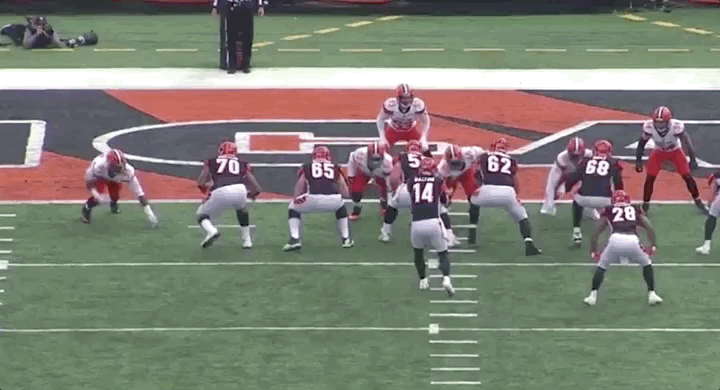 In the play above, Garrett beats Cincinnati Bengals' Cedric Ogbuehi easily off the edge and has a blindside sack within reach before Andy Dalton gets the pass off for a touchdown. This is an example of a win without pressure, as Garrett beats his man handily but isn't rewarded due to the quick pass.
Winning pass-rush snaps early in the down, which is reflected in PFF's pass-rush grades, is Donald's forte. Here, he beats Seattle Seahawks guard JR Sweezy in what feels like the blink of an eye and pulls Russell Wilson down for the sack soon after. Donald picks up a pass-rush win, a pressure and a sack all in one fell swoop.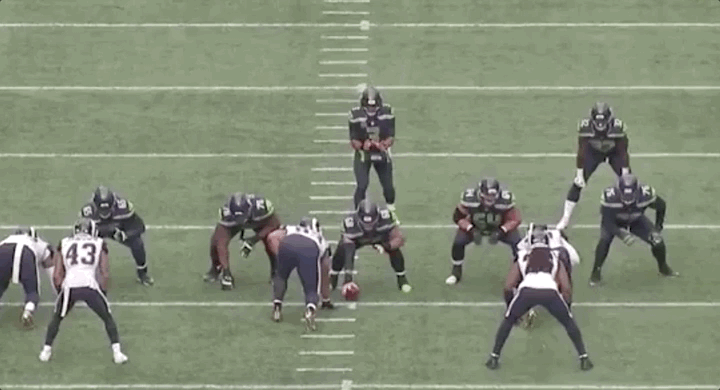 Another excellent pass-rusher, Buffalo Bills edge defender Jerry Hughes, led all defensive linemen in pressure percentage (19.7%) this past season, recording 74 total pressures (54 hurries, 12 hits, eight sacks) across his 376 pass-rush snaps. He also ranked second behind Donald in pass-rush win percentage (23.9%).
Pulling up the rear, Browns' Emmanuel Ogbah recorded the lowest pass-rush win percentage (7.7%) among edge defenders with 300-plus pass-rush snaps, and Arizona Cardinals' Corey Peters ranked dead last among defensive interiors with a 3.8% pass-rush win percentage.
Defending the run – though not nearly as important as rushing the passer – is still an important facet of play in the NFL, and nobody is better at it than Detroit Lions defensive interior Damon "Snacks" Harrison. Among the 116 defensive linemen with at least 200 run-defense snaps on the year, Harrison ranked first in run-stop percentage at 16.0%. Jacksonville Jaguars edge defender Calais Campbell (14.2%) and Chicago Bears' Akiem Hicks (13.3%) finished second and third, respectively.
Here, Harrison throws aside Bears' Cody Whitehair like a rag doll and chases down Tarik Cohen to limit him to a two-yard gain and record the stop on first down. He does this a lot.
Harrison also led all defensive linemen in first contact percentage, as he was the first to the ball carrier on a whopping 21.2% of his run-defense snaps in 2018, a whole 2.2% better than any other defensive linemen with 200-plus run-defense snaps.
To continue to learn more about PFF's advanced stats, please stay tuned for the rest of our Signature Stat Spotlight Series. Or, better yet, subscribe to PFF's ELITE subscription to dive into the numbers yourself throughout the offseason and into next season.
Signature Stat Spotlight Series: