Diving into the PFF data, it's time to look through some offensive rankings after week 7 of the NFL season.
For the first time we have been able to dive deeper into PFF's database of numbers and begin to build a picture of what numbers mean – actually run analytics on our analytics – and these rankings are a product of that research and work.
Effectively these rankings aggregate the play-by-play grading for every player on offense by facet of play (pass blocking, run blocking, passing, receiving, etc.), weights them by how much each area correlates to wins and losses through our research, and then adjusts for strength of opponent to create the final numbers.
So let's take a look at what the analytics says about the top offenses through seven weeks of the season:

BEST-GRADED STARTER: RB Devonta Freeman, 90.1 overall grade
WORST-GRADED: OT Ty Sambrailo, 39.3 overall grade
Don't let the Fog-Bowl in New England this past Sunday night warp your perception too badly, this team was able to move the ball even in that game. They missed two field goals, and had a blown jet sweep from the New England one-yard line in what could have been a very different game with a little better execution. Atlanta is second in the league in yards per play and they have played some tough defenses, which they are being credited for in these metrics. The Falcons have definitely regressed from a season ago, but this offense still has huge potential and a lot of players still playing at a high level.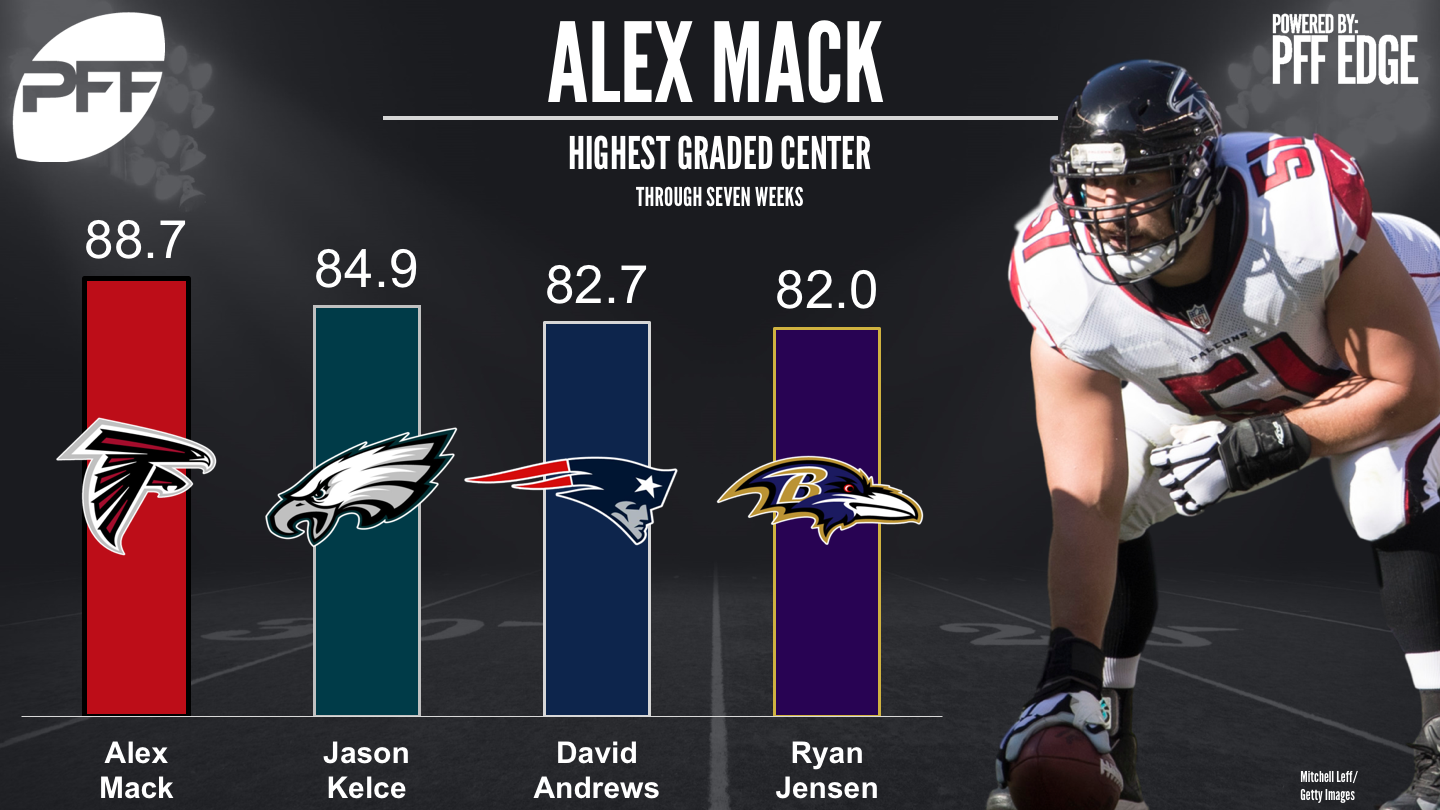 BEST-GRADED STARTER: OT Demar Dotson, 86.5 overall grade
WORST-GRADED: TE O.J. Howard, 44.2 overall grade
Tampa Bay's defense has been a major problem, but the offense has been doing a good job despite playing some of the league's best defenses. They put up 29 points in Week 1 against the Bears, whose defense has been playing lights out lately. They put up 27 against the Bills and 25 against the Giants, both of whom have excellent defenses. Mike Evans, DeSean Jackson and Jameis Winston have all been playing well, but their offensive line is also vastly improved, with RT Demar Dotson having a All-Pro level season so far.
BEST-GRADED STARTER: QB Tom Brady, 92.1 overall grade
WORST-GRADED: TE Dwayne Allen, 40.6 overall grade
It hasn't been as efficient and all-conquering as it has been in the past, but the Patriots offense has still been rolling in 2017, and been money when the game has been on the line and they have needed to pull something out of the fire.  Tom Brady has been the best quarterback in the game once more, while their entire stable of running backs are grading positively. They are playing a slightly different style this season, but it is not much less effective than it was before despite the loss of Julian Edelman.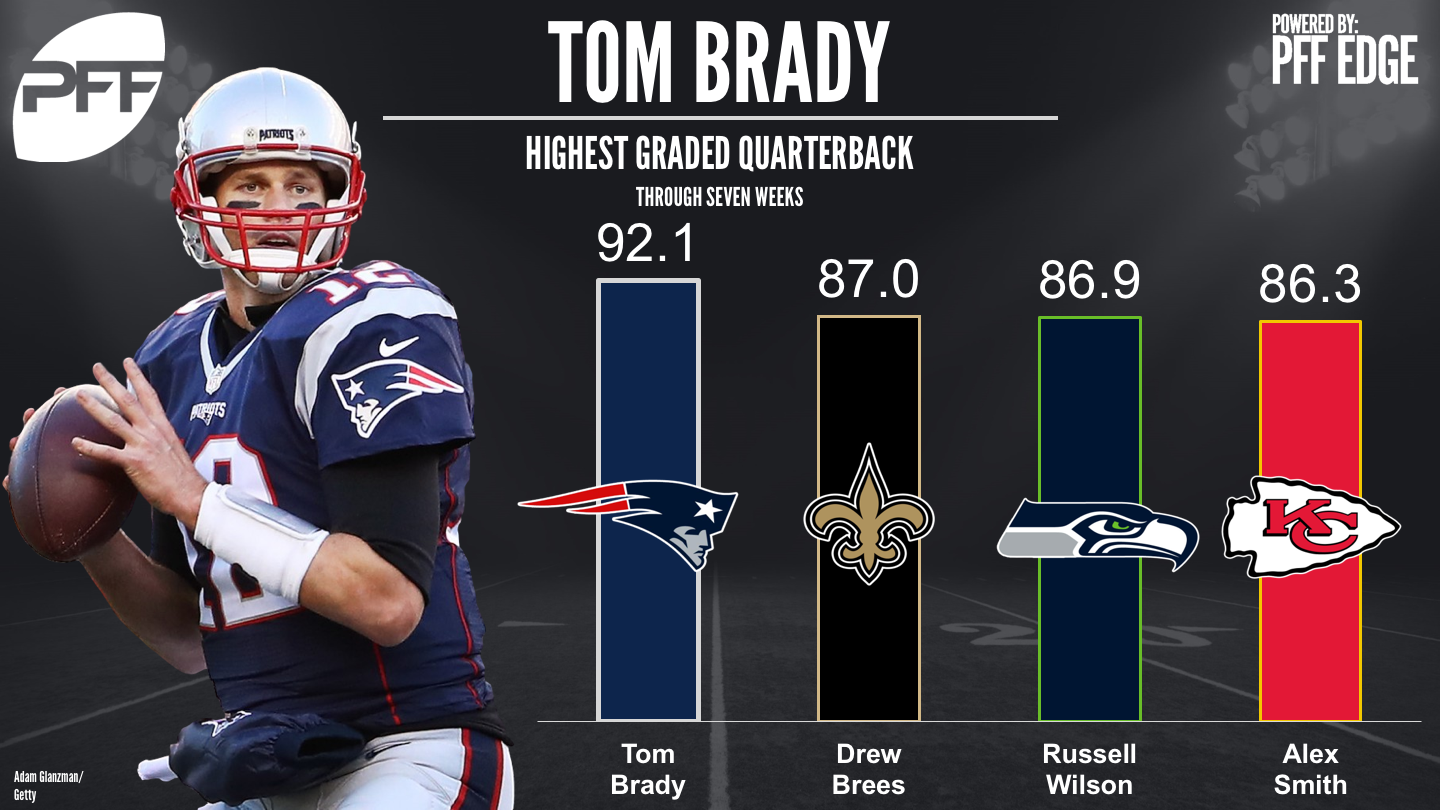 BEST-GRADED STARTER: WR Antonio Brown, 93.4 overall grade
WORST-GRADED: TE Jesse James, 44.5 overall grade
The Steelers offense hasn't been the unstoppable force it looked like it might be heading into the season, but they have played some very high level defenses. They were able to put up 26 points against the Minnesota Vikings, but they have also run into the Chicago Bears and the Jacksonville Jaguars. In recent weeks Le'Veon Bell looks back to his best in the backfield and that immediately transforms this team's prospects. With one of the best offensive lines in the game they have an excellent platform for success.
BEST-GRADED STARTER: RB Kareem Hunt, 93.3 overall grade
WORST-GRADED:  OG Cameron Erving, 35.4 overall grade
The Chiefs lead the NFL in yards per play, and with Kareem Hunt in the backfield and a newly aggressive Alex Smith at quarterback they have been tearing teams to shreds for the most part this season. Their issue is a relative lack of depth at the skill positions and an offensive line that has some weak links, especially as injuries bite and players like Cameron Erving get increased snaps.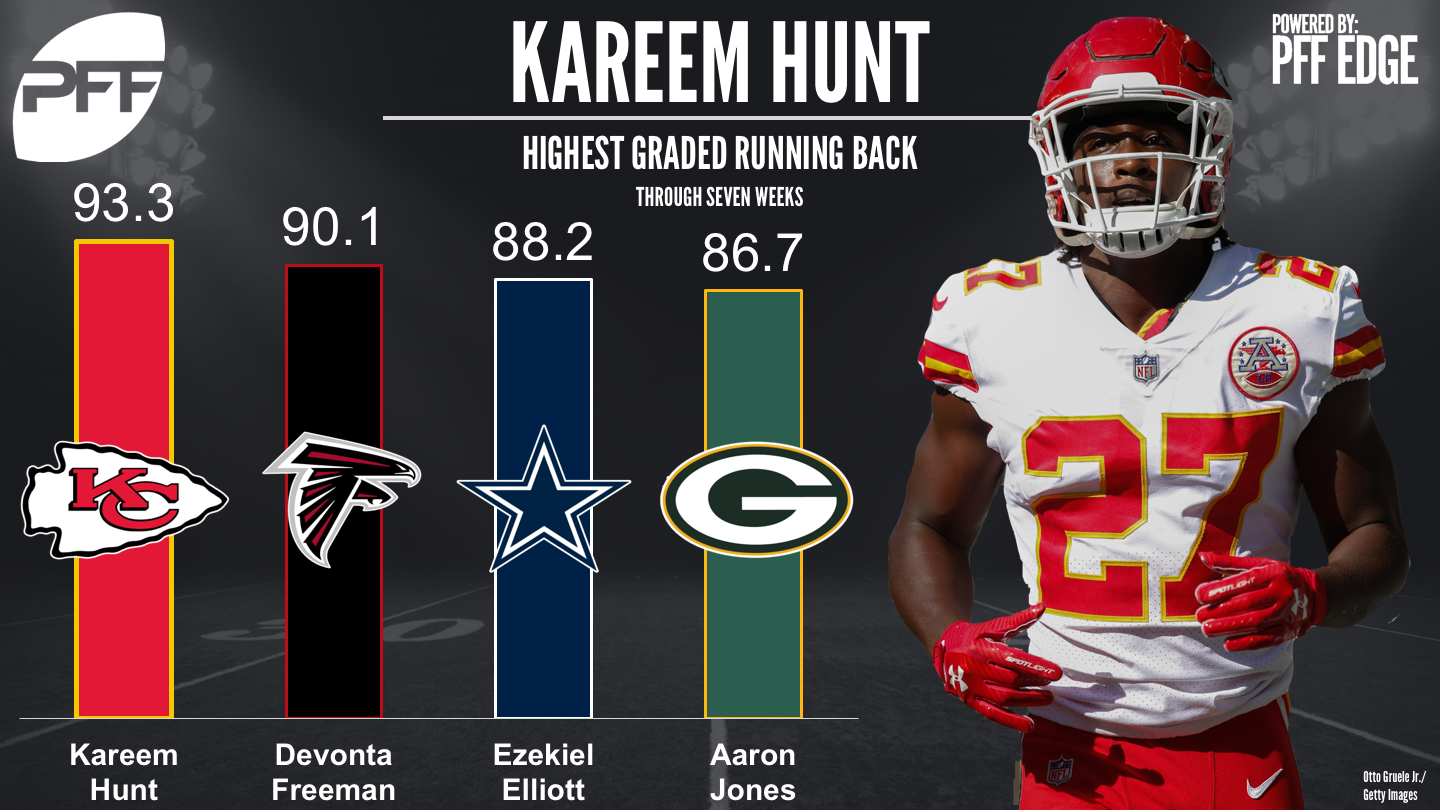 BEST-GRADED STARTER: QB Drew Brees, 87.0 overall grade
WORST-GRADED: C Max Unger, 40.3 overall grade
As long as Drew Brees is there the Saints are likely to have a pretty formidable offense. Brees has once again been playing at an extremely high level and has been able to offset some problems on the offensive line, but the return of LT Terron Armstead – one of the better tackles in the game – should really boost that unit. Their receivers have been good if not great, and they have a talented backfield with Mark Ingram and rookie Alvin Kamara leading the way.
BEST-GRADED STARTER: TE Delanie Walker, 83.2 overall grade
WORST-GRADED: TE Jonnu Smith, 44.2 overall grade
A healthy Marcus Mariota obviously makes all the difference to this Titans offense, even if they still struggled this week to put up points on the Browns. Delanie Walker is one of the best tight ends in the game and Taylor Lewan has picked up in 2017 the way he left off a season ago, proving 2016 was no fluke. DeMarco Murray and Derrick Henry in the backfield form a punishing one-two punch for teams to have to contend with.
BEST-GRADED STARTER: OT Jason Peters, 86.4 overall grade
The Eagles may be the best team in football right now, and they were on fire against the division rival Redskins on Monday night, with Carson Wentz pulling out a couple of staggering plays to get the win. They have had the game's best offensive line so far this year, but the loss of Jason Peters at left tackle could really derail that train down the stretch.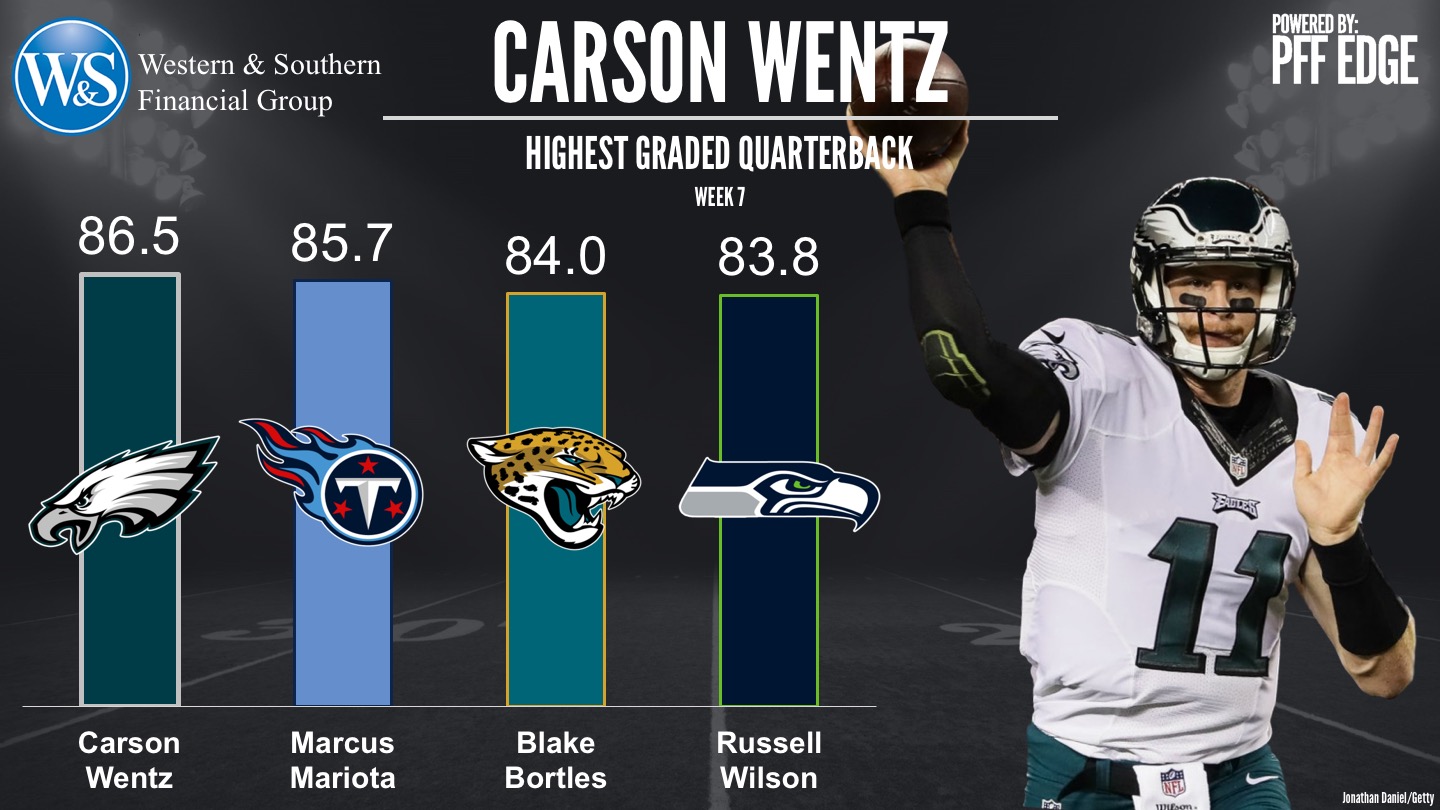 BEST-GRADED STARTER: RB Aaron Jones, 86.7 overall grade
This is a ranking that's going to go in the tank now that one of the game's best quarterbacks has broken his collar bone and his place has been taken by Brett Hundley, but the Packers so far this season have been quietly impressive despite a laundry list of injuries to deal with. Ty Montgomery – last season's discovery in the backfield – has been banged up, but that has allowed the team to find what looks like another steal in Aaron Jones, who has been incredibly productive when he has been loaded up with carries. They are getting linemen back healthy, but the loss of Aaron Rodgers is obviously huge.
One of the shocks of the season has been the competitiveness of the Jets and the viability of their offense. Josh McCown has the league's third-best adjusted completion percentage (78.4), trailing only Alex Smith and Drew Brees, making plays and completing passes to a stable of receivers that are not exactly confidence inspiring. Consider that they had a touchdown taken off the board in one of the most bizarre replay decisions you will ever likely see, and this offense could have been even more productive.
WORST-GRADED: OG Jamon Brown, 45.7 overall grade
The emergence of Jared Goff has catapulted the Rams to a 5-2 record this season. He currently sits with a 73.1 overall grade through seven weeks, much higher than his rookie season grade of 45.6. RB Todd Gurley's sophomore slump is now behind him and with an improved rushing attack under head coach Sean McVay, Goff has benefited on play action passes. Despite recent struggles, new LT Andrew Whitworth has been a huge addition to a spotty offensive line from last year, as Whitworth holds the league's 14th-highest pass block efficiency (96.2) among tackles.
BEST-GRADED STARTER: WR Stefon Diggs, 84.8 overall grade
WORST-GRADED: OG Nick Easton, 41.2 overall grade
With Sam Bradford down, replacement QB Case Keenum has been nothing like it was feared. Keenum is holds an adjusted completion percentage of 72.3 percent and has developed quite the rapport with WR Stefon Diggs on deep passes. Despite injuries this season, Diggs is still third in the league with 218 receiving yards on passes targeted 20-plus yards downfield and is tied for first with eight receptions on such passes. Rookie phenom Dalvin Cook bolstered the Vikings ranking here a bit, but Minnesota will have to hope for more performances like the one they just got in Week 7 from Latavius Murray (82.2 overall grade, seventh) as the season progresses.
BEST-GRADED STARTER: C Ryan Jensen, 82.0 overall grade
While the Ravens haven't put up gaudy numbers or big-time statistics, they've been consistent (save for the debacle in London against Jacksonville). RB Alex Collins has been a pleasant surprise, and he has forced 11 missed tackles on just 62 carries and has forced a missed tackle in every game he's played this year. The loss of arguably the league's best guard in Marshal Yanda has hurt them for sure, but both tackles Austin Howard and Ronnie Stanley have played well, and rank in the top 20 in terms of pass-blocking efficiency among all tackles this season (Howard 23rd, Stanley T-29th).
BEST-GRADED STARTER: WR A.J. Green, 86.3 overall grade
QB Andy Dalton has struggled getting the ball to his wide receivers this season, mainly WR A.J. Green. The duo has connected for three touchdowns already this year, but Dalton has thrown a league-high five interceptions when targeting the All-Pro. The backfield duo of Joe Mixon and Giovani Bernard has been a safety blanket for Cincinnati as the pair are just 1-of-4 running back duos to rank in the top 25 of all running backs in yards per route run this season.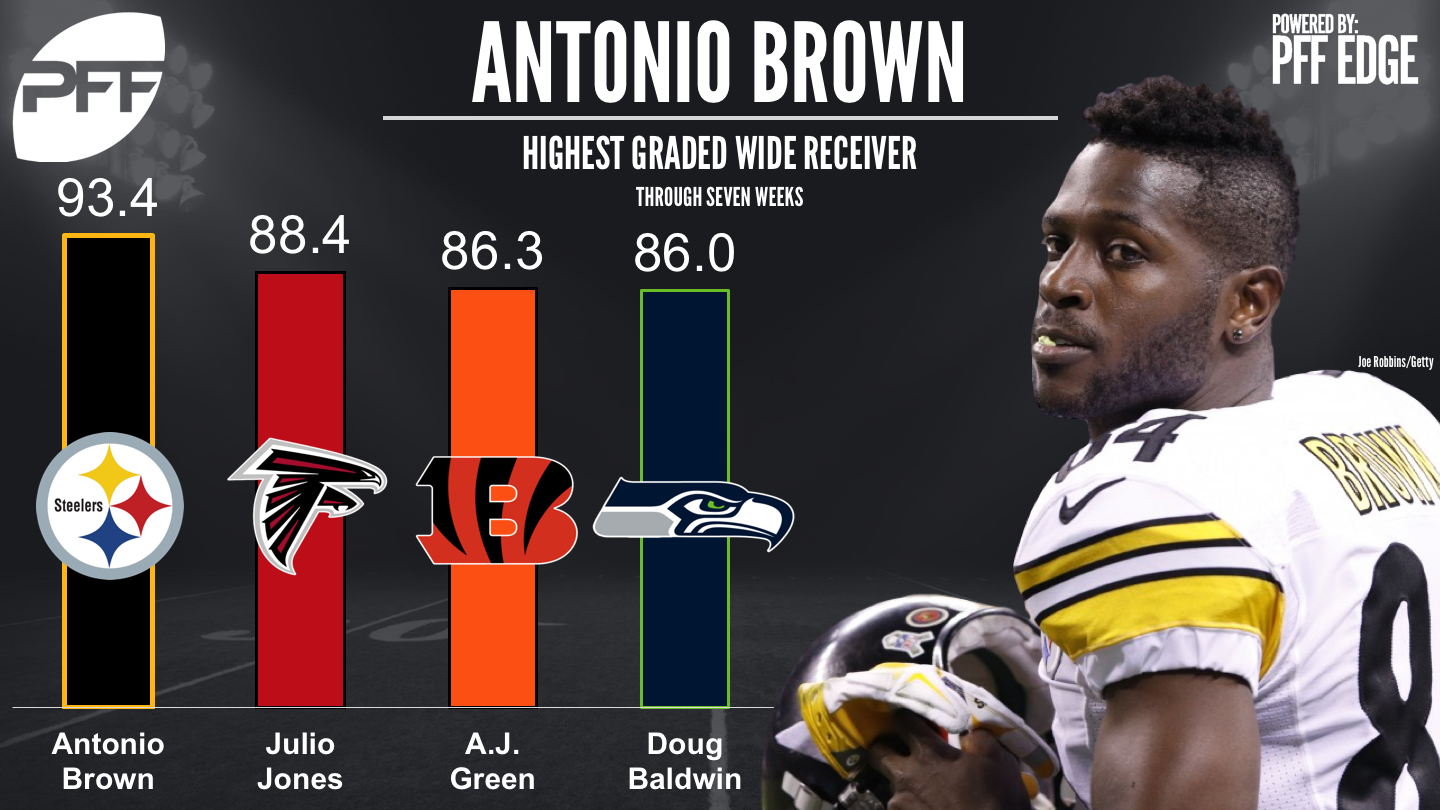 BEST-GRADED STARTER: OG T.J. Lang, 84.3 overall grade
One of the more efficient wide receivers from the slot over the past few years, Lions WR Golden Tate is at it again in 2017. He currently has hauled in 29 receptions for 319 yards when lined up in the slot, figures that rank him first and second, respectively, among the league's wide receivers. Most impressively, he has not dropped a single pass on 29 catchable targets, the most targets without a drop among all wide receivers in the slot this year.
BEST-GRADED STARTER: OG Josh Sitton, 83.6 overall grade
In their own version of thunder-and-lightning, the backfield duo of Jordan Howard and Tarik Cohen have proven explosive and reliable for the Bears in 2017. Riding a simplified game plan with rookie QB Mitchell Trubisky over the past few weeks, the Bears have ground out victories in their last two contests, including a win in Week 7 with just seven pass attempts from Trubisky. Howard has forced multiple missed tackles on the ground in four of seven games this year, all but one of them a victory. Cohen on the other hand, has forced a league-leading 13 missed tackles off receptions this year proving his worth both in and out of the backfield, as well as on special teams this year.
BEST-GRADED STARTER: RB Ezekiel Elliott, 88.2 overall grade
WORST-GRADED: OG Chaz Green, 37.1 overall grade
After an incredible rookie season, expectations for QB Dak Prescott were understandably high heading into Year 2. While he hasn't lived up to the billing in the win/loss column, he currently has the league's ninth-highest adjusted completion percentage at 75.7 and has found his stride throwing the deep ball. He ranks second with his 135.4 passer rating on passes targeted 20 or more yards downfield and is one of just three quarterbacks to throw multiple touchdown passes without throwing an interception on deep passes.
BEST-GRADED STARTER: TE Hunter Henry, 84.0 overall grade
He may not be in his prime, and may not win you all the games, but QB Philip Rivers will do his best to not lose the games for the Chargers. He currently has thrown 19 passes away this year, four more than the next closest, and is 1-of-7 quarterbacks to have double-digit passes thrown away this year. The woes in Los Angeles are not just on their quarterback, as Rivers has had 17 passes dropped, second-most in the NFL. On the bright side, Melvin Gordon is back to proving his sophomore season was not a fluke as he has forced 26 total missed tackles this year, which is tied for sixth-most.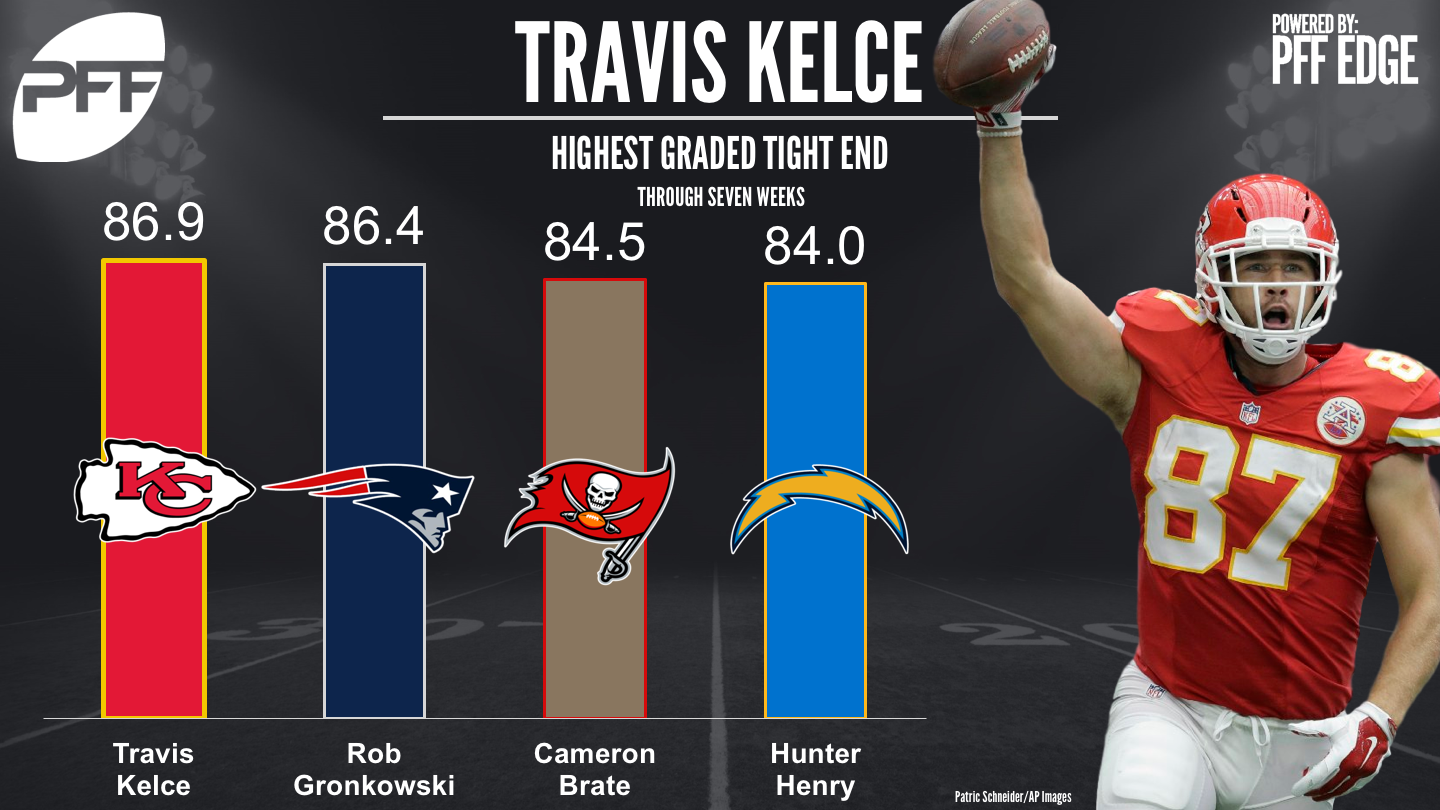 BEST-GRADED STARTER: QB Tyrod Taylor, 84.4 overall grade
WORST-GRADED: WR Zay Jones, 38.2 overall grade
RB LeSean McCoy got into the end zone for the first, and second, time in their Week 7 game against Tampa Bay as 'Shady' ran for two scores against a suspect Buccaneers defense. Aside from his game against Tampa, McCoy has been prone to short gains and limited yards after contact, averaging just 1.74 yards after contact per attempt, the second-lowest figure among running backs with at least 42 carries.
BEST-GRADED STARTER: OT Daryl Williams, 82.7 overall grade
QB Cam Newton has certainly not re-gained his MVP form from 2015, but he also has improved from his 2016 season, which unfortunately for Panthers fans, isn't saying much. Newton ranks 18th in adjusted completion percentage this year and has struggled under pressure, throwing four interceptions compared to just one touchdown under duress. RB Jonathan Stewart has proven he has gas left in the tank and has forced a total of 28 missed tackles on just 105 touches this year. He has forced more missed tackles after the catch than he has catches this season (six catches, seven forced missed tackles on receptions).
BEST-GRADED STARTER: OG Brandon Scherff, 84.9 overall grade
Much like the aforementioned Stewart, Redskins TE Vernon Davis has seemingly turned back the clock and is having a great year on the receiving end of QB Kirk Cousins passes. Davis has hauled in all 15 of his catchable targets this year without a drop and is averaging a ridiculous 3.11 yards per route run, a figure that is nearly a full yard ahead of the next tight end. WR Ryan Grant has been a reliable target for Cousins as he has shifted outside, filling the void left as Jamsion Crowder has moved back to a bigger role from the slot.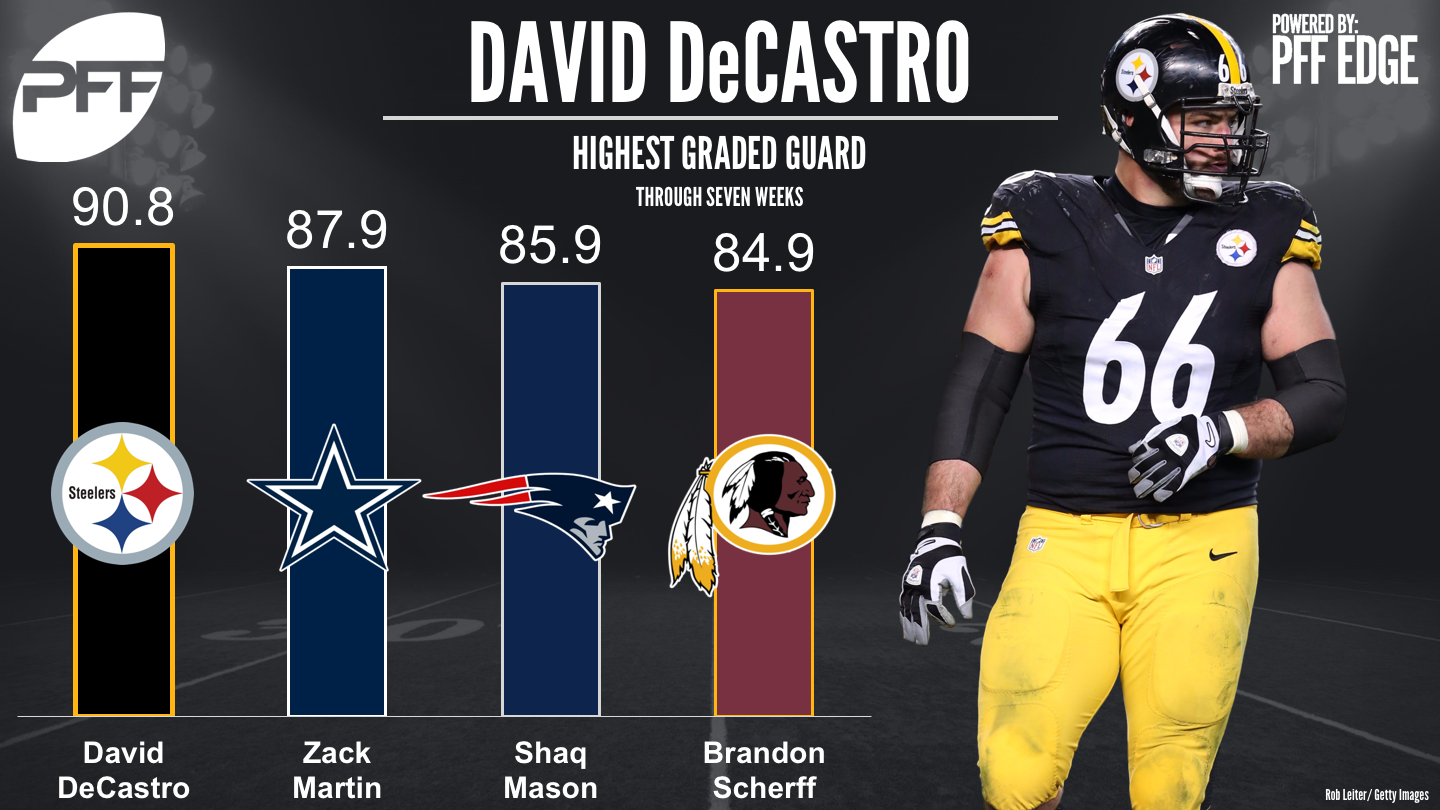 BEST-GRADED STARTER: C Rodney Hudson, 81.6 overall grade
WORST-GRADED: WR Seth Roberts, 43.3 overall grade
Raiders fans will surely like to see more of the Oakland offense from last Thursday night moving forward. Raiders QB Derek Carr worked magic in the game's waning moments and won the game on seemingly multiple occasions before ultimately finding WR Michael Crabtree for a game-winning score. Carr fields the league's fourth-highest adjusted completion percentage and the fifth-highest passer rating on short passes (0-19 yards) at 104.4. Crabtree's recent solid play combined with the re-emergence of Amari Cooper (first touchdown since Week 1) from Thursday night can only spell hope in Oakland.
WORST-GRADED: OT Cam Robinson, 41.5 overall grade
Rookie RB Leonard Fournette's injury in Week 7 had little effect on the Jaguars offensive onslaught against the Colts. QB Blake Bortles may have had one of his best career games and in doing so, increased his overall season grade to 75.8, much better than his 69.2 from a year ago. Fournette has been the welcome addition to the Jaguars offense as he has burst onto the scene with 25 missed tackles forced on 130 carries this season.
BEST-GRADED STARTER: QB Russell Wilson, 86.9 overall grade
Russell Wilson may have found his groove in the second half against the Giants in Week 7, but his first half woes did a great job of depicting the Seahawks struggles on offense this season. Wilson currently fields a 72.8 adjusted completion percentage (17th) and the lack of a running game has hurt his play action passing, something he has typically excelled in during years past. Wilson is currently only 1-of-3 quarterbacks to average a higher completion percentage and higher yards per attempt on standard passes than play action passes.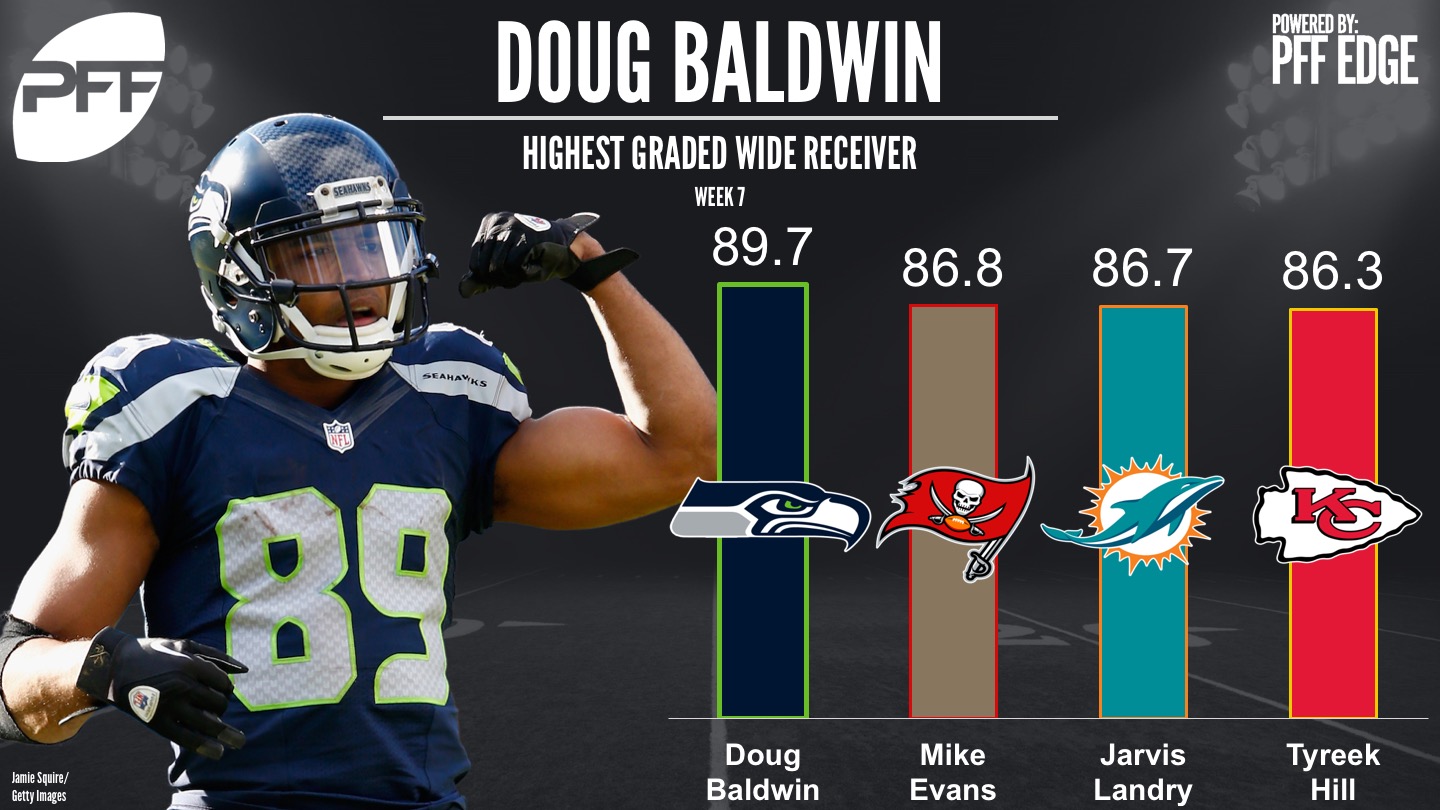 BEST-GRADED STARTER: WR DeAndre Hopkins, 82.4 overall grade
WORST-GRADED: OG Jeff Allen, 32.8 overall grade
Earlier this week, we talked about what you may not be seeing from rookie QB Deshaun Watson's start to the season. Let that stand as it is, the rest of the Houston offense hasn't fared all too well, as the Texans offensive line has allowed 91 total pressures on just 220 pass plays this season, for a league-worst 64.7 pass-blocking efficiency. Running backs D'Onta Foreman and Lamar Miller have combined to force just 16 missed tackles on the ground, on 148 carries.
BEST-GRADED STARTER: OG Ron Leary, 83.1 overall grade
WORST-GRADED: OL Allen Barbre, 36.7 poverall grade
QB Trevor Siemian has had a rough go of it as of late, currently grading out at 32nd among the league's qualified quarterbacks with a 66.1 overall grade. He has struggled mightily against pressure, completing just 22-of-60 pass attempts under duress with two touchdowns against five interceptions. All that in hand, his passer rating of 29.5 under pressure is second-worst in the league.
BEST-GRADED STARTER: QB Eli Manning, 76.3 overall grade
WORST-GRADED: RB Paul Perkins, 39.2 overall grade
The Giants offense has been an underwhelming unit, even when healthy. With the loss of both star receivers Odell Beckham Jr. and Brandon Marshall, the unit's days will arguably be much tougher in weeks to come. On a bright note for New York, LT Ereck Flowers has seen the third-most snaps (200) since Week 3 without allowing a sack.
BEST-GRADED STARTER: WR Pierre Garcon, 83.5 overall grade
A midseason quarterback change to rookie C.J. Beathard will bring with it growing pains and Beathard struggled against the Cowboys in Week 7. RB Carlos Hyde will have to shoulder the load for the 49ers with fellow running back, rookie Matt Breida, who currently holds a 71.5 overall grade, 30th among the league's running backs.
BEST-GRADED STARTER: RB Jay Ajayi, 85.1 overall grade
Despite the decline in quarterback play from Ryan Tannehill to Jay Cutler from this season, Dolphins RB Jay Ajayi has done his part to keep the Dolphins interesting on offense. On 125 carries this year, he has forced 22 missed tackles, sixth-most among running backs. However, he is one of just two running backs to have 10 or more receptions with no missed tackles forced after the catch.
Quarterback Jacoby Brissett has done a valiant job in replacing the injured Andrew Luck on short notice, but the fact remains that he is not Andrew Luck. While he has the league's 15th ranked adjusted completion percentage, a lot of his trouble this year can be pinned on his targets. Brissett has had 15 passes dropped this year – tied for seventh-most. Aside from T.Y. Hilton, two of Brissett's top three targets have dropped multiple passes this year, including three from Donte Moncrief and another two from Kamar Aiken.
WORST-GRADED: OG Alex Boone, 33.7 overall grade
No David Johnson is the glaring weakness in the Cardinals offense and while Adrian Peterson fared extremely well in his debut with the team, he put up a dud in his second outing in a Cardinals uniform. Consistency will be hard to come by for this Cardinals team that just lost their starting quarterback to a broken arm. It won't be easy for Drew Stanton at the helm of a team who's offensive line has allowed 23 more pressures on the quarterback than any other team this season.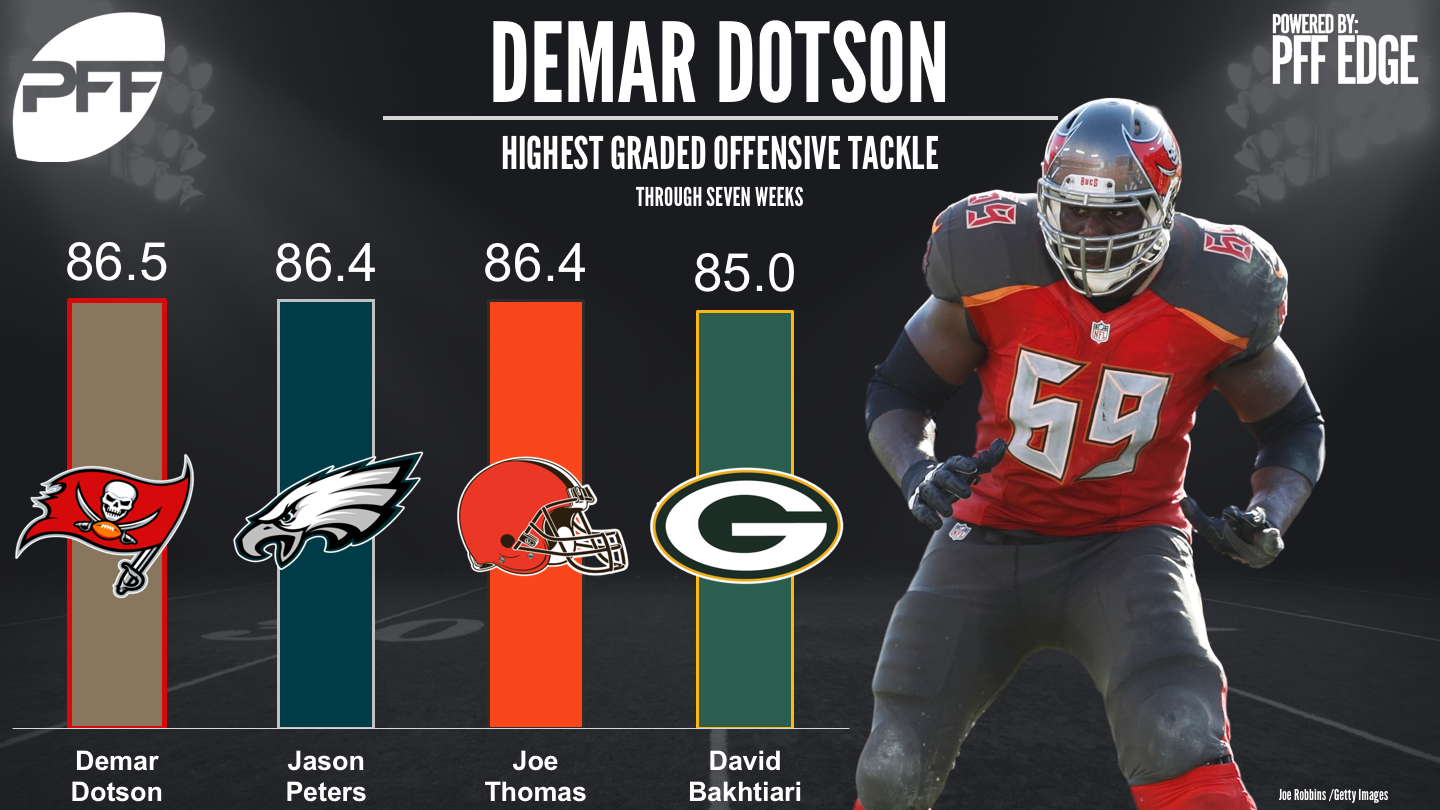 BEST-GRADED STARTER: OT Joe Thomas, 86.4 overall grade
WORST-GRADED: WR Kenny Britt, 38.1 overall grade
DeShone Kizer or Kevin Hogan, neither seem to be the answer for a franchise in desperate need of a quarterback. Kizer ranks near the bottom of every advanced quarterback metric PFF has to offer but his supporting cast has not done him any favors this season either. He has been hit as he is throwing on 10 occasions, a league-high, has had 13 passes dropped and on an offense with too few stars, just lost arguably the franchise's best player in recent history with Joe Thomas' season-ending triceps injury. Thomas had not allowed a sack in 300 pass-block snaps this season, leading the league in that regard.