The first full week of preseason football in the NFL is upon us. After a tantalizing taste of what's to come this season in form of last week's Hall of Fame game between the Chicago Bears and the Baltimore Ravens, the preseason's first real slate of games kicks off with 12 contests on Thursday night, August 9. Two more games are set to kick off on both Friday and Saturday this week, and we at PFF have you covered on what to watch during the week of action.
From position battles taking shape to rookies lining up for the first time for their respective franchises, our PFF Press Pass takes you deep into what to be on the look out for during Week 1 of the preseason.
Mayfield & Barkley debut
Baker Mayfield and Saquon Barkley dominate the debuts we're excited to see here. Mayfield finished as the nation's highest-graded quarterback a year ago while Barkley was the draft class' second-highest graded running back. Not surprisingly, Mayfield was picked No. 1 in the 2018 NFL Draft as he was our long-standing top prospect overall, however Barkley's selection at No. 2 overall showcased just how sold the Giants are on Eli Manning this season. The debuts of the top two picks in the same game is something not to miss. – Cam Mellor (@PFF_Cam)
Beckham Jr.'s health
Odell Beckham Jr. was limited to just 214 snaps across four contests last season before being lost to injury for the season. He didn't grade out to spectacularly in his limited action however, finishing with a 69.1 overall grade, by far the lowest of his career. There's a high likelihood that we don't even see him in action on Thursday night, but nevertheless, will still be interesting to see his presence back on the sidelines and see how he rebounds when he suits up against another team for the first time since Week 5 of the 2017 regular season. – Cam Mellor (@PFF_Cam)
Denzel Ward manning a new-look Browns secondary
The No. 4 overall pick from the 2018 NFL Draft will also be on display, as the contest between the Browns and Giants will feature Picks 1, 2, and 4 making their debuts. Denzel Ward highlights that fourth overall pick, joining fellow new members of the secondary in E.J. Gaines (80.0 overall grade in 2017), T.J. Carrie (74.5) and Damarious Randall (62.7). – Cam Mellor (@PFF_Cam)

Benjamin plays against Carolina
Kelvin Benjamin gets to debut his 2018 season by playing against the team who traded him away midseason a year ago. Benjamin did little to prove the Panthers wrong for trading, finishing the year with a 69.0 overall grade. Who will be throwing Benjamin the ball is the next topic of discussion. – Cam Mellor (@PFF_Cam)
Bills quarterback rotation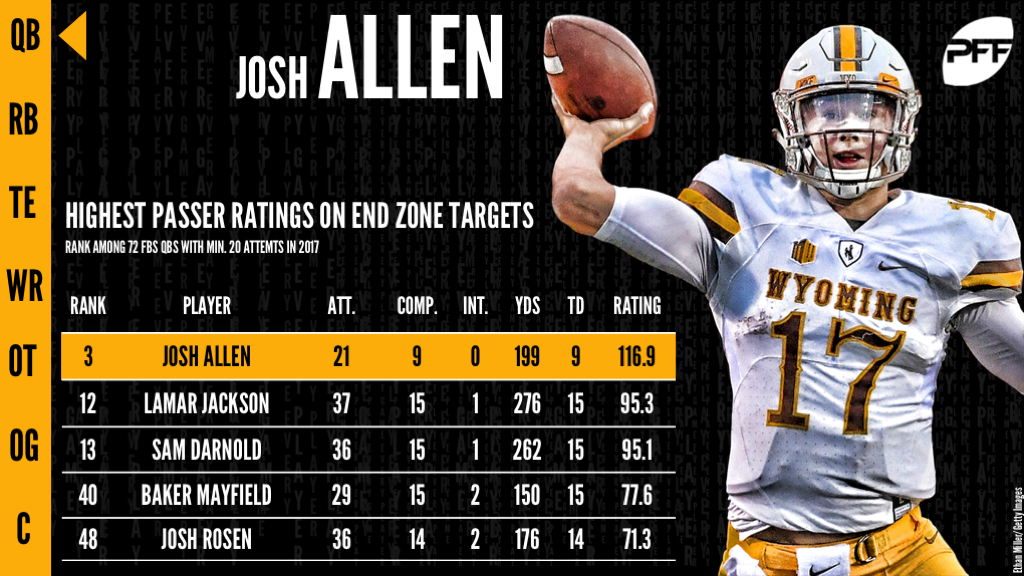 Josh Allen was selected with the No. 7 overall pick in the 2018 NFL Draft, and has headlined news from training camp for the past week with the Bills. Buffalo also signed A.J. McCarron from the Cincinnati Bengals to join Nathan Peterman in a three-way battle for the starting nod. Allen finished last season at Wyoming with the 28th-lowest turnover-worthy throw percentage while only ranking seventh in big-time throw percentage among draft class quarterbacks. His first action against an NFL defense may tell a lot more than anyone can anticipate. Whoever is at quarterback however, preseason better shed some better light on the situation as they find themselves ranked No. 32 in the league in our preseason quarterback rankings. – Cam Mellor (@PFF_Cam)
Trubisky runs Matt Nagy's offense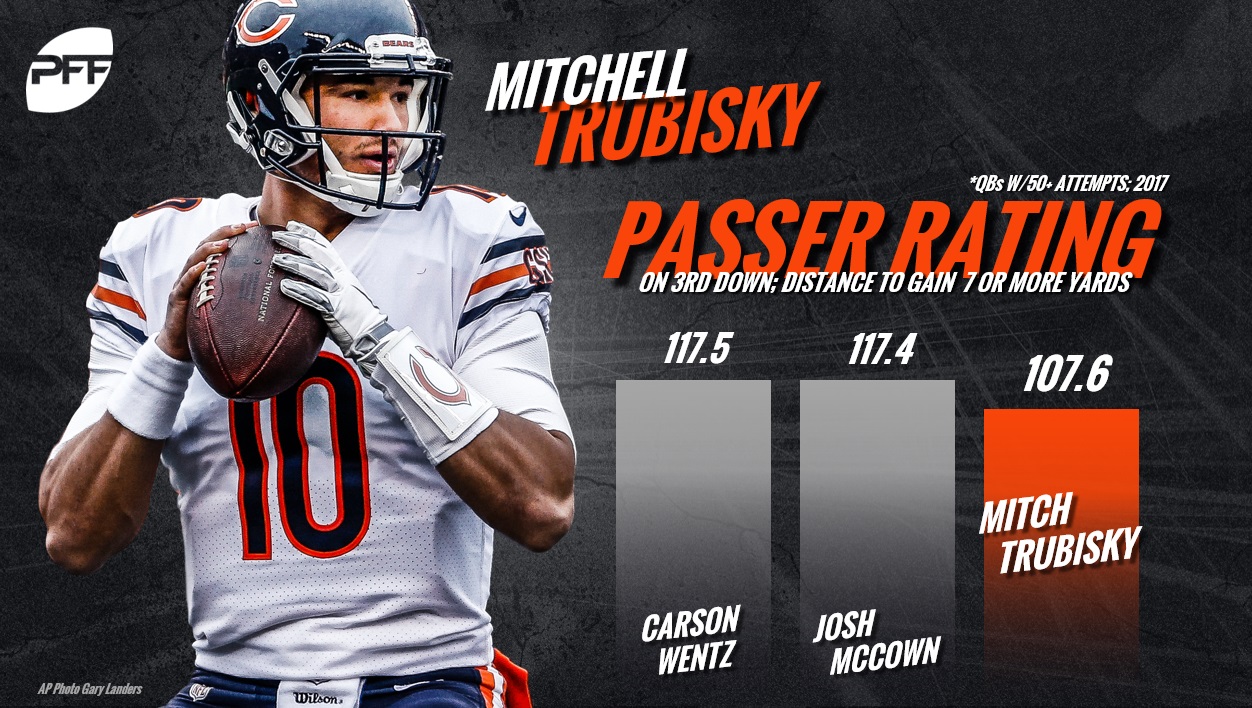 Recent reports suggest that Mitchell Trubisky will take the field versus the Bengals, giving fans their first look at the second-year signal-caller under Nagy's new offensive system. Nagy's system is expected to highlight Trubisky's strengths, showcasing his ability to throw on the move while focusing on the short and intermediate game. Perhaps if the Bears lean more on the short pass, then Trubisky will not be strapped by so many third-and-long situations. Trubisky faced a third down with a distance to gain of seven yards or more on 58.6 percent of his third-down attempts a season ago, fourth-most among quarterbacks. – Charles Miller
Vying for McCarron's vacated backup spot
A three-man race will ensue for the backup quarterback behind Andy Dalton. Rookie Logan Woodside will battle it out with Matt Barkley and Jeff Driskel as Woodside may have the most upside in the room. Barkley hasn't played enough snaps in a single season to qualify for a PFF grade ranking while Driskel has played 128 preseason snaps over the past two seasons, tossing just one touchdown compared to two interceptions in his time with the team. His best game of the preseason so far came in the Bengals opening contest a season ago when he fielded an 88.9 adjusted completion percentage and had a 155.7 passer rating from a clean pocket against the Bucs last year.
Woodside was not afraid to air it out last year at Toledo, launching a deep shot targeted at least 20 yards downfield on 19.6 percent of his passes. He held the draft class' third-highest adjusted completion percentage on those attempts as well, proving he wasn't just heaving them in the air. He connected on 35-of-81 passes and despite seven drops by his receivers, had 1,284 yards and 16 touchdowns on deep passes. Woodside has all the talent to compete and maybe push out the vets in the QB room in Cincinnati.  – Cam Mellor (@PFF_Cam)
Mason Rudolph to James Washington connection at it again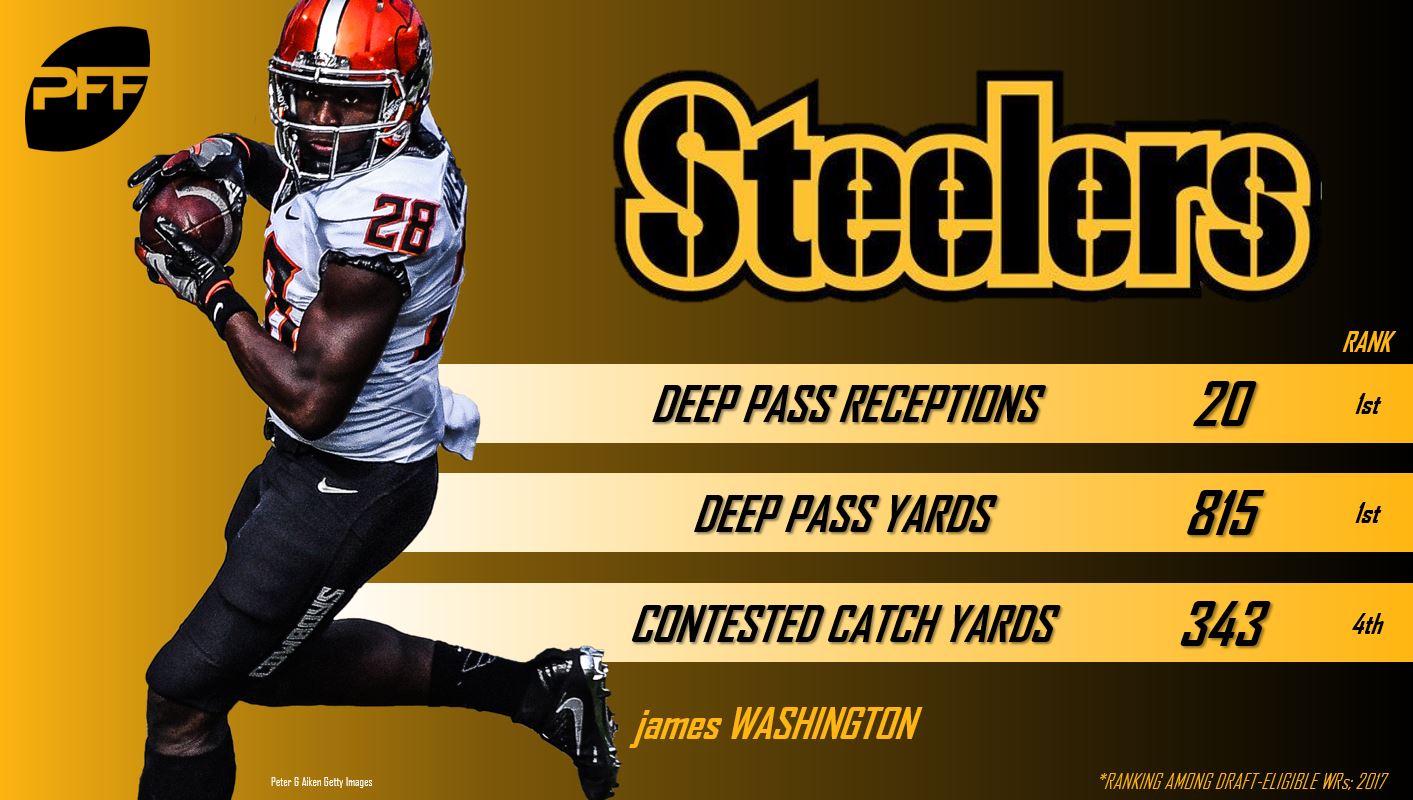 Just a little under a year ago, Mason Rudolph was getting ready to start his fourth and final season at the helm of the Oklahoma State Cowboys. At wide receiver, James Washington was doing the same thing. The duo played all four years together in Stillwater and by their final season had developed one of the more tantalizing QB-WR combinations in all of college football. Flash forward to today, and the duo is getting ready to make their professional debut with the Pittsburgh Steelers, together still. It's only a matter of time until we see them together on the field and likely connecting on deep passes together as they did in college. A season ago, the duo led the nation as Rudolph hit Washington on deep passes (those targeted 20-plus yards downfield) for 19 receptions and 815 yards, both of which led the FBS. – Cam Mellor (@PFF_Cam)
The defending Champs' new-look defensive line
Gone is Vinny Curry. Gone is Beau Allen. Both of whom were key cogs in the Eagles defensive line rotation en route to the Super Bowl. However, in are edge Michael Bennett and interior defensive lineman Haloti Ngata who each bring with them a veteran presence along the defensive line. Even with the changeover, they find themselves ranked first in our preseason pass-rush rankings. – Cam Mellor (@PFF_Cam)
Patrick Robinson back with New Orleans
Patrick Robinson re-joins the team who drafted him back in 2010, on the heels of his best professional season. He finished with an overall grade of 87.0 which ranked him sixth among the league's cornerbacks and second among those who spent the majority of their snaps covering receivers in the slot. With the growing importance of a slot defender in today's NFL, it makes sense to see Robinson right back in the slot in the Big Easy while Marshon Lattimore and Ken Crawley lock down the outside. – Cam Mellor (@PFF_Cam)
Can Dede Westbrook improve in his sophomore season
A season ago, former Oklahoma Sooner Dede Westbrook missed the first half of the season and entered the league in Week 11 against the Browns. However, of his 10 games a season ago, he put forth plus-grades on just three occasions, limping to an overall 62.1 overall grade, or 78th among the league's receivers. He was targeted 63 times yet brought in 34 of those for 424 yards and a touchdown. His 73.8 passer rating when targeted was the 74th-highest mark out of 89 qualifying receivers a season ago. A full healthy season should likely help boost his production, and it starts this preseason. – Cam Mellor (@PFF_Cam)
What's the contingency plan behind Ryan Fitzpatrick
Very rarely do battles for what would shake out to be the third quarterback on the depth chart really mean much in the grand scheme of an NFL season. However, when the Bucs see the field Thursday night, Ryan Griffin and Austin Allen will battle it out for the second-string role, behind veteran Ryan Fitzpatrick, who will be starting in place of Jameis Winston as he serves his three-game suspension to start the season. Allen finished last season with the nation's highest adjusted completion percentage on passes from a clean pocket (85.0 percent) while Griffin attempted just nine passes during last year's preseason. One of these two will earn the starting job, but they'll both have to show up during preseason, making the latter stages of each Bucs preseason game an interesting watch. – Cam Mellor (@PFF_Cam)
Ryan Tannehill returns to the field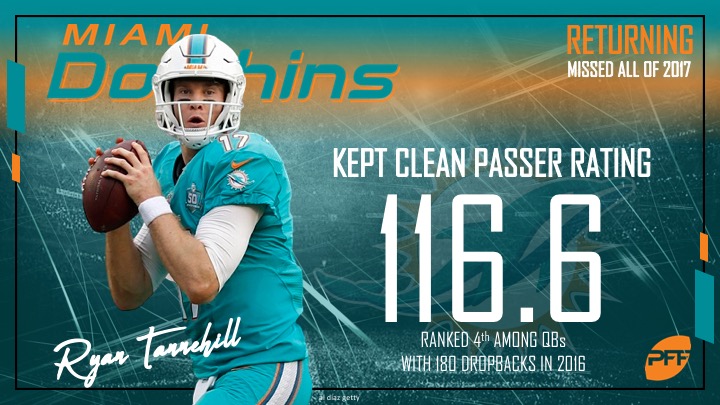 Reports indicate that Ryan Tannehill will play in the Dolphins preseason opener against the Buccaneers. It will mark the first time that Tannehill has appeared in a game since Dec. 11, 2016, versus the Cardinals. When looking at quarterback play, performance from clean pockets is more consistent than performance under pressure. Having said that, Tannehill performed at a high level in 2016, particularly from a clean pocket, as he recorded an 86.4 passing grade when kept clean. He also posted a 116.6 passer rating when kept clean, ranking fourth-highest among quarterbacks with at least 180 dropbacks. Come Thursday, we might get a glimpse into whether Tannehill's prolonged layoff is a cause for concern or a thing of the past. – Charles Miller

Snap counts and rotation of the three-headed rushing battle for Washington
Well documented on our site, the running back 'three-for-all' between Derrius Guice, Rob Kelley and Samaje Perine will take center stage against the Patriots in the team's first preseason matchup. Where each of them finds a spot in the rotation and how they're each utilized may go a long way at deciding who plays where in the regular season. – Cam Mellor (@PFF_Cam)
How Braxton Berrios is utilized
Gone is Danny Amendola and suspended is Julian Edelman to start the season, so as each day gets closer to the regular season, it looks more and more like rookie WR Braxton Berrios may be the next slot weapon QB Tom Brady gets to utilize. Berrios dominated from the slot last season at Miami, hauling in 680 yards, running 97.3 percent of his routes from an inside alignment and scoring the nine touchdowns from the position, tying for second in the draft class. His proven ability in a position with increasing relevance and importance in the NFL should not go overlooked. – Cam Mellor (@PFF_Cam)
How long, if at all, will we see the new-look Rams secondary?
The Rams are under the microscope after another contract hold out from All-Pro Aaron Donald, but they did their fair share of spending in free agency this season. They brought in Aqib Talib and Marcus Peters in the secondary, improving to our No. 3 ranked secondary in our preseason rankings. It's likely we don't see much of Talib, Peters or other new-signing Ndamukong Suh, but if we do, how they fuse together on the field is just one of many storylines to watch in LA this preseason. – Cam Mellor (@PFF_Cam)
Lamar Jackson's second pro appearance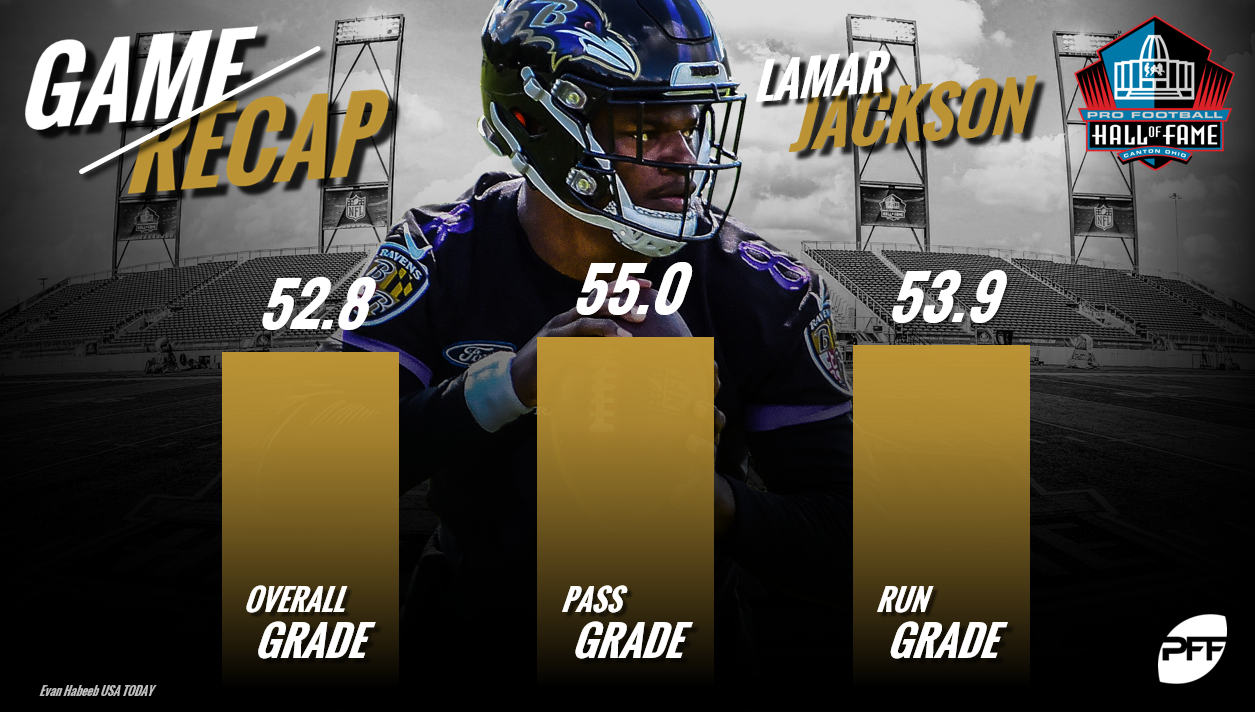 Lamar Jackson made his NFL debut in the Hall of Fame game, and his play was up and down, finishing with a PFF game grade of 52.8.  Even so, there is no denying that Jackson possesses talent both inside and outside the pocket.  While inconsistent in two quarters of action versus the Bears, he'll need to be much better against a new-look Rams defense. – Charles Miller
Harold Landry's first action in the NFL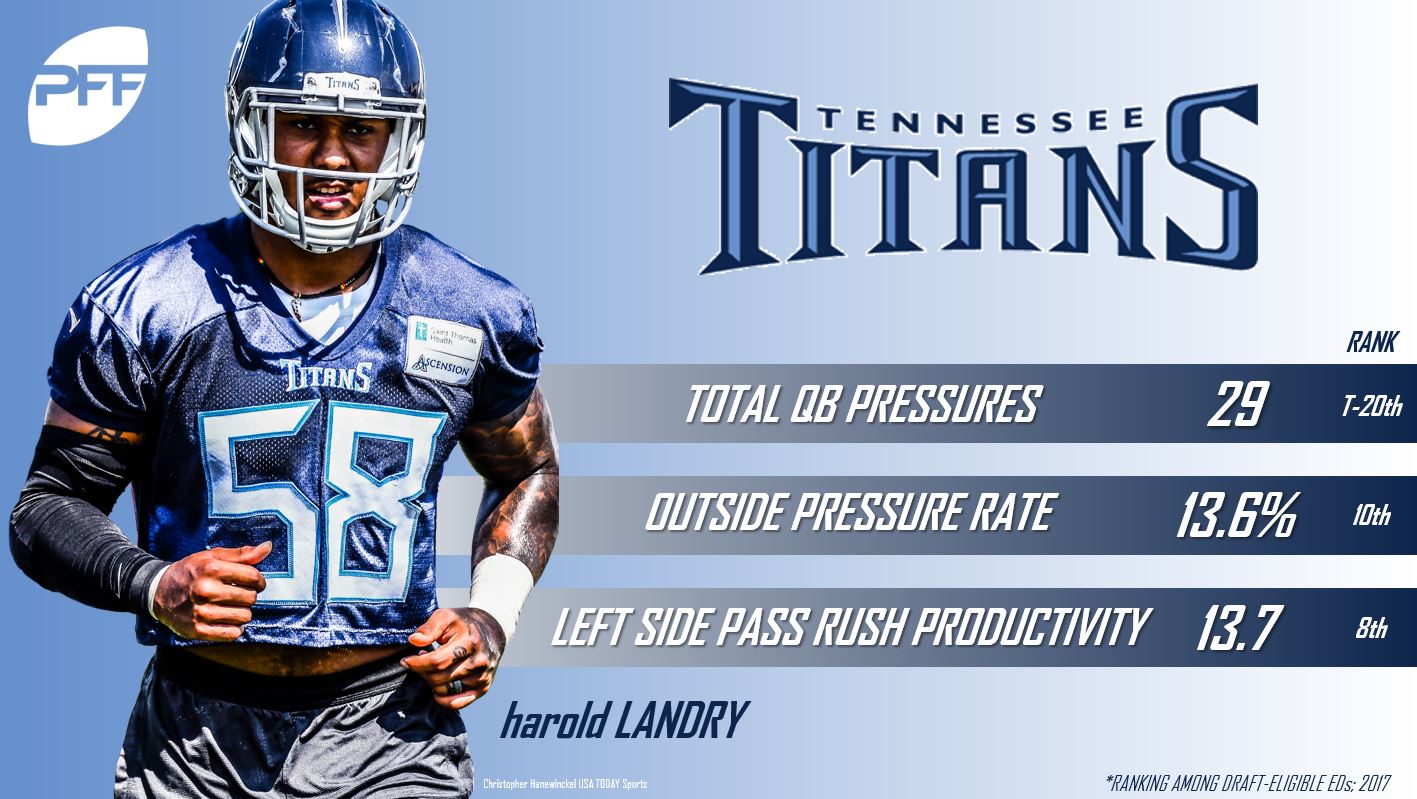 When it's all said and done, Harold Landry could be the biggest steal of the 2018 NFL Draft. The former Boston College edge rusher was selected 41st overall after finishing the 2017 season with a 77.1 pass-rush grade. Heading into the draft, Landry was PFF's top ranked prospect at his position, largely due to his staggering performance in 2016, as he earned a 92.3 pass-rush grade – the highest among edge defenders. Landry will take part in a three-man rotation along the edge, joining veterans Brian Orakpo and Derrick Morgan, and he will surely add a much-needed jolt to the Titans pass-rush. – Charles Miller
Packers wide receiver rotation
For the first time in nearly a decade, the Packers will start the season without a WR1 named Jordy Nelson as Randall Cobb and Davante Adams take over as Aaron Rodgers top targets in their offense. Making news from a 'lack of effort' in practice by their signal-caller, it will be interesting to see the receiver rotation behind the top two targets, between quite the cast of characters. Rookies J'Mon Moore, Equanimeous St. Brown and Marquez Valdes-Scantling each will vie for time with DeAngelo Yancey, Trevor Davis, Geronimo Allison and former practice-squad player Jake Kumerow, who has received praise from Rodgers. Allison was targeted the most of the aforementioned group of receivers a season ago, hauling in 23-of-38 targeted passes for just 253 yards and had three of those passes intercepted. Granted, he saw a lot of work from Brett Hundley, he'll have to improve this preseason to keep pace above the rookies on the depth chart. – Cam Mellor (@PFF_Cam)

Patrick Mahomes in preseason action again
In 2017, Patrick Mahomes was the talk of the NFL preseason, and rightfully so, as Mahomes posted a 91.9 overall grade, the highest grade among quarterbacks seeing at least 15 dropbacks. This season, expectations are even higher, considering the plethora of playmakers at his disposal in Kansas City. The big-arm quarterback, who is always good for a few head-turning throws, builds big excitement for this otherwise meaningless contest. – Charles Miller
Connor Williams impact on the offensive line
Second-round pick Connor Williams will suit up in his first action for the Cowboys after joining the team from the University of Texas after a solid career with the Longhorns. He has the ability to play across the line, so no matter where he is injected, his impact should be able to be felt immediately. Across a career 986 pass-blocking snaps during his time at Texas, Williams allowed just 27 total QB pressures and had plus-grades on his run-blocking snaps every season. – Cam Mellor (@PFF_Cam)
Jimmy Garoppolo is QB1, who backs him up?
It's very evident that Jimmy Garoppolo is the long-term plan at quarterback in San Francisco, but who remains his backup during his tenure is likely still up for grabs. The 49ers selected C.J. Beathard in the third round in the 2017 NFL Draft, but he showed a lot of the proverbial growing pains as he adjusted to the NFL and put forth a 59.5 overall grade last year. Due to the draft capital invested in Beathard, it's likely he has a firm grasp on the second-string quarterback position. Behind Garoppolo and Beathard are a pair of undrafted quarterbacks in Nick Mullens and Jack Heneghan. Mullens played in just one preseason contest last season, completing 7-of-10 passes against the Los Angeles Chargers but took a sack and threw an interception in his limited time.
Heneghan enters San Francisco from the Ivy League after four years at Dartmouth. He had a historic season for the Big Green in 2016 when he finished second school history for completions (247) and attempts (414) and third in yards (2,725) in a single season. He was a member of the Dartmouth squad that split the Ivy League Championship in 2015 and finished tied for first in school history with 11 consecutive games with a touchdown pass. – Cam Mellor (@PFF_Cam)
The return of Andrew Luck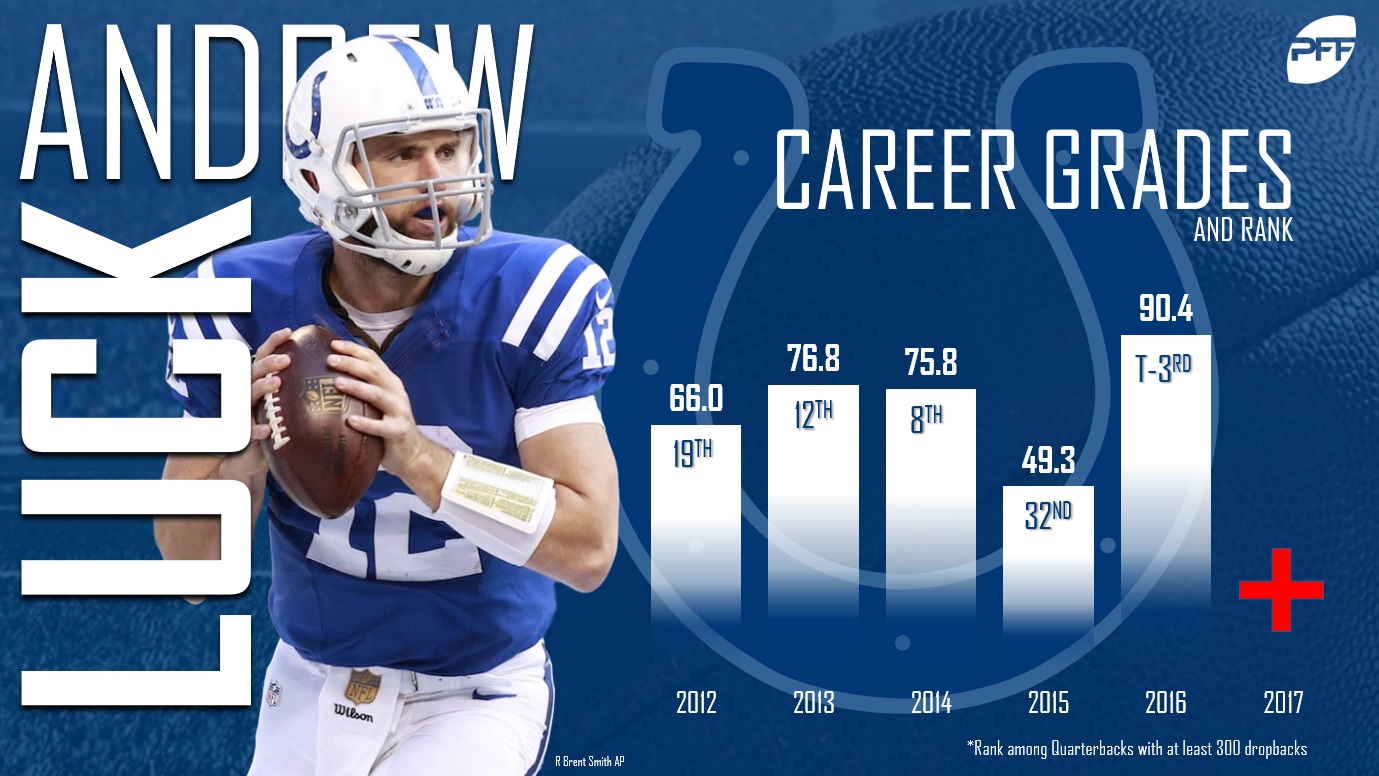 While preseason games are essentially meaningless, it will go a long way to squash skepticism if Andrew Luck takes the field and plays without complication against the Seahawks. If all goes well, Luck plays just long enough to get into a rhythm and stays upright, at all costs. It's no secret that Luck has been pummeled throughout his career, as the Colts have routinely shown an inability to protect the passer. Despite missing significant time due to injury, Luck has been hit 50 times as he's thrown throughout his career, which is the highest mark of any quarterback since 2006. Whether or not Luck survives the season remains to be seen, but it will be nice to see a player of Luck's caliber back on the field. – Charles Miller
Shaquem Griffin. Period.
NFL fans should get a more extended look at Shaqeum Griffin during the preseason, beginning with the opening contest against the Colts. Griffin's aggressive style of play should fit nicely into Seattle's scheme. The former UCF standout posted a 91.1 pass-rush grade in 2017, which was good enough for fourth among edge rushers. At PFF, we track how often a defensive lineman beats the blocker in front of them, and last season, Griffin won 23.6 percent of his pass-rushes, the fourth-highest rate among edge defenders. Despite playing behind two of the NFL's best linebackers, Bobby Wagner and K.J. Wright, Griffin's tenacity and nose for the football will surely earn him an increased role as the season progresses. – Charles Miller