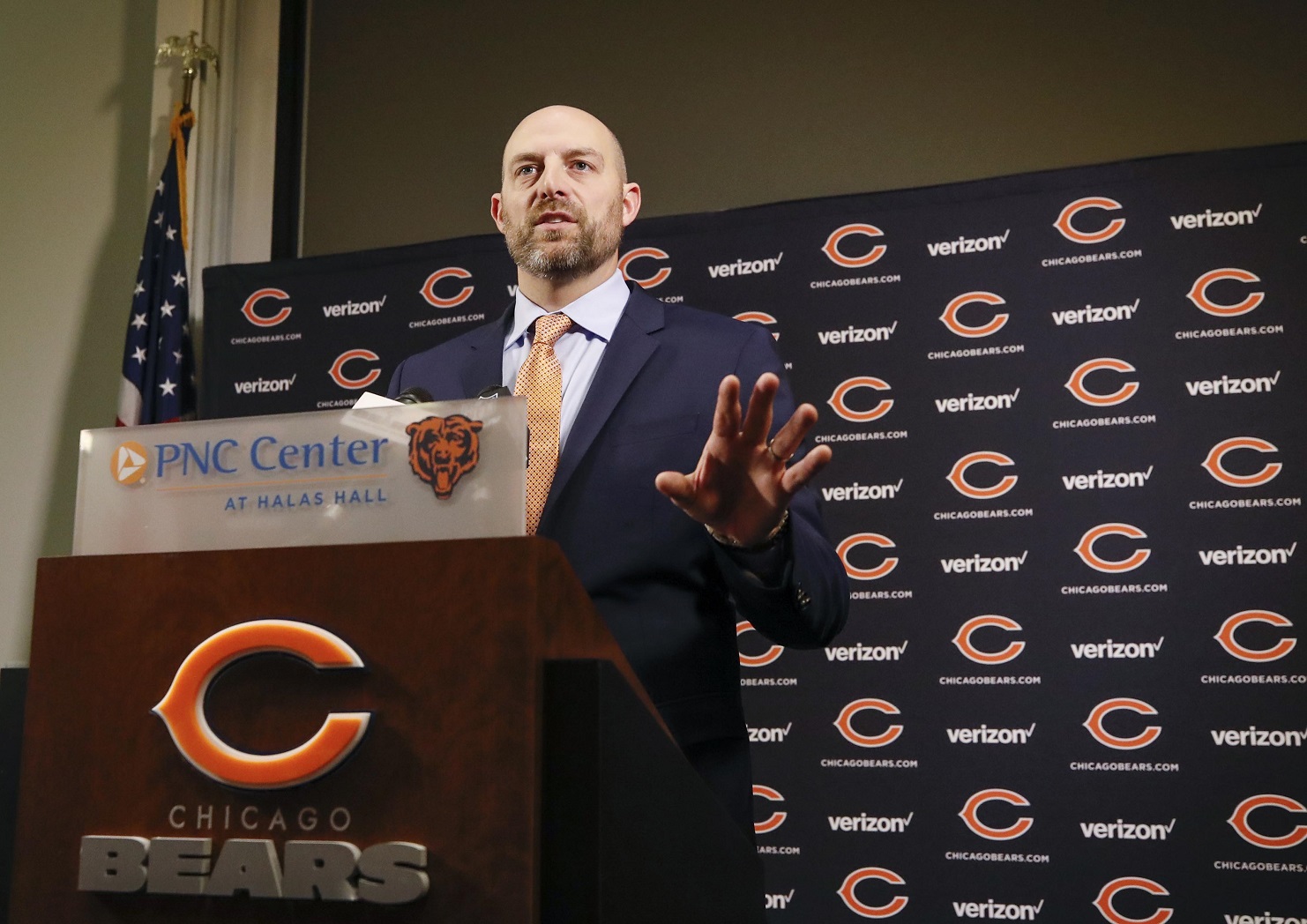 Jan 9, 2018; Lake Forest, IL, USA; Chicago Bears head coach Matt Nagy speaks during the press conference at Halas Hall. Mandatory Credit: Kamil Krzaczynski-USA TODAY Sports
Looking at the current NFL landscape, it's obvious why Matt Nagy was the Chicago Bears' pick to be their next head coach. Quarterback 'whisperers' Doug Pederson and Sean McVay just turned around their respective teams by molding highly drafted quarterbacks into faces of the franchise. The fate of the Bears in the coming years relies on their new coach's ability to do the same with last year's No. 2 overall selection, Mitchell Trubisky.
Whether or not Nagy can do that remains to be seen. What we can do is examine and evaluate what Nagy has brought to the table in his various roles as a coach in the NFL.
A quarterback at the University of Delaware, Nagy bounced around the AFL for a handful of years before joining Andy Reid's staff in Philadelphia as an intern in 2008. He had worked his way up to a quality control coach in 2012 before Reid was axed as head coach. When Reid was named head coach of the Kansas City Chiefs that same offseason, he took the former QB with him, this time to coach the quarterbacks.
Nagy assumed that role for three seasons before taking over as offensive coordinator in 2016 when the aforementioned Pederson left. This past season, his offense saw Alex Smith thrive with far and away the greatest statistical year of his career.
The Bears' new coach was credited with bringing a handful of 'college' concepts to the pro game this season that led to Smith leading the league with 1,344 deep passing yards. Nagy was handed play-calling duties from Reid in Week 13 after a mid-season lull. Over the next six games, the Chiefs averaged 27.3 points per game — even with backup QB Patrick Mahomes starting one of those games. The results are impressive to say the least, but let's take a deeper look at the scheme that helped get all those receivers open down the field.
Disclaimer: The Bears do not have a Tyreek Hill, nor do they have a Travis Kelce. Those two make life easier, but the plays below can be effective regardless of high-level talent.
Out & Up
One thing the Chiefs loved to do this season was run their slot receivers vertical and often times up the sideline. The out and up is one way to accomplish this. If you'll recall all the way back in Week 1, Tyreek Hill had his long touchdown on such a play when the Patriots busted their cover-2 defense. It's a play that can work against both split and single-high safety looks. Here, they are running it against the Jets' cover-4.
The Chiefs loved to have their slot WRs get vertical and the Out & Up was one of their favorite ways of accomplishing that pic.twitter.com/cxSWlZItik

— Mike Renner (@PFF_Mike) January 10, 2018
Notice the post from the outside receiver. This is key, as it not only drags the corner out of the play up the field but also toward the middle of the field. This is crucial against cover-3 because it gives the corner a tough decision on whether or not he should pass off the post to the safety and peel back to his zone. You can see them running the same play against the Raiders in a single-high look a week later with success once again.
It's a concept that can work vs. almost any coverage pic.twitter.com/uoklLe4jy8

— Mike Renner (@PFF_Mike) January 10, 2018
Flood
The three-level flood was another staple of the Nagy-led Chiefs offense. It's a perfect concept for a young quarterback, as it's simple, yet effective. It requires the quarterback to read only one half of the field, but timing (and obviously reading it properly) is paramount.
You can see it run twice against the Jets below, from two different formations. The first play utilizes the running back out of the backfield for the lower level of the flood. The safety then gets caught, out-leveraged in cover-4 and subsequently gets shook by Kelce for a wide-open touchdown.
Also saw them run a 3-level concept a handful of times throughout the year with varying formations pic.twitter.com/Clr2RrvsKN

— Mike Renner (@PFF_Mike) January 10, 2018
The second time is from a bunch set with differing stems. They once again get favorable leverage on the safety, but this time with the deep corner route instead of the intermediate out. This is also where timing becomes a factor, as Smith is late with the ball and allows the safety to get back and force Hill out of bounds.
This is a 'simple' concept as it's a half field read and one Mitch Trubisky could execute today pic.twitter.com/LMXbLl4IyA

— Mike Renner (@PFF_Mike) January 10, 2018
Three weeks later, they threw the same look at the Dolphins but flipped the script on the deep safety. Instead of breaking to the corner, Hill crosses the flat-footed safety's face to the middle of the field.
The offenses also made minor adjustments as the year went on to keep defenses on their heels. Here Tyreek Hill goes to post instead of corner pic.twitter.com/RM4RnNCxyv

— Mike Renner (@PFF_Mike) January 10, 2018
This should be encouraging for Bears fans. Nagy is running concepts that work against a variety of defenses from multiple different formations and adding new wrinkles as he goes.
This is the chess match that is coaching in the NFL. Set expectations via tape for a zig, then put in the crucial adjustment that zags.
Trickery
No good coach should feel as though they're above dialing up a trick play every once in a while, and Nagy is no exception. Taking calculated shots at free yardage is something that should be applauded and not seen as a gimmick. And the play below certainly qualifies as that.
All in all, the Chiefs deep concepts were night and day from what the Bears ran last year. No telling if Trubisky will develop into an elite passer, but at least he'll be given a legitimate chance to be one now pic.twitter.com/dpo2yAwFhn

— Mike Renner (@PFF_Mike) January 10, 2018
Linebackers are so ingrained to backtrack away from wide play-action fakes that you'll oftentimes see them turn their heads and sprint once they realize it's a pass. The Y-Throwback takes advantage of that lack of awareness and sneaks the tight end underneath play side before turning up the field. It was run a handful of times throughout the NFL this season and seemingly is open every time.
For some more examples of trickery, we'll take it back all the way to Week 1 for the only play highlighted here that wasn't after Nagy took over as play-caller. The Chiefs use jet-motion – a key part of the offense this season – to influence the defense towards the flat on the right side. They then leak running back Kareem Hunt on a wheel route up the seam in an extremely favorable one-on-one matchup. The result is a 78-yard touchdown.
I went through all of the Chiefs deep targets this past season to see what Matt Nagy will bring to Bears. Found a lot of similar concepts being ran out of multiple different formations as well as some creativity pic.twitter.com/xSJJFzxzI6

— Mike Renner (@PFF_Mike) January 10, 2018
Any of these plays above would be a sight for sore eyes in Chicago. Deep concepts in the Bears' offense this past season were almost non-existent. Only 9.1 percent of Trubisky's attempts traveled at least 20 yards downfield, the fifth-lowest rate of any starter.
The funny thing was that Trubisky was kind of good at them. He had a 108.1 passer rating on those throws, the third-best in the league. With his arm, he should be at or near the top of the league in deep passing yards year in and year out. Under Nagy's tutelage, he'll at least get the opportunities to do so.