Baltimore Ravens first-round pick Lamar Jackson debuted in the Hall of Fame game, playing a full half and 32 snaps of action
He was up and down, finishing with an overall PFF game grade of 52.8 but flashed talent with both his arm and legs
Jackson took off scrambling three times, gaining 15 yards as well as two designed runs that gained another 13 yards
The NFL's annual kick off game, the Hall of Fame game between the Baltimore Ravens and the Chicago Bears, has come and gone, with the Ravens taking leaving victorious from Canton, Ohio, 17-16. As can be expected from the league's annual first exhibition match, the game had its fair share of miscues early on, but there were also several promising performances and talking points that we can take away from the contest.
The storyline dominating headlines on Friday is that of the Ravens quarterback duo – Robert Griffin III, who was subject to some bad interception luck, and rookie quarterback Lamar Jackson. Baltimore fans had to wait until the second half to see their first glimpse of the first-round selection in a game situation and it was a predictably up-and-down night for the 2016 Heisman Trophy winner.
All told, Jackson logged 32 snaps in his two quarters of game action and left the field with an overall grade of 52.8, a passing grade of 55.0 and a rushing grade of 53.9, which were average, to below average marks. For the first time ever, we now have preseason grades in each facet, thanks in part to what's now available with Premium Stats 2.0.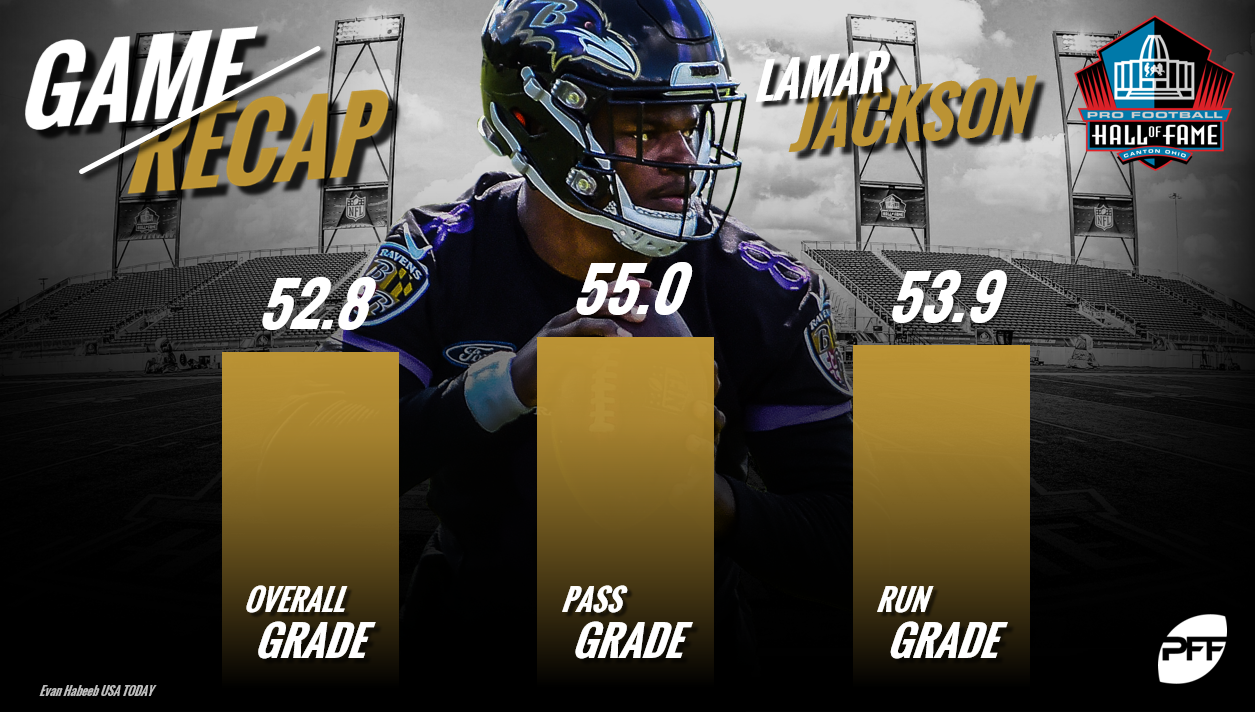 Let's start in at Jackson's biggest strength from the night.
Throughout the game, Jackson was at his most dangerous when he dropped back, scanned the field and utilized the threat of the run. This was on display early, as Jackson's first three dropbacks resulted in scrambles that earned three, two and then 10 yards for the Ravens offense. He then added an additional nine rushing yards on a designed run to the left side of the field in the fourth quarter. Jackson ended the game with 25 rushing yards from eight attempts, with 11 of those rushing yards coming after contact, while he also forced a single missed tackle in the process.
While Jackson was effective on his limited rushing attempts, he was inconsistent when he dropped back to pass, but at times he did demonstrate the type of throws that showed why the Ravens selected him in the first round of the NFL Draft.
All told, Jackson completed 4-of-10 pass attempts for 33 yards, one touchdown and one interception. His touchdown pass came from an eight yard quick out to fellow rookie Hayden Hurst, while his interception came a pass targeted towards receiver Jaleel Scott. While the interception may have looked bad from the broadcast angle, upon further review, Jackson's intended receiver drifted his route towards the outside rather than where Jackson targeted the pass, placing blame on Scott, as opposed to solely on Jackson.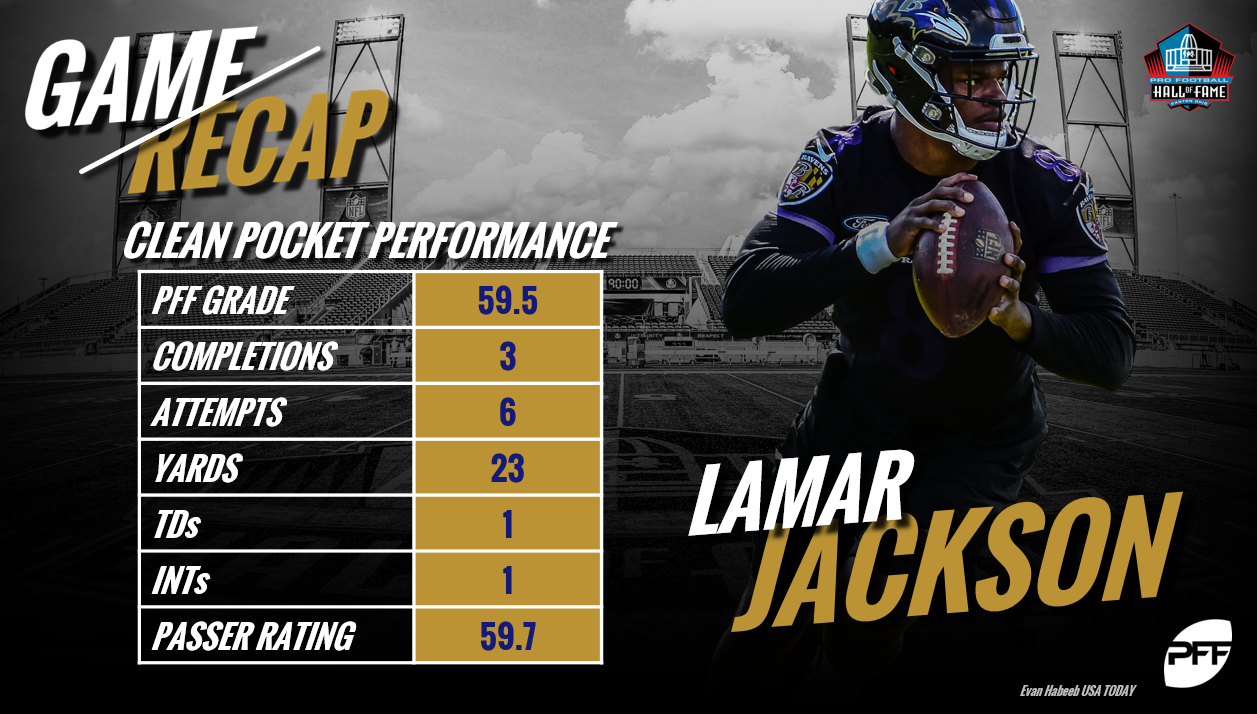 All of Jackson's passing production came from a clean pocket when he was kept clear of pressure. He completed 3-of-6 attempts, scored a touchdown and threw an interception for a passer rating of 59.7, right near that of what RGIII managed from those clean-pocket situations (60.4 passer rating).
The FIRST touchdown of the @Lj_era8! Put six on the board for the @Ravens. #CHIvsBAL

????: NBC pic.twitter.com/nqSxcuDYxK — NFL (@NFL) August 3, 2018
However, the pocket wasn't always kept clean for Jackson in his first NFL appearance, in fact, it was quite the opposite, as Jackson found himself pressured on eight of his 16 total dropbacks on the night. He completed 1-of-4 passes for 10 yards and also took three sacks, which is something that he simply needs to improve on going forward.
One way he can lower those sack numbers is to get rid of the ball much quicker. Throughout the second half, Jackson averaged 2.81 seconds to attempt which was by far the longest average time among all quarterbacks in the game. Jackson's target map shows a curious disparity between throwing to the left or the right of the field in this game. He completed all three of his attempts to the right side of the field for 23 yards and a score, good for a passer rating of 138.2, but when throwing to the left was 0-for-3 and threw his interception.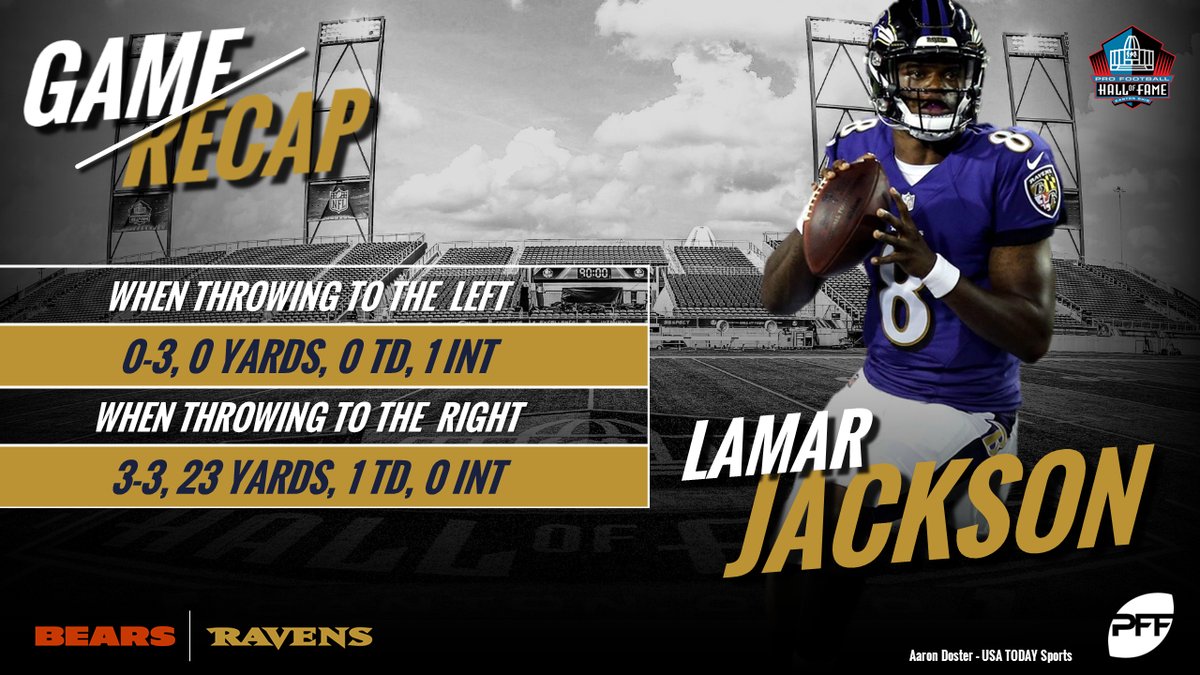 As you'd expect from any rookie quarterback, Jackson's debut performance was far from perfect. His accuracy was spotty, and he demonstrated a concerning propensity for taking hits when he took off with the ball in his hands.
His athletic ability and talent are evident, but this game won't have the Ravens ushering in the Lamar Jackson Era and sending Joe Flacco to the bench anytime soon.