The last positional rankings we'll do, may also be the most inconsequential. These are talent rankings of the respective backfields across the NFL, but in no way are meant to reflect the effectiveness of their respective rushing offenses. These factor in receiving skill as well and are weighted to reflect the skill of those expected to see touches. So for Pittsburgh, Le'Veon Bell gets the bulk of the weighting, but Tennessee is split between Dion Lewis and Derrick Henry.
Enjoy!
All statistics and grades mentioned below can be found with your PFF Elite subscription which includes the new and improved Premium Stats 2.0, and much, much more.

Starting RB overall grade, rank: Alvin Kamara, 90.5 (1st) / Mark Ingram, 71.8 (22nd)
Mark Ingram is a nice bruiser between the tackles, but this ranking is about Alvin Kamara. The Rookie of the Year put up stats the likes of which we've never seen before. His 110.8 elusive rating a season ago was the highest we've ever seen at the running back position in our 12 years of grading and his 90.5 overall grade was tops among all backs.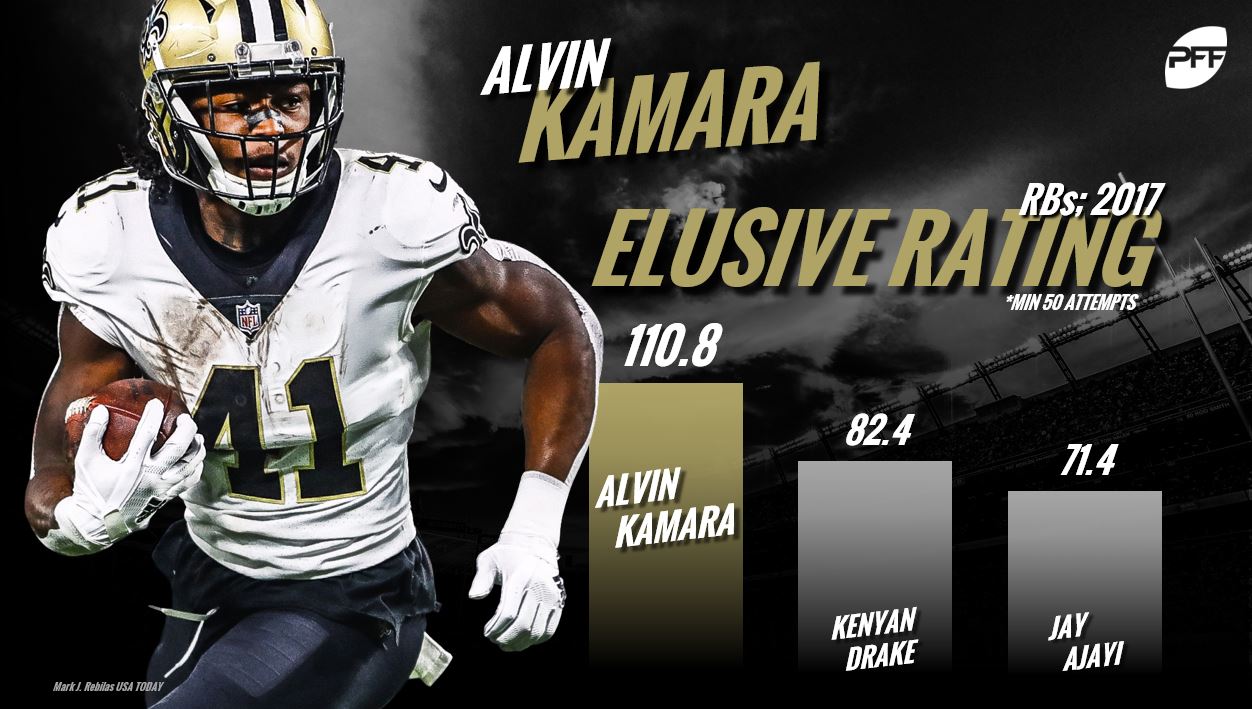 Starting RB overall grade, rank: Le'Veon Bell, 71.0 (T-23rd)
The Steelers might go from second to dead last if Le'Veon Bell truly does continue his holdout into the regular season. When he is, the ranking is more than justified though. He's averaged 2.74 yards after contact over the last three seasons and also been one of the most prolific receivers in the league. Over the last two seasons, including the playoffs, he's hauled in 173 passes for 1,362 yards.
Starting RB overall grade, rank: David Johnson, 79.9* (3rd) – 2016 grade
It's difficult to think David Johnson won't be back to full strength as it was only a wrist injury that kept him out a season ago. Back in 2016, he hauled in 80 balls on 107 targets for 879 yards. His 90.0 receiving grade was the highest of any full-time running back. Johnson is also one of the few backs capable of running legitimate receiver routes as he spent nearly 20 percent of his snaps that season from the slot or split wide.
Starting RB overall grade, rank: Ezekiel Elliott, 69.5 (29th)
Back when everything was rolling for the Cowboys in 2016, no one had more yards after contact than Ezekiel Elliott's 938. That number dropped down to 680 last season, but it's encouraging that his average yards after contact barely changed, going from 2.9 in 2016 to 2.8 in 2017. That means if the Cowboys holes along the offensive line get filled, Elliott could be in for another monster seasons.
Starting RB overall grade, rank: Kareem Hunt, 82.4 (5th)
No one broke more tackles a season ago than the Chiefs Kareem Hunt. Among full-time running backs in really wasn't even close. Hunt had 72 total broken tackles a season ago – 10 clear of the next closest back – and averaged 3.0 yards after contact per attempt. Even in his midseason lull, Hunt's broken tackle rates remained nearly identical.
Starting RB overall grade, rank: LeSean McCoy, 75.8 (11th)
This one obviously relies on LeSean McCoy being on the field, but when he is, they have a dynamic running threat that can supersede bad offensive-line play. That's a good thing, because this year of all years in Buffalo, they'll need it. Our broken tackle stats and yards after contact numbers don't really do McCoy justice. That's because often times he'll make guys miss so badly that no tackle is ever attempted and he's not even touched. Over his career, he's averaged a paltry 2.3 yards after contact per attempt.
Starting RB overall grade, rank: Todd Gurley, 83.4 (T-3rd)
It's still worrisome that a change in offense can transform Todd Gurley from arguably the worst running back in the league to arguably that best. That may say more about the nature of the position though than it does about Gurley. In space though, there is no denying his ability. Gurley averaged 2.1 yards per route run last season, the most of any full-time running back.
Starting RB overall grade, rank: Devonta Freeman, 73.3 (16th) / Tevin Coleman, 68.7 (32nd)
The first legitimate running back tandem on this list since New Orleans, Atlanta's duo has a nice complementary skillset. Devonta Freeman had the eighth-highest rushing grade among all backs last season while Tevin Coleman earned the seventh-highest receiving grade back in 2016. They also share the ability to both be on the field at the same time as Coleman took 12.3 percent of his snaps last season split wide.
Starting RB overall grade, rank: Jordan Howard, 63.9 (50th) / Tarik Cohen, 77.5 (10th)
Chicago has a similar set up to what the Falcons have with one talented between the tackles runner in Jordan Howard and another game-breaker. The game-breaker here is the wild card, especially in Matt Nagy's offense. On only 58 catches a season ago, Tarik Cohen broke 24 tackles. That was a better rate than Kamara.
Starting RB overall grade, rank: Dion Lewis, 88.8 (2nd) / Derrick Henry, 72.0 (20th)
It will be interesting to see how the touches break down in Tennessee over the course of the season, but all signs in the careers of both point to Dion Lewis being the more productive of the two. Lewis earned a 88.8 overall grade a season ago, the second highest among all running backs. The biggest number though is Lewis' 75.3 receiving grade compared to Derrick Henry's 41.6. The latter is simply a non-starter in the passing attack for the Titans.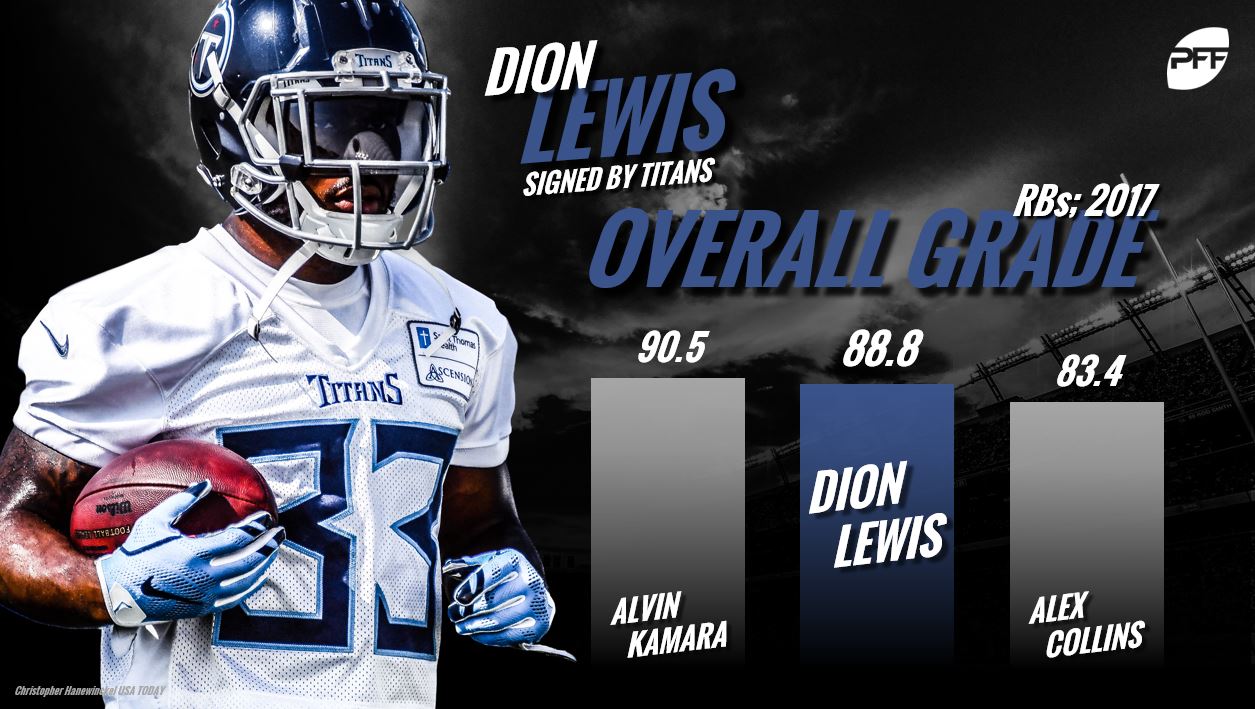 Starting RB overall grade, rank: Dalvin Cook, 69.9 (28th)
What Dalvin Cook did on only 74 handoffs a season ago was special. He earned the eighth-highest rushing grade of any back and did it all as a certified bell cow before he got hurt. While he's no shoe-in to return to form completely, if he comes anywhere close to it, they'll have earned this ranking.
Starting RB overall grade, rank: Duke Johnson, 78.2 (T-7th) / Carlos Hyde, 58.0 (65th)
The Browns depth chart at running back is one of the most convoluted in the entire NFL at the moment. They signed Carlos Hyde this offseason, drafted Nick Chubb in the second round and now extended Duke Johnson. The first two share a nearly identical skillset, making it even more puzzling. Johnson though is the key here as he's been consistently one of the best receiving threats at the position over the last few years. He earned an 90.6 receiving grade a season ago and averaged 2.0 yards per route.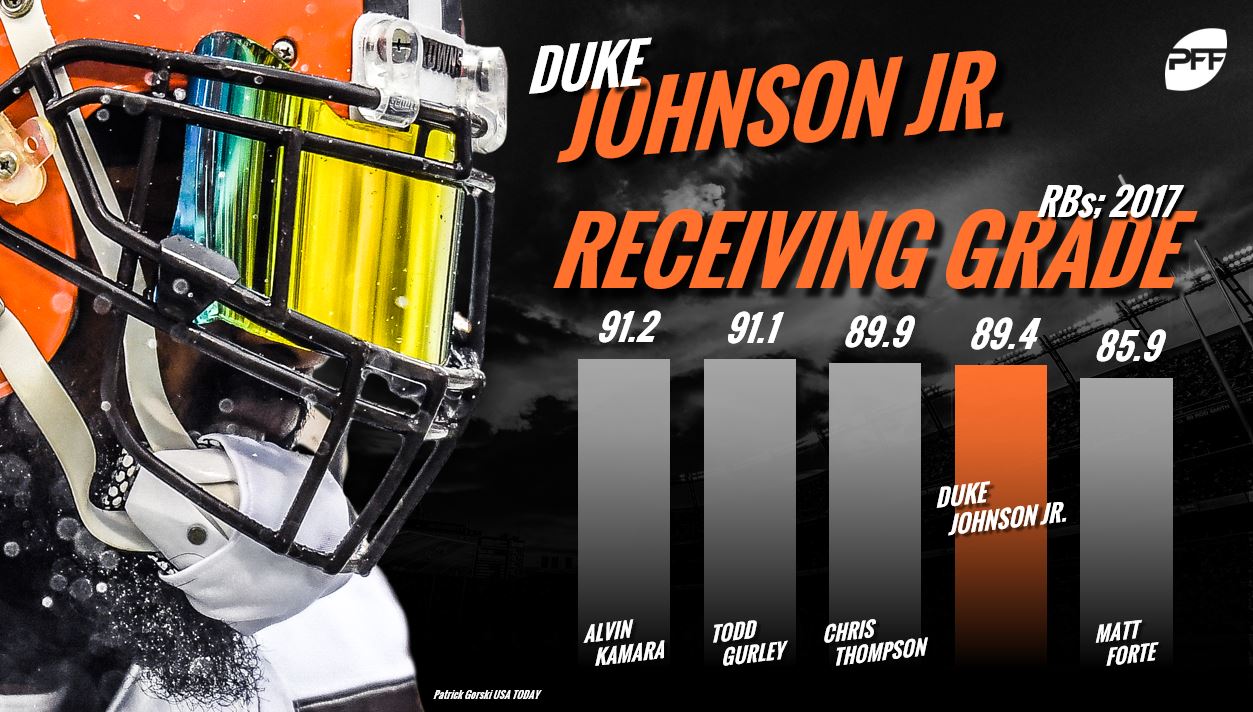 Starting RB overall grade, rank: Jay Ajayi, 66.9 (40th)
Darren Sproles has been an ageless wonder up to this point in his career, but at 35 years old and coming off a torn ACL, it would be a minor miracle if he contributed close to his old form. Jay Ajayi is more than enough though to earn them the No. 13 spot. After being traded to the Eagles last season, he averaged 5.8 yards per carry including a ridiculous 3.6 yards after contact per attempt.
Starting RB overall grade, rank: Saquon Barkley, 84.3* (2017 college rushing grade)
In our quarterback rankings, it only made sense to separate out rookies. With running backs though, we more or less took our best guess. Saquon Barkley was the No. 1 running back on our board this past spring although one never knows how someone will translate to the NFL. He goes to a situation in New York that, while improved, is still a below average run-blocking line.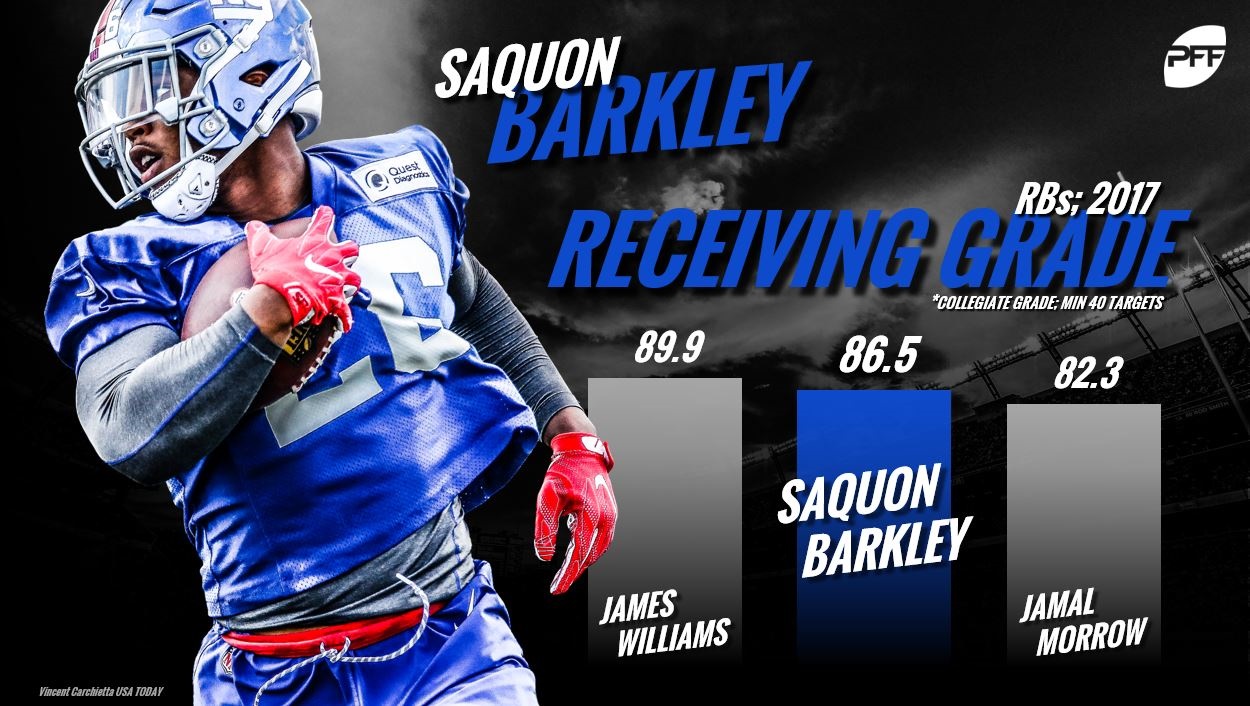 Starting RB overall grade, rank: Melvin Gordon, 72.2 (19th)
Melvin Gordon has been blessed over the course of his NFL career with run-blocking that ranked 26th in 2017, 28th in 2016, and 31st in 2015. That may help explain his paltry yards per carry, but his grades and advanced stats have been solid over that span. Gordon's 62 total broken tackles were the second most in the NFL last year.
Starting RB overall grade, rank: Christian McCaffrey, 73.9 (15th) / C.J. Anderson, 78.2 (T-7th)
While Christian McCaffrey's rookie season may have been a disappointment to some as a runner, he still flashed elite skills in the passing game. His 82.9 receiving grade was eighth best at the position as he hauled in 80 catches. Add in C.J. Anderson who had a top-10 overall grade at the position last season and you have a solid duo.
Starting RB overall grade, rank: Alex Collins, 83.4 (3rd) 
Alex Collins' breakout was one of the more compelling stories of the 2017 season. Cast off from the Seahawks, Collins went on to earn the highest rushing grade (86.9) of any back last season. While he's fairly limited in the passing game, former fourth-round pick Kenneth Dixon has shown the receiving skill to contribute there when healthy.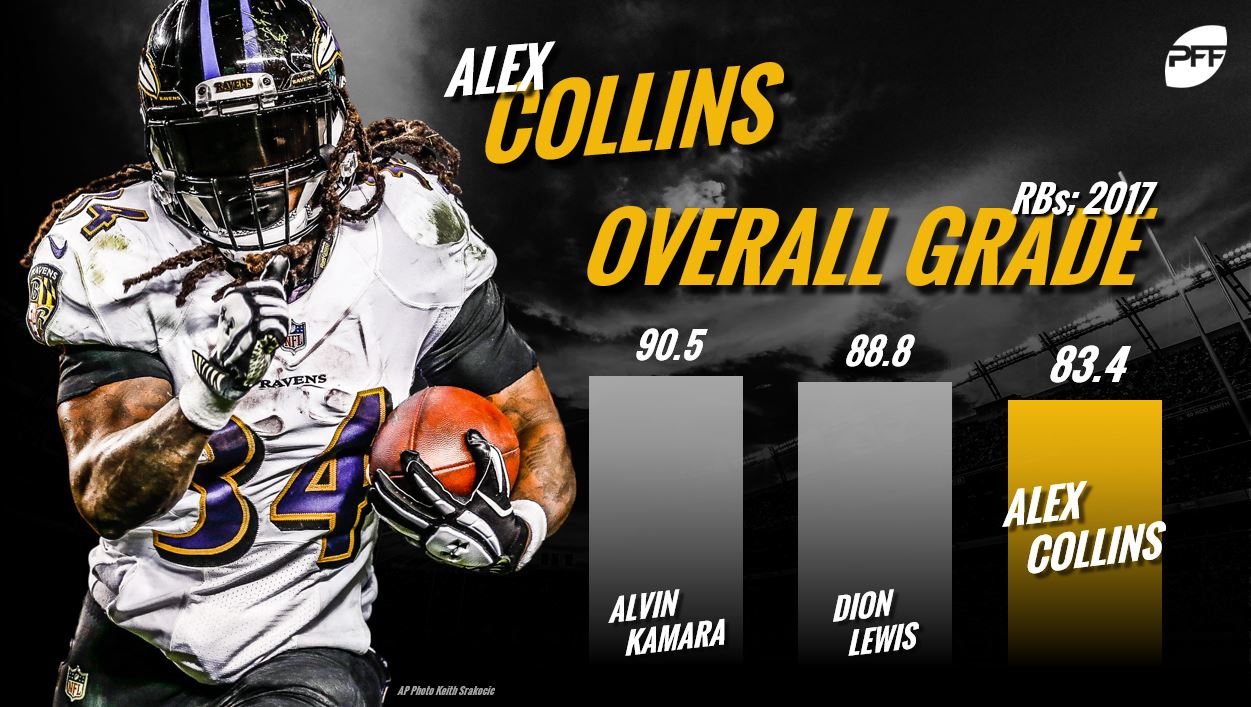 Starting RB overall grade, rank: Rashaad Penny, 88.0 (2017 college rushing grade)
Another team, like the Giants, where a rookie figures to receive the bulk of the touches so we'll slot them in based on our draft board. Rashaad Penny was, without a doubt, the most productive running back in college football last season. His 1,326 yards after contact were more than Barkley had total and he was the second-ranked runner on our draft board.
Starting RB overall grade, rank: Kerryon Johnson, 83.4 (2017 college rushing grade), LeGarrette Blount, 61.1 (58th)
The Lions have thrown a bunch of resources at the position this offseason and are trying to see what sticks. The Lions now have two former second-round picks in their backfield in Kerryon Johnson (2018) and Ameer Abdullah (2015), one of the most productive receiving backs in the league in Theo Riddick and one of the most productive pure runners in LeGarrette Blount. It's difficult to believe though they'd waste a second-rounder on Johnson without giving him first crack at touches. The Auburn product flashed exceptional receiving skills in college where he dropped only one ball on 56 catchable passes for his career.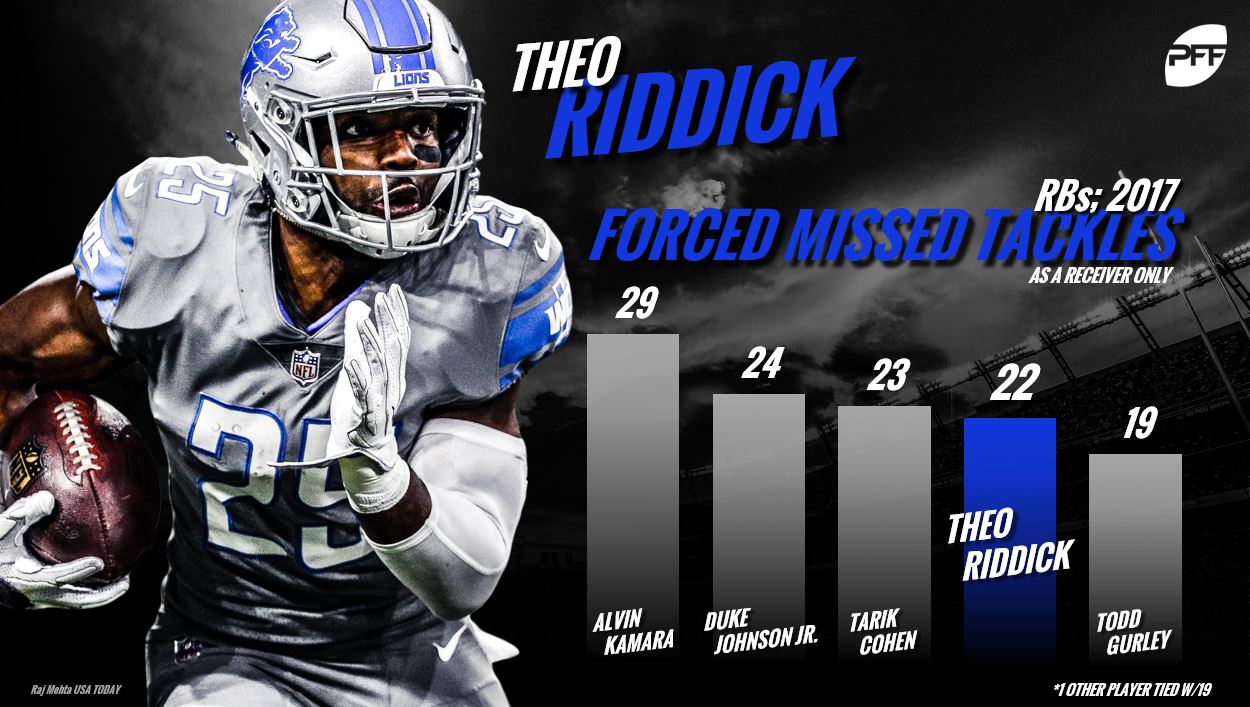 Starting RB overall grade, rank: Joe Mixon, 72.6 (17th)
Even though it didn't translate to yards on the field, Joe Mixon was still the 14th-highest graded running in the NFL last season. With the 28th-ranked run blocking in front of him, that shouldn't be too much of a surprise. It will be interesting to see what happens now with Cordy Glenn and Billy Price added to their offensive line.
Starting RB overall grade, rank: Derrius Guice, 86.3 (2017 college grade) / Chris Thompson, 74.2 (14th)
Another team with a rookie at the helm, Derrius Guice lasted longer than many expected in April's draft as six backs heard their name called before him. Guice is a strong runner, though he doesn't add much to the Redskins passing attack. Head coach Jay Gruden has admitted as much, noting they still have Chris Thompson on the roster. Thompson's 2.3 yards per route last season was the third-best figure in the league.
Starting RB overall grade, rank: Jerick McKinnon, 77.8 (9th)
The 49ers have a lot of money invested in this backfield, yet it's still difficult to see them worthy of being ranked any higher. Jerick McKinnon is coming off a career year in which he was the ninth-highest graded back in football – mostly off his receiving grade – but he's never been close to a productive full-time runner. For his career, he's averaged all of 4.0 yards per attempt and 2.4 yards after contact.
Starting RB overall grade, rank: Kenyan Drake, 74.7 (12th)
The Dolphins have one of the most intriguing running backs in the NFL on their roster at the moment. Kenyan Drake averaged a ridiculous 4.3 yards after contact per attempt last season on 133 carries. He also possesses the receiving skills to split wide and run receiver routes (although he did drop five passes last season). We're hesitant to rank them higher though until we see him do it with a bigger workload.
Starting RB overall grade, rank: Ty Montgomery, 72.5 (18th) / Aaron Jones, 78.8 (6th)
Talent-wise, the Packers bring two backs to the table who can feasibly do everything you'd want a running back to be able to do, but neither have done it for an extended period. Ty Montgomery looked like the running back of the future in Green Bay after he averaged 4.9 yards after contact per attempt on 77 carries back in the latter half of 2016. He hobbled through an injury-plagued 2017 though before ending up on injured reserve. Aaron Jones had a similar breakout towards the end of last year, earning the sixth-highest grade among running backs. Jones, though, will be suspended for the first two games of the upcoming season.
Starting RB overall grade, rank: Sony Michel, 85.6 (2017 college grade) / Mike Gillislee, 71.9 (21st)
The Patriots have a whole stable of backs at this point with two dynamically opposed skillsets. First-round pick Sony Michel, Rex Burkhead and James White all fall into the dynamic receiving threats bucket while Jeremy Hill and Mike Gillislee can be thrown into the bruising goal-line back bucket. The only problem is that Hill is the only one who has been a feature back over the course of his career and he's never earned a grade above 70.0 when that was the case.
Starting RB overall grade, rank: Leonard Fournette, 65.6 (46th)
For all the hype coming out surrounding top-five pick Leonard Fournette, his rookie season was fairly uneventful. He earned a rushing grade of only 62.4 and averaged 2.5 yards after contact per attempt. The pedestrian latter figure is arguably the more concerning as that was supposed to be his calling card coming out of LSU.
Starting RB overall grade, rank: Ronald Jones, 93.4 (2017 college rushing grade)
Much of how the Bucs ground game goes this season will depend on the performance of rookie second-round pick Ronald Jones. His 93.4 rushing grade was the highest in all of college football a season ago. He's a tad undersized though at 207 pounds and it's unclear if the Bucs will trust him with a full workload.

Starting RB overall grade, rank: Bilal Powell, 67.3 (38th)
The Jets brought in a few names this offseason, but none are coming off great years. Free-agent signings Isaiah Crowell and Thomas Rawls earned grades of 61.2 and 51.5 last year, respectively, while Bilal Powell finished at 67.3. There's no telling how the depth chart will shake out, but there's not much exciting here no matter who gets the bulk of the touches.
Starting RB overall grade, rank: Marshawn Lynch, 74.6 (13th)
A backfield of Doug Martin and Marshawn Lynch would have put you at number one on this list probably five years ago, but the lifespan of an NFL running back is brief. Martin broke only six tackles on 138 attempts last year as his elusiveness is all but gone at this point. Lynch still averaged a bruising 3.1 yards after contact per attempt, but his speed is zapped at 32 years of age.
Starting RB overall grade, rank: Royce Freeman, 81.6 (2017 college grade) / Devonta Booker, 64.4 (48th)
The Broncos are another team with an unexciting incumbent and unknown rookie. Odds are that Royce Freeman will end up receiving the bulk of the carries in Denver or at least Broncos fans should hope so. Devontae Booker's 61.7 rushing grade last season was the best figure of his two-year career.
Starting RB overall grade, rank: Lamar Miller, 68.9 (T-30th) / D'Onta Foreman, 59.9 (60th)
Lamar Miller has been nothing short of a disappointment since coming over from the Dolphins in 2016. His last two years there he had rushing grades of 90.0 and 75.8. His first two years in Houston, he's earned a 57.9 and 64.7. The hope is that last year's third-round pick, D'Onta Foreman, grabs the reigns as the starter, but after a torn Achilles he's no sure thing.
Starting RB overall grade, rank: Marlon Mack, 68.0 (34th)
Running backs are probably our toughest rankings to nail down for a number of reasons. Performance depends on a number of factors, play can fluctuate wildly from year to year and players can peak far earlier in their career than any other position. The Colts are at No. 32 more because we have no clue what to expect when their three-deep at the position has touched the ball a grand total of 118 times in the NFL, and not because there is no hope.