The Atlanta Falcons are officially committed to one of the league's best coverage linebackers long term.
Per ESPN's Adam Schefter, Atlanta has signed four-year veteran linebacker Deion Jones a four-year, $57 million extension, including $34 million guaranteed. In his three years in the NFL, Jones has earned a 90.5 coverage grade across his 1,460 coverage snaps, ranking fourth among the 75 off-ball linebackers with at least 1,000 defensive snaps since 2016. His overall grade (82.6) also ranks seventh among the same group of off-ball linebackers.
Jones ($14.5M AAS) now ranks second in average annual salary (AAS) behind New York Jets' C.J. Mosley ($17M AAS), per Over the Cap — a bargain considering the Falcons' brass didn't have to make him the highest-paid at his position despite being one of the NFL's best when healthy.
Falcons smart to get ahead of other contracts
---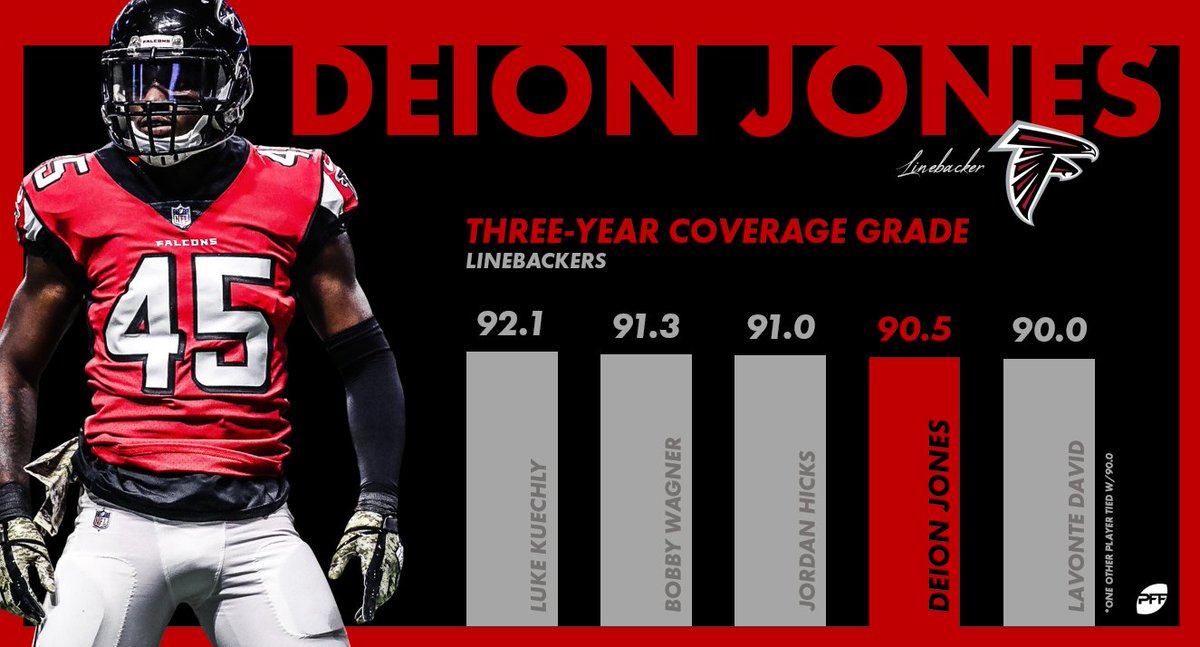 Bobby Wagner, Jaylon Smith, Myles Jack, Joe Schobert, Blake Martinez and Danny Trevathan are among the league's notable linebackers that ould have joined Atlanta Falcons' Deion Jones as unrestricted free agents in 2020 if his current contract was maintained. Five of the seven aforementioned names rank inside the top-15 in three-year (2016-18) coverage grade and six of the seven rank inside the top-20 among 75 qualifiers. Read more…
A vital Component to the Falcons' defense
---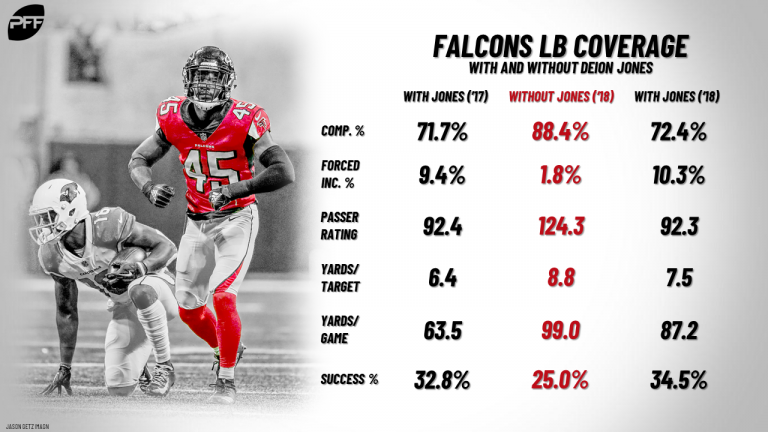 It is no coincidence that the Atlanta Falcons earned the 19th- and 25th- ranked coverage and defensive grade, respectively, in 2018 — the year Deion Jones had his season cut short due to a foot injury. And while Atlanta also lost safety Keanu Neal in the same game, the PFF data suggests that Jones is the player that the Falcons need as the leader of their defense. Read more…
His importance can't be overstated
---
PFF Senior Analyst Steve Palazzolo discusses the impact of Deion Jones on Atlanta's defense by comparing defensive metrics when Jones is on the field vs. when Jones was sidelined last year due to injury.
A Comeback Player of the Year candidate
---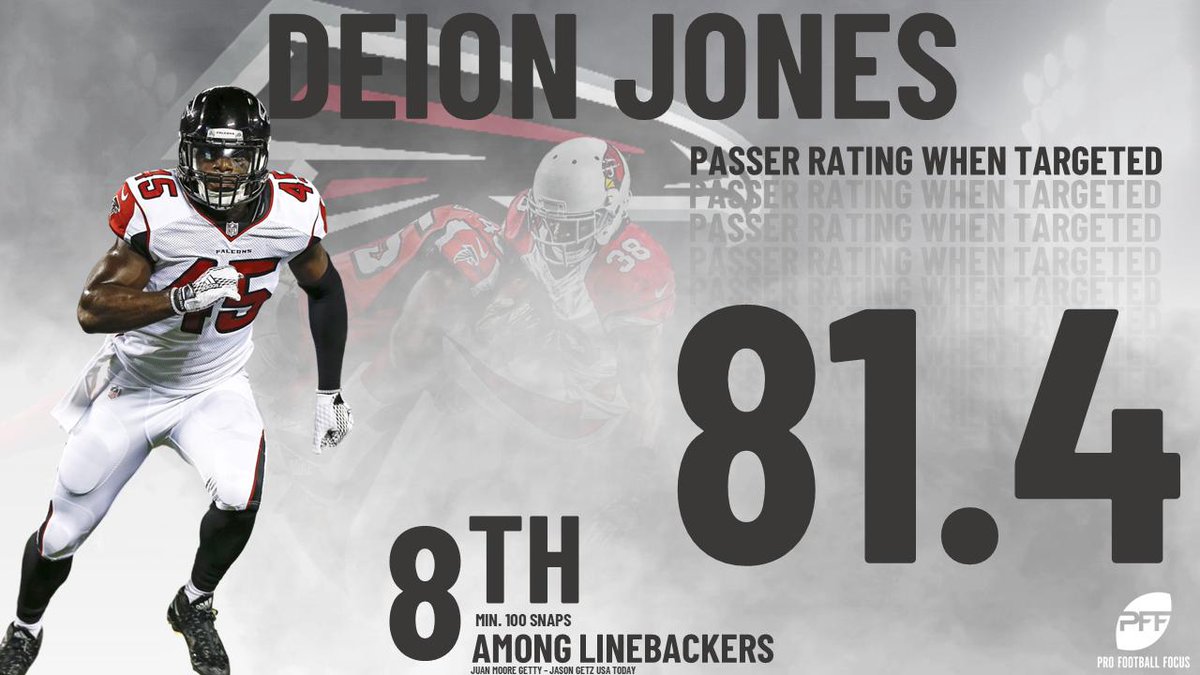 You can make the case that Deion Jones' early-season injury played a pivotal role in the Falcons' struggle to make the playoffs last year, as his presence as a coverage ace across the middle of the field can not be overstated. Read more…
No. 31 on the PFF50
---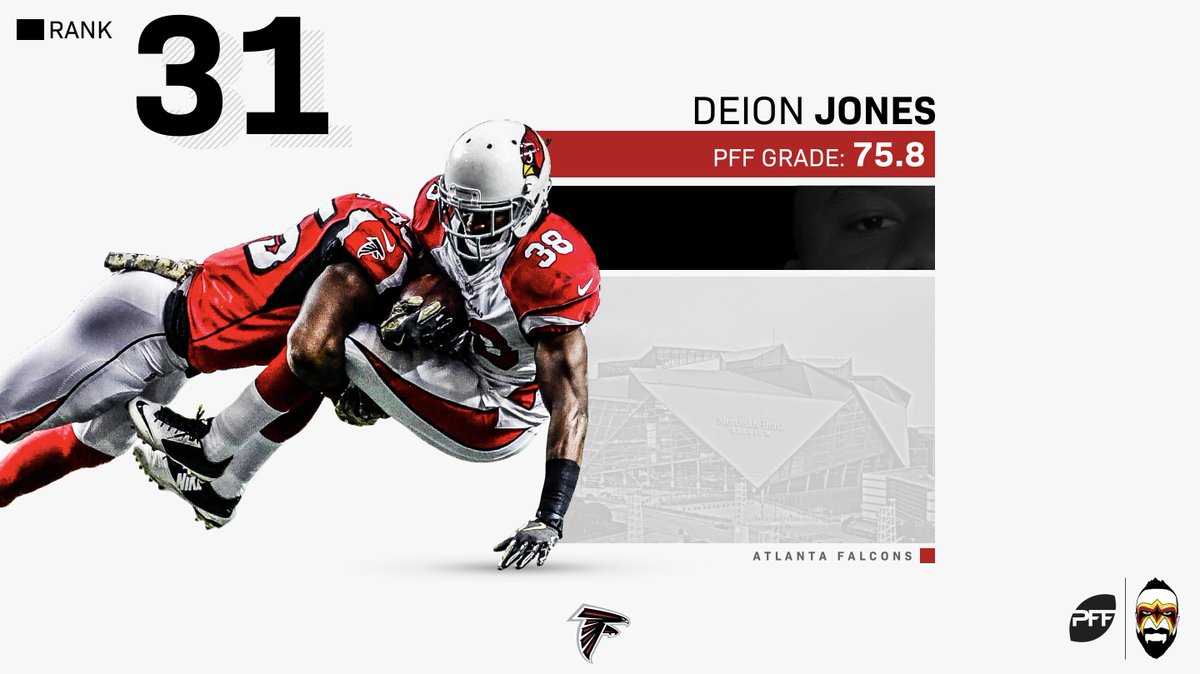 Jones' breakout season in 2017 was truly spectacular. The 2016 second-round pick turned in an elite 91.7 coverage grade across 719 coverage snaps in his sophomore season in the NFL, a single-season mark that ranks first among the 88 off-ball linebackers with 300 or more coverage snaps as second-year players in the PFF era (2006-18). Read more…
One of the NFL's best young talents
---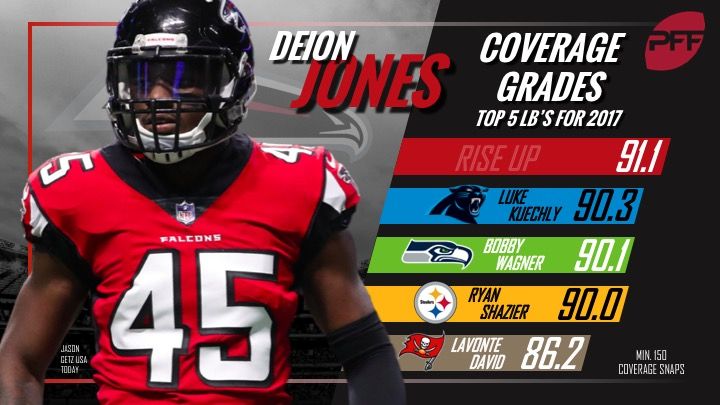 One of the NFL's premier coverage linebackers, and therefore one of the most valuable players at his position, Jones has earned a coverage grade of 91.6 over the last two seasons, which ranks second among linebackers in that span. Read more…
The Falcons' X-Factor for 2019
---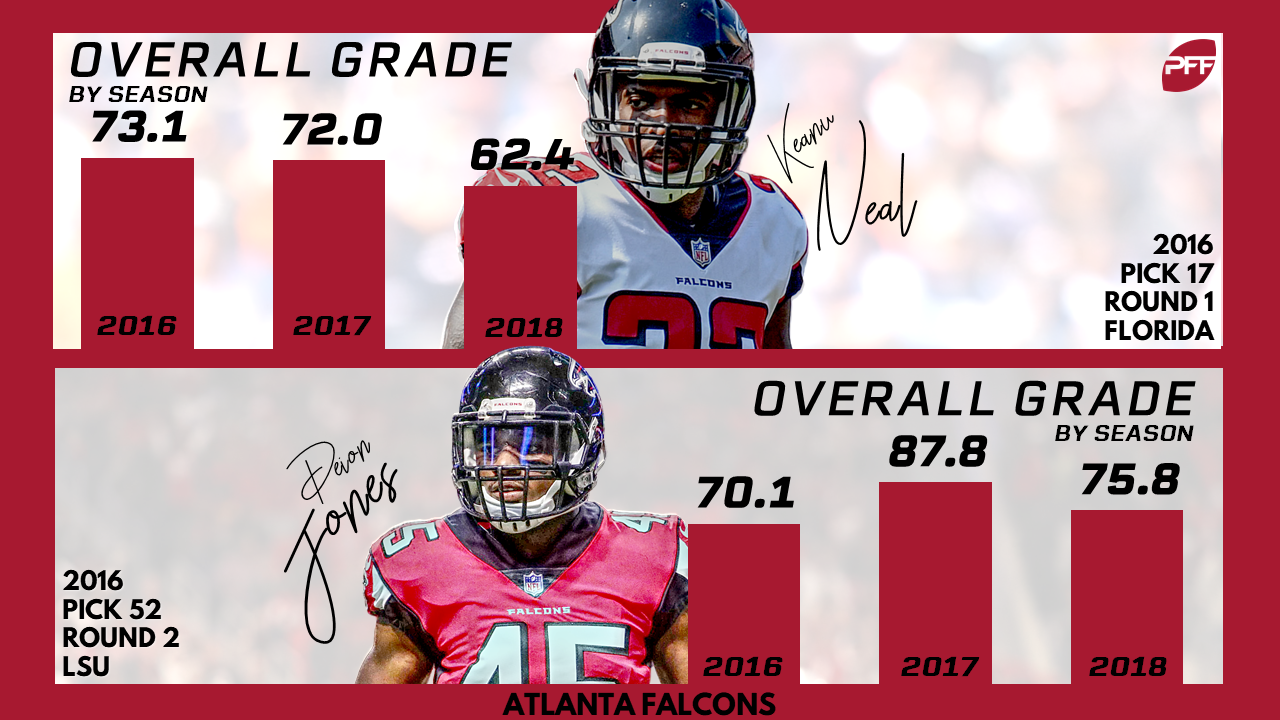 There is no question that Jones is one of the league's best coverage linebackers, and his ability to buoy this defense shouldn't be overlooked. Read more…