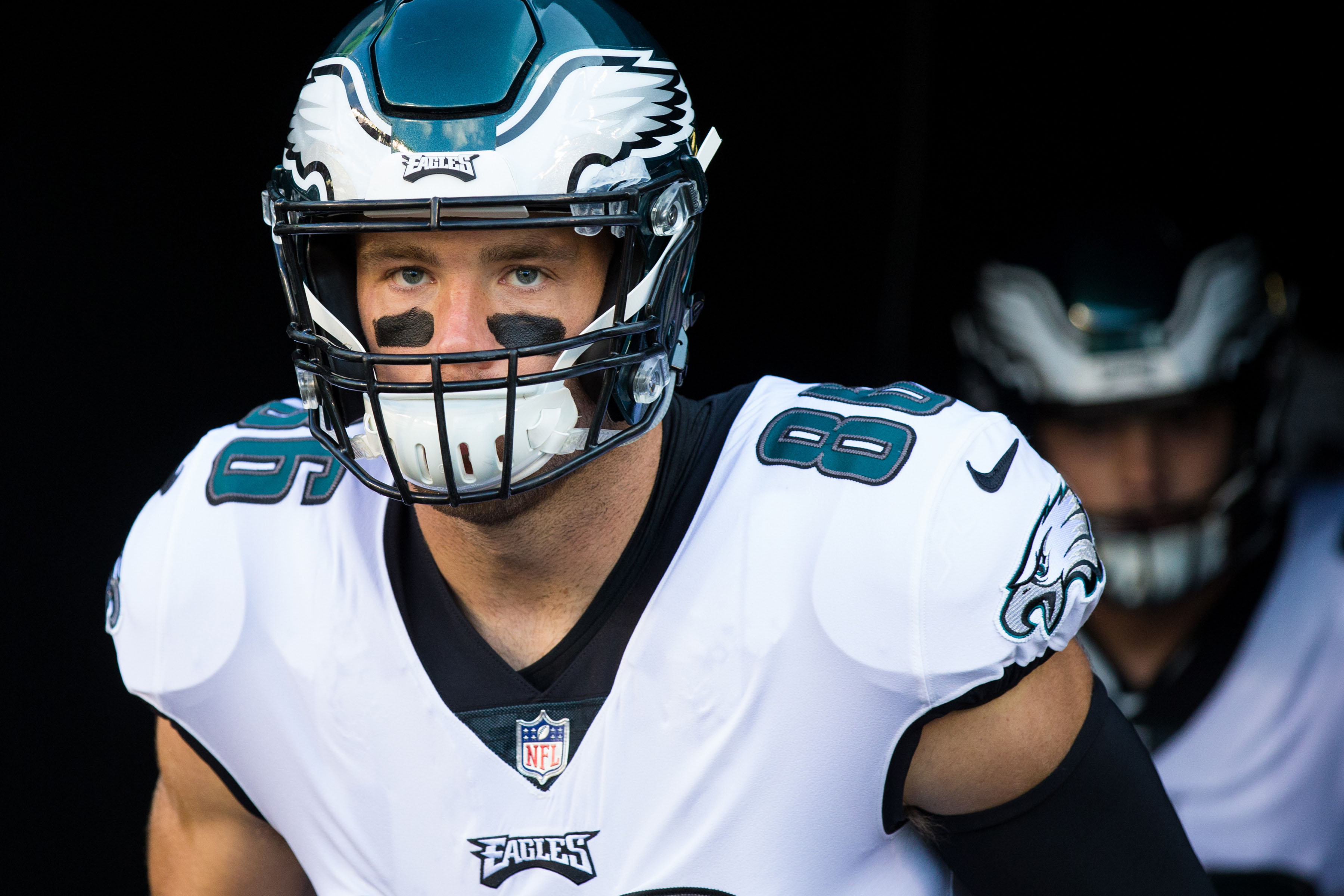 Aug 9, 2018; Philadelphia, PA, USA; Philadelphia Eagles tight end Zach Ertz (86) runs out of the tunnel for warm ups against the Pittsburgh Steelers at Lincoln Financial Field. Mandatory Credit: Bill Streicher-USA TODAY Sports
The 2018 NFL regular season is finally right in front of us! As Thursday night's kickoff game quickly approaches, we at PFF are excited to again offer our readers the popular PFF NFL ELO Rankings, beginning with Week 1's version.
Like all ELO systems, PFF ELO is an iterative system that updates each team's rating after each game based on two things: how well they played against their opponent and how well they were expected to play against their opponent. The PFF ELO rating system measures the former using our unique offensive, defensive and special teams grades, while the latter is determined by the PFF ELO ratings leading up to the game and where the game is played.
For example, a heavy favorite playing at home is expected to outplay the visitor, so a victory would result in only a small rise in their PFF ELO rating and a similarly-small decrease in the defeated team's, but if an upset were to happen, the visiting team would see their PFF ELO rating rise substantially, and the home team's see a similarly-sized drop.
Check back weekly for college spread picks using this model (as well as other information) and check out PFF Greenline for our NFL version of the product.
[Note: for Week 1, we've adjusted the ratings slightly to incorporate the return of players like Aaron Rodgers to the Packers. These adjustments will be rare but will reflect the output of other quantitative models we use as a part of Greenline – in which PFF ELO is just one.]

2017 Final Ranking/2018 Preseason Ranking: 1st / 1st (-)
After winning the Super Bowl without their starting quarterback, left tackle and middle linebacker, the hope is that the Eagles simply need to stay healthy to improve in 2018. The eventual return of Carson Wentz is a significant upgrade as his EPA per dropback was second in the league at 0.19 before his knee injury last year.

2017 Final Ranking/2018 Preseason Ranking: 2nd / 2nd (-)
Despite the defeat in Super Bowl LII, QB Tom Brady had one of his most productive seasons at age 41 leading the league in big-time throw percentage at 5.9 and EPA per drop back at 0.21. The Patriots have the easiest schedule in football according to our opponent-adjusted rankings and this gives both their expected win total and Super Bowl odds value within our model.

2017 Final Ranking/2018 Preseason Ranking: 3rd / 3rd (-)
The Falcons quite often find themselves as the darling of PFF Power Rankings, typically landing much higher than they appear in traditional rankings. After Matt Ryan finished 2016 with the most expected points per dropback in the league (0.29), his 2017 campaign left quite a bit to be desired. He did have the lowest percentage of turnover-worthy throws in 2017 and we like him to return to form and project Atlanta to finish above their 9.5 expected win total as they have one of the easier opponent-adjusted schedules in the NFC.

2017 Final Ranking/2018 Preseason Ranking: 6th / 4th (+2)
The Saints led the league with the highest percentage of successful pass plays at 55.01 percent in 2017. They face the fourth-toughest schedule this year, however, so their 9.5 expected wins fall in line with Vegas projections. We do see some value at 15 to 1 Super Bowl odds.

2017 Final Ranking/2018 Preseason Ranking: 5th / 5th (-)
Drama continues to play out around the possible holdout or arrival of Le'Veon Bell. The truth is with Big Ben Roethlisberger, Antonio Brown and the emergence of JuJu Smith-Schuster, this passing offense will be fine. This passing defense was surprisingly effective allowing a successful pass on only 44.99 percent of attempts a season ago.

2017 Final Ranking/2018 Preseason Ranking: 9th / 6th (+3)
The significant turn around the 2017 Rams experienced under head coach Sean McVay led to a flurry of offseason transactions. These acquisitions are helpful but the real key will be the performance of Jared Goff in 2018. Goff had by far the biggest year-over-year change in EPA per dropback of any starting quarterback we have charted in the PFF era (2016 – 0.46 to 2017 – 0.13). The Rams ability to live up to their preseason hype will fall squarely on Goff continuing to improve as a passer.

2017 Final Ranking/2018 Preseason Ranking: 4th / 7th (-3)
The addition of Kirk Cousins has caused a significant amount of optimism in Minnesota. Cause for concern is his year-over-year change in EPA per dropback going from 0.16 in 2016 to -0.02 in 2017. What quarterback shows up in Minnesota is anyone's guess but at $84 million guaranteed over three years, the Vikings paid him to be elite. The Vikings face the fifth-toughest schedule in the NFL in 2018 and at 10.5 Vegas projected wins, our model predicts some of the best under value of all win total projections.

2017 Final Ranking/2018 Preseason Ranking: 11th / 8th (+3)
The 2017 Jaguars pass defense is one of the best we have ever seen from an expected points allowed aspect. This team coverage capability gives them an opportunity to beat anyone. They face the fourth-easiest schedule to start 2018. If Blake Bortles is as adequate as he has been, they should have very little resistance to their second straight playoff appearance.

2017 Final Ranking/2018 Preseason Ranking: 8th / 9th (-1)
As a passing unit, the Chargers generated the second-highest expected points added in the league. Philip Rivers returned to an elite level with an adjusted completion percentage of 75.4 percent and they face the fourth-easiest schedule in the NFL yet our model still has them projected to finish under their Vegas win total.

2017 Final Ranking/2018 Preseason Ranking: 22nd / 10th (+12)
Aaron Rodgers had the highest percentage of positively-graded throws in the NFL in 2016 as he contributed 0.20 expected points per dropback in 2016 and a mere 0.05 in 2017. His return is the most significant addition to a roster in 2018 as their schedule gives them no favors and Rodgers will need to be as good as he ever has if they want to return to the playoffs.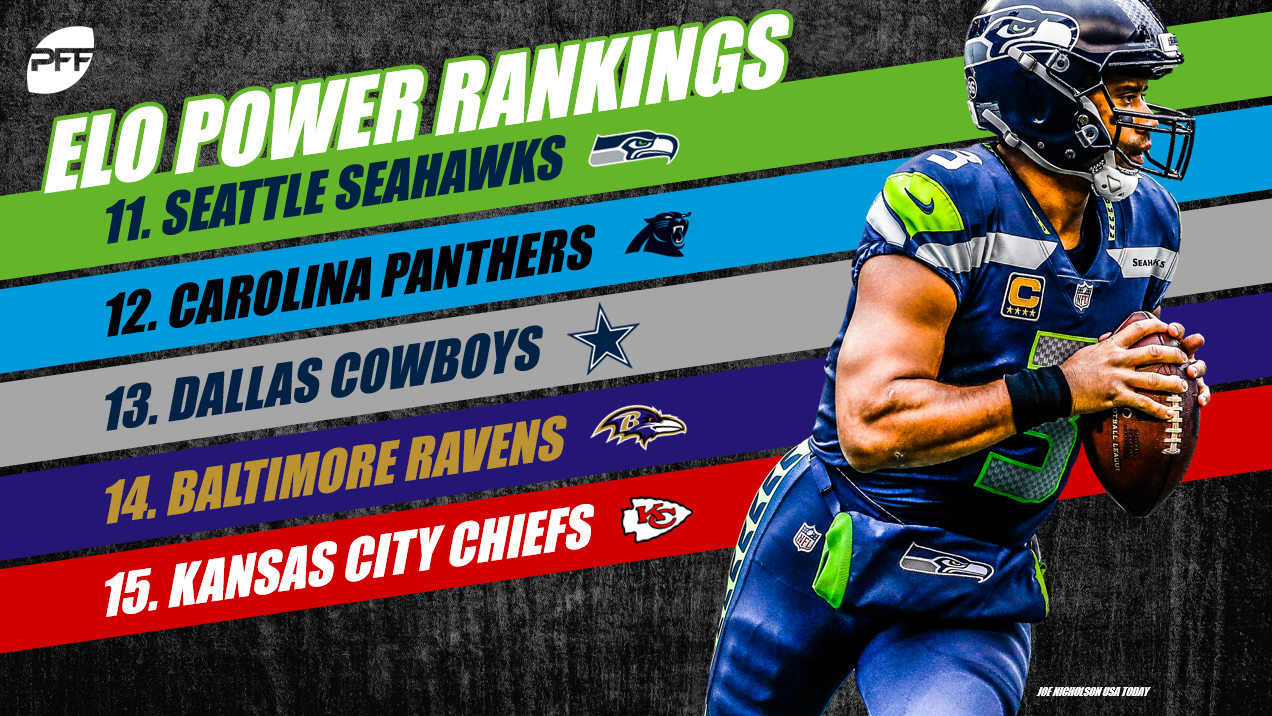 2017 Final Ranking/2018 Preseason Ranking: 13th / 11th (+2)
Question marks plague this roster as the holdout of Earl Thomas creeps into the season and Doug Baldwin is banged up before Week 1 kicks off. Because of Russell Wilson, our model still likes their over with a win projection total of 8.4 games.

2017 Final Ranking/2018 Preseason Ranking: 10th / 12th (-2)
Cam Newton was the definition of a replacement-level passer in 2017 posting an EPA per dropback of 0.0. With the third-toughest schedule according to our initial Power Rankings, Newton will need to return to Superman form to survive the tough NFC South.

2017 Final Ranking/2018 Preseason Ranking: 12th / 13th (-1)
After setting the league on fire in his 2016 rookie campaign, Dak Prescott had a humbling Year 2 posting a -0.03 EPA per dropback. The belief is that he is closer to his 2016 self then 2017 which is why we have the Cowboys so high on our initial power rankings.

2017 Final Ranking/2018 Preseason Ranking: 14th / 14th (-)
Joe Flacco had the lowest percentage of positively-graded throws among starting quarterbacks in 2017. If he struggles early, the calls for Lamar Jackson will continue to grow louder. However, this defense is elite, posting the second-best EPA in passing defense in the NFL. When you can cover in the NFL, you are always capable of winning games.

2017 Final Ranking/2018 Preseason Ranking: 7th / 15th (-8)
Out with the old, in with the new as head coach Andy Reid has decided to hand the reins over to Patrick Mahomes. As a team, this passing offense contributed the fourth-best rank from an EPA standpoint and saw a successful pass on 52.94 percent of attempts. Can they find enough capable bodies in the secondary is the most concerning question to start the season.

2017 Final Ranking/2018 Preseason Ranking: 20th / 16th (+4)
Jimmy Garoppolo flashed big time in his six games with the 49ers as his 110.1 passer rating when kept clean should only increase with familiarity in this offense. The secondary was adequate in 2017, allowing a successful pass play on essentially half of the attempts (49.77 percent).

2017 Final Ranking/2018 Preseason Ranking: 19th / 17th (+2)
The Redskins finally cut off their turbulent relationship with Kirk Cousins by acquiring Alex Smith via trade. If using 2017 and coachspeak as the sample, it appears they have significantly upgraded the position. Smith posted the third-highest percentage of big-time throws while also notching the third-lowest percentage of turnover-worthy throws. If he continues to perform with that efficiency, the Redskins will have no trouble going over their Vegas projected win total.

2017 Final Ranking/2018 Preseason Ranking: 15th / 18th (-3)
New head coach Matt Patricia branches out from the Bill Belichick coaching tree. He inherits a relatively talented team, especially in the defensive secondary, a unit that posted the sixth-best EPA ranking for a passing defense, allowing a successful pass on 48.71 percent of attempts. This offense will go as far as Matthew Stafford can take them. He was effective from a clean pocket in 2017 posting a passer rating of 109.4.

2017 Final Ranking/2018 Preseason Ranking: 21st / 19th (+2)
This defense got scary quickly by adding Khalil Mack to what is already a talented group of pass-rushers. They were extremely strong in coverage in 2017 allowing a successful passing play only 43.60 percent of attempts. Mitchell Trubisky posted a -0.11 EPA on dropbacks as the hope is that the addition of Allen Robinson and Trey Burton can speed up Trubisky's production quickly.

2017 Final Ranking/2018 Preseason Ranking: 18th / 20th (-2)
Marcus Mariota had the second- highest percentage of big-time throws at 5.8 percent in 2017. His efficiency from an EPA standpoint on dropbacks was an entirely different story. As a passing unit, the Titans had one of the worst EPA on dropbacks in 2017. If Mariota can return to his 2016 levels, this offense will take a significant step forward.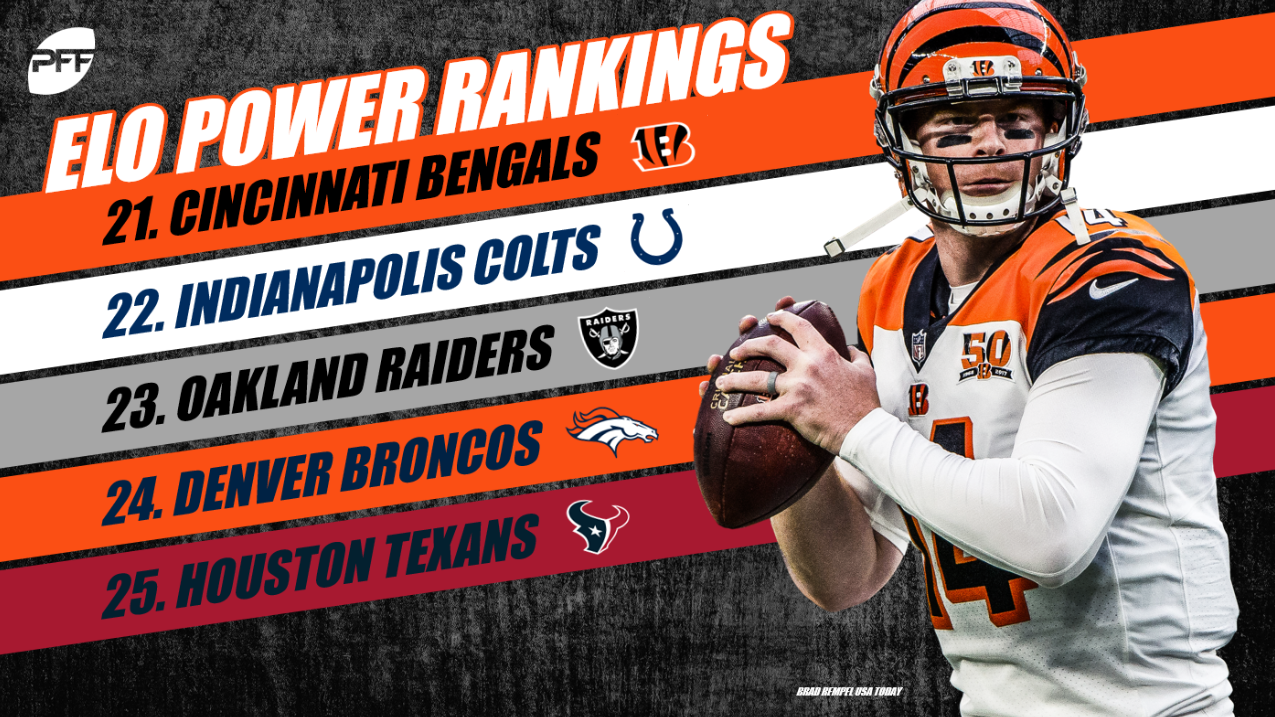 2017 Final Ranking/2018 Preseason Ranking: 17th / 21st (-4)
Andy Dalton may never find himself in the discussion of elite quarterbacks in the NFL but he can certainly be better than his 2017 performance. This passing offense had a negative EPA per passing attempt and was successful on only 45.36 percent of throws. Their ability in pass defense should keep them in the majority of games as they had the second-lowest amount of successful passing plays allowed at 42.11 percent.

2017 Final Ranking/2018 Preseason Ranking: 29th / 22nd (+7)
Andrew Luck posted an EPA per dropback of 0.12 in 2016 and threw a positively-graded pass on 27.9 percent of his throws. Jacoby Brissett filled in admirably in 2017 but with an EPA per dropback of -0.12, it was too significant of a drop off for this team to overcome. If Luck can return to his preinjury form then their expected win total has some of the most value still available.

2017 Final Ranking/2018 Preseason Ranking: 25th / 23rd (+2) 
While the Khalil Mack trade (he was worth over a win above replacement last season) certainly hurts, you could argue there are many reasons why Derek Carr could see a reversion towards his 2016 output after last year. First, Carr's receivers dropped his passes at a rate eclipsed only by Eli Manning a season ago. Second, Carr was in the bottom five in passer rating when pressured, a statistic that we know is unstable year-to-year. All of this being said, color us skeptical on the Raiders and new/old head coach Jon Gruden.

2017 Final Ranking/2018 Preseason Ranking: 26th / 24th (+2)
The big question is whether Case Keenum is the two-plus wins above replacement player he was in Minnesota or the below-replacement-level player we saw in Los Angeles in 2016. If he can control the game the way he did for most of 2017 with Minnesota, look for Denver's defense, still a top-10 unit using PFF grades, to carry that team this season.

2017 Final Ranking/2018 Preseason Ranking: 31st / 25th (+6)
We've been low on Houston the entire offseason, and this will be no exception. While Deshaun Watson generated very encouraging results in 2017, his penchant for serving up turnover-worthy plays and his dependence on players like DeAndre Hopkins (first in the NFL on yards generated on wide receiver screens) might not sustain itself going into Year 2. 

2017 Final Ranking/2018 Preseason Ranking: 24th / 26th (-2)
Out with Carson Palmer, in with a combination of Sam Bradford and Josh Rosen. Bradford has been solid when he's played in recent seasons, including earning the second-highest passer rating when pressured and the third-highest passer rating on deep passes in 2016 with Minnesota. His offensive line in Arizona promises to be in the same cluster as the 2016 group he dealt with when producing his career season, so it will be interesting to see how effective he can be in what's becoming one of the league's premier divisions.

2017 Final Ranking/2018 Preseason Ranking: 16th / 27th (-11)
In our ELO ratings, the Bills are a bit higher than 27th, but there are enough sub-dominant data points to suggest that they will not do what they did a season ago, which was live out their relatively-high initial PFF ELO rating and make the playoffs. The Bills go into the season with our worst opponent-adjusted quarterback grades, so if they are to have success it will have to be on the back of a solid secondary featuring second-year star Tre'Davious White.

2017 Final Ranking/2018 Preseason Ranking: 28th / 28th (-)
While the 2018 rookie quarterback class came with a lot of fanfare, there is only one of these guys starting Week 1, and it's Sam Darnold out of USC. The Jets made quite a bit out of poor personnel a season ago, winning five games and playing within one score in six others. The growing pains associated with a rookie quarterback, and an < EV trade necessary to get him, will be real, but look for the Jets to flirt with their Vegas win total of six games in 2018.

2017 Final Ranking/2018 Preseason Ranking: 27th / 29th (-2)
Jay Cutler was a disaster last season, and while for the second straight year it looked like Miami was going to overperform their ELO rating at 4-2, they quickly fell when the inevitable regression took its course. The acquisition of Minkah Fitzpatrick is a step in the right direction for a porous defense, and a weak AFC does leave the door open for a playoff run in 2018 should Ryan Tannehill reemerge after a season-plus on the shelf.

2017 Final Ranking/2018 Preseason Ranking: 23rd / 30th (-7)
While his personal issues are non-trivial and will cost him the season's first three games, Jameis Winston did lead the NFL in percentage of positively-graded throws in 2017. The Bucs' passing offense was a top-10 unit in terms of generating EPA on passing plays. Thus, while they have the league's toughest schedule, there is some room for hope for Tampa as they head into (at least the second quarter) of the 2018 season.

2017 Final Ranking/2018 Preseason Ranking: 30th / 31st (-1)
We at PFF have expelled some serious ink discussing the value of the running back position, and our rating of the Giants reflects our opinion of the impact of No. 2 overall pick Saquon Barkley. If the Giants were to emerge, it would likely be due to the acquisition of Pat Shurmur and the return of Odell Beckham Jr.

2017 Final Ranking/2018 Preseason Ranking: 32nd / 32nd (-)
A new-look passing attack highlighted by the addition of Baker Mayfield Tyrod Taylor, Jarvis Landry and hopefully a full year of Josh Gordon pushes our predicted win total to slightly over 6.